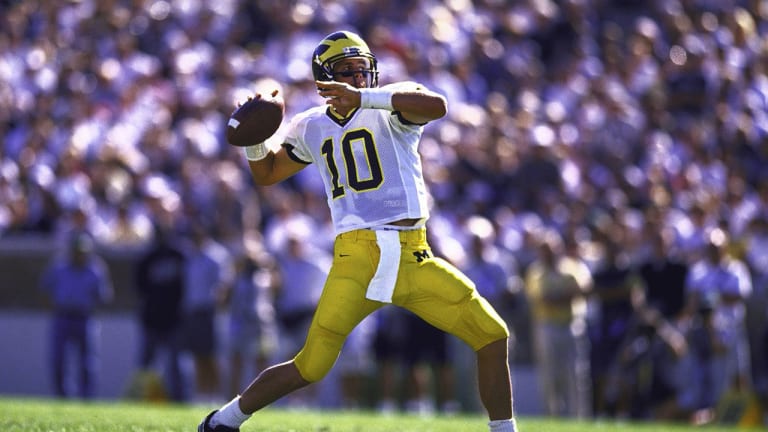 Tom Brady As You Forgot Him
Before he became the premier postseason performer of his generation, the Patriots icon was a middling college quarterback who invited skepticism, even scorn, from fans and his coaches. That was all—and that was everything
The roar could mean only one thing: Tom Brady was no longer their quarterback.
On the afternoon of Sept. 12, 1998, the 111,012 fans at Michigan Stadium did not know what you know now. Even his closest friends dared not imagine that Brady, a skinny, slow, fourth-year junior, was destined for an NFL career that would include three Super Bowl victories and two MVP awards. Michigan fans just knew that their team was trailing Donovan McNabb and Syracuse in the second quarter 17--0, and that Brady was heading to the bench, replaced by freshman Drew Henson.
In the stands Brady's sisters, Maureen, Julie and Nancy, cried, more in anger than sadness. In the huddle Henson was uncomfortable. He hadn't done anything; his team was in a huge hole; and he was being welcomed as a hero. It was Henson, not Brady, who was considered a once-in-a-lifetime athlete. At Brighton High, 20 minutes north of Ann Arbor, Henson had set national records for home runs (70), grand slams (10) and RBIs (290), all while bringing 93-mph heat on the mound. He had also thrown 52 touchdown passes in three seasons. USA Today named him first-team All-America—as a punter.
Henson's father, Dan, a longtime college football coach, tilted the playing field so every ball rolled toward Drew. The Hensons deftly played college football programs against major league teams to maximize their leverage, and it worked. The Yankees had drafted Drew in the third round and given him $2 million to be a part-time minor league third baseman. Meanwhile Dan told recruiters that if they wanted Drew, they could not sign a quarterback in the class ahead of him, and Michigan coach Lloyd Carr obliged. When the 6'4", 210-pound Drew started practicing with the Wolverines, Carr told the media that "without question, he's the most talented quarterback that I've been around."
Brady, by contrast, looked like an ordinary Big Ten QB—average arm strength, limited mobility. He was a California kid who cranked the heat in his Ann Arbor apartment so high all winter that friends didn't even want to walk inside. He had been trapped in depth-chart hell for three years and nearly transferred before attrition finally provided him a chance. In his battle with Brady, Henson appeared to have every advantage. And that is why Brady would succeed.
The story of Tom Brady's college career has been retold and refined so often that most of the necessary context has been lost. Most football fans know the gist: It wasn't until late in his college career that people began to form a picture of how good he would be. That included the Wolverines' coaches, who insisted that he compete with Henson for much of the two years they spent together, and NFL front offices, who allowed Brady to slip to the 199th pick.
​
His son's time at Ann Arbor still irks Tom Brady Sr. "It's a pretty sore spot, to be honest with you," the elder Brady told SI. "He wasn't treated very kindly by the head coach." Even Carr admits, "He had some really difficult challenges because of the position that I put him in."
But if you look at only the bones of the story, you miss the heart of it. You don't recollect Brady in 1998, after that 38--28 loss to Syracuse—a struggling quarterback for an 0--2 team, hanging on to his job by a frayed thread. Many of Michigan's staunchest fans thought he should be benched. Friends today say the lack of support bothered Brady intensely.
But Brady was stuck. Early in the previous season, after Carr had chosen Brian Griese as the starter—a move that would pay off with the school's first national title in 49 years—Brady told the coach he might transfer. Carr asked Brady what his father thought, and Brady said his dad would support whatever he did.
Carr did not beg him to stay. Instead, he told Brady to stop harping on how many reps he got or whether the coaches liked him. "He said, 'You know, Tommy, you've gotta worry about yourself,' " Brady would recall of his conversation with Carr. "You've gotta go out and worry about the way you play. Not the way the guys ahead of you are playing, not the way your running back is playing and not the way your receiver ran the route."
Carr didn't promise Brady anything. In fact, the only promise to come out of the meeting was from Brady: "I'm gonna prove to you that I'm a great quarterback."
"That was a recommitment to the marriage," Tom Sr. says. In the younger Brady's mind, he had forfeited the right to complain.
Still, there would be, a year later, the issue of Henson.
"Drew Henson was special," says Temple offensive coordinator Scot Loeffler, a former Michigan quarterback, a longtime quarterbacks coach and one of Brady's best friends. "He was a freak of nature in my opinion. He had remarkable talent. Unbelievable talent."
​
reg Harden, a longtime employee of the football program who advises and counsels Michigan players, says Henson was like Superman, Brady like Batman. Batman doesn't have any superpowers, but as Harden says, "Batman believes he can whip Superman's ass."
Brady's resolve stiffened. He went to Schembechler Hall, the team's football facility, almost every night to watch extra film. He soaked up everything: schemes, opposing players' tendencies, the minds of Michigan's defensive coaches. Slowly, a different quarterback emerged. Brady recognized defenses before the ball was snapped. He knew which receivers would be open and, in what would become his hallmark, became unshakable in the pocket, able to maintain both his concentration and his accuracy when he was about to get hit. On the bus after games Brady could go through every incompletion in order and tell his teammates what went awry: wrong route, wrong read, bad throw, missed block. He had not yet watched film.
After that 0--2 start, Brady rallied Michigan to eight straight wins. But Carr mostly remembers a 31--16 loss to Ohio State in the regular-season finale. Brady was sacked seven times and drilled on several others. Yet he completed 31 of 56 passes, and Carr realized that with the biggest, fastest Buckeyes homing in on him, Brady never looked down.
And still, Superman lurked over Batman's shoulder.
The following summer, Henson, the man chasing Brady, wasn't even in Ann Arbor. He spent the spring and summer of 1999 playing third base for the Yankees' Class A team in Tampa, but his natural talent was so outlandish that when he returned to campus in August, he competed evenly with Brady.
That summer, Dan Henson attended every practice. When the season began, Carr told Dan his presence at practices could be a distraction and asked him to stay away. He did ... sort of. People within the program would see Dan sitting on an embankment underneath a bridge on Stadium Boulevard, watching practice.
Before the opener, Carr made a decision: Brady would start; Henson would play the second quarter; at halftime the coaches would pick which one would finish the game. While this must have irritated Brady (who declined, through the Patriots, to talk to SI for this story), he couldn't complain to his teammates, who had voted him captain. He couldn't complain to his parents, who had let him make his own decisions—including the one to stay at Michigan—and expected him to live with them. He could only compete.
Brady earned the second-half nod in four of the first five games, and Michigan won all five. Asked about the unusual platoon system, he endorsed it: "It's working great for us."
He may not have realized it, but Brady was turning Carr into a believer. The coach had primarily valued arm strength and athleticism in his passers—"If you went to a coaching clinic where coaches are talking about quarterback play, you didn't hear about accuracy," he told SI—but Griese and then Brady convinced him of the importance of throwing precisely to a target. And concerns about Brady's arm strength were largely misguided. Wolverines tight end Aaron Shea says that because Brady put the proper touch on his passes, he rarely threw as hard as he could.
In Michigan's sixth game, at Michigan State, the quarterback platoon fell apart. Carr chose Henson for the second half, and the offense stalled. The coach switched back to Brady, who led a spirited comeback; it fell short but was another indication of who he would become. Brady had always been impressive running the two-minute drills at the end of practice. Now he was executing when it counted.
The Wolverines lost their next game, to Illinois, when the defense blew a 20-point second-half lead. But Carr had seen enough. Brady was his quarterback.
Brady had vanquished Henson, but the two had also become friends. When Brady would break down the upcoming draft class for Henson: I'm better than him ... better than him.... He's O.K.... I like him.
In November, Brady threw three interceptions against Penn State as Michigan fell behind 27--17 in the fourth quarter. He was also sacked six times, and receiver David Terrell remembers coming back to the huddle and saying to his quarterback, " 'Damn, bro!' ... He had a bloody face." Brady responded, "DT, just do your job." Brady did his, leading the Wolverines to a 31--27 win. He told reporters afterward, in his high-pitched voice, "I knew we weren't going to lose this game."
At the team banquet in December, Brady cracked that his parents had graduated from "the University of Northwest Airlines" after traveling to almost every game for five years. But Tom Sr. and his wife, Galynn, had a policy: "We shut our mouths." They had never attended practice or called Carr. Their son had chosen Michigan twice—once as a high school senior, and again when he thought about transferring before his junior season. Tom Sr. says, "He had to own it."
After leading the Wolverines to a 9--2 record, Brady finished his college career against Southeastern Conference champion Alabama in the Orange Bowl. As the team gathered for Christmas Eve dinner in Miami, Brady announced, "I'm gonna have dinner with the young pups tonight." He sat with the freshmen, who were away from their families for the holidays for the first time. A week later Brady completed 34 of 46 passes for 369 yards and four touchdowns to beat Alabama 35--34. The next morning, as Carr met with reporters at the team hotel, Brady walked into the room, grabbed something off a breakfast buffet, waved and walked out without saying a word. He was 22 years old and sure of where he was headed.
A few years ago Tom Brady Sr. walked into his son's Boston condo and was shocked. "His foot's been hanging from the ceiling, and he's got a [soft] cast on his leg," he recalls. When his son removed the cast, Tom Sr. saw "blood from groin to his ankle." Brady had never told his parents he was hurt. He never does. Tom Sr. figured the injury meant they could not go out to dinner that night. But of course they went, and of course Brady played that week.
The Brady everybody sees today grew from the Brady nobody believed in at Michigan. In Ann Arbor he developed his steel faith in his ability, and a capacity to ignore detractors. He learned that fan adulation was too elusive to chase; he focused instead on winning over his teammates.
The San Mateo, Calif., kid became one of the best cold-weather quarterbacks ever. Many college stars must adjust to the harsh NFL ecosystem, but after fighting for his job for two years at Michigan, Brady was ready. The battle with Henson no longer defines Brady's career, but it helped define who he is.
"He always believes there is someone behind him that is going to take his job," Loeffler says. "He is 34 years old and approaches the game like he just got drafted in the sixth round."
When Brady's parents express alarm about anything, as parents do, Tom Jr. always tells them, "Everything is going to be fine."
Tom Sr. still harbors hard feelings about how his son was treated at Michigan, but that anger has limits. He had wanted his son to go to Cal, 35 miles from the family's home, but says if that had happened, "he would not have accomplished near what he has accomplished." He is glad his son went to Michigan. "He became a man there," Tom Sr. says. "When you become a man, that means you get slapped around a little bit."
When Carr retired, in 2007, the younger Brady sent him a handwritten note thanking him for his help. Tom Sr. was surprised when an SI reporter told him about that. But then he said of his only son, "I have never heard him say anything other than glowing comments about his Michigan experience. I've never heard Tommy ever once criticize Lloyd."
Every underdog story needs an overdog, and that is Drew Henson's role, now and forever: the much-hyped prospect who stood in the way of the great Tom Brady, then faded out of sight. Henson left Michigan after his junior year to play full time for the Yankees. He got one major league hit, a single, before returning to football in 2004. In his one NFL start, for the Cowboys, he threw 18 passes, then was released in '06; he threw two passes with the Lions in '08, before being cut the following season. But those are just the bones of his story.
Henson led Michigan to a share of the Big Ten title as a junior, and he finished his career with a higher college passer rating (135.5) than Brady's (134.9). He surely would have been a top 10 NFL pick the next spring. But Henson chose baseball.
The Yankees promoted him to Triple A before he was ready—they assumed that he was gifted enough to make up for lost time. Before the 2002 season, Baseball America ranked him as the No. 9 prospect, but Henson pressed in the minor leagues because he wanted to justify his decision to leave school.
NFL scouts never forgot about him, and when Henson kept striking out, he gave up baseball to play for another iconic American team. Dallas saw him as a potential franchise quarterback. But Henson hadn't been a football player in four years, and he had never been a full-time football player. He said it took him more than a year to get some of his football skills back.
"I reached the level I did as a football and baseball player really being a 50 percent athlete my whole life," says Henson. "It all works until you get to the very highest level of sports, when everybody is basically as good as you or better, but has more experience or is farther along the development line than you are, and you have to play catch-up."
He wishes he had stayed at Michigan for four years, then committed to one sport for good. But his choices were not entirely his. Drew remains on good terms with Dan, but the son says, "If I'm fortunate enough to be a parent someday, I won't try to control every situation that my child may be put into as an athlete—not try to dictate every time line or micromanage every aspect of the child's development."
Henson is retired and living in the Dallas area, doing part-time broadcast work for ESPN and holding a stake in a money-management firm. Brady is leading New England into the playoffs for the ninth time in his 12 seasons. In the popular telling, this means Brady won. To Henson, they stopped competing long ago.
"People always try to make it out like you're not pulling for the guy," Henson says, and this bothers him because to this day, he pulls for Brady. Everybody from those Michigan days does because they remember when the seeds of a legend were planted. They were there, before the NFL found Brady, when Brady found himself.
IN BRADY'S BATTLE WITH HENSON, THE YOUNGER QUARTERBACK APPEARED TO HAVE EVERY ADVANTAGE. AND THAT IS WHY BRADY WOULD SUCCEED.
CARR SAID, "WITHOUT QUESTION [HENSON] I IS THE MOST TALENTED QUARTERBACK I'VE BEEN AROUND."
"HE BECAME A MAN [AT MICHIGAN]," TOM SR. SAYS OF HIS SON. "WHEN YOU BECOME A MAN, THAT MEANS YOU GET SLAPPED AROUND A LITTLE."
PHOTO
Photograph
by DONNA
TEREK
IMPERFECT 10 Believed to be lacking the arm strength of the classic NFL-bound quarterback, Brady rode the bench until his junior season at Michigan and considered transferring.
PHOTO
AL
TIELEMANSPHOTOTIM BROEKEMA/GETTY IMAGESFINDING HIS FOOTING Brady dug in once he decided to stay in Ann Arbor, developing the anticipation and touch that would become the hallmarks of his Hall of Fame career with New England.PHOTODUANE BURLSEON/APHALFTIME SHOW For all his gifts in football and baseball, Henson rues that his development with the Wolverines and the Yankees was stunted by his status as "a 50 percent athlete."PHOTOSCOTT JORDAN LEVY/WIREIMAGE.COM[See caption above]PHOTOAPFRUITS OF LOYALTY By Brady's final college game, a dominating four-touchdown performance in an Orange Bowl victory over Alabama, Brady and Carr had found common ground.