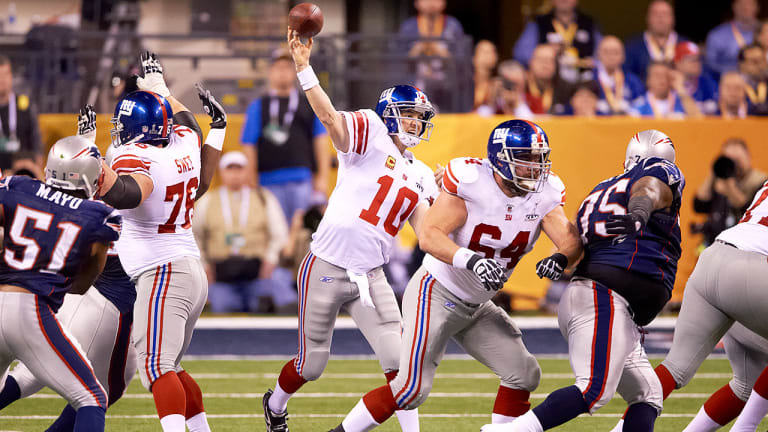 ONE GIANT LEAP FOR MANNINGKIND
Pitted once more against the favored and flashy Patriots, Eli Manning and Big Blue proved superior on the biggest stage with a pulse-pounding victory in Super Bowl XLVI that will echo all the way to Canton
Eli Manning was still on his feet early Monday morning, sliding past members of Lady Antebellum and Counting Crows, reveling in a party at the Circle City Bar and Grille in downtown Indianapolis that had momentum to threaten the dawn.
Justin Tuck and Osi Umenyiora, tag-team defensive ends, arrived resplendent in gray suits, ducking behind a black curtain into the mayhem. "We are going to shut New York down!" Umenyiora shouted into his phone. "We are going to shut the whole city down!" Running back Brandon Jacobs came next, in a burgundy golf shirt and khaki pants, carrying a glass in his left hand. "This champagne is just too good," Jacobs said. Manning stood in the middle of the bar, knot of his tie loosened down to his chest, top button of his shirt unfastened, a light beer and his older brother Peyton by his side.
"This isn't about me," Eli said above the din, following the Giants' 21–17 victory over the Patriots in Super Bowl XLVI. "It's about the organization and coach [Tom] Coughlin and all our coaches." He paused and started again. "It's about a bunch of young guys," he said, "with something to prove."
Hours earlier, one block away at Lucas Oil Stadium, Manning stepped into the huddle with 3:46 left in the fourth quarter, trailing 17–15. You could almost draw a line to the Arizona desert, where four years earlier he and the Giants had overcome a three-point deficit on a last-minute drive, shocking the world and short-circuiting New England's perfect season. Several principals from that game were back for the rematch: Manning and Coughlin, Tom Brady and Bill Belichick, plus enough A-list stars, on the field and off, to give Super Bowl XLVI the feel of a long-awaited sequel.
In the Giants' owner's box, team matriarch Ann Mara reached into her left jacket pocket and pulled out her rosary beads. Three weeks earlier on national television she had scolded Fox analyst Terry Bradshaw for picking the Packers to defeat her Giants. Now, her right arm in a sling after a fall in church, she said a prayer for Eli. "I asked the Blessed Mother to tell him where to throw the ball," she said.
On first-and-10 at the New York 12, Manning took the snap and surveyed a defense in Cover Two. From experience he knew that the Patriots' safeties didn't play very wide toward the sideline, and that might allow him a small window to find a receiver deep. Manning looked right; Hakeem Nicks and Victor Cruz were covered. On the left Mario Manningham had run a go route up the sideline, sprinting past rookie cornerback Sterling Moore as safety Patrick Chung slid over to help.
Manning let fly a rainbow that dropped perfectly into Manningham's fingertips (page 38). The receiver stuck both feet inbounds, tumbled over and held on to the ball. The completion went for 38 yards, the longest play of the game. "Put it where only [Mario] could catch it," Peyton, the longtime Colts QB, said at the postgame party.
"That throw," Giants co-owner John Mara said of Manning, "epitomizes why we gave up all those draft picks to get him."
At the practice facility in East Rutherford, N.J., in the wide receivers' meeting room, a chart tracks a season's worth of big plays. Cruz had more check marks by his name than any other New York receiver—at least until the Super Bowl. "I might have tied Vic with that one," Manningham said.
For the eighth time this season, Manning marched the Giants to a winning score in the fourth quarter. When running back Ahmad Bradshaw tumbled backward into the end zone for an excuse-me touchdown (page 42), the Pats had only 57 seconds to salve their wounds from Super Bowl XLII.
Theirs, too, had been an inspired run to Indy, the dominant team of the '00s looking to start a new run in the '10s. Over the summer the Patriots dedicated the season to owner Bob Kraft's late wife, Myra. On the night before their playoff opener against the Broncos, Belichick had given the players a rousing speech, going around the room and telling each one why he was on the team. "Probably the best pregame speech I've ever heard," Moore said.
Now, Brady needed inspiration on the field. He found wideout Deion Branch for 19 yards on fourth-and-16 from his own 14, and five plays later he had the Patriots on their own 49, ready for one last, desperate heave. On the game's final play Brady threw a Hail Mary that Tuck said was in the air long enough for him to finish a novel. One member of New York's traveling party fainted in the owner's suite.
When the pass fell incomplete, the Giants' sideline dissolved in celebration, players and coaches dashing in all directions. Manning, Super Bowl MVP for the second time, won a 2012 Corvette, the keys of which ended up in his 10-month-old daughter Ava's mouth. Ann Mara scaled nine stairs of a makeshift stage to retrieve the franchise's fourth Vince Lombardi trophy. A long line of Giants followed her, victorious over New England again.
"When somebody has your number, there's just nothing you can do about it," Umenyiora said of the Giants' hold over the Patriots. "Apparently we've found the way to beat an unbeatable team."
Manning, 31, has been traveling to Indianapolis for nearly half his life to see Peyton with the Colts, and Eli's comfort in guiding the Giants through Super Bowl week was evident. Even as a family drama played out publicly, with the injured Peyton's football future a source of endless fodder for the media horde in Indy, Eli went through the hours unbothered, focused and sharp during practice, happy and confident afterward.
On the Monday of Super Bowl week, the Giants' first day in town, Manning took more than 20 teammates, plus friends and family, to St. Elmo's steak house, treating them to the shrimp cocktail and its famously incendiary sauce. On Wednesday, tired of hotel room service, Manning went to Peyton's downtown condo and had chicken, shrimp and sliders from Harry & Izzy's with Peyton and his wife, Ashley, plus mom Olivia and Archie. "They cut up and laughed a lot," Archie said. "I think Peyton's a little embarrassed that he's been in the news so much, but Eli probably likes it. He just doesn't worry about much. If Eli orders steak and they bring him flounder, he'll just eat it. What would Peyton do? You ought not bring Peyton the flounder."
"I don't think people understand our relationship," Peyton said, speaking of Eli. "I always used to look after him. I used to drive him to school. He used to come to all my games. Our relationship is so much one of support and help. I've given him every piece of knowledge I've had about playing quarterback, and he gives it to me. Love is what that is. I want to do the best I can for my team, but when that's done I hope Eli surpasses every record. I hope he wins five more Super Bowls. I hope I win five more too."
The night before the game, as they often do, Eli and Peyton talked strategy on the phone. "Four years ago [before Super Bowl XLII] we had a more specific Patriots talk, because I was so familiar with them," Peyton said. "This year Eli played them, so he knew them as well as anybody. I always ask him, 'Has it been a good week?' He goes, 'Good week, good week.' He has to say it twice."
Peyton's faith in his brother echoed the Giants' sentiments. Thanks to their belief in Eli, they stood pat during the frenzied days of free agency following the end of the lockout in late July. While the rival Eagles signed big names, New York hardly made a whimper. "This was our off-season: [signing] a guard, a center and a punter," says general manager Jerry Reese. "Everybody's like, You've got to be kidding. We're not about splash, or sexy moves. We're about making the best football moves. We knew we had a good nucleus of players coming back."
Manning threw a career-high 25 interceptions in 2010, but Reese believed that was because he had tried to do too much with a banged-up offensive line and receiving corps. "Eli is one of those guys who can self-correct," Reese says. "We thought this year was going to be the best we've seen him. It was right in his wheelhouse."
Even with the breakout seasons of second-year players Cruz (who set a franchise record for receiving yards, with 1,536) and Jason Pierre-Paul (whose 16½ sacks were the most by a Giant since Michael Strahan's 18½ in 2003), New York still entered the final two weeks at 7–7 after a four-game losing streak that tested the bonds Coughlin worked so hard to build. During the bye week following a 4–2 start, director of player development Charles Way invited fighter pilots from Afterburner Inc., a corporate training company, to address the team about the value of "debriefing" sessions. Pilots returning from missions build trust through sessions in which they sit in a room together, stripped of name and rank; each speaks openly about mistakes he made during the mission. Players also received a copy of a book by one of the pilots, James D. Murphy, the title of which expressed the ultimate goal: Flawless Execution.
Soon Manning and Tuck, respectively, were leading offensive and defensive debriefings the day after games. Coaches were not present. Meetings lasted from 20 minutes to an hour. "I wasn't coaching anybody," Manning says. "I was just coaching myself, looking at what I needed to do better and telling everybody. Then everybody would talk about what they needed to do to improve."
Says linebacker Mathias Kiwanuka, "There was a time there when we needed every single minute of [debriefing]. It wasn't about calling people out. It was an opportunity to see everybody hold themselves accountable. The big part of why we're here is that fingers don't get pointed. These kind of teams don't come along very often."
If accountability and execution characterized New York's undefeated run from 7--7, those qualities were beacons during the Super Bowl. The Giants had two fumbles but recovered both. (A third was negated by a New England penalty.) They trailed 10--9 at halftime and by eight early in the third quarter but shut down the Patriots after that. Brady, who at one point completed a Super Bowl--record 16 straight passes, was just 7 of 17 for 75 yards on New England's final three drives, which featured two sacks by Tuck, an interception by backpedaling linebacker Chris Blackburn on a long bomb and a slightly misthrown pass that slipped through the grasp of the normally reliable Wes Welker.
"We've won so many games like this, at the end, [in] the fourth quarter," Coughlin said. "We talk about finishing all the time and winning the fourth quarter, being the stronger team. It happened again tonight."
For the second time in five seasons Coughlin outfoxed Belichick, with whom he worked as an assistant coach on New York's staff from 1988 to '90. The night before the game, Coughlin showed the players a highlight video of their last six weeks, set to In the Air Tonight by Phil Collins. He told them to finish, his buzzword for the 2011 season. He told them championships are won by players who love one another, just as the Giants do. And he told them he loved them. "Tom Coughlin is one hell of a football coach," Jacobs said, simply.
In his early days in New York, Coughlin was viewed as heavy-handed, but now that phrase refers more to his hugs than his demeanor. Before kickoff, as the Giants stretched in lines on the field, Coughlin went up and down each row, embracing his players or delivering handshakes. "I remember hearing Michael Strahan saying that when Coach Coughlin first got there, he wanted to play for anybody else," says Kurt Warner, a quarterback for Coughlin's Giants in 2004. "By the time he retired, he said, 'There was nobody else I wanted to play for.' I don't know if you can say it any better."
After the game, Strahan was in the victorious locker room, which had the vibe of a family reunion. Ann Mara stood next to a Gatorade bucket, accepting handshakes from the players. Her granddaughter, Rooney Mara, the Oscar-nominated star of The Girl with the Dragon Tattoo, popped in for a visit. Hall of Fame linebacker Harry Carson, Super Bowl XLII hero David Tyree and the singer Seal mingled with the revelers. Outside the locker room, Olivia Manning sat on a bench, contemplating the possibility of two Manning boys headed to Canton.
"And we have another one on the way," she said. "This is my grandson, Arch Manning. Watch out, world."
Arch, age seven, the son of the eldest Manning brother, Cooper, was wearing a number 10 Giants jersey and would soon join a parade of Mannings and Maras heading out into the cool winter's night. His uncle Eli had arrived in Indianapolis as the youngest son in a quarterbacking dynasty. He would leave as a giant of the NFL.