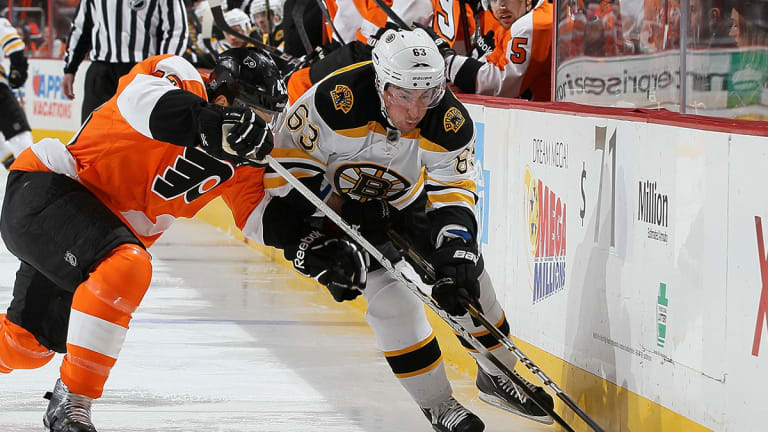 The Little Ball of Hate
Feisty, ferocious and very denim-collar, Brad Marchand of the Bruins is making enemies fast, but there's a payoff in that for the NHL's best team
As teachers would drone on about math or history or something utterly irrelevant to his future NHL career, the boy would take out his loose-leaf binder and practice his autograph. Bold. Distinctive. Legible. Not only would the world know his name, it would be able to read it. Skating, shooting, stickhandling, checking, signing ... even at 11 he wanted to be the whole package.
Move ahead a dozen years.
On a misting Monday in January the Bruins assemble at the White House, in the East Room, with its gold brocade and imposing chandeliers. The boy with the practiced penmanship is positioned at the end of the first row, where the 5'9" guys stand, and the President of the United States is saying, ...
"Brad Marchand went into the season playing on the fourth line, but the Little Ball of Hate shrugged off the rookie jitters and—" Barack Obama wheels to locate him, "What's up with that nickname, man?—scored five goals in the last five games of the final series ... to lead the Bruins to the championships."
Even before Obama appropriated a label most memorably bestowed on 522-goal scorer Pat Verbeek, Marchand had a surfeit of nicknames. He has been called Squirrel (a fan yelled it during the national anthem when Marchand was in the minors), Weapon of Mass Distraction (by a Philadelphia announcer), Tomahawk (in youth hockey he whirled and two-handed a kid over the head with such force that Marchand cracked his full-face shield), Rat (by practically everyone), Pigeon (a rat with wings), Brat (by Bruins coach Claude Julien), Nose Face Killah (a Boston website, playing off rapper Ghostface Killah and saluting Marchand's prominent nose) and other names the President would not utter within earshot of Sasha and Malia.
Chippy and lippy, Marchand gives as good as he gets. After he earned a five-game suspension last month for a clip on Sami Salo that left the Canucks' defenseman concussed, Vancouver coach Alain Vigneault said, "Someday he's going to get it. Somebody's going to say, Enough is enough, and they're going to hurt the kid because he plays to hurt players." Marchand says now, "If Vancouver kept their mouth shut, which they rarely do, I don't think there would have been as much publicity about the hit and don't think there would have been as long a suspension."
You can return fire around the rink, but there is no riposte when the Chirper in Chief is giving you the business. Sweat beaded on Marchand's forehead when Obama mentioned his name. He blushed conspicuously.
"It really caught me off guard," he says later in the White House's Diplomatic Reception Room. "I almost blacked out there [but] it was all in good fun."
The Stanley Cup champions' traditional visit with the president roiled America because Bruins goalie Tim Thomas, the Conn Smythe Trophy winner, declined to join his teammates at the White House. But the most astonishing news of the visit might have been that Marchand did not start a pillow fight in the Lincoln Bedroom.
Boundaries shift. Limits are negotiable. Ethics are situational. The gamut of acceptable behavior in the NHL is so elastic that there are times when a 214-page rule book seems more like a compilation of helpful suggestions. Marchand operates in that ambiguous, lightly regulated postwhistle universe outside the normal time-space continuum of an NHL game. He agitates. He provokes. He drags his fingernails on the blackboard. After a whistle, Marchand figures he has 10 seconds. Maybe 15. This is when "a dirty little bastard," in the words of one prominent and admiring Eastern Conference forward, colors outside the lines.
"Some guys don't engage in that stuff. Some do," Marchand says. "But the play doesn't end with the whistle."
The Bruins are headed to Washington—and their meeting with the President—on a private three-car train the evening after a 6--5 shootout victory in Philadelphia on Jan. 22. Sitting in his seat, Marchand fidgets. He taps his foot. After an hour of conversation he offers that he probably has ADD before immediately adding that he has never been diagnosed or even tested and is just guessing. O.K. This is the essential Marchand, who at 23 has yet to stumble upon the most adult of traits: an unexpressed thought. He often blurts out, or acts out, whatever he thinks or feels. As the ghostly outline of winter zips by his window, Marchand says, "I don't have a very good filter."
Boston's win over the Flyers was his third game post suspension, and while his timing might have been off Marchand played a typical match. He drew a pair of power plays, one by taking two punches to the back of the head from Ilya Bryzgalov after Marchand, nudged by a defenseman, bumped the Flyers' goalie, careering an already fractious match deeper into the nebulous postwhistle realm. He also did more than just elevate the temperature in the arena. In the opening minute he hurtled down the left boards, bulled past a defender, and fed Patrice Bergeron for a tap-in goal.
Now in his second full season in Boston, the former third-round draft choice has become emblematic of the lunch-pail Bruins. He grabbed more ice time last season because it was apparent he was something more than a mere provocateur. Despite getting mere snippets of power-play time, Marchand, a healthy +22, began the week with 19 goals for a team that has overcome a Stanley Cup hangover so severe it lacked only a tiger and Mike Tyson. After a 3-7-0 start the Bruins (34-17-2), with an NHL-best +64 goal differential, sit snugly in second place in the East, behind the Rangers. Boston bears watching in the second half, just as Marchand should be monitored ... well, constantly.
He was a regular in the principal's office in middle school in suburban Halifax, visits made more awkward because his mother, Lynn, taught there. "My mom would hear my name on the P.A., 'Brad Marchand, report to the principal's office,' and you could hear the clatter of her high heels coming down the hallway a mile away," he recalls. Marchand figures he inherited his nose from his father, his brassiness from her.
His hockey felonies now have made him a semiregular with the NHL's principal. Senior vice president of player safety Brendan Shanahan viewed the clip on Salo as a low bridge too far, which resulted in Marchand's forfeiting some $150,000 of his $2 million salary. (A month earlier Shanahan fined Marchand $2,500 for slew-footing Penguins defenseman Matt Niskanen.) But hockey misdemeanors are also splattered all over Marchand's permanent record. During the 2007 Canada-Russia junior Super Series, coach Brent Sutter, exasperated by his penalties, including two misconducts, scratched Marchand for Game 7 and then sat him for Game 8 when he was late for a meeting. On his way to 21 goals last season—in a 2010 end-of-season interview Marchand assured Boston general manager Peter Chiarelli he would score 20 despite never having scored even one in 20 previous NHL games—he mocked the Canadiens as divers and later pantomimed a golf swing at the Maple Leafs bench to remind Toronto it was not going to the playoffs.
But the ultimate Rat moment came in Game 6 of the Stanley Cup finals against Vancouver. Marchand opened the scoring early by snapping a short-side tracer over goalie Roberto Luongo's shoulder, but the ending of a 5--2 Boston win was what left an indelible mark—in memory, if not on Daniel Sedin's jaw. With two minutes left, Marchand tapped the Canucks star with one, two, three, four, five, six left jabs as referee Kelly Sutherland watched. When reporters asked afterward why he had done it, Marchand said, "Because I felt like it." He decided to take the roughing minor and misconduct, given the score and the time remaining, convinced the NHL would not suspend him for Game 7. He was right. Marchand scored two goals in the 4-0 finale. The Bruins were 9-0 in playoff games in which Marchand scored.
In Claude Julien's Manichaean world, the Bruins' coach separates Marchand into Good Brat and Bad Brat. "He's a good brat when he stays within the rules and disrupts the other team," Julien says. "He's a bad brat when he takes bad penalties and hurts our team. During the playoffs I was meeting with him twice a day about that. He's not a guy who doesn't get it. He gets it. He just slips out of it, and you have to reel him back and spell it out again. Before Game 5 [in Vancouver] when I was done talking, he said, 'Can I say something to you, Coach? ... I just want you to understand I appreciate what you're trying to do for me. I know how I am. And I want you to know I'm appreciative that you continue to help me through this.'" Moved by the memory, Julien pauses. "You don't hear that often from players."
"I really don't like getting scolded," Marchand says, "but sometimes I need a wake-up call." Even if he has the habit of hitting the snooze alarm.
His father, Kevin, forcefully hit the reset button last summer. Obviously Marchand was happy to give the shirt off his back to win the Stanley Cup, which he did in some widely disseminated photos taken at a team party three nights after Game 7, at Foxwoods Casino in Ledyard, Conn. Marchand was excused from scheduled interviews for the official Stanley Cup DVD because at 4 p.m. the next day he had what the NHL might describe as an inner-body injury. Or as Marchand puts it, he was "intoxicated."
"[After the Cup, linemate Tyler Seguin] and I went on a bit of a tear, partying pretty much every night for a while," Marchand says. "I went home and kinda continued it. I thought [winning a championship] was something that might never happen, so I was trying to take it all in, enjoy it.... My dad sat me down and sorta gave me a lashing. He told me if we win two of the next three years, he'd leave me alone." Marchand's day with the Cup in late August was a demure affair. Says one attendee who has ties to the Bruins, "It was like he was grounded at his own party."
The Little Ball of Hate—"I guess if the President of the United States gives you a nickname you have to stick with it," Marchand says—is evolving. In the minors he would spin off two defenders at the top of the face-off circle and unleash a shot, usually over the net. Now he can see options—free ice, open teammates. "A lot of guys have their bread-and-butter [move] and never change," Chiarelli says. "Brad's shown he can adjust."
The autograph he once practiced so diligently also has changed. The opening B and M and the final d in his names remain precise, but the rest is scribble, a brisk scrawl that reflects a talented player who is in a hurry.
This writing business can be tricky, of course. Marchand's celebratory tattoo on the right side of his torso read: STANLEY CUP CHAMPIANS, BOSTON BRUINS, 06.15.11. When teammates in the dressing room caught the error, he returned for a touch-up, the tattoo artist finessing the wayward a into an o—a permanent reminder that with Marchand, there is more of this story to be written. And spell-checked.