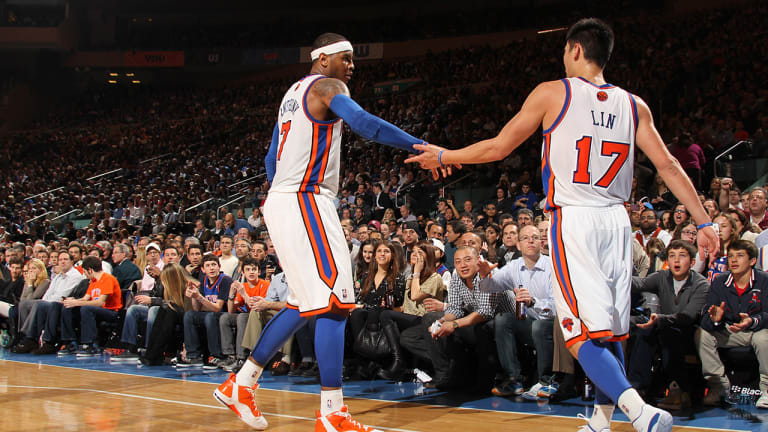 A RUN LIKE NO OTHER
In his second week as a starter, Jeremy Lin dazzled more fans in both hemispheres, flummoxed the world champs, drove a mini-economy and raised one crucial question: Just how much bigger can he get?
One misty evening in November, shortly before the end of the NBA lockout, Jeremy Lin's taxi rattled over the Williamsburg Bridge from Manhattan into Brooklyn. Lin had come east from California to see his brothers—Josh, a student at NYU's College of Dentistry, and Joseph, a freshman at Hamilton College in Clinton, N.Y.—but now, en route to dinner, he had a bit of business to iron out as well. From the cab's backseat, alongside Kenny Blakeney, his former assistant coach at Harvard, Lin worked his iPhone, trying to negotiate the details of a contract with Teramo Basket, a club in the Italian league. Then a Warriors backup point guard, Lin had played in only 29 games as a rookie (averaging 2.6 points and 1.4 assists), and he wanted to ensure that he could suit up somewhere. On his agenda for the trip was a visit to the Italian consulate to sort out his visa.
Just as the renowned Peter Luger Steak House appeared on Lin's right, the cab's engine overheated before giving out entirely. Contract talks, at least for the moment, followed suit. "Dude," Blakeney told a similarly starving Lin, gesturing toward Luger, "let's just eat here."
The man who would be the planet's most-talked-about athlete in three months' time walked in—and was shown promptly to the curb. Told that the steak house was full, Lin and Blakeney hailed a livery cab and repaired to their original destination, the (less exclusive) Brooklyn Bowl. There, over drinks at the bar, Blakeney (chocolate milkshake) leveled with his frustrated former player (vanilla). "I want you to understand: You're good," said Blakeney, who just months earlier had left a 15-year career as a college assistant to operate his own New York City--based sports apparel company, Sportin' Scarves. "But the reality is, not everybody's going to appreciate your game."
Now, after two weeks the likes of which sports fans may never see again, reality is so three months ago. Just ask Blakeney—a former Duke guard who purchased no shortage of stock in Linsanity years ahead of this current bubble. He was the one who told Lin he was an NBA player in October 2007, within four weeks of working with him at Harvard ("Jeremy looked at me like I had two heads," Blakeney, 40, recalls); the one who added Lin to his Yahoo! fantasy basketball team, the Obama Ballers, on Feb. 3, the night before Lin broke out against the Nets with 25 points (at the time, Lin was owned in just 1% of leagues); the one to whom Lin gave a shout-out from the Madison Square Garden podium after dropping 38 points on the Lakers on Feb. 10 (saying that Blakeney "did everything he possibly could to invest in me"). But as a basketball coach or a budding businessman, Blakeney never foresaw the global tidal wave upon him now. Or the pop-up economy that's arisen thanks to the 25.0 points, 9.2 assists, 3.8 rebounds and 2.2 steals Lin has averaged during an 8--1 Knicks run through Sunday, capped by a 28-point, 14-assist performance in a 104--97 defeat of the defending champion Mavericks.
Marketers have been privately reaching out to the 23-year-old Lin and his inner circle, trying to convey to them that he's already bigger than Yao Ming, bigger than Tiger Woods—worth at least $300 million, right now, worldwide. And at this current rate? On the top end, they say, Lin could be worth a billion dollars.
Shin Kong Place is a glittering shopping center near Guomao, Beijing's central business district, and last Saturday, over lunch there, Cheng Ho had to do a double take. Ho, a 25-year-old employee of NFL China, is Lin's close friend and a former college classmate. An excitable former Crimson running back from Taiwan, he was for years, by popular acclamation, the most vocal fan at Harvard's 2,195-seat Lavietes Pavilion. But as he sat with a friend at one of Shin Kong's Cantonese restaurants, Ho saw something that defied the superfan's wildest imagination. As five minutes of Lin highlights played on a television, every patron was, like Ho, intently watching. Then, afterward, while walking past a newsstand, Ho noticed his friend's Chinese name, Lin Shu-Hao, decorate the cover of every publication. Later, while riding Beijing's subway, he saw Lin highlights, with sound, enrapturing commuters from mounted video monitors—gadgets that usually went ignored. "Everybody thinks it's crazy in the U.S.," says Ho, who watched the Knicks beat the Jazz at Madison Square Garden on Feb. 6. "But it's a much bigger storm here in China. And it's just the beginning."
Ho's own life has been upended by ripples emanating from 7,000 miles away. Chinese media outlets have bombarded his accounts on Facebook and Weibo, China's Twitter equivalent, all requesting ins with Lin. A flood of corporations—from FORTUNE 500 firms to Chinese apparel companies—have e-mailed Ho about Lin, attempting to discuss sponsorship. There has been a void to fill: Yao, the former Rockets star with whom the Taiwanese-American Lin often trades texts, is retired, and no one else of Chinese descent currently stars in any of the world's top sports leagues. "People's heads are spinning trying to find ways to monetize Jeremy," Ho says. "They're going nuts."
Domestically, Linsanity is nothing short of a one-man economic stimulus. Since he came off the bench and defibrillated the moribund Knicks, stock in Madison Square Garden, the team's parent company, has risen 11%. His number 17 jersey is the top seller in the NBA (and has shipped to 23 countries), and sales and traffic to the Knicks' online store have increased more than 4,000%. Modell's, the New York--based sporting goods chain, has sold more than 50,000 pieces of Lin-related merchandise—from towels to T-shirts—and has had to contract new printers in Brooklyn and New Jersey to meet demand. ("It's like Christmas in February," CEO Mitch Modell told Crain's New York Business this week.) Lin has inflated ticket prices at the Garden (up an average of roughly 200% on StubHub.com) and sold out road games in Minnesota and Toronto. And in New York City, MSG's television ratings have climbed some 70%.
With Lin so prominent in the zeitgeist, Saturday Night Live opened last weekend's show with a riff on the way the media covered his story. And a full-length Lin documentary, which had been in the works for months, is now seeking a buyer. On Wikipedia, Lin has gone from a stub of an entry (with zero footnotes as of Jan. 10, 2010) to an ever-evolving, ever-edited biography (with no fewer than 194 footnotes). From Feb. 6 to 14, according to the analytics company General Sentiment, Lin was mentioned on social media not only more often than any NBA player but also more often than Barack Obama—who himself took to his television on Feb. 14 to watch Lin shoot down the Raptors. The next day the President praised Lin's game-winning three to his staff on Marine One. And the day after that, Sarah Palin surfaced in Manhattan, waving around a LINSANITY T-shirt.
It was only two years ago this month that Lin's mother, Shirley, was e-mailing friends in an attempt to drum up online votes for her son's candidacy for the Bob Cousy Award, given to college basketball's best point guard. (Jeremy lost badly to John Wall.) Now? She's so overwhelmed with interview requests that she's in the process of appointing a spokesman for herself and Jeremy's father, Gie-Ming. Lin issued a plea to media back in Taiwan to stop bombarding his relatives overseas, and even his younger brother has felt the spotlight, with news crews filming the 5'11", 135-pound Joseph's practices. Says guard Ephraim McDowell, a captain of Division III Hamilton, "Our last two home games had the most people I've seen in four years." At Amherst one fan held a sign reading LIN-SIGNIFICANT BROTHER.
Ryan Fitzpatrick—the Bills' starting quarterback and, until this month, Harvard's most prominent pro athlete—can relate. "Jeremy's cult following has reached unfathomable levels," Fitzpatrick, 29, says. "I am no longer the guy that went to Harvard. I am now the guy that went to school with Jeremy Lin." No matter that Fitzpatrick doesn't actually know Lin and never overlapped with him in Cambridge. The same applies for actor James Franco (Palo Alto High, '96), a Lin fan who received a cellphone photo of Spike Lee wearing their high school jersey from a classmate who attended last Friday's Knicks game. "It's pretty surreal," Franco says.
So who can blame Lin's former classmate at Jane Lathrop Stanford Middle School for trying to post a Lin-signed yearbook ("Thanks for being my friend. Have a wonderful summer") on eBay for $4,800? Or the guy selling the autographed Lin rookie card for $1,200? Or the two people—one a stranger, another a self-described former volunteer assistant coach at Palo Alto High—who filed a trademark application for Linsanity? Is anyone surprised that everyone is trying to get a piece? Says Arne Duncan, the Secretary of Education and a Harvard forward in the mid-'80s, "I told Jeremy, 'No new friends.' Stick with the people who stuck with you when you got cut."
But there is one exception to Duncan's rule. These Knicks knew scarcely anything about Lin when he arrived on their doorstep on Dec. 27 after being waived twice and sent to the NBA's Developmental League three times. Yes, star forward Amar'e Stoudemire had stood next to Lin for a photo taken at an NBA China reception in Los Angeles a year ago; and shooting guard Landry Fields had played for Stanford in a 111--56 victory over Harvard in '07; and, well, that's more or less it. But at this point, the team—let alone coach Mike D'Antoni, whose continued employment is now plausible—is loath to imagine Teramo's gain at New York's expense. (The lockout's end on Nov. 26 ultimately rendered an Italian contract moot.)
"Every player's dream is to play with a point guard whose eyes are up, and that's the way Jeremy is," says sharpshooting forward Steve Novak. "When there's a guy who plays like that, it's contagious. When he's looking and finding, finding, finding—if you get the ball and you don't have a great shot, you're giving it to somebody else because you know it's coming back to you the next play. You know you don't have to force anything."
This is yet another form of Lin's wealth creation: Before the point guard cracked the starting lineup, Novak hadn't scored in the double digits this season. Since then, he has averaged 12.3 points through Sunday on 45.5% shooting from beyond the arc. Similarly, Fields and 7'1" center Tyson Chandler are both on perpetual alley-oop watch. (Asked how many lobs Lin threw in college, senior Crimson point guard Oliver McNally responded, "Dude ... I can't think of one.") "Tyson's so eager and such a humble guy, and Landry's the exact same way," says Lin, unfailingly deferent. "We're all out there together, buying in."
Yet even in college, Blakeney saw four skills that prompted him to tell Lin as a sophomore that he had NBA potential: his ability to burst forward then suddenly come to a total stop; his expertise in splitting defenses and reading seams "like a running back"; his knack—√† la Steve Nash—for getting anywhere he wanted with his dribble; and his acumen in the pick-and-roll. The Harvard staff would have Lin study tape of Jazz great John Stockton running the play, and counting practice, workouts and games, Blakeney estimates, Lin probably used more than 3,000 ball screens in three years.
"Lin, because of the threat of the pass, has made that whole team better," says Frank Layden, who drafted and coached Stockton in Utah. "It's a gift. You wonder, Is Lin another Jerry West? Because he's getting numbers that guys don't get until they've played in this league for a long, long time."
A year ago last week, a starstruck Lin, wearing a black sweater and blue tie, was happily posing with retired NBA players such as Sam Perkins and A.C. Green in Los Angeles. Lin had finagled a gig working All-Star weekend as a support staffer at the skills challenge, and he also got to attend the slam dunk contest and the game itself. This time around? Lin still isn't an All-Star. But he'll assist fellow New York guard Iman Shumpert during the slam dunk contest and play in the Rising Stars Challenge, thus serving as an inevitable if unwilling sun in Orlando's All-Star firmament. For a kid whose childhood bedroom in Palo Alto was plastered with posters of NBA players in action—a soaring Latrell Sprewell in a Warriors uniform, in a silver frame, hung prominently—it's just the latest surreal step. These days, Blakeney happily concedes, no matter where you are on earth, it's almost impossible not to appreciate Lin's game.
"The measure of this man goes way beyond the number of points scored and assists made," says Filipino boxer Manny Pacquiao, a basketball fan who is the only Asian athlete whose star may still eclipse Lin's. "He is a shining beacon for so many people." To wit: On Feb. 16, the day after beating the Kings, Lin and Fields showed up at Del Frisco's, a pricey Manhattan steak house on the order of Peter Luger. This time the restaurant burst into applause when he walked in.
Ho had welcomed Lin not far from Del Frisco's when the guard first arrived in the city as a Knick. After being picked up in late December, having been waived twice in 15 days (once by the Warriors, once by the Rockets), Lin came to New York early on New Year's Day after a road game in Sacramento. Ho, who was then working out of the NFL's league office in the city, stayed up talking with Lin and another friend till the early morning hours at Ho's apartment in midtown. That night, Lin crashed on—yes—his first living room couch. "I don't think anyone truly understands how difficult and hopeless it was for Jeremy," Ho says now. "He talked about giving up basketball. How maybe God had a different plan. It was difficult for me to see how unhappy he was at that time. He was just a person who didn't know what was going to come next."
What ultimately came next was unimaginable. And as the story progresses—How will he fare when teams see him for a second time? How will the Knicks gel now that Carmelo Anthony has returned from injury?—Ho still sees his friend everywhere in Beijing. As he gets up at odd hours to root on Internet streams of Knicks games, Harvard hoops' former No. 1 fan must tell himself to cool it. Ho feels guilty about wanting to text Lin so much; wanting to call him after every double double; wanting to bombard him with e-mails, out of sheer joy, just as often as marketers and companies of varying repute bombard him out of capitalistic instinct. "Every time he has a good game, I just go nuts," Ho admits, glumly. "And the effect carries on for several hours. I have to tell myself: Cheng, control yourself."
And what's best for Lin, Ho figures, is even more space than he's been giving him. In fact, considering his dangerously high levels of excitement, Ho is now trying to anticipate the future of the Jeremy Lin economy, if only to reassure himself that the madness will die down. And a stressful yet optimistic thought, once unfathomable, has crossed his mind. What if the good games never stop coming? What if a bubble refuses to pop?