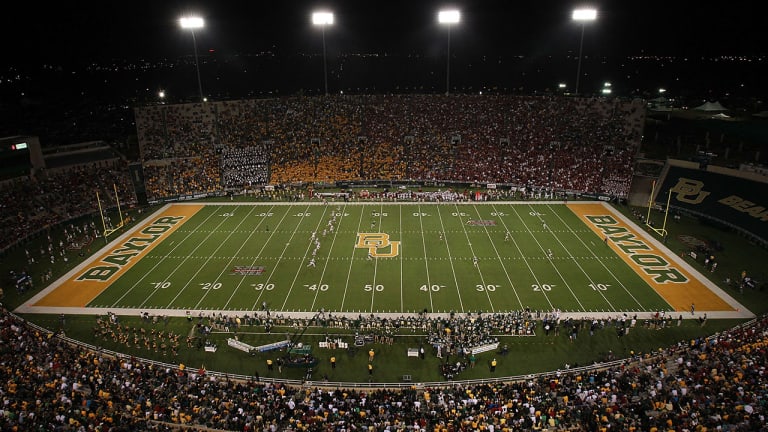 Baylor Rising
A Heisman Trophy? Two nationally ranked basketball teams? A 40–0 streak across three major sports? Oft-bedeviled Baylor is on a quest to become the preeminent Baptist university, and winning (the right way) is essential
Every place has its ghosts, and they fall into two categories: those you revere and those you wish would go the hell away. The grizzled river town of Waco, Texas, and its showcase university, Baylor, may have spent decades in the loosest of embraces, but they've long shared an excess of the second kind. Bad history haunts both city and school like a baffling nightmare.
Yet on this Saturday afternoon in January, an amped-up crowd of 10,617 is squeezing into Baylor's Ferrell Center to revel only in today, in the realization that it's never been so good, the notion that Baylor and Waco, together at last, just might have turned a psychic corner. While 11 weeks could never expel the wrenching images of 1993 or 2003—of David Koresh and the Branch Davidians and 84 dead, of Carlton Dotson and Patrick Dennehy and a program hurtling so monstrously off the rails—there's no denying the high created when a school's teams, all at once, lurch into overdrive, and national TV talking heads start caressing the Baylor name on air.
From Nov. 1 until Jan. 16, the Bears' football and men's and women's basketball teams combined to go 40--0. "Unprecedented in the history of college athletics, as far as I know," says athletic director Ian McCaw. In that same time 10 other Baylor teams also sat in the nation's top 25, and the athletic program as a whole finished with its best semester ever in the classroom (3.17 GPA). Oh, and quarterback Robert Griffin III won the 2011 Heisman Trophy, the unbeaten Lady Bears put a hammerlock on the No. 1 basketball ranking and men's hoops edged oh-so-close to the nation's top spot. Sic 'em Bears! indeed.
"Look what's going on: Our women's volleyball team made the playoffs; our women's soccer team made the NCAA tournament; football team's Number 12 in the [BCS rankings]; men's basketball team was Number 3," says Griffin who, despite being projected as a top three NFL draft pick, seriously mulled returning to school for his senior season. "There's great things going on at Baylor, and no one wants to miss out. I still want to experience that."
Who doesn't? Today's nationally featured game against Missouri represents the first top five showdown in the history of the Baylor men's program and the first time tickets sold out in advance. By the time warmups are over, the face-painted, green-and-gold-kitted fans are wound up to a screaming pitch, spurred on—this being the world's largest Baptist university—by the band's wheezy rendition of Livin' on a Prayer. The Bears jog out amid billows of liquid nitrogen. A sweet-faced boy grips a large yellow sign with a message out of Deuteronomy 7:2: SHOW THEM NO MERCY.
It feels, yes, like a big-time college crowd: demanding, obnoxious, delusionally sure that this, now, is the most important event in the world. But the ghosts are beginning to hover. The announcer calls for a moment of silence to mark the 85th anniversary of the death of the Immortal Ten, who were killed in 1927 when a bus carrying Baylor's basketball team was crushed by a speeding train and whose names, during homecoming, are recited aloud to each new freshman class. Fans stare at their toes.
Seconds before tip-off Jerry Hill, who has covered Baylor sports for 29 years, scans the packed house, the astonishing talent in Bears uniforms, the ESPN cameras. He shakes his head and speaks, but the words drown in the din. The ball rises. He repeats himself.
"I never thought it would happen here," Hill says.
Let's assume that the ideal is dead. Because if Reggie Bush's vacated 2005 Heisman Trophy and Miami football's booster scandal and UConn's tainted 2011 NCAA men's basketball title didn't prove that big-time college sports has lost all right to speak of "winning the right way," then Penn State's recent crash should have removed any last glimmer of illusion. Who today doesn't shrug and say the programs are all dirty and lying, or paying players through some back door, or far more dedicated to protecting the brand and collecting cash than shaping young minds?
Yet now into this bog—and dressed for church—steps Baylor. Now comes a medium-sized (12,575 undergrads) private university from a town (pop. 120,805) long known for disaster—natural, man-made and, in the case of Koresh's cult of Branch Davidians, apocalyptically faith-based—suddenly collecting blue-chip players, beating its elephantine public rivals and doing it all, it swears, for the highest of purposes. "Our role," McCaw likes to say, "is to glorify God through our athletic program."
Talking such talk, of course, is akin to walking onto a target range with a bull's-eye on your heart; Baylor is all but asking for it. McCaw's line will no doubt send the hypocrisy police scrambling to cite the nose-snapping punch that Lady Bears 6'8" superstar Brittney Griner delivered to a Texas Tech opponent in March 2010, and every questionable (or, to Baylor fans, aggressive) recruiting move by men's basketball coach Scott Drew. As for those in need of ironic contrast, God will provide. A billboard towering over nearby I-35 proclaims that Baylor is DISCOVERING TRUTH; T-shirts give easy instructions (ACT JUSTLY. LOVE MERCY. WALK HUMBLY); and Bible passages (I CAN DO EVERYTHING THROUGH CHRIST....) adorn the lobby of the sparkling new $36 million sweat palace known as the Simpson Athletics and Academic Center.
This is a place, indeed, where faith is the topic always waiting to be raised. Terri Jones, the mother of 6'11" forward Perry Jones III, Baylor's lottery pick in waiting, is an evangelical minister who is accosted by students each time she visits campus. "People always talk about God to my mom," he says.
Griner adds, "I've had people come up to me on campus and ask if they could pray for me—and then just sit and pray with me. It was weird at first: I was like, Ummm, yeah! I'm not going to tell you no."
This is hardly new; Baylor has been the high-end destination for devout Texans since 1845. But its rise as a sports power is only the most obvious sign of a rare and far larger ambition. In 2001 university president Robert Sloan kicked off a $600 million master plan called Baylor 2012, which was dedicated to the proposition that a Baptist school can become an institution on a par with Cal or Stanford—and need not shed its faith to achieve national eminence.
The decision created a bitter campus divide. Baylor had lifted its ban on dancing only in 1996 and began to phase out a center dedicated to the study of intelligent design only in 2000; conservatives feared that Baylor 2012 meant the end of the university's role as a Christian bulwark. But even as it upgraded the faculty, the administration continued to query prospective professors about their churchgoing habits—Muslim teachers need not apply, though Baylor currently has 131 Muslim students—and remained hostile to homosexuality. Sloan didn't want Baylor to be Cal or Stanford. He had another school in mind.
"Notre Dame has done it in the Catholic world," says Larry Lyon, dean of Baylor's graduate school. "And Catholics have over 1,000 years of intellectual history in which the church and philosophy and science coexisted. We don't. Baptists have 200 years of anti-intellectualism: That's our entire history. If Baylor does not become a great Protestant research university, there will never be one."
Raising the school's sports profile was one of the plan's imperatives, vital for marketing and fund-raising. Baylor's track and field program had produced All-Americas and Olympic champs, but that counts for little in Texas, where football rules and Baylor was almost always terrible. Baylor 2012 envisioned the Bears being competitive nationally in all sports and—stealing South Bend Saturday imagery—dreamily described a sea of rabid fans trailing the school band into a new football stadium across the Brazos River.
"I remember thinking, Yeah, right," Lyon says.
His skepticism made sense, not least because Baylor 2012 spoke of building a winning tradition "with integrity." Previous attempts to beef up the men's basketball program had resulted in NCAA sanctions: In 1986 the team got hit with two years' probation after it was revealed that coach Jim Haller had provided money to a player; and academic fraud in '93--94 led to the firing of coach Darrel Johnson, the conviction of three assistants for mail and wire fraud, and five years' NCAA probation.
All that was nothing, though, compared with the cesspool uncovered in 2003 after forward Patrick Dennehy disappeared and was found sprawled in a gravel pit outside Waco with two bullets in his head, killed by teammate Carlton Dotson, who pleaded guilty to murder in '05 and is serving a 35-year sentence. The resulting investigation of the basketball program uncovered illegal payments, rampant drug use, unreported failed drug tests and a lack of institutional control that resulted in seven years of self-imposed and NCAA sanctions. But the true depth of corruption might never have been exposed if an assistant, Abar Rouse, hadn't secretly taped coach Dave Bliss trying to cover up his misdeeds by coercing his staff and players to falsely portray Dennehy as a drug dealer.
That this all happened at a religious institution made the episode only more chilling; Bliss, too, had made his faith a central part of his image. "It was embarrassing, horrifying really," says former Bears football coach Grant Teaff, whose two Southwestern Conference titles stood alone as the program's high-water mark and whose wife, Donell, then sat on the school's board of regents. "You look back on it and say, How could it be? Yet it was."
One year after the launch of Baylor 2012 the university had indeed made itself a national name: can't win, can't live honorably—and can't even live dishonorably without getting caught.
"You had to think, So what price are we paying for success?" Lyon says. "The only reason you're doing all this is to show that being Christian means you don't have to sell your soul to succeed. And you just sold your soul. It's all over, isn't it?"
In the game's first minutes, one section of seats in the Ferrell Center remains glaringly empty, reserved for the 18 football recruits and their families still being wooed in an arena conference room. Not 24 hours before, with national signing day less than two weeks away, football coach Art Briles sat in his office as close as possible to a table holding Griffin's Heisman Trophy. He reached out and thumped a finger on the base of the statue: "It's phenomenal, the difference it's made in our recruiting world."
An assistant led in two high school seniors, a linebacker and a tight end. Briles shook their hands and asked about their families, but they were looking past him. He stepped back. "There it is," Briles said. "The real one, too: That's Robert's." The two boys made a sound somewhere between a gasp and a moan. The tight end moved first, reached out but only tapped the Heisman lightly, as if it were some kind of holy relic. But the linebacker stalked over and grabbed a bronze arm and leg, lifting the 25-pound trophy just enough to feel its heft.
"The Alamo Bowl trophy's over there," Briles said, pointing across the room to the winning hardware from the Bears' wild 67--56 win over Washington on Dec. 29. "That's 88 pounds." The two players looked over politely but stayed right where they were.
Griffin, you see, is a ghost of the first kind, one of those figures whose name will be celebrated and sold for decades. His impact on recruiting—on Feb. 1, Briles would reel in one of the best classes in school history, the centerpiece of which is four-star defensive tackle Javonte Magee of San Antonio—is easy to see. But you need to hear the voices. Already, when they talk about Robert (not "RG3") in Waco, there's more to it than just the usual pride in a once-a-generation talent. You hear this more from the older fans, who remember the five decades without a conference title, the ones who'll relive forever the horror of coach Kevin Steele's 1999 decision—while sitting on an awful UNLV team's eight-yard line with a three-point lead and less than 20 seconds to play—to run the ball.
"Everyone's waiting for him to take a knee," says chemistry professor Kevin Pinney. "Then you see them running a play, and the ball fumbled at the goal line. Then you see a UNLV player run 100 yards for a touchdown...."
If only because Griffin allowed them to change the subject, Baylor fans overflow with, well, gratitude. That he led the 2011 Bears to a pinch-me season that included, for only the second time in Baylor football's 110 seasons, 10 victories—including wins over Texas and, for the first time, Oklahoma—is no small thing. But the junior quarterback did so while studying Latin, earning a 3.67 GPA and completing his bachelor's degree in political science in three years, then working on a master's degree in communications that he'll finish this summer.
Griffin showed that Baylor could win and remain true to its mission; that its quarterback could say, "God obviously has a special place in his heart for this university" without the world laughing in his face; that it could recover a bit of the soul it lost a decade ago. "He's just one in a million," says Waco mayor Jim Bush.
You hear it all over Waco: Robert never put a foot wrong. He accommodated everyone. In October 2010 one of his key receivers, Josh Gordon, was arrested for misdemeanor marijuana possession. The charge was dropped and Gordon played out the season, but last July he was suspended indefinitely for violating team rules. Griffin, with teammates Terrance Ganaway and Elliot Coffey, visited Baylor president Ken Starr in his office and argued for mercy—if only to allow Gordon to remain a student. "We felt that, as a Christian school, we [should] not be like everyone else and ship these guys off when they encounter adversity," Griffin says. "Because Jesus never gave up on anybody."
Starr was impressed. "I'm just proud of 'em," he says. Still, Gordon was off the team. He transferred to Utah last August—one of Griffin's few losses. He made a habit last season of engineering unlikely wins, none more thrilling than his 479-yard dissection of No. 5 Oklahoma. On a gorgeous November night in Waco, Griffin rolled left, the game tied at 38 and Baylor's alltime record against the Sooners 0--20. He saw Terrance Williams in the deep right corner of the end zone, cocked and threw a 34-yard dart with eight seconds left.
When Baylor recovered its own squib kickoff, Griffin took—thank you, Lord—a knee to end it. Then he disappeared. You saw him only a few seconds before a flood of ecstatics swallowed Baylor's necessary man, the embodiment of all the place wants to be.
Something's wrong. The Bears, who reeled off 17 straight wins to start the season, look tentative and soft for the second straight game. They're being bullied by shorter, tougher, Mizzou, part of a pattern that will play out over the next month, dropping Baylor to No. 13 in the latest poll. "We need guys to just step up, almost man up," forward Quincy Acy says after the game. "We got tough dudes, but sometimes when we get in the game we kind of ... shy away."
Four and half minutes in, as the buzz begins to fade in the Ferrell Center, Starr, chewing a wad of gum, stands during a timeout and hurries off. He returns 30 seconds later with four water bottles, passing them to anyone who wants one.
Starr took charge at Baylor in June 2010, and he's enjoying what associate history professor Thomas Kidd calls "one of the longest honeymoons ever seen." Tireless and blessed with, as Starr himself puts it, "a gift of encouragement," he has won over almost everyone he has met on campus and off, no matter where they stand politically. That's no small feat when you consider that folks still refer to him as "that Ken Starr," the one who in the 1990s became an indelible figure in the nation's culture wars, investigating President Bill Clinton to the point of impeachment.
"I thought about that division—in Texas there's strong Republican ties and strong Democratic ties—and thought, Boy, we don't need a president who's going to frame the conflict out there," says Drayton McLane, the former Astros owner who served for two years as chairman of Baylor's board of regents. "But someone who knew him said, 'Don't make your mind up until you meet him.' And I haven't thought of it again once."
Still, when Starr puts on a gold BU baseball cap and leads the Baylor Line onto the home field each football Saturday, Baylor's ghosts meet their match. One glance at the man, after all, conjures a host of images: Clinton wagging his finger; Monica Lewinsky and the blue dress; former attorney general Janet Reno, whose two most controversial acts in office were expanding Starr's authority as independent counsel in the Whitewater investigation, and authorizing the final assault on the Branch Davidian compound at Mount Carmel in 1993. Shortly after, a fire consumed the building, killing at least 80, including Koresh.
At 65, Starr seems burdened by none of this. He has perfected a manner "so syrupy, grandfatherly sweet," says women's basketball coach Kim Mulkey, that it feels unseemly to wonder what's sincere and what's not. Starr will giggle and say disarming things like, "Football coaches are important. Basketball coaches are important. You can always go get a college president!" No Inspector Javert has ever been more pleasant.
Then again, such equanimity may be possible precisely because Starr's toughness is assumed; the former federal judge and solicitor general has argued 36 times before the U.S. Supreme Court and rocked a presidency. In other words, he was the perfect man to champion Baylor's cause when the Big 12 verged on collapse—a danger that, in Waco anyway, felt like, "a threat to Baylor in totality," Teaff says.
Starr was in his second day on the job when he arrived in Kansas City, Mo., for a meeting with the Big 12 board of directors and spotted Nebraska athletic director Tom Osborne. Starr's first thought was to get an autograph; then they chatted. Osborne made it clear that Nebraska wanted out. "And so," says Starr, "it started falling apart."
The Cornhuskers left for the Big Ten. When it became clear last August that Texas A&M was edging toward the SEC and that Texas and Oklahoma might follow, Starr knew that Baylor's grand ambition might not survive. The school faced a loss of an estimated $20 million annually in TV revenue, a figure that playing in a smaller conference would never make up. Starr worked the phones, sent e-mails to at least one SEC president, wrote an editorial for the Houston Chronicle and then bared the teeth of that Ken Starr, dangling the threat of litigation against the SEC, Texas A&M and anyone else who might pique his interest.
It was, for a time, a singular stance, until the presidents of Iowa State and Kansas State chimed in. Criticism fell hardest on the Bears, though, most notably from TV yapper Jim Rome, who mocked "scrubby little Baylor" for holding up the inevitable. Baylor fans loved it. Not only did Texas and Oklahoma decide to stay, with an agreement handcuffing their first- and second-tier TV rights to the Big 12 for six years, but Starr's saber-rattling reinforced the school's increasingly feisty self-image.
"We're not going to be small, we're not going to be scrubby, and we're not going to be gentle," Briles says. "Our face has been rubbed in the sand for a long time, and now we get to come out of it, stand up, put on our hat and T-shirt that say BAYLOR. And instead of people snickering, they're thinking, Hey, those people are good."
Many of those snickers, of course, came from within city limits. Longtime relations between Waco and Baylor weren't so much hostile as cool; students and teachers lived within their private, cozy Baylor bubble, and residents ignored them right back, reserving their love for UT, A&M or Tech.
But in the last two years Baylor has tried to puncture that wall—announcing plans to move its school of social work to downtown Waco, collaborating with a nearby college and the city on a new research center. "Ever since Judge Starr came to Baylor two years ago, it's been totally different," Mayor Bush says. "Baylor is Waco's team now. It's just unreal."
It's also good for business. Baylor's plans for an estimated $250 million football palace on the other side of the Brazos make it imperative to market tickets to non-Baylor folk, and the city sees the stadium as a catalyst for riverfront development. Just as important, Waco, which since the Koresh debacle has felt unfairly saddled with a reputation for fanatic religiosity, has found a way to remake its image.
"I compared it with the Kennedy assassination: For years Dallas was the place that killed the President, and now people [associate it with] the Cowboys or maybe the TV show Dallas," says Lyon. "It never occurred to me that Baylor athletics might be the tool to redefine the community in a more positive way. But it has been."
Even as far out as Mount Carmel. "I don't think people think of Waco as what happened here anymore," says Alexa Pace, whose husband, Charles, is pastor of a new church of Branch Davidians that sits upon the land where so many people died. "Baylor's so big now and popular."
On Dec. 14, when Baylor honored Griffin at halftime of a basketball game, the couple and their 16-year-old son, Ben, made the 20-minute drive in. All 8,800 stood in the Ferrell Center when RG3 and the trophy appeared, and Ben was thrilled. He's a running back on his school's six-man team, and what ballcarrier doesn't dream of the Heisman? "He just loves football," Alexa says.
Abar Rouse is not here. He had no Robert Griffin to speak up for him, and he was gone almost as soon as he arrived in 2003; in the Bliss aftermath his face was barely seen. He floats in Baylor's consciousness these days less as a ghost than three syllables growing faint. Abar Rouse? "I can't even tell you the last time I heard that name," McCaw says.
Yet for Rouse, once, sitting on the team bench with a packed Ferrell Center breathing down his collar would have been paradise. He's a Baylor alumnus, class of '97, and was sure of nothing then except that he wanted to coach. But he has been back to campus only once since the scandal. "I'm the black sheep," he says. "I can't go home, bro."
It was maybe a year ago. Rouse was driving past Waco on the interstate. His wife and 17-year-old daughter wondered what it was like, the place that has so dominated their lives by its absence. He turned off the exit, rolled down University Parks Drive, steered past the new buildings and taller, fuller trees. He didn't stop. Baylor wasn't his anymore. It hasn't been since he reached for the microcassette recorder tucked into his underwear and hit RECORD.
"Don't think it doesn't hurt to feel unwelcome at an institution that you took—that I take—so much pride in," Rouse says. "I think that the teams and the things that they've accomplished build people like ... me. That's what it is about."
What he means is that he, as much as Starr or any starry-eyed booster, buys the conceit that Baylor is different. Rouse transferred into Baylor as an undergrad in 1995, all but recruited to work as a student manager under the clean-house regime of new coach Harry Miller. Early on he forged a player's name on a routine check-in sheet, and Miller lit into him. "Rightfully so," Rouse says. After graduation he made a series of junior college stops. There were times he cut corners with recruits and rules. "I was taught by other coaches that this is the way you got things done," he says. But Miller's seed had burrowed in too: Baylor, his school, was different.
On June 1, 2003, Bliss hired him, at 27, as director of basketball operations. Within three weeks Dennehy had gone missing. By late July, Dotson was charged with his murder; Dennehy's body had been found; and Bliss, who had personally made Dennehy's tuition payments, was getting desperate. In the first of several meetings with his assistants and players, Bliss suggested telling NCAA investigators and the press that Dennehy had peddled marijuana and harder drugs to pay his school bills. "I honestly thought, This guy is going to come to his senses, this is crazy," Rouse says. But Bliss didn't waver.
The two left the office together, and when they got into the school-issued Tahoe, Rouse says he told Bliss, "We can't operate like this."
"Well," Bliss replied, "do you want to get fired?"
Rouse spent $25 on a tape recorder and managed, with a microphone wire snaking up his shirt, to click it on during meetings with Bliss and others from July 30 to Aug. 1. Rouse wasn't being wholly noble. He wanted to cover his tail, perhaps save his job. But he also taped because, he says, Dotson and Dennehy were every Baylor coach's responsibility. Dotson was facing a life sentence and the truth of their lives at Baylor had to be given to police and NCAA investigators.
The day after consoling Dennehy's parents at the funeral in San Jose, Bliss resigned, admitting to the improper payments. Rouse's tapes became public in mid-August, and a national wave of revulsion enveloped Baylor. Rouse was told to drop off his keys and soon realized he was blackballed—but not because of the program's filth. In October, Duke coach Mike Krzyzewski, Syracuse's Jim Boeheim and Oklahoma's Kelvin Sampson condemned Rouse on ESPN. "If one of my assistants would tape every one of my conversations with me not knowing it," Krzyzewski said, "there's no way he would be on my staff."
Rouse was stunned. He figured some coaches would be uncomfortable with him, but Coach K? "Can you imagine? This is my hero," he says.
Rouse found only one basketball job open to him: graduate assistant at Midwestern State in Wichita Falls, Texas, which had been his first stop out of high school and college. He stayed three years, making $8,000 his final season. He quit to work in a factory making airplane parts. The closest he's come to coaching since is at his current job, as a recreational specialist in a federal women's prison.
He lives about 90 minutes north of Baylor, near Fort Worth. Bliss, since 2010, has been the dean of students and head basketball coach at Allen Academy, Texas's oldest prep school, 90 minutes south of Waco in Bryan. Six months after being hired, Bliss was found to have made improper inducements to two players and forged the signature of the school's headmaster on the transfer form of another. (The student never enrolled.) He was suspended for a year by the school association's governing body, but Allen Academy defended him and moved to another association rather than comply. His team went on to win a state title that season.
Asked last month to comment for this story, Bliss said, "I'm just not interested. Baylor's having a great time; it's a great story. I don't see the need to say anything more."
Rouse has little use for Bliss or the people who hired him again. "I get up every day, wash my face, look in my mirror," he says. "I don't have any problem sleeping. I think—no, I know—that I did right by my players. I did right by my school."
He doesn't miss coaching much. He's enjoying the Bears' rise and assumes they're clean. "I hope they're doing it right," he says. Still, at 36, he feels the tug. Just once he'd like to be back inside the Ferrell Center, to hear the cheers and the ball pounding and feel what he has lost. "It'd be nice to show my girls and my family," Rouse says. "We very well may. Maybe just sneak in there, and sit up top and just...watch it."
Here's the trouble with Scott Drew. It's not that his team, in losing to Missouri 89--88 today, played oddly unmotivated ball. It's not that Jones, who says he came back to Baylor because he wasn't ready yet "to be a man," seems, if anything, to be getting younger, less sure of himself, with every game. It's that the Baylor coach got hit with a technical foul midway through the second half after one of his shooters got mugged and there was no call, and now in the press conference he's been asked to explain. "I deserved it," Drew says, but then he eyes the room and hurriedly adds, "I didn't cuss at him, though."
Moms swoon at such fluffery, of course, and it's surely good for Baylor's image that the Bears have a no-profanity rule. No one questions Drew's devotion to Sunday services, either. But such comments make opposing coaches groan because they know firsthand how ruthless Drew can be. In the world of college ball, where the winners often dance teeteringly close to the line between legal and illegal and the fuzzier line between right and wrong—with an occasional who, me? flop to the other side—the 41-year-old Drew has been among the most light-footed.
Negative recruiting? In 2006, Drew's office sent out a flier to high schoolers with a pristine photo of Drew flanked by x'd-out images of Texas Tech's Bob Knight and Texas A&M's Billy Gillispie. (Knight reportedly upbraided Drew for it in a bathroom.)
Navigating the AAU spiderweb? According to a report on foxsports.com, Drew okayed the paying of AAU coach Mitch Malone, who had strong ties to Quincy Acy and future transfer Ekpe Udoh, to speak at camps at Baylor in the summer of '08. At the same time, in a naked bid to land No. 1 recruit John Wall, Drew hired Wall's AAU coach—and current righthand man—Dwon Clifton as Baylor's newly created director of player development.
Both moves were legal, and as Drew points out, the hiring of someone like Clifton is, "if you look throughout college basketball ... very prevalent." He then produces a hee-haw giggle. "And I got crucified more than anybody else on that! And we didn't get the kid!"
True: Wall ended up at Kentucky. But Clifton still produced before he left Baylor in 2010; Bears blue-chippers Quincy Miller and Deuce Bello played on the D-One Sports team once controlled by Dwon and his brother Brian, now an agent. The Clifton hire was a point of no return. Baylor had signaled its intention to compete nationally. Two years later the Bears tore into the Elite Eight, losing to eventual champion Duke.
"Scott comes in, and they don't know if he's Billy Graham or Jimmy Swaggart," says Sonny Vaccaro, who's been a camp organizer and marketer in basketball for 50 years. "He gave up his virginity in dealing with John Wall and hiring [Clifton]. That's not something you do in the world he's living in. That's something you do if you want to get out of that world and win."
By any measure, Baylor has made an astonishing climb. "Like raising the Titanic," Lamar coach Pat Knight says. The Bliss scandal left Drew with nothing to build on and little to sell, but he says, "I felt led to come here. This is where I felt God wanted me." Then 32, the son of Valparaiso coach Homer Drew had just one season's experience as a head coach, six scholarship players and the prospect of recruiting to a school stuck in competitive limbo.
"And from Day One he was saying, 'We're going to build a Final Four team,'" McCaw says. "I mean, Final Four? We were a lot closer to the bottom four."
Oddly, considering the cautionary tale that had just played out before them, there was no call from faculty or alumni to rethink the athletic aims of Baylor 2012. After the Bliss scandal, the school had sanctioned itself for the 2003--04 and '04--05 seasons with scholarship limits and restricted schedules before the NCAA added five more years of limits in '05. But the moves were hardly radical. Each year thereafter seemed to bring the opening of a new facility. "Athletics is a part of the university, like academics," says executive vice president and provost Elizabeth Davis. "We weren't about to wind that back."
On the contrary, starting with the Lady Bears' emotional run to the 2005 national title, winning created excitement—and donations—that a new science building never could. "This kind of success is crucial for Baylor's future," says Lyon, the graduate dean.
Drew bulled forward. Jones says his coach "has so much charisma it's amazing," but his charm is that of constant sunniness, fist bumps (" 'Sup, big dog?") and toil. The Bears slogged along the bottom until 2007--08, when they broke through with 21 wins and their first NCAA bid in 20 years. "They never wavered," says Pat Knight, but he wasn't surprised: As a Valpo student, Drew had come after Pat hard in 1992, trying to persuade him to transfer from Indiana—and his father. "He's relentless," Knight says. "Baylor'd go after some kids they thought they had no chance at. He just worked his ass off."
It's no coincidence that Kansas coach Bill Self's loathing of Drew and Texas coach Rick Barnes's jibes at him increased with Baylor's wins. The refrain How's he getting these studs to go to Waco? was sung coast to coast once Jones signed two years ago. That he began this season finishing out a six-game suspension because his family, during his career at Duncanville (Texas) High, received impermissible benefits from an NFL player—which had nothing to do with Baylor—didn't help.
"When the poor get rich, it's an issue," Drew says. "When the rich get rich? If I'm at Texas and we do well? That's no problem: It's Texas. The one year we won, I think, four [Big 12] games, two coaches [we beat] got fired. I'd have hated me too. But now if people lose to Baylor, it's not like they're getting fired over it. It's, well, That's a good program."
But new questions about the program's tactics were raised in the summer of 2010. In his pursuit of Colombian recruit Hanner Perea, who was playing for a prep school in Indiana, Baylor assistant Mark Morefield, a longtime colleague of Drew's, reportedly sent dozens of texts, including one to Perea's coach that seemingly threatened deportation if Perea chose Indiana over Baylor. i guarantee u if he does he will be in Colombia for the spring and summer and next year, Morefield's text read. don't forget it.
The NCAA began an investigation into the alleged illegal contact in October 2010, and last July, Morefield left Baylor; the investigation is ongoing. Asked for his side of the episode, Drew said, "I haven't spoken on it. Actually you might be the first to ask me about it." He then said he needed to consult with administration officials.
"They said it's in the past, and preferred me not to comment," Drew said a day later. "Any other questions I can answer. That one I got to leave at that."
Starr, for his part, says he's always concerned about compliance, but "we have to be even more so, more vigilant, more watchful, much more focused on that particular dimension. And I will fault myself: I don't think I've been as vigilant as I need to be." But he, like everyone else in charge at Baylor, speaks often these days about the basketball team's alltime best 2.77 GPA—and forgiveness.