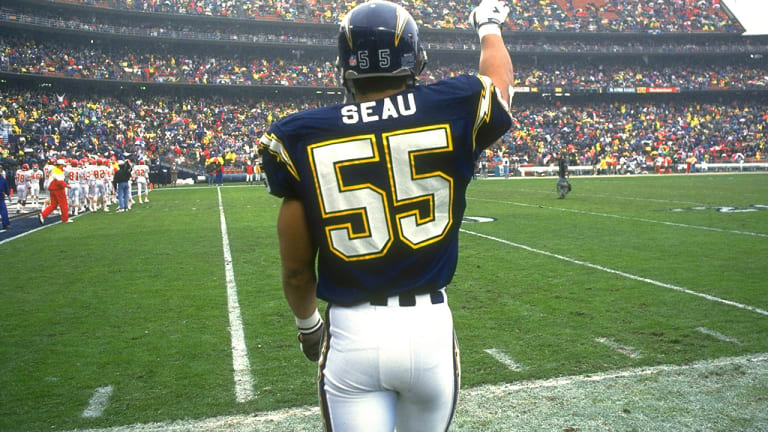 Publish date:
WHY?
Junior Seau was a beloved figure in San Diego and one of the greatest linebackers the NFL has seen. His suicide at age 43 has left even those who knew him best stunned, confused and searching for answers.
On most days Junior Seau would roll out of bed at 5 a.m., pad down a flight of stairs to the garage of his beachfront house in Oceanside, Calif., and change into a bodysuit. He'd grab one of his kayak-sized longboards and walk barefoot across the narrow street to the 12 concrete stairs above the shore. Sometimes as he made his way down to the sand, Seau would pause and stare into the dark distance. The brick-front two-story house along The Strand, 40 miles up the coast from San Diego, was where he lived, but the ocean was where he felt at home.
"He would tell me the only time he truly felt at peace was when he was with his children or in the surf," says Rodney Harrison, Seau's former teammate with the Chargers and Patriots. "He would say, 'When I'm on those waves, it's the greatest feeling. I have no worries, no stress, no problems. I just forget about everything.' Junior was always searching for peace."
When he wasn't in the water, Seau might be on the patio above his garage, plopped into one of the half-dozen chairs in his board shorts and flip-flops, strumming lazy tunes on his ukulele and looking out over the Pacific. From his perch he could taste the salt on his lips, feel the mist on his face, hear the comforting sound of the surf.
On May 2, in the morning the roar of the ocean mixed with the sound of hearts breaking across San Diego County. Seau, the iconic, homegrown star linebacker who was three years into retirement, lay dead in a bedroom of his house, the victim of a self-inflicted gunshot wound. As the news circulated throughout the area, shock and sadness gave way to confusion. Why would someone so full of life at age 43, so universally admired and with so much to live for, put a revolver to his chest and pull the trigger?
In San Diego, where Tony Gwynn and Dan Fouts became icons and where Ted Williams, Bill Walton, Marcus Allen and Ricky Williams grew up, Seau was by far the most popular athlete. And the affection stemmed not just from the transcendent play that earned him 12 Pro Bowl selections in 13 seasons with the Chargers before finishing his career with Miami and New England. Seau was a local guy who overcame difficult circumstances as a youngster and never forgot his roots. As kids, Junior and his brothers Savai'i and David slept on mattresses in the garage at the family's small bungalow on Zeiss Street in Oceanside, while their parents, Tiaina and Luisa, and sisters Mary and Annette took up the two bedrooms. On nights when it was cold enough to see their breath, the boys would keep warm by using a space heater. From such early experiences Seau learned the value of positivity and perspective—when his sisters would tease that their room had carpeting, he'd say his had the bigger door. If outsiders later tried to dwell on the pathos of his story, Seau would stop them and smile, because he knew those circumstances helped him become one the game's most decorated and highly paid players.
Seau was at ease in his hometown. His beachfront house sits less than two miles from Oceanside High, his alma mater, and on fall Fridays he would sometimes walk the sideline during Pirates football games. Everyone knew where he lived. There were no gates or barriers to keep people away. Locals would walk by his house on The Strand and, almost in passing, say, "Oh, that's June's place."
If it is possible to live in two worlds—that of the average Joe and that of the athletic demigod—Seau did. He could go effortlessly from the surf or the sideline to a board meeting for his foundation, which since 1992 has dispensed nearly $4 million to aid disadvantaged kids and young adults in San Diego County, through programs such as Gangbusters.
"That saved my life," says former Rams and Bears linebacker Pisa Tinoisamoa, who as a prep senior at Vista (Calif.) High was facing a second felony battery charge in three years before mentors from Gangbusters stepped in on his behalf. "It had people surround me and help set me straight. I was basically on house arrest, so they would pick me up from school and take me to an after-school program. June was behind that.
"I saw him on my birthday last July, and he came in playing his ukulele and singing Happy Birthday. I didn't get to tell him personally what he meant to me, but he knew. He saw the success I had, and he was proud of me. Whenever I saw him, he would talk about how good I was. He was always positive. That's why everyone loved him. They felt they were friends with June. He had that status about him, but to us he was just a man of the people.
"When I got drafted by St. Louis, I wasn't sure about coming back [to the San Diego area] in the off-season. There's just so many pressures with that. I used to wonder how June handled it. He was the first Samoan to have that much success, and you know what money can do. Everyone felt like Junior was his cousin and Junior owed them something. But he took it in stride. He wasn't afraid to show his face. I always admired him for that."
Five days before his death, Seau was out with Vaughn Parker, a former Chargers teammate. Parker's lasting image of that evening was how Seau beamed about the decision of his daughter, Sydney, to follow in his footsteps and attend USC, where Seau came to national prominence as an All-America linebacker before San Diego took him with the fifth pick in the 1990 draft.
Those close to Seau say he was not in financial trouble—his sports-themed restaurant in Mission Valley is popular with locals and a destination stop for tourists—and he showed no outward signs of depression or emotional pain. He cherished his four children, Sydney and sons Tyler, Jake and Hunter. The day before his death he talked with close friend Joe Stabb, a longtime workout partner. "In that excited voice that he has, he gave me this big 'Joe! Joe! What's going on?'" Stabb says. "He told me they were having a big party at the restaurant on Saturday, and I should come down at noon to watch the Kentucky Derby and then the [Floyd Mayweather--Miguel Cotto] fight. He was Junior. The next morning I heard what happened. I was sick."
According to family and close friends Seau didn't own a gun. (As of Monday, police had yet to determine who owned the weapon Seau used to kill himself.) He left no note, nor any voice mails. The day before he died he texted "I love you" to each of his kids and to his ex-wife, Gina, but friends say that was not unusual. He often told those close to him that he loved them and greeted women and men with a kiss on the cheek.
So why? "No one is going to know but Junior," says Leonard Mata, a native of Oceanside and a police-department lieutenant.
It is too early to draw a straight line, but the question must be asked whether Seau's two decades in the NFL contributed to his death. In the previous 15 months, retired safeties Dave Duerson and Ray Easterling committed suicide by shooting themselves. Both suffered from depression and dementia that they attributed to multiple concussions sustained as players.
Seau never appeared on an injury report with a head ailment, but it would be naive to think a 6'3", 250-pound linebacker whose primary purpose was, as he had said, "to inflict pain on my opponent and have him quit" never suffered from brain trauma. Gina Seau said after his death that he had suffered from concussions during his career. And Taylor Twellman, an ESPN analyst who was once Seau's neighbor in Oceanside (and who was forced to retire from pro soccer due to the effects of a head injury), told the network that Seau admitted to him he suffered from headaches associated with concussions.
Bette Hoffman, the executor of Seau's estate, said she planned to recommend to the family that scientists be allowed to study his brain for signs of trauma. If Seau is found to have been suffering from chronic traumatic encephalopathy (CTE), a brain condition associated with repeated head trauma, it could further shake a league embattled by the issue of brain injury.
That issue is headed to the courtroom. Nearly 1,800 retired players have joined in a total of 68 lawsuits against the NFL (and, in several cases, helmet manufacturer Riddell), claiming the league failed to properly treat their concussions or did not adequately inform them about the potential long-term consequences of repetitive head trauma. None of those plaintiffs, however, is of Seau's stature. He was a six-time All-Pro and the NFL's 1994 Man of the Year, and he is certain to be elected to the Hall of Fame when he is eligible in 2015. Many consider him the most dominant linebacker of his generation, a tackling machine who was quicker than some backs and stronger than some linemen. Seau's combination of instincts, acumen and timing made him a terror when he lined up over the A gap. Few others could read a play and anticipate the snap count as well as Seau.
But what also made him stand out, to teammates and opponents alike, was his willingness to give. It didn't matter if you were a first-round pick or an undrafted rookie; if you were hungry, ready to work and respected the game, Seau would feed you all that he had. When middle linebacker Orlando Ruff asked to learn from him after being signed by the Chargers as a rookie free agent in 1999, Seau told Ruff to show up at the weight room the next morning at 6:30. After running back LaDainian Tomlinson, the fifth pick of the 2001 draft, asked Seau, "How do I become the player I want to become?" Seau would frequently pull him aside on the field or in the locker room and explain how defenses would seek to stop him and where the creases would be.
"One day as a rookie [in 1994] I asked him why he practiced so hard," says Harrison. "He said, 'Rodney, I get paid to practice. I play the game for free.' He said anybody can go out in front of 70,000 people and get excited and play a game, but it takes a special person to practice at game speed. That changed my whole career, and my life. When I retired from the Patriots, coach [Bill] Belichick said I practiced harder than any player he had in 30 years of coaching. That was all because of Junior."
Slackers, phonies and those with an air of entitlement had no chance with Seau. In 1998 the Chargers traded up one spot to draft Washington State quarterback Ryan Leaf with the second pick, then gave him a contract that included a franchise-record $11.25 million signing bonus. Early in training camp Leaf threw what would be the first of many interceptions, and on the return Seau flattened the quarterback. Some speculated that Seau was jealous of Leaf and didn't like that a rookie teammate was casting shade on his star.
"What a crock," says Billy Devaney, the Chargers' director of player personnel at the time. "The reason behind the hit was that a bunch of veterans had pulled a prank—they'd gone out to dinner and charged it to Ryan's credit card. They did stuff like that to first-round picks every year. It might have been a couple thousand dollars, and Ryan went crying to [general manager Bobby Beathard], saying, 'This isn't right. I'm not paying it.' When the guys found out Ryan had gone to management, they were so pissed. Normally [on an interception in practice] you stop and say no big deal. Well, Junior wanted to send a message. He hunted Leaf down and decleated him. The whole defense came over and high-fived him right away."
From the R&B tunes he loved to the approach he took in the locker room, Seau was old school: Player business was meant to be handled by players, not brought to management. And everyone had to earn his way. In his rookie training camp, in the summer of 1990, veterans at first considered Seau a prima donna. He had held out while his contract was being negotiated, and in his first preseason game he was ejected after two plays for throwing a punch. His defensive teammates often would mill around when Seau tried to call them together. But by Week 2, when he moved into the starting lineup, he had become a leader.
Seau was a player teammates wanted to follow because he worked like he was the 54th man trying to make a 53-man roster. He would refuse to leave the field regardless of his physical condition. In the AFC title game in January 1995, he played with a stinger that prevented him from raising his arm above his shoulder and still made 16 tackles in the 17–13 upset of the Steelers. In 2000 he played numerous games on a torn hamstring yet was among the best players on the field. And in 2002 he took at least 18 pregame shots over the course of the season so he could play on a bad ankle.
Succumbing to injury was like submitting to an opponent. If Seau was hurt during training camp, he would have doctors treat him in his dorm room or at his home to prevent teammates from seeing him in a state of weakness. He had the same attitude off the field when it came to emotional pain, hiding his feelings behind a 1,000-watt smile and his disarming greeting: Bud-deeee! As saturated as we are with sports and its stars, the truth is we rarely know the people we follow, their character when they're alone or behind closed doors, beyond the vision of prying eyes. To many of his friends Seau was transparent—always happy, never negative. But a gunshot and a 911 call changed that.
One previous incident may have signaled that all was not well. In October 2010, Seau drove his SUV off a 30-foot bluff near his home after being arrested on a domestic violence charge that was later dropped. Some wondered then if it was a suicide attempt, but Seau insisted he had fallen asleep behind the wheel. Former teammates tried to reach out to him, sensing he was struggling with the transition to everyday life, but he was slow to return their calls and brief in text messages and e-mails when they attempted to check up on him.
"I often think about how Junior was the leader and the captain of the team, the face of the franchise, and how there was so much pressure on him," says Tomlinson, who likened Seau's passing to losing the brother who taught you how to be a man. "People can say there isn't a lot of pressure that goes along with that, but there is. You're the one that not only the public is looking at to be perfect, but also the people in the organization and your teammates. Junior was always that guy.
"I don't want to speculate on what happened, but nobody does this if everything is just fine or things are going great. I feel awful that Junior didn't feel he was close enough to anybody that he could say, 'Look, something isn't right.' We all need someone we can go to and say, 'There's something going on with me.' But that's who Junior was—he didn't want us to know he was hurting on the field, so off the field he certainly wasn't going to say anything."
In the days that followed his death, fans and friends left mementos outside Seau's house on The Strand and at his Mission Valley restaurant. Along the beachfront, just in front of his garage, flowers, cards, candles and photos lined the ground. Some people left Chargers number 55 jerseys with notes written in black ink on the white numerals. Others tied helium balloons in the shape of his jersey number or helmet to the metal barricade that was set up to keep people from getting too close to the house. Sitting on one barrier was a paper coffee cup. Written on the side: 2 PUMP VAN[ILLA] LATTE. A BET'S A BET. Presumably Seau's regular order.
On Sunday hundreds of locals, some decked out in Chargers jerseys, others in traditional Samoan garb, took to the water in front of Seau's house for a traditional paddle-out ceremony. Amid the rolling waves, they formed a circle of surfboards, kayaks and outriggers, joining hands and tossing leis into the water and saying prayers in memory of one of their own. Thousands of others thronged the shoreline. Among those in attendance were former Chargers teammates John Carney and Drew Brees.
Five days earlier many of those same people had watched the news of Seau's death unfold on local television, where programming had been interrupted. Inside the home that day, his family and friends gathered for a Samoan ceremony over the body. Then, amid tears and shock, they recited Psalm 23: "The Lord is my shepherd; I shall not want...."
One by one they took a final moment with the man who meant so much to them. Some reached down and touched Seau. Hoffman, the longtime director of his foundation, a woman whom Seau affectionately called Mom, leaned over and kissed him.
The coroners then placed the body in the back of a white van and drove along the shore before turning inland, toward the highway. Junior Seau may not have made it to the water that morning, but as the van pulled away, there was hope that he was at peace.