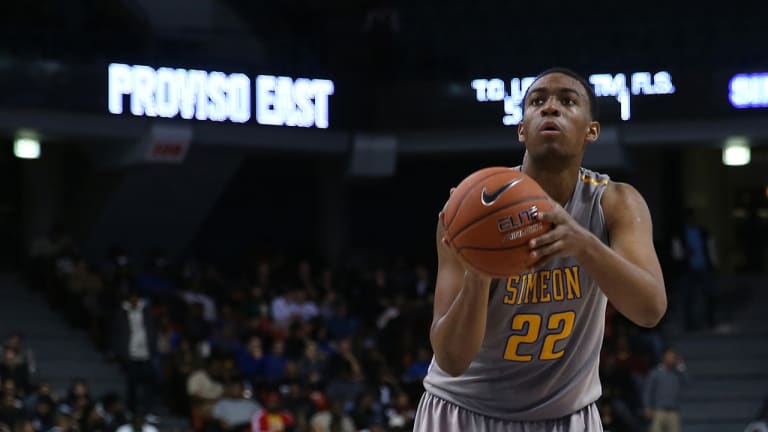 JABARI PARKER IS...
THE BEST HIGH SCHOOL BASKETBALL PLAYER SINCE LEBRON JAMES, BUT THERE'S SOMETHING MORE IMPORTANT TO HIM THAN INSTANT NBA STARDOM: HIS FAITH
Jake Flannigan filmed every in-state basketball game played by Chicago's Simeon Career Academy during the 2011--12 season. He saw Simeon's star forward, Jabari Parker, score 40 points one day and block 12 shots another. But his lasting impression of Jabari was formed when the camera was off. After a home game in which Jabari barely missed a triple double, Flannigan, a producer at Comcast SportsNet Chicago, waited outside the locker room for an interview. Jabari never appeared. He had used another exit to return to the court for the jayvee game and was behind the bench passing out water.
"The other varsity players were out in the hallway, talking to girls by the snack stand," says Flannigan. "The best player in the city was being the water boy for the jayvee. It's hard to root against a kid like that. He's on top of the world, but he's incredibly humble."
Humble isn't usually the first word that comes to mind when describing a star athlete, but it's the one most often used by people who have been around Jabari: the high school janitor, the hall monitors, the cheerleaders, even hard-bitten sports reporters and Chicago's famously combative mayor. What makes this all the more surprising is that Jabari, 17, is not just the best high school player in the state. He's the best high school player since LeBron James.
Last season the 6'9", 220-pound junior led Simeon to a 33--1 record and a third straight Class 4A state championship. In April he was chosen the Gatorade National Player of the Year, becoming only the fourth nonsenior to win the award (after James, Greg Oden and Brandon Knight). Three months earlier USA Basketball had named Jabari its male athlete of the year for 2011, succeeding 2010 winner Kevin Durant, an NBA All-Star. Jabari got that nod after leading the U.S. to the gold medal and being named MVP of the FIBA Americas U16 championship in Canc√∫n, Mexico, last summer.
Jabari handles the ball like a point guard and has a crossover that makes defenders stumble. His first step has been compared to Oscar Robertson's. He can drain threes, yet he goes to the rim with power and uses his 6'11½" wingspan to block shots and snatch rebounds. (Last season he averaged 19 points, 9 rebounds, 4 assists and 3 blocks.) One NBA executive told SI that if Jabari were eligible for the draft, he would be a lottery pick in June.
Instead, Jabari is being pursued by all the top college programs—Duke, Kansas, Kentucky, Michigan State, North Carolina. Though he is a serious student with a 3.7 GPA, he is almost certain to leave college after his freshman season. But his fast track to the pros includes a potential detour. A life-altering decision awaits Jabari that few other athletes of his caliber have had to face.
The backpack that Jabari Parker takes everywhere contains all the expected items: a pair of Nikes, socks with the NBA logo, basketball shorts, T-shirts, Icy Hot gel, a couple of rolls of athletic prewrap, and an iPod loaded with rap and R&B. But there's also a paperback copy of The Book of Mormon. Jabari belongs to the Church of Jesus Christ of Latter-Day Saints. "Basketball is what I do," he says. "It's not who I am."
Jabari's father, Sonny, who played for the Warriors from 1976 to '82, is not a Mormon, but his wife, Lola, is a lifelong member of the church, and their four children have been raised as Mormons. Jabari's religion makes him a minority on two fronts. Mormons make up just 1.7% of the U.S. population. And of the 6.2 million Mormons in the U.S., only about 186,000, or 3%, are black. At Simeon, Jabari is one of only two Mormons out of 1,588 students.
"I used to have to explain to a lot of my friends that not all Mormons are from Utah, and not all Mormons are white," Sonny says. "There are a lot of misunderstandings about the Mormon faith."
Says Flannigan, "When people around Chicago first find out Jabari's a Mormon, they are shocked. But whatever doubt there is about who he is or what he represents is quickly brushed away by his character."
Rahm Emanuel agrees. "Jabari is unique," says Chicago's mayor, who met the Parkers while he was running for office last year and attends most of Simeon's home games. "His family has great values. Jabari has earned the right to be a role model for kids in Chicago. His character and seriousness of purpose are exceptional."
Jabari admits that he feels "a big responsibility to be a good example. I know there are a lot of eyes on me."
Eyes might be on him most of all at the end of his freshman year in college, when he has to decide whether he will declare for the NBA draft or—like thousands of other Mormon men who turn 19—embark on a two-year mission to spread the faith in the U.S. or a foreign country (page 67). In 2010 the president of the church, Thomas S. Monson, called missionary service "a priesthood duty—an obligation the Lord expects of us who have been given so very much."
Missionaries do not return home for two years. They aren't allowed to have a job, attend college classes or pursue other personal interests. In Jabari's case, that would mean a two-year hiatus from basketball and conditioning, possibly jeopardizing a brilliant NBA career.
Jabari wakes up each morning at five and says a simple prayer, thanking God for another day. By 5:30 three days a week he's off to church for Bible study. Jabari's bio on his Twitter page features a favorite maxim from his basketball idol John Wooden: You can't let praise or criticism get to you. It's a weakness to get caught up in either one. "I realize why I'm in the position I'm in right now," says Jabari. "It's not because of me. It's because of God."
The Parker family likes to say that Jabari, whose name is Swahili for valiant, got his basketball genes from his father and his religion from his mother. In 1981, while in Salt Lake City for a Warriors game against the Jazz, 6'7" Sonny Parker visited a mall in search of dress shirts and ran into Lola Finau, whom he asked for help. Lola, a student at Utah, escorted him to a tall men's clothing store. To thank her, Sonny gave Lola tickets to that night's game. The two exchanged phone numbers, and the next time Sonny was in town they went to lunch. That's when he popped the question.
"So, are you a Mormon?"
"Yes," she said, bracing for an inquiry about polygamy.
"That's really cool."
Lola was surprised. Sonny had no questions—or criticisms. He just thought it was interesting to meet a black Mormon. Lola explained that she was Polynesian and that her grandfather had been the second person ever baptized by Mormon missionaries on the island of Tonga.
Six years later, after Sonny retired from the NBA and Lola completed an 18-month mission for the church in Tonga, they married and settled in a blue-collar section on Chicago's South Side. There, for more than 20 years, Sonny has run a nonprofit that puts on basketball camps and sponsors teams for underprivileged kids. Although he never converted, he and his family have attended the Mormon church in Hyde Park for years. Jabari, like his three older siblings, was baptized there. But he learned more than religion at the church. He learned to play basketball. "That's where Jabari became Jabari," says his brother, Christian, 24. "His first dunk was in that building."
Like most Mormon churches, the one in Hyde Park has a small indoor basketball court. When Jabari was in grammar school, Christian started taking him there to play one-on-one. The Parkers lived in a neighborhood where gunfire and street crime were not unusual. "We couldn't play at our local playground," Jabari says.
Recognizing how much the Parker brothers loved basketball, the bishop slipped Christian a key to the church. At night, if there was no school the next day, Christian and Jabari would wait till their parents were asleep before going to the gym. "We'd play for three hours straight," Jabari says. "We were very competitive." So competitive that the brothers occasionally would bump and bang each other until Christian was too tired to drive home. Then they slept on couches in the lobby. Once, when the cleaning lady showed up at 6 a.m., the boys woke up and played a little more before going home.
"Jabari never wanted to leave the gym," says Christian. "I'd beat him game after game, because I was older and stronger. But he'd keep coming back."
The first time Lola discovered that her boys hadn't come home, she placed frantic unanswered calls to Christian's cellphone. Then she called a friend who lives across the street from the church, who told her that Christian's car was parked outside. From then on, whenever the boys went missing at night, she knew they were safe.
One night when Jabari was in middle school, he dunked for the first time. One of the rims in the church gym is still bent from the ensuing years of Jabari's dunks. The other rim is straight: That's where he honed his jump shot. "The church was our safe haven," says Christian.
But the gym had another significance for Jabari. "There were images of Christ everywhere," he says. "There was a special spirit there, because we were at a church. So we didn't do things there that we might do outside a church." Today one of those paintings that hung from the church's walls—one of Christ telling a rich man that in order to obtain eternal life he must sell all that he has and give to the poor—hangs in the Parkers' home.
In 2007, Simeon coach Robert Smith had the best team in Illinois. He also had the best player: senior point guard Derrick Rose. One afternoon Sonny Parker walked into the Simeon gym and introduced Jabari, then a 6'2" 11-year-old, to Smith. At Sonny's request Smith invited the boy to run with Rose and the rest of the varsity. "I let Jabari see what he would eventually be up against," Smith says. "He was very skilled and handled the ball extremely well. He did stuff that normal sixth-graders just don't do."
When it came time for Jabari to choose a high school, Smith got another visit from Sonny, informing him that Jabari was coming to Simeon. "I didn't recruit Jabari," says Smith. "The Parkers recruited me." Then Smith got an unexpected visit from Lola.
"Jabari is a student-athlete," she said. "That means he's a student first. Second, this young man is into his church. He's a devoted Mormon. I don't want any special privileges for my son. But he will go to church every Sunday."
Smith, who runs his team like a Division I program and routinely holds practices on Sunday, was floored. "I had never had a mother come in like that," he says. "I had never had a father come in like that either. But this has been the best relationship with a family I've ever had."
Jabari is the first player in the four-decade history of Simeon's program to start as a freshman. In the past three seasons he has led the Wolverines to a combined record of 87--12, including those three state titles. Yet coach and star are a bit of an odd couple. Jabari uses phrases from the Bible for motivation and avoids curse words. Smith drops f-bombs regularly in practice and during games. When asked about Smith's salty language, Jabari laughs. "It doesn't faze me," he says. "I love Coach Smith. He's someone I can talk to and trust. My previous coaches would say things they thought I wanted to hear. He tells it like it is and pushes me past my limit."
Smith's Sunday practices presented another potential conflict for Jabari. "On the Sabbath, I'm supposed to focus on Jesus and the resurrection," he says. "But if I don't practice, I let the team down. I don't want my teammates to think that I think I'm special. I want to be treated like everyone else. It would break bonds with my teammates if I took Sundays off." So Smith schedules Sunday practices in the afternoon, allowing Jabari to attend morning services. And when the team is on the road—Simeon plays a national schedule, with games in five states last season—Smith makes sure there is time on Sunday for Jabari to attend church.
"Jabari makes my job a lot easier as a coach," says Smith. "The best player sets the tone for the team. He's clean-cut. He prefers to remain out of the limelight. And he's the ultimate team player."
One of Smith's assistants, Marlo Finner, texts an inspirational message to Jabari every morning. "I grew up around gangs and crime, but I went to church with my mom," says Finner, a 6'6", 290-pound Chicagoan who played at Missouri and in Europe. "Jabari and I have a lot in common. He knows that if you want to be successful you have to look for guidance from above. I tell kids you can follow God and still be tough-minded. Look at Jabari."
After Simeon won the state title in 2011, Smith kept his team overnight in a Peoria hotel. The plan was to celebrate and then make the three-hour drive back to Chicago in the morning, which was a Sunday. Lola informed Smith that Jabari would leave before that because he had a church commitment in Chicago. Smith and the other players understood. "Our relationship is why we are so good on the court," Jabari says of his teammates. "Our bond doesn't break. So I wanted to stay the night and celebrate. But I knew I had to do what was important." What Jabari didn't tell the others was that the following morning he was scheduled to become a priest. Mormon boys become priests at 16, and his 16th birthday had coincided with the state tournament.
One of the primary responsibilities of a Mormon priest is to handle the sacrament every Sunday. Priests also perform baptisms. Jabari has done both, but he has spent most of his time as a priest accompanying Bishop Joe Cannon on monthly visits to the sick, the poor and the elderly—an assignment designed to teach young men the importance of service and self-sacrifice. Mormons don't have a professional clergy, and Cannon, a 39-year-old Chicago Law School graduate who owns a specialty lumber company in Idaho, Indiana and Utah, has been Jabari's bishop for most of his teen years.
In December 2010, Jabari went with Cannon to the Waterfront Terrace nursing home on Lake Michigan. An elderly woman from Arkansas was living there. Lonely and dying, she asked Parker and Cannon to sing her some Christmas carols. "I knew it would make her day," Jabari says. "Her family wasn't around." As Jabari sang Silent Night, it was all Cannon could do to hold back tears.
Sonny gets anxious watching his son in high-pressure games, so he didn't go to Peoria to see Jabari win state championships as a freshman and sophomore. But when Simeon played for its third straight title in March, against Chicago's Proviso East, ranked No. 2 in Illinois with a 32--0 record, Sonny was in the stands. Fans sat on the edges of their seats as Simeon clung to a two-point lead with 3:05 remaining. Then an official lost a shoe as he ran to signal a blocking foul. With the ref at the scorer's table, Jabari jogged to center court, knelt and picked up the shoe and some notes that had fallen from the ref's pocket. When the official turned from the scorer's table to return to the floor, Jabari handed him his shoe.
The next three minutes belonged to Simeon. And with 15 seconds remaining and Simeon up by five, Jabari threw down a two-handed dunk to seal the game. Fans stormed the court, and Jabari found Sonny. The two tallest men in the arena embraced. "I'm so proud of you, son," Sonny said. A couple of weeks later, after Kentucky beat Kansas for the NCAA championship, Sonny called John Calipari to congratulate him. Before hanging up, Calipari said, "I want to coach Jabari."
Anthony Davis and Derrick Rose are the two biggest talents to come out of Chicago in the past five years. Each spent one year under Calipari before going pro. "Jabari Parker is a once-in-a-generation player," says Daniel Poneman, a talent evaluator for the website Five-Star Basketball. "His basketball IQ right now might be better than LeBron James's [at 17]. He's figured out how to dominate a game without scoring. He doesn't care if he scores two points or 50 as long as his team wins. And I've never seen anyone who wants to win as bad as this kid."
This fall Jabari will probably announce which college he will attend. But an even bigger decision awaits in the spring of 2014: whether to declare for the NBA draft and become the first African-American Mormon in the league or to serve as a missionary and walk away from basketball for two years.
Only one other Mormon athlete aroused anything close to the expectations Parker has elicited at such a young age. Danny Ainge chose not to serve a mission at 19. He went on to become the nation's top basketball player at BYU, a baseball star who would play 221 games for the Blue Jays, and a two-time NBA champion with the Celtics. "I don't believe a mission is for everybody," says Ainge, now president of the Celtics (with whom he won a third title as an executive) and a Mormon bishop in Boston. "I believe every young man should prepare for a mission, but I don't believe every young man should serve a mission."
Jabari has great respect for Ainge, but he also admires his brother Christian, who served a mission in Atlanta after playing basketball at BYU-Hawaii. Christian says going on a mission was the best decision he ever made. "I told Jabari that if you have a desire to serve God, there is nothing that can replace a mission," he says.
"When he came home from his mission, we talked a lot about it," Jabari says. "I want to go. But I have doubts. The NBA is the biggest dream of basketball players, and I'm no different."