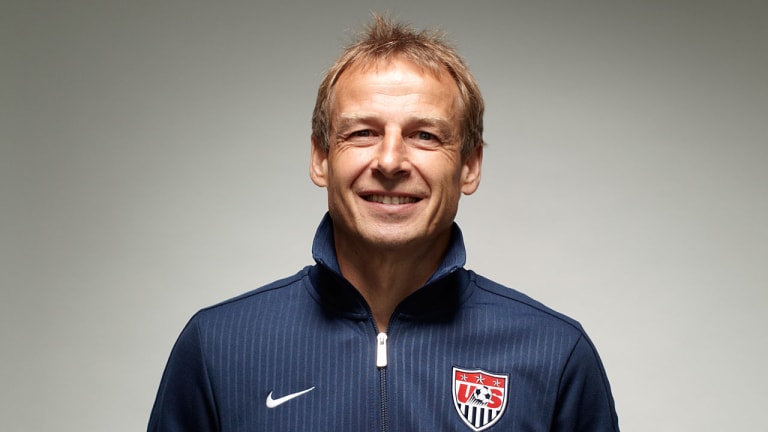 Now Is The Time In Soccer When We Dance
As World Cup qualifying begins for the U.S., coach Jurgen Klinsmann—joyous, intense, analytical, slightly off-kilter—is aiming for nothing less than a complete transformation of the game at all levels in America
The groans came slowly at first, then turned into shrieks of agony that made you wonder what sort of torture was going on behind that closed door. Jurgen Klinsmann, coach of the U.S. soccer team and former World Cup--winning striker for Germany, preaches the gospel of cutting-edge science and holistic training—blood tests, VO2 max screenings, pattern recognition drills—so no one was surprised when he scheduled a yoga session for players during camp in Orlando last month. "I never thought yoga would be so exhausting," says Terrence Boyd, the beefy 21-year-old forward who's one of several German-American players Klinsmann has brought into the team. "On TV people just sit there and breathe, but everybody was crying when we had to hold the positions out."
Pushing his players out of their comfort zones is one way in which Klinsmann is revamping the U.S. team as qualifying for World Cup 2014 starts this week. The campaign—at least 16 games over the next 17 months—begins with matches against Antigua and Barbuda on Friday in Tampa and at Guatemala on June 12. As one of the two perennial powers in CONCACAF, along with Mexico, the U.S. is expected to earn a seventh straight World Cup berth. The real measure of Klinsmann's performance will be how the Yanks fare against the world's best teams in Brazil two summers from now.
And therein lies a challenge. Klinsmann took the U.S. job to be an agent of change, signing a three-year, $7.5 million contract to replace Bob Bradley after a humbling 4--2 loss to Mexico in the final of the 2011 Gold Cup (a tournament that also included a 2--1 loss to Panama and a narrow 1--0 win over tiny Guadeloupe). The mission is twofold: in the short term to produce the kind of success Klinsmann had when he turned a young, transitioning German team into a dynamic attacking outfit that reached the semifinals of the 2006 World Cup; and in the long term to transform the way soccer is played in the U.S., from the national team down to the U-6 level.
But if changes in youth development won't affect the senior team for another "10 to 15 years," as Klinsmann says, how revolutionary can he be in two years with the talent he has at hand?
"It's really down to the players," Klinsmann says, his German accent softened by living in Southern California since he retired as a player in 1998, after his third World Cup. (His wife, Debbie, is American.) "I'm pretty much working with the same roster Bob had. You choose the best players you have. We've found a couple more, but the core is what it is. So how can we raise the bar for these 30 to 35 players?"
Tanned, blond and nearly as fit as when he was scoring goals for the likes of Stuttgart, Inter Milan, Tottenham and Bayern Munich, the 47-year-old Klinsmann is an endearing mix of Tony Robbins--style self-empowerment, California-surfer cool and Teutonic zaniness that recalls Mike Myers's old Dieter character on Saturday Night Live. ("Now is the time on Sprockets when we dance!") Klinsmann often giggles when he talks—"awesome" and "totally cool" are regular interjections—and while his celebrations of U.S. goals won't wow the Dancing With the Stars panel, their raw emotion is authentic and contagious. "He's an intense guy, very strong mentally, but he doesn't push it on you in a forceful way," says U.S. captain Carlos Bocanegra. "He's very gentle, almost charming. He's asking you to run through a brick wall for him, but it makes you feel good."
Curious by nature and eager to try new things—rare traits in a world-class athlete—Klinsmann has sought advice from successful American coaches, spending a day each with Phil Jackson and Pete Carroll and attending Mike Krzyzewski's weeklong leadership course at Duke's Fuqua School of Business. "Coach K is one of the most influential leaders coming from sports in this country," Klinsmann says. "I read most of his books, which I found highly interesting. Leadership is about people, in every environment. That seminar there was amazing because other business leaders gave examples of how they solved issues."
Klinsmann's U.S. project is multilayered. For starters, he's trying to change the American playing style. Klinsmann favors an up-tempo attack in which passes are exchanged in quick combinations on the ground and defenders play the ball out of the back instead of hoofing long balls downfield. "We need to have a constant higher pace, not only in the first 20 minutes but throughout all 90," Klinsmann says. When the U.S. loses the ball, he wants all his players pressing to win it back as soon as possible. A high defensive back line is another sign of his aggressiveness: It dares opponents to beat the offside trap by hitting passes over the top, but it also allows the U.S. to establish possession farther downfield, in more dangerous positions.
All these facets came together in a breathtaking 5--1 friendly win over Scotland on May 26, but they produced little in a dull 0--0 draw with Canada in Toronto on Sunday. The results have been mixed against more powerful teams as well. A slightly retrenched U.S. team upset Italy 1--0 in Genoa in February on a Clint Dempsey goal, but Brazil exploited several defensive lapses on May 30 in a 4--1 victory. Yet even in that match there was cause for optimism: Instead of employing a pure defend-and-counter strategy, as Bradley had always done against Brazil, Klinsmann's players showed confidence in possession and created chances in the attack. Klinsmann's tactical acuity has been encouraging, especially since it was his former assistant Joachim Löw (now Germany's coach) who got much of the credit for the X's and O's in 2006.
In the press conference after the Brazil match, though, Klinsmann made a surprising gaffe. U.S. players, he said, needed to be "nastier" on the field and should lobby the referee more, to attempt to influence calls. "Maybe we're still a little too naive, maybe we don't want to hurt people, but that's what we've got to do," he said. As a player Klinsmann was known for his sometimes cynical gamesmanship (including diving), but while such a speech may work as a private locker room philippic—some on the U.S. team could use a bit more bite—sharing the sentiment publicly was tone-deaf. After nearly 15 years in the U.S., Klinsmann should know that mainstream American sports fans despise the flopping, whining and thuggery that are all too common in world soccer.
Klinsmann's coaching career hasn't been perfect—Bayern Munich fired him in 2009 after less than one season—but the conventional wisdom is that his intensity and his need for time with his family (Debbie, son Jonathan, 15, and daughter Laila, 10) are better suited to the pace of a national team. "In [2006] everyone got swept away by what he did with the German team and how he transformed them," says U.S. forward Landon Donovan. "Having played in Germany and knowing the German mentality, [I think] it was pretty remarkable that he was able to accomplish that. When you get with a coach on a day-to-day basis, you can see how they make those things happen. He didn't just show up during the World Cup and all of the sudden magic was happening. A lot of work goes into it."
Much of it takes place on the field, where Klinsmann and his staff often hold double sessions even on days before games. But each day is also programmed with what Klinsmann views as educational opportunities. "He doesn't think boredom is a particularly strong developmental element," says Warren Mersereau, Klinsmann's longtime partner in the consulting firm Soccer Solutions. For U.S. players, training usually begins at 8:30 a.m. with an "empty-stomach" run for 30 minutes, the better to understand how the body uses energy. Klinsmann has had his players undergo media training and taught them to create their own scouting videos on laptops provided by U.S. Soccer. In January, before a match against Venezuela in Arizona, a nutritionist accompanied the entire squad to a Whole Foods to provide players with instructions on how to improve their diets. While traveling, the team has taken mandatory side trips to the Panama Canal, Versailles, the White House and Ground Zero. "If you have the choice of seeing the Panama Canal or playing XBox for two hours, we make that choice of the Panama Canal for you," Klinsmann says. "Maybe you don't realize as a player how big that is, but later you will."
Klinsmann's unconventional methods extend to the regular tests conducted on players by Athletes Performance, the U.S. training and fitness company. Upon arrival in camp, a player hops on a treadmill to determine his VO2 max, a measure of the body's ability to transport oxygen during exercise and a good gauge of overall fitness. The staff keeps track of his scores over time. "It's a simple way of talking to the player: Hey, this is your VO2 endurance," Klinsmann says. "I can tell you this is the international benchmark, because I have all those benchmarks for Champions League teams and national teams. This is powerful. It's a way of telling them there's a lot there to improve." Regular blood testing of players allows Klinsmann's staff to detect shortages of minerals and give them tailored vitamin supplements.
At other times the players undergo pattern-recognition tests. "You'll see words flash in front of you, and then you have to try to memorize them," says Dempsey. "Then it comes back with other words in it. It tests how you remember things." As another player puts it, "You have aptitude tests, like an IQ test. They want to see where you're at as far as visual reaction and memory."
Some players appreciate Klinsmann's push to get the most out of their bodies and minds. But others remain skeptical, wondering about the potentially invasive aspects of blood tests ("there's not much of a choice"), the amount of blood drawn ("they take, like, seven vials") and the value of players' assembling their own scouting videos. ("That's what you pay somebody else to do," says one player. "My club spends hundreds of thousands of dollars on scouting. Here we have the players do it themselves.") Leave it to the veteran Dempsey, though, to get to the point. "The most important thing is results," he says. "Whatever we're doing off the field, if it contributes to better results, then obviously it's working."
In February, Klinsmann spoke to an overflow crowd of 400 coaches at a U.S. Youth Soccer Association convention in Boston. Unleashing all of his Tony Robbins charisma, Klinsmann asked a question. "So the U.S. goes to South Africa and plays England in the World Cup group stage. What are the chances of winning?" A response came from the crowd: 40%. "O.K., same game, but in the quarterfinals?" A murmur: 20%. "Now why is that? It's the same game. The same players. Something happens here (pointing to his head). Because we've never been in the semifinals [in the modern era], that means the quarterfinal is the final moment? Why can't it be one more game? The same way you can do it in the quarterfinals, the same way in the semifinals."
Sitting in the audience, U.S. Soccer president Sunil Gulati smiled. "Jurgen connects with people. That's very important," says Gulati, who pursued Klinsmann for five years before finally landing his white whale last July. Gulati, a Columbia economics lecturer, wants Klinsmann not just to lead the U.S. to the quarterfinals (or beyond) at the World Cup and to influence youth development, but also to use his charisma to rally the hard-core supporters and win new fans from the broader culture. Or as Gulati puts it, "Selling people on the game without necessarily trying to sell in the typical sense. He's unique that way."
Make no mistake, with Klinsmann the potential for spectacular failure is there. But so is the possibility of greatness. That's what will make the next two years in American soccer impossible to ignore. The questions he asked on the stage in Boston in February are the same ones he's asking his U.S. players. "These are the questions you [will] get answered in Brazil," Klinsmann says. "But, theoretically, I'm saying it's all doable."
Not least because he's done it.