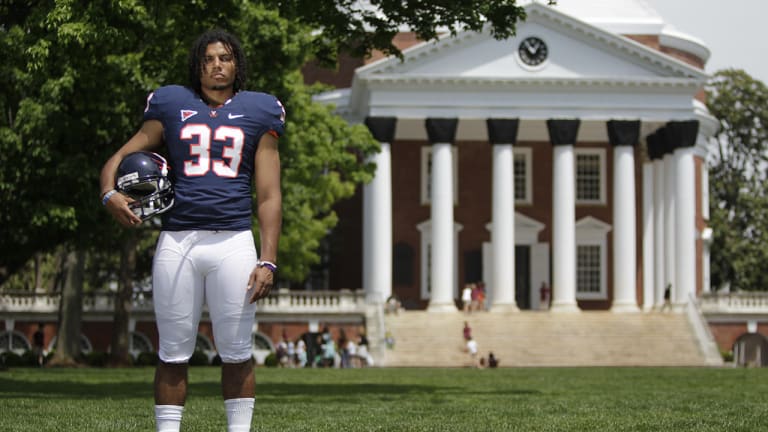 Why Don't More Athletes Take a Stand?
Virginia's Wonman Joseph Williams takes a stand for living wages for campus staff.
PARDON ME, I'd like to interrupt your regularly scheduled programming and introduce you to America's rarest athlete: Wonman Joseph Williams. His first name's a Korean word that means full harmony, but you don't need to check his papers. He's a defensive back on a Division I football team. You know, a student-ATHLETE.
He's a 19-year-old who stands up during team meetings at Virginia so that he won't fall asleep, but not because he's sluggish or disengaged. You see, he's attempting to do something that's nearly impossible at a college in the U.S. today. He's trying to be a student, an athlete and a human being. He's trying to live in full harmony.
Lotsa luck, kid! See you around!
Wait. That's him again, darting through a frigid rain and dripping into UVA's Alderman Library. His eyes fix on a student whose head has sagged onto a table amid the laptops, books and coffee cups. "That's one of the hunger strikers," murmurs a classmate. "He's two days in. They're doing it for the Living Wage Campaign."
Full Harmony stares in puzzlement. He has attended Living Wage rallies on campus, has friends in the crusade. He knows what's at stake for the thousands of campus workers barely scraping by, many on incomes at or near minimum wage. He knows the scrapers too: the old black dudes who scrape the snow and dog crap off this gorgeous green playground for the mind that Thomas Jefferson wrought nearly two centuries ago, the women who scrape the gravy and mayo off the plates in the dining-hall kitchens. Full Harmony's not another one of those students who cross campus with their eyes locked on their smartphones. He sings out greetings to total strangers, popping the bubble wrap around his school's elite matriculants, slicing at the distance between the students and the townies who serve them, perplexing all who've yet to perceive what he and they share. So how—besides the fact that he's a student-ATHLETE, one of 444,000 young American men and women who annually turn over their lives because they wish to play a college sport—has he missed hearing about this hunger strike?
He flashes a text to one of the Living Wage campaigners, a classmate named Hallie Clark: I didn't know y'all were hunger striking.
We sure are, she replies.
A thought and a nervous tickle run through him: He needs to join them. He needs to stop eating and watch the muscles on his 5'10", 207-pound body begin melting away so that Mama Kathy, the woman he hugs when she swipes his ID card at the dining hall, and Miss Mary, the lady he always chats with at the convenience-store cash register in the basement of Newcomb Hall, and all of their coworkers can.... But, c'mon. He's busy rehabbing the surgically repaired ligament in his left ankle, the one that wiped out most of his second season, so he'll be ready when spring ball starts in a few weeks ... and besides, imagine what his coaches would say ... and really, sports and social justice, they just don't mix anymore. Who in the last 40 years, in the wave after wave of American student-ATHLETES—not to mention the 4,100 young men on the rosters of the four mainstream professional sports each year—has made a stand like this?
Good. He can't hear that bitter cackle in the distance. It's one of the old, gray warriors from the front lines of the 1960s and early '70s who'd be willing to bet what this kid's going to decide. It's John Carlos, the bronze medalist in the '68 Olympic 200 meters, who raised his black-gloved fist on the medal stand to bring attention to racism in the U.S. and brought all hell down upon his head. "Athletes today?" he cries. "They don't know history! They don't want to come out of their box and risk people taking away their lollipops!"
Full Harmony whips out his cellphone again. Coach can't say no if Coach doesn't know. Count me in, he types.
Eat your last meal, Hallie replies.
Full Harmony's last meal: a double burger, chicken nuggets, french fries and a chocolate chip cookie, to the din of a pounding rain in his girlfriend's car in a McDonald's parking lot at 10:30 p.m. on a Sunday in February. Gone in 4½ minutes—he's never been one for ceremony. He balls up the wrappers, his excitement rising as the grease settles. He's your crème-de-la-crème college student, carrying a 3.43 GPA in one of his university's most selective and challenging majors, Political and Social Thought, while doing volunteer work at a Charlottesville Boys & Girls Club, mentoring Charlottesville teenagers in the Collegiate 100 Society, teaching English as a second language to a refugee from Burundi in UVA's Visas program, raising funds for the homeless as part of his fraternity's untiring community service and, oh, yeah, playing on an ACC football team. Doing this, though—true activism for a greater cause—is what he dreamed college would be back when he signed up for it, but he has barely seen a trace of it in his three years on campus.
At 9 a.m. the next morning he enters the anthropology building, Brooks Hall, and joins the gaunt gang of protestors. Perhaps he's naive. Perhaps they are too. Nobody, especially Full Harmony, regards him as anything more than Hunger Striker Number 13 ... except for one woman. Emily Filler's a UVA grad student and an adjunct instructor at nearby University of Mary Washington who's serving as the Living Wage Campaign's publicist during the strike, and when Hallie casually mentions Full Harmony's extracurricular activity to her, she knows at once: a handsome, high-cheekboned, square-jawed, ever-smiling, humble football player hunger-striking against his university administration's wage policy for thousands of mostly African-American campus workers. Yahtzee!
She calls Frankie Jupiter, reporter for CBS affiliate WCAV, and by the time the hunger strikers have gathered on the steps of the Rotunda for their daily noon rally, Jupiter's got a camera rolling and a microphone under Full Harmony's jaw. Capturing his vow that he won't eat until UVA, the biggest employer in town, does what 17 of the other 22 elite universities considered to be its peers have done and agrees to pay its service-sector workers a "living wage." That's a sum that the nonpartisan Economic Policy Institute, calculating the cost of living on a city-by-city basis, has determined for Charlottesville to be $13 an hour, which is anywhere from $2.35 to $5.75 more than the starting wage for UVA service workers.
Full Harmony finishes the interview, hoists a sign—WORKERS ARE PEOPLE TOO!—and becomes the loudest chanter of all: One! Two! Three! Four! No one should be working poor! Five! Six! Seven! Eight! UVA! Living wage!
A hundred students, a handful of them his friends, stop and gawk, then hurry away. Damn. Full Harmony, empty stomach, watches them all head off to lunch.
He awakens on Day 2 to a discovery: Nothing's harder to ignore than a hollow belly. Get up, he tells himself. Get moving. He crosses campus and slips into the football trainer's room, bracing for the tap on the shoulder and the nod toward the coaches' offices. He begins banging out his hour and a half of rehab work: underwater treadmill, calf raises, balancing exercises, stretches, crunching towels and picking up marbles with his toes, cold and hot whirlpools. It hits him halfway through: He's operating a Maserati on an empty tank. He drags himself into the locker room, pouring his last few volts into that high-beam smile, the everything's-hunky-dory look, just in case. The football facility's crawling with assistant coaches and athletic department staffers. Either they still don't know....
... or just don't care. Yeah, maybe he can get away with this because of the scarlet W he wears. Walk-on. He's accustomed to feeling like a penny in a gold mine, dressing over here in Walk-On Corner, a.k.a. the Hood. Because in the Hood you don't get your own locker, sharing one with another walk-on, and you're not even just a number—you share that with someone far above you on the depth chart—and you're not allowed to take out your frustration on the starters or the second-stringers in practice because We gotta get them to the game, son! Just wrap 'em up and keep 'em vertical! And still Full Harmony loves it, approaching every practice as if it's the ACC championship game in front of 73,675 screamers, bent on being a weekday superstar.
He has found himself on the field for only a handful of kickoffs in the second halves of games that the Cavaliers have salted away ... but his teammates, they know Joe-Joe. That's what they call him, because no one named Wonman or even Joseph—that's the name his nonfootball friends call him—could possibly be as hyper and happy, as earsplitting and ever-ready as Joe-Joe. Quickest on the scout team to suss out the first-stringers' offense and call out the appropriate defense, to call aside Cavaliers wide receivers and warn them about what they're tipping off, to clap and bellow, "Give that boy a scholarship!" when one of his fellow scout-teamers makes a play.
He exits the locker room and surveys the facilities where football players pump their iron, do their cardio, eat their meals and attend their study halls, all far from the rest of the student body. He gazes at the two state-of-the-art synthetic practice fields, with a third one, a $13 million indoor facility, about to get green-lighted by the school's trustees, the Board of Visitors, because, well, what if it rains? Green-lighted at a budget meeting during this very hunger strike, even as administrators are insisting to the strikers that budget constraints prevent them from paying a living wage! That's like food to Joseph. It fills his empty tank with fury.
How has all this happened in the blink of the evolutionary eye? Twenty-five hundred years ago, the earliest of such athletic fields—gymnasia—were being built by the Greeks. Centers where philosophers strolled and teachers instructed young men in ethics, morals, science, math and poetry, where the playing field was a grand courtyard surrounded by libraries and lecture halls and classrooms with the intent of fully harmonizing the development of body and mind. A lad couldn't run, jump or hurl anything without learning how to question, how to think, how to see connections.
Somehow it has all become about separation, the promising athlete culled from the pack as early as nine or 10, placed with his select peers on travel teams, enthroned on an ever-rising pedestal through high school, isolated from the student body in college, fattened on the myth of his onliness by well-meaning coaches, parents and fans, then pricked and prodded weekly for psychological advantage by those same coaches: THEY don't think you're good enough! They don't respect you! Us against them, you against the world, the cult of self-anointing the athlete as its Ultra Self.... Is it any wonder in 2012 how many players, rather than join their teammates to hug and celebrate after catching a touchdown pass or nailing a game-winning three-pointer, strut away from them and glare? Showed you I'm special! Showed you I'm better than all of them (and even all of "us")! Is it any wonder that from such soil, no such thing as a sportsman social activist has sprung since the days of Jim Brown, Bill Russell, John Carlos, Tommie Smith, Arthur Ashe, Billie Jean King, Bill Walton?
Tiger Woods took one step down that path, early in his career, in a Nike ad in which his words rolled on the screen—There are still courses in the United States I am not allowed to play because of the color of my skin. I've heard I'm not ready for you. Are you ready for me?—and, in the wake of a backlash, stopped there. Labor activists who requested Michael Jordan's support in their quest to improve sweatshop conditions and reduce child-labor abuse in the production of Air Jordans in Southeast Asia got none. "Moral jellyfish," Dave Meggyesy, a linebacker and antiwar activist with the St. Louis Cardinals in the '60s, labeled these athletes.
But scores of modern athletes, led by Woods and Jordan, create remarkable charity foundations, raise funds and donate millions. Taken one step further—watered with an investment of time and heart nearly equal to the money—a miracle such as Andre Agassi's academy for at-risk children in Las Vegas has bloomed in the desert. But when it comes to social action that might step on toes, that might send a shiver down the spine of their publicists or their corporate sponsors, what have American athletes done? "The scared generation," former Yankees pitcher Jim Bouton calls them.
"They've put the dollar bill in front of the human race," grouses Carlos. "That's why they stopped standing up."
"They have to speak up," insists Harry Edwards, a track and field and basketball star at San Jose State in the early '60s who went on to become a sociology professor there and at Cal. "They're the most visible expression of achievement and financial success in this country. Actors in Hollywood have always been very outspoken. Athletes have surpassed them as the Number 1 entertainers; they should be at least as outspoken. Those who set the table that today's athletes are dining at, they exercised that responsibility. Now you have to get past an athlete's corporate and personal advisers, and so he's got to think what's in the best interest of Buick and Nike and Starbucks and General Electric."
Fascinating how many of the recent sportsmen who've taken stands didn't spring from our system or our soil: Canada's Steve Nash, flayed by players, coaches and media for wearing a NO WAR, SHOOT FOR PEACE T-shirt on media day at the NBA's All-Star weekend in 2003, as the U.S. was girding to invade Iraq; Adonal Foyle of St. Vincent and the Grenadines, who founded Democracy Matters during his 12-year NBA career to educate young people on how money was strangling U.S. politics and to pressure politicians to change campaign-finance laws. The modern athlete who sacrificed by far the most for his cause—first his fortune, then his life—died here on Joseph's campus, and he, of course, was foreign-born too. Retired NBA center Manute Bol gave away virtually his entire $6 million in savings to build schools and hospitals in his native southern Sudan, then extended his stay there for a week in 2010 at the request of the president to oversee South Sudan's first independent elections even as a potentially deadly disease he'd contracted there, Stevens-Johnson syndrome, began devouring his flesh. He finally headed back to his family's home in Kansas, got off the transatlantic flight at Dulles Airport and was rushed to UVA Medical Center, where he died in searing pain virtually next door to the building where Joseph took Early African History as a freshman. "That," Joseph says, "blows my mind."
The only emergency he's facing now is the ever-shrinking time until Virginia's next football game, ticking away like frantic heartbeats on a scoreboard clock beside the locker-room door: 193 days, 2 hours, 14 minutes, 37 ... 36 ... 35 seconds until the 2012 opener against Richmond. He heads back onto campus, relieved that his coaches haven't cornered him.
He digs up some phone numbers and calls NBC News, ABC, the Today show, BET and NPR, leaving word of the UVA hunger strike in hopes of drumming up coverage. He fails to mention one thing: He's a football player. No one calls him back.
The strikers, most on their fourth day without food, are reeling when he joins them for their noon rally: an epidemic of headaches, dizziness, racing hearts, fatigue and irritability. One has strep throat. Some can chant only for a few minutes, then have to lie down. "I feel fine," Joseph assures Greg Gelburd, the family physician who's monitoring them.
Two hours later he raises his hand as his Political and Social Thought class discusses a renowned letter that Martin Luther King Jr. wrote from a Birmingham jail to his fellow clergymen. "Yes, Joseph?" says professor Michael Smith. Joseph opens his mouth to speak ... but hasn't the faintest clue what, and falls silent.
But he knows exactly what he wants to say at a student council meeting that evening, after the strikers ask the council to issue a resolution to the trustees in support of a living wage for the workers. One opponent of the resolution insists that it's un-American to pay workers "more than they're worth on the free market," that it's an assault on the "sanctity" of the market, one of the country's founding institutions. "Slavery was one of the founding institutions of America!" Joseph cries. How many rules and regulations have human beings, over time, understood more deeply and altered? The resolution gets tabled and dies.
He discovers three messages on his cellphone and an e-mail from the football staff, all saying the same thing: Report to the office. Now.
Two massive black gladiators in football regalia rise over the right flank of coach Mike London's desk. One mannequin wears the Cavaliers' blue home jersey, the other visiting orange. They possess everything that an athlete in 2012 could desire: pectorals sculpted by years in a weight room, arms that hang at their sides like chiseled clubs, red biceps bands, white gloves, Nike swooshes. Everything ... except heads.
They're the easy metaphor for the athlete that the U.S. system produces today. Too easy. The separated-out, year-round, one-sport jock we're creating is often steeped in discipline, fighting spirit, leadership and time-management skills. If he's, say, a UVA player such as Joseph, he's up at 5:30 a.m.; getting taped at 6; practicing, pumping iron and doing agility drills till 10:30; dragging his weary legs and sore shoulders to class; returning at 3:15 for another hour and a half of meetings and film study; then squeezing in his homework after dinner and collapsing into sleep. The 20-hour limit on weekly practice mandated by the NCAA? Every university skirts that by establishing all manner of "voluntary" activities and preparation for games that any nonvolunteer, of course, will never play. If he's a baseball player, he's reporting three hours before a game that lasts another three hours, taking a knee in the outfield grass afterward while his coach recounts his version of the whole affair, cleaning up the dugout and regrooming the field, wolfing down a meal and straggling back to his books or his pillow 8½ hours after pulling on his jock ... 56 times in the regular season and up to 13 more in the postseason! Off-season? No off-season exists for college athletes anymore. Minor sports? Virtually no minor sports exist either, even at Division II and III levels. Lacrosse, volleyball and field hockey programs have morphed into one more opportunity for an institution to market itself and a coach to burnish his résumé and climb his career ladder as university presidents turn a blind eye to the absurd number of hours required of student-ATHLETES ... because ... well, aren't sports the glue that binds the college, that lures alums and their checkbooks back onto campus, that creates TV revenues and free media advertising? In a society in which coaches are left to play the role of tribal elders, too many tribal elders have lost their way. Louisville coach Bobby Petrino thought fullback D.J. Kamer's priorities were all wrong when he requested to miss a practice—a practice—in 2003 so he could serve as a pallbearer at a dear friend's funeral, a mind-set that, along with his 41--9 record with Louisville, reaped Petrino big leaps to the NFL's Falcons and Arkansas until a blonde and a Harley-Davidson undid him.
Yes, the system allows an athlete to pursue his dream ... but what if his head or heart is large enough for two dreams? What of the athlete wise enough to know that this dream has, oh, perhaps a one-in-100 chance of panning out beyond the next few years, and even if it does, another half century or more of life awaits him—rich decades for those who've begun pursuing other passions and curiosities, more likely fallow for those herded into this tunnel?
Could Tommie Smith and John Carlos have become bronze statues on San Jose State's campus had they come of age today? Would Smith, in 2012, have attended the provocative sociology classes taught by Harry Edwards that helped inspire the sprinter to shut his eyes, bow his head and raise his right fist during the national anthem in Mexico City in 1968 after breaking the world record in the 200 meters, provoking a national debate and one more advance in our long crawl to humanity? Not if those sociology classes couldn't have been crammed into today's ever-narrowing windows of time between practice and conditioning and meetings, and not if—as has become commonplace—Smith's coaches had persuaded him to take a less challenging major so he could commit fully to his sport.
"It's like a job," says Joseph. "We're only students to a certain extent. Sports have become such a big money-maker that it's all about the bottom line, like so much else in our society. It not only limits your potential to pursue academics but punishes you when your dedication to academics interferes with your sport. Most football and basketball players can't take any of the difficult classes. You're not able to take advantage of what these great schools have to offer. It's not even amateur athletics anymore. It's professional."
"It's a horrific schedule," says Edwards, who over the last three decades has watched athletes stop taking classes that start after 1 p.m., classes with labs, classes that require their time on Fridays, Saturdays or Sundays. Study abroad in the off-season, even if you're a Division III relief pitcher? Don't be silly.
"Joseph is the first football player who's ever entered our program," says professor Smith, the director of UVA's Political and Social Thought department. "He soaks up learning. He's got intellectual curiosity. He's refreshingly open. I have enormous respect for the kids in our sports programs—plenty are smart and have enormous discipline. It suggests to me the potential of these athletes if we challenge them intellectually the way we do athletically. But we're selling these kids a bad deal. They're doing a job here—full-time athletics. To pretend otherwise is to engage in denial. They're on an island within the university. A subset of the staff is paid highly to get them through, but it's not about engaging their minds with the outside world. They lead a regimented life, no time to loaf, to think, to read a book. It's a precious four years of a human life when you acquire the habit of inquiry, when you acquire your intellectual capital. We have to ask ourselves, Why do we do this? To fill the endless demand for cable TV programming? Are athletes really in college or in some quasifactory? We've shrunk them."
Joseph refuses to be shrunk. That's why he has gotten in trouble in the past for dozing during defensive meetings and twice sleeping through the 6 a.m. alarm he'd set for his 7 o'clock weight workouts. That's why he's stood during meetings and devoured bananas, having heard that they're a more effective energy booster than coffee. He's written essays at 3 a.m. because he wouldn't allow the six hours a day of football commitments to annihilate the rest of his student life and volunteer work. But now, on Day 3 of his hunger strike, it's time to face the consequences. Right or wrong, he has violated one of sports' bedrock values, submission to authority—the one that's not pounded into actors as they grow up, making it so much easier for them to turn and stand against the tide. Heart thumping, he trudges upstairs to the football offices.
But not to coach London's office. This hunger strike's a moral swamp that London has no wish to wade into. He's not a tunnel coach, he's a big-lens guy, an African-American who has felt the same hot breath on his neck as these campus workers; who had a child when he was in college, divorced soon after and drove a Boys & Girls Club bus to get by; who as an undercover detective in Richmond had a gun pointed at his head by a thug and heard the trigger click, the weapon malfunctioning; who beat 10,000-to-one odds when his bone marrow matched that of a daughter afflicted by a blood disorder that often leads to leukemia and death; and who has his players plugged into a multitude of volunteering activities. What muddies it all even more is that London is Joseph's frat brother, a product of community-activist, predominantly African-American Phi Beta Sigma, whose motto is "culture for service and service for humanity," a group fiercely proud of its members' leadership in the famous civil rights March on Washington in 1963, the Selma protest march two years later and the Million Man March in 1995. But now London's receiving $2.1 million a year from the same employer that the hunger strikers are howling at over precisely such vast wage disparities, and he's passed word to his media-relations man that he has no comment for reporters who've begun to inquire about Joseph's hunger strike.
So Joseph's sent to Jim Reid, the associate head coach and defensive coordinator. What will he do, Joseph wonders, if Reid lays down an ultimatum: Give up the hunger strike or give up your football jersey. Will he have the strength of one of his heroes, Muhammad Ali, who walked away from his world heavyweight crown and boxing career for three years rather than accept induction into the U.S. Army during the Vietnam War? Joseph loves Reid, considers him genuine, fair and interested in his players as more than athletes. Didn't Reid invite Joseph to sleep in his office during team meetings in the fall of 2010 when the kid's father was dying in Washington, D.C., and all the traveling back and forth to the hospital, piled on top of his other commitments, pushed Joseph past the brink of exhaustion? Didn't Reid once tell Joseph that he could envision him becoming the president of the U.S. or a Supreme Court justice? But now....
"You can be in sympathy with a cause, but some people shouldn't be doing this," Reid tells him. "You have to be responsible to your rehabbing and to your health. I'm a little disappointed that the people you're with, they're not aware you're at greater risk than they are."
Joseph's mind spins. Greater risk? He's an athlete, for crying out loud—he's the only hunger striker whose blood pressure isn't plummeting! What should he do? Turn and lock his coach's office door, the way Edwards did 51 years ago when his moment of truth came with San Jose State track coach Bud Winter? Glaring down at Winter—Edwards was a 6'8", 225-pound nationally ranked discus thrower—he demanded humane treatment of black athletes who were being flown in from as far as Philadelphia for track tryouts and given no money for lodging or transportation home if they were cut, leaving some to sleep in the team's equipment shed.
Coach Reid's not finished. "There's a way to precipitate change," he continues. "It happens through political solutions, and you work within a certain set of rules. You prepare and convince people, you prepare hard, you work hard, you win—just like football!" And one more thing. Reid doesn't want this hunger strike being linked on the news with the Virginia football program.
Joseph blinks. Should he come right back at his coach the way Bill Walton did 40 years ago on the car ride home from jail when John Wooden—furious that he had to bail out Walton after his center had been arrested for helping take over a campus building during an anti--Vietnam War protest—reprimanded the redhead for working "outside the rules" instead of expressing his beliefs in a letter? "But, Coach, my friends are coming home in body bags and wheelchairs!" Walton fired back, then called Wooden's bluff by marching into his office and using stationery with Wooden's photo on the top to write a letter to President Richard Nixon demanding that he resign and getting all his teammates to sign it.
But Walton had just been named NCAA Player of the Year and led UCLA to a 30--0 record and a national title, and Edwards was so dominant an athlete that the San Jose State basketball coach simply picked up his full athletic scholarship and made him his starting center when Winter threw him off the track team. Joseph has one career tackle ... if you count the Orange-Blue spring game.
He swallows his anger, says little and nods farewell to his coach.
Joseph has learned the hard way—in cop cars, in handcuffs, in courtrooms, in a fluorescent jump suit, in a juvenile detention center—to follow his mother's advice: Watch that hole beneath your nose! But he feels as if his loyalty to the football program and UVA are being questioned, and, wait a minute, are those loyalties supposed to be larger than his loyalty to the human race? No, he can't wait a minute, can't wait till he gets home to respond to his coach. He flips open his laptop on a stool in front of his locker, takes a deep breath and summons every bit of his UVA education to compose his reply.
Dear Coach Reid and the UVA Coaching Staff:
... This morning I met with you to discuss my involvement in the hunger strike and you expressed your disappointment that I and my fellow strikers are not seeking to resolve this grave issue in a more "political" manner. You told me that you had thought higher of me before you learned of my involvement in this campaign and stated that you were dismayed by my perceived unwillingness to "follow the rules."
... I would firstly like to point out that this campaign has existed at UVA for 14 years and has thoroughly exhausted all manner of negotiations "within the rules" without any tangible results.... Secondly, no great injustice has ever been overturned by following the rules. Our great country was founded on the wholly evil institution of slavery, which was only overturned when the nation split in two and engaged in civil war. The Jim Crow reign of segregation and fierce race hatred in the south, though challenged repeatedly through purely political and judicial actions, was eventually overturned only as a result of the nonviolent protest tactics of the Civil Rights Movement.
... I believe it is my responsibility as a member of the University community, and even moreso as a member of the human race, to stand up for those whose voices have been silenced and whose livelihoods are being marginalized by the policies of the current University administration. In fact, I firmly believe that the workers that the Living Wage Campaign represents are just as important to this community, if not moreso, than any football coaches, players, or fans. Thus, it disheartens myself and my fellow campaigners that while these workers, the majority of whom are women and African Americans, are being systematically discriminated against and exploited, there are plans to spend millions of dollars on a domed practice field and other accommodations for the athletics department.... I refuse to comply with rules, regulations, or restrictions that reinforce the discrimination, persecution, and exploitation of human beings.
... I happily sacrifice my bodily needs for the greater cause of economic and social justice and I would, without hesitation, sacrifice my membership on the football team and my enrollment at the University if it would result in the University administration recognizing and meeting the demands of the Living Wage Campaign.... I wish you, the rest of the coaches, and all of my teammates nothing but the best and I sincerely love you all as my family.
—Best, Joseph
A few hours later, he ups the ante. His letter to his coaches becomes the heart of a Why I'm Hunger Striking post that he writes for Michaelmoore.com. In no time The Huffington Post and The Nation, upon discovering that he's an athlete, publish it too.
He decides to ignore his coach's reservations and keep starving. Stairways grow daunting. His body grows colder. His sense of smell intensifies, a primal response to food deprivation: He can scent a ham sandwich a first down away. Over and over, the gut flashes the mind a message—I'm hungry—and the legs begin walking automatically toward the dining hall, and over and over the mind flashes back the same reply, Stop! You can't eat, until finally the loop exhausts itself and the body says, To hell with it all, then, just let me sleep....
Hunger's fourth day dawns. The campus workers send word to the strikers—We can't show up at the noontime rallies; we're afraid of getting fired. But Miss Mary can't be fired for riding by on her bike and smiling and waving her gratitude to Joseph. "Every time I see him," she says, "it's a joy to my eyes." Mama Kathy can't be fired for shaking a finger at him and crying, "Eat, gorgeous! Just eat when nobody's looking and act like you're hungry! Pretend you're in the drama department and you're going for the Academy Award!"
"Aw, I can't do that, Mama," Joseph replies.
He has lost a half-dozen pounds. His mind's mush. He raises his hand three times in Martin Luther King's Political Thought class and forgets each time what he meant to say. Fellow striker Breezy Pitts blacks out in economics class. The doctor orders her to eat.
A dozen teammates keep tabs on Joe-Joe with texts or calls. "Some appreciate his hunger strike," says wide receiver Miles Gooch, "and some think it's a bit extreme." All are stunned by the swelling media attention.
Suddenly, a fourth-string cornerback's being featured in The Washington Post, The Chicago Sun Times, SI.com, Ebony, Yahoo! Sports, msn.com, AOL news—in 45 Google pages' worth of websites! Suddenly the hunger strikers have a national bullhorn and UVA has a major publicity problem, all because of a walk-on football player of whom the school's media-relations department doesn't even have a photograph in its files. All because sports is our obsession.
But do our athletes have any more obligation to rush to the ramparts in the struggle for social justice than our bank tellers or mailmen or stockbrokers? No, probably not, Joseph says, but omigod, the platform and the wattage at athletes' disposal if they do. The tidal waves of attention paid to sports are an energy stream that can be diverted anywhere, even to the plight of a janitor or a dishwasher, even by the most insignificant of athletes. Joseph e-mails his fellow strikers, expressing his worry that the media focus on him might rub them wrong. Rub them wrong? They're thrilled. They're reaching audiences they never dreamed they could. Joseph's e-mail account is about to explode, messages pouring in from professors and students and pastors and football fans across the country.
"A rose will bloom even through the crack of a concrete sidewalk," says Edwards. "That's what has happened at the University of Virginia."
Day 5 for Joseph. Day 8 for more than half of the 21 others now going hungry. They're hoarse, frayed, frantic, marching to the doorstep of the university president's house, screaming, You're not meeting! We're not eating! You're not meeting! We're not eating! Marching on the Board of Visitors meeting in the Rotunda and shrieking, The people, united, will never be defeated! The people, united, will never be defeated! Marching on the administrative offices, howling, When workers' rights are under attack, what do we do? Stand up! Fight back!
The administration won't budge, sending e-mails to tens of thousands of students and faculty explaining its financial predicament, pointing out that its minimum starting pay of $10.65 plus benefits to its direct employees is the second-highest in Virginia—regardless of the fact that the university is hiring ever-growing numbers of contract workers from outside agencies that pay them as little as $7.25 an hour with little or no benefits. Outsourcing on the cheap, no different from many U.S. corporations. At their noon rally the strikers take turns on the bullhorn pleading their case and sharing their personal stories, then sag to the ground in exhaustion, a few dissolving into tears.
It's Joseph's turn to tell his tale. So how did this kid slip through the cracks of the U.S. sports system—or bloom through one? Oh, it's clear right away, he's not been washed here by the mainstream. This is what it takes for a Division I athlete in 2012 to end up starving and chanting for human rights: a childhood lived in homeless shelters, transitional housing, a church basement, a friend's attic, a tiny camper, fleabag motels, grandparents' houses, cramped apartments ... 30 homes in his 19 years. Got off easy: His older sister, Joy, tallied 50. Moving because the joint was infested or the landlord a creep or the plumbing pitiful or a job in some other town might actually pay just enough for them to survive. Four children and a parent sleeping in one bed at one shelter, piled in with families whose adults had addictions or physical handicaps, piled in with people wondering what was odd about this family, besides the obvious: It's an interracial family in Virginia. Again and again, someone somehow materializing and offering them a hand, saving them from the streets and starvation.
How did Joseph's mom, Rhonda—raised Jewish and middle-class and suburban in Blue Bell, Pa.—end up a gypsy trying to keep four children out of oblivion's clutches? Married to Bruce Williams, a burly, good-natured black man, a reformed drug addict from the hard half of Norfolk. Both had joined Reverend Sun Myung Moon's Unification Church, done years of volunteer and mission work and, still strangers to each other, committed to wedding in 1982 as part of the church's plan to erase the barriers between races and nations through intermarriage. Bruce ricocheted from job to job, a security guard one day; a counselor at a home for troubled kids the next; a taxi, truck and bus driver who kept crashing taxis, trucks and buses ... and then seemed to give up. There was never, because of all of his and Rhonda's mission and volunteer work, a cash reserve to tide them over. And so Mom kept bursting through the door to announce, We're moving again! Right now! Scavenge the dumpsters behind the grocery and liquor stores for cardboard boxes! Jam the sheets and towels in those plastic bins! Dismantle the cinder-block bookshelf! Heave everything else into those crates! Don't forget the mousetraps! Leave the place cleaner than when we arrived! You know the drill!
Truth was, they didn't—it was usually helter-skelter, a ransacked army on the run, one eye out for the roaches and rodents that kept moving with them. Between the moves and job changes, Rhonda would round up the kids on weekends and summer mornings, dress them in donated clothes, funnel them into a clunker, drive past all the ballfields where all those kids in crisp unis were playing weekend tournaments, and find someone, somewhere, in worse shape than they were to help out. Or better off; didn't matter. The Williams Crew cleaned up streets, parks, schools, hell, even rivers, wading into the Anacostia River in waist-high boots to have at the 20,000 tons of trash entering it each year. They planted trees, organized a summer school for underprivileged kids, made sandwiches for poor people, baked cookies for old people, sang Take Me Out to the Ball Game and O Little Town of Bethlehem in nursing homes.
Somebody in that flock of saints had to rebel, so Joseph, in ninth grade, volunteered. Puberty had come, Dad had gone—Bruce and Rhonda had split six years earlier—his two older siblings had just moved out and the feeling that everything was falling apart was confirmed when his mother couldn't scrape together the $200 to get Joseph's heart murmur checked out, so his big love was lost, too: no high school football. He started getting in fights and disrupting classes, then skipping them altogether, drinking and smoking pot at a pal's aunt's apartment, once even funding his mutiny by pocketing cash he collected for Hurricane Katrina victims. He landed in a youth shelter, slugged a kid there who blew on his neck and was charged with assault and battery and hauled off in shackles to a juvenile detention center.
Rhonda stared at her 13-year-old delinquent in disbelief. Sure, the kid had been hyper right out of the chute, had been class cutup and funkiest dressed, wearing a big green clock on a string as a necklace to school or picking his hair out into a puffy 'fro, then having his younger brother shave a bald stripe down the center and one down each side: Reverse Triple Mohawk, Ma! But he'd always been the Williams's prodigy, spewing five-syllable words at age three, bypassing first grade altogether and reading at an eighth-grade level at—what? He can't be six! When he cursed his mother one day in the summer after his to-hell-in-a-purple-handbasket ninth-grade year, Victor, his best buddy as well as his older brother, beat him to a pulp and left him sobbing in a bush in the front yard of a town house they'd just moved into on government vouchers ... and Joseph's fever finally began to lift. Dominion High principal John Brewer, rather than expel him, gave him an eighth chance, the assault charges were dropped, Victor moved back home, Joseph passed his sophomore football physical, and the two brothers went on to become stars and leaders of their football team in Sterling, Va.
Something else happened too. How, Joseph asked a man in the 100 Black Men society who mentored him on weekends, can we ever pay back all the people who've helped us? And the reply struck him in the heart: You pay them back by helping someone else. He began staying after school to tutor struggling classmates and signing up—even before his mother could—to help those hurting. When his college application landed at UVA, admissions officers panting over his volunteer-work list had no air left when they got to his 1420 SAT score, and they fell over themselves to help cover tuition, board and books of an incoming 16-year-old.
That's how Joseph made it through high school still holding on to the strange notion that he's not separate from other human beings, not different from custodians and dormitory maids. That's why he's the one in 444,000 U.S. student-ATHLETES standing at the hub of his campus imploring his peers and professors and administrators to care. He had to be incubated in a way that neither money nor poverty incubates in America, grow up differently from other fledgling white, brown and black athletes. Grow up without the buckling weight of his extended family's expectations, without his consciousness narrowed to the needs of kin and posse, chained to the lifetime role of Clan Messiah—the poor African-American athlete's fate ever since the 1980s, when the money got crazy—and without ever climbing aboard the middle- and upper-class striver's conveyor belt of camps, clinics, private coaches, travel teams, weightlifting programs and every-weekend tournaments. All of them, from both backgrounds, kept anxiously aware of their place in the pecking order by Internet scouting and ranking services reminding them what their height, weight, bench press and time in the 40 needed to be, tunnel vision hardwired by their Sweet 16th.
Developmental compression: That's what the caretakers of psyche and spirit call a phenomenon that became normalized over the last few decades. Truth is, Agassi, perhaps the most developmentally compressed athlete of modern times, could never have wrought his groundbreaking educational initiative—which includes plans for more than 75 charter schools serving up to 50,000 students nationwide—if he hadn't leaped off the compression track in his 20s for long stretches that outraged and bewildered sports fans. Truth is, any athlete of this era, unless he attended a tiny high school that had to scrounge up enough kids to field a team, probably had to be developmentally compressed for at least a few years if only to experience the simple joy of starting on the varsity.
Joseph's speech is slowing down, it's growing difficult for him to form sentences. And still the story he tells on the steps of UVA's Rotunda brings tears to the eyes of an English professor at the rally. He never even mentions to his listeners that he plays for UVA. He doesn't want them to stereotype him as a football player.
Hope surges through Joseph and the hunger strikers: UVA president Teresa Sullivan has agreed to meet with them. At an odd hour, 7 a.m., and two more days of hunger hence, but they're desperate now, fearful that their sacrifice will evaporate in the dry air of apathy, praying that the national attention Joseph has attracted has finally begun to make the administration flinch.
On his sixth foodless day he and a roommate who has joined the hunger strike, Peter Finn, can't stop obsessing about food: sushi ... pizza ... chicken ... steak, sushi, pizza, chicken, steak, sushipizzachickensteak. They go out to dinner just to watch their girlfriends eat. "Can we sniff your food?" Joseph begs his girlfriend, Kathy Storm. She hands him a french fry and he holds it beneath his nose, closing his eyes, swooning. "Can you eat one with your mouth open?" he begs. She complies. He's getting lightheaded, goofy. He leans in to inhale another french fry and knocks over a glass, splashing water all over the table.
He falls silent on his seventh day. Opening his mouth only now and then to say to Peter, "God, I'm hungry."
"Please," their other roommate, Toye Falaiye, keeps pleading with them, "just eat."
LoVanté Battle, Virginia's junior safety, comes by to check on Joseph. "You look pathetic," he tells him.
Joseph feels the pressure growing. He's entering the final week before spring break, has papers due and exams to take for which he can't possibly focus, and he has a flight to Belize in five days to colead a group of a dozen UVA students in renovating an orphanage, a commitment made weeks ago.
He feels doubt arising. He knows that doubt always arises in movements like this one, and that here is where his heroes dug in ... but their battles were so much more personal than his. Ali was getting drafted into an army during wartime. Walton's friends were getting shot at in Vietnam. Jim Brown, Tommie Smith and John Carlos had to go to the other side of town to eat and sleep. Billie Jean King was playing for prize money that was sometimes one sixth of what men received and breaking the law to get an abortion in 1971. Their success as activists four decades ago is one more reason that today's athlete doesn't feel he must stand up. If he's black, he can eat or sleep anywhere his wallet allows, make just as much money as any white icon and, like everyone else, leave wars to men and women who choose to fight them. It doesn't seem necessary to risk his playing time, reputation or commercial popularity ... unless ... unless he fully understands the hero's quest and wishes to fulfill it.
It's not enough, in that quest, to overcome all the obstacles and enemies in the forest and seize the Holy Grail. "The mystique of the hero is that he goes into a realm that the rest of us can't go to, but he's got to come back with something that's important for everyone," says Edwards. "If he comes back with the Grail and doesn't use it to support the people and place he came from, there's a huge chunk missing from his halo. Jackie Robinson isn't a hero because he was a great baseball player or Ali because he was a great boxer. Joe Frazier and Larry Holmes were great boxers too. It takes something more than that. Heroism has been downgraded into a pursuit of celebrity, and celebrity doesn't carry any obligation to anything except to fame and money."
Psssst. Here's the secret that Jackie Robinson and Muhammad Ali discovered, the one that no agent or handler whispers into the modern athlete's ear: When you play your sport for something much larger than yourself, than your wallet, than your ego or even your team, when you tap into that power, son ... look out.
Crunch time. Summit meeting with the university president. Eighth day of Joseph's hunger strike. He crawls out of bed at 6:30, slogs across campus to stand vigil with 30 others outside Sullivan's office. In the rain. For nearly two hours. Does she know that ESPN's next, that Joseph and the hunger strike are about to be featured on Outside the Lines and ESPN.com?
The meeting finally ends. Six Living Wage supporters walk outside, nearly empty-handed. The administration agrees to little more than to meet again. At the second meeting, two days later, it agrees to form a student advisory committee to look further at the issue.
Joseph walks his hollow gut through the drizzle, feeling a little bit of everything. Hollowness spreading into his chest because the clock's running out on him. Disappointment that there'll be no fourth-quarter game-winning drive. Excitement about ESPN. Worried that "success," even if it comes, might amount to little more than what previous Living Wage Campaigns have achieved: a small raise for the workers that's not tied to the living wage, that doesn't cover the growing legions of contract workers and that can get swallowed in no time by inflation ... which is, in fact, exactly what will happen two months later.
He has lost 12 pounds. He has to start eating, the campaign's doctor has told him, to give his body a chance against the new bacteria he'll be encountering in Belize in just four days. He twitches back and forth for hours over his decision, and finally, at 9:30 p.m., he gives in. He and his roommate order takeout.
A half hour later, in silence, Peter tears into a slice of pizza and Joseph lifts a spoonful of miso soup and a sushi roll to his mouth. Sushi tastes great. Sushi feels lousy. He tells his fellow strikers the next morning that eating just doesn't feel right, and how much he appreciates their carrying on, then wonders what the consequences of his act will be.
Carlos and Smith, acting on a far larger stage, were immediately suspended from the U.S. team and banished from the Olympic Village, then received death threats at home and watched one door after another close when they applied for jobs. Carlos took a claw hammer to his furniture in the middle of the night to use as fuel to keep his family warm. "It was like I had cancer," he says. The FBI worked up a 3,500-page dossier on Edwards, some of it coming from informants placed in his sociology classes. Joseph? He just takes a cyber-beating.
SCbigtime: What an idiot. If this cause is so important to him, he should organize charity events to contribute to those he feels are in need rather than attack job creators.
toby21155: Excuse me while [I] throw up ... another brainwashed progressive.
Matthew055062: Sounds like he needs to fast for playing time, this fool sucks b---- and he knows it!
cvillepsufan: Who cares? There will still be a college game on Thursday.
Bronco-force doesn't take this lying down: Honestly ... how can some of you people sleep at night. He's a young, obviously socially conscious athlete, who is doing something to stand up for what he believes in. Why do so many wish to see the me-me-me athletes of today, while scorning young men of purpose like this one....
Plenty of other fans and media members jump to Joseph's defense. His roommate shakes his head. "If a walk-on player gets this coverage," concludes Peter, "just imagine what a star could do!"
Joseph's girlfriend, Kathy—half Norwegian, half German—can't explain this to her countrymen. "It's amazing in this country how much power sports gives you," she says. "A football player! I didn't think that would be of any importance. A football player!"
And Joseph? He's still a little dazed by it all, astonished by the media storm and the admiring e-mails that came in, one from NFL Players Association president DeMaurice Smith, another from the leader of the Service Employees International Union expressing interest in helping the UVA workers form a union, and yes, even a response from coach Reid saying that he hoped this wouldn't drive a wedge between them and that he still had great respect for Joseph. "I feel more empowered," Joseph says. "It inspired me. I want to commit deeper. This is how it goes with every major change in society. It requires activism. People don't change without pressure. Athletes are so magnified and have such an opportunity to use that, but they don't, and so the focus on them often gets put on the negative. It really works against them in the end. Sports are the main arena that black males are seen in, and there are so many intelligent ones, but they're not heard from on these issues, so all you hear is dumb jocks or violent black men.
"Maybe I'm an idealist, but in a world where people are starving while others are making millions of dollars a year, it's about the will to change it. It's about people who don't care. At the core of all great injustice is greed. It's not an American problem. It's a human problem. If my mother hadn't gotten housing vouchers after my father left and moved us in to a neighborhood with a high school that really cared about its students, it likely would have turned out very bad for me. The teachers in my previous school system were unqualified and unhappy people. How are you going to go to college attending schools like that? That's not a merit system. That's chance."
What battles loom for the next Wonman Joseph Williams ... and will we have to wait another 30 or 40 years for him to arise? Two issues fester right on sports' doorstep, ripe and ready to burst. The first is the emergence and acceptance of the first openly gay athlete in a mainstream team sport. The second is the systemic corruption of college athletics, from the tens of millions of dollars being made by TV networks, conferences and the NCAA on the sweat and toil of the college athlete to the absurdity that median spending on athletics by universities in major conferences is four to 11 times higher per athlete than that spent on education-related expenses per student and growing at double to triple the rate of academic expenditures, resulting in a net loss for all but seven athletic programs nationwide, even with all those TV revenues, according to the Knight Commission—a deficit that must be made up by increases in tuition or increased allotments drawn from state taxes or general university funds.
Who knows? This Wonman Joseph Williams, after all, has two years of eligibility left at UVA and plenty of time after that to consider his next stand. "There needs to be a radical revolution of the way we view sports, especially on the amateur level, in America," he says. "I'd love to be a part of it if it ever happens. But it's hard for an athlete to say he's going to protest for the sake of athletes at large, because most of us have just four years, and we want to win now and to get playing time now."
But the biggest looming battlefront, the one that cries for athletes at the ramparts yet transcends sports, the one that will require the most heroic investment from athletes because they're the ones reaping the status quo's richest rewards, is the very cause, says Edwards, for which Joseph just laid his stomach on the line. "The problem of the 21st century is going to be the deepening economic disparity, about the have-mores and the have-nones. What this young man in Virginia did spoke exactly to that."
The old, gray warriors from the 1960s and '70s, they're watching, they're waiting. "Sure," says Walton, "there are people just retreating to their mansions on the hill and pulling the ladder up behind them, but the great thing about any group dynamic is that it always comes down to one guy. And we all have the chance to be that guy. The one with the willingness to stand tall for those who can't. It still comes down to: Do you care, and does it really matter? I do, and it does. And I salute this young man for standing tall."
Carlos isn't holding his breath. "The people who do these things start building the courage of others to think about taking a stand too," he says. "What this kid did might bring a light to other athletes. But it won't start a stampede."
It's the morning after the end of Full Harmony's hunger strike. He and athletes all across America are pulling on their sweats and hurrying to weight rooms, to conditioning and agility drills, to classes. Don't peer at them, these determined young men and women on college and professional teams, and ask where their social conscience and voice have gone. Look at us. We're the soil from which they grow. If we don't change, they can't, and so the first revolution that would have to occur is the one that no one's talking about.
Our next Wonman Joseph Williams, the ground-changing one, would have to be so bold and so radical even to consider attempting that revolt. Then he'd have to pray that enough other athletes, among the 99% who aren't going pro, understand deep inside. They'd stop pumping iron, refuse to run sprints, quit reporting to gymnasiums and practice fields, stop being entertainment, demand to be reunited with the student body, insist that the runaway developmental-compression train slow down long enough for them to find out who they are besides athletes. Long enough for them to expand. They'd sit down not for money—a real concern as well—but for time and for space. To be human-being-student-athletes.
Yes, that's hard to imagine. The whole edifice is likelier to collapse first, from forces outside of sports: Excesses of all kinds have a way, eventually, of being leveled.
There's no whiff of that this morning in the world of sports. Joseph's blinking the sleep out of his eyes, wolfing down a bowl of cereal, heading to a rehab workout. Everything's back to normal, nothing unusual to report. We return you to your regularly scheduled programming. There's still a college game on Thursday night.