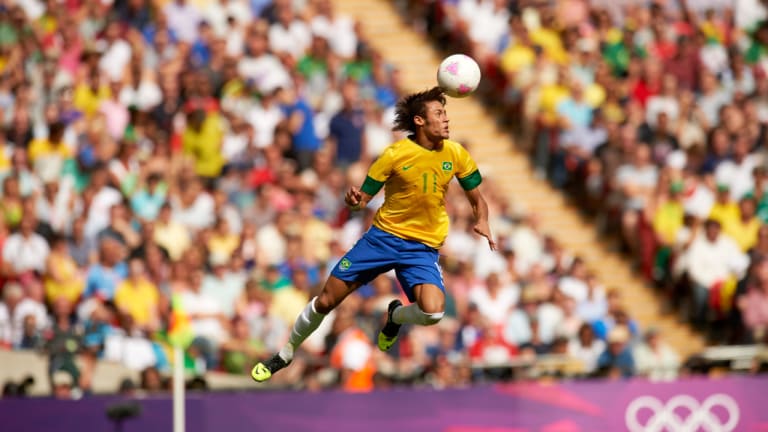 What's in a Neymar?
The Olympics is the only major tournament the Brazilian men haven't won. A 20-year-old prodigy is out to snag gold before striking it rich
They almost had a riot in Newcastle, England, the other day. Neymar, the next great Brazilian soccer star, finished his press interviews, turned a corner and descended into a pit of roiling humanity scrambling for his autograph just outside St. James' Park. Teenage boys climbed over brick walls to see him. Screeching girls and lunging men pushed the makeshift barricades so hard that Olympic volunteers strained with all their might to prevent a collapse. But Neymar never flinched. Signing his name quietly, the forward with the Mohawk mullet looked as calm as he does inside the penalty area with defenders triple- and quadruple-teaming him.
Neymar is used to the rock-star treatment, not least at home, where he's viewed as the savior who will bring the Beautiful Game back to Brazil, lead his nation to its first Olympic gold medal and top that off by winning the World Cup when Brazil hosts the tournament in 2014. It's a lot to ask of a 20-year-old who has yet to play club soccer in Europe, but Neymar says he understands the demands. "It's important that I perform well here, not only for my own career but for the team," he said last week as Brazil advanced to an Olympic semifinal against South Korea. "We're here to conquer the Olympics."
European countries tend not to take men's Olympic soccer seriously. The tournament comes right after the European Championship, which is more important, and the Olympic rules—limiting men's teams to under-23 players with three overage exceptions—dial down the star power. It's no surprise that a European team hasn't won gold since Spain in 1992, and a talented Spanish side played as if it didn't care in these Games, scoring no goals in three matches. (Smug Spanish fans essentially shrugged, voting in newspaper polls to abolish the men's Olympic tournament.)
But South America cares—a lot. Argentina earned gold in 2004 and '08, with Lionel Messi showing in Beijing that he was about to become the world's best player, a title he still holds. That's the blueprint Neymar (nay-mahr) is hoping to follow, and success would help separate him from a constellation of Brazilian stars who failed in the Olympics, including Ronaldo, Ronaldinho, Rivaldo and Romàrio. What's more, Brazil has brought a team to Great Britain that figures to be the heart of its 2014 World Cup squad, with Thiago Silva, Oscar, Hulk, Marcelo and Sandro. How real is the pressure? Mano Menezes, the senior team coach, is running the show in London, and he'll likely be fired if Brazil doesn't win gold.
Yet the Olympic challenge for Neymar and Brazil involves more than merely victory on the field. Style points matter. From the 2008 Olympics to the '10 World Cup, Brazil stopped playing the Beautiful Game under previous coach Dunga, an ex-hard-man midfielder whose player selections appeared in advertising campaigns as guerreiros (warriors) wearing medieval chain mail. When Dunga's teams didn't win, Brazil's fans revolted with calls for a return to their soccer roots: a team filled with fabulously entertaining ball magicians who made Brazil everyone's second-favorite team worldwide.
Enter Neymar. A slender 5'9" prodigy who honed his extraordinary ball skills in street games in São Vicente and the tight quarters of indoor futsal courts, he scored 42 goals in 60 games as an 18-year-old for Santos while leading the team Pelé made famous to the championship of the Campeonato Paulista, Brazil's top league. At 19, Neymar helped Santos win the title of the Copa Libertadores, South America's version of the Champions League, and he was named the continent's player of the year. The question now is when he'll move to Europe, where top clubs such as Real Madrid, Barcelona and Chelsea could pay transfer fees of up to $70 million. "I don't know when I'll be playing in Europe, and I don't know where I'll be playing, but it has always been my dream," Neymar says.
By staying home, though, Neymar has earned plenty of money while becoming more popular than any foreign-based Brazilian player. Neymar may not move to Europe until after the 2014 World Cup, which has given his Olympic debut a vibe not unlike the Beatles' first tour of the U.S. The British fan response has been delirious at times, with Neymar providing some extraordinary moments. In a 3-1 defeat of Belarus he scored on a majestic 30-yard free kick and followed it up with an outrageous piece of skill, receiving a long aerial pass by heading the ball down through the legs of a defender to himself (a "head-meg"), then racing forward and back heeling a feed to Oscar for the final goal.
The only other player capable of such belief-defying highlights these days is Messi. (Cristiano Ronaldo's game is transcendent but based more on power and speed.) And while Pelé was getting ahead of himself when he proclaimed recently that Neymar was already better than Messi, that debate will get real sooner rather than later. "Neymar has everything a forward needs," says Brazil's Marcelo. "He's still young and has many things to learn, but he has incredible potential."
Neymar had scored three Olympic goals through Sunday, but he also appeared to dive on a few occasions and missed a sitter against New Zealand. In a tougher-than-expected 3-2 quarterfinal win against Honduras last Saturday, Neymar struggled to make an impact before converting a penalty and providing the assist on Leandro Damião's game-winner. "It's not easy," Neymar cautioned afterward. "If winning the Olympic gold medal was easy, Brazil would have won one already."