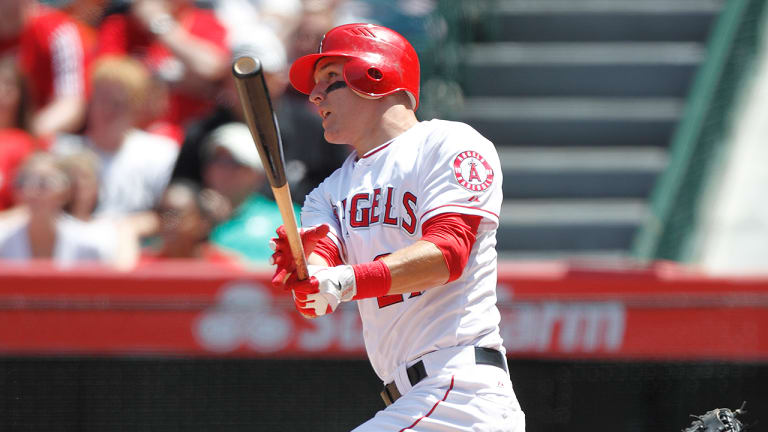 Kid Dynamite
Angels teammates, dazzled fans and shell-shocked pitchers already wonder where Mike Trout, all of 21, belongs in the discussion of the game's alltime greats. Front offices in baseball pose a more vexing question: How the hell did we miss this guy?
The skies over Europe during World War II were filled with more than a thousand courageous young men who learned in Millville, N.J., how to fly an eight-ton airplane powered by a single piston engine and loaded with bombs, rockets and eight Browning machine guns. The airplane was the P-47 Thunderbolt, and those flying aces from the Greatest Generation trained at Millville Army Air Field—or, more specifically, in a Thunderbolt cockpit above the farms and mills of the rural low country of South Jersey. The war was won with the help of more than 15,000 Thunderbolts flying three quarters of a million sorties.
Sixty-six years after Millville sent those P-47 pilots off to war, and long after the airfield turned commercial and the town's namesake mills closed, Millville sent Mike Trout to professional baseball. On June 9, 2009, 21 teams passed on drafting the 17-year-old boy who within three years would become the best player in baseball, doing for the Angels what nobody else in history has done. That summer night Trout and his family and friends celebrated on North Eighth Street at Millville Senior High's booster club, less than four miles from an old airfield called The Thunderbolt Club.
Millville's past is prologue. This time Trout is its Thunderbolt, as apt a term as any to describe his power and speed, the stunning immediacy of his impact upon baseball and, in the vein of Zeus and Thor—never mind Mantle and Mays—the growing mythology of all things Trout. Three years removed from his senior prom, the Angels' centerfielder is already the consensus pick for the player you would take first if you could pick anyone in the game.
"Not even close," says A's general manager Billy Beane. "I will go to a box score every day to see what he's done—and you've got to go to so many categories that it takes a while. I swear, he's the only major league player where I will become an eight-year-old kid again."
Says Angels outfielder Vernon Wells, the $21 million-a-year player who lost his lineup spot to Trout, "If people wanted to build a perfect baseball player in a video game, this is what you'd want your guy to look like. He's on that level, like Mantle."
Trout is so good that his gifts seem to come from beyond his tall, athletic mom, Debbie, and his dad, Jeff, a former minor league infielder. Los Angeles outfielder Torii Hunter suggested as much when he met Debbie last year. "You," Hunter exclaimed, "are the one who gave birth to the golden child!"
This is Mike's bedroom," Jeff Trout says, entering a long, narrow room on the second floor of the family home, where Mike still sleeps in off-seasons. "It was, prior to stardom, a regular bedroom. Now we're just keeping stuff here."
The walls and the floors are filled with Mike Trout memorabilia, photos and awards. A framed picture commemorating draft night, a gift from the commissioner's office. The base from his first major league steal. The ball from his first hit, neatly tucked into a display frame with the lineup card from the game. A blown-up photograph, stretched over canvas to resemble an oil painting, of Mike robbing J.J. Hardy of a home run in Baltimore earlier this season, his hips nearly at the top of the seven-foot wall. Were there a Louvre for great catches, this one would hang prominently. "I was at that game," Jeff says. "We were behind the dugout, and Hardy squared it up, and it took off. The amazing thing is not that Mike got up but that he got there."
There never has been a position player this good this young. Trout turned 21 on Aug. 7, an occasion he marked with his 20th home run in his 88th game of the year. (He spent all but the last three days of April in the minors.) His OPS+ (182), a measurement of on-base and slugging percentages adjusted for ballpark factors and league norms, blows away the previous best by anyone so young, a record set 105 years ago by Ty Cobb (167). He is a slam dunk to win the AL's Rookie of the Year, the favorite to become the youngest MVP.
Now forget his lack of experience. Trout is having an alltime great season for any age. He leads his league in batting average, stolen bases and runs—a triple crown of productivity that has been achieved by only three men: George Sisler in 1922, Cobb in 1909, 1911 and 1915 and Snuffy Stirnweiss in 1945 (when the big league talent pool was depleted by military service). Trout is playing in his age-20 season (.343/.405/.608 with 24 homers and 39 steals) the way Willie Mays did in the heart of his prime (.347/.419/.583 with 29 homers and 31 steals in 1958, when he was 27 and hit for the highest average of his career).
"He's the best player in the game," says Beane. "He's the most exciting talent I've seen come into the game since A-Rod and Griffey Jr. There's a 0.1 percent chance of finding a player like this. It happens once every 15, 20 years—if that."
Greg Morhardt, the Angels' Northeast scout, is the man who signed Trout. When he filled out a scouting report on Trout at age 17, under Body Type he wrote, "NFL football player." A scout for Oakland under the same heading wrote, "Brian Urlacher." Trout is 6'1" and 210 pounds and runs home to first as fast as any righthanded hitter in memory—he was once clocked on a bunt at an absurdly fast 3.53 seconds. He hits balls 442 feet to the opposite field and steals bases at will. (He hasn't been caught in two months, stealing a franchise record 30 in a row.)
There is something else about Trout. He plays with boundless joy and energy and the confidence of someone who has passed this way before. The serenity on his round, boyish face suggests the baseball gods have given him not only stupendous physical tools but also slipped him all the answers to this maddening game. "Mike makes it look easy," says Eddie Bane, the Angels' scouting director who drafted Trout and who now works for Detroit. "One thing that stands out is the look he has on his face. It's, Wow, we're getting snow cones after the game! It's the sheer joy of playing."
So how in the world could 21 teams miss this Thunderbolt?
This is as good a time as any for an interlude about what Trout does not do well. It will be brief.
Trout does not sell himself. He has no signature style and does not fill up notebooks the way he does box scores. As Trout sat at Angel Stadium for an interview last month, his right knee bobbed anxiously. He is polite and attentive, but introspection and elaboration are not part of his game. His favorite word is neat, though it might as well be prettyneat because he never uses it without the modifier. "Mike is a man of few words," his father says. "So don't take it personally. I can't even get any locker room talk out of him. 'Yeah, we're having fun. We played Ping-Pong.' But he's always been that way."
It's as if Trout came straight out of the 1950s (with the buzz cut to prove it) when we liked our athletes more the less we knew about them. There is one way to get Trout to speak more expansively: Ask what he likes best about being a major league player. "Just being out there competing," he says. "Being on the field and having a chance to play. I love playing defense. I love hitting. I want to get up there and get the big hit. Do anything I can to help the team win."
It's the same answer he might have given as a Little Leaguer or maybe even as young as five, when Jeff, coaching high school baseball, would hear Mike throwing a tantrum in the batting cage and know that a worn-out Deb had finally tired of throwing BP. Jeff would have to pull a parent out of the stands and ask, "Would you just throw to Mikey?"
But this isn't kid stuff. This is Trout chasing history at 21, and 40,000 people at Angel Stadium chanting, "MVP! MVP!"
"It's prettyneat to have your home fans behind you and rooting for you," he says. "It's great. It's been fun."
The hammer of baseball's Thor must weigh 60 ounces. The Trouts don't know for sure because the steel training "bat" Mike has swung every winter since he was in Little League is not a bat at all, but a solid metal spoke to the steering wheel of a yacht, given to him by a family friend. The heavy rod rests against a wall in the finished basement. "We had a smaller version for Little League," Jeff says, "until he got bigger in high school. Just dry swings. It's part of his routine. This is Mike's playroom."
There is a television, a dartboard and a Ping-Pong table. "He's good at everything," Jeff says. "Darts, pool ... he kills you in everything. He's such a fierce competitor." Jeff beats Mike at darts or Ping-Pong maybe once every 20 games, and when he does, Jeff will announce he's done and start upstairs. Mike will have none of it. He does not end on a loss.
One night in high school Mike went midnight bowling with some buddies. At two in the morning Deb was awakened by her phone ringing. It was Mike. What could have happened at that dreadful hour?
"Mom, guess what? I bowled a 300!"
There are pictures of Mike on the basement walls. One of them captures him with that snow-cone smile in his first major league game, July 8, 2011, after making a running catch in the ninth inning at Seattle. Hunter stands beside him with the look of a man who has just seen the future of baseball. Another moment: an astonishing snapshot taken by a family friend from the third base stands at Camden Yards. It is the first home run of Mike's career. What's astonishing is that the blur of the pitch has entered the camera frame, more than halfway to the plate, and yet Trout, his back to the camera, still holds his bat in the loaded position. Trying to reconcile how his bat could have moved forward fast enough to meet a pitch that was nearly on top of him is like trying to multiply two random four-digit numbers in your head. It takes some work.
How 21 teams could have whiffed on Trout is all the more baffling when you understand that at age 17 Trout was the player he is today: a physical marvel whose speed and strength were fully formed. Trout was 16 when Morhardt first heard his name. Another scout mentioned that he had seen a kid named Trout at a showcase, and he could really run.
"Does he have a father who played minor league baseball?" Morhardt asked.
In 1984 the Twins drafted Morhardt, a first baseman at South Carolina, with their second-round pick. They shipped him to Double A Orlando. Playing next to him for the Orlando Twins was a second baseman selected in the fifth round of the '83 draft: Jeff Trout, a stocky switch-hitter from the University of Delaware who hit well from both sides of the plate and did the best he could to improve his defensive inadequacies. Trout and Morhardt played three seasons together in Orlando, a pairing that ended when Morhardt was promoted to Triple A Toledo, as high on the baseball ladder as he would climb.
Trout reported to Twins camp the following spring, in 1987, and figured he was ticketed for Triple A and maybe, down the road, some major league duty as a DH or utility infielder. He had hit .321 the previous season while playing mostly at third base, raising his career minor league average to .303. Near the end of camp the Twins sent Ron Gardenhire, then 29 and now Minnesota's manager, to Triple A, costing Trout a spot there. Trout was told he'd begin a fourth straight season in Double A.
Trout was 26. His knees hurt. He had had enough of Orlando, and the Twins were set with Gary Gaetti at third base. "I just couldn't see a light at the end of the tunnel," he says. He quit. "I got a teaching job, started a family," he says. "No regrets."
Morhardt saw Jeff Trout's kid for the first time at a showcase in 2008. The boy, then 16, was a shortstop and pitcher. "When he walked in, he looked like Mickey Mantle," Morhardt says. "He's got the same build. He hit with a little 32-inch wood bat and a compact swing. My son, Justin, was 14 at the time. I turned to him and said, 'Look at Trout. That's a big league player all the way.'"
Trout was invited to the 2008 Area Code Games, a showcase tournament in Long Beach, Calif., for top high school prospects. Angels scouts were assigned to run the Northeast team. Morhardt got to watch Trout for 10 days. "It was a very simple comparison for me," he says. "I knew what [former big leaguers] Shane Mack, Oddibe McDowell, Barry Bonds and Rafael Palmeiro were like at the same age. Mike was better than all of them. He was bigger, stronger and faster."
The rest of baseball was less convinced. Ninety percent of all players signed to a minor league contract never reach the majors. The swing-and-miss rate even for elite players speaks to the difficulty of identifying talent: One third of players drafted in the first round never play a day in the bigs. With failure so abundant, scouts find comfort in groupthink. Many top prospects are identified early in high school through elite tournaments and online media coverage. Trout, who also played quarterback as a freshman and basketball all four years at Millville High, did not court that kind of attention. After the Area Code games, Yankees director of amateur scouting Damon Oppenheimer invited him to play with an all-star team in Jupiter, Fla. Trout declined, saying he preferred to remain loyal to his local teams, the Tri-State Arsenal and New Jersey Super 17s. "Some guys may look at that and say, 'He doesn't want to play against better competition,'" Oppenheimer says. "Others, like myself, think it shows some loyalty. I thought it was pretty cool."
There were other scouting molds that Trout didn't fit. He hit with the bat held deep in his hands—not in the preferred manner, with the bat across the top of the palm. To some scouts the grip made his swing look stiff.
Another industry bias working against Trout was his home. The summer and fall travel circuits have put the lie to the notion that players from cold-weather states don't face top competition. Yet only 10 position players from New Jersey have been selected in the first round since the draft began in 1965. Half of them (slightly more than the overall average of 33%) never reached the majors.
Scouts want to see players that fit the mold—players like Donavan Tate, who was rated by most teams and scouting services as the best high school outfielder going into the 2009 draft. Tate ticked all the preferred boxes. He came from a warm-weather baseball hotbed (Georgia). He had been on the showcase circuit since he was 14. (He made the 18U USA team for the 2008 World Junior Championships; Trout was one of the last cuts.) He had size (6'3", 200 pounds), speed (he ran a 6.34 60), arm strength (his throws from the outfield were clocked at 95 mph) and an agent who doesn't align himself with just any prospect (Scott Boras). The Padres had been scouting him since he was 15.
Before his senior season Mike made a verbal commitment to play at East Carolina. But when Pirates coach Billy Godwin came to watch Trout play in Millville that May, he got the feeling he'd never get to coach the kid: The stands were packed with scouts. Cross-checkers, scouting directors and even general managers such as Beane and Brian Sabean of the Giants beat a path to Millville. By then Trout was playing centerfield and throwing 90 mph off the mound. He ran a 6.4 60 and set a state record with 18 homers. He was once walked intentionally with the bases loaded.
Still the biases did not fall away. A contingent of Tigers executives asked Trout to switch-hit in a workout. He promptly whacked a few home runs lefthanded. Bill Buck, the scout for Detroit who had signed Justin Verlander, loved Trout, but he sensed the club wasn't as sold. "Jeff," Buck told Mike's dad, "he's going to play 15 years in the big leagues. But I'm afraid my guys are a little hesitant."
Baseball America, in its 2009 draft preview, compared Trout to Aaron Rowand, a career .273 hitter, and wrote that his bat "is not a sure thing." Meanwhile, Morhardt would root for Trout to strike out or pop up every time the kid came up. He was convinced Trout was the best young player he had ever seen, and he didn't want those slow on the uptake to come around. When Beane showed up, Morhardt got his wish. Trout went 0 for 4 with four pop-ups and never was challenged on defense. Beane left Millville without seeing Trout's explosiveness. "You just had to believe what others were saying," the A's G.M. says now. "That's why scouting in high school is very challenging."
One day Bane, along with Angels cross-checker Jeff Malinoff, came to Millville with Morhardt. By then Morhardt's obsession with Trout was a source of amusement in the Angels' front office. Recently, G.M. Jerry Dipoto, who was hired after last season, asked to see the club's original reports on Trout. Morhardt had written, "Best athlete. Best player in the world—period. Best player on the planet."
On the day the Angels brass showed up in Millville, Trout went 0 for 2 with a walk against a pitcher throwing 75 mph. Malinoff immediately picked up on the awkward way Trout gripped the bat. He started to talk about his mechanics in concerned tones. Morhardt stopped him. "Jeff," the scout said, "he's a Hall of Famer. Leave him alone."
That night Bane went to dinner with Debbie, Jeff and Mike in Millville. Bane was blown away once more, this time from learning that the Trouter—a nickname conferred upon the prospect by Morhardt—wasn't just an elite player, but also came from a strong family. Says Bane, "I mean, it was all over after that."
While driving alone to the Philadelphia airport after dinner, Bane smiled and laughed out loud. It was all true, what Morhardt had been saying about the Trouter. Bane knew the Angels could never pass up the chance to draft Trout—if 21 teams would only let them.
A hitter gets only three strikes. They are especially precious because the task of getting a hit becomes progressively harder with each strike. This year major league batters have hit .338 with no strikes. Give them one and the average dips slightly, to .327. But give them a second strike and their average plummets to .178.
When Trout became a minor leaguer, he decided to give away one of those precious strikes. Nearly every time up, he would not swing until he had a strike. He essentially forfeited the biggest advantage available to hitters—to clobber pitches with the freedom of no strikes—and intentionally made the art of hitting even more difficult ... at age 17.
"I feel like if I go up there first-pitch hitting and roll over on it, that's a wasted at bat," he says. "If I see seven or eight pitches and then I roll over, it's still a good at bat. I just want to see pitches."
The average major league hitter puts the first pitch into play 11% of the time. This year Trout has done so 5% of the time. If he does swing at the first pitch, it most often is in his third at bat against a starting pitcher. "You have to switch it up once in a while," he says.
Everybody has a favorite skill in the Mike Trout catalog. His father loves to watch him run the bases, as does Angels manager Mike Scioscia. "Sometimes," Scioscia says, "it's like watching a Little League game—you know, when a 10-year-old hits the ball and all of a sudden he's on second? That's what it looks like with Mike, like the distance between bases isn't 90 feet for him but 60."
Hunter loves the way Trout regularly makes such pure contact that the ball will leave his bat on a line with no spin, causing it to knuckle. "It's hard to hit balls perfectly square," Hunter says. "He's doing it almost every other swing in batting practice."
But there is one skill that really sets Trout apart: his freakish ability to recognize pitches. As much as hitters work on strength-training and the mechanics of hitting, it is a hitter's processing and computational skills that define greatness. Trout may be the best in the major leagues since Barry Bonds at identifying pitches—spin, velocity and where it will cross the plate—as quickly as possible after it leaves a pitcher's fingertips.
When teammate Mike Trumbo was asked how often he has seen Trout take a swing off balance, especially on his front foot—the giveaway that a hitter has been fooled—he said, "Hardly ever. The only time he gets out front is with his hands. His body never leaks."
Says Angels assistant G.M. Scott Servais, "He's as good as I've ever seen at knowing where the outside corner is. That's 90 percent of our game: the four or five inches on the plate or off the plate. You may see guys in a two- or three-week period when they're in the zone. But you don't see it with a guy all the time. Except for him."
In recent years the Angels have toed the line more than any other club when it comes to commissioner Bud Selig's recommendations for signing bonuses relative to draft position—known in the industry as slot money. No team went over slot in the five years before the 2009 draft fewer times than Los Angeles. Bane and Morhardt let the Trouts know they would draft Mike only if they knew he would take slot money, which would be $1.215 million for the 25th pick. Early on, the Trouts indicated that wouldn't be a problem. As the draft drew near, however, word began to leak that the Trouts wanted as much as $3 million. "Mike's stock was rising," Jeff says. "We upped the number a little bit. [Morhardt] was upset with me. It probably wasn't one of our better moments, looking back."
A few hours before the draft, as the Angels' executives and scouts gathered in their war room, Morhardt called his old teammate.
"Jeff, we've been talking about Mike the whole year."
"Mo, guys are calling. Teams are offering a million more than slot."
"You said he would sign."
"I know. But it's a lot of money."
"Your boy is going to get to 25, and I'm going to take him and sign him. Six years from now you'll get all your money back."
"Mo, you've got to do what you've got to do."
Morhardt hung up, turned to Bane and lied, "It's all set. Ready to go. Slot."
In the war room Bane asked his scouts to write down the four best players in the draft. All began with Stephen Strasburg, the pitcher from San Diego State—all but one. Bane read Morhardt's list out loud, "Trouter, Trouter, Trouter, Trouter." Everybody cracked up.
All that was left was for the Angels to wait for their turn. They knew the Yankees loved Trout—"The only guy we had higher was Strasburg," Oppenheimer says—but New York would not pick until 29th. Seattle liked Trout, and with three picks in the first 33, including the second, the Mariners could afford to make a reach choice near the top of the draft. The Giants, with the sixth selection, were also a threat. The Nationals were sure to take Strasburg with the top pick, but they also held the 10th. The Diamondbacks would pick twice before the Angels and had sent a scout to every one of Trout's games that spring.
The 2009 draft was the first one televised by the MLB Network. The network invited top players to appear at the event at its studios in Secaucus, N.J. Only Trout accepted. Mike looked at Studio 42, which is built to resemble a small-scale ballpark, and said, "Prettyneat. I wish I had a bedroom like this."
The draft began as expected. The Nationals took Strasburg. The Mariners took college infielder Dustin Ackley, who has been a disappointment this season, hitting .232 with little power after a promising rookie year in '11. Next, the Padres took a high school outfielder—but not Trout. They took the guy who fit all the prospect molds: Tate. They would give him $6.25 million, a franchise record. He would prove a bust. He has hit .246 with three home runs in three years without making it out of Class A. He has also flunked two drug tests, been suspended 50 games and suffered a broken jaw in an ATV accident.
Then the draft really started falling the Angels' way (sidebar). Team after team passed on Trout, with most using their picks on pitchers who, so far, have yet to pan out. After the White Sox took Jared Mitchell at No. 23, the next two picks belonged to the Angels. They took a Texas high school outfielder, Randal Grichuk, with the 24th pick. Tony Reagins, then the Angels' G.M., called Craig Landis, Trout's agent.
In Secaucus, Selig announced the selection. When Jeff Trout looked over at a nearby table where the Yankees' delegation was sitting, one of them dropped his pen down on the table. In the Texas war room the Rangers people wondered why anybody would take two righthanded-hitting high school outfielders back-to-back in the first round.
Reagins, still nervous about the rumors about Trout's bonus demands, called Morhardt: "Mo, this is going to be tough."
"Tony," Morhardt replied, "you just got the biggest freak of nature on your team. And Mike is going to want to play baseball. He'll be climbing a tree after a week."
Three weeks later Jeff Trout called Morhardt. "Mike's driving us crazy," he said. "He wants to play baseball."
Mike took $1.215 million, slot money. Says Jeff, "They're eventually going to have to pay for that bargain. But it was never about the money. We were just blessed and thankful he got drafted."
The Angels brought Trout to take batting practice at Angel Stadium against then hitting coach Mickey Hatcher. Trout began launching balls into the rock pile in left center. Hatcher fed him pitches outside, and Trout whacked those into the rightfield seats. "He was hitting balls all over the place," Scioscia says. "That kind of power is so rare for a 17-year-old. You're talking Griffey, Prince Fielder."
Says Bane, "Sometimes, when I can't sleep and it's three o'clock in the morning, I'll get on the Internet and I'll bring up the 2009 draft. I look at it and just go, 'Wow.'"
In the spring of 2011, Trout, who was 19, arrived at the Angels' major league camp. One night a group of nine veterans invited him to join them at a swanky steak house in Scottsdale. Great heaps of food kept coming to the table, as did bottles of fine wine. Trout couldn't believe his great fortune. Only two years earlier he was in high school watching these guys on TV. He had a great time—until pitcher Jered Weaver walked up to him and said, "You're the million-dollar baby. You're going to pay for it."
Mike looked at the bill: $1,800. He excused himself and went to the rest room, where he pulled out his cellphone and made a call.
"Mom? They're going to stick me with an $1,800 bill. Do I have enough money in my account?"
"Mike, what are you talking about? Just use your card."
The next morning, there was a large Tonka dump truck parked in Trout's locker. It was filled with 7,200 quarters.
It is easy to forget how young Trout is. Four of the top nine picks in this year's draft are older than he is. When his Jersey buddies visited him in Anaheim last month, Mike took them to Magic Mountain and to shoot pool. When the Angels were taking early bunting practice one day last month, Trout spent his time between turns in the cage playing ball in the infield with A.J. Pujols, the 11-year-old son of first baseman Albert Pujols.
On their son's birthday, Jeff and Deb surprised him by flying to Oakland to be with him. Well, maybe it wasn't a surprise. Either or both of his parents make it a point to be with him on his birthday. After the last out of every game, often 1 a.m. or later in Millville, Deb will text Mike, something like "Great game" or "Go get 'em tomorrow." The first thing Mike will do after a game is text back, "Thanks. Love you. Call you in a little bit."
It has happened so fast, like most things with Mike Trout. A huge box arrived at the house in Millville last month. Mike periodically cleans out what accumulates in his locker and sends it home. This shipment included one of his three AL Rookie of the Month awards, an autographed bat from Jason Giambi (a thank you after Giambi asked Trout for one) and a letter from Dipoto. Deb read it aloud for a visitor: " 'Just three years ago you were a Thunderbolt. Now you are a major league All-Star. Congratulations on your selection to the All-Star team.'
"Wow," she said. "I'm getting chills. That's going in a frame."
An area scout can spend a lifetime on the road, missing anniversaries and kids' birthdays, catching three games in a day, eating meals at concession stands and filling stations, and never see a Mike Trout. Sometimes, you see a Mike Trout and don't even know it. The Nationals will discuss what happened in the 2009 draft at organizational meetings this winter, part of their annual forensic study of each draft after three years have elapsed. Strasburg was the obvious top pick, but with their second pick in the first round they took a reliever, Drew Storen, without giving much thought to Trout. "It's not finger-pointing," says Rizzo, a scout himself for 13 years. "If you haven't made a mistake, you haven't been drafting anybody."