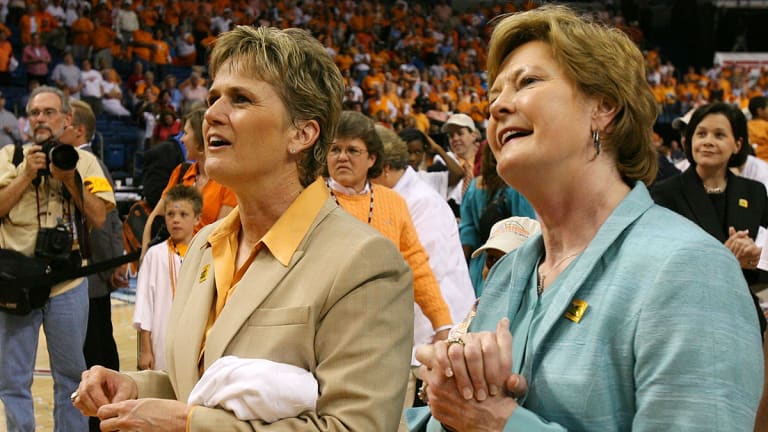 The New Big Wheel in Knoxville
For 27 years Holly Warlick worked behind the scenes at Tennessee. Now she gets to run the sport's most fabled program and fill its biggest shoes. If only her ascent weren't so bittersweet
Holly Warlick sits in a chair in her office at Tennessee's Thompson-Boling Arena, head tilted back as if awaiting a dentist's drill. Makeup artist Claire Balest leans over her, dabbing on champagne-colored eye shadow. A three-time All-America point guard at Tennessee and a Lady Vols assistant for half her life, Warlick thought she knew what she was getting into when she was named coach last April. One thing the notoriously thorough Warlick hadn't game-planned: photo shoots. In the last few months she has been the subject of so many that, says Warlick in her droll drawl, "Claire now thinks she's part of the staff."
Balest tends to Warlick's eyes for a few more moments, rimming the upper lids with eyeliner. Unlike Warlick's predecessor in this office, Pat Summitt, whose steely blue-eyed stare was famous from Stanford to Storrs, there's a different window into Warlick's soul. Instead it's her knees—they bounce like those of a fourth-grader counting the seconds to recess. "Sooo much energy," says first-year assistant Kyra Elzy, a Lady Vols guard who graduated with a master's degree in 2001. "She's always getting up in the middle of one thing to do something else. I have to tell her, 'Sit! One moment, one task!'"
During games the 54-year-old Warlick can barely contain herself, pumping her fists after made baskets, sliding up and down the sideline as if doing defensive drills, clutching whoever's nearby during tense moments. As a player on the bench, Elzy often found her ankle being pinched by Warlick after a Tennessee turnover. "She was that caught up in the game," says Elzy.
Over Warlick's nearly three decades at Summitt's side, four schools tried to hire her as coach. Warlick turned them all down because, "this job has always been my goal," she says. "It's my hometown. It's all I know. Pat and I have talked about me stepping in for a long time. But not under these circumstances."
Summitt, who turned 60 in June, never intended to step aside while she was still in her 50s—"We used to joke that I'd be pushing her out there in a wheelchair," says Warlick—but in August 2011 she announced that she had early-onset dementia, Alzheimer's type. What followed was a season "with no road map," says Lady Vols assistant Dean Lockwood: Summitt still held the title, but Warlick served as the de facto head coach, juggling, along with fellow assistants Mickie DeMoss and Lockwood, X's and O's, media duties, player needs, recruiting, Summitt's comfort—"Our Number 1 priority," says Warlick—and the heartache of their mentor's illness.
"Last year was difficult," says the typically upbeat Warlick. "I never wanted anyone to think I was stepping on Pat's toes. And knowing what Pat, my coach, mentor and great friend, was going through—it hit me at weird times. I'd be driving home and I'd just start bawling." For a moment the moisture in her eyes threatens to undo Balest's work.
Despite these unusual challenges, Warlick, DeMoss and Lockwood got the Lady Vols to the Elite Eight, where they fell to eventual champion Baylor. At a press conference last April 18, Summitt announced that after a record 1,098 wins and eight national titles, she was moving into an emeritus role. The transition was complete when Summitt put her whistle around Warlick's neck. "I know this works," Warlick quipped. "I've heard it a lot of times."
Warlick lives with two dogs and a cat on a grassy, hilly spread 30 miles from campus, so far out in the sticks that DeMoss often joked that she had to change her oil and rotate her tires every time she visited. For quick escapes Warlick pops on her headphones, hops on her mower and grooms her vast lawn. For longer ones she climbs aboard the checkerboard orange Harley-Davidson a group of friends gave her when she was inducted into the Women's Basketball Hall of Fame in 2001. But there's little time for any of these things now that she's at the helm of the country's most decorated women's basketball program. Any coaching job is big, but how can you measure the success, the popularity, the pressure, the significance of the job Warlick has inherited?
"What Pat has created here is a monster," says Warlick as she sits—calmly for the moment—on a couch in her office. "When you get into the Elite Eight and you're disappointed, something is wrong. But we are disappointed. Our expectations are to win the SEC regular season and tournament, but we've got to go to the Final Four. We have to."
It's not just the high expectations that define Summitt's program, which has never had a losing season. Tennessee has led all Division I women's programs in attendance for 18 of the last 21 seasons. All 122 of the program's four-year players has graduated. There hasn't been even a whiff of scandal. And Summitt is revered in a way that even John Wooden and Dean Smith were not: She didn't just build a program, she transformed women's sports. In many of the arenas Summitt entered last season, during what everyone recognized as a farewell tour, she received standing ovations. Some lasted as long as five minutes. "Seeing that, I realized this is about so much more than basketball," says senior guard-forward Taber Spani. "This is what a woman has done to make a difference in people's lives. It was something I'll never forget. As players, you're honored to be a part of her legacy."
Taking over for a legend is a perilous and thankless task—just ask the five UCLA coaches who failed to win an NCAA title after Wooden's retirement in 1975. Gene Bartow, the Illinois coach who replaced Wooden right after the Wizard of Westwood won his 10th championship, in '75, was so hounded by critics that he developed a chronically upset stomach and fled L.A. for Birmingham after just two seasons—and a perfectly respectable 52–9 record. Warlick's 83-year-old mom, Fran, who still works two days a week as a Knoxville hotel clerk, says people constantly tell her, "I admire Holly for doing this, but I'd rather be the second to take over than the first."
Warlick's situation differs from Bartow's. For one, the Lady Vols aren't expected to be dominant this season. Since Tennessee's last NCAA title, in 2008, the program has gone through an uncharacteristically rocky stretch, including a first-round loss to 12th-seeded Ball State in the '09 NCAAs—the only time a Summitt-led team failed to reach the Sweet 16. The freshmen from that season graduated last spring as the only class never to make a Final Four in Summitt's 38-year career. "I don't look at it like, Oh, my God, I'm following this great icon," Warlick says. "I look at Pat as a great friend, and I think she has gotten me ready for this." And aside from Summitt, no one on the planet is more invested in Tennessee's success than Warlick. "I think the fans will get behind Holly because she is one of their own," says Elzy.
The Rocky Hill section of Knoxville, where Warlick grew up, teemed with little baby boomer jocks like her and her older brother, William, and sister, Marian. Their dad, Bill, a salesman at Owens Corning, coached kids in his spare time. "He really supported the idea that girls should play sports too," says Warlick. A natural athlete, she competed in almost everything but particularly loved basketball, even the stilted six-on-six version Tennessee high schools played in the mid-1970s. Old Dominion recruited her, but she dreamed of being a Lady Vol.
Warlick remembers Summitt attending one of her Bearden High games. "I was horrible and sprained my ankle and never heard from her again," she says. So Warlick, the state record holder and two-time state champion in the 440-yard dash, accepted a track scholarship to Tennessee and walked on to the basketball team. Warlick used her speed to great effect on defense—her 141 steals in 1978--79 are still a school record—and thrived in the heat of Summitt's withering critiques. "She was tough on me, just brutal," says Warlick. "But she knew I could take it. If you're the point guard and you can take it, everyone else on the team is going to fly right."
Warlick led the Lady Vols to three AIAW final fours and became the first Tennessee athlete, male or female, to have her jersey retired. (She wore number 22 because Bill, who died of a cerebral hemorrhage in 1975, had worn it in high school.) Yet when asked for a highlight from her college days, she brings up teammate Trish Roberts's 51 points against Kentucky in 1976, a Lady Vols record. "I shot seven layups, and Trish rebounded every one of them," Warlick says with a wry smile. "Sometimes I was too quick for my own good."
In a different era Warlick might have accomplished even more as a player. She made the 1980 Olympic team but had to sit out the Moscow Games because of the U.S. boycott, and her stint as a pro, with the Nebraska Wranglers of the WPBL, lasted just one season before the league folded, in '81. She spent the next four years doing assistant grunt work at Virginia Tech and Nebraska. Then in '85 Summitt asked her to come home and join her staff.
While Summitt always gave her assistants a lot of responsibilities, Warlick has some unfamiliar challenges to face, the whole replacing-a-legend thing aside. The recently completed merger of Tennessee's men's and women's athletic departments has resulted in two gender-discrimination lawsuits filed in the last two months by four Lady Vols basketball staffers, including Debby Jennings, the team's sports information director for 35 years before, she says, she was forced to retire last May, and longtime athletic trainer Jenny Moshak, who claims she was demoted in retaliation for seeking equal pay with her counterpart in men's athletics. (Tennessee administrators declined to comment.) "I'm trying to stay focused, and make sure this team stays focused, in the now," says Warlick, who hasn't read the lawsuits. "We've talked about it to the kids, just to tell them, This is going on, but it has nothing to do with you."
On a personal level Warlick's sister, now Marian Ferrill, is battling Parkinson's disease and recently underwent surgery for breast cancer, the disease Warlick and Nikki Caldwell (the LSU coach and former Tennessee guard and assistant) have been raising money to fight since forming their Champions for a Cause foundation in 2007. "I look at what Pat's going through and now this ... it's just life," says Warlick. "It's all of our lives, isn't it? It just happens to be part of mine all packed pretty close together."
It's still dark outside Pratt Pavilion as the Lady Vols run through defensive drills on an early morning in October. Summitt, wearing the same white long-sleeved top and blue shorts as the other coaches, sits on a stool under a basket or walks the sideline, saying little. She is at every practice unless a conflict arises, in which case she asks Warlick for an excused absence. "There aren't many people who could have followed Pat and allowed her to still have such a big presence there," says DeMoss, now an assistant with the WNBA champion Indiana Fever. "Because of Holly's loyalty and because of her love for that program and for Pat, I think she was the right person for the job. She is humble and she is the ultimate optimist."
Warlick considers Summitt's presence a comfort. "She just encourages, she doesn't coach, teach or direct," she says. "The kids love her being there. They get to know her on a more personal basis than they would in a head coach--player relationship."
When she was an assistant, players who had incurred Summitt's wrath ran to Warlick for solace. "Holly was the one who said, 'You're O.K., let me hug you. Let me make you some cookies and get you back in there,'" says Elzy. "She kept you sane, kept you confident. There are a lot of former Lady Vols who wouldn't have made it through this program without Holly."
Warlick can't play good cop anymore. She doesn't have Summitt's stare, and she probably won't get in a player's face. But already the Lady Vols have seen a less patient, more demanding side of her. Twice she has made players rise before dawn for extra running. The most recent of these "accountability sessions" was punishment for using social media past curfew. "Being the head coach I have to be tougher," she says. "Now I see the assistants doing what I used to do, saying to the kids, 'You're going to be O.K. She's crazy! You know she's crazy.'"
On paper Warlick's team is the type that could test a coach's patience. Five senior starters from last year are gone, leaving 11 players, including eight freshmen and sophomores. The schedule, which includes a meeting with top-ranked Baylor (right) in Waco, Texas, on Dec. 18, is typically brutal. Prognosticators aren't expecting much from the Lady Vols, though they have five McDonald's All-Americans on the roster. The media picked Tennessee to finish fourth in the SEC, behind Kentucky, Georgia and Vanderbilt, and the AP preseason poll has them ranked 20th, the lowest since the 1976--77 season, Warlick's freshman year. But the coach thinks her team will surprise people. "All 11 can play," she says. "We're versatile and athletic, and we have great overall team speed. Everybody has the ability to bring it up the floor except maybe one or two people. We're young and our schedule is crazy, so we may take some hits. But there is no fear in this team."
As for stocking future teams, there hasn't been any recruiting backlash to the coaching transition. None of the three players who had committed to play for Summitt backed out when she stepped down. With the early signing period looming, the Lady Vols have commitments from three top 50 recruits in the class of 2013, including Mercedes Russell, a 6'5" center from Springfield (Ore.) High, who is considered to be the top player in her class. The message on the recruiting trail is the same as it is in Knoxville. At a team meeting in August, Warlick gave everybody associated with the program a relay baton printed with the words: NEW TEAM, NEW STAFF, NEW GOALS ... SAME HEART, SAME PRIDE, SAME FIGHT.
Whatever other hallmarks come to define Warlick's reign in Knoxville, each game will be approached in a way that Lady Vols fans will recognize and embrace. Whether it's horseshoes or beach volleyball or the SEC tournament final, "I always think I'm going to win," says Warlick. "Last night I looked at our schedule. Realistically are we going to not lose a game? No. But in my mind we can win every game. That's crazy, but that's how I feel, that's how I think. Every game can be ours."
Competitive, optimistic, a little crazy. Sounds like the right person for the job.