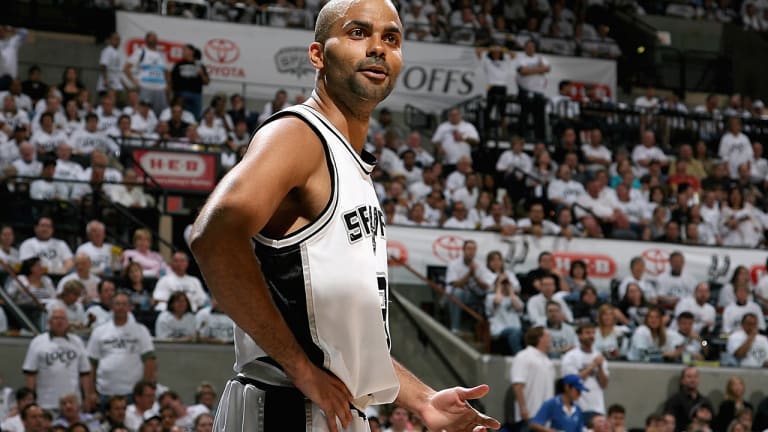 His Time, His Place
Now that he's finally the Spurs' go-to guy, Tony Parker—one of San Antonio's few rapping French nightclub owners—has never felt more at home
When you get off the interstate, turn left. Drive past miles of empty fields, horse barns and woods, past working ranches and past residential developments that have Ranch in their names just to remind you that you're in south Texas.
Turn left again. Drive through a gate, then another gate and then another, past a little cage where a fox or raccoon or porcupine has been trapped (it will be set free outside the grounds later), and that is where you will find ... a French basketball player with three NBA championship rings who was once married to a Hollywood star and this summer got injured in a fight involving two famous rappers at a New York City nightclub.
Tony Parker, the Spurs' point guard, bought the 33-acre property several years ago and spent 12 months helping an architect design his new home. He bought another house nearby just so he could visit this one three or four times a week while it was being built. That took three years.
Now the 20,000-square-foot palace is complete. Parker has a swimming pool, a tennis court, a beach volleyball area and a six-on-six soccer field on which he hosts monthly games. He bought all the paintings in the house, including the one of himself, from his favorite artist, Los Angeles--based Justin Bua. He chose everything from the doorknobs to the address: 9 Rue Parker.
Since forward Boris Diaw signed with the Spurs last March, he has lived in Parker's guesthouse, bringing symmetry to Parker's basketball life: As teenagers in France, Parker and Diaw lived together while playing for the junior national team. "It's like the French countryside out here," Diaw says as he sits at the kitchen table eating a turkey pita and orzo prepared by Parker's private chef.
Parker used to tell his mother that if he couldn't play basketball, he would be an architect. That dream has passed. After having this house built, he has no interest in building another one. This is where he plans to spend the rest of his playing days. Because in an unlikely place, in an unlikely career, Parker has created his personal paradise.
The best teams in the NBA have owners and are attached to cities, but they truly belong to their stars. Kobe Bryant is the face of the Lakers. In the public's mind, LeBron James is the Heat; however you feel about LeBron is probably how you feel about his team. The Thunder is Kevin Durant's.
Then there are the Spurs, who tied for the best record in the NBA last season and were 8--2 through Sunday, the second-best mark in the Western Conference. Tim Duncan has been the driving force behind the team's four NBA championships, but at 36 he's slowing. "It's always going to be Timmy's franchise, until Timmy retires," says Parker, 30. He is sitting in his dream home, but he is ever mindful that he lives in Duncan's town. He does not want to look as if he is pushing Duncan off to the side so he can run an isolation public-relations play for himself. Still, Spurs coach Gregg Popovich and others say it for Parker: This may be Duncan's franchise, but on the floor the Spurs are now Parker's team.
"Tony is going to be our leading scorer, probably, every year," says Popovich. Parker's numbers last season (18.3 points and 7.7 assists per game, 48.0% shooting) were only marginally better than his career numbers (16.8, 5.9, 49.2), but he achieved them with defenses focusing on him more than they ever had. Under the same defensive pressure this season, Parker—who has also struggled with the flu—is averaging 14.2 points and 7.9 assists. He's shooting only 40.6% from the floor, but he drained two of the most memorable shots of the season, a three-pointer with 28.3 seconds left to tie San Antonio's Nov. 1 Western Conference showdown with Oklahoma City, then a 21-footer at the buzzer to win it.
Parker scores with a dazzling combination of speed, ballhandling and panache. His signature shot is a teardrop in the lane. It is a gorgeous mix of athleticism and grace, and it fuels a big misconception about Parker's game: that he's too European, too glamorous, too ... well, pretty to be one of the toughest players in the league. But fans forget that Parker, always one of the smallest players on the court, has to drive into a forest of muscle to release the teardrop. "You don't get that deep in the paint without getting the crap kicked out of you," Spurs general manager R.C. Buford says.
Parker's ascension would have been hard to envision in 2001, when he arrived in San Antonio as a 19-year-old late-first-round pick. His official position was point guard, but, Popovich says, "he wasn't a point guard." He was, the coach says, "a pure scoring guard." But don't think of him that way either. Think of Parker as a 19-year-old intern. Nobody knew how long he would stick around. (He just hoped to play 15 minutes per game.) He obviously had talent—he was one of the quickest players in the NBA—so his boss gave him a chance to work with the older guys. But Popovich made Parker pay for it, criticizing him relentlessly and often brutally.
Nothing Parker did seemed good enough. If he shot, he should have passed. If he sped up, he should have slowed down. He did not practice as hard as he should have.
Nor did the team's most important player make Parker's life any easier. Duncan is extremely driven and extremely quiet. Imagine working with a guy like that. "Tim is a really intimidating personality," Buford says. "You don't know when to interject your own personality. There is this vacuum, and there is a lot of oxygen there that is sucked up. When do you get in the middle of it?"
In Parker's second year he found somebody he could relate to: another intern, who arrived from Argentina. His name was Manu Ginóbili, and Popovich gave him some abuse too. But Ginóbili was 25, and he was playing his natural position, shooting guard. Parker was 20 and the team's primary ballhandler. Guess who had it worse. "I was surprised at how Pop talked to both of us," Ginóbili says, "but, yeah, he was especially rough on [Tony]."
In their first year together, Ginóbili and Parker helped the Spurs win the 2003 NBA championship. Parker thought he had proved his value to the company. The company wasn't so sure. The Spurs tried to sign free agent Jason Kidd to be their point guard. They wanted Parker to shift to shooting guard and complement Kidd. "He said, 'Pop, I don't like this,'" Popovich says, quoting Parker.
The coach continues, "I said, 'I know, Tony, but I'm gonna do it. I think it will be great. You're gonna learn from him.'
"'Pop, I don't like it, I don't like it, I don't like it.'
"'We're doing it.'"
Kidd turned down the Spurs and re-signed with the Nets. Parker became an All-Star and an A-lister. He helped the Spurs win another title in 2005. He got the first of his four All-Star designations in '06. The next year he released a rap album, married Desperate Housewives star Eva Longoria and became tabloid fodder. (They would split three years later.) He developed the teardrop, and it became one of the most devastating shots in the game. But on the practice court he was still an intern. Popovich eased off Ginóbili after a couple of years, but he never stopped riding Parker.
When the Spurs swept LeBron James's Cavaliers in the 2007 NBA Finals to win their third championship in five years, Parker was the Finals MVP. Statistically he was the obvious choice: He averaged 24.5 points on 57% shooting. But the notion of the Spurs as Duncan's team was so ingrained in Parker that he didn't believe he would win the award until his name was announced.
So why did Parker take Pop's abuse all those years? Why did he sign a six-year extension in 2004 instead of leaving town? It may be because of what Popovich calls "the care factor." He and Parker have always gone out to dinner 15 to 20 times per season. They drink wine, tease each other about the political problems in their home countries and decompress. "You can't get on a player and ignore him until the next time he plays a game, or all of a sudden he's chattel," Popovich says. "He's just a piece of meat."
There is another reason why Parker kept listening to Popovich's criticism: He agreed with it. He knew the coach was helping him improve.
Parker was so determined to get better that after winning the 2005 championship, he announced that he would completely remake his shot. He and Spurs assistant Chip Engelland started with his grip. On their first day together, Parker took one-handed shots from six to eight feet. They moved on to his balance, legs and release, until eventually Parker had a smooth jumper. Then he added a pull-up shot off the dribble. It was all designed to augment the one shot that Engelland would not touch. "His teardrop, I applaud," Engelland says. "It's a marvel. Just cheer it on."
Meanwhile, Parker let Popovich mold him into a true point guard. Popovich says Parker now shows more patience with his teammates, takes smarter shots, plays tougher defense and makes wiser decisions, especially at the end of quarters. The proof is not what Popovich says. It is what he lets Parker do. For much of his career Parker had to follow Popovich's orders in the Spurs' motion offense 90% of the time. Last year that dropped to about 30%. "During the meat of the game," Popovich says, "he's got a lot of license to run whatever is available."
Two or three years ago Popovich stopped ripping into Parker so much. Ginóbili says the coach has simply mellowed: "In the last few years Pop is more of a pacifist." Pop? Pacifist? What will the coach say when he reads that? Ginóbili laughs and repeats himself: "More of a pacifist. Don't put in the title 'Pop Is a Pacifist.'"
Truth is, Popovich had no other choice but to let up. Parker is his best player now, and he practices hard, and he does what the coach wants him to do—often without the coach asking. Nobody ever announced the promotion, but the intern now has the run of the place.
A 20,000-square-foot house has a room for everything, from shoes to clothes to a virtual basketball museum. Parker's trophy room has a hardwood floor that looks like an NBA court surface, with the Spurs' logo painted on it. Framed jerseys hang on the walls. Championship rings are on pedestals. Parker's trophies for achievements all over the world are on shelves. He paid for Bua, the L.A. artist, to fly to San Antonio and paint a mural on the doors. Spotlights give the room a theatrical feel.
But maybe the most important attribute of Parker's trophy room is its location: at the end of the house, past the barber's chair (Parker likes getting his hair cut at home every week), a large closet filled with shoes and a small room with a massage table where Parker gets physical therapy. You could spend days in the house and not even realize there is a trophy room. Says Buford, "There was a time when Tony was a very active follower of the Internet and what people were saying. There were times it may have meant more to him."
But Parker has never needed outside approval, perhaps because he always believed so deeply in himself. When he was a child there were not many Europeans in the NBA, and there were almost no European point guards. Parker says that for him the NBA "was a dream. It was not a goal." But, says Diaw, "he really thought he could make it."
Parker's belief carried him to the NBA, where he has become something of a flag bearer for French athletes in the United States. He proudly points out that French players are common now in the NBA. (Diaw, Nicolas Batum and Mickael Pietrus are among the most prominent.) Parker has never forgotten why he wanted to be here. So many NBA stars seem to make career decisions based on what is best for their social lives or their marketing opportunities. For Parker, being a celebrity is only a hobby. He can fly to Manhattan or Miami or Dubai from time to time and live the life of the ultrarich and famous. But it does not interfere with his work.
He was on one of those trips in mid-June, early in the off-season, to see French soccer star Thierry Henry in New York City, when a fight broke out at a SoHo nightclub called W.i.P. The brawl's details are in dispute, but this much is clear: Rap stars Drake and Chris Brown were there. Both have been romantically linked to Rihanna. Punches were thrown and bottles broken. A piece of a bottle ended up in Parker's left eye. "It was crazy," he says. "When they started fighting, it felt like a movie."
Parker was later quoted saying Brown is a friend, but he tells SI, "I don't know [Brown and Drake]. No. I know who they are, but I'm not friends. I had my own table with my friends. I was just, quote unquote, collateral damage."
He says the piece of glass, which doctors removed the next day, came within two millimeters of taking his eye. Parker had to wear goggles while playing at the Olympics, and he has a scar on his cornea. (He is suing W.i.P. for negligence and failure to provide proper security.)
By the time he got back from the London Games, the goggles were off. In every way Parker now likes what he sees in San Antonio. His mother moved there, and Tony bought her a house. His brothers Pierre, 26, and T.J., 28, moved there too, and Tony helped them open a nightclub, Tony Parker's Nueve Lounge, just off the interstate.
It is fair to assume that Parker will not be competing with Duncan or Ginóbili for San Antonio's nightclub business. "You don't want to ask me," Ginóbili said, when asked how Nueve compares with other clubs. "I never go out. I'm not experienced. I don't know if it's great, average.... I have no clue." Parker will take care of the nightlife for the Spurs the way he takes care of almost everything else these days.
If the modern NBA is defined largely by career decisions, Parker may be defined by the decisions he didn't make. He never sought a bigger market. He did not insist on being his team's leader. He did not chafe when his coach demanded more of him.
When the Spurs tried to sign Kidd in the summer of 2003, it seemed to be a defining moment in Parker's career. And it was—not because of what happened or didn't happen but because of how Parker handled it. "It probably still pisses him off when he thinks about it," Popovich says, "but he knows where to put it. He knows where to compartmentalize it."
The former intern is one of the best players in the league now, the clear leader of a championship contender. There are perks. These days Parker gets to tell people what to do and where to go.
"He even says something to Tim once in a while," Popovich says.
The coach smiles.
"Once in a while."