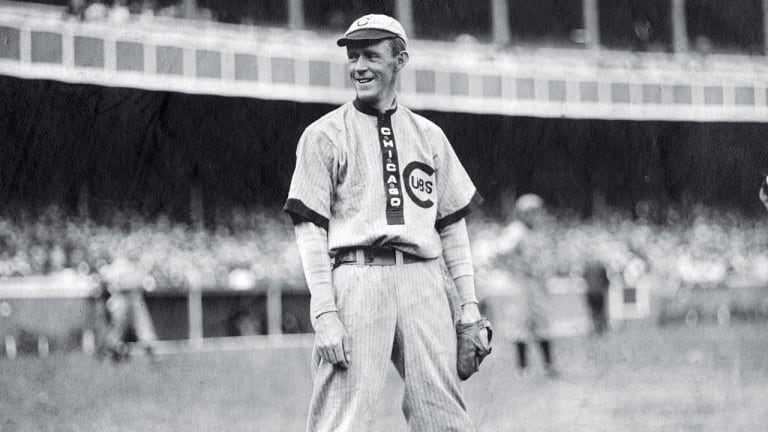 Publish date:
Tinker to Evers to Chance . . . to Me
After years of boasting that he was related to Hall of Fame second baseman Johnny Evers, the author set out to explore—for better and worse—the century-old myth of the double-play artist
The cemetery spreads across a green hillside above the small upstate city of Troy, N.Y., where shirt collars and steel were once manufactured along the east bank of the Hudson River, but where neither is made anymore. At the entrance to the graveyard there is a three-story brick building that holds musty plot maps spread out on creaky tables. Nobody is inside, and it feels as if the structure has been empty for a very long time. It is a sunny autumn morning; the leaves have just begun to change color. A few cars are parked along the roadway that bisects the cemetery, one set of wheels on grass and the other on pavement, so that other vehicles can pass.
A tall man in a baseball cap speaks with a woman in sunglasses and then points in the distance. His name is Danny Catlin, and if you want to find a gravesite in St. Mary's Cemetery, he is your guy. "You give me the name and a date of birth or death," says Danny, "I call it in, and they give me the location." He is unabashedly cheerful, which feels vaguely at odds with his surroundings. Cemeteries have always left me uneasy. When I was a Catholic altar boy, I would stare off in the distance during burial services, unnerved by the ceremony and even more by the surroundings, silently counting down the minutes until I could leave all that death behind.
"Name?" Danny is holding his pen at the ready.
"You might know this one without calling," I say. "Johnny Evers?"
"The baseball player?" says Danny. "Oh, I know where he is." He speaks as if those laid to rest here are living people who have moved to new addresses. We walk down to the southeast corner of the property and stop at a Mini Cooper--sized hunk of light-gray stone. Five people are buried beneath this earth, the first since 1885 and the most recent since 1974. On the eastern face of the large tombstone are five raised capital letters: EVERS. Names and dates are etched into the other three sides of the rock, including:
JOHN J EVERS 1881--1947
Nowhere does it say that Evers (who pronounced his name EE-vers, not EV-ers, as widely assumed) was a major league baseball player in the early 20th century, a brainy Dead Ball era infielder who was voted into the Hall of Fame in 1946. Nowhere does it say that he and two of his teammates were featured in a piece of baseball doggerel that's familiar to many a century later. Nowhere does it say that he was a central figure in one of the most controversial plays in baseball history. And nowhere does it mention the failed marriage, the nervous breakdowns or the bankruptcies (though there are two infants buried in the plot and named on the stone, hinting at a deep unexplained sadness). Nor does it mention the feeling of emptiness, the lifelong struggle to find traction after baseball, because baseball had been such a perfect vessel for his consuming drive, and life was simply messy and complex and couldn't be defeated with scrappy want-to.
There's just a whisper of a breeze in the clear morning air, and seemingly not a sound on earth. Minutes pass before Danny asks, "He's a relative?"
"My uncle," I answer, and then I pull it back, awkwardly qualifying the relationship. "My mother's uncle. My great-uncle. He died nine years before I was born. Uncle Johnny."
These are the saddest of possible words:
"Tinker to Evers to Chance."
Trio of bear cubs, and fleeter than birds,
Tinker and Evers and Chance.
Ruthlessly pricking our gonfalon bubble,
Making a Giant hit into a double—
Words that are heavy with nothing but trouble:
"Tinker to Evers to Chance."
—FRANKLIN P. ADAMS
"Baseball's Sad Lexicon," New York Evening Mail, 1910
For most of my life my uncle Johnny was a parlor trick I would spring on unsuspecting peers. He was related to me, and he was verifiably famous; this is a powerful social tool. Whether in the high school locker room or at the college keg party or at the bar with fellow sportswriters deep in the postdeadline night, somebody would always boast about an accomplished family member or close friend. This guy's cousin played at Boston College and had a tryout with the Falcons—made it to the last cut. (Half of these are wild exaggerations or straight-up b.s.) But when your hole card is the middleman in Tinker to Evers to Chance, and he's got a plaque in the Hall of Fame? I won a lot of one-upmanship games by matter-of-factly dropping Uncle Johnny's name and awaiting the reaction: Whoa, what? Not because a guy who played for the Cubs a century ago is equivalent to a modern celebrity, but because he embodies an odd combination of the familiar and the strange, cloaked in a thick mist of history.
Most of it was a lie. Not the genealogical part: John Joseph Evers was my maternal grandfather's brother. Not the baseball part, either: He was, indeed, the guy in the poem and the guy in the Hall of Fame. Those are the bold-line items I co-opted for the purpose of shutting down discussions and even impressing my own children with their heritage, slicing off a piece of another man's legacy and taking it for my own just because we share a little bit of DNA. But I knew far less about Uncle Johnny than I did about the many athletes I've interviewed and profiled. The last time I dropped his name was less than a year ago, at a party with a small group of sports journalists. I got the usual cred, but this time one of the guys followed up. "Did you ever think of writing a story about him?" asked my SPORTS ILLUSTRATED colleague Alex Wolff. And there it was, so obvious that I was embarrassed to have missed it all these years.
Of course I would write a story. I would go searching for Uncle Johnny, give myself a long-overdue history lesson and remind the world of the great man who had once borne my blood on big league diamonds. It would make us even, Uncle Johnny and me, make good on all those empty boasts I had delivered just for effect. And I can say now that it was a profound journey, one that left me staring for long hours into the eyes of men long dead, photographed when they were much younger than my 56 years; that left me sitting alongside my 81-year-old mother (one of the few people still alive who knew Johnny Evers and remembers him) talking about things that we had never talked about before; that left me holding in my hand one of the most famous baseballs in history, my fingers shaking because I knew where it had been and who had touched it.
But most of all, it was a journey that reminded me of what every reporter knows: Disturbing the dust of mythology almost always damages the myth.
Some truths: Johnny Evers was born in Troy on July 21, 1881, the fourth of six sons, nine children in all, to John Joseph Evers Sr. and Ellen Keating Evers. The family lived at 437 Third Street, three blocks from the Hudson in South Troy. My great-grandfather is described in city records as a "clerk," but he was also was the president of the school board, a position with political clout. His son Johnny, like all of the Evers boys, was educated in Catholic schools with other Irish kids. And like all of the Evers boys, he played sandlot baseball hour upon hour. Their uncle, Tom Evers, had been a pro ballplayer in the 1880s. Johnny graduated from St. Joseph's Christian Brothers School in 1898, just shy of 17 years old. And it is here that his story vanishes briefly in the fog.
Nearly four years would pass before Johnny became a professional baseball player. It has been written with some authority for more than a century that he spent much of those four years working in a Troy collar factory, earning $4 per week dispensed in an envelope in four $1 bills. It is a plausible story because the collar trade was a thriving sector of Troy's economy, but there is no hard evidence for it. Troy city directories from 1899 to 1901 list John J. Evers, like his father, as a "clerk," although the 1901 edition also lists him as the coproprietor, with his older brother Mike, of Evers Brothers Saloon, in the building next to the family's home on Third Street. Several other published sources suggest that Johnny spent time as a sign painter's apprentice. So at 19 he was a bar owner, a civil servant of some sort and perhaps a factory worker. Given the stubbornness and drive that would characterize his major league career, it's probable that he was also playing baseball endlessly. He had his own amateur team, the Cheerups, and probably played for others as well.
A few more truths: In 1902 Johnny was signed to play shortstop for the Troy team in the New York State League, a minor circuit from which players occasionally ascended straight to the majors. He made his debut on May 9 at Laureate Field in North Troy, a small stadium along the Hudson. He batted leadoff and went hitless in three at bats against Ilion. The Troy Times made note of him in the final paragraph of its game story: "Young Evers played shortstop for the local team and is said to show much promise."
At 20 Johnny Evers was a small man; he would grow to be only 5'9", and at the peak of his major league career he weighed 135 pounds. In photographs he swims in his baggy flannel uniform. His most distinguishing facial characteristic was a protruding jaw, which would come to represent the tenacity and combativeness he displayed as a professional. "The spidery little fellow with the pugnacious jaw and the flaming spirit," Arthur Daley of The New York Times described Evers after he died.
On Aug. 21, 1902, Johnny's father died at age 54. Just eight days later the following item appeared on the sports page of the Chicago Daily Tribune: "Troy's clever shortstop, Evers, have [sic] been sold to the Chicago National League club and will report to that club in Philadelphia." That team, which was called the Orphans and in 1903 would become the Cubs, had lost infielder Bobby (Link) Lowe to an injury. An article published in Baseball Magazine in 1953 under the byline of Hugh Fullerton Sr. told the story of Evers's elevation. Fullerton wrote that George Huff, a football and baseball coach at Illinois who scouted for the Cubs in the summer, was watching a series of games between Albany and Troy when he received word that Lowe was injured. Fullerton, a prolific reporter whose suspicions played a role in uncovering the 1919 Black Sox scandal, wrote, "Huff ... switched his attention to one of the second basemen in the game ... a wiry little bunch of nerves and muscle. The kid was only a few months out of school.... But he gave unmistakable signs of possessing a baseball 'brain' in his head."
There is a probably a little fact and a little fiction in this tale, but this much is true: One month past his 21st birthday, having lost his father only days earlier, Evers took a train ride from Troy to Philadelphia. The next afternoon he started for Chicago, and he never again played in the minor leagues except ceremonially at the end of his career. Joe Tinker, an infielder from Kansas, was a rookie with the Orphans; Frank Chance, a big first baseman from California, was in his fifth major league season. Evers started that game at shortstop, but he was soon moved to second base, between Tinker and Chance. They turned their first double play on Sept. 15, with 10 games remaining in the 143-game season.
Over the next seven years the trio developed into a notorious DP combination. It was on July 12, 1910, according to baseball historians Tim Wiles and Jack Bales, that Franklin Pierce Adams mythologized the Cubs infielders with his poem. Adams was not a sportswriter but rather a respected columnist (he later would be a founding member of the famed Algonquin Round Table) who occasionally watched Giants games at the Polo Grounds. On that afternoon his editor asked him for eight lines of copy to complete a column, and "Baseball's Sad Lexicon" was the result. Tinker, Evers and Chance had turned a double play against the Giants the previous day, though in fact they never led the National League in that category; Uncle Johnny would be part of only 270 double plays in the six years from 1905 to '10, less than one every three games. Yet this is misleading. The Cubs were a Dead Ball era dynasty with excellent pitching. Opponents had few base runners; hence there were few opportunities for double plays. That Tinker, Evers and Chance were excellent fielders was taken for granted and easy fodder for Adams's rhyme. (In 1949 the MGM musical Take Me Out to the Ballgame would feature a DP combination called O'Brien, Ryan and Goldberg, patterned after Tinker, Evers and Chance. Frank Sinatra played Ryan, the Uncle Johnny role.)
Evers, meanwhile, was a vital part of Cubs teams that went to four World Series and won two championships. His rise is reliably told in the statistics of the era. Again, truths: From 1903 to '08 he averaged 134 games and was among the top five in the league in stolen bases three times. By the end of his career he had been first or second in most at bats per strikeout six times. The guy did not whiff.
There are practical differences between major league baseball in the first two decades of the 20th century and the game as it is played today. All of the players were white. (Uncle Johnny was born 16 years after the abolition of slavery.) Fielders wore tiny gloves, barely larger than modern ski mittens. The fields were much more uneven than today's. The period from 1900 (or earlier) to approximately 1919 was called the Dead Ball era for good reason: Baseballs were kept in play, and over the course of games they were beaten to a pulp.
In this world Evers was an exceptionally effective fielder. He was nicknamed the Crab. Some writings attribute the name to his manner of scooting low along the dirt to dig out ground balls, but many more ascribe it to his willingness to argue any point with anybody. Evers would stay up at night reading the rule book, looking for loopholes to exploit—time that would one day prove very useful.
The Cubs had 116 victories in 1906, tied with the 2001 Mariners for the most in major league history even though those Cubs played seven fewer games. Evers played 154 of the 155 games, more than any other member of that team. The Cubs were upset in the World Series by the crosstown White Sox, but in '07 they won 107 games and swept the Tigers and 20-year-old Ty Cobb for the championship. Evers hit .350 in the Series and had two doubles and three stolen bases. It wasn't until a year later, though, that his name would be indelibly written in the pages of baseball history.
The 1908 National League pennant race has been the subject of at least two nonfiction books—Cait Murphy's Crazy '08 and G.H. Fleming's The Unforgettable Season—and a significant part of Eric Rolfe Greenberg's novel, The Celebrant, a fictional account of the life of Hall of Fame pitcher Christy Mathewson. The novel refers to Evers as "that hard, pitiless man, beloved everywhere in Chicago save his own team's clubhouse." This was surely informed by the fact that Evers, angered over a ball thrown too hard from too close, didn't speak to Tinker from '07 to at least '09.
The '08 season reached a climax on Wednesday, Sept. 23, at the Polo Grounds in New York, in a game between the Cubs and the Giants. The two teams were tied in the standings with another 10 games to play after that one, in which the score was tied 1--1 going into the bottom of the ninth. Mathewson had held the Cubs to five hits, while Uncle Johnny was "the criminal of the afternoon," the New York Herald wrote, "doing some highway robbing of a serious nature. He stole a single from [Moose] McCormick in the fourth inning by jumping up in the air and stabbing one that looked good for two sacks." There were two outs and McCormick was on first when 19-year-old rookie first baseman Fred Merkle—who was making his first career start because Fred Tenney had an attack of lumbago—lined a single to right. Then, with Merkle on first and McCormick on third, shortstop Al Bridwell singled to center. McCormick trotted home from third, and a celebration began. "Perfect ladies are screaming like a batch of Coney barkers," wrote The New York Times. Fans rushed the field.
Precisely what took place next will never be known, though this much seems certain: Merkle began running toward second base, but when it became apparent that McCormick would score easily, and fans swarmed the field, Merkle veered off and ran toward the Giants' clubhouse in centerfield. This was common practice. Some seconds—or minutes—later, Evers stood on second base with the ball. Home plate umpire Hank O'Day called Merkle out, disallowed McCormick's run, leaving the score tied, and called the game because of darkness. "In a moment, the scene became one of the wildest confusion," wrote the New York Tribune. "A dozen fights started."
It's not clear—and will never be clear—how the baseball wound up in Evers's hands on second base, or even if it was the baseball that Bridwell hit into centerfield. That is part of the fascination with what came to be known, cruelly, as Merkle's Boner. The ball might have been thrown in from center by the Cubs' Solly Hofman. Once it was thrown in, it might have been intercepted by Giants pitcher Joe (Iron Man) McGinnity, who was coaching third base that day, and McGinnity might have lost it to charging Cubs players or thrown it into the stands, where Cubs retrieved it, possibly by decking a fan in a bowler hat. Then again, the recovered ball might not have been the one that Bridwell struck. All of these scenarios have been described in reporting of the day and in subsequent books and articles. But one thing rings true: The impetus for the force-out was "the quick-witted Evers, ever on the alert to gain a point," wrote the New York Press.
Nineteen days earlier, during a game in Pittsburgh, Evers had similarly tried to annul the Pirates' winning run in the 10th inning. The umpire was O'Day, and the player on first base was Warren Gill. But O'Day claimed not to have seen either Gill leave the field early or Evers touch second base. The run counted. The Cubs protested to National League president Harry Pulliam, who did not overrule the call, allowing Pittsburgh's victory to stand. But Evers had planted a seed in O'Day's head (and in those of his own teammates), and on Sept. 23 O'Day was surely watching when Merkle left the field and Uncle Johnny touched second base.
Again Pulliam did not overrule O'Day, though Pulliam was so shaken by the controversy that it was one of the reasons he shot himself dead 10 months later. The Cubs and the Giants finished the season tied for first. Chicago won a one-game playoff at the packed Polo Grounds on Oct. 8 and went on to defeat Detroit again in the Series.
Evers was at the pinnacle of his baseball career. He had batted .300 for the season (fifth in the NL), and his OPS was .777 (third). He again hit .350 in the World Series, and when it was over he went home to Troy and, in January 1909, married Helen Fitzgibbons, described by The Sporting News as "one of Troy's prettiest and most charming girls." Their son, John Jr., was born before the end of the year. Johnny was 27, and he must have been very happy. He was nervous and driven, but at that age and in that place, he couldn't have anticipated the troubles that lay ahead.
The 1910 season was 26 games old on May 20 when the Cubs' game against the Brooklyn Dodgers was rained out at Chicago's West Side Grounds. Johnny Evers left the ballpark in his new car along with his 18-year-old brother, Joe, my grandfather, who was living with Johnny in Chicago after the death of their mother. Also in the car was George A. Macdonald, 31, a writer for the Chicago Journal and a friend of Johnny's. A fourth passenger was described by the Chicago Daily Tribune as "a negro boy, who usually acts a mechanician," helping to drive the vehicle whenever Johnny, who was new to driving, needed assistance.
Moments after leaving the field, the automobile was struck by a trolley car and tossed onto its side. The Everses and the young mechanic were not hurt, but Macdonald was thrown partially out of the vehicle, and his head was wedged between the front fender and the body of the car, crushing his skull. He died that night in a hospital.
Evers was overwhelmed with grief. A wire-service story published three days after the crash was headlined JOHNNY EVERS IS NERVOUS WRECK and said Evers might miss the rest of the season. In 1913, in a reflective story in Baseball Magazine, Evers told author F.C. Lane, "The shock of sudden death was more than I could stand. I had my first touch of nervous prostration and was laid up for five weeks.... I felt a good deal, I imagine, the way a murderer feels."
Years later, when Evers was retired and living in Albany, N.Y., across the river from Troy, he would tell people that he could never shake the image of Macdonald's death. "That man's head," he would say, "it was just hanging out of the car."
He returned for 125 games in 1910 but broke his leg in a late-season game against Cincinnati and didn't play in the Cubs' five-game World Series loss to the Philadelphia Athletics. That December came another blow. Evers had bought the Emerson Shoe Company, on River Street in Troy, after the '03 season and given his brothers part of the business. He had begun the process of opening a second store in Chicago when he received news—by telegram—that his original partner in Troy had run that business into the ground. Evers told Lane, "I figured that I had lost about $25,000, all that I had in the world. Furthermore, I was suffering from complete nervous breakdown." Johnny was earning only $4,000 a year; it was like Peyton Manning losing $150 million. He filed for bankruptcy. (Remarkably, in the midst of all this turmoil Evers published a book with Fullerton called Touching Second: The Science of Baseball, a densely detailed work that is part handbook and part memoir and reveals Johnny's sharp baseball intellect.)
Evers played only 46 games in 1911. Lane met him at the Copley Square Hotel in Boston that summer and wrote of his "haggard face, his trembling hand and air of nervous tension.... He was but a wasted shadow of the grand second baseman whose work had been the marvel of the generation." Evers later told Lane that before the summer of '11 ended, Chance sent him home to Troy, where a car was waiting to drive him 175 miles to a remote hunting camp at the northern edge of the Adirondack Mountains. There Johnny slept outdoors for days and cut his cigar intake from "many" per day to just one. This was therapy in '11.
And it turns out that Evers had one more baseball life in him. He returned to the Cubs in 1912 and hit a career-best .341 with a career-high OPS of .873. In '13 he took over from Chance as manager of the team but was fired after the season. He leveraged a contract offer from the upstart Federal League into a $25,000 deal with the Boston Braves, which made him one of the highest-paid players in baseball history to date. In Boston, at 32, he teamed with Hall of Fame shortstop Rabbit Maranville to form the backbone of the 1914 Miracle Braves, a team that roared from last place on July 4 to win the pennant and defeat the favored Athletics in the World Series. Evers batted .438 in the Series and was named NL MVP for the season.
It had been a remarkable career: In a dozen years Evers had played on the winningest team in history, engineered one of the game's most controversial plays, used a nascent form of free agency and led a legendary comeback.
But tragedy followed him relentlessly, and it would eventually crush him. During that triumphant 1914 season, Johnny and Helen's five-year-old son, John Jr. (called Jack), became ill with scarlet fever and was quarantined at home in Troy. My cousin John T. Evers interviewed numerous family members in the 1990s, and they told this story: A doctor granted Helen, who was known as Nellie, permission to allow the couple's three-year-old daughter, Helen, to visit her ailing brother. Jack would get better, but little Helen became ill and died in less than two weeks. She is buried with her parents on the rectangular plot in Troy. Johnny's and Helen's marriage had been uncertain because he lived in Chicago and she in Troy; their daughter's death ended it. They separated, and many in the family assumed mistakenly that the couple had quietly divorced, something that was rare among Irish Catholics at the time.
In the late 1940s, after Johnny was gone, Nellie was a patient at St. Peter's Hospital in Albany after breaking her hip. A young nursing student was on duty that night when one of her friends told her, "There's a patient downstairs named Evers." That nursing student was Kathryn Isabel Evers. Everyone called her Kay, and she is my mother. She was torn because of a longstanding family mandate to avoid the woman who had brought disgrace upon her famous uncle's marriage. But my mother chose to talk with Nellie, and found her very sweet. They didn't talk about Johnny. When Helen Fitzgibbons Evers died in 1974, the obituary listed her as the widow of baseball great Johnny Evers. They are buried as husband and wife.
After 1914, Johnny played parts of three more seasons in the major leagues, but never effectively. He lost his temper ever more frequently and was suspended on multiple occasions; newspaper stories increasingly portrayed him as less a gifted and tenacious player than a loose cannon. Johnny's byline appeared on a 1917 story in Baseball Magazine in which he said, "I have never felt wholly right since I had that severe nervous breakdown some years ago." He promised a comeback that never materialized. He had two more unsuccessful stints as a manager, and by 1924 he was gone from the game.
On another fall day, far from the cemetery, I sat looking at a yellowed and creased 8-by-10 photo of a young baseball player from a long time ago. Research can lead down long, strange alleys. Joe Evers, 10 years younger than his brother Johnny and unharmed in that automobile crash that killed George Macdonald in 1910, made it to the major leagues too. This was never mentioned in family conversation. Like Archibald (Moonlight) Graham in Field of Dreams, my grandfather played a single game in the major leagues, for the Giants on April 24, 1913. One of his teammates that day was Fred Merkle, and their manager was John J. McGraw, who had managed the Giants in 1908. In the New York Times account of a 7--1 victory over Philadelphia, the last paragraph reads: "Joe Evers, Johnny's young brother, got into the game for the first time in the third inning, when he ran for Chief Meyers and was tagged out at third base on an attempted double steal."
And that was it. McGraw released Joe in mid-May, and Joe spent the next 12 years—with a two-year break to serve in the Navy during World War I—playing for eight minor league teams, mostly in the Midwest. My grandmother Isabel Maxwell Evers was with him the entire time. I would know her as a kind elderly woman who served me poached eggs on toast and sweet milky tea for breakfast. Throughout her 20s she was a baseball wife. Even now, it's unimaginable to me.
In the photo, which I had never seen until a relative gave it to me, Joe Evers is wearing flannel pinstripes, and his hat is tipped to the left. He has the light skin and freckles that are prominent in our family, and he seems to be looking at something far off in the distance. He could be in Peoria, Ill., or Muskegon, Mich., or Cedar Rapids, Iowa, all places where he was employed. He could be full of dreams or beaten hopeless. There's no one to ask and no way to know, no matter how endlessly I stare.
By the mid-1920s Johnny Evers was permanently back home, living in Troy with his married older sister, Anna Evers Kennedy. He opened a sporting goods store with his brother Joe; it bore Johnny's name, but Joe did most of the work. Johnny settled into a Glory Days life, frequently re-creating the Merkle play for newspaper reporters, spinning tales at smokers and other gatherings, and ingratiating himself with the Democratic pols who ran Albany and for a time gave him a patronage job in the city's recreation department. When he would visit my mother's family in Troy, she would be told to wear a dress, as if preparing for Sunday Mass. Once Johnny brought her a stuffed replica of Popeye's pet dog, Jeep, and one summer day he took her to a local stadium to meet Connie Mack, who was passing through.
In 1936 Johnny declared bankruptcy again, with no assets and with liabilities of $10,499, yet the store remained in business. Pictures from this era show a man, once thin, puffed up to more than 180 pounds, his famous jaw scarcely prominent. He suffered his first stroke in 1940 at age 59 and had two more in '42 and '43. By this time he had moved to a first-floor apartment on State Street in Albany, where he was cared for by a longtime friend whom the family knew only as Mrs. Spoor. My mother and her siblings would visit, and Johnny would sit in a chair by the window, squeezing a rubber ball to recover some strength in his left side.
On April 23, 1946, Johnny was elected to the Baseball Hall of Fame—along with Tinker and Chance—by the Old-Timers' Committee. Eleven men were elected that year, and it remains a uniquely controversial moment in the history of the Hall, having occurred during a period in which there was a wide gulf in admission standards between the Baseball Writers Association of America and the Old-Timers' Committee. (The year Uncle Johnny went in with Tinker and Chance, the BBWAA had still not voted in Lefty Grove and Jimmie Foxx.) "From that moment on," Bill James writes in his 1994 book, Whatever Happened to the Hall of Fame, "the argument that the Hall of Fame should be only for the greatest of the great was irretrievably lost." On Tinker, Evers and Chance, James writes, "They stand out as being among the least qualified players in the Hall of Fame." James compares Evers to pre-1900 second baseman Bid McPhee and concludes that McPhee, who was not yet in the Hall, was a better player. James does not say unequivocally that Evers does not belong, but that is the undertone of his argument. He spends more time on Tinker, who he says "was a fine player, and is not the worst player in the Hall of Fame." (In a long Baseball America feature in 1913, dozens of experts concluded that Evers was the best second baseman in the National League. Sabermetrician Jay Jaffe's JAWS system rates Evers the 16th best of the 19 second basemen in the Hall but behind four excluded second basemen, including Lou Whitaker and Bobby Grich.)
But on that day in 1946, James was three years from being born, and the selections of Tinker, Evers and Chance were celebrated by many baseball enthusiasts, especially Cubs fans. Joe ran up State Street from the store to deliver the news, and my mother remembers a family celebration. A wire service photographer took an inappropriate picture of Johnny, bedridden and wearing wrinkled pajamas, his facial nerves ravaged by his multiple strokes, with old photos spread out on his lap. Less than a year later he died of a cerebral hemorrhage at 65. Thousands attended his funeral in Albany before he was interred at the base of that grassy hillside in his native Troy.
Johnny Evers Sporting Goods survived long after its founders passed away (Joe Evers died of diverticulitis at 57 in January 1949), flourishing in the energetic hands of Joe's son, my uncle Joe Jr., who was left in charge at age 25 and built it into one of the most successful independent stores in the region. As a teenage athlete I would revel in making the 90-minute pilgrimage with friends to Uncle Joe's store to buy the latest gear: Adidas sneakers, white football cleats, track spikes as light as air.
When my uncle retired in 1988, operation of the store passed to his three sons, my first cousins Joe, Jack and Terry Evers. Roughly two years later, John T. Evers, the same cousin who did research and interviews that are used in this story, found a cardboard box in the back of the store labeled HISTORIC BASEBALLS. On one of the them was clearly written MERKLE SEPT. 23, 1908. "The Holy Grail," John remembers thinking. "I'm holding the Merkle ball in my hands. I'm thinking, I don't believe this."
John took the ball home and put it in a plastic case on the desk where he did homework as a commuting student at Siena College in nearby Loudonville. Within another two years the store had begun to struggle against the rising tide of big-box competitors, and my cousins made a decision to auction the ball to raise money. "We were in trouble with the business," says my cousin Joe. "There wasn't much discussion." Experts authenticated the ball. There was no time to digest the painful symmetry: The most significant baseball in Johnny Evers's long career was being sold in an attempt to save the business that bore his name. In February 1993 the Merkle ball was purchased at auction for $30,250 by Charlie Sheen. A year later the business went under.
Five years after that, as Sheen was divesting himself of his baseball memorabilia collection, he sold the Merkle ball privately to Connecticut hedge fund manager Paul Reiferson, and in 2010, Reiferson offered the ball at auction. That May it was sold for $76,375 to an unnamed buyer. Having chased Uncle Johnny across more than a century, I felt a need to find the baseball. I asked the auctioneer if he would ask the buyer to allow me to see the ball. He agreed, and two minutes later I received an e-mail:
You rang?
Olbermann
Erstwhile ESPN sportscaster and liberal MSNBC and Current TV commentator Keith Olbermann has made an avocation of vigorously defending Fred Merkle's actions on Sept. 23, 1908, and absolving him of the nickname, Bonehead, that followed him through his life and deep into the hereafter. Olbermann has written, blogged and broadcast his support for the rookie who was hoodwinked by Uncle Johnny—whom Olbermann calls a "dark genius"—while doing only what had always been done. Olbermann bought the ball not only because he is an avid memorabilia collector but also because the Merkle ball holds a singular significance. "It's the Rosetta Stone," he says. "This is the time-travel node that puts you on the middle of this swirling dust storm with 10,000 fans on a Wednesday afternoon at the Polo Grounds 104 years ago."
I sat on a couch in Olbermann's New York City apartment on a rainy autumn afternoon and held the ball in my right hand. It is soiled to a dark brown and slick to the touch, as if it had been preserved with a thick coat of lacquer. The writing remains clear: MERKLE SEPT. 23, 1908. The National League stamp is visible and has been authenticated multiple times. Olbermann sees a cosmic significance in the ball. Merkle was haunted. Pulliam killed himself. Evers struggled with life. The Cubs have never won another World Series. "It's almost a spirit-filled object," says Olbermann. "It took a little of the souls of everyone who touched it."
Maybe. But my attachment is more personal. As rain pounds against the glass, I roll my fingers over the seams, and Uncle Johnny comes to life. I know him now. He is scooping up ground balls on the Troy sandlot and then turning two in the National League, full of youth. He is forcing out poor Merkle because he knows no other way to play but ruthlessly. And then, so suddenly, he is sitting by a streetside window in a simple Albany apartment, old and weak, wondering where the games have gone.