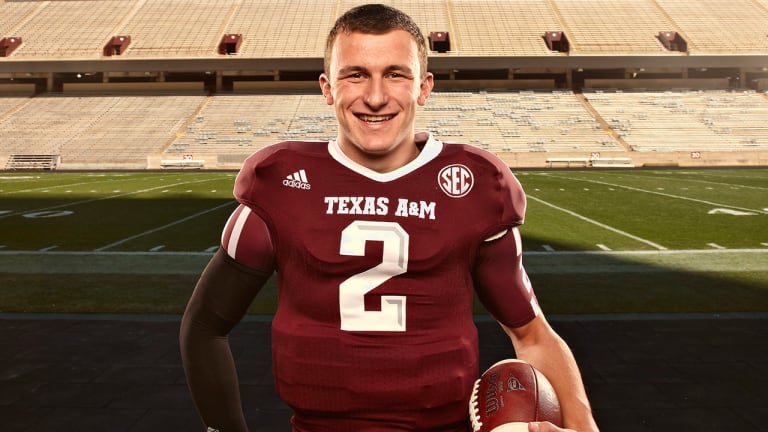 Publish date:
The Oral History of Johnny Football
Friends, family, coaches and Texas A&M QB Johnny Manziel himself explain how he went from hypercompetitive Texas tot to best player in the nation
The legend of Johnny Football grew to mythic proportions this season even though Texas A&M coach Kevin Sumlin banned Johnny Manziel from interviews. Last week, in an attempt to bolster the candidacy of the Heisman Trophy front-runner, Sumlin removed the muzzle. With the slightest Texas twang, Manziel said that he's amazed people want his autograph and he finds it hilarious that fans ascribe to him the sort of hyperbole they once reserved for Chuck Norris and Tim Tebow. He believes that he is always the best player on the field, but this awareness doesn't cross over into cockiness. From the tip of his buzz cut to the soles of his size-15 shoes, he simply knows he can do things on a gridiron few others can.
Growing Up
Johnathon Paul Manziel was born on Dec. 6, 1992, in Tyler, Texas, to Paul and Michelle, erstwhile bartenders who'd moved on to careers in home building and retail. The family, including younger sister Meri, moved to Kerrville, a jewel of the Texas Hill Country 66 miles northwest of San Antonio, when Johnny was in seventh grade. From the start there was something about Johnny.
"If you hadn't been there, you wouldn't have believed it."
—Harley Hooper, uncle
"It was a little Fisher-Price golf club. He would grab it crosshanded. He would rear it all the way back and wrap it around his neck and knock the heck out of [the ball]. His foot would come up like a professional golfer's. It was the funniest thing in the world. He would drag that club with him everywhere."
—Paul Manziel
"Johnathon was two years old. He does this perfect little swing and knocks the ball clear across the fence. We all look at one another, and we're like, You've got to be kidding. He can't do it again. We said, 'Do it again.' So he did it again. It went all the way over the fence with this little plastic Fisher-Price golf club. It was insane."
—Bridgette Hooper, aunt
"It was, say, 100 feet."
—Harley Hooper
"He was never in day care. He stayed with me a lot. We played games constantly. I didn't care what it was, Go Fish, Sorry, Candy Land. All of it. I never let him win. I never let my own children win. I'm as competitive as they are. If they were going to win, they had to do it on their own. Johnny was around 10, and we were playing Krazy Bee Rummy when he said, 'I'm not playing anymore.' I said, 'That's fine if you want to quit because you're a bad loser, but let me give you this to think on. If you get up from this table and you quit, I will never play another game with you as long as you live.' So he sat down and he finished the game, and I'll be damned if he didn't win it."
—Pat Manziel, grandmother
"I taught him how to set the hook on a bass. When I did this, he started wanting to count fish. He was so competitive. If he beat me, everything was fine. But if I beat him, we'd get back to the house and he'd go in the bedroom and close the door. He couldn't stand it."
—Jerry Loggins, maternal grandfather
"He got in a groove his first year in coach-pitch and hit, like, 27 homers. They raised the fence on the leftfield line. And they were like, Well that's over with. No. He hit it over that.
"He was seven. I told him before the season started I'd give him $100 if he could knock a home run, because you don't think they're going to do it. He started jacking them. I got it down to $20 a pop before the year was up.
"People would say he can't do it at the next level—when he gets up there with the bigger boys and the bigger field, he can't knock it out. That's what we've heard his whole life. Then he'd go up to the next field and knock it out. Well, they'd say, when he gets to the big, big field, he'll never knock it out. They're already saying it: 'Enjoy your four years at Texas A&M, because you'll never be an NFL quarterback.' I just want to post when I read that: Really? Like I haven't heard that for 20 years?"
—Paul Manziel
"He used to have the strongest arm you'd ever seen. He'd fire that ball—football or baseball. [His grandmother] said, 'Don't y'all be throwing the ball in the house.' Invariably, after she went to bed, we'd start throwing the ball. He wanted to see how hard he could throw it. He'd knock a lamp off, and here she'd come. It scared him to death. He'd run and hide behind the couch so she couldn't find him."
—Jerry Loggins
"Johnny didn't start [playing football] until sixth grade. Most of the kids on the team started playing in second grade. His mother and his grandmother refused to let him play because they were afraid he was going to get hurt. He walked in, and the kid who had been the quarterback for four years immediately went to wide receiver. We went from throwing the ball five or six times a game to 30 times a game. He made a lot of the same kind of plays he makes now. We'd look at each other on the sideline and say, 'Wow, where did that come from?'"
—Jacky Lee, former coach of the Tyler Hurricanes youth team
Friday Night Sight
In 2007, Manziel arrived at Tivy High. He joined the varsity as a sophomore, playing receiver, tailback and some quarterback. He took over the starting quarterback job the following season, as a junior. During Johnny's two seasons as the starter, he led Tivy to a 19--7 record, losing in the playoffs each year to a team that went on to play for the state title. In 2010, Manziel was named Texas's player of the year by the state's sports editors. Manziel's personal highlight from that 2010 season wasn't a touchdown he scored, but rather one he helped orchestrate to reward a dedicated teammate.
"I don't have time to go through the many times in high school that we were down and he rallied us back. The kid just has it. I wouldn't say he ever voiced that, but he would talk in a manner that infused confidence in everybody around him. It didn't matter the odds."
—Julius Scott, former Tivy High offensive coordinator
"We were a small town, but we were 4A [the second-largest classification in the state]. It still had that small-town feel, but we played in a bigger division in Texas. Places were closed down on Friday nights. The stadium was packed." [Antler Stadium seats 6,000 but held crowds estimated to be as large as 9,000 during Johnny's senior year.]
—Johnny Manziel
"We have four or five losses in the last four or five years, and two of them have been to that kid. To say nothing negative about Johnny's teammates, but we were by far the more athletic team each time we played. We could not figure out how this guy kept beating us. Our kids would come to the sideline and say, 'Coach, we can't catch him!' I was like, What do you mean you can't catch him? To watch Nick Saban and Will Muschamp have the same looks on their faces that I did, I feel much better now."
—Mike Jinks, coach of Steele High in Cibolo
"People think he just freelances. That's not the case. It's like he said the other day, he'd love to stay in the pocket. But he has the unique ability to turn nothing into something. You can't really bottle that up."
—Mark Smith, former Tivy High coach
"If you stayed through the program all four years, senior year you were going to be on varsity regardless. There were some guys who weren't good athletes, they were just there because they loved being part of the team."
—Johnny Manziel
"We said, '[Robert is] not even a running back.' Johnny said, 'Don't worry about it. I'll get him into the end zone.'"
—Mark Smith
"We had planned it forever. The play before, I had broken a run up the middle and I slid on the one."
—Johnny Manziel
"When I went in the game, it was three meaningful minutes and we just ran the ball."
—Robert Martinez, former Tivy wide receiver
"We lined up in the shotgun and snapped it. I handed it to him behind me. He grabbed my jersey, and I grabbed his jersey and threw him into the end zone. To this day, that's one of my best memories from high school. It was awesome to see him celebrate. I wanted him to spike it, but he didn't do it."
—Johnny Manziel
"I was getting lifted up by all the other players. I didn't have the opportunity in the heat of the moment."
—Robert Martinez
Away and Home
When Texas and TCU didn't offer him a scholarship to play quarterback, Manziel explored out west. While at camp at Stanford, Manziel got a call from Oregon coach Chip Kelly, who offered a scholarship. Manziel committed and planned to go to Eugene until late September, when Texas A&M quarterbacks coach Tom Rossley persuaded then coach Mike Sherman to consider Manziel as a quarterback. Given the chance to play at a major school in his home state, Manziel reluctantly switched his commitment. He headed to College Station in January 2011 and spent his first season lifting and learning the offense.
"Ever since he was little, he wore burnt orange. He wanted to go to Texas."
—Jerry Loggins
"All the schools on the West Coast loved him. Texas has their lineage and their people picked."
—Michelle Manziel
"I'm ushering all the [college guys] around. They'd say, 'Well, we're going to recruit him as an athlete and not a quarterback.' I'd go, 'Are you crazy?' I'd walk them down to our offensive line and say, 'Do you see these guys? Do you really think these guys are going to hold up against the teams we're going to play?' I'm not being ugly, they'll bust their tails, they'll try hard, but we're talking about 170-pound guys going against 280, 300. [Manziel's] going to get the ball across the line. I would tell these guys, 'Find a better guy to do that than him.'
"Texas A&M was offering him as an athlete. Then Rossley came to one of our games. That was the night Johnny broke the [Texas] record for most pass attempts in a ball game. People said, 'Did you know you threw the ball 75 times?' I said, 'Well, we called more than 75 passes.' We couldn't block them up front. The only way we could do it was in [Johnny's] hands.... That's when they started to change their tune."
—Julius Scott
"He's got huge hands. I coached Brett Favre for six years [with the Packers]. Brett has huge hands. I think the size of a quarterback's hands is every bit as important or more important than the height of the quarterback. Really, he's a lot like Brett. He is so competitive that he doesn't want to give up on any play. If a play breaks down, he will try to extend the play and try to make chicken salad out of it. Brett would have some plays where you'd walk away and say, 'How'd he do that?' I'd never been around any other quarterback until Johnny that makes plays and you say, 'How'd he do that?'
"It was the hard for him to back out and tell Oregon, No."
—Tom Rossley
"I thought he was bigger. From watching his highlight film, you start to get this Paul Bunyan feeling. You look at him as he gets closer and you say, 'I guess this is him.' That's the first impression. Then he starts throwing the ball."
—George Whitfield, the San Diego--based quarterback coach who worked with Manziel
"We'd go on the other field. Coach Sherman wouldn't even see us. We'd come back and say, 'It's already over. We scored. It only took Johnny about three plays.' I used to try to get other coaches to watch our practice tape from the other field because it was so exciting."
—Tom Rossley
Off-Field Trouble
Early on the morning of June 29, Manziel and friend Steven Brant were leaving a bar in the Northgate section of College Station. Brant, a 150-pounder who played receiver at Tivy and who has become an unofficial member of the Manziel family after the deaths of both his parents, allegedly uttered a heinous racial slur. That led to a fight and an arrest, for which Manziel is still awaiting his day in court.
"After stopping the fight and detaining the parties involved, I spoke with the black male, later identified as Marvin McKinney, who had been an active participant in the fight. Marvin advised that two males, one in a white shirt and one in a blue shirt, had been walking towards him on Church Avenue. Marvin said that the male in the blue shirt, later identified as Steven Brant, looked directly at him, pointed and shouted "you black n-----." This caused Marvin to become upset and confront the other male, later identified ... as the defendant.... An independent witness, Christopher Moody ... said that when Marvin approached the two males, he began trying to get close to Steven, who had called him the vulgar word. The defendant stepped in between Steven and Marvin and told Marvin that Steven had not meant to say the word and that he was taking him home. Moody said that Marvin continued to push against the defendant and the defendant shoved Marvin in the chest. Marvin then swung at the defendant who charged Marvin and began punching Marvin back.... The defendant handed Officer Yargo this identification, which was a Louisiana driver's license. The driver's license indicated that the defendant was 21.... A short time later Sgt. Beatty looked in the defendant's wallet and found two other driver's licenses, one fake TX driver's license and the defendant's real driver's license.... The defendant's eyes were red, bloodshot and glassy, and his speech was slurred.... The defendant appeared to be so intoxicated that he could not answer my questions about the incident except to tell me that he wanted a ride home and he was sorry."
—From probable cause statements written by College Station police officer Christopher Phillips
"The first thing that goes through your mind is how many people you've let down."
—Johnny Manziel
"I could have killed him."
—Michelle Manziel
"That's your first instinct. Leave his ass in jail. I'll get him when he sobers up. He had to sit there all night wondering."
—Paul Manziel
"I had friends texting me his mug shot at six in the morning. I was like, Thanks for that, friend."
—Michelle Manziel
"I was in Cabo [San Lucas, Mexico], and I got a picture mail while I was sitting on the beach. I was like, This can't be good."
—Kliff Kingsbury, Texas A&M offensive coordinator
"At 12 o'clock, when he got out of jail, he thought nobody would know about it. I told him, 'You're on national news.' Johnny goes, 'No way.'"
—Michelle Manziel
"I told him to figure out what you want. If you want to be that guy to go out and do that sort of thing, don't waste Texas A&M's time trying to be the quarterback. If you want to be the quarterback, you'd better start making different choices.... Keep your nose clean. Accept your punishment like a man. Because you're going to be the starter. This offense fits you."
—Julius Scott
Johnny Football Rises
Even before the 6'1", 200-pound Manziel took a snap, Texas A&M fans referred to him as JFF (Johnny F------ Football), partly out of affection and partly to mock his outsized high school legend. At the start of this season, the Aggies were expected to finish near the bottom of the SEC West, but thanks to Manziel they went 10--2 and stunned college football by beating top-ranked Alabama in Tuscaloosa 29--24 on Nov. 10. The signature play of that game was Manziel's first-quarter touchdown pass to Ryan Swope, after Johnny recovered his own fumble and evaded three Alabama defenders.
Meanwhile the cult of Johnny Football grew. Tweeting about rescuing a kitten from the side of the road, wearing a bracelet for a sick child and dressing as Scooby-Doo for Halloween endeared Manziel to A&M fans as much as the winning did. It all started when Tivy commentator Wally Reed sent a photo of himself in front of the Downtown Athletic Club of New York—former home of the Heisman—to Manziel the night before his first game. The message: "Johnny, I'm waiting for you."
"You definitely give him more leeway with the ability he has to make plays. I had to get used to that. He missed this receiver and that receiver, but he did run for a 38-yard touchdown. You high-five him and you say, 'You had him and him, but, hey, great run.' Then you just build from there."
—Kliff Kingsbury
"Charlie is my five-year-old son. Earlier this year, he was diagnosed with a rare pediatric cancer called neuroblastoma. It was stage four, and it was high-risk. My husband and I were in College Station for the LSU game, and we ran into Rhonda [Overbergen, Johnny's cousin] and [her husband] Todd, who are our neighbors. The night before we had been showing Charlie all the players, including Johnny Football, and Charlie said, 'Oh, he is my favorite.' I told Rhonda that we've got these Charlie's Angels wristbands. I said, 'If you're going to see Johnny, why don't you give one to him?' It's just a reminder to pray for Charlie. That night she sent a picture of the two of them with the bands. It was a complete shock to us when we noticed it on the field at the next game. We thought, Well, we'll wait another week. And we noticed it again. He's continued to have it on. He sent Charlie a signed football on his birthday. He sent him a jersey last Sunday. Rhonda said she gave him the bracelet after the LSU game, and he was really down after the loss. He said, 'At the end of the day, this is the stuff that really matters.'"
—Angela Dina
"We were outside Northgate, which is where everyone goes when they go out in College Station. I see this guy in a Scooby-Doo costume, and I think, Oh, that's so funny. He turns around, and, Oh my God, it's Johnny Manziel. My friend immediately goes to him and says, 'Hey, can I get a picture with you?' I was so starstruck I forgot to ask for one for myself. He was so nice. He took a picture with my friend, and he had the hugest smile on his face."
—Cristina Rosenthal, Texas A&M sophomore, whose photo went viral
"Everybody was really dressed up. I was like, Damn, I don't have anything to wear. I texted one of my friends. I knew he had that Scooby costume from the week before. Three of my teammates were Chippendales dancers. I kept that from the media. Three guys on the team are in bowties with the cuffs on and no shirts on."
—Johnny Manziel
"Johnny Manziel may be the most challenging player in college football right now that I've really seen to this point in terms of a combination of things. His skill set as a player? He's extremely fast. He's very athletic. He's developed into a good passer as the season has progressed.... He's effective at executing their offense without doing the other stuff. But when he starts scrambling around and he extends plays—sometimes for eight or nine seconds—and makes big plays, whether they're passing or running, it probably is one of the most difficult things to try to simulate in practice and teach the players how you have to try to play him with guys who don't have the same skill set as the guy who has the ball."
—Alabama coach Nick Saban
"I like the guy behind Ryan [Swope]. There's a fan—you can watch him on film—he's yelling at the defensive back when Ryan sneaks away. He's like, He's over here! Nobody's guarding him! I throw it, and [the fan] just kind of throws his hands down. The whole crowd was so angry. That's a hostile environment. If you get them fired up, you're definitely doing something right."
—Johnny Manziel
"He could be Johnny Golf. He could be Johnny Basketball. He could be Johnny Baseball."
—Tom Rossley
"We went to Best Buy to get the new Call of Duty the other day, and there's a family with a couple of little kids. I'm walking to the car, talking to my roommate, and I just hear, 'That's him.' I thought, That can't be about me, even though I knew it was. I just don't see it that way, I guess."
—Johnny Manziel
"He's kind of our hero at this point."
—Cristina Rosenthal
"I don't know if I'd really consider myself a legend. It's kind of more of a folk tale."
—Johnny Manziel
Follow @Andy_Staples
"Our kids would say, 'We can't catch him.'"
—Mike Jinks, Steele High coach
"From watching his highlight film you get this Paul Bunyan feeling."
George Whitfield, private QB coach
"You definitely give him more leeway with the ability he has to make plays. I had to get used to that."
—Kliff Kingsbury, Texas A&M offensive coordinator
SI.COM
Watch as four top candidates—Collin Klein, Marqise Lee, Johnny Manziel and Manti Te'o—talk about what the Heisman means to them, at SI.com/cfb
NEW NAMES, OLD SCHOOL
SHOELACE? DAT? GENO? MATT? THE NAMES THAT DOMINATED HEISMAN TALK WHEN THE SEASON BEGAN HAVE FADED LIKE THE SUMMER HEAT. NEVER MIND THE OFFICIAL LIST, SI'S FINAL FOUR CHOICES, LED BY FRONT-RUNNER JOHNNY MANZIEL, EXUDE A SINGLE-BAR-FACEMASK, EYE-BLACK FEEL. IT'S A GROUP OF STANDOUT PLAYERS WHO WOULDN'T HAVE LOOKED OUT OF PLACE IN THE PAGES OF SI 50 YEARS AGO
PHOTO
Photograph by ROBERT
SEALE
THE KID'S SPEECH After a season sequestered from the media, Texas A&M finally unleashed its freshman sensation on the world, allowing him to give interviews and pose for photos, which showed off his boyish appeal.
PHOTO
MICHAEL STRAVATO/POLARIS (PAUL AND MICHELLE)
HOME TEAM Johnny showed unusual athletic prowess from as young as 18 months old (below left) and as a nine-year-old Little Leaguer (right), while Paul and Michelle have grown used to seeing him defy the odds.
TWO
PHOTOS
COURTESY
OF THE MANZIEL FAMILY (CHILDHOOD PHOTOS)
[See caption above]
PHOTO
ANDREW
RICHARDSON/CAL SPORT MEDI (SI.COM)
PHOTO
TOM HOLDEN/KERRVILLE DAILY TIMES (JUMPING)
LIFE OF THE PARTY Manziel celebrated with one of his Tivy High coaches, Shane Jones, after pulling off an upset during his senior year, and he played the big dog with fellow A&M students this past Halloween.
PHOTO
COURTESY
OF CRISTINA RONSENTHAL (SCOOBY-DOO)
[See caption above]
PHOTO
JOHN
DAVID MERCER/US PRESSWIRE (STIFF-ARM)
TWO WAYS TO WIN The Aggies were the only team to beat 'Bama this year, and Manziel broke 2010 Heisman winner Cam Newton's SEC record for total offense by running for 1,181 yards and throwing for another 3,419.
PHOTO
BILL FRAKES (THROWING)
PHOTO
BUTCH
DILL/
AP
HEAD FIRST Manziel accounted for 43 touchdowns, throwing for 24 and running for 19, including a total of five against Auburn.
PHOTO
Photograph
by TODD
ROSENBERG
MANTI TE'O LB, NOTRE DAME The senior co-captain finished the season with 103 tackles and seven interceptions, but his value goes far beyond the statistics. He is the heart and soul of the Fighting Irish defense and a throwback to the days of the do-everything middle linebacker.
PHOTO
Photograph by PETER READ
MILLER
MARQISE LEE WR, USC Moderately sized by today's standards at 6 feet and 195 pounds, the Trojans' sophomore runs precise routes with an effortless grace that recalls pass catchers of another era; his numbers, though—112 receptions for 1,680 yards and 14 TDs—are thoroughly modern.
PHOTO
Photograph by DARREN
CARROLL
COLLIN KLEIN QB, KANSAS STATE The Wildcats' senior may be "aw shucks" off the field, but at 6'5" and 226 pounds he is a single-wing battering ram who ran around and over defenders for 890 yards on 194 carries. Oh, yeah—he also passed for 2,490 yards and 15 TDs for the Fiesta Bowl--bound Big 12 champs.