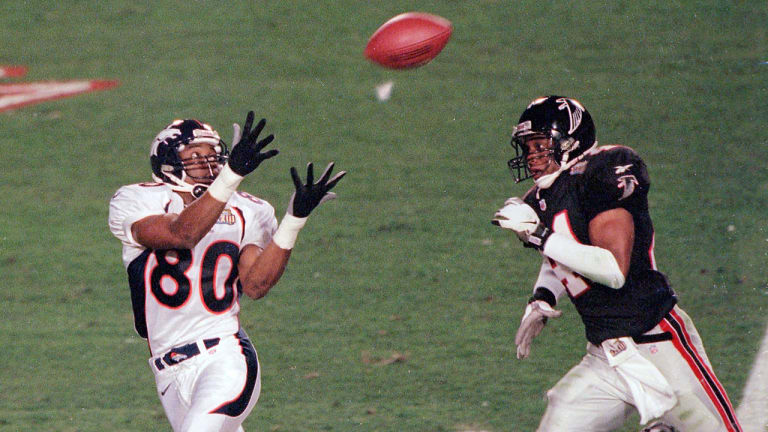 Hello. My Name Is Thomas, and I'm a Falcons Addict
Over more than two decades, the author has learned some of life's bitterest lessons as a hopelessly devoted fan of luckless Atlanta. But this year? This year is different.
IF YOU'RE LIKE ME AND MY OLDER BROTHER, you've waited all your life for something that may never come. Nothing you do can make it happen; no amount of screaming or holding your breath. This thing is small—meaningless, compared with cancer or hurricanes—but we still care about it, desperately, a little more with each passing year. We are waiting for a championship, a ticker-tape parade, a license to dance in the streets of the city we call home. Just once we wish we could be the best.
Today I'm writing about our favorite team, the Atlanta Falcons, playing since 1966 and still without a Super Bowl victory, but I could just as easily be writing about your favorite team. You are loyal and unwavering. Your team is your birthright, your fate, and you would never jump on anyone else's bandwagon. You would rather wait 44 years with your Jets than have anything to do with the Giants. You are from San Diego, Sacramento, Seattle. You bought season tickets for the '86 Clippers and actually showed up. You were born in 1909 on the North Side of Chicago, and you'll go to your grave without acknowledging that the White Sox exist. You are the Vikings, the Lions, the Buffalo Bills. You are the city of Cleveland.
Imagine our story, then, as a stand-in for yours—as an ode to a lifetime of hope and disappointment. There is nothing more human than falling short.
November 3, 1991. We're losing again, to the Niners again, but this time it's close, less than one touchdown instead of six, and we have time for one more play. Our starting quarterback has left the game with injured ribs. The end zone is 44 yards away. My brother and I have never been to a game because we can't afford tickets, and we can't even see the game because Mom and Dad don't believe in television, but we have the radio, a portable thing on the carpeted floor of the family room in our house in Stone Mountain, Ga., and we hang on the words of Larry Munson. He is grim, as always, narrating the game in the voice of a weary general, infusing it with the drama of life and death.
We overload three to the right, trips are on the right, we're goin' Hail Mary....
With his choice of personal pronoun, Munson has taught us how to follow sports. There is no dividing line between players and announcers and fans. We are all the same: winners together, losers together. Mostly losers together. My brother and I have followed the Falcons since 1989, during which time we have won 12 and lost 28.
... there goes Tolliver, a long, high pass ...
We've shared a bunk bed for as long as I can remember. I'm short for 11, with olive skin and blond hair, and he's tall for 13, with pale skin and red hair. I'll call him Red. We look nothing alike. He has punched my stomach, and I have bitten his nose. But we are the closest in age of the six children and the only two who really care about sports, and so, although we rarely say anything nice to each other, we spend many hours together by the radio.
... down in the corner, batted, they fight ...
We should not even have this chance. We do only because Joe Montana is injured, and Joe Montana's replacement, Steve Young, is injured, and the Niners missed four field goals in the first half, and they fumbled a punt with 2:39 to play, and our own Andre Rison caught a pass for 19 yards on fourth down to get us this close, and now:
TOUCHDOWN! TOUCHDOWN! TOUCHDOWN! That couldn't have happened. Ungodly. My God, somebody caught the ball. Who caught it? It's Michael Haynes. I can't believe that happened. That couldn't have happened.
Red and I yell very loudly, and perhaps jump on the furniture, but we don't hug, because that would be weird. With a 17–14 win over the team we hate most, we stand at 5–4, with a chance to reach a high and unfamiliar place: the playoffs.
January 4, 1992. Biggest day of our football lives. Dramatic win last week against the Saints in the wild-card round, and now we face the Redskins in the divisional playoff. Even better, we get to watch the game on TV at Grandfather's old house.
Grandfather showed us how to watch football. Taught us the meaning of third-and-six. Predicted the result of one or two plays per game, and was never wrong. Stood up and walked toward the television when the game was on the line, as if by proximity he could alter the outcome. On special occasions he'd pack up his old 19-inch RCA, rabbit ears and all, and drive his pale-green Monte Carlo to our house, stopping at Big Star on the way for Nacho Cheese Doritos and Eagle potato chips. And then we would watch football on television in our TV-free house, the rules suspended because he was Grandfather.
Now he's moved far away, to help Grandmother look after her old family homestead in south Georgia, but he hasn't forgotten us. He calls his youngest daughter, our aunt Helen, who lives in the house where he used to live, eight miles away, and asks her to come pick us up so we can watch the big game on her ancient cabinet-style Zenith. And she picks us up and serves us a fine array of Grandfather-style football snacks.
We're a team built for speed. Rison, our slowest receiver, runs the 40-yard dash in less than 4.5 seconds. We beat the Saints on a 61-yard touchdown pass to the explosive Michael Haynes. We have "Neon" Deion Sanders, the best return man in the game, the superlative cornerback who occasionally lines up at receiver in the Red Gun offense.
None of this matters today. Heavy rain has turned the field at RFK Stadium into a quagmire. Gusts of wind reach 30 mph. We slip and fall and turn over the muddy ball six times. The Redskins smash us up and down the field with their hulking linemen and powerful running backs. "We like to say it was Redskins weather," their coach, Joe Gibbs, says after winning 24–7 and sending us, chastened, back to Atlanta.
This excursion into the playoffs has taught me and Red a cruel lesson about sports and life: The closer you get to the thing you want most, the more it hurts when you see it slip away.
January 17, 1999. Closer than ever now, the NFC Championship Game, and it's slipping away again. The Vikings lead 27–20 with barely two minutes remaining, and they line up for a field goal to put the game out of reach. Their kicker, Gary Anderson, has not missed a field goal all season.
A summary of our previous six full seasons: 6–10, 6–10, 7–9, 9–7, 3–13, 7–9.
A summary of our last seven years: Moved to grandparents' house in rural south Georgia for a year. Dad unemployed for a while. Red and I spent our days playing one-on-one football in the yard and experimenting with fire and bullets. Moved again, to rural upstate New York, where Dad got a job teaching at a Bible school. Lived in a double-wide trailer for 16 months. I fell in love with a girl who teased me. Red gave himself a strange haircut. The wind howled, and the snow fell. We pooled our money and bought ourselves a TV to keep in our room and watch sports. We rarely saw the Falcons, because they were no good.
Now Red has gone to college in Rochester, N.Y., and Grandfather is still in south Georgia, quietly fading away, and I'm 18, living with my parents, wondering when my life will begin.
We've gone 14–2 this season with an unknown quarterback named Chris Chandler and a touchdown dance called the Dirty Bird. Today our defense has played surprisingly well, holding the highest-scoring offense to this point in NFL history to a mere 27 points. But this 38-yard field goal would seal our fate. I'm hyperventilating on the couch at the home of the Boyd family, good friends of ours from church, and Red watches helplessly in a dorm room in Rochester, and Gary Anderson has made 122 straight kicks.
The kick sails wide left.
We still have a chance. We still have a chance. Two minutes left. We drive. Chandler hits Terance Mathis for the tying touchdown with 49 seconds to go. The Vikings take a knee. Overtime. We stop them. We stop them. We drive. Morten Andersen lines up for his own 38-yarder. Dead center. We're going to the Super Bowl.
January 31, 1999. Not much to say about this one, except that our Pro Bowl free safety, Eugene Robinson, accepted the Bart Starr Award for high moral character yesterday morning, and then last night he left his wife and kids at the hotel and went down to Biscayne Boulevard and got himself arrested, and the police said he had offered an undercover officer $40 for a special kind of favor, and the general manager had to pick him up from police headquarters, and now he's out there on the field, getting beaten by Rod Smith for an 80-yard touchdown, and Chandler is throwing interceptions on three straight drives, and the Broncos are leading 31–6, and the one time we reach the Super Bowl we can't even make it respectable. We are all Eugene Robinson. What we feel most is shame.
January 4, 2003. All this week they've been talking about it on TV. The Packers are unbeatable at home in the playoffs. Seventy years and they've never lost.
We lost Grandfather two years ago. Red finished college and moved back to Atlanta and took a job as a house parent for lost and orphaned teenage boys. I finished college and worked for a year at a small newspaper in south Georgia and then moved back up north, to Beverly, Mass., to be near my college sweetheart, Sara. Now I share an apartment on Railroad Avenue with my old friend Eric and hold a temporary full-time job with The Salem News, covering fires and car crashes. On Sundays, I go to The Pickled Onion on Rantoul Street and order a Coke and a white pizza and ask the bartender to dial up the Falcons on NFL Sunday Ticket. Or I call Red on my new cellphone and ask for a live play-by-play.
The Packers may have history and Brett Favre, the quarterback we drafted and then fumbled away, but we have Michael Vick, the most dynamic young man in the world of sports. He has rewritten the rules for NFL quarterbacks. He passes only when he feels like it, with a powerful left arm, and he runs basically wherever he wants, leaving defenders facedown when they dive for his ankles and miss.
Tonight's forecast calls for snow, but Vick outruns it. Red goes out to buy pizza for the boys in his care, and when he comes back, we already lead 7–0 on Vick's 10-yard touchdown pass to Shawn Jefferson. We block a punt and recover it in the end zone for another touchdown. They fumble a punt on a questionable call. We score again. Kabeer Gbaja-Biamila thinks he has Vick for a 15-yard sack, but Vick dances away and runs for 11 yards. The snow comes too late. We lead 24–0 at halftime and cruise to a 27–7 victory. The Packers' 70-year streak is over, and it looks as if the Vick Dynasty is just beginning.
January 11, 2003. Eagles 20, Falcons 6, and our season ends in the divisional playoff. Vick throws two interceptions, one of which comes back for a touchdown. But there's plenty of time for improvement. He's only 22 years old.
January 23, 2005. Eagles 27, Falcons 10, and our season ends in the NFC Championship Game. A month earlier we signed Vick to a 10-year, $130 million contract extension, one of the richest in NFL history, which made perfect sense to Red and me, given Vick's extraordinary talents, but today he throws for just 136 yards, with an interception, and runs for only 26, and the Eagles' defense makes him look ordinary at best.
Still, there's plenty of time for improvement. He's only 24.
December 24, 2005. A flash of red, the shine of polyester. With excitement I tear off the paper and unfold the gift. Black trim, white letters, long white number 7 down the front and back. I put it on. Today we play the Buccaneers, with the playoffs on the line. Michael Vick and I will wear matching jerseys, thanks to an early Christmas present from Sara, now my wife.
We were married five months ago. Red was the best man. After the wedding he gave a toast and said something he'd never said before, something I'd never said before, and only when he said it did I realize it had always been true.
"You're my best friend."
Sara and I have a one-bedroom apartment by the St. Johns River in Jacksonville, where I write features for The Florida Times-Union. Red's still in Atlanta, working in social services, which is a boring way of saying that he picks up the shards of broken families and tries to glue them back together. But we don't talk much about that. He calls me, or I call him, and we talk about Michael Vick.
He and I feel the same way about Vick. It seems strange, almost embarrassing, for us to say this about another man, especially a man we've never met. But we love him. We love the flawless rotation of his passes, the surpassing quickness of his feet, the way, against Carolina last season, he flew for a split second, his body parallel with the ground and just above it, to put the ball across the goal line. We see him as a brother, a blood relative, so that when defenders go for his knees or his head, we want to run on the field and personally fight them off.
This is our 40th year in existence. We've never had two straight winning seasons. When we started 6–2, it looked as if we would easily put that record to rest. But now we've lost four of six, thanks in part to Vick's 39.1 quarterback rating against Carolina and his 25.8 at Chicago, and today we must defeat the Buccaneers to be assured of staying in the playoff race.
We're at my grandmother's house in south Georgia, and Red is driving down Interstate 75, listening on the radio, and I watch from a recliner as Vick commits an unforced fumble, as a receiver can't hold on to what would be a 38-yard touchdown, as we give up six yards on a fourth-and-one for the tying touchdown in the fourth quarter, as the Buccaneers block a 28-yard field goal that would win us the game in overtime, as we play for a tie by punting on fourth-and-two with 1:02 left in overtime, and as we fail to get even that tie when the Bucs make the winning field goal with 15 seconds left.
Years later, my memory gone hazy from the residual trauma, I'll ask my wife how I responded to the loss of another winnable game and another promising season. "You ran out into the woods," she'll say. "Probably with your face in your hands."
December 24, 2006. Soon, of course, the search warrant will be served, the indictment will be returned, the details will emerge—the hanging, the drowning, the death of at least six dogs who were deemed unfit to fight—and the plea will be entered, and our quarterback will go to prison, and lost in the worldwide uproar will be this simple fact: Long before the full truth came to light, we knew we had lost Michael Vick.
Knew it from his endless repetition of the same mistakes. The fumbles. The running into sacks. The failure to hit receivers in stride. The complete lack of improvement from his first year as a starter. The lame excuses and the shifting of blame. The Ron Mexico incident. The water-bottle incident. The Rolex incident. The 2005 collapse. The 2006 collapse. His two middle fingers raised to the bleachers. And today: the worst loss in the history of Red and me and the Atlanta Falcons.
The Panthers enter the Georgia Dome on a four-game losing streak, including a 37–3 dismantling by the Steelers last week at home. Their starting quarterback is injured. Their substitute quarterback, Chris Weinke, has lost 17 consecutive starts over the past five years. Today he will throw for only 32 yards. And it will be enough to beat us.
The Panthers come out with 12 straight running plays. They score the game's only touchdown on a drive that lasts nearly 11 minutes. We know what they will do, and we do nothing to stop it. We let the NFL's 27th-ranked rushing offense hold the ball for nearly 42 minutes. Vick goes 9 for 20, for 109 yards, with two interceptions, for a rating of 22.7.
It's been a hard year for Red. He tells me a few things and keeps many more to himself, but I know the lost children weigh heavily on his mind. Now he watches the man who took our love and our money and never loved us back. Red watches him sleepwalk right out of Atlanta. And Red kicks a hole in the wall.
January 3, 2009. Our new quarterback is nothing like the old one. He goes to bed at 9:30 and runs only when chased by predators, and four months ago, on his first NFL pass, he hit Michael Jenkins in stride for a 62-yard touchdown. Now, in a year when SI predicted we'd go 2–14, Matt Ryan has led us to an 11–5 record and back to the playoffs, against the Cardinals in Arizona. He drops back for his first pass. It's intercepted.
Red and I watch in anguish from our booth at Taco Mac, a sports bar in midtown Atlanta, three blocks from my new apartment. I was gone for 16 years. Then, last fall, I moved back to our hometown to write features for Atlanta magazine.
Ryan shrugs off the interception and throws a touchdown pass for a 17–14 halftime lead. Then he botches a handoff to Michael Turner for a fumble, and he throws another pick, and he's sacked in the end zone for a safety, and the Cardinals go ahead 30–17. Arizona was only 9–7 this season, losing by 28, 21 and 40 points in the last five weeks, and so even with a rookie quarterback we're favored to win this game. Ryan throws another touchdown to cut the Cardinals' lead to six. Now we just need a stop on third-and-16 to get the ball for what could be the winning drive.
Kurt Warner goes back to pass. He fakes the handoff, fooling our linebackers, and hits the tight end down the middle for 23 yards. First down. Game over. Another season down the drain. We walk back to my apartment in silence.
As the Cardinals continue their surprising playoff run, I find myself pulling for the team that beat us. In the Super Bowl they have a chance to break a 61-year championship drought, but they fall just short against the Steelers, who win their second Super Bowl in four years and their sixth overall. I want to find a Steelers fan and grab him by the shoulders and ask, Wouldn't five be enough for now?
December 6, 2009. Twenty years with the Falcons and this is the first time Red and I go to a game together. An early present for his birthday. A month or two ago I looked at the schedule and made what seemed like a brilliant choice: the Eagles game. They had signed Vick as their backup quarterback, and I thought it would be nice to steamroller the whole pack of them on our way back to the playoffs.
What actually happens today is a pretty good encapsulation of both Falcons history and the condition of professional sports in Atlanta. We find our Georgia Dome lousy with Eagles fans, many of them in Vick jerseys, and it seems clear that some in the crowd have switched team allegiances solely to cheer for our betrayer-in-chief. Worse, we're missing five starters on offense, including Matt Ryan and Michael Turner, so we can't even move the ball. Nor can we tackle. They go up 13–0 in the first half, and then they bring in Vick, who has not scored since prison, and he gets right back to his old job of helping us lose. He runs for a five-yard touchdown. He completes a 43-yard pass. The crowd roars. Red and I are drowning in a sea of green-and-white, outcasts in our own stadium.
"I don't even think we could win a brawl," Red says.
In the fourth quarter, with the score 27–0, the crowd begins chanting, "WE WANT VICK! WE WANT VICK!" They get him. He takes the snap. I want to run on the field and sack him myself. He throws a touchdown pass. It's 34–0. His quarterback rating is a perfect 158.3. More cheering. This is how it works in Loserville. We don't just lose. Sometimes we seem to like it.
January 15, 2011. No, no, no. I take all that back. We're 13–3, top seed in the NFC, and the ghost of Vick has been shooed away, and we're united again, two dozen of us gathered in the basement of one of Red's coworkers to watch the destruction of the sixth-seeded Packers, and we're eating chicken wings and mac and cheese from the buffet table, and we lead 14–7 in the second quarter—
—and then, on our home turf, on national television, we give up 35 straight points, not merely a loss but another public shaming.
January 8, 2012. Sara and I have bought our first house. Our daughter will have her second birthday this spring. Our second child is on the way. I'm writing features for Sports Illustrated. We invite Uncle Red over to watch the game, along with our friend Justin, a Rams fan who's become a Falcons sympathizer. I bring home a rack of ribs from Fox Bros. Bar-B-Q. With dark sauce on our hands and faces, we watch Matt Ryan and the capable Falcons offense go a whole playoff game against the Giants without scoring a point.
"I'm sorry," Justin says softly, with deep sincerity, as if we're at a funeral.
November 29, 2012. Another fall, another season, and with the cold we feel a strange new energy. I board the MARTA train at the East Lake station and head west toward the Dome. The train is full of my brothers and sisters in black and red. We are white women in Julio Jones jerseys. We are black men in Matt Ryan jerseys. We are a married couple in our 60s with our season tickets on lanyards around our necks. We are loud and boisterous and confident. We are 10–1. We have won games we should win and games we should not. We picked off Peyton Manning three times in the first quarter and withstood his furious comeback. We stormed back from the dead against Carolina. We destroyed Kansas City and San Diego. We swaggered into Philadelphia and took down Vick and the Eagles. We neutralized Doug Martin and survived the red-hot Buccaneers. We threw five picks against Arizona and still won. We bend without breaking. We find a way. We've lost only once, barely, in New Orleans, and tonight we have another shot at the Saints.
We get off at the Dome station and pour onto the escalator. I meet Red at CNN Center for a pregame Sweetwater. Then we march through the cold night, up Andrew Young International Boulevard, into the Dome, our home for the last 20 years. Red and I like the Falcons' owner, Arthur Blank, and the winning ambition he brought when he bought the team 10 years ago. But we also like our Dome, the comfort, the noise, the gray light that always reminds us of November, and we see no need for Blank's plan to abandon this place in favor of a costly new home with a retractable roof.
We climb to our upper-level seats. On the giant screens above the end zones, Samuel L. Jackson and a Gospel choir costar in a video designed to fire us up.
"When a city lights up," he says. "We all rise up together.
"When we come on the field, we rise up.
"From kickoff to the last play, WE RISE UP.
"THIS IS OUR TIME, ATLANTA.
"WE'VE BEEN KNOCKIN' ON THE DOOR.
"NOW IT'S TIME TO BLOW IT UP.
"TELL ME, WHAT DO FALCONS DO?"
"RISE UP," the choir sings.
"WHAT DO FALCONS DO?" Jackson thunders.
"FALCONS, FALCONS RISE UP," the choir sings, and we intercept Drew Brees.
A 350-pound drunk man staggers to his seat in front of us, looking for Saints fans to heckle, and we're astonished that he can't find any.
We intercept Drew Brees.
Red and I jump out of our seats, slapping fives with strangers and with each other.
We intercept Drew Brees.
In a couple of hours, after our 23–13 win, we'll be the least respected 11–1 team in NFL history. In 17 days we'll beat the defending Super Bowl champion Giants 34–0 and still get no respect.
We intercept Drew Brees.
Maybe we'll fall short again this year. The experts have already written us off. We have 46 years of losing behind us.
We intercept Drew Brees for the fifth time. The clock runs out. My brother and I walk into the night, looking straight ahead.