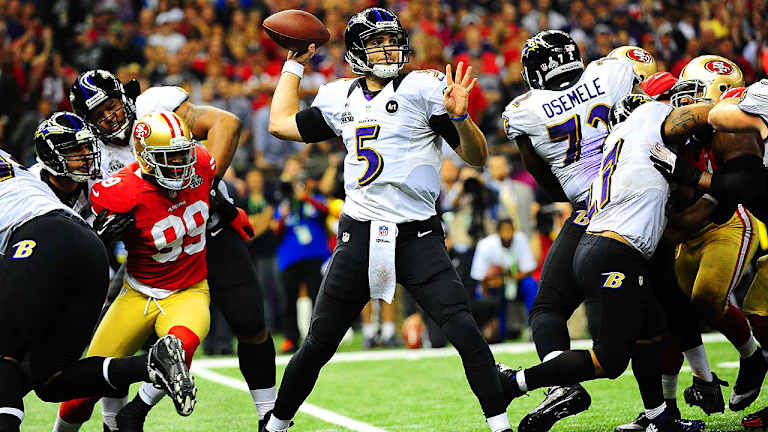 JOE FLACCO, PERIOD
THERE'S A NEW JOE IN THE SUPER BOWL PANTHEON, ONE WHO INSPIRED COMPARISONS TO MONTANA WITH YET ANOTHER RUTHLESSLY EFFICIENT TAKEDOWN OF A POSTSEASON FAVORITE. AS FOR THE RAVENS: THEY'RE WELL-POSITIONED FOR MORE TITLES TO COME.
As the Baltimore Ravens' plane climbed into the night skies above New England following the team's 28–13 win in the conference title game last month, full of happy and tired AFC champions, a voice rose from the back of the charter. "Hey Ray! ... Ray!" quarterback Joe Flacco called to Ray Lewis, who a few hours earlier had wept with joy at the thought of his final NFL game being played in the Super Bowl. "There's no crying in football!"
The times, in Baltimore, are changing. The quiet 28-year-old quarterback needles the 37-year-old Raven in Winter, one of the greatest (and most complicated) leaders we've ever seen, on his way out. But change comes to all teams, in all sports. And now that the Ravens have staked their claim to a second world championship in their 17 seasons in Baltimore—the wild and dusky and fraternal and rollicking 34--31 Super Bowl XLVII victory over San Francisco at the Superdome in New Orleans on Sunday night—an orderly succession plan is in place as Lewis heads for the TV studio. Baltimore has the organization, the coaching and the quarterback—especially the quarterback—to contend for the next 10 years. Flacco won't be a hollerer. But as Derek Jeter says, It ain't about what you say—it's how you practice, how you run out ground balls hard every time. You lead by example.
Sounds like another Joe.
"Wow," Flacco said of the comparison to Joe Montana as Sunday night turned into Monday morning. "My idol." They're in history together now, the two Joes, for having the most explosive and most efficient quarterbacking postseasons ever. Montana, 23 years ago, threw 11 playoff touchdowns and no interceptions in a campaign that ended with a Super Bowl XXIV blowout of the Broncos. Flacco, in Baltimore's four-game playoff run this season, matched that. And for his 22-of-33, 287-yard, three-TD, 124.2-rating effort, he earned the game's Most Valuable Player award, just as Montana had 23 years earlier.
So many fascinating dimensions to this game. The first (non-football-related) delay of game in Super Bowl history, 34 minutes when a partial power outage in the Superdome darkened the place. The first brother-brother championship-game coaching matchup in major American sports history. ("I never thought you could feel 100 percent elation and 100 percent devastation at the same time, but I learned tonight you can," John Harbaugh said of beating brother Jim.) Lewis's farewell game. Most likely, safety Ed Reed's final game with Baltimore, his team of 11 years. (He's a free agent too rich for the Ravens' salary cap.) The amazing running and throwing talent of 49ers quarterback Colin Kaepernick (page 36), who very nearly ruined Baltimore's neatly wrapped destiny package with his second-half comeback and his 302 yards passing and 62 rushing yards. The 104-yard receiving night of football's most physical wideout, Anquan Boldin. The continued failure of San Francisco's vaunted defense to be anything north of mediocre in this postseason. And a bargain receiver-returnman, Jacoby Jones ($2.5 million in 2012), with 56- and 108-yard touchdowns in his hometown. Said Jones, who played his high school ball at Marion Abramson High, 10 miles northeast of the Superdome, "Just a blessing, dude, to do it in front of my people."
Speaking of the Ravens' people, it was after midnight when Flacco finally arrived at his family's party, at Huck Finn's sports bar in the French Quarter, where he was awaited by his agent and his youth coaches and his youth sports teammates and his five siblings and his parents and his grandparents and his cousin, a New Jersey state trooper who himself had brought 24 of his closest state trooper friends from Flacco's native Garden State. As he walked in the door, smiling slightly, Flacco was greeted with this: "MVP! MVP! MVP!"
Now, a few words about that organization. Go back to a Monday-night game in the middle of the 2007 season. The Ravens were one troubled franchise, and it was becoming abundantly clear that struggling quarterbacks Kyle Boller and Troy Smith were not the answer, and that Steve McNair could not stay healthy. The Steelers' Ben Roethlisberger riddled Baltimore for five touchdown passes in a 38–7 rout in Pittsburgh that evening, and Ravens scouts were put on notice. G.M. Ozzie Newsome's tacit order: Find us a quarterback.
Five days later, two of those scouts, Joe Douglas, who covers the East Coast, and Andy Weidl from out west, went to look in on a senior quarterback at Delaware as he played against Richmond. There were seven scouts there that cold day, and when Joe Flacco threw a pick-six just before halftime, five of them left. The Ravens' duo stuck around.
"The other scouts thought he was too stiff, too slow," Douglas recalled on Sunday night, soaking up the Super Bowl win.
"A Dan McGwire," Weidl said, referring to Mark's brother, a 6' 8" QB out of lower-level San Diego State who was drafted with the 16th pick in 1991 and washed out. "But we were on the field before the game watching [Flacco] warm up, and we loved him. The ball just whizzed. We thought, This guy's got an AFC North arm—a bad-weather arm. When I saw Joe, I saw Roethlisberger, Carson Palmer...."
"And he brings Delaware back in the second half," Douglas said. "They lose in five overtimes, but he's unbelievable [224 passing yards after halftime], and we're really happy the scouts left."
Douglas started laughing. "Now," he said, grinning widely at his scouting partner, "he just tied Joe Montana. Andy, Joe Montana!" And the two scouts shook their heads.
Of course, Newsome still had to draft Flacco, which he did with the 18th pick in 2008. For good measure Newsome, peerless at staff development and knowing when to pull the trigger on draft day, got Ray Rice that afternoon too—at No. 55.
Some in the organization found Flacco an odd duck, quiet and exceedingly calm for the guy at the nerve center of an NFL team. He's a flatliner, and some have mistaken that for passivity.
"That's not remotely close," said offensive coordinator Jim Caldwell. "He's intense. He just might not express it outwardly." One club official said the most excited he'd seen Flacco in his five years in Baltimore was when rapper Snoop Dogg visited the Ravens one day in 2009 and told the QB, "Be easy, J. Fleezy." Flacco went around the building that day giddily explaining how Snoop Dogg had known who he was and that he had a nickname for him.
But actions speak louder than words. Since 2008 no quarterback has played more NFL games than Flacco—93; every possible start of his career—and none has more wins than Flacco's 63. In this postseason alone Flacco beat the Colts, with rookie franchise quarterback Andrew Luck; then the Broncos and Patriots, with two of the best ever in Peyton Manning and Tom Brady, both on the road; and now San Francisco, with the most fascinating quarterback prospect we've seen in years.
In the game for a place in history, Flacco had plenty of help—from Jones and Boldin, and from his best friend on the team, tight end Dennis Pitta.
On the Ravens' first drive, Flacco split 49ers strong safety Donte Whitner and linebacker NaVorro Bowman, lobbing it perfectly over the latter for a 13-yard touchdown to take a 7–0 lead. "Their linebackers didn't get a lot of depth in pass coverage," explained Boldin, "so we felt we could take advantage."
On the third drive, a one-yard toss to Pitta made it 14–3, and just before halftime the crisis in the Niners' secondary reached a breaking point. Jones is one of the fastest players in the NFL, and he loves to showcase his wheels, even in practice. Last Friday, after receiving a punt during a special teams drill, he darted up the field, yelling, "Showtime, baby!"
This was showtime, all right. Jones badly beat battered cornerback Chris Culliver for his 56-yard touchdown, making worse a week in which Culliver (POINT AFTER, page 72) incurred widespread wrath for saying that he wouldn't welcome a gay player on his team.
During the ensuing 34-minute halftime break, Jones snuck in some time watching the Beyoncé spectacle on a locker room TV. Suitably inspired, apparently, he returned the opening kick of the second half 108 yards to make it 28–6. In the span of two game minutes, Jones had touched the ball twice, gained 164 yards and scored two touchdowns.
Three plays later, just after Arthur Jones sacked Kaepernick for a six-yard loss, a brownout cut most of the building's power, leaving players and coaches alike to stretch and scheme during a 34-minute delay.
With electricity's return came a flicking on of the 49ers' power switch too. Kaepernick countered and threw and faked and read-optioned and scrambled the 49ers to 23 of the next 26 points. With 10 minutes to play it was 31–29, and the Niners were lining up for the tying two-point conversion. This will be one of those super slo-mo plays that 49ers fans will see for a long time: Reed came on a safety blitz around left tackle at the snap of the ball—or a 10th of a second early. It was close. But no flag was thrown, and as soon as Kaepernick looked up, he had to heave the ball away, somewhere in the area of Randy Moss. No chance. It turned out to be a huge play.
On the next drive the essence of Flacco was on full display. On third-and-inches from the Baltimore 45, he approached the line with four options: He could sneak; he could run Rice to the left; he could execute an option play; or he could throw to Boldin on the right side, about a 12-yard out.
Big moment. Convert this and the Ravens are likely to get at least a field goal. Fail to convert and—well, the Falcons, who at one point in the NFC Championship Game led the Niners 17–0, could tell you how that ends. Kaepernick had been nearly unstoppable for four straight drives; now he might turn a two-point deficit into a five-point lead. This is where quarterbacks have to make the right call—or face an off-season of second-guessing.
At Huck Finn's later that night, Flacco took a break from being a Super Bowl MVP (posing, signing, hugging) to discuss his options. "Their formation took away the run, and it took away the option," he said. "I don't like to sneak. I always think the quarterback sneak's a crapshoot. So I only had one choice—throw to Anquan."
"Risky," he was told.
"When you're a quarterback," he said, shrugging, "you just make the play that's there."
Back on the field, he took the snap from Matt Birk and looked for Boldin. In the stands his dad and biggest fan, Steve Flacco, was surprised. "Wow," Steve thought. "That's not a high-percentage throw."
The pass was right in Boldin's chest—but so was the right arm of cornerback Carlos Rogers. Boldin is strong, and he hung on to the ball for dear life as he and the D-back fell together. And the ball stayed caught. Gain of 15.
A field goal made it 34–29, meaning San Francisco would need more than a matching kick in the last four minutes to win, and a Ravens' goal line stand (including a controversial no-call on what looked to some like interference by Baltimore corner Jimmy Smith) clinched things.
Without the Boldin third-down conversion, who knows? We might be talking about the amazing newbie, Kaepernick.
It was fitting, really, that Flacco got the win and Lewis the save. Well, Lewis and the defense, which had otherwise struggled throughout long stretches of the night. Over the past 13 seasons, Baltimore's D has consistently been a top unit in the league, fearsome and confusing. And on Lewis's last series ever, they won. As they almost always have.
Lewis's ride into the sunset did not come without controversy. Last week SI reported that he had used a substance that is banned by the NFL during his recovery from surgery for a torn triceps in October. The Super Bowl media also resuscitated questions about the stabbing incident at the 2000 Super Bowl in Atlanta that led Lewis to plead guilty to obstruction of justice. But his stature as a player is clear: He leaves the game as one of the top three linebackers of all time, alongside Lawrence Taylor and Dick Butkus.
The Ravens are well aware that the outside world is sick of Lewis's crying, preening, exhorting and emoting. But they do not care. In practice he's an Everyman. Last Thursday he and an equipment guy each grabbed one handle of a large drink cooler and lugged the full container 150 yards to the sideline. A day later the music at practice started with two of Lewis's favorites: first a gospel song called "Spiritual," and then his introduction anthem at home games, Nelly's "Hot in Herre." As the rap tune opened, Terrell Suggs imitated Lewis's signature dance, while on the opposite side of the field Ray Rice screamed for Lewis's attention, picked up some practice-field grass and rubbed it on his jersey, the way the iconic linebacker does before games.
Lewis had seven tackles on Sunday, none of them game changing, but he was the man in the middle of the defense that stopped the Niners four times inside the seven-yard line with the game up in the air. "You deserve going out this way," Harbaugh said into an emotional Lewis's ear as he got sucked up by a linebacker-sized bear hug outside the Ravens' locker room following the game. "So proud to be associated with you."
"When the confetti started falling," Lewis said of the postgame celebration in the Superdome, "I kept looking for your face. I've wanted to see how happy you'd be. That was wonderful."
"Hey," Harbaugh said, still embraced, "remember what I said last night? 'We win tomorrow, we walk together forever.' "
Lewis repeated his coach's words, and they parted.
"That's from Fred Shero when he coached the Flyers in the '70s," Harbaugh said. "I told the team that last night. I love that. And that's what we do now. This team will never be the same again, but we're all together forever."
Now they'll just walk differently, with a quieter guy leading them, but a guy capable of winning the same way that the old, loud guy did.
"What I like about Joe," his dad said in the wee hours after the game, "is he's not afraid to take chances. Never has been. You gotta play to win."
Joe Flacco has a pretty good record of that. As he posed for a group photo with his state trooper friends early Monday morning, one of them said, "I have a feeling we'll be here again."
In Flacco they trust. After this postseason, they've got a lot of company.