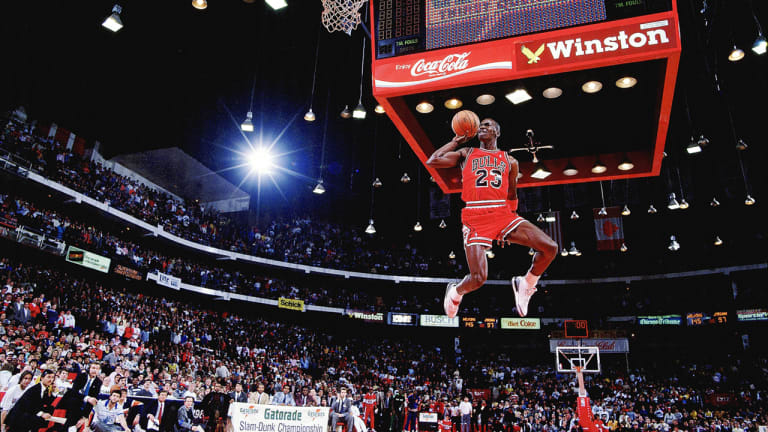 Reason No. 1: This Dunk
Half a lifetime ago, a young Michael Jordan took the All-Star slam dunk title with a performance that finally won over his rivals. Here is the story of that memorable day
Michael Jordan was born on Feb. 17, 1963, in Brooklyn, but Air Jordan was launched on Feb. 6, 1988, at Chicago Stadium. He bounded down a hardwood runway, took off from a thin white stripe and flew into our national consciousness, short shorts and splayed legs, one arm cocked by his ear and the other outstretched like a wing with a red wristband. If you were on the East Coast, your father said Larry Bird was the best basketball player in the world. If you were on the West, he said Magic Johnson. But if you were a child of the '80s, you claimed Michael Jordan, no matter where you lived. His picture was first up on the bedroom wall. He was still three years from a championship, so you argued until your voice cracked that Dave Corzine was no Kevin McHale and Sam Vincent was no Byron Scott, and besides, there were no stats or trophies or banners to gauge a talent as ungodly as Jordan's. You had to watch him as he took off, the way his tongue wagged and chain flapped and body sailed through the canned air. On Feb. 6, 1988, everybody watched. That was the day your dad started to reconsider.
It was just a dunk contest, in the same way the Beatles' appearance on The Ed Sullivan Show in 1964 was just a performance. It produced not one but two iconic photographs, accelerated the most successful advertising campaign in sports history and signaled a new era in the NBA, ruled by a new king. Jordan is turning 50, but for a generation he will always be 24, suspended under the scoreboard of a Chicago arena that no longer exists, frozen in time, forever in flight.
RICK WELTS(Warriors president and former NBA chief marketing officer): In the summer of 1983 I was sitting at home in New York City watching a Major League Baseball Old-Timers' Game in Washington, D.C. Some guy who looked like he was 65 hit a home run over a Cracker Jack sign in centerfield. It rattled around in my head. To that point, the NBA All-Star Game had been a nice little family gathering. Everybody came to town on Saturday, stayed in the same hotel, went to a banquet that night and left right after the game on Sunday. We were going to Denver for the '84 game, and David Stern was taking office as commissioner. He wanted to embrace the history of the NBA in a way he felt the league had not. If you ask people in Denver about the 1976 ABA slam dunk contest, you'll find about 300,000 who claim to have been at McNichols Arena when Julius Erving ran from one end of the court to the other, took off from the free throw line and immediately became a legend. I asked Stern, "Why don't we take halftime and do a slam dunk contest like they did in '76?" But CBS, which was broadcasting, had no interest. So a week later I went back to Stern and asked, "What if we create a second day of events, invite some of our great players back for an old-timers' game and then do a slam dunk contest?"
We walked into commissioner Larry O'Brien's office on Fifth Avenue, and he had a cigarette lit in his ashtray. He gazed out over St. Patrick's Cathedral. To say he was unenthused would be an exaggeration. But a week later Stern said we could do it under two conditions: Don't embarrass commissioner O'Brien and don't cost the NBA a penny. That was the genesis. We called it All-Star Saturday and sold it out. Tickets were $2 or $5, I can't remember. Larry Nance won the first dunk contest, but Julius Erving came back to Denver and did what everyone hoped, running from one end to the other and re-creating that famous dunk.
DAVID FALK(Michael Jordan's agent): Michael made the All-Star Game as a rookie, in 1985, and it was in Indianapolis. We drove to O'Hare in his Chevy Blazer, and he was so new to town, he missed the exit and went over the curb. He already had more endorsements than Magic Johnson and Isiah Thomas at the height of their careers. The story goes that Magic and Isiah were both offended that Michael came out for the dunk contest in his own Nike line, and they engineered a freeze-out during the game to teach him a lesson. It never occurred to Michael or me that he was frozen out. But when we got back to Chicago he looked back at the game and realized it did happen. We were sitting in his condo, and because he's from the South he had turned off the heat before he left and the pipes had burst. Steam was coming out of his ears in this freezing apartment. He could barely talk. He was in a different place.
CHARLES BARKLEY(TNT analyst who played in the '88 All-Star Game): When Michael scored 63 points against Boston in the '86 playoffs, he became the best player in the world, the baddest son of a bitch on the planet. He was taking the mantle, but nobody wanted to give it up. That's why there was tension.
DAVID KAHN(Timberwolves G.M. and former sportswriter who covered the '88 All-Star Game): Everybody knew Michael was a prolific scorer, but there was a feeling among many that he wasn't a team player. It was a ridiculous rap. Magic and Larry Bird were revered, and Michael wasn't accepted as part of that triumvirate. In Chicago they saw how special he was, but the rest of the nation didn't acknowledge it yet.
BRAD SELLERS(former Bulls forward): In early February we had a trip to the West Coast, and before we left I asked Michael, "You prepping for this dunk contest?" We stayed after practice one day, and he was trying some really experimental stuff. He stood out-of-bounds on the baseline, right under the basket, then jumped flat-footed out onto the court, did a 180 and dunked. He asked me to try it, and I was like, "Are you sick? I'll hurt myself!" They were giving out prize money for the dunk-contest winner [$12,500], and while we were out West, Mike told us that he was going to split it up among all his teammates if he won. He wanted us to feel like we were part of the event. So our whole team had money riding on it. Maybe that's why we all stayed in town.
BRIAN MCINTYRE(NBA senior communications adviser): Dominique Wilkins won the dunk contest in '85, and Jordan was injured in '86. Jordan won in '87, but Dominique was injured then. Going into '88, Jordan had won once and Dominique had won once. We had 693 credentialed media, about 10% more than the year before, but old Chicago Stadium had no extra space anywhere. So we erected a tent in the parking lot, at gate 3½, and it was about minus 20¬∫ with the wind howling. Reporters were typing with their gloves on. We set up propane tanks for heating, but the police department made us replace them with kerosene. The smell of kerosene still takes a lot of us back to '88.
WALTER IOOSS JR.(SPORTS ILLUSTRATED photographer): Three hours before the contest, Michael was sitting in the stands, and I went up to say hello. I explained that it was really important for me to get a good picture—as if he cared—and it would help if I knew which direction he was going, so I could see his face. I asked, "Can you tell me which way you're going to go?" He said, "Sure, I can do that." I said, "How?" He put his right forefinger on his knee and said, "I'll point." I asked, "You're going to remember this?" He said, "You watch."
TIM HALLAM(Bulls p.r. director): About an hour before, I plopped down next to Michael in the locker room, and he was putting on his shoes, not a care in the world. I asked, "What's the slam dunk trophy look like this year?" He said, "I don't know. But you'll find out when you're putting it in my car."
RON HARPER(former NBA shooting guard who withdrew from the '88 dunk contest with an injury): Back then, the dunk contest was bigger than the [All-Star] game. It meant a lot to Michael. In the locker room he was telling everybody, "Let's give these people a show."
TRENT TUCKER(former NBA shooting guard and '88 All-Star three-point-shootout contestant): Larry Bird had won the first two three-point shootouts, including the one in Dallas, when he walked into the locker room and we all asked, "Larry, what are you looking at?" And he said, "I'm trying to figure out who's going to finish second." This was Larry Bird at his best. He won again, with his warmup jacket on, turning around and raising his finger before the last ball even went through the net. But none of us left afterward. We all stayed for the dunk contest. We knew we might witness something we'd never seen before.
BOB NEAL(sportscaster who did play-by-play of the '88 dunk contest for TBS): I went to Marshall High, 10 blocks west of Chicago Stadium. They called it the Madhouse on Madison, and I knew how crazy that building could be. I broadcast at least 100 games there. But this was more exciting and tense than any game I ever did, more than the Bulls and the Celtics, more than the Bulls and the Bad Boy Pistons. I'm not exaggerating when I say it was the most mesmerizing competition I was ever involved with—and I saw Hank Aaron's 715th home run. Dominique and Michael were like two gunfighters at the O.K. Corral. There were other people in the contest, but I can't remember who they were, because it was a foregone conclusion it would come down to Dominique and Michael. Dominique had that determined look on his face that was so different from Jordan's confident smirk. If it was possible, Michael would have had a cigar in the side of his mouth.
JEROME KERSEY(former Trail Blazers forward and '88 All-Star dunk contestant): It was all about Michael. The odds were laid against everybody else. There was this weird silence at the beginning, like the silence before a crescendo. Everybody was waiting for Michael to appear, out of the mist, and take off his cape. I got eliminated in the first round.
TOMMY HAWKINS(former NBA star and '88 dunk-contest judge): I was one of the early leapers in pro basketball, and I didn't see anybody who could approach Michael and Dominique. When they came out for the finals, the electricity reminded me of when I was growing up in Chicago and they used to have college basketball doubleheaders in that old stadium on Saturday nights: Notre Dame, Illinois, Bradley, Kentucky, Loyola, DePaul. All the fans were holding cards with a 9 on one side and a 10 on the other.
VINCE CARTER(Mavericks forward and 2000 dunk-contest champion): I was 11 and just starting to dunk. I could only dunk a tennis ball. I was home in Daytona Beach, Fla., taping it in my living room. I used to tape all the dunk contests and study them. That was my homework.
DOMINIQUE WILKINS: I never prepared for a dunk contest. The dunks just came. If I told you how I came up with the windmill, you wouldn't believe it. I was in high school, messing around one day in practice, and we were trying to see who could do the craziest thing with the ball. That's what I did. I like the windmill because it combines style and power and grace—and a little jumping ability, I might add. I didn't practice it. I didn't spend a whole lot of time trying to perfect it. I did it in high school games.
BILL SMITH(Bulls photographer): I had seen Michael in practice and knew he was going to try the free-throw-line dunk. But I didn't know when. I put a lot of calculation into where I positioned myself. I wanted to show the divide between the basket and the free throw line, the whole expanse under him, so I held a spot on the sideline between the basket and the line, a little closer to the basket. I had a Canon camera with a regular 50-millimeter lens, nothing exotic. I was using strobe lights, mounted up in the catwalks, and when you shoot with strobes the camera takes a second or two to recycle. The flashes don't go that fast. I had only one chance to get the shot.
GAIL GOODRICH(former NBA star and '88 dunk contest judge): When you're judging a dunk contest, you're asking yourself, What moves you? That's basically it.
HAWKINS: We gave Michael 47 out of 50 on his second dunk of the finals. The crowd was booing and throwing cups at us. They were yelling, "How dare you give Michael a 47!" Everything he did was encased in gold, and if you didn't see it that way, you pissed people off. I was fully aware that we were on Michael's turf, but I was there to judge a contest and give an honest rendering. I played in world championships against Boston in the '60s. I wasn't going to be intimidated.
HARPER: Now let's talk about Dominique's last dunk, which was right after Michael got the 47. It was a two-handed windmill. It was awesome.
WILKINS: I attacked the rim. It was powerful. It was ferocious. It was my best dunk.
KERSEY: He was so high off the ground, with such power and grace, that all the players on the bench were saying, "Fifty." His first two dunks of the finals were 50s. But for some reason they gave him 45 on the last one. It was like, Are you kidding? How can that be? We just looked at one another on the bench and ducked our heads. The expression on Nique's face was, What do I have to do here?
WILKINS: I don't know what they were watching.
NEAL: When I grew up in Chicago, Richard J. Daley was the mayor. I know how Chicago votes things in. But despite all the political history, I wasn't prepared for the 45. It stunned me.
MCINTYRE: Everyone in the place was thinking, Whoa, that must have been counted by a Chicago Republican.
SELLERS: Michael came out for his last dunk, and everybody was standing. He needed a 49 to win. The roar of the place was unparalleled. You can't achieve that type of roar at any of these arenas today. Chicago Stadium was built for spectator sports, not for theatrics. It was raw, everybody on top of each other, no one worried about amenities. I was yelling, "Come on! We've got a lot of money riding on this!" Michael looked over at me, and I was trying to tell him to do one of those dunks he worked on in practice, but he couldn't hear me.
JORDAN (to reporters after the contest): I was looking into the crowd at my friends, and they were all telling me to do different things. I was confused. Then I saw the man who got it all started: Dr. J. He motioned for me to go back to the free throw line. That was the best advice I heard all day.
GOODRICH: He dribbled around the middle of the court, acting like he didn't know what he was going to do, but that was all for show. Michael knew exactly what he was doing.
HARPER: When he walked all the way back to the baseline, we realized what was going on. There's only one dunk you go back there for. When he revved up, everybody in the place rose. It's like Michael was telling Dr. J., "This is my dunk now."
IOOSS: Before his first dunk of the day I looked over at him, and he put his finger on his right knee, so I moved to the left. He did it every time. When he went to the baseline and tried the free-throw-line dunk, I was standing under the basket with my back to the stanchion, and he landed in my lap. That's the one he missed. Then he went back and waved his right hand, moving me left. I ended up about five feet left of the stanchion. That was the famous dunk. [The photo appears on the cover of this issue.]
BARKLEY: There are two types of dunkers: guys who jump off one leg and guys who jump off two. I'm a two-legged jumper. So is Dominique. If you try to jump from the free throw line off two legs, you won't come close. Michael is a one-legged jumper. He jumps and floats.
HARPER: He hit that f------ foul line, and everything seemed to slow down. He was going in slow motion.
FALK: I saw Michael's first tough dunk in college. I went to watch North Carolina play at Maryland, and with five seconds left, the ball popped loose and Michael collected it, cuffed it and sort of pinned it against his forearm before he dunked it. People saw him as a showman, but that's never who he felt he was. He didn't want to be perceived as a dunk king. Championships were all that mattered to him. The rest was window dressing. But the contest was in Chicago, and the league wanted him to do it, so he did. This was before the days that you needed choreographers and costumes. If I recall correctly, Michael levitated at a 45º angle and looked like he was going to hit his head on the rim. He was flying. It was the prelude to Space Jam.
HAWKINS: If you check the video, this is what you'll see: He comes down the sideline, to the middle of the floor, and he's got momentum. He takes off behind the free throw line and floats the entire distance, the entire 15 feet. Usually, if somebody is able to do that, the dunk is pretty weak at the end. But he could have floated another couple of feet and still been above the rim. I heard the "Hallelujah" chorus. Dominique came over to the judges' table after. He was pissed off because we gave Michael a 50 and he got a 45. Some people may have looked at the judging as capitulating to the will of a very vocal fandom, but it wasn't the case.
KAHN: His feet are actually over the free throw line, but nobody wanted to acknowledge that. It didn't matter. He was close enough.
GOODRICH: We're splitting hairs here.
JORDAN(to reporters): We have some very good fans. But I think they could have gotten bad.
WILKINS: Michael told me, "We'll talk about this later." We did talk about it. We've always talked about it. Yeah, it was an emotional moment, but we were never enemies. We were friends. There's controversy in every sport. We just wanted to know how we stacked up [against] one another.
NEAL: Nobody said, "It's only a dunk contest. It's only an exhibition." You looked into the stands when it was over and saw guys with their buddies, mimicking the windmill and the takeoff from the free throw line.
MCINTYRE: Walter Iooss was staring at his camera, and this was predigital, so it's not like he was looking at an image. It was more like, Oh, baby, you did it for me again. He got Michael looming large in the air, with the center-hung scoreboard right behind him.
KERSEY: Michael can make it look a little more special than it is, wagging his tongue, moving the ball in his hand, putting in all that extra flair. I'd have voted for Dominique.
HARPER: I'd have voted for Michael. You should have seen Chicago that night. A bunch of the Bulls had parties. They were all packed. It was hard to move around downtown. Everybody was talking about that dunk all night long. They didn't stop talking about it for years.
WELTS: It's the most famous dunk in the history of the NBA.
SMITH: I was shooting a bunch of the parties, and between midnight and 2 a.m. I dropped off my film at a 24-hour lab in a parking lot on Adams Street. I came back when they opened at eight. You pick up the film, and the labs have these light tables so you can flip through your slides and look at them. I tore through everything until I got to the dunk contest. My hand was shaking. I was scared to look at the frame. So many things can go wrong. His eyes could be closed. His hand could be blocking the ball. But it captured exactly what you saw. At the time, if someone wanted to make your picture into a poster, you'd get $600 to $1,000. Nike paid me $3,500. I thought I ripped them off. The next year I took a trip to Thailand, and I saw the poster in the window of a sporting goods store in Bangkok. I'm also the Bears' photographer, and a lot of players would ask, "You work for the Bulls? You didn't take that picture of Jordan, did you?" I've still got the slide. It's locked in a fireproof safe.
NEAL: I asked for only one autograph from Jordan in my career, because I had a policy to never ask for autographs from any athlete. But I did get him to autograph that poster for my son.
CARTER: Ball by the ear, legs out, defying gravity. Yeah, I had it on my wall. Didn't everybody? A lot of things you saw in those old dunk contests, guys are doing now in games. But a free-throw-line dunk still blows me away.
MAGIC JOHNSON(to reporters after the All-Star Game): He has arrived. There's room for three elite players: me, Larry and Michael.
JORDAN(to reporters): For the first time, I really feel accepted by everyone.
HALLAM: I actually put the trophy in my car, not his. I gave it to him the next week at practice. It was wood, with a gold ball on the top.
SELLERS: I live near Cleveland now, and they still talk about the Shot. The Dunk is like the Shot, another step on the ladder of his evolution, another part of the chiseling of the statue. A week after the contest he paid all of us.
SMITH: Last February, I got a call from The Today Show because they wanted to reenact some of their favorite photographs. Matt Lauer is a big basketball fan, and Jordan fan, and he chose my shot. I met him in a Broadway theater, and we tried to hang him like a puppet in the same position as Michael. Matt was probably up there in a harness for an hour and a half, with assistants pulling his arms and legs, trying to get him in the perfect spot. They'd tell him, "Move your arm six inches up, now move your hip six inches over." But it was impossible. What we found is what we should have known all along. Nobody's body can do what Michael Jordan's did. He moved in inhuman ways.
Follow @SI_LeeJenkins
"EVERYBODY WAS WAITING FOR MICHAEL TO APPEAR OUT OF THE MIST," SAYS KERSEY, "AND TAKE OFF HIS CAPE."
"EVERYONE WAS THINKING, WHOA, THAT MUST HAVE BEEN COUNTED BY A CHICAGO REPUBLICAN," SAYS MCINTYRE.
PHOTO
Photograph by BILL
SMITH
PICTURE PERFECT Bulls photographer Smith set up on the sideline to capture the distance Jordan soared on his free-throw-line jam, which sewed up his second straight slam dunk title.
PHOTO
JOHN SWART/
AP
BULL MARKET Cheered on by his teammates, who stood to collect a share of the prize money if he won the competition, Jordan got high marks from the hometown crowd on each of his dunks.
PHOTO
ANDREW
D. BERNSTEIN/NBAE/GETTY IMAGES
[See caption above]
PHOTO
WALTER
IOOSS JR.
TROPHY TIME Wilkins's powerful dunks gave him the lead, but Jordan's perfect score on his last jam earned him the hardware—and an interview with a young, conservatively dressed Craig Sager.
PHOTO
ANDREW D. BERNSTEIN/NBAE/GETTY IMAGES
[See caption above]