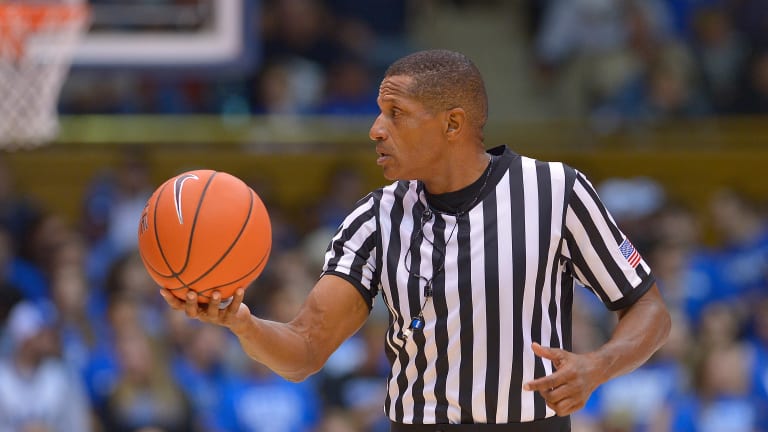 THE HELL OF FAME
NOTORIETY ISN'T USUALLY GOOD FOR A REFEREE, AND A WILD RUN-IN 15 YEARS AGO HAS TURNED TED VALENTINE INTO AN INVITING TARGET FOR FANS. BUT IF TV TEDDY IS SO BAD, WHY IS HE WORKING ALL THE BIGGEST GAMES?
I see you decided to return to the scene of the crime." This is how the usher with the preposterously bushy handlebar mustache greets referee Ted Valentine as he walks through the door of Indiana's Assembly Hall. Valentine is wearing a leather jacket and a black ski cap pulled low, but the usher spots him right away. Valentine is recognized at a lot of arenas but especially this one, where, 15 years ago, he was half of the most notorious referee-coach confrontation in modern college basketball history.
Valentine greets the usher just as cheerfully as everyone else who calls out to him. At 6' 2" he is broad-shouldered and fit for a 54-year-old, his walk carrying the hint of a strut, the strut carrying a whiff of both the pugnacity and flamboyance that have earned him suspension or banishment from three power conferences and the dubious nickname, TV Teddy. After three decades in stripes and thousands of games, including five Final Fours and four national finals, Valentine approaches this much-hyped Saturday clash between No. 1 Michigan and the third-ranked Hoosiers as just another night at the office. But he appreciates that for the players, it's one of the biggest moments of their lives. "They're gonna be nervous," he says. "They'll be moving faster, so we have to move slower. I always tell the younger refs, you can't try to run with the game. You run within the game."
Later Valentine appears relaxed as he sits on the floor of the referees' locker room, stretching his hamstrings and discussing strategy with his partners. "If I'm the lead, I will not blow [the whistle] across the lane," he says to Mike Sanzere, a 34-year veteran who has worked three Final Fours but who, unlike Valentine, will be familiar to only a tiny fraction of the fans tonight. "When you blow across the lane, you're usually wrong." As Valentine, Sanzere and the third partner, Mike Eades, stand up to go to work, Valentine, the crew chief, dispenses one more dollop of wisdom. "It's not brain surgery out there," he says. "Let's not make it more than it is. Let's have a good time."
Over the next two hours Valentine does just that. By his standards it is an understated performance, though not without its TV Teddy moments. When Valentine calls a kicked ball in the first half, he rushes toward a pile of players flexing his leg as if he's trying out for the Rockettes. Just before halftime, as he whistles an Indiana player for pulling on the back of a Wolverine's jersey, he runs downcourt while yanking the back of his own shirt. When an angry Hoosiers fan voices his displeasure, Valentine smiles and shoots back, "That was a horse-collar tackle! It's a 15-yard penalty!"
Fortunately this turns out to be a great game, not another crime scene. Indiana wins 81--73, and soon afterward Valentine is driving up Route 37 toward Indianapolis, where he will catch a flight home to his wife, Linda Sue, in Charleston, S.C. (Their daughter is a jewelry broker in New York City.) Tonight was the eighth game Valentine has worked in 12 days. During a two-day breather he will spend some time Googling himself, combing through articles, blogs and message boards that proclaim how godawful he is. He finds most of them amusing. "I get blamed for games I didn't even ref," he says with a laugh.
But the folks who spew Twitter vitriol on the #tvted hashtag never seem to ask themselves a couple of simple questions. First, why do so many of them recognize Valentine in the first place? Because he always works the biggest games. And why is that? Because he is among the very best at what he does. Throughout the coaching profession, Valentine is widely (if begrudgingly) praised for his judgment and feel.
"Give me a guy with a high level of confidence any night of the week," says Indiana's Tom Crean. "He's not going to be swayed by any coach. He's not going to be swayed by any crowd. There are always going to be 50-50 calls in a game, and I don't think [Ted] misses many of those. You go back and watch the film and you say, 'That was exactly right.'"
Ever since he started reffing, Valentine has knelt by the sideline before each half and taken a few moments to gather his thoughts. So it was that on March 30, 1991, while genuflecting in Indianapolis's Hoosier Dome before the start of the Final Four game between Duke and UNLV, Valentine looked at Blue Devils coach Mike Krzyzewski and said, "Coach, this is a great day, isn't it?"
"Coach K told me later that when I said that, he knew we were gonna have a great game," Valentine says. "He saw a young kid who wasn't afraid."
It was almost unheard of for a referee to get his first Final Four assignment at age 31, but at that point Valentine had already had several years of major-conference experience. At Glenville (W.Va.) State Teachers College, where he majored in phys ed and played first base, he took a refereeing class and on weekends he made a few bucks working intramural and rec league games. After graduating, Valentine returned to his hometown of Moundsville, W.Va., to teach and coach at his alma mater, John Marshall High. His one coaching stint as a student teacher had not gone well. As a sub in charge of junior high girls, he was whistled for three technical fouls and ejected for arguing. At which point the principal told him, "You just coached your last game."
Valentine spent three years reffing part time at high school games and in the Southern Conference when, at 25, he got a life-changing phone call. Bob Wortman, then the Big Ten's supervisor of officials, was looking to diversify his staff, and he had heard there was a smart, confident African-American official in his area. So he rang Valentine, asked him to come to the league office in Findlay, Ohio, for an interview and offered him 30 games on the spot.
While referees often hold other jobs, Valentine quit teaching to officiate full time. Many of the older refs back then were bombastic characters. "The idea of selling the call and having some personality was in vogue," says Hank Nichols, the NCAA's coordinator of officials from 1986 to 2008. "Ted was a little over the top when he started." Valentine says that being "a boy among men" led to a notion that he had much to prove; it wasn't enough to blow the whistle and flash a hand signal. He stalked. He pranced. He T'd up coaches when he should have walked away.
His reputation preceded him. Before each tip-off North Carolina coach Dean Smith wrote the names of the officials on a chalkboard, with a phrase next to each telling the Tar Heels what to expect. Beside Valentine's he would invariably scrawl just one word: Unpredictable.
As he worked Big Ten games Valentine caught the eye of Art Hyland, the longtime supervisor of officials in the Big East. Hyland mentored him and gave him plum assignments; Valentine took them in stride. The first time he worked a game at the Carrier Dome, he called a technical on Syracuse coach Jim Boeheim. Former Georgetown coach John Thompson pays Valentine the ultimate compliment by saying he didn't like to have Valentine call his games "because I wanted somebody whom I could influence." Nor did Thompson think that Valentine felt he had to justify his presence because he was a minority. "There were a lot of African-American officials I was afraid to have because they went out of their way to show people that they weren't going to be biased for me," Thompson says. "I didn't ever feel that from Ted."
After reffing that first Final Four in 1991, Valentine returned to the tournament's final weekend five of the next six years, a remarkable accomplishment considering he had not yet turned 40. Yet Valentine's was an unfamiliar name to most fans. That changed at Assembly Hall on the night of Feb. 24, 1998.
Indiana coach Bob Knight had resented Valentine ever since Valentine gave him a technical early in the second half of Indiana's 1992 Final Four game against Duke. (The Hoosiers were leading by three points at the time. The Blue Devils immediately went on an 11--0 run and won 81--78.) The tension between them remained palpable, and when Indiana faced Illinois six years later, it boiled over. Knight was on Valentine from the opening tip, and he continued to jaw at him during a timeout with 1:51 left in the first half. Valentine ran into Knight's huddle, T'd him up and stalked away in anger. ("I was probably wrong for that," Valentine says. "Too much exuberance.") Knight smoldered. When the half ended Valentine stood at half-court with his arms folded to wait for the teams to leave, as was standard protocol. Instead of walking to his locker room, Knight headed in the opposite direction so he could brush by Valentine as closely as possible without making contact.
During the second half Knight's haranguing continued unabated. Then, with 9:37 to play, Hoosiers forward Luke Recker drove to the basket for an attempted layup. Illinois forward Sergio McClain, who was trailing Recker on the play, grabbed the rim, and Valentine called a technical foul. Knight mistakenly argued that goaltending should have been called. Meanwhile Recker had crashed to the floor and was writhing in pain. By rule, a coach is permitted to walk onto the court to attend to an injured player, but Knight gave yet another earful to Valentine, who stood just a few feet away on the baseline. Valentine called a second technical on Knight and ejected him.
Knight went ballistic, pirouetting twice and pointing at Recker to justify his presence on the court. Fellow ref Ed Hightower tried to get Valentine to rescind the call, but Valentine stood firm. When Knight refused to leave, he received his third technical.
Valentine then moved to the side of the court opposite Indiana's locker room, standing with his arms tightly folded and his left palm pressed to his face. ("That's how I stand when I'm trying to control my emotions," he says.) Again, Knight marched in Valentine's direction. He brazenly brushed by Valentine for the second time and stormed off to a loud ovation. After Indiana lost 82--72, Knight called Valentine's officiating "the greatest travesty I've ever seen in basketball in 33 years as a college head coach."
While Valentine wishes the incident had never occurred, he has no regrets about how he handled it. "I did what I had to do," he says. "He was more or less attacking my manhood." (Through an ESPN spokesman, Knight declined to comment.) The Big Ten fined Knight $10,000 for his remarks and censured Valentine for calling a "clearly erroneous" second technical on Knight, because the coach was allowed to be on the court. As punishment the Big Ten barred Valentine from working any of its teams' nonconference games during 1998--99. A year later Valentine gave a lengthy unauthorized interview about the incident to Referee magazine, after which the Big Ten suspended him for the 1999--2000 season for speaking to the media without permission.
Valentine was able to find work in the ACC, Big East and Conference USA, among other leagues, so the run-in with Knight didn't cost him his livelihood. It did, however, do something that for a ref, is almost as harmful: It made him famous.
While Nichols insists that the decision had nothing to do with Brouhaha in Bloomington, Valentine did not work the '98 Final Four after reffing in six of the previous seven. The best referees go unnoticed, and the incident in Indiana, combined with his stylistic flourishes, made him the target of intense criticism. Valentine also had strained his relationships with colleagues and league officials. After the 2002--03 season, Hyland sent Valentine a letter by Federal Express informing him that he would no longer be assigned to work conference games. "I cried a little bit, because I was like Art's son," Valentine says. The league's coaches lobbied to bring Valentine back, but Hyland rebuffed them. "I said, Look at our list of the top 12—he's better than almost everybody there," recalls former UConn coach Jim Calhoun. "They said he doesn't mix well with the other staff members, the other refs, and do I see why that would be a problem? I do."
ACC coaches say Valentine caused similar headaches for John Clougherty, who became the conference's supervisor of officials in 2005. A veteran ref who had worked three Final Fours with Valentine, Clougherty stopped assigning him games in '08--09 before bringing him back part time. (Neither Hyland nor Clougherty responded to repeated requests for comment.)
Gradually, Valentine has toned down his act. His demeanor has become more measured, his calls more disciplined. "We all go through a maturation period," says Hightower, who declined to discuss the incident in Indiana, "but the bottom line is that Ted Valentine right now is as fine a referee as there is in the game," In 2006 he returned to the Final Four, in Indianapolis, working the semifinal between George Mason and Florida. As he walked to the arena that night, he spotted Nichols outside, smoking a cigarette. Nichols smiled and said, "Teddy, you are now out of purgatory."
Valentine also reffed the 2007 national semifinal between Ohio State and Georgetown as well as the '10 championship game between Duke and Butler. Three years ago the Big Ten finally assigned him a game at Indiana, though Knight had left a decade earlier. For all his conflicts, Valentine has usually found a way to mend fences, but Knight remains an exception. On three occasions Valentine has refereed a game during which Knight sat courtside as an ESPN analyst. The latest was at Texas A&M on Jan. 17. When Valentine saw Knight at the broadcast table, he started walking toward him with the intent of extending his hand. "Something hit me and I thought, this is not the place," he says. "It's got to happen in private somewhere. That's how much respect I have for him. You see him getting older, and you know you're not far behind. I don't need no apology from him. He don't owe me nothing. I just want to shake his hand, let him know I have no ill will. I would like to have that moment, so we can talk as men."
There is one cohort in basketball that reveres Valentine above all others: younger referees. Whenever Valentine is assigned to work a game with a greenhorn, he goes out of his way to make the kid feel comfortable. He asks the young ref to handle the pregame administrative tasks and lets him toss the opening tip. And Valentine makes sure that if the coaches have anything to say, they say it to him. "He's young like you were young," Valentine tells the coaches. "Leave him alone. Let him work."
Valentine compares himself with George Foreman, who transformed himself from a menacing young fighter into a cuddly middle-aged guy who sold grills. "I laugh more," he says. "I talk with the fans more. I like it when they tease me. I really do. They'll be yelling and screaming and I might say, 'Hey, I don't come to your office yelling at you.'" The older refs who watched Valentine break into the business marvel at his ability to survive and advance. "Ted has done a great job of adapting," says Tim Higgins, a retired veteran of 10 Final Fours. "In our business we're nomads. There's always somebody who wants you, and there's always somebody who's mad at you."
Valentine has more people in each camp than he can count, but that doesn't bother him. This is, after all, a man who has spent most of his adult life working a job in which every office is a potential crime scene. So what if he left a little blood on the floor?
VALENTINE COMBS BLOGS THAT PROCLAIM HOW GODAWFUL HE IS. "I GET BLAMED FOR GAMES I DIDN'T EVEN REF," HE SAYS.
THE RUN-IN WITH KNIGHT DIDN'T COST VALENTINE HIS LIVELIHOOD. IT DID DO SOMETHING ALMOST AS HARMFUL: IT MADE HIM FAMOUS.
PHOTO
Photograph by TODD ROSENBERG FOR SPORTS
ILLUSTRATED
MADE-FOR-TV MOMENT Whether he's working the Big Ten tournament (left) or the national-title game, Valentine strives to have a good time.
PHOTO
Photograph
by TODD ROSENBERG FOR SPORTS
ILLUSTRATED
NOT JUST A DAY AT THE OFFICE Even though he's called thousands of games over the last three decades, Valentine knows that, for the players, every time they're on the court, it's one of the biggest moments of their lives.
PHOTO
GARRETT EWALD/AP (KNIGHT)
TECHNICAL DIFFICULTIES While most coaches appreciate Valentine's judgment and confidence—he T'd up Boeheim (above) the first time he worked in the Carrier Dome—he admits that his exuberance contributed to the infamous altercation with Knight (left).
PHOTO
BILL SIKES/AP (BOEHEIM)
[See caption above]