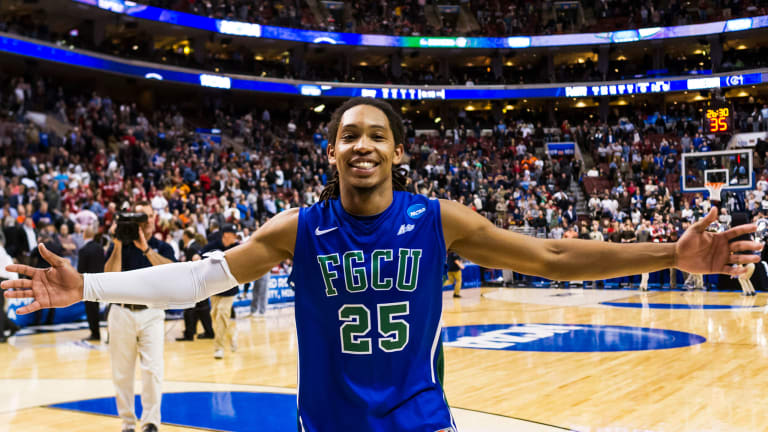 A SLAMMING SUCCESS
Florida Gulf Coast made history with two wins—and showed Cinderella can have serious ups.
In just three days, they were transformed. The Florida Gulf Coast Eagles came into the NCAA tournament as a No. 15 seed from the wrong side of the college basketball tracks. America was expected to briefly embrace the tale of a college that was chartered 22 years ago in Fort Myers and had been accepting students only since 1997; whose coach, Andy Enfield, was one of the first employees of—and retains an equity stake in—a software company worth far more than the $100 million mentioned in news reports; and whose players, overlooked and guileless, exhibited an enthusiasm often missing in a sport that makes world-weary adults out of AAU superstars. But then the Eagles were supposed to return to obscurity.
Instead, FGCU turned a long weekend in Philadelphia into one of the most unlikely and enthralling stories in the 75-year history of the tournament. First the Eagles unleashed a withering, 21–2 second-half run on mighty Big East regular-season co-champion Georgetown, the No. 2 seed, en route to a 78–68 victory. Afterward, 6'3" FGCU sophomore guard Bernard Thompson, a spidery and relentless defender, said, "We just kept attacking them until they cracked. And they cracked. They really couldn't match our energy or anything." Beyond the result was the soaring, breathtaking manner of it: a succession of thunderous throwdowns by 6'8" forwards Chase Fieler and Eddie Murray that made the team's Dunk City nickname self-evident. Most of these came on fearless and creative lobs from 6'3" sophomore point guard Brett Comer, who played at Winter Park (Fla.) High in the long shadow of Austin Rivers, now of the NBA's Hornets.
Forty-eight hours later the Eagles became the first No. 15 seed to win a second game, taking down No. 7 San Diego State 81–71 with yet another crushing second-half run, this one 17–0 over a 5:36 span. Thompson and 6'4" senior Sherwood Brown of Orlando—who works the team into a pregame frenzy with his Choppa City Juke dance, borrowed from Chris Johnson of the NFL's Titans—combined for a furious 40 points, and Comer handed out 14 assists, including three for lob jams to 6' 9" sophomore Eric McKnight. "We don't want to dunk every time," said Fieler. "The rims aren't that strong."
Moments later it was Thompson who lingered on the press conference dais to make a final point to a smitten media: "Dunk City is coming to Arlington, so everybody be ready." He was referring to the site of the South Regional, where on Friday, FGCU will play in the Sweet 16 against Florida, a delicious matchup of Sunshine State basketball royalty and its nouveau riche.
The Eagles are far more than the boilerplate Cinderellas that have long given the tournament its drama. In an era of control-obsessed coaching, defensive lockdowns and scores that struggle to reach 50, they have restored brio to the game. "We try to push the basketball," says Enfield. "I know that's not common in the game today." Nor is Enfield's résumé, which includes four seasons as an NBA assistant; six years as an entrepreneur and a partnership in TractManager, a software contract management company; five years as an assistant at Florida State; and two years at FGCU. (He married the former Amanda Marcum, a model, in 2004; they have three children.)
None of his players were top prospects. They lost twice this year to conference rival Lipscomb, which finished 12–18. ("It's a good thing we're not playing them in the Sweet 16," says Murray.) Yet now they have made history with flair. And more of both beckons.