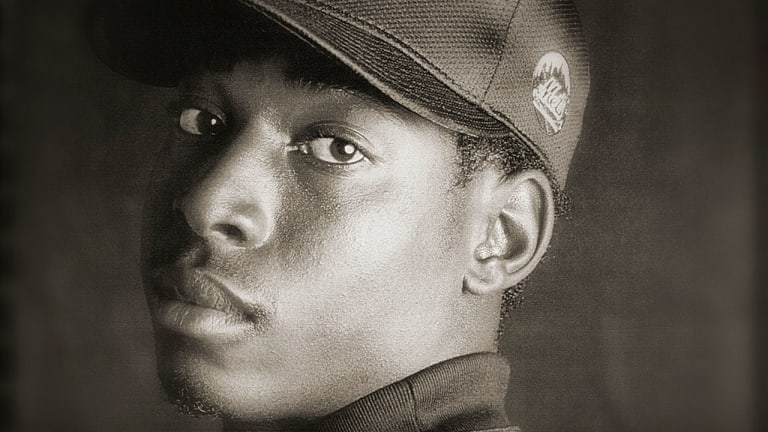 The Best Player You Never Saw
In clubhouses from Class A to the majors, even superstars such as Albert Pujols still speak in awe of the promise of Brian Cole
IN AUGUST 1994 major league baseball players were on strike, and Reds reliever Johnny Ruffin was in Mississippi, near his home, trying to keep his arm loose. One muggy afternoon he pitched some innings in a game at Cheyenne Park, a gritty ball field nestled in the woods between Meridian and Collinsville. They called it semipro ball, but the players never got a dime, even though several of them had played in college or the pros. Greg Cole, who had been an outfielder at Southern Miss in the early '90s, struggled that day against Ruffin. "Johnny knew me, so I got nothing but nasty sliders," Cole recalls. "I didn't touch anything. None of us did."
Greg had brought along his little brother on a lark. Fifteen-year-old Brian Cole stood in the batter's box, wagging a bat that seemed nearly as tall as he was, staring unafraid at Ruffin, a 6' 3" whip of a man with a filthy low-90s slider that he'd forged on fields just like this one. Ruffin lifted his knee and unleashed a hissing bottle rocket that he later swore was "at least 92." The hiss became a crack that echoed into the pine trees some 500 feet away, soon followed by the ball. When Brian Cole touched home plate, all 5' 4" and 130 pounds of him, the only jaw not on the ground was his own. "He was just smiling," Greg says. "He didn't know."
Ruffin later discovered that the pitching rubber at the field was only 55 feet from home plate. "So my 92 probably looked to him like 97 or 98," Ruffin says. "It wasn't the kind of thing you forget."
More than 18 years later, the legend of Brian Cole blows through the wildflowers that now cover Cheyenne Park and the other neglected diamonds around Meridian. And it lurks in a handful of big league clubhouses, where the mention of Cole's name makes some of the game's brightest stars light up.
"Of course I remember," says Yankees ace CC Sabathia. "It was my first start as a professional."
The Indians' brass had made a caravan to Burlington, N.C., on Aug. 4, 1998, to watch Sabathia, the towering 18-year-old lefty they'd drafted two months earlier in the first round—17 rounds before the Mets picked the 5' 8", 160-pound centerfielder who was hitting cleanup for Kingsport that day. "I pulled Brian aside and said, 'Look, this guy's 6' 7" and throws 97, 98 and has a 93-mile-an-hour slider,' " recalls Tim Foli, who managed the Kingsport Mets that season following a 16-year playing career. "I told him, 'If you want to sit this one out, I won't think any less of you.' Brian just looked at me with that grin he had and said, 'I got it, Skip.' "
Sabathia hit 97 on the gun in the first inning. That was about the speed of the fastball Cole sent clanging off the wall in left center in his first at bat on his way to a two-hit night with a stolen base, an RBI and two runs scored. It would not be his last meeting with Sabathia, nor the most memorable, but it left an impression on the young pitcher who would go on to win 191 games (and counting) in the bigs. "Brian Cole," Sabathia says, "was the player who showed me I needed to develop an off-speed pitch."
"Let me tell you a few stories," Foli continues. "Brian would take a lead off third that was halfway down the line, and there was nothing the pitcher could do about it. Then one time he just scored. Ran across home plate standing up. It stunned all of us. He did it about four or five times that year. Stole home standing up."
Cole played outfield in the Mets' system from 1998 through 2000. He hit .306 with 42 home runs, 90 doubles, 193 RBIs and 135 stolen bases, numbers that might remind you of the ones Angels phenom Mike Trout put up in three-plus years in the minors—except that Cole had a lot more homers, doubles and RBIs and was 50 pounds lighter and five inches shorter than last year's American League Rookie of the Year.
"Have you seen him play?" asks Albert Pujols, as if that's the first question in any discussion of Cole. The Angels slugger played with Cole in the Arizona Fall League as a Cardinals minor leaguer in 2000, before he went on to win three National League MVP awards. "You'd think, man, this is just a little guy," Pujols says, "and then you were amazed by his power—driving the ball into both gaps and then standing on third like it was nothing." Finally Pujols asks, "Have you talked to Heath Bell?"
"I collect bats," says Bell, the Diamondbacks reliever and three-time All-Star, "and I have only one that's unsigned, because Brian never got to sign it." When guests in Bell's home see the strange name branded on his prized bat but no signature, Bell says, "I sit them down and tell them about the best ballplayer I've ever seen."
"The first thing I think of is the one he hit off the scoreboard against me in Columbus, Georgia," says Sabathia, who was otherwise dominant on July 23, 1999, the second time he pitched to Cole. The big lefty allowed three hits and struck out seven in six innings, but Cole's blast is what he remembers from that night. It was "terrifying," according to a scout who saw it, and is still the subject of whispers among players who were there.
"He was a player we were going to build around as an organization," former Mets general manager Jim Duquette testified in a Mississippi courtroom in August 2010. "We were planning on David Wright at third base, Jose Reyes at short and Brian Cole in the outfield. We were hoping that somewhere around 2002 he would be on the scene as a rookie in the major leagues."
I almost gave birth to Brian on a baseball field," says Maudelene Cole, rocking in her chair one afternoon in Meridian. "It was the last game of the summer over at Crestwood Field."
Brian's father, William (Pee Wee) Cole—shortstop, pitcher and captain of the Sandflat A's, one of the best semipro teams in Lauderdale County—got his pregnant wife to the hospital on time on that September day in 1978. Then, for all intents, he drove the child right back to Crestwood, one of several fields in the area that once felt the spikes of Negro league greats such as Satchel Paige. Like Paige, Brian would learn the game by playing it against men two and three times his age on crude diamonds shielded from the world by miles of forest and screaming crickets. Before Dennis (Oil Can) Boyd pitched in the World Series for the 1986 Red Sox, he pitched for Pee Wee Cole's team at age 13.
Built like the college slot receiver and punt returner he would become, Brian was a coiled spring. The hand-eye coordination that his teammates and coaches still struggle to describe—the ability to put the barrel of the bat on any pitch thrown near him—was honed with a broomstick and a pile of what Brian and his brothers called "cuckabugs." These spiky nuggets, which still fall from the sweet-gum trees in the yard outside the Coles's former house on 34th Avenue in Meridian, were fired at Brian by a daunting three-man rotation of Robert (Popeye) Cole, his oldest brother, the first black player to earn a baseball scholarship to Ole Miss; Greg, who starred at Southern Miss with future Pirates slugger Kevin Young; and Michael, the youngest and most athletic of the Cole kids until Brian came along. "They took over raising him," says Maudelene, who worked full time as a cashier at Captain D's Seafood on 22nd Avenue. "It was a wonderful thing, a blessing."
Brian earned all-state honors in both football and baseball at Meridian High, whose football program was then the most successful ever in a state that produces NFL talent the way it once produced cotton. Playing running back in a brutally simple offense, he averaged 12 yards from scrimmage. Recruiters from Florida State, Nebraska and Tennessee came to lure him to their megastadiums. But his passion was baseball.
High school baseball has been played in Mississippi since the 1920s. Cole was the first kid in the state to hit four home runs in one game. In his senior year he hit 10 homers in a six-game span, and set the 5A state season record with 22 home runs. It still stands.
Opposing coaches asked to check his bat. Some teams tried walking him, even when he led off an inning. They might as well have asked Cole to turn left out of the batter's box and take third. He'd steal his way there soon enough.
He wasn't perfect. The best player we've never seen, as both Sabathia and Pujols call him, had at least three weaknesses: He didn't care for schoolwork, he didn't always run out ground balls and he could become desperately homesick. His first weakness soon ceased to matter, for he was almost done with school. He would turn the second weakness into a strength, beating out routine grounders to second and frightening countless minor league infielders into errors. The third weakness, his homesickness, is the one he would never defeat, the one that would help bring about his end.
Bad grades kept Cole from Division I baseball, and his lack of size pushed him to the 36th round of the 1997 draft. His brother Greg turned down the $5,000 signing bonus offered to Brian by the Tigers and drove him to Corsicana, Texas, just in time for football season at Navarro Junior College.
In the fall of '97, near the end of an all-conference season as a receiver and kick returner, Brian's football coach, Keith Thomas, walked him over to meet Navarro's baseball coach, Skip Johnson. "We went straight from football practice," Thomas recalls. "Brian was wearing football cleats, and sweats that were still wet from his shoulder pads."
Johnson says, "The first fly ball I hit him, he falls flat on his face. Then he pops up and runs it down and catches it at the wall like a touchdown pass."
"Willie Mays--type deal," Thomas says. "Me and Skip just looked at each other."
"Ask Brad Hawpe," says Johnson, now the pitching coach at Texas. "If he doesn't tell you Brian Cole is the best player he's ever seen, I'd be shocked."
"It'd be hard to say he wasn't," says Hawpe, who has played eight years and hit 124 home runs in the big leagues after starring at Navarro and then LSU. "That first day he raced our fastest guy and beat him by three or four steps, and he wasn't even running. Then he picked up a bat, and ... it was beyond special."
Cole's statistics during his lone season at Navarro were "just crazy, Wiffle-ball numbers" says Dave Lottsfeldt, the Mets scout who signed him. Cole hit .524 and smacked 27 home runs, more than double the previous school record. He stole 49 bases, drove in 82 runs and scored 95—in 60 games. "And this was a very good level of baseball," says Hawpe. "We played against tons of guys who went on to D-I [and] pro ball." The football player no one had heard of was named Baseball America's junior college player of the year.
Three years later, in the spring of 2001, a young pitcher named Mark Hamilton was playing Class A ball in Battle Creek, Mich., when a question was kicked around the bullpen one night. "Who was the best player you ever played with?" The answers were familiar—Kerry Wood, Torii Hunter, Vernon Wells—until Hamilton's turn came. "The best player I've ever seen, hands down," he said, "was a guy named Brian Cole."
The relievers looked confused, but in a corner of the bullpen a righthanded submariner named Mike Ribaudo nearly fell off the bench. "I said, 'Wait a minute, what the f--- did you just say?' " remembers Ribaudo, who had played a season with Cole in the Mets' system.
"It was Mike's secret, and he thought he was the only one who knew it," recalls Hamilton, who had pitched against Cole while at Panola [Texas] Junior College.
"I wanted to hug [Mark]," Ribaudo says. "We were like two guys who had seen the same UFO."
Hamilton told the bullpen skeptics how he'd offered Cole a first-pitch changeup the first time he faced him. Cole had swung and missed by a mile, and somehow Hamilton had struck him out. "After I got drafted," Hamilton said, "a scout with the Indians visits me and says, 'I was at one inning of one game your freshman year, and I saw you face one hitter. I'm here because you struck out Brian Cole.' "
"All the fish stories you're hearing are true," says Rob Walton, a former Indians scout who is the pitching coach at Oklahoma State. "I watched him five times that year [1998], sometimes just for the experience of it. I told [my bosses], 'This is the reason we drive all these miles. This guy Cole.' I haven't seen a guy like him since."
"That scout didn't see the home run he hit off me," Hamilton says. "That same game, I threw him a slider that slipped out of my hand, and Brian jumped—his feet actually left the ground—and he hit it out to right center. It looked like a dang pitchout, and he hit it 450 feet the other way."
Lottsfeldt saw it. "It was a foot off the plate and a foot over his head," the former Mets scout remembers, his voice falling to a whisper. "I just said, My Lord."
Duquette, then the Mets' assistant G.M., remembers reading Lottsfeldt's glowing reports about Cole. "I asked Lottsy, 'What's it gonna cost us to sign him?' He said, $100,000. I said, 'Why so low? I was thinking he'd cost us a million dollars.' He said, 'He's 5' 8".' "
The Mets picked Cole in the 18th round, and Lottsfeldt drove from Texas to Meridian to sign him. He found Brian living with his dad (Pee Wee and Maudelene had split up in 1988) in a house with more than one missing window. The football recruiters were still hovering—Florida State's Bobby Bowden would continue to call Cole throughout his minor league career—but Brian had always dreamed of providing for his mother, so he deposited his $100,000 signing bonus in the bank where Greg worked and flew to Kingsport. He had to change planes in Atlanta and missed his connecting flight because he went to baggage claim. He didn't know his bags would be placed on the next plane for him. He'd never flown before.
When Cole arrived at Kingsport, he didn't look the part of a minor league prospect. "My cleats weren't cleaned from the night before," says former Mets minor leaguer Brian Jenkins, "and I asked one of the clubhouse kids if he could do it. He was like, 'Nah, man, I just got drafted. I just signed to play with y'all.' That first batting practice, my foot was in my damn mouth. I stood there like, Where's he getting this pop from, man?"
Cole spent less than a season in rookie ball, and the next year he assaulted the South Atlantic League with his lavish Negro leagues style of play—swing hard, run harder. He had 50 stolen bases, 71 RBIs (from the leadoff spot), 18 home runs and 97 runs scored in 125 games.
In 2000, after three absurdly productive months in the Florida State League (.312, 15 home runs, 61 RBIs, 54 steals, 73 runs), Cole was promoted to Double A Binghamton. Double A is where raw talents usually meet their match, and the Eastern League is where Cole met his. He hit .136 in his first 59 at bats. "Pitchers are a lot smarter up here," he confessed to a reporter. "You don't get those 2--0 fastballs that you get down in Single A."
"I remember telling him to hit the ball on the ground and use his speed," says Pat Strange, then the Mets' top pitching prospect, who would become close friends with Cole. "I believe his response was, 'Shut the f--- up and worry about throwing strikes.' "
Among Cole's abundant gifts, his ability to adjust may have been the most transcendent. What's a Double A slider to a kid who used to tattoo "cuckabugs" with a broom handle? He hit .349 over the final 30 games of 2000—his final season, as it turned out—including a 10-game hitting streak that featured four home runs. Binghamton went 26--4 during Cole's tear and came from eight games back to win the division. The resurgence culminated in a champagne-soaked dog pile.
"Brian was wired to succeed," says Ribaudo. "He didn't fail. Ever." Ribaudo, who now casts and choreographs baseball scenes in movies (he has worked on Moneyball and The Bronx Is Burning), has set up a production company, Meridian6 Films (Cole's jersey number was 6), expressly to make a feature film about Cole.
When Binghamton's season ended, Cole was honored in a pregame ceremony at Shea Stadium as the player of the year in the Mets' organization. He was sent to the Arizona Fall League to play against the cream of the minor league crop, including a promising third baseman the Cardinals had picked in the 13th round. "When I got there I heard [Cole] was a big prospect, and it was plain to see why," Albert Pujols says. "Amazing speed. Amazing power. People talk about five-tool players, but this was a six-tool player because he was such a competitor. I thought, Man, I'm in a special group here if there are players like this around me."
"People say they've seen Halley's Comet, well I've seen Brian Cole," says Kevin Mench, the former Rangers outfielder who played for the Grand Canyon Rafters that fall and watched Cole set an AFL record by hitting in 16 straight games. "Everyone knew he was going to be a star in the majors one day. He had this glimmer about him, this glow."
"Brian was the in crowd," says Pujols. "Everyone knew how talented he was and what a good guy he was and wanted to be around him. I remember being in the clubhouse before games, and he would walk in and the place would light up. Not because of anything he said, but—that smile, man. He was just friendly."
During the season Cole rarely strayed from his daily routine: apartment to ballpark to apartment. Recollections of him in nightclubs are far fewer than ones of him in a cut-rate hotel room engaged in all-night PlayStation sessions with teammates, telling them how good he was at Madden while demonstrating it with his thumbs. Southern rap was his music of choice, its skittering hi-hats and molar-rattling bass lines taking him back home to Meridian.
Heading into spring training in '01," says Mets strength coach Jason Craig, "everyone had heard about Brian, and everyone wanted to see if the legend really matched up. When he got in the cage we were all, Oh, O.K. Now I see the light." Mets catcher Mike Piazza told ESPN's Peter Gammons, "Let me give you a name to remember—Brian Cole."
A prospect creating even more buzz during camp, however, was Jason Tyner, the speedster the Mets had picked in the first round the same year they drafted Cole. "The big league guys started talking about wanting to see those two race," recalls pitcher Nick Maness.
There are as many versions of the 60-yard footrace between Cole and Tyner as there were strides in the race itself. Some versions have Cole slipping and falling at the start. But they all end the same way: with Cole backpedaling the last 10 yards, two or three body lengths ahead of the outfielder who had been paid a $1 million signing bonus specifically because of his speed. "Brian didn't say nothing to [Tyner]," says Jenkins. "He just looked at him like, Are you coming?"
"He was knocking on the door [of the majors]," says Mookie Wilson, the Mets' first base coach, who had managed Cole in Arizona. "I remember telling [manager Bobby Valentine], 'This guy's going to force you to make a decision soon. He's going to make your life hard.' "
Mets centerfielder Jay Payton had finished third in the 2000 NL Rookie of the Year voting and helped the Mets get to the World Series. When spring training ended, the team assigned Cole to Binghamton and told him he'd be in Triple A Norfolk by summer. Disappointed yet buoyant, Cole told fellow outfield prospect Alex Escobar as they packed their lockers in Florida, "Let's get out of here, papi. Let's go play some ball."
A few days earlier Cole had been in a fender bender in a Taco Bell parking lot; he told the Mets that he was going to drive his Ford Explorer to Mississippi so his brother could have it fixed. He'd fly to Binghamton from there. He also wanted to pick up his teenage cousin Ryan Cole in Jacksonville and bring him home too.
"We argued about it," remembers Greg Cole. "I wanted to go pick up the truck so Brian could just fly to New York from Florida, but he said no." It wasn't the dent and it wasn't picking up his cousin that made Brian so adamant about driving to Mississippi. It was his third and most tender weakness. Says Greg, "He just wanted to come home."
Cole gave Brian Jenkins a ride home too. The catcher was from a small town in the Florida Panhandle. When Cole dropped him off at the Blountstown exit on March 31, Jenkins, who had been assigned to Class A, said, "I'll be up there with you in Binghamton in two months."
"Shoot," Cole laughed. "I might be at Shea by then."
A friend of Jenkins's picked him up and drove him south toward his home in Gulf County. During their 40-minute trip, a teammate called Jenkins and asked for Cole's number. "I said I'd have Brian call him," Jenkins recalls. "So I call Brian. No answer. Try him a couple more times. No answer. Call again, and a state trooper picks up."
Florida Highway Patrol investigator Rick Warden had arrived at a single-car crash near the small town of Sneads to find bats and cleats and fielder's gloves lying in a broken trail on the interstate. "I said to myself, This was somebody," Warden recalls.
Cole had driven on the median for 100 yards in an effort to avoid a car that abruptly entered his lane. As he tried to get back onto the road he lost control of the vehicle; his Explorer leaped off the asphalt and rolled three-and-a-quarter times before coming to rest in the median's foot-high grass. Ryan Cole had remained belted and would walk away from the scene. Brian had been thrown from the Explorer and suffered injuries to his skull, brain, lungs and several other organs.
Despite his harrowing condition, as Cole was being driven to Jackson County Hospital he began "coming back, arousing, thrashing, fighting and pulling on the tube," EMT Terry Powell testified later. "[My] partner rode in the back with me to help me keep him controlled." Cole's fight ended at the hospital three hours after the crash. A nurse made a call to Meridian that numbed the town and brought Maudelene Cole to her knees.
The Mets were in Pittsburgh for their season opener. A close-knit team, they had gathered that evening at the Ruth's Chris Steak House across from their hotel to celebrate their World Series appearance and raise a glass to a promising 2001. "We saw [G.M.] Steve [Phillips] on the phone for a long time, and everyone got the creeps," Piazza told reporters the next day.
No one recalls who broke the news to the team, Valentine or Phillips, but everyone remembers that several players simply got up and left. A larger number sat motionless and began weeping.
"And these were guys who knew Brian only for a little bit," says infielder Desi Relaford. Cole had endeared himself to everyone there with a talent so bright it was bewildering, with his quiet professionalism, with the flair he showed in the Tyner race, with a shy smile that, Jenkins said, "had 137 teeth in it." And now, at age 22, he was gone.
"I distinctly remember the feeling in my stomach," Valentine recalls.
"It crushed my life," says Pat Strange, remembering sucker punches to the ribs he had felt during preinning warmups as Cole ran off, cackling, toward centerfield. Strange's voice catches. He is driving his nine-year-old son, Brian Cole Strange, to baseball practice and describing a memorial service held 11 years earlier inside the Meridian High gym. ("Because there wasn't a funeral home in Mississippi big enough," says Oil Can Boyd.)
Heath Autrey also named his son after Cole. "And it has nothing to do with baseball, I promise you," says the former Navarro third base coach, who once offered Cole a steak dinner if he could hit three home runs in a game. (Autrey was greeted in the eighth inning by a grinning Cole, who said, "Medium rare.") "It was," Autrey says, "Brian's spirit, his effect on people."
"Watching him play, it made you feel good," says Rob Walton, the scout turned college coach, searching for better words but coming up empty. "It just made you feel good."
Boyd has kept a Cole baseball card in his wallet since the death of the prospect who, he says, "was better than Rickey Henderson." Maness, Cole's best friend in the organization, has a tattoo on his pitching arm of Cole gripping a bat. There are dozens of remembrances like these, but the most powerful one might well be the photo of Cole that hangs in the home of an elderly white woman in east Meridian. A friend of Greg Cole's, a housepainter, saw it there a few years back and nearly dropped his roller and can. The lady explained that the young man in the photo had played ball with her son when they were little, and that she loved him. Then she continued about her business. She probably didn't even know he had died.
Maudelene Cole can't believe it herself sometimes. The house she lives in is new but small, with the wraparound porch she used to dream of when she was young. The home that Brian always wanted to give his mother was bought in 2011 with a portion of the undisclosed sum awarded to the Cole family to settle a lawsuit against Ford that lasted nine years and involved three trials. The first was declared a mistrial. Six years later, the second trial ended in a hung jury, one juror short of the nine-vote majority needed to rule in favor of the Cole family, which claimed that Brian's Explorer was defective in its design.
In the third trial, in 2010, a jury in Jasper County, Miss., found that the Explorer model that Brian had been driving was prone to roll over and that Brian's seatbelt had malfunctioned. (Ford stands by its claim that Brian was driving at an unsafe speed and was not properly belted.) The jurors ruled that the Coles should receive $131 million in damages. Ford, already having lost billions of dollars due to Explorer-related deaths, injuries and recalls, quickly agreed to a smaller amount as part of a confidential settlement with the Cole family. The jury's $131 million award, intended to approximate Brian's future income as a major leaguer, was determined by comparing his minor league statistics with those of current and former stars such as Kirby Puckett, Torii Hunter and Pujols.
When he spoke about Cole recently, Pujols asked that a message be relayed to Cole's mother. "Tell her I thank God for letting me play with Brian," he said. "Tell his family that we still remember him." When Maudelene hears these words she slides her fingers beneath her glasses and wipes her eyes. "It's O.K.," she says. "These are tears of joy."
Lying on her coffee table is a poem Greg found about a year after Brian's death, while going through some old stuff at his dad's house. It is eight lines long, written in Brian's awkward handwriting. It begins "Moma," and near the end it reads: "Growing up I hated to see you cry/I'll love you always, even when I die."
A smile fills Maudelene's face, the same smile that's on those fuzzy-edged baseball cards lying next to the poem. "This might sound strange to y'all," she says, "but how can you mourn someone who's still here?"
If someone told me these stories, I wouldn't believe them either. You had to see him play.
—CC SABATHIA
"Brian would take a lead off third that was halfway down the line," Foli says. "Then one time he just scored. Stole home standing up."
"The first fly ball I hit him," Johnson says, "he falls flat on his face. Then he pops up and runs it down and catches it at the wall."
Autrey named his son after Cole. "And it has nothing to do with baseball," he says. "It was Brian's spirit, his effect on people."
PHOTO
PHOTOGRAPH COURTESY OF THE COLE
FAMILY
A Sure Thing At spring training of 2001, Mets coach Mookie Wilson said Cole was "knocking on the door" of the majors and would soon force his way into the outfield at Shea Stadium.
THREE PHOTOS
PHOTOGRAPHS COURTESY OF THE COLE
FAMILY
Lumberjack Cole (from near right: in Class A, in Double A and at Mets spring training) could get solid wood on any pitch thrown near him.
TWO PHOTOS
PHOTOGRAPHS COURTESY OF THE COLE
FAMILY
Homeschooled Brian (with Maudelene in 1999) learned to bat by swinging a broomstick at "cuckabugs" fired at him by his older brothers.
PHOTO
PHOTOGRAPH COURTESY OF THE COLE
FAMILY
Unforgettable After Brian was buried in Meridian, he was memorialized on the outfield wall of his junior college in Texas.
PHOTO
MICHAEL MCKNIGHT (HEADSTONE)
[See caption above]