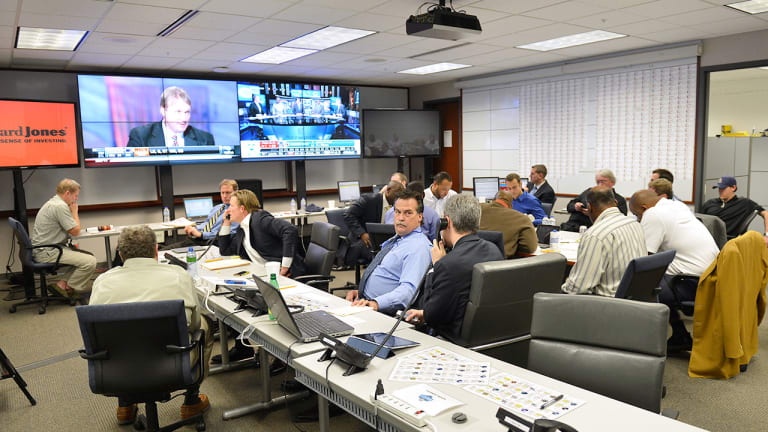 Publish date:
The Panic Room
For some, that was Radio City Music Hall on Day 1 of the draft. (Hey there, Geno Smith!) For others, it was a tense conference chamber 900 miles away, where the future of one NFC West climber hinged on a series of ballsy gambles—and whether an antique gold coin would bring a little bit of luck
The NFL draft, for the league's 32 teams, is about shoring up deficiencies with an eye on the competition. Last season the St. Louis Rams lost just once in four games against San Francisco and Seattle, the behemoths of the suddenly formidable NFC West. And yet the 49ers and the Seahawks both won playoff games in January while the Rams sat at home. Since then the Niners (adding Anquan Boldin and Nnamdi Asomugha) and Hawks (Percy Harvin, Cliff Avril) have been in an arms race. "They're like the Yankees and the Red Sox," says Rams COO Kevin Demoff. "But that's O.K. We don't mind being the Rays."
With the Rams relying heavily on a draft-and-develop route, days like last Thursday, Day 1 of the draft, loom as crucial. St. Louis entered the first round possessing the 16th and 22nd picks, and adding two impact players wasn't just a goal—it was absolutely vital to the Rams' hopes of contending in the division.
That first round was the culmination of nine months of scouting prep, the result of which would be either fist-pumping euphoria or abject disappointment. If in the next few seasons the Rams catch up to and pass the best in the West, San Francisco and Seattle, they'll point to these five hours last Thursday as the point when it all began.
5:47 p.m. CT, St. Louis Office of Rams COO Kevin Demoff
Days before the draft, G.M.'s Les Snead of the Rams and Buddy Nix of the Bills agreed on a tentative deal: Buffalo would send its first-round pick, No. 8, to St. Louis for No. 16 plus the Rams' second-rounder, No. 46, and the teams would swap third-rounders, moving the Rams up seven slots. Now Demoff's phone was chirping. It was Bills president Russ Brandon, and the news wasn't good: Buffalo had other suitors for the pick.
"Do we have to go get another partner?" Demoff asked. Could be, Brandon replied.
A dark cloud. On the big board in the windowless second-floor draft room at club headquarters were five targeted players. The two whom Snead and coach Jeff Fisher valued above all were West Virginia receiver-returner Tavon Austin and Georgia linebacker Alec Ogletree. Austin—a durable lightning bug and the most dangerous player on the board—was crucial. St. Louis ranked 31st in punt-return average in 2012, and QB Sam Bradford's 6.72 yards per attempt were 26th. Greatest Show on Turf? Not anymore. These Rams needed weapons.
In an ideal world St. Louis would move up to No. 8 for Austin, then take the troubled but speedy Ogletree at No. 22—or maybe trade down, still get Ogletree and recoup the capital they lost in getting Austin. A day earlier Fisher and Snead gathered the coaches and scouts to explain the plan and hear out any naysayers. There were none.
Losing the deal with the Bills, the Rams felt certain, meant losing Austin. The Jets picked ninth and coveted him. St. Louis had been trying to get ahead of New York for six weeks, got to the finish line, and—poof!—it could be gone in minutes.
Or the price could change.
6:10 p.m.
What would really seal the deal for Buddy is a seven," Bills cap guy Jim Overdorf told Demoff less than an hour before the draft. Demoff knew that if adding a seventh-rounder to the package was what it would take to finish the move, the 222nd pick wouldn't stand in the way. Snead and Fisher okayed it. The trade wasn't a lock yet—nothing is until both sides verbally inform the league of trade details. Now the Rams had to just sit and wait.
Snead, 42, paid his scouting dues under Falcons G.M. Thomas Dimitroff (a.k.a. Trader Thomas) in Atlanta. He's been a good match with the 55-year-old Fisher, who historically has been willing to take chances on talented players with troubled backgrounds or hotheaded streaks. Some have busted (Albert Haynesworth, eventually; Pacman Jones); some have paid off (Cortland Finnegan). Snead's draft attitude has been to not let the board come to him but to go get the players he wanted, using as much draft capital as needed. When he interviewed for the Rams' G.M. job 15 months ago, he told Demoff, "I will never be scared to make a move," and when the two drove to work together on the morning of the draft, he told Demoff, "Don't be scared today." That bravado would soon be tested.
7:55 p.m. Rams Draft Center
Thirty people in the 18-by-35-foot room—coaches, scouts, execs—waiting. The Browns, at No. 6, could have been a trade partner if their target, LSU defensive end Barkevious Mingo, wasn't still available. But Mingo was there, and Cleveland pounced. Snead grabbed a land line and rang Buffalo to see if the deal was still on now that they'd agreed to add a seventh-rounder. It was, as long as Arizona, at No. 7, didn't pull the upset of the draft and steal Austin.
7:59 p.m.
Bill​ Consoli, the Rams' director of information systems, sat in the back of the room, connected by a headset with New York. "The Arizona Cardinals select ... Jonathan Cooper ... guard ... North Carolina."
The room erupted in high fives and hugs, Fisher jumping up and pumping a fist. In back, the biggest smiles creased the faces of special teams coach John Fassel and receivers coach Ray Sherman. Demoff got NFL director of player personnel Joel Bussert on the phone to confirm the trade. "Joel, Kevin Demoff with the Rams.... Good, good.... The Rams send 16, 46, 78 and 222 to Buffalo for eight and 71. Got it? Have they called? Are we confirmed? ... Good. Bye."
Austin was a Ram. Limping from hip replacement surgery, Sherman called out, "He's gonna get coached up, baby!" Someone shouted to offensive coordinator Brian Schottenheimer, "You got your home run hitter, Schotty!"
Two large wall-mounted TVs tuned in to ESPN and the NFL Network began unspooling Austin's college highlights, and the room in St. Louis exploded: WoooopWooop!!! WoooooohHahahahaLookatthat! Assistant head coach Dave McGinnis sounded like a fan hollering from the cheap seats: "Do it, Tavon! Do it!" He clapped Sherman on the shoulder.
"Perfect," McGinnis said. "That's the perfect player for us."
Snead, meanwhile, was already aiming for the second one.
9:05 p.m.
The next four picks are crucial," Snead said, huddling with Fisher and Demoff in their seats at the front of the room as linebacker Jarvis Jones went off the board to Pittsburgh at 17.
The Rams sat at 22. They wanted Ogletree and were reasonably confident he'd be there. But they'd been talking with Houston at 27 and Atlanta at 30 about moving down to recoup some of what they'd given up to acquire Austin. Their fallback guy was UCLA defensive end Datone Jones, but if he and Ogletree were gone, they'd take Kentucky guard Larry Warford. As bravely as they spoke about Warford, though, picking him in the first round would amount to a big loss for the Rams.
Demoff laid out the options. "We can go to 30 and get a three and a seven from Atlanta, or we can go to 27 and get a four and a six from Houston."
"Or we can stay and just pick Ogletree," Snead chimed in.
Fisher went for a walk and rubbed his lucky 1901 $20 gold coin, a gift from his grandmother years ago that he'd brought out at every draft.
Snead, meanwhile, made a call. He and Ogletree share an agent, Pat Dye Jr., and at this moment Dye was sitting at a draft party in Atlanta with Ogletree and his family. Snead asked Dye what he'd heard. "You better not get cute," Dye replied, "or you'll lose him. If I'd said you could get Alec at 22 a month ago, you'd have kissed me on the mouth. Just take him!"
The 49ers traded up to 18 for LSU safety Eric Reid. The Giants took Syracuse tackle Justin Pugh. And then the Rams sweated out the linebacker-needy Bears. Consoli announced Oregon guard Kyle Long to Chicago, and the draft room went, Ooooooooooh.
9:18 p.m.
One of the biggest misconceptions outside of NFL draft rooms is that the people inside of draft rooms are omniscient, that they have a great feel for other teams' moves. The lone three-by-five-inch magnetic player card left on the top line of the Rams' board was Ogletree's, and all Snead, Fisher and Demoff had to go on now was a gut feeling that he had a chance to slip to No. 27 or 30. On the board Ogletree's card bore a yellow dot and sat slanted along the top line. "Yellow means caution," Snead said, and slanted meant there was still some doubt that he was a wise risk to take. Ogletree had a positive drug test (marijuana) and a DUI on his résumé. There was a chance he would slip.
Consoli: "Cincinnati takes ... Tyler Eifert ... tight end ... Notre Dame. We're on the clock."
Houston called to bow out. If the Rams wanted to trade, they had one option, Atlanta at 30. Snead rang Dimitroff. "T," he asked, "we still on?" The Falcons wanted a future seventh-rounder to clinch the deal, and the Rams had an extra one in 2015 from a trade with New England. Snead okayed it. Now the two teams, St. Louis and Atlanta, had to decide whether to go through with it.
Consoli: "Eight minutes."
Fisher massaged his 1901 coin. The Falcons were thinking. And thinking.
"Time?" Fisher asked.
Consoli: "Five minutes."
The phone rang. The Ravens, at No. 32, were feeling out the Rams about moving up if St. Louis traded down. Call you back. There was a palpable but unspoken sense in the room. Take Ogletree here. Don't risk the trade. We can handle him! We handled Janoris Jenkins!
Fisher and Snead exchanged a look—they agreed that waiting was a gamble worth taking—but amazingly said nothing. Two days earlier they'd decided that if they got this far, like Thelma and Louise they were going off the cliff. Snead dialed Dimitroff's cell. "T, it's yours. Who you taking?" A pause and he hung up.
Snead, to the room: "Atlanta ... Desmond Trufant."
Fisher: "We got 30."
Demoff called in the trade. This time there was no cheering.
"We'll get one of our guys," Fisher said, working the gold coin, "or we'll trade again."
"Now," Snead said, "Alec's sitting in Pat Dye's living room, and he'll see us trade down. And if we pick him, he'll come in with a massive chip on his shoulder."
9:43 p.m.
There were seven selections to go—Minnesota, Indianapolis, Minnesota again, Green Bay, Houston, Denver and, lastly, New England.
The Ravens called back offering a fifth-rounder to switch spots from 32 to 30. Dallas owned the 31st pick, and Snead asked his pro personnel czar, Ran Carthon, to run down the Cowboys' linebackers to see if they were a threat for Ogletree. Meanwhile, Demoff worked the phone, "scenario-shopping" with teams positioned high in round 2. "You have any interest in coming up to 30?" he asked Eagles G.M. Howie Roseman, preparing to trade if Ogletree was off the board at 30.
Sharrif Floyd to the Vikes. Bjoern Werner to the Colts. Xavier Rhodes to the Vikes.
Consoli: "Green Bay takes ... Datone Jones ... defensive end ... UCLA." Then silence. Fisher, speechless, stood up and stared at the board, still working the 112-year-old gold piece. Wasn't that supposed to be a lucky coin? Now it was Ogletree at 30 or bust. Oh, the Rams would talk bravely about what a good player Larry Warford is—but convincing their own defensive coaches would be much tougher.
"Want me to offer Houston a [sixth-round pick] to move down to us?" Demoff asked. Fisher grabbed the phone instead and dialed Texans G.M. Rick Smith, who was on the clock.
"Hey, you staying?" he asked. "Would you go to us for 198 [the Rams' sixth-rounder]?"
Evidently not. Fisher, off the phone, told Snead, "They want 113." No way the Rams were giving up a fourth-rounder to climb three spots. Minutes passed.
Consoli: "Houston takes ... DeAndre Hopkins ... receiver ... Clemson."
The Broncos on the clock at 28. "Ran, give me Denver's linebackers," Snead called out, and Carthon went into detail about players and contracts. Snead got on the phone. Whom he called, he wouldn't say, but with five minutes left he huddled with Fisher and Demoff. Quietly, he said, "Denver's deciding between," and he wrote in pencil on a Post-it: LACY WILLIAMS OGLETREE.
Alabama running back Eddie Lacy. North Carolina defensive tackle Sylvester Williams. And Alec Ogletree. "They just signed Wesley Woodyard to play [weakside linebacker]," Snead said. "I can't see them taking Ogletree."
"But," one scout said, "Ogletree was in Denver on the last day for visits." No one else spoke.
10:13 p.m.
Consoli: "Denver takes Sylvester Williams ... defensive tackle ... North Carolina."
Cheers—but not wild ones—and the first smile from Fisher in two hours. He tossed the coin on the table. "I bring it out once a year for the draft," he said. "For luck. Maybe.... " Demoff held his fist out for a bump, but Fisher shook his head. Not yet. Not yet.
Another call: Vikings G.M. Rick Spielman ringing Demoff, and the conversation went quickly before Demoff hung up. "They'll give us their two, three and four for 30," he said.
Snead: "No, no...."
Fisher: "No more screwing around now."
Two, three, four minutes passed. The 29th pick, New England's, was being auctioned.
Consoli: "Minnesota has traded into this pick."
"Gotta be Manti Te'o," said Snead.
Nope. A minute passed. Then two. Consoli: "Minnesota takes ... Cordarrelle Patterson...." The rest of it, you couldn't hear. There was too much screaming.
10:22 p.m.
Frank Bush!" Fisher yelled to his linebackers coach. "Go straighten Ogletree's card out!" A beaming Bush walked to the board and adjusted Ogletree's card to an ovation. "Man," he said, "that's good stuff. I've been waiting two weeks to straighten that card!"
"Let's call him," Fisher said, and he and Snead phoned Ogletree. "Coach Fisher here, Alec," he announced, then waited for the cheering on the other end to die down. "It's O.K., Alec. It's O.K. to be excited."
"Turn in the pick, Bill," Snead told Consoli. "Turn in, Alec Ogletree ... linebacker ... Georgia."
Midnight, Snead's Office at Rams Headquarters
Embracing the day's successes with friends, the G.M. took a deep breath. "Felt like Wall Street in there tonight," he said. "Is that what it's like on Wall Street?"
"I will never be scared to make a move," Snead told the Rams. That would be tested.
SI.COM
Respect for the Rams—but how does Peter King feel about Matt Barkley being drafted at No. 98? Honey Badger at No. 69? Or EJ Manuel at No. 16? Find out at SI.com/MMQB
PHOTO
Photograph by MICHAEL J. LEBRECHT II FOR SPORTS
ILLUSTRATED
SEE YA IN ST. LOUIS Projected as a late first-rounder, Austin wore a look of surprise (and a bold maroon suit to honor his high school football team in Maryland) when he went to the Rams at No. 8.
PHOTO
G. NEWMAN LOWRANCE/AP (DRAFT ROOM)
RAM TOUGH Fisher (center, in blue) and Snead (left of him, leaning in) worked the phones and the big board to land Austin (below left) and Ogletree (right), both of whom could start in Week 1 for the NFC West hopefuls.
PHOTO
KEN INNESS/ZUMAPRESS.COM (AUSTIN)
[See caption above]
PHOTO
TODD
KIRKLAND/ICON SMI
[See caption above]
PHOTO
JOHNNY CRAWFORD/MCT/ZUMAPRESS.COM (OGLETREE)
WANTED MAN At home in Atlanta, where he sweated out the draft with his agent and family, Ogletree rocked a Rams lid when his name was called at 30.