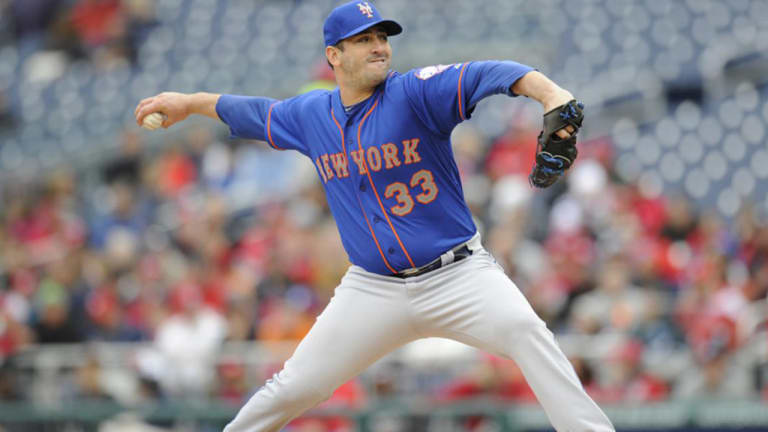 The Dark Knight of Gotham
Baseball belongs to young power arms, the most fascinating of which is the Mets' Matt Harvey. Armed with four plus pitches--and a chip on his shoulder from a draft slight six years ago--he just might end up owning a Yankees town.
IT MUST be nature.
The boy was barely two years old, yet there the toddler sat, oddly quiet, behind the backstop of another game in Groton, Conn. He was watching the Fitch High Falcons, coached by Ed Harvey, and the boy seemed to have an ear pitched at attention, the way an opera aficionado might listen to Verdi. Ed's wife, Jackie, took notice of their son's rapture.
"What are you doing?" she asked.
"Do you hear that sound?" the boy asked.
"What sound?"
"Do you hear that? That glove? That pop?"
The boy smiled.
"I like that sound."
It must be nurture.
Ed Harvey played centerfield for the UConn Huskies when they reached the 1972 College World Series. When he was hired to coach the Fitch varsity eight years later, he didn't know much about pitching, so he took to research and coaching conferences to learn. He found two popular methodologies of delivering the baseball. One was to thrust the elbows higher than the shoulders before release, so the arms form an inverted W. Ed saw more logic and comfort in the other style, in which the hands go up together, separate like two train cars uncoupling on the crest of a hill and then speeding down opposite sides. The throwing hand rides that momentum away from the body and then back up again, this time above the shoulder as the arms form a goalpost position. The throwing hand speeds homeward with the stored energy of that long arm swing.
"That's how I will teach my own son someday," Ed decided.
And he did. On the grassy area on the side of the family house in Mystic, the father would pace off the appropriate distance for the boy's age—45 feet when he was seven, 50 feet when he was nine, 60 feet six inches by 13. Ed would sit on a ball bucket, a concession to the worn knees of a former athlete, and catch his son's pitches. Always he stressed the swing of his son's right arm.
"Bring it down ... take it back ... show it to second base ... then go!"
The same words, the same arm swing ... over and over and over, so much so that even when the boy played shortstop he threw with that same long, syrupy loop.
This is what the son heard most from his father: "When you keep your arm swing, nobody's better. Nobody's better!"
Many years later, in 2012, Ed and Jackie were sitting in the stands at Coca-Cola Field in Buffalo. The little boy from behind the backstop was a Triple A pitcher in the Mets' system, struggling with an adversity that seems unthinkable now. Neither his first draft, in '07, nor his college career had turned out as he expected. He was playing catch in the outfield in Buffalo when suddenly Ed elbowed Jackie with excitement. "Look!" he said. "There it is!"
The perfect arm swing. Musculature and poor habits had muted it from time to time, but Ed recognized from a simple warmup that it was again in full bloom. It was as if that beautiful, cascading arc had transported father and son back to the side of the house in Mystic.
"It's been there pretty much since that day," Ed says. "I asked him the other day about it. I said, 'Your arm swing is perfect. You can feel that now, right?' He goes, 'Yep.' To me, as a coach, if you can get to a point where your player can coach himself, without someone reminding him, that's the best part."
IN AN era dominated by the power pitcher, Matt Harvey has the ferocity of stuff and of will to rise above all of them, which is the express intention of Ed and Jackie's son. Beneath the technical beauty of his homeschooled mechanics beats the heart of a born pitcher, though his repertoire suggests he was born to a previous generation. Harvey, 24, dismisses the modern conventions of cutting, sinking and running the ball through "front doors" and "back doors"—the popular subterfuge of placing pitches with late movement on the edges of the plate. He favors blunt, old-school hardball. Harvey's signature pitch is a 97-mph blowtorch of a fastball at the top of the strike zone. He also throws a roundhouse 1-to-7 curveball, a changeup that seems to float into the ether and a tight, hard slider that reaches 92. Says Mets first baseman Ike Davis, "Some guys get to first base and tell me they think his changeup might be his best pitch—from a guy who throws 98."
Harvey throws all four of his pitches with regularity, each of them at least 10% of the time. According to Fangraphs.com, only three other active power pitchers (average fastball velocity greater than 92 mph) throw four pitches with such frequency: David Price, Yu Darvish and James Shields. But none of them throw as hard as Harvey, who averages 95.0 mph on his fastball.
With his clean mechanics, brutish fastball and ability to stretch the strike zone vertically more than horizontally, Harvey is the closest facsimile to Roger Clemens since the Rocket fired his last pitch, in 2007. Indeed, the purity of Harvey's arm swing is eerily similar to that of Clemens's, especially in the moment when he reaches back for power: His arm goes stock straight behind him as he shows the ball to second base while sitting on a bent back leg—just as the Rocket did.
The similarity doesn't end there. Like Clemens, Harvey wants to own the game, not just rent a slice of it. Two springs ago, when Mets manager Terry Collins wanted to ease the pressure on the kid in camp by telling him he was ticketed for the minors, Harvey snapped back, "I'm here to make the team." (He didn't.) This spring, as Harvey prepared for his first full big league season, pitching coach Dan Warthen told him if he threw 210 innings, he could win 17 games. "If I throw 210 innings," Harvey said, "I'm winning 20."
As a teenager, Harvey, a Yankees fan growing up, and Ed often rode to the old Yankee Stadium. Matt loved Paul O'Neill, especially how the simple act of making an out might send O'Neill into a helmet-throwing, watercooler-kicking fit, and the way Clemens would use his fastball to bully hitters. These were his kind of players: They conceded nothing and despised even the smallest failures. After the game Matt would watch the Yankees' stars drive out of the players' parking lot in their sports cars and tricked-out SUVs, snaking through throngs of excited people who screamed their names. The kid would just watch and smile. He took away something better than an autograph: the dream that someday he would be the one driving through that adoring gantlet.
The dream is real now. Harvey was the National League pitcher of the month for April, just his third full month in the big leagues. His May, so far, has been even better: On May 7 he flirted with a perfect game against the White Sox, allowing just an infield hit and striking out 12 while walking none in nine overpowering innings. Through eight starts he was 4--0 this season with a 1.44 ERA while allowing the fewest hits per nine innings of any pitcher in baseball (4.3). The Mets were 6--2 when he started, 8--18 otherwise.
After 18 career starts, Harvey had a 2.10 ERA and 132 strikeouts in 1152/3 innings. He had struck out seven or more batters 12 times; in baseball history only Kerry Wood (15) and Hideo Nomo (14) had more. TV ratings for the otherwise moribund Mets shoot up when it's Harvey's day to pitch. Already this year he has matched up against two-time Cy Young Award winner Roy Halladay and Nationals ace Stephen Strasburg and thoroughly outpitched both.
This kind of domination is what Harvey expects. He is one bad dude armed with the rare fastball to push people around, and he knows it. He hangs with Rangers goalie and New York bon vivant Henrik Lundqvist, lives in Manhattan and drives a black Escalade, the jock chariot of his dreams. "People get out of the way," he explains of his city ride. "It's better than a small car."
Harvey doesn't want to be just another great pitcher. He wants to be measured against established, dominant stars such as Justin Verlander. "I want to be that guy," he says, "when they know you're starting against them, they go, 'Oh, crap.'
"The things Verlander has done, the games he's won, the guys he's struck out, and obviously the big contract he signed, you want to measure yourself against that and shoot for it.... I always wanted to be the tough, win-all guy. Any other way is not going to happen."
Harvey is 6'4" and 230 pounds, a near exact duplication of Clemens in his prime, with the same thick legs and large hands—the winning genetic lottery ticket of the classic power pitcher. His dark, serious eyes are set off by thick, dark eyebrows, dark tousled hair and dark facial stubble. In appearance and task, Harvey is the Dark Knight of Gotham. He is here because he believes he was born for it. He is here, too, because Harvey is a coach's son.
SCOUTS LIKE coaches' sons because they generally have been exposed early and often to proper instruction and the nuances of the game. Zack Cozart of the Reds, Sean Rodriguez of the Rays, Matt Holliday and Matt Carpenter of the Cardinals and Brett Anderson of the Athletics are just a few of the many coaches' sons in the game today. Cal Ripken and Chipper Jones may be the most prominent examples of coaches' sons who, in addition to their natural gifts, were held up as paragons for their deep understanding of the game. But the advantage becomes a detriment when the coach is overbearing. Eddie Bane, special assistant for player personnel with the Red Sox, recalls a pitcher, a former first-round pick, whose father would yell instructions and criticism at his son while he was on the mound. "[A coach] who is just living through his kid, that's a negative," Bane says. "Most of them aren't that way. Harvey's dad did a great job raising him. This kid's arm is really fresh. He's got a lot of bullets left. His dad was smart enough to realize at 10 years old he didn't have [just] a Little League all-star, he may have something special."
Ed didn't let Matt throw a curveball until he was 13 years old. "Within five throws he had perfect spin," Ed says. He never did teach Matt a slider for fear of the strain it can put on the elbow. (Harvey picked it up in college.)
The father and the son always were close. After Matt was born, Jackie returned to teaching second grade. It was Ed who took the boy to day care and then to school and who was home when Matt returned at the end of the day. Matt would tag along to the varsity baseball practice, where he'd shag balls in the outfield. The boy saw from an early age how his father pushed his teams to play disciplined baseball, an exposure Ed believes may have enhanced Matt's strong will. Ed coached 28 years at Fitch, winning three state championships, before serving the past six years as an assistant coach at Avery Point, a junior college in the University of Connecticut system. "He saw me coach for a long time," Ed says. "I always tried to have a level of excellence with how I wanted my teams to play. Maybe he saw some of that."
Matt made the Fitch varsity as a freshman. An incident the next season caused Ed to reevaluate how hard he pushed his own son. One day the coach reprimanded Matt for a mistake he made on the field. That prompted the team's catcher to say, "Boy, Coach, you get on him a lot."
"It kind of woke me up," Ed says. "From that day on I basically let him play. I think in my mind I was surprised he would make mistakes because of all the years he had been around me, all the times he would come up from junior high and practice with us."
Harvey helped Fitch win a state title as a sophomore. By the time he was a senior, in 2007, he was throwing 90 to 93 mph and was considered, with Rick Porcello and Madison Bumgarner, one of the three best high school pitchers in the country, and not far behind Price, the eventual top pick overall out of Vanderbilt. Harvey, Porcello and Bumgarner each gave oral commitments to attend North Carolina if they did not sign. Porcello, from Seton Hall Prep in New Jersey, was to be Harvey's roommate. They were both being advised by agent Scott Boras.
One night before the draft the Harveys talked about how much money it would take for Matt to sign. "The biggest thing was clearing a million dollars [after taxes]," Matt says. "I wanted to have a little bit extra to buy a car and still put a million dollars in the bank. So we figured $2 million was a good number."
Ed looked at Matt and said, "What if they offer you $1.7 million?"
"I'm not going to take it."
"What if they offer you $1.9 million?"
"My number is two."
Matt watched the draft on television and waited for his name to be called. He saw the Giants draft Bumgarner with the 10th pick. (They would sign him for $2 million.) He saw the Tigers take Porcello, who slid because of his price tag, with the 27th pick. (They would sign him for a $7 million package that included a $3.58 million bonus.) The first round went by. The supplemental round went by. The second round went by.
"I was like, Oh, man," Harvey says. "I didn't have that bad of a senior year. Just because I didn't hit 98, I dropped that much? It made me mad about major league baseball. It's something I'll always remember.
"That's why with arbitration and free agency and all those things, what happened when I was 18 will be in the back of my mind. Did it bring any doubt? It now brings the opposite: Don't ever have a doubt.... That [moment] was the biggest thing in my career so far."
Finally, in the third round, with the 118th pick, the Angels drafted Harvey. Twenty-three high school pitchers were taken ahead of him, 17 of whom have never pitched a day in the big leagues. Only two, Porcello and Bumgarner, are starting for the teams that drafted them.
Bane was the Angels' scouting director at the time. In past years he had been successful drafting top high school players with signability issues and convincing them to sign. He had the same game plan in mind for Harvey: He figured $1.5 million would be the magic number. Only after the pick did Bane learn that owner Arte Moreno was not going to authorize that kind of money.
The truth is, Harvey badly wanted to sign. He didn't dream of pitching in college. He dreamed of being a major leaguer and wanted to get on the path as soon as possible. On Aug. 15, with a midnight deadline to sign, Harvey played golf in the morning with some friends and went home and waited. The Angels e-mailed an offer in the afternoon: $1 million. Harvey e-mailed back his rejection and waited for a response. By 11:30 p.m. there had been no further contact between the two sides. Harvey sat at the dining room table with his mother, watching the clock. Ed couldn't stand what was going on. He paced in the backyard. "He was pretty angry," Matt says. "He was doing circles in the backyard, knocking down plants. He probably had the biggest chew you could possibly fit in your mouth."
Ed describes himself as having descended from "shanty Irish," someone who grew up with nothing and started his working life with less: He was $6,000 in debt when he began coaching. He thought about all the stories he had heard about kids who were drafted out of high school, didn't sign and were never drafted again. He thought about his own story: He might have been a marginal pro himself, but he hurt his knee playing football at Connecticut and was never the same. Now his 18-year-old son was sitting in the dining room with no intention of taking $1 million to play baseball.
Matt and Jackie looked up at the clock. It said 12:01. "Well," Matt said, breaking the silence, "I guess I'm going to college."
"At that point," Matt says, "I really realized what I wanted to get into was as much of a business as it was a game. I never had known that. I was playing pickup games and stuff like that and all of a sudden I'm turning down a million dollars at 18 years old."
He had just two days to pack and get to North Carolina. Porcello and Bumgarner went off to pro ball and would be in the big leagues two years later. Harvey wasn't eligible to be drafted for another three. He was miserable. "It was really bad," he says of his attitude as a freshman. "I'm surprised they didn't give me the boot. I turned down a million dollars and had no money and a crappy Jeep when I could have been driving anything I wanted."
Still, Harvey pitched fairly well, with a 7--2 record and a 2.79 ERA in 16 starts. After the season he dedicated himself to a strenuous weightlifting program. His goal was to establish himself as a top five player on the pre-2010 draft lists. He squatted 550 pounds. His weight climbed as high as 255 pounds. He grew so big and tight that his pitching suffered. His back tightened up. He would throw one pitch at 94 mph, and the next would come out at 85. Worst of all, he lost that beautiful arm swing. As a sophomore, he became a middle reliever with inconsistent stuff and a 5.40 ERA.
It took a full year for Harvey to break his bad habits and reestablish his value as a major league prospect. The arm swing returned, though it was not as consistent as it was before. "He wasn't throwing like he is now," says North Carolina coach Mike Fox. "He threw hard on occasion, but now the ball just jumps out of his hand."
On April 23, 2010, just two months before the draft, Fox gave Harvey the ball for a big start at Clemson. For three innings Harvey felt terrible, even weak. His legs trembled. "I didn't know what was going on," he says. He fought through the unsteadiness, and by the seventh inning he felt like he was just getting loose. The arm swing was there. The ball was jumping out of his hand.
After seven innings, with Harvey and the Tar Heels winning 5--2, Fox checked on his pitcher. Harvey looked Fox in the eye: "Don't you take me out of this game."
"That's enough," Fox said. "You've got 130 pitches."
"You're not taking me out of this game."
Fox backed down. He let Harvey go out for the eighth. "Well," Harvey explains with a smile, "I might have had a mean face on and some veins popping out."
Fox sent him back out for the ninth too. North Carolina won 5--3. Harvey struck out a career-high 15 batters and walked only one. It was the first complete game of his college career. He threw 157 pitches. The last one was clocked at 97 mph.
Harvey was transformed. "That was the game where I realized I could be pretty good," he says. "I always heard it from other people. Looking back on it, that's when the confidence started coming. I knew at that moment I was ready to move on."
Two months later the Mets took the junior with the power arm and an ideal ace's body with the seventh overall pick. Three pitchers were drafted ahead of him: Texas high schooler Jameson Taillon (by the Pirates) and college pitchers Drew Pomeranz (Indians) and Barret Loux (Diamondbacks). Harvey signed for $2.625 million. The first thing he bought was the black Escalade.
THIS MARCH the Mets were preparing to board a bus for their final spring training game when J.P. Ricciardi, special assistant to New York general manager Sandy Alderson, called over Harvey. "I've been watching you all spring," said Ricciardi, the former G.M. of the Blue Jays. "I'm going to give you the ultimate compliment. You remind me of Roy Halladay. You have great work habits, you take your between-start bullpens seriously, you throw every pitch with a purpose, and you want to be great. That's what I saw in Doc."
"Thank you," Harvey said. "That's the kind of pitcher I want to be."
Says Ricciardi now, "He wants to be on the big stage. He has the full package to be the complete pitcher. Everyone tries to find a true Number 1, but they are few and far between."
Gotham needs the Dark Knight. The Mets appear headed for a fifth straight losing season, have seen attendance drop four straight years while losing 1.8 million paying customers, and have missed the postseason in 21 of the past 24 seasons. Harvey stirs memories of Tom Seaver and Dwight Gooden, homegrown power pitchers who helped the Mets to their only world championships, in 1969 and 1986, respectively. In 52 seasons of Mets baseball, only four pitchers originally signed by the franchise have won more than 15 games in a season for them: Jerry Koosman, Seaver and Jon Matlack (all signed between 1964 and '67) and Gooden ('82).
It took only one start for Harvey to breathe life into the franchise. Last July 26 he set a club record with 11 strikeouts in his debut while also becoming the first pitcher in modern history to have double-digit strikeouts and two hits at the plate in his first game. He is the rare pitcher who has dominated the major leagues immediately without doing so in college or the minor leagues, where he had an unremarkable 3.48 ERA in 46 starts. "Man," Fox told him after his debut, "you didn't do that very much in college, and you didn't do it in the minor leagues at all. Your mind was always on the big leagues. And once you got there, it's like unleashing a caged animal."
Citi Field crackled with a rare buzz on April 19 when Harvey started against Strasburg, the celebrated No. 1 pick in the 2009 draft whose career has been muffled by Tommy John surgery and conservative pitch counts. Though Strasburg was making his 49th career start and Harvey his 14th, Harvey already had pitched into the eighth inning more times (twice) than Strasburg (none). Since the day Harvey arrived in the big leagues, he has outpitched Strasburg (5--7, with a 3.65 ERA and 97 strikeouts in that span). Their head-to-head meeting was no different.
Strasburg took the mound with his inverted W delivery, the one Ed had rejected for his first-born son. Strasburg labored through six innings, needing 111 pitches. Harvey threw 105 and pitched seven innings in a 7--1 Mets win.
Matt had rented a luxury suite behind home plate that night for his family. Ed was mesmerized. In high school he watched Matt from the dugout. In college he would watch from the stands behind the dugout. Sitting behind the plate at Citi Field, Ed was struck by how much force Matt generated on the mound. It was like viewing an oncoming locomotive from the tracks rather than from the side. Of course, Ed had seen and caught Matt head-on many times when seated on a ball bucket, but those were practice sessions, and they had ended abruptly when Matt was a sophomore at North Carolina. One day they were throwing in the gym at Avery Point. Harvey's curveball was snapping past Ed. His fastball was becoming a danger. "That's it," Ed announced. "We can't do that anymore."
This was different. This was the major leagues, a duel against Strasburg, and a franchise wishing on a young arm the way a child does a star. "When he pitched for me, I was totally relaxed," Ed says. "I could talk to him between innings or tinker with his mechanics.... I felt I had some control. Watching on the other side of the fence, it's a helpless feeling."
Ed's work was done. Matt stood there on the mound, the Dark Knight, imbued with the inner strength that few pitchers ever know, the strength that comes from being able to throw four different pitches past a hitter, sometimes at speeds approaching 100 miles an hour. "Power," is how Harvey answers when asked to explain such a feeling. "It's pretty exciting, knowing I can reach back and run it up there at 98 and 99 when I want and drop a slider in there and throw a curveball for a strike and fade a changeup away to a lefty."
Veteran third baseman Michael Young of the Phillies, after getting three hitless looks at Harvey last month, declared, "He's the real deal. His stuff is firm. But what really impressed me was his command. A major league hitter can time a jet engine. It doesn't matter how hard you throw it if you can't command it. He throws four pitches he commands—just pinpoint accuracy."
This season hitters are batting .143 against Harvey with a .416 OPS, which means he turns entire lineups into something worse than the ninth spot in the average National League lineup (.202, .543). He is downright filthy when he gets two strikes on a hitter: allowing a .101 average while ending 57% of those at bats with a third strike. "I grew up watching Clemens," he says. "When he had two strikes it was, 'All right, here it is: Hit it, and it's coming in hard.' "
After Harvey beat Strasburg, he went to dinner in Manhattan's chic Meatpacking District with one of his two older sisters, his brother-in-law and two friends. They walked on Ninth Avenue, with Harvey and the two friends in front, his sister and her husband behind them. When they arrived at the restaurant, his sister was laughing about what had just happened on the street. "Do you know how many people just did the second take on you?" she said to her brother.
Time after time New Yorkers walking in the opposite direction would stop in their tracks and process this tall, dark knight who looked ... familiar ... yes, it was the phenom ... the city's great hope ... yes, that's Matt Harvey.
"Really?" Matt said. He smiled. This is the life he wanted, the role he wanted. "That's pretty cool."
The next morning Ed called him. The father couldn't shake a sense of worry after seeing his son throw baseballs with such brutality. "Matt, are you all right? You worked really hard."
Matt was taken aback. "He had never asked me that before," he recalls.
"Dad," the son replied, "I work hard every game."
"Man, you just ... you came out firing."
And then the coach and the coach's son returned to a more familiar place, another of their easy conversations with this invisible thread called baseball connecting them. Sometimes Ed might tell him he is missing with his slider, or that his front shoulder is flying open too soon, or point out some other tiny imperfection only a coach can see. But this time Ed had nothing to report. "Your arm swing," he said, "is perfect. You just have to remember to keep doing that every time. When you keep your arm swing, nobody's better. Nobody's better."