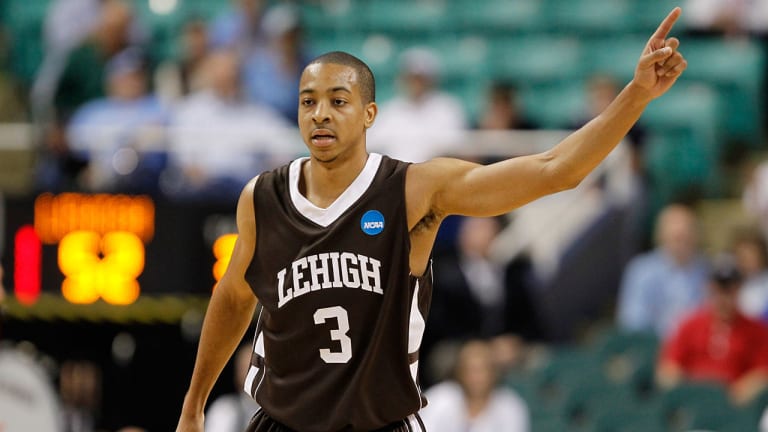 Poked, Prodded ... Then Picked
I've been playing basketball since I was five. In four years at Lehigh I was the Patriot League Player of the Year twice, and last season I was the top scorer in the country before I broke my left foot in January. I've won league championships, and I helped pull off a massive NCAA tournament upset—our 15-versus-2 win over Duke in 2012. I graduated with a degree in journalism. Now here I was at the NBA draft combine—and my future, in the eyes of one franchise anyway, was riding on a card trick.
It was May 15, and I was sitting against a wall in a room at the JW Marriott in Chicago. The president, general manager, coach and other officials from an NBA team were staring at me. Each of the 30 clubs had set up camp at the Marriott as prospects like me—all decked out in new custom-made clothes—shuttled from suite to suite for the professional hoops version of a job interview. When I sat down with this one team, I was handed a deck and told to pick out three cards and study them for 10 seconds. I returned the cards and we started on the interview. You never knew what you were going to be asked in these meetings. One minute a coach might tell you to draw up an inbounds play. The next, the assistant G.M. might ask you to estimate how many basketballs could fit in the room. Some teams put you on a chair in the middle of the floor and surrounded you. Others made you face them in a row, like you were auditioning for a play. I met with 15 teams at the combine. When I walked in each suite the first thing I did was look around and think, O.K., where's the hot seat?
After peppering me with questions for 45 minutes, Team Hoyle threw one more challenge at me: Tell us the numbers and suits of those cards you picked out. It felt like days since I had looked at them, but luckily I remembered: king of spades, 2 of diamonds, 7 of hearts. "Your memory is good," one of the officials said. "Maybe you can be a point guard."
The NBA draft is on June 27, and technically I started preparing in late April, when I picked Sam Goldfeder as my agent and moved to Glen Cove, N.Y., to work out with other potential first-round picks like Michael Carter-Williams, Anthony Bennett and Mike Muscala. But I've really been working all my life toward next week—even when my foot was in a cast for three months, I was breaking down film and shooting baskets from a chair. (When you can't use your legs, your technique has to be perfect every time.)
I went through a ton of drills in Chicago and I've had individual workouts in a dozen cities around the country, but the teams already know me and the other guys in the draft as players. In fact, they know everything about us—they pretend they don't, but they do. They know our family histories. They know the names of our girlfriends and pets. The predraft process is about getting to know us in person—our bodies and our minds.
So I've spent as much time being poked and prodded, physically and mentally, as I have showing off my crossover. At the combine we went through medical exams from every team, the most extensive physicals I've ever had: blood tests, MRIs, heart monitors, everything. Because of my injury teams really paid attention to my lower body. (Everyone found out the foot is fine.) During a visit to one team I was hooked up to a machine that gauged brain waves to measure stress levels and how much sleep I get.
Then there were the questions: Who's going to be living with you your rookie year? What will your first purchase be after you sign a contract? (For me, it's a personal chef.) What comes to mind when you hear the phrase one-and-one? (I said, "I'm shooting two," but I heard some guys answered "equals two" or "11." I guess that says something about how your mind works.) Who would you pick for a starting five in this draft class? Why is a pothole round? And my personal favorite: Do you know what you're getting yourself into?
I do, and I can't wait. I'm also glad I'm going through this at 21. A lot of guys leave college early, but I wouldn't have been ready for this process two years ago. That extra maturity helped me. And no matter what happens next week, I've already had a taste of NBA life. Traveling to meet teams, I've had first-class flights and dinners at great restaurants. Coming from college, where you have no money and people can't even buy you lunch, that's been nice. Last month I landed in Portland to meet with the Trail Blazers. As soon as I got off the plane, some people outside the gate asked for my autograph. My first thought was, Wow, this is cool. My next was, How did they know this was my flight? Then I wondered: The plane was three hours late—how long have these people been waiting?
Getting that kind of attention is a great feeling, but it reminded me how things change once you even get close to the NBA. You're a public figure, and you won't be getting paid to just run fast and jump high and score points. You're representing the team that picks you. I'm ready to get it all started.