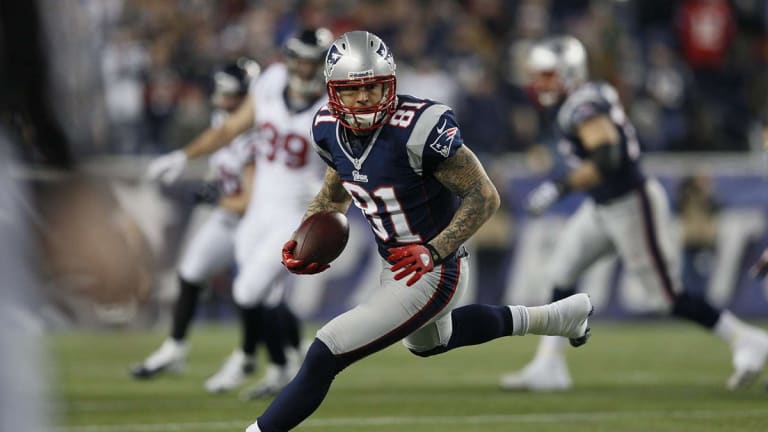 A Murder in Massachusetts
After a star NFL tight end found himself at the center of a homicide investigation, those who thought they knew him best—teammates and friends—were left wondering: Who is the real Aaron Hernandez?
It's a smile that radiates youthful invincibility. Aaron Hernandez's class photo from the 2007 Bristol (Conn.) Central High yearbook exudes a confidence befitting a transcendent football talent who was the most highly recruited player in school history. He had even graduated a semester early, in December '06, so that he could enroll at Florida and take part in spring practice.
Beneath Hernandez's class picture is his senior quote, echoing the advice his father, Dennis—who had passed away a year earlier—bestowed upon him frequently: "If it is to be, it is up to me." So meaningful was that message to Aaron that he had the line tattooed on his left forearm.
In the six years since Aaron Hernandez left Bristol, he has fulfilled much of that promise. He won a national title at Florida, played in a Super Bowl with the Patriots and emerged as a transformative NFL player, joining with Rob Gronkowski to form the most productive tight-end pairing in league history. In August 2012 the Patriots rewarded him with a seven-year, $41.1 million contract extension, including a $12.5 million signing bonus, the largest ever given to any tight end by any team.
But now the career of the 23-year-old Hernandez is suddenly in peril, and potentially even his life as a free man is in jeopardy. Last week he became a central figure in the investigation of the murder of Odin Lloyd, a 27-year-old semipro football player who had dated Shaneah Jenkins, the sister of Hernandez's fiancée, Shayanna Jenkins.
In the early morning of June 17, neighbors near Hernandez's house in North Attleborough, Mass., reportedly heard gunshots. At about 5:30 p.m. that day, a teenage jogger found the body of Lloyd, who had been shot multiple times, in an industrial park about a mile from Hernandez's house. Within 24 hours, local and state police were searching Hernandez's $1.3 million home on a quiet lane in the leafy suburban town a little more than 10 miles from Gillette Stadium in Foxborough. Investigators returned to the property the next two days and again last Saturday. On Monday, police in wetsuits with metal detectors searched a body of water near his house for evidence.
Hernandez's activity on the night of June 16 and afterward has become a focus of the police probe: There were reports from Fox25 in Boston that he and Lloyd were together at a bar in Boston with two other men, yet to be identified, that Sunday night. ABC News reported that Hernandez had his house professionally cleaned on June 17, and investigators found his home-surveillance system destroyed. A vehicle rented in Hernandez's name was found near the crime scene.
"I can't be young and reckless Aaron no more," Hernandez told the Boston media after his daughter's birth in November. "I'm going to try to do the right things."​
Last Thursday, in what will henceforth be known as Massachusetts's White Bronco moment, TV helicopters followed Hernandez as he drove a white Audi SUV to the Patriots' training facility and then headed to his lawyer's office in Boston. Along the way he stopped at a Gulf station in Foxborough, where he was surrounded by reporters as he pumped gas. So many journalists were camped outside his house last week that neighborhood kids set up a lemonade stand, and an ice cream truck visited daily.
Hernandez had yet to be accused of a crime as of Monday, but sources say he could face charges related to obstructing the investigation, with the possibility of more serious accusations as the case develops. Suffice it to say it seems unlikely that Hernandez will make his scheduled appearance at the Bristol Boys and Girls Club's "Inspiration Day" next month. Cytosport, the nutritional supplement maker, severed its ties with Hernandez last Friday.
In a week during which the trial of reputed Boston mobster Whitey Bulger began and the Bruins were playing for the Stanley Cup, Hernandez dominated the city's front pages, not to mention the sports pages. As the story unfolded, a portrait of Hernandez emerged, but it was one of contradictions. Some who thought they knew him best now wondered if they knew him at all. From Bristol to Gainesville to Foxborough, the question lingered: Who is Aaron Hernandez?
BRISTOL
On June 16, Bob DeSantis, a physical education teacher and the athletic coordinator at Bristol Central, received a text message from Hernandez: "Have a great Father's Day." The 64-year-old DeSantis has worked at the school for 41 years. He coached Aaron's father, and he served as a liaison during Aaron's college recruitment.
DeSantis replied with a message for Hernandez, whose first child, Avielle, was born to him and Shayanna in November: "Your dad is looking down on you. Enjoy your little girl."
Dennis Hernandez died in January 2006 at the age of 49 from complications following routine hernia surgery. Known as the King during his days as a star tailback at Bristol Central, Dennis lettered at UConn in 1976 and worked as a custodian at Bristol Eastern, the town's other high school. Around Bristol, he was known for towing around his sons, Aaron and older brother D.J., everywhere he went. "When you saw Dennis, you saw his boys," says DeSantis. "They were his heart; they were his life."
Dennis's sudden death devastated Aaron (who did not respond to SI's interview requests). "Everyone was close to my father, but I was the closest," Hernandez told USA Today in 2009. "I was with him more than my friends. When that happened, who do I talk to, who do I hang with? It was tough."
Last Thursday, DeSantis stood on the front step of his house in Bristol and answered questions about the young man he considers part of his family. DeSantis had spoken at Dennis's funeral and recalled Aaron putting his arms around his mother, Terri, and D.J. to comfort them. "He has a good heart," says DeSantis. "His biggest fault is he wanted to help too many people."
It is Bristol—a two-hour drive from North Attleborough—that seems to connect Hernandez to the people who figured in the events last week. He met Lloyd, who lived in Boston's Dorchester neighborhood, through Shayanna, Aaron's high school sweetheart. Shaneah, who also graduated from Bristol Central, had reportedly dated Lloyd for two years. As one Bristol resident put it, "The people you see walking out of his house [in North Attleborough] are the same people you see walking around [Bristol]."
Best known as the headquarters of ESPN, Bristol is a city of some 60,000 that has endured hardships similar to many other cities in the postindustrial Northeast. General Motors and Superior Electric closed factories in recent years. The city is a cross-section of race and class, from the well-manicured homes on the outskirts of town to the subsidized housing on Davis Drive and the hardscrabble West End. Aaron grew up somewhere in the middle of Bristol's class spectrum. His parents both worked in the school system—Terri is an elementary school secretary—and Aaron was raised in a modest three-bedroom home in a neighborhood in which cookouts dominated the weekends and kids chucked footballs around after school.
Nelson says Hernandez's "loyal to a fault" personality made it hard for him to cut his hometown ties.
"He wasn't a partyer," DeSantis says. "He was a young teenager growing up without a dad. My head is not in the sand, though, he did a lot of the things that kids do." Still, to those who watched Hernandez grow up in Bristol, it was a shock to see him connected to a murder investigation. "What happened now in Massachusetts," says Bristol senior city councilman Ken Cockayne, "is not the Aaron Hernandez that Bristol knows."
GAINESVILLE
The Aaron Hernandez that Gainesville knows, however, may be different. After enrolling at Florida at age 17, in January 2007, he developed into one of the most talented players on a roster that included Tim Tebow, Brandon Spikes, Joe Haden and Percy Harvin. But in his three years in Gainesville he developed a reputation for high maintenance off the field to go with high production on it.
Coach Urban Meyer's offense at Florida was predicated on getting the ball to elite players as often as possible'Äö and Hernandez was particularly effective when he would go in motion from his tight end position and take shovel passes from Tebow. In the January 2009 BCS Championship Game, he had five receptions for 57 yards in Florida's 24--14 victory over Oklahoma. The next season he caught 68 passes for 850 yards and five touchdowns and won the Mackey Award as the country's top tight end. "You just don't plan on someone being that good at tight end," says retired Vanderbilt coach Bobby Johnson, who watched Hernandez catch seven passes for 120 yards in a 27--3 Florida win over the Commodores in '09. "He'd turn short passes into long gains and score on you in a heartbeat."
In September 2007, police questioned Hernandez as a possible witness to an incident outside a Gainesville nightclub that left two men with gunshot wounds. Hernandez had attended the club that night with a friend from Connecticut, but the Orlando Sentinel reported at the time that Hernandez was never a suspect in the shooting. Hernandez admitted to testing positive for marijuana while at Florida; shortly after the '10 draft, The Boston Globe reported that he told NFL teams his marijuana use had helped him cope with the loss of his father.
Following his junior year, Hernandez declared for the NFL draft and was selected by the Pats in the fourth round. Given his stellar career with the Gators, it seemed he should have been taken sooner. Personnel sources from multiple NFL teams told SI that they had been concerned before the draft about possible gang connections among Hernandez's Bristol associates. DeSantis says he even got calls from NFL teams regarding Hernandez's many tattoos. "You can't judge someone unless you know him," DeSantis says. "People judge him by his tattoos."
Those who coached Hernandez at Florida say they found him to be a hard worker with a brilliant football IQ but believed he cultivated a tough image because he wanted to prove himself. To David Nelson, a former Florida teammate and now a receiver with the Browns, that persona was a front. "On the surface he's a tough guy or a thug," says Nelson, who was reached last week in Haiti, where he's doing charity work. (He said he was not aware that Hernandez was linked to a murder probe until informed by SI.) "That's not who he is. To people who know him, deep down there's a sensitive side."
Nelson says that Hernandez would fail drug tests after his trips home to Connecticut, and that Meyer began to discourage Hernandez from going home. Hernandez's relationships with Florida teammates Tebow and the Pouncey twins, Maurkice and Mike (both now centers in the NFL), helped him immensely in Gainesville, according to Nelson. "He's had trouble with some drugs, but it's never gone anything past [that]. I don't see violence in him."
Nelson says Hernandez has the type of personality—"that old quote, loyal to a fault," he says—that made it difficult for him to distance himself from friends back home. That's something that worried Florida coaches as well. "There were always people around him that weren't in his best interest," says a former Florida staffer. "For him, it's like anything else. He's a good-hearted kid who had a hard time saying no."
FOXBOROUGH
In the past year Hernandez has twice stood before the assembled media in Foxborough and declared himself a new man. After signing his contract extension last August, he said, "You get changed by the Patriots way." Three months later, after his daughter was born—on his own birthday—Hernandez told the Boston media, "I can't be young and reckless Aaron no more. I'm going to try to do the right things, be a good father and raise her the way I was raised."
But is Hernandez changed? A civil suit refiled last Wednesday in U.S. District Court in Florida by an acquaintance of Hernandez's named Alexander Bradley alleges that in February 2013 the two got into an argument at a Miami strip club, and afterward Hernandez pointed a gun at Bradley and the weapon discharged. Bradley lost his right eye and had multiple facial reconstruction operations, according to the suit. Because Bradley did not cooperate with police, no criminal charges have been filed in the incident. Bradley, who is from Connecticut, was convicted of selling narcotics in 2006 and served 18 months in prison and five months' probation. Hernandez's lawyers have not commented on the suit. The NFL declined to comment on any details related to Hernandez's situation, but the lawsuit alone would certainly be of interest to commissioner Roger Goodell, who has dealt harshly in the past with players involved in gun incidents.
While Hernandez's future with the Patriots is uncertain, and the football ramifications of the case are the least important part of it, last week's news was the latest in a string of stories, ranging from the momentous to the absurd, that have buffeted the New England franchise this off-season.
In March, Wes Welker, the leading pass-catcher in Patriots history, left for the Broncos as a free agent, touching off a he-said, she-said argument between Athletes First (Welker's and Hernandez's agency) and New England owner Robert Kraft over what transpired during the negotiating process. In April, cornerback Alfonzo Dennard received a delayed 30-day prison sentence after being found guilty of assaulting a police officer. Gronkowski, who like Hernandez received a multimillion-dollar contract extension last summer, had four medical procedures related to his broken left forearm and underwent back surgery in June to fix a herniated disk, for the second time in less than four years. Kraft caused a comic international stir when he said publicly that Russian president Vladimir Putin had stolen one of Kraft's Super Bowl rings in 2005. And a week before the Hernandez story broke, the Patriots signed his old Gators teammate Tebow, inviting the media circus that comes with him.
But if there's any team that can handle distractions in all shapes and sizes, it's Bill Belichick's Patriots. They turned the Spygate scandal into a 16--0 regular season in 2007, and several players with checkered pasts—Bryan Cox, Rodney Harrison, Corey Dillon, Brandon Meriweather and Randy Moss—contributed to its Super Bowl teams. Even the recent gambles that didn't work out, or are still playing out, such as Chad Johnson, Albert Haynesworth, Brandon Lloyd, Dennard and Aqib Talib, have not distracted from the whole. The Patriots have finished worse than 11--5 just once since 2005 and haven't had a losing season since Belichick's first, in 2000.
On the field Hernandez fit perfectly into Bill Belichick's innovative schemes calling for multiple tight ends. Over the past three seasons, the tight end duo of Hernandez and Gronkowski (who was drafted in the second round in 2010, 71 spots ahead of Hernandez) combined for 362 receptions totaling 4,619 yards and 56 touchdowns—extraordinary production for a pair at the position. Gronkowski is the prototypical "Y" tight end, a good blocker with receiving ability, while Hernandez plays the "F" flex or move tight end, more of a pass-catcher. But his versatility has allowed the Patriots to line him up at every skill position except quarterback: in-line and off-line tight end, slot receiver, flanker and split end, even at fullback and tailback. As Hernandez's career blossomed, the paradigm of the NFL tight end evolved with it.
That success led to Hernandez's hefty contract extension last year. Of the $12.5 million signing bonus, New England paid $9.5 million within the first seven months of the deal. Hernandez had entered the league as the NFL's youngest player, and teammates say that while he had incidents of immaturity as a rookie, he had grown into a player who consistently practiced hard. However, two teammates say that after signing the extension, Hernandez's attitude became "more brazen."
The same concerns that surfaced in Gainesville were now resurfacing in New England. Both a current and a former Patriots teammate told SI that Hernandez was having trouble with past associates and seeking to distance himself from some of his old crowd from Bristol.
A week that for Hernandez began with a Father's Day text to DeSantis ended with him embroiled in a murder investigation, and the country transfixed on the fate of one of the NFL's most dynamic players on one of its winningest teams. Hernandez's yearbook quote may no longer be true for him. Despite his dazzling talent, his NFL millions and his juggernaut career, Aaron Hernandez may not have his future in his own hands.