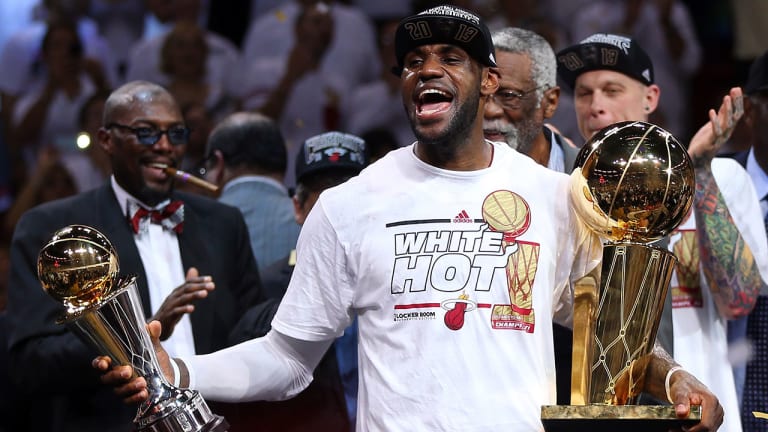 Take Two
LeBron James thought winning his first title would be the hardest thing he'd ever do. He was wrong. Miami's repeat took every ounce of energy from the best player alive
LeBron James sat over a fruit plate on the sixth floor of the Four Seasons in downtown Miami last Saturday afternoon, picked up a fork and stabbed a strawberry. "There were times," he said, "I couldn't eat." Before a game he was too anxious. Afterward he was too wired. The 6'8" James is listed at 250 pounds, but like a grizzly before hibernation he packs on an extra 10 to 15 in preparation for the playoffs. As his minutes rise he inevitably sheds a few, but this spring he dropped them all. "It was the stress," he says, "and the work." James usually sleeps seven or eight hours. For three weeks he rarely stole more than two. The night before Game 7 of the NBA Finals, he watched YouTube videos of Muhammad Ali's knockouts and nodded off as he visualized his Heat beating the Spurs, the trophy in his hands, the confetti on his head. Then he awoke with a start to a far different image, losing the game, losing the trophy, confetti raining on Tim Duncan.
Miami coach Erik Spoelstra asked every Heat player to sign a personalized contract in late April, and James's read, "Do everything to help the team, no matter what the cost." James used the formal version of his two autographs. "I wrote out LeBron James," he says, "like it was a check." In 23 playoff games he logged 960 minutes, by far the most in the NBA, and his minutes are more arduous than anybody else's. The 2013 postseason was the culmination of three indefatigable years in which James played 292 games across three Finals chases and an Olympics, all the while serving as his team's primary ball handler, playmaker, post threat and defender, tailing point guards on one possession and wrestling power forwards the next. He did all this, of course, with the implicit understanding that if the team ever lost it was entirely his fault.
Because James is built like one of the X-Men, coaches and teammates often assume he is immune to exhaustion, but big biceps and a lofty vertical don't help with a second wind. After almost every playoff game James required treatment at his home or hotel room from trainer Mike Mancias—ice and massage, cold tub and hot tub, stimulation machine and lower-body NormaTec machine—and off days were spent either doing Pilates or hitting the heavy bag at Body & Soul gym in Coconut Grove. "I was trying reverse psychology," James says, "so my body wouldn't think it was tired." When he lost lift on his jumper early in the Finals, he added an extra shooting session at San Antonio's AT&T Center, grunting with each pivot. In Game 6 he dropped to one knee during a fourth-quarter stoppage, and he audibly struggled to stand up from the podium following his press conference. He was setting more screens than at any period in his career, meaning more collisions, more wear.
James hoisted Miami through a 27-game winning streak that spanned nearly two months, a seven-game battle royale with the Pacers in the Eastern Conference finals and a seven-game magnum opus with San Antonio in which he averaged 43.0 minutes, led the Heat in every major statistical category and shadowed Spurs dervish Tony Parker around hundreds of pick-and-rolls. James admittedly paced himself for a few plays on offense, but never on defense. He looked forward to teammates' free throws. In fourth quarters he nodded at Spoelstra when he needed him to call a timeout, less for strategy than for yoga. "You feel like you have no more room left in your lungs and you're gasping for air," James says. "You have to control your breath." When he was gassed he'd picture himself riding his bicycle with his friends in the hills outside Akron, pedaling home. "He is strong and he's fast and he can jump, but what separates him is how far he goes," says Heat forward Shane Battier. "It's preternatural. He is telling his body, Here's the deal: You're not allowed to break down."
Last Friday morning, after Miami's 95--88 win in Game 7, basketball's indestructible man woke up and wondered if he had been in some kind of accident. "I felt all these nicks and bruises and little injuries I didn't know I had," James says. "My back, my hamstring, my ankle, both my elbows, they were all aching. I guess I just didn't pay attention to them." At least his belly was full. The night before, as he and his teammates toasted their second straight championship with Drake and Dom Perignon at Story Nightclub on South Beach, James had wolfed pizza slices and chicken fingers.
During a rare rest in the second week of the Finals, James was lounging in his hotel room at the Westin La Cantera Hill Country Resort in San Antonio when Game 6 of the 1998 NBA Finals came on ESPN Classic. He watched until Michael Jordan held the pose on his last jumper in Utah.
Most teams clog the paint against James, daring him to shoot outside, but San Antonio employed an exaggerated form of the defense, known as gapping. Swingman Kawhi Leonard, assigned to James, played off him by more than an arm's length. Two other Spurs, positioned behind Leonard, kept an eye fixed on James, so that even if he beat Leonard, a convoy was waiting for him at the hoop. "They're begging him to take that 16-footer," a Heat assistant said. "He can will that thing in."
The 28-year-old James views himself as more slasher than sniper, dating to his rookie year as a Cavalier, when he failed to scratch 30% from three-point range. Last November, when he was shooting higher than 40% from three, he dismissed the spike as a fluke. He was wrong. James finished at 56.5% from the field this season, 46.0% from 16 to 23 feet and 40.6% from beyond the arc. "That's crazy," he says, shaking his head. He is among the NBA's elite marksmen, even if he doesn't buy it, and the Spurs used his reluctance against him. When James caught the ball at 16 feet, he would pause, considering whether he should dribble, pass or let fly, and the indecision upset his rhythm. Through the first six games James averaged 8.2 points outside the paint on 33.9% shooting and 29.2% from three. Midrange jumpers are considered the least efficient shots, but the Heat wanted him to unleash more.
Before Game 7, Miami assistant David Fizdale showed James cut-ups of the San Antonio defense leaving him alone near the free throw line. Then coaches underlined his sterling percentages in that area this season. "Even the best have self-doubt at times when what they're doing isn't working," James says. "You need a reminder." He does not study hot maps, but he does watch old tapes. He found one that was taken last summer in his high school gym, at St. Vincent--St. Mary, when he was burnishing his J. Why would you abandon this thing that's helped make you what you are? James asked himself. Stop second-guessing yourself. Go do it. Make it happen.
For the first time since he was five years old James was not regularly speaking with Maverick Carter, his close friend and business manager. They normally talk after every game but stopped late in the Finals because they worried they would argue over LeBron's approach. Rich Paul, James's agent, was the one at his house on Wednesday night watching Martin reruns and music videos. "What happens tomorrow has already been written," Paul told James. "God chose you. Nothing can get in your way."
James uncorked 20 shots outside the paint in Game 7, the most since he arrived in South Florida three years ago. He drained nine, including five three-pointers. But with 33 seconds left, Miami had the ball, up by only two. James bounced the ball on the Heat logo at midcourt, back in the ring of fire. With the floor expertly spaced by Spoelstra, guard Mario Chalmers set a screen on Leonard at the left elbow, and James bounded around it. Parker switched onto him, but James planted his left shoulder into Parker's chest, sending him stumbling backward. Leonard recovered, tossing out a hand to contest, but James did not hesitate. He pulled up from 19 feet, easy as an August afternoon at St. V, with the same result. "I know it wasn't the magnitude of MJ hitting that shot in '98, but I definitely thought about him," James said on Saturday. "It was an MJ moment." He paused as a turn of phrase came to mind. "It was an LJ moment."
In the frantic seconds that followed, James gathered the four other Heat players on the floor and told them, "We've got to play this thing through—all the way through." Subtly, he was invoking Game 6, when he lost his signature headband ("Dumbo's feather," Battier called it), Mike Miller lost his left shoe, and the Spurs lost their collective minds ahead by five points with 28 seconds to a title. Arena security had encircled the court with yellow rope, anticipating a San Antonio celebration. Heat guard Ray Allen hollered, "Get those motherf------ ropes out of here" after his corner three forced overtime and eventually Game 7. "An organ transplant," declared Battier, the Heat's poet laureate, and a heart-stopper for the Spurs. "Without that," James says, "I'm boarded up in my house right now growing my beard and listening to old music."
The last two Finals games skipped to the top tier of the James oeuvre, illustrating both his fury and finesse. He scored a combined 69 points with 22 rebounds and 15 assists, pushing the Heat in Game 6 with bull rushes, and lifting the team in Game 7 with moonbeams. "This is what I was going to tell you," Carter told him when the series was over, between giddy hugs. "It's not wrong to ask a great player to be great. After Game 5, I thought you were good, but you weren't great." James nodded. "I wasn't great," he agreed. "I was O.K. tonight, though."
James became the only player besides Bill Russell to win four MVP awards in five years and won his second consecutive Finals MVPs. "His good, for anybody else, is great," says Panthers quarterback Cam Newton, in attendance for the finale. "His great is iconic."
The Heat retreated to the locker room for a last rendition of its battle cry, taken from the fighter-pilot movie Red Tails: "To the last minute, to the last second, to the last man we fight." James then crumpled onto the floor of the hallway, alongside Dwyane Wade and Chris Bosh, the trio that provoked so much acrimony and envy when they joined forces in July 2010. Over their heads was a sign that read, forged in the fire between a hammer and anvil. "This is why we came together," Wade said, and they drank in the bubbly validation. Wade needed eight hours of therapy on his bruised knees just to appear in Game 7. Bosh failed to score. The Big Three was again reduced to the Chosen One, plus Battier, compelled to confirm his presence afterward because he swore he had undergone "an out-of-body experience" while sinking six three-pointers.
Battier's bonanza—his wording, again—was an appropriate end to a season in which almost every three-point record was broken, including the one for Finals threes, set by Spurs guard Danny Green with 27. Green wore gray Nike hightops with black leather strips across the back. Embroidered on one of the strips, in white writing, was lebron. On the other was james. The King's size-16 footprint engulfed all sides of the series. "He has become what everybody wanted him to be," Green says. James consoled Duncan on the court ("You're unbelievable," he told him), kissed a little girl ("Sorry I stink," he said) and sought out Mancias. "You have no idea how important you were," James gushed. "Without you none of this would have been possible." Then he plopped into his final ice bath of the season and flipped on his phone for the first time since the playoffs. He scrolled through 185 text messages, 75 e-mails.
Whether or not the Heat becomes a dynasty, it's been a rollicking reign, and Miami has one more year until the headliners can opt out of their contracts. Yes, James will be confronted with another decision, but it will be handled in a more understated way than the one in '10. "I'm a totally different person on the court, off the court and everywhere in between," he says. "I know it will come up, but it's not going to come up until it's at that point."
This summer should be relatively quiet. He will marry his fiancée, Savannah Brinson, in San Diego. He will conduct basketball camps and possibly wear sandals so he isn't tempted to play. And if he gets bored, he will watch 27 games in a row.
They all remember the first one, because they met afterward in a private room at the Real Sports Grill, connected to the Air Canada Centre. The Heat was supposed to fly home from Toronto on the night of Feb. 3, but that would mean being in the air during the Super Bowl, so James insisted that the team stay in town and throw a party. They ordered buckets of Steam Whistle beer. Spoelstra shut down his laptop. Most cheered for the Ravens, but James, Battier and Miller rooted for the 49ers. At one point, loosened by the Steam Whistle, Battier pulled a Colin Kaepernick jersey off a mannequin, slipped it on and raced around the room. He also delivered a speech he says he is saving for his memoir. "I can't really remember much of it, anyway," Battier says. "But I do remember it was one of the best team experiences I've had in my pro career. We were always close, but that took it to another level. I believe that night was the impetus for the streak."
They didn't care about it after 10, or 15, or even 20. But then the Heat stormed back through Toronto, and James hit a game-winner in Boston, and the team wiped out a 27-point deficit in Cleveland. "What got me going was history," James recalls. "We had a chance to be in the history books." He accounted for 77 points against Sacramento. He organized a Harlem Shake video and was shocked that everyone participated. He picked out a heckler in every opposing arena to banter with during games. When Miami finally lost 101--97 in Chicago on March 27, six shy of the record held by the 1971--72 Lakers, players said they were relieved and characterized the streak as a blur. But now James wants to put elements of it back together again. "Cleveland is the one I really want to see," he says.
During the fourth quarter at Quicken Loans Arena a 21-year-old man ran up to James on the floor wearing a shirt that read, we miss you, 2014 come back. Instead of recoiling, James patted him sweetly on the head. "Yeah, that's James Blair, he's my guy," James says. He did not know Blair before the incident but has since followed him on Twitter, and waved when he ran into him at Bamboo Nightclub in Miami last Friday night.
At the end of the surge, a championship seemed inevitable, but a team that won 27 straight in the regular season couldn't win consecutive games in the playoffs for almost a month. James Jones, one of Miami's reserve forwards, read a book during the Finals called The Plateau Effect, in part because it pertained to the Heat. "When you're the elite, the exception, the example, you get to a peak, and you try to maintain what got you there rather than growing it," Jones explains. "Complacency creeps in, and by the time you realize it, you're regressing. That's the plateau. Getting past it requires stimuli, and oftentimes the best stimuli is failure." Miami didn't win consecutive games, but didn't lose them, either. Back and forth the Heat went, through Indiana, through San Antonio, to Game 7. The team needed another streak for a title.
Two brothers, ages six and nine, stayed up well past their bedtime last Thursday night to play an imaginary basketball game. They wore matching uniforms, glossy white jerseys over baggy white shorts, but they had no ball and no rim. The carpet was the court. They moved in slow motion, narrating their steps like high-pitched broadcasters, long jump shots followed by graceful layups and savage dunks. After a few make-believe buckets, they walked over to a poster behind them and traced the images, as if drawing strength into their still-slender arms. Then they picked up their dribble and drove again, launching pantomimed fadeaways with unmistakably familiar form.
They could have been any brothers in any family room. But they happened to be the sons of LeBron James, so they were outside the Heat locker room, and the poster of their father spanned half the hallway instead of the wall over a 40-inch TV. Confetti speckled the carpet and champagne perfumed the air. At one point, James spotted the boys and asked where they had been. They explained that they were momentarily lost in the happy chaos. "You can't get lost," their dad replied. "This is home." Two championships down for the James clan; only the hoop gods know how many left to go.
Out in the arena, grown men with real microphones feverishly slid James into a revised historical context, which is sort of like reviewing a five-course feast just as the main dish gets served. He is old enough that you can throw him on the list of best players ever, young enough that you have no idea where he'll ultimately land. Regardless, he is to this generation what Jordan was to the one before it, and Magic and Bird to the one before that.
He is basketball.
Follow @SI_LeeJenkins
The night before Game 7, James watched YouTube videos of classic boxing knockouts and nodded off as he visualized the Heat beating the Spurs.
"I definitely thought about [Jordan]," James says of his clutch jumper in Game 6. "It was an MJ moment." Then, after a pause, "It was an LJ moment."
"We were always close, but that took it to another level," says Battier of the Heat's Super Bowl party in Toronto. "I believe that night was the impetus for the streak."
TABLET EXTRA
For a photo gallery of the Heat's 27-game winning streak, download the digital edition of SI, free to subscribers at SI.com/activate
PHOTO
Photograph by GREG NELSON FOR SPORTS
ILLUSTRATED
HIGH TIME Scoring inside and out, James saved his best for Miami's two must-win games at home, capping a postseason in which he led all players in points, assists and steals.
TWO
PHOTOS
JOHN
W. MCDONOUGH/SPORTS
ILLUSTRATED
D DAYS When James absolutely had to take off a play, it was never on the defensive end, where at one time or another he guarded almost every Spur, including Manu Ginóbili.
TWO PHOTOS
GREG NELSON FOR SPORTS
ILLUSTRATED
FRENCH MISTAKE Parker clung to James (sans headband) in Game 6, but it only seemed to make him mad: He had 32 points, and in the next game he drilled a dagger (right) over Leonard that put the Heat up by four with 28 seconds left.
TWO PHOTOS
JOHN W. MCDONOUGH/SPORTS
ILLUSTRATED
SUPPORT CREW Bosh (below, left) was held scoreless in the decisive game, but Battier chipped in with six threes on just eight attempts, helping James become the fifth player in NBA history to win back-to-back Finals MVP awards.