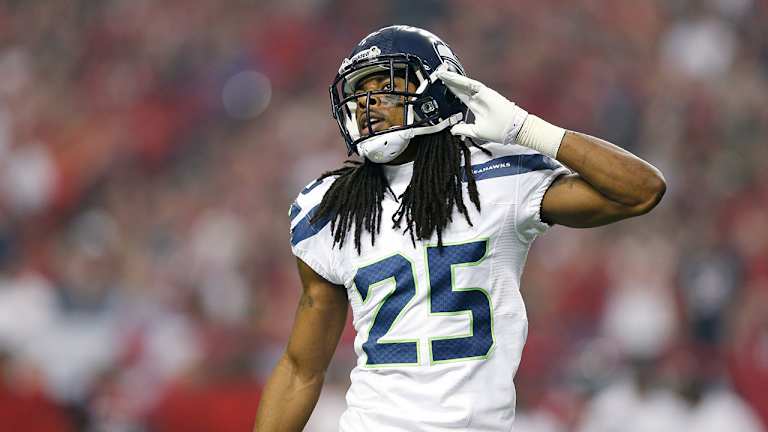 Publish date:
Where My Head's At
Seattle's savvy smacktalker will be a regular columnist on TheMMQB.com. Here, his first entry
You might know me for my mouth, but I hope you get to know me this season at The MMQB for two other things: being a great football player, and being an enlightened person.
I've agreed to write a regular column for this new website, and I'm excited about getting a player's view of the game out in the media. Hopefully it will give you an unfiltered look into my life, my team and the lives of all NFL players.
The easiest way to start my first column would be to pick a new fight with someone. You might remember me for challenging Tom Brady or for the Twitter skirmish I got into with Darrelle Revis or for when I demolished Skip Bayless on ESPN's First Take. But before I throw out the first opinion—and I have quite a few—I want to tell you a few things about myself.
I knew very early—back when I was around seven—that I wanted to be a football player. I loved the game, plus one day I saw Deion Sanders get this crazy contract, seven years for $35 million. I saw that, and I saw his house on TV, and I thought, Wow, he got that much just to play the same game I'm playing for free in Pop Warner? That's the life for me. Despite his riches, I already had something in common with Deion back then: I wasn't the bravest guy out on the football field.
It wasn't until my dad coached my team, when I was 11, that I learned you had to be tough to be a great football player. He put me up against a bigger kid in a tackling drill and told me, "Run him over." All I could think of was, I don't want to do this, but I did it. I closed my eyes, ran into the guy and did O.K.—or so I thought.
"Do it again!" my father shouted.
I braced up again. And the guy ran through me—again. That one hurt.
"Do it again!"
This time he ran through me even harder. My dad came over to me, picked me up off the ground and ... threw me down.
"Do it right! Be a football player! Do it again!"
On my fourth try I ran through that kid's face. Knocked him down. When you're young you have so many fears. But since that day I've never been afraid of anything on a football field.
Almost 20 years later, I play the game the right way. I play hard. I don't take cheap shots. I never try to hurt anybody. And I respect people who respect me. But if you don't respect me, or if you doubt my ability, I'm not just going to sit there and swallow it. I'll come at you. I know there are people out there—fans and other players—who say, "Just shut up and play." But that's not me. Never has been, never will be. I can't make everyone out there happy.
Now, about my game: I think I'm the best cornerback in football. The tape shows it. My numbers put an exclamation point on it. Over the past two seasons, only one cornerback in the NFL has at least 10 interceptions (I have 12) and at least 32 passes defensed (I have 41). I'm not sure what else I can do to prove I'm the top corner in the game, but once you're branded as a fifth-round pick, that sticks. Some people will never admit that a fifth-rounder is the best at his position.
But I'm going to keep proving it, just like my team. There aren't many out there who really believe in me, or in the Seahawks, yet. But just watch. It's going to be our year.
Visit TheMMQB.com for more from Richard Sherman.