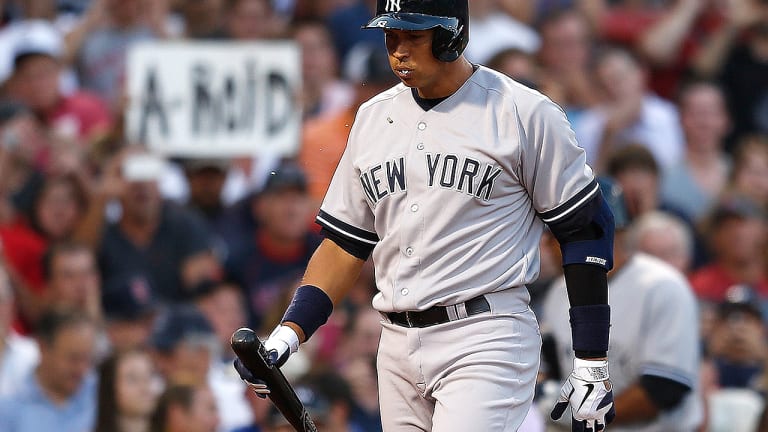 The Last Days of A-Rod
As Alex Rodriguez prepares for yet another humiliation, this one a possible career-ender, it's worth remembering him as you may have forgotten him: the greatest prospect any scout had ever seen who met the promise of his gifts, a tireless worker and learner with as sublime a baseball IQ as there was. So, how could he be so ... dumb?
Nothing dies pretty. Reputations, marriages, dream careers: They can sail for decades undented; even at 38, you can be all kinds of gorgeous. But the end? The end is pain, and pain is ugly. The night before, he had lumbered toward second, trying to stretch a single into a double. Getting there seemed to take forever. "That's my speed right now," said Alex Rodriguez, the slugger who stole 46 bases one season just because he could. "It wasn't too embarrassing, was it?" He even tried to laugh.
Now it was late afternoon on the following day, a Saturday in the third week of July. His team was the Triple A Scranton/Wilkes-Barre RailRiders, a clanky mouthful even if you're not used to the sound of New York Yankees, and it may well have been his last. Word had it that Rodriguez was facing an imminent, lengthy and perhaps career-ending suspension by Major League Baseball for his alleged involvement, again, with performance-enhancing drugs. Meanwhile Yankees management, determined to slash payroll in 2014, had handled Rodriguez's 20-day rehab tour of the minors like a leper's return, treating their onetime heir to DiMaggio and Mantle—now recovering from major hip surgery that took place in January—with a disdain not seen in the Bronx since George Steinbrenner's acidic prime.
When, last month, Rodriguez preempted a team announcement and tweeted that his doctor had given him "the green light to play games again!" New York general manager Brian Cashman responded that "Alex should just shut the f--- up." If it didn't have the ring of Lou Gehrig's "luckiest man," the line still entered Yankees lore at full gallop. Nerdy exec usually loses in the p.r. battle against Hall-of-Fame talent, but support for A-Rod sounded like two crickets chirping. A tone was set.
Indeed, as he sat before his locker in the nifty ballpark hard by the tracks in tiny Moosic, Pa., Rodriguez's isolation verged on total. Hunkering daily by phone with lawyers and flacks, hurling a pregame medicine ball alone with a trainer, he came off like nothing so much as baseball's man without a country. No possible outcome promised calm harbor. Why not hole up in some manse and wait for the commissioner's hammer? The only puzzle was in figuring why he bothered to be here at all.
"It's who I am, right?" Rodriguez told SI. "My father was a baseball player. When I was in my mom's belly, I just heard baseball, had Mets and Yankees games on, living in New York. That's in my blood. It's my DNA. That's who I am. That's what God gave me: my talents, my skills.
"And I want to simplify it in my life. I'm going back to being just a baseball player. And trying to put that all ... everything else.... " He waved a hand back over his shoulder, as if it were that easy to shove a career's worth of gossip and nonsense—not to mention the rising clamor surrounding baseball's Biogenesis investigation—into some soundproof box. "That's good enough for me."
Outside, ushers donned elf hats and a Santa statue towered in the concourse; carols filled the blast-furnace air: the RailRiders' "Christmas in July" promotion. Inside, Rodriguez was already feeling the tightness in his left quadriceps that would reduce him, that night, to designated hitter. His "brothers," the Yankees, were 300 miles away, winning in Boston, but even with the broadcast blaring, it seemed farther. He and the team had been making polite noise about his imminent return to the Bronx—just two days to go!—but the camps eyed each other with a startlingly palpable distrust.
His side was eager to peddle the theory that the Yankees would—even with their horrid production at third base this season—do anything to keep Rodriguez from playing for them again. Team personnel made little effort to shoot down the idea that A-Rod's rehab tour could be an elaborate charade designed to set up a pre-ban "forced" retirement, which would allow A-Rod to salvage, through insurance payments, some of the $114 million he's still owed. Both sides denied such speculation publicly, of course, but weren't above taking sly shots at each other through leaks, columnists and radio talk shows.
In fact, now Rodriguez interrupted himself in mid-sentence, held up a hand to hear: the voice of Yankees manager Joe Girardi, in Boston, talking about him. " ... He continues to swing the bat better and better every day.... He's moving better and better.... We expect to have him on Monday, and I know I can't run him out there every day, but we're going to run him out there as much as we can.... "
A-Rod furrowed his brow, as if absorbing a vital bulletin. Maybe he really didn't know what the Yankees were thinking. Or maybe, even after 20 years, he still finds a thrill in being talked about, in being back at the red-hot center no matter what burns may come. When asked if he believes that, with Cashman's words and the fact that Girardi sat him repeatedly during last year's division series, his relationship with the Yankees has fractured, he said, "First of all, thank God they benched me because ..." then paused, eyes widening, to listen now to Tim McCarver, talking on the TV 25 feet away.
"... because in the postseason last year he was pinch-hit for by Raul Ibañez...."
"You're asking me the question," Rodriguez said. "Are you hearing this?"
" ... who hit a ninth-inning home run and won Game 3 against Baltimore. A-Rod started Game 4, was pinch-hit for...."
One by one, RailRiders players began stealing glances over at Rodriguez. "I look back and say Joe was right," he said finally. "I had a big tear in my left hip, I got it fixed, and hopefully I can do what I do. So I thank Joe for sticking with me that long. I love Joe.... "
As he has throughout his tour—which has seen him suit up for Yankees affiliates in Tampa; Charleston, S.C.; Trenton, N.J.; and Scranton/Wilkes-Barre—Rodriguez declined to talk specifics about Biogenesis, PEDs or reports that he was considering a deal. On July 12, he met with MLB investigators on the matter, then didn't show up for that night's rehab start in Tampa. He says he can't waste time and energy now worrying about all he may lose, or the distance he has traveled down. Yet the fact is, Rodriguez, once seen as baseball's great clean hope, is now viewed as hopelessly dirty.
Others have come back from such stigma: Mark McGwire is the hitting coach for the Dodgers; Jason Giambi and Andy Pettitte, old teammates and admitted users of PEDs, are treated these days as elder statesmen. Rodriguez figures to be different—and knows it—but last week maintained the front of a blissed-out Candide. He insisted that he doesn't wonder, Why me?
​
"I never say that," Rodriguez said. "But maybe there are a couple chapters where I can become that person again. I'm not giving up. I have tremendous faith, and hopefully there's a couple more chapters to this book. And hopefully there's a happy ending somewhere. I have faith."
Of course, these days he may be the only one who does—and even that might be pushing it. The spin around Rodriguez has become so frenzied that it's impossible to say what he truly believes. It has been four years since Rodriguez's credibility got leveled by a one-two literary punch: First, the jab in former manager Joe Torre's book that teammates and clubbies saw through his perceived phoniness and dubbed him "A-Fraud," then a subsequent SI.com report detailing his use of steroids as a member of the Rangers from 2001 through '03. In admitting the latter in February '09, Rodriguez all but copped to the former. "This is Humpty-Dumpty," Cashman said then. "We've got to put him back together again."
It never quite took. Rodriguez insisted that he hadn't doped in his five years with the Yankees—and tried sealing his conversion by joining the board of the antisteroid Taylor Hooten Foundation in August 2009. Then came news that he'd been questioned by MLB for treatment he received from Toronto physician and now-convicted PED peddler Anthony Galea while recovering from his first hip surgery, in March 2009. And then, six months ago, Miami New Times published its piece asserting that his name, among 20 professional baseball players total, was the biggest one to crop up as a buyer of HGH and other PEDs in documents unearthed last winter from the Biogenesis "anti-aging" clinic in Coral Gables, Fla.
Rodriguez issued a brief statement then asserting that the "purported documents" were "not legitimate"—at least as they related to him. "Look, it's concerning," he said last week. "I have two daughters at home, and I'm sensitive to that, and above all, I want to be a role model, continue to be a role model—especially to my girls. So all the noise sometimes gets on my nerves, but that's it. I can't let it get any further than that. I have a job to do."
But if, as MLB sources and recent reports suggest, investigators have gathered a thick paper trail that can prove his Biogenesis link, a subsequent effort to impede the investigation by attempting to purchase incriminating documents, and perhaps even contradictions in his responses during baseball's Galea inquiry, the threat of a lifetime ban looms. And whether he appeals—or can strike a deal similar to the 65-game suspension doled out on July 23 to Milwaukee's Ryan Braun with few details made public—there's simply no good way to spin it. If Rodriguez falls again, no amount of horses and men gets him back on the wall.
One reason, of course, is that the public tends to allow one clean shot at redemption. "He got a second chance and didn't make good on it," says MLB broadcaster Bob Costas. "There's an acknowledged first episode and now there's this, and it makes people think, Well, perhaps he's, in one way or another, been doing this throughout his career."
But there's another reason, and it gets at the heart of what has long been a general unease with Rodriguez. Scouts and coaches have raved about his smarts—his biggest detractors, even now, would be hard-pressed to question his superlative, even sublime, baseball IQ—since he began holding press conferences as an 18-year-old. Few athletes can be more polished, to the extent that even now the idea of his risking everything with another foray into PEDs is mind-boggling. "When this came out, I said, 'You got to be kidding me,' " says Rich Hofman, Rodriguez's baseball coach at Westminster Christian in Fort Lauderdale, of the Biogenesis story. "I've heard of dumb guys doing this but not a guy of Alex's nature. He's one of the more intelligent people in the game."
Yet, as is his wont, last week Rodriguez again proved himself too clever by half. On July 21, after sitting out his final rehab game with the RailRiders, he underwent an MRI in New York and was judged by Yankees doctor Chris Ahmad to have a Grade 1 strain in his left quadriceps. Though he had been the first to point out the injury, Rodriguez insisted he was ready to play and wanted to rejoin the Yankees in Texas, and then he began a campaign to, essentially, embarrass the team into activating him.
After telling Yankees president Randy Levine two days later that he didn't trust Ahmad and wanted a second opinion, Rodriguez—in violation of the collective bargaining agreement that calls for written notice from the player beforehand—asked an outside doctor, New Jersey orthopedist Michael Gross, to evaluate the MRI. The next morning, after Rodriguez refused to take calls from Levine and Cashman, Gross appeared on New York's WFAN and said that he saw no strain in the MRI results. Gross also admitted that he hadn't examined Rodriguez personally. By the time that sank in, the news broke that, in February, Gross had been reprimanded and fined $30,000 by the state for "failing to adequately ensure proper patient treatment involving the prescribing of hormones including steroids" at his Hackensack, N.J., wellness center. (Gross claimed the steroids were not anabolic and that he was not working with an athlete.)
That sewed up the Yankees' win for this round. Relations were to grow only chillier: Rodriguez brought a lawyer with him to last Thursday's teleconference with team officials; Cashman had taken to referring to his eight-year employee as "Mr. Rodriguez" and mulled slapping him with a hefty fine. By the end of the day, all involved appeared to agree to the new timetable that could return A-Rod to action by Aug. 1, but, Lord knows, that could easily change.
"Our position is very simple," Levine says. "He's our player and we need him, because he'd be the best third baseman we have, and we've done everything we can. We've said it publicly and through our actions. There's not one scintilla of evidence that we've done anything—anything—to try and keep him off the field."
The absurdity of Rodriguez's trotting out a doctor with reprimand and steroids in his CV to speak for him anytime—much less the day after Braun became the first Biogenesis domino to fall—couldn't be more self-evident. Yet his obliviousness when it comes to his actual public image is nothing new. Rodriguez never seemed to get why that magazine photo a few years back of him kissing his own reflection might be off-putting, or that his flirtation with two women in the stands during last year's playoff loss might seem inappropriate coming from someone flailing through a 3-for-25 skid. The illegal slap at Bronson Arroyo's glove in 2004? That "Ha!" to distract a Blue Jays fielder in '07? For a man who appears so self-conscious, it's remarkable that the only one who doesn't see through him is ... him.
Indeed, Rodriguez has always given off an oddly needy vibe, irresistible chum in the shark tank of any men's locker room, and puzzling when it rises off a rich alpha male. He came to the Yankees in 2004 with baggage—that $252 million contract, a lack of playoff success, the memory that he had, in 2000, unleashed some dismissive quotes about former "blood brother" and the epitome of all things Yankee, Derek Jeter—that never lightened much. Though the better shortstop, Rodriguez gracefully moved to third base, but neither that, nor his two Bronx MVP awards, nor his torrid hitting during a 2009 title run, was enough to win over hard-core pinstriped hearts.
"He can go hit 50 home runs next year and the next three, four years do the same, but no matter what Alex does in New York, he's never going to be put in that Jeter class or the Mariano [Rivera] class, even though his talents and his stats are incredible," says former Yankee Johnny Damon. "Derek Jeter is Mr. New York. It's understood: Everybody loves Derek. I love Derek. A-Rod's never going to get that love that Jeter has."
The sense that Jeter doesn't seem to care whether he's loved or not only increases the affection, and sets off the contrast even more. To this day, the temperature among Rodriguez's inner circle rises at the mention of Jeter's stature, the one obstacle they can never surmount. Once Rodriguez peppered Costas with questions about Mickey Mantle, always returning to one theme. "Obviously he was great," Rodriguez said to Costas. "But why did people love him so much?"
"Alex cares about it: He wants to be liked," Damon says. "He wants to be that guy."
Such a quality makes for pleasant company. Rodriguez has none of Barry Bonds's snarl or Roger Clemens's daft intensity; even as the Biogenesis questions flew, he was still asking reporters' names and thanking them. It hardly seemed genuine, but who better to represent the most suspect generation in baseball history? Insecurity is doping's common thread. Years of tin-eared statements and off-putting quirks now seem all of a piece. "The performance-enhancing-drug stuff—that's at the heart of it," Costas says. "Remove that, and all his other stuff sort of fades; it's a footnote. But the PED stuff doesn't just confirm it. It pulls it all together."
Still, there Rodriguez was for three nights in Moosic, engaging with fans as if he didn't have a care—10 minutes of autographs in the outfield, chats through the screen before at bats, a fist bump for the batboy after striking out. Clusters of the faithful gathered wherever he seemed likely to go: He was still a Yankee. "No sellout, though," employees and spectators kept pointing out. Jeter? He sold the place out twice when he came through.
Yes, even injured the two men seem fated to serve as the Yankees' version of Goofus and Gallant. Jeter, on the road back from last fall's ankle fracture, had been suffering from tightness in his quad too, but his rehab was typically drama-free. For good measure, on Sunday, his first game back with the Yankees, he hit the first pitch he saw for a home run. "Alex is a player for us: We treat him like we do every other player to make sure he's healthy," Levine says. Then he laughed. If A-Rod's thinking of filing a grievance, the Yankees figure they've got a needlingly perfect response.
"It's very interesting," Levine says. "He and Derek Jeter have the exact same injury, happened around the exact same time—and he's being treated just like Derek Jeter is."
Over a decade ago, when few could see the downside of a makeup so savvy, so rich in curiosity, calculation and drive, Rodriguez's manager in Texas tried to make him understand. "I told him, 'You're going to play about 15 more years in the big leagues, but enjoy playing the game,' " says Jerry Narron. " 'Don't try to be an owner or general manager, manager or coach. Just enjoy being a player.' That's one thing I really wanted to see from him, and ... I don't know."
Who does? So much clutter has attended whatever A-Rod means in the public mind that it nearly obscures what has been lost. Not to him. To us. Because—remember?—he was going to be the best player ever. Wash your hands, if you will, of Alex Rodriguez—the smile, the disgrace, the moments of sheer weirdness. Soon it will all be over. A nation rolls its lonely eyes: enough.
But, still: He was going to be the best. Everyone thought so. George Brett predicted it. The Yankees bet $275 million on it, even after his 11th full season in the majors. Isn't that reason to pause, as he drifts toward the door? Rodriguez was the youngest to hit 500 home runs, then 600; he beat out Babe Ruth by a year. Barry Bonds was in sight: 800 was a lock.
No one had ever seen anything like him, coming up. Rodriguez was a five-tool player, yes, but the tools were gold-plated. Hofman, the best high school coach in Florida history, sent eight kids to the majors, spent 46 years talking to baseball men. "He's the only player in my entire history where a scout never found anything wrong," he says. "Every other player that I've seen, known or heard about, somebody always had some comment about them lacking something. With him they couldn't find a thing."
It wasn't just physical. For baseball men, the kid was Christmas in July. Rodriguez's first manager, Carlos Lezcano, had him for 65 games in Class A Appleton in 1994, and he's never seen anyone translate instruction to action faster. Raised after the age of 10 by a single mom, Lourdes Navarro, Rodriguez carried himself with more maturity than players five years his senior. "At one point he was getting to the ballpark, not late, but cutting it close, and I said, 'You want to be a professional, you want to get here on time—and your mother's coming. I'm going to call your mother,' " Lezcano said. "He was never even close to being late again."
Narron, his Rangers manager in 2001 and '02, has rarely seen a player so prepared than the shortstop who stayed late game after game to talk baseball—history, strategy, team-building—and came earlier and worked harder than anyone. The Rangers didn't win much, but one afternoon in Anaheim, A-Rod insisted on drills that called for him to lay his body out in a dive and throw to first off one knee; that night he pegged a runner on the exact play. "He came to the park every day," Narron says, "like he was the 25th guy trying to make the ball club."
And then there was the last hot day of the 2002 season, Rodriguez hitting .300 exactly, and Barry Zito in his prime on the mound. Narron gave him the choice to take the day off, making out two lineup cards: one with Alex Rodriguez batting third and playing shortstop; one without. It was a test of sorts, a way to see if he'd follow old-line baseball code, and Rodriguez refused to back in. "I'm playing," he said.
It might be his favorite story about himself. That Rodriguez told it in Moosic, unprompted, raised all the old hackles; great ones aren't supposed to point out their own heroics. "He said, 'Man, I'm so f-----' proud of you,' " Rodriguez said of Narron. "He gave me a big old hug and kiss." Then came his Ted Williams moment, and Rodriguez can recount every detail: He went 0 for 3 to start. Down to .298 and an 0-and-2 count in his final at bat of the year against fireballing reliever Billy Koch, he lashed a two-RBI double to center and finished the season at .300.
"I'm a baseball player," he said. "They tell me to play, and I play."
That he can still say this without irony is his problem and ours, too, at least until Rodriguez is gone for good. Because seven years after his shot off Koch he admitted that he had been juicing during that 2002 season, heroic end and all, taking injections of the testosterone and the anabolic steroid Primobolan. Even now, he doesn't get that all the home runs, the timely hits, the whole career can't matter if the means bring shame.
Asked, last week, if he understood Cashman's famously profane rip, Rodriguez shot back, "Do you understand it?"
Yes. Because Cashman knows: Rodriguez's gift, his unprecedented completeness, was never really his; it's called a gift for a reason. Sports is a collective of time as well as talent. Six generations of baseball players and fans, billions of dollars worth of stadia and TV time, an infinity of minor and major leaguers working for untold lifetimes—all of it combined to create the game, the numbers, the interest and hothouse environment in which Alex Rodriguez was going to be the best.
People care so much about sports greatness because, deep down, they know that it's a reflection; something there belongs to them. We gave Rodriguez his chance. We urged him not to waste it. Cashman knows, better than anyone: We hate when we make so big a mistake.
SAYS LEVINE, "[RODRIGUEZ] AND DEREK JETER HAVE THE EXACT SAME INJURY.... HE'S BEING TREATED JUST LIKE DEREK JETER."
"I'M NOT GIVING UP," A-ROD SAYS. "I HAVE TREMENDOUS FAITH. HOPEFULLY THERE'S A COUPLE MORE CHAPTERS TO THIS BOOK."
SI.COM
For continuing coverage of Alex Rodriguez and the Biogenesis scandal, including breaking news and reports from SI writers Tom Verducci and Jay Jaffe, go to SI.com/mlb
PHOTO
Photograph by RICHARD ELLIS/ZUMAPRESS.COM
LIFE IN LIMBO When A-Rod met the press on July 2, he thought he was embarking on a three-week rehab assignment. A month later, a return to the majors looks less likely with each passing day.
PHOTO
CHUCK
BURTON/
AP
WARMUP ACT Rodriguez was a novelty on his minors tour, but the real circus was his off-the-field maneuvering against the Yankees' front office.
PHOTO
JOHN IACONO FOR SPORTS
ILLUSTRATED
OCTOBER WOES Rodriguez has hit less than .200 in each of his last four playoff series, including a .125 clip against the Orioles in last year's ALDS.
PHOTO
CHRIS LIVINGSTON/ICON
SMI
CASHING OUT When A-Rod confessed to PED use in '09, Cashman was by his side; now he tells his slugger to "shut the f--- up" and calls him Mr. Rodriguez.
PHOTO
SCOTT AUDETTE/
REUTERS
ONCE UPON A TIME ... His legacy already in tatters and facing mountains of evidence, Rodriguez remains resolute in his hope for a happy ending.