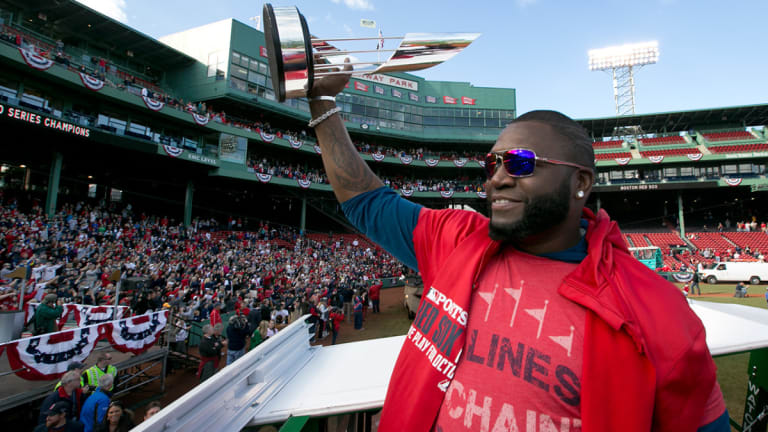 Boston Strongman
David Ortiz is brute October force, inarguably one of the greatest postseason sluggers ever, but there is a Tao of Papi that goes beyond the raw power and three rings. As a study in resilience and in seizing big moments, his story is the story of Boston itself
THE BRISTOL Lounge in the Four Seasons Hotel in Boston does a splendid job of backing up its modest boast that it is the city's premier venue for power lunches. Last Friday was no exception. Well-dressed and well-mannered people filled nearly every table in a spacious room made warm by the cherrywood tables and the floor-to-ceiling windows that invited occasional peeks at Boylston Street and the fall palette in the Public Garden.
The peacefulness of the elegant tableau was broken by a big man walking through the entrance of the lounge, a man dressed entirely in black—black boots, black pants, black sport shirt, black Boss sport coat with the label still sewn on the left sleeve—except for a rakish red plaid scarf that had the same effect as an exclamation point at the end of a sentence. The big man ambled, like a boulder down a small hill, with a hitch in his slow gait. His legs, of more normal heft, seemed to understand the importance of sedulity in supporting that famously bearlike upper body.
It started with one businessman at the table nearest the entrance. He applauded, and the rest of his table joined him. The commotion caused the diners at the adjacent table to look up from their lunch; they too began applauding. Like ripples from a stone piercing the surface of a pond, the applause spread outward until the last table in the farthest corner of the room saw what the fuss was about and added to the applause.
No one shouted or approached the big man in black. The applause was a respectful, sincere display of gratitude. Now this was a power lunch: David Ortiz, everybody's Big Papi, was out in public for the first time since leading the Red Sox to the World Series title two days earlier. (He spent the day after the Game 6 clincher hosting a team party at his Weston, Mass., house, the fourth such shindig in the postseason alone. This one was a Halloween party; Ortiz dressed as a wolf.) Ortiz had done more than just win the Series MVP award with a performance that made him the leading career hitter (.455 batting average) and slugger (.795 slugging percentage) in World Series history among players with at least 40 plate appearances. He also became, in the debatable but entirely defensible estimation of Red Sox president Larry Lucchino, "probably the most beloved athlete in the history of Boston."
Every World Series story is one of resilience: The grind of a 162-game season played in a 182-day window, followed by the wilds of postseason play, would test even Lewis and Clark. But among baseball's 109 world champions there has never been a story of resilience quite like this one. No team—not the 1969 Mets, not the '91 Twins—has won the World Series in the year after being as bad as the Red Sox were in 2012 (.426 winning percentage). And only six months before the Series—just a half mile east on the same street where Ortiz was applauded—two pressure-cooker bombs exploded near the finish line of the Boston Marathon, killing three people, wounding 264 others and terrorizing hundreds of thousands. Four days later the citizenry was ordered to "shelter in place" during a daylong citywide lockdown, while a manhunt for the bombers proceeded. The pleasant routines of life, including baseball, were put on hold. "I had to stay in my house the day we had a game because they were chasing those bastards," Ortiz says.
If any one person were to lead the Red Sox and—given the team's cultural importance in New England—by extension Bostonians through a terrible time, it was a man with an outsized capacity for resilience. Ortiz turns 38 this month. Since being signed out of the Dominican Republic at age 16 in 1992, he has been traded by the Mariners, cut by the Twins, accused (in 2009) of using steroids as far back as 2003, written off as finished virtually every year since '08 and branded by his manager last year as someone who quit on his team. What is the story of Ortiz if not the story of resilience?
The applause had stopped. The patrons of the Bristol Lounge had returned to their meals. Ortiz, asked to consider those who criticized him before this year turned out so well, gave a slight wave of his hand in the direction of the room. "Well," he said, "those are the same people who are clapping for me right now. That's always been my challenge in my career. Negativity is huge around here. And if you don't know how to deal with it, it will eat you alive."
*****
THE FIRST bomb went off at 2:49 p.m on April 15 and the second one 13 seconds later. Ortiz watched the aftermath on a clubhouse television in Pawtucket, R.I., home to Boston's Triple A affiliate, where he was on a rehab assignment as he worked his way back from an Achilles injury he suffered in July 2012.
Ortiz saw the pictures of Boylston Street, the restaurants and storefronts that were so familiar to him. He had trouble reconciling that familiarity with these pictures—the blood in the street, the fallen bodies, the shattered glass and the plumes of smoke. Wait, he thought, is that ... is that downtown? "I couldn't believe that was going on here in America, where a lot of good people [in the marathon] were trying to raise money to fight cancer," he says. "This is where God gets all of his angels and puts them together to raise money for a good cause. Who is thinking something bad is going to happen at something like that?"
Five days later baseball returned to Fenway. Serendipitously, so did Ortiz, for his first game of the 2013 season. Kenmore Square abuts Fenway, but today ballparks and arenas are our town squares. Those are the places we gather as communities, wearing the colors of the home team as a means of bonding, to open the public spigot of emotions. This day of gathering was complex. The people of Boston could leave their homes again, but no one could be sure what was on the other side of terrorism, even with one bomber dead and the other in custody.
The wounds were too fresh, and some will never heal. Somehow, during a pregame ceremony honoring the bombing victims and the law-enforcement personnel who hunted down the terrorists, a microphone wound up in the hands of Ortiz. The big moments seem to find him. "When I spoke on the field, it was just made up right there," he says. "I was just feeling like the fans feel. And when you feel like that, you need a superhero to come in and make you feel safe. I mean, we feel safe because of the police department and everything, but we need somebody to step up and say something to keep everything together. I think it was my time to say something. And it seems like I said the right thing even when it was wrong."
Ortiz lets out a belly laugh at the recollection of his famous vulgarity. On live television, Big Papi stepped up to the plate and with pride and defiance shouted, "This is our f------ city! And no one is going to dictate our freedom. Stay strong!"
*****
ON THE eve of the World Series, the Red Sox held detailed meetings to review the intelligence their scouts and other baseball-operations people had turned up on the National League champion Cardinals. The information could be excruciating in its detail, but two dominant themes emerged. For the Boston pitchers, the main takeaway was that St. Louis was an aggressive-swinging team—only two teams in baseball had more plate appearances end with just one pitch. Only four teams averaged fewer pitches per plate appearance. "We knew they'd keep swinging, even when they fell behind in games," Boston manager John Farrell says. "We used that to our advantage."
For the Boston hitters, the takeaway was that the Cardinals' pitchers brought premium velocity and were proud of it. They loved to challenge hitters with their fastballs. Ortiz heard all of this, and he watched extensive video of how the Cardinals worked the Dodgers' lefthanded hitters in the National League Championship Series. The videos confirmed how much St. Louis pitchers relied on their fastballs. When his preparation was done, Ortiz told Boston's hitting coach, Greg Colbrunn, "I'm ready to hit the fastball."
"That's all I hit," says Ortiz, laughing. "I got two or three hits on off-speed pitches. After that, everything was hard. Nobody throws me that many fastballs. I don't want to throw all my secrets out there. But I'm a good fastball hitter, man. I do my homework. I don't like to go out there naked."
Ortiz batted .688 in the Series—the rest of the Red Sox hit .169—and had the second-best OPS (1.948) ever in a Fall Classic among hitters who have made at least 25 plate appearances. He made the Series his own beginning with a critical at bat in Game 1. The average major league lefthanded batter makes 20% of his plate appearances against lefthanded pitching. So worried are opposing managers about Ortiz that 36% of his plate appearances are against lefties. Opponents know it is particularly important to match up tough lefthanded relievers against Ortiz late in games. The Cardinals were sure they had one of those specialists to neutralize Ortiz: Kevin Siegrist, a 24-year-old rookie and one of those St. Louis pitchers who was proud of his fastball. Siegrist held lefthanded hitters to a .118 batting average without a home run all year.
St. Louis manager Mike Matheny could not wait to match up Siegrist on Ortiz, even if the score in Game 1 was 5--0 in favor of Boston in the seventh inning. Ortiz had never before faced Siegrist, but he had done his homework. "I watched the video," Ortiz says. "He only has a fastball. Well, he tried to make something up my last at bat [in Game 6], but it was too late. On the video everything was fastball."
As Siegrist warmed up, Ortiz made sure to study every one of his pitches from the on-deck circle. Every time Siegrist drew his arm up to throw, Ortiz picked up his right foot and put it back down while his hands drew the bat back into a loaded position. He did not swing in these virtual at bats. He simply was timing Siegrist's delivery. So intense was his focus that the normally ebullient Ortiz ignored the pleas of a young boy in the seats behind him. "This kid was calling, 'Papi! Papi! Papi!' " Ortiz says. "I was like, Dude, relax.
"I know I'm going to get a fastball first pitch. I don't know where it's going to be, but I knew I was getting a fastball. When I went inside to watch the video [later], Yadi [Molina, the catcher] asked for a fastball away, but he threw it right down the middle of the pike.
"Boom!"
Ortiz smacked a 96-mph fastball over the wall in rightfield for a home run. It took just one pitch to render useless the weapon with which St. Louis planned to neutralize Ortiz.
*****
I'VE PLAYED with a lot of superstars," Boston catcher David Ross said, "but I've never been around a superstar who cared more about winning than David. He could go 0 for 4, but if we win the game, he's the happiest man in the room."
As closer Koji Uehara observed in the blog he keeps for a Japanese website, "The team seems to be in a good mood when Papi hits."
Ortiz is the team's leader in every imaginable way, a man of imposing size (6'4", 250 pounds) yet easy accessibility. He delivers the right words and mood for a club as reliably as he does big hits. He is a baseball philosopher—thoughtful, colorful, profane—and his well-scarred career and outsized personality serve him well in big situations that can rattle others. "You can be the real deal today and s----- tomorrow," he says. "That's how the game goes. On the day you feel your best, you can go 0 for 5. You go home and say, 'I feel like Superman, and I went 0 for 5.' That tells you how tough this game is: On your best day you had a bad day."
Imagine the hurt to Ortiz, then, when former manager Bobby Valentine told Bob Costas in a television interview shortly after the team's 93-loss, last-place finish of last year that Ortiz quit on his teammates after the blockbuster August 2012 trade that sent high-priced stars Adrian Gonzalez, Carl Crawford and Josh Beckett to the Dodgers. Valentine, who was fired as soon as the season ended, said, "[Ortiz] realized that this trade meant that we're not going to run this race and we're not even going to finish the race properly, and he decided not to play anymore."
You do not have to imagine—Ortiz will tell you how much it stung. When Valentine later texted him, Ortiz did not respond, and he does not use Valentine's name in discussing his former manager. Ortiz said he stood up for Valentine in April 2012 during a player insurrection aimed at getting him fired. He also said Valentine thanked him in a conversation at the end of the season for showing "me some guts. You played for me this year. I appreciated that."
Says Ortiz, "The same guy three weeks later said what he said. I didn't know if I wanted to be angry or I wanted to laugh at the time. Then he wants to talk and tell me he wasn't trying to hurt me? You either need some medication or you're an ass----."
*****
AFTER THE home run off Siegrist, the Cardinals spent the rest of the Series getting burned by Ortiz when they pitched to him and getting burned by others when they decided not to.
In Game 2, Ortiz tagged phenom righthander Michael Wacha for a two-run homer in the sixth inning for Boston's only runs in a 4--2 loss. Wacha threw Ortiz four straight changeups, the last one on a 3-and-2 count. Ortiz was not fooled. It was the first time all season that anybody hit Wacha's changeup for a home run. "My at bat before, he threw me a 3-and-0 changeup and then another changeup for a ball," Ortiz says. "My first at bat he threw me one fastball up here"—he motioned toward his neck—"and three changeups. So what would you be looking for?"
Only three batters before the home run, Ortiz was in the clubhouse on his cellphone frantically trying to track down the driver who was picking up his father at the airport and taking him to Fenway Park. Ortiz finally received word that his father had just walked into the park.
"You know, my dad was just telling people the other day, 'This kid, he always liked the big show,' " Ortiz says. "My dad knows that. My dad was the one who wanted me to be a baseball player because he always saw it. That night, I know my dad's in the stands, and the next thing you know I'm going deep over the Monster.
"When I go to watch my son, D'Angelo, he plays his best games. That's how I always was with my dad. Still am."
In Game 4, with the Cardinals up two games to one, starter Lance Lynn avoided Ortiz with the score 1--1, two outs and a runner at first in the sixth inning by throwing four pitches well outside the strike zone.
Matheny then chose rookie righthander Seth Maness to pitch to Jonny Gomes, who belted a three-run homer that turned the Series. The Cardinals, who never held another lead over Boston, were done.
What happened in the dugout minutes before that rally will live on in Red Sox lore. Ortiz gathered his teammates in the dugout for an impromptu pep talk. "The inning before, I'm watching everything," Ortiz says. "Watching my teammates, and knowing what they're capable of, and watching a lot of them with their heads down, and in a situation where we really weren't coming through against their third or fourth starters.... Don't get me wrong, all those guys have good stuff, but there's a different pressure when you're facing their ace.
"So that [Joe] Kelly kid was dealing. Good stuff. Lynn, great stuff. But we are the Red Sox! The team was really good offensively the whole season."
And so this is what Ortiz says he told his teammates, at least with the saltier modifiers deleted:
"Hey, guys, come here, and let me share a secret with you. Yeah, it seems like it was easy to get here from where we were last year, but guess what? Nobody here knows when you will be in the World Series again. This is unique. This is a one-time-in-your-life kind of thing. Enjoy. Try your best. You're putting too much pressure on yourself. We haven't played a game like we normally do. Why is that? Because we're in the World Series? It should be just the opposite. We get our asses kicked and lose tomorrow and then you're going to be sitting at home, like, Yeah, I was in the World Series, but I didn't realize it until now."
Says Boston pitcher Ryan Dempster, "You hear all the time about guys who have to 'step up' in the postseason. With him, it's just the opposite. He has the amazing ability to play the game the same way as the stakes get higher. His pulse rate stays the same for a World Series game as it is for a game in the middle of April. That's what makes him so special."
St. Louis ace Adam Wainwright said he decided before Game 5 that he would challenge Ortiz, not pitch around him. That plan was tested immediately. Ortiz came to bat with Dustin Pedroia on second base and one out in the first inning. With first base open, it was the classic opportunity to walk or pitch around a hot hitter. Wainwright wanted none of it. "I love facing aces," Ortiz says, "because I know they will challenge you. The minute I saw Yadi sit down and start calling pitches, I was like, O.K., it's on!"
It took just one pitch for Ortiz to burn Wainwright. He ripped a 91-mph cut fastball for an RBI double.
In Game 6 the Cardinals went back to avoiding Ortiz. They walked him four times, including three times intentionally—the first time anybody had been avoided so many times in a World Series clincher. Ortiz scored twice after intentional walks in a stress-free 6--1 Boston win, the first championship clincher for the Red Sox in Fenway in 95 years. That it occurred just six months after the marathon bombing added to the loud mix of relief and joy that shook the 101-year-old ballpark to its brick and mortar.
Ortiz reached base 19 times in 25 trips to the plate to walk away with the MVP trophy—though not literally so. Last Friday he stopped by the Boston clubhouse looking for the trophy. "It's in here somewhere," he said.
Following Game 6, Ortiz didn't leave the clubhouse until after 2 a.m., when he headed toward a team party. As he left the clubhouse with family and friends, assorted ballpark workers and police officers began joining him in the narrow, dark concourse underneath the old ballpark. Like rock stars and four-star generals, Ortiz never walks alone: Where he goes, people follow. One of his entourage at this late hour was Jeffrey Silva, the police chief of Westwood, Mass., who was assigned to help with crowd control and was overjoyed at the good fortune of running into Ortiz. Silva's eight-year-old son had asked him when he left for work for an Ortiz autograph, but now it was Silva whose eyes gave away the wonder of an eight-year-old.
"He represents everything Boston is about," Silva said. "Hardworking people who look out for one another. The way he handled everything from the bombing to the whole season tells you how much he cares. The epitome of leadership is when people look to you in time of trouble and you want to be the one to provide the help. That's what people see in David: a true leader."
*****
ORTIZ WAS so good in the World Series that his teammates started calling him Cooperstown. If that is where Ortiz is headed—as a man with 431 home runs; more hits, homers and RBIs than any designated hitter in history; the greatest World Series batting record in history; and the first man to win three championship rings without playing for the Yankees since Jim Palmer of the Orioles 30 years ago—then his road there will have been one of wooden wheels over cobblestones. It is one of the bumpiest ever traveled.
Before the Red Sox finally gave him a real shot midway through the 2003 season, Ortiz had been traded as a minor leaguer by Seattle for veteran Dave Hollins, a third baseman who would play only 28 games for the Mariners; had been cut by the Twins so they could make room on their roster for prospect Jose Morban, an infielder who would hit .141 in 61 major league games, none with Minnesota; and had been forced to split time with Jeremy Giambi, a DH who would be out of baseball after the Red Sox used him for 50 games in '03. Ortiz was 27 years old that season, his first with 500 plate appearances. He hit 31 home runs and finished fifth in MVP voting.
Ortiz and the Red Sox won two World Series in the next four years, but most seasons since then have been trying, if productive. In 2008 he injured his left wrist and missed 53 games. The next year he was hitting .219 as late as Aug. 15, the result, he said, of a loop in his swing caused by compensating for the wrist injury. "People were saying, 'Oh, my God, this guy is done,' " Ortiz says.
It was during the 2009 season that The New York Times reported that Ortiz was on a list held by the federal government of more than 100 players who tested positive for a banned substance during major league baseball's survey testing in '03, the last year of testing without penalties. The Times did not report the name of the substance. The players' union explained that the number of players on the government's list exceeded the number that MLB considered to have tested positive, and the union also said over-the-counter supplements could have produced a positive test result at the time. Ortiz, who hasn't failed a drug test under the anti-PED policy baseball adopted in 2004, says he never used steroids and that he never found out what substance landed him on the government list. "The one thing I can tell you straight-up," he says, "is I am not going to screw up my career by using some s--- just because I want to look better. I'm so afraid not just of that, but afraid of life after baseball, who I am going to be. I come from a family where my dad got cancer. He's got it under control, but it's in my genes. I know those things you put in your body, they take you there faster."
Ortiz hit .238 in 2009. It took only one week into the following season for his critics to write him off. Boston Globe columnist Dan Shaughnessy, writing for SI.com, opined after five games, "Ortiz will never again be the slugger he once was. Good pitchers toy with him." He advocated giving Ortiz's DH job to Mike Lowell and Jeremy Hermida. By May 4, 2010, Ortiz was hitting .149 with three home runs. He hit .288 with 29 homers thereafter.
Ortiz and Tigers slugger Miguel Cabrera are the only hitters in baseball to put up an OPS greater than .950 in each of the past three seasons. Ortiz is the rare older player still slugging away at a high rate in the testing era: In the last nine seasons he is the only qualified player at least 37 years old to exceed a .950 OPS.
*****
IT'S ALWAYS something, isn't it?
The Celtics keep calling: They want to know if they can host him at their Nov. 1 home opener. (No, he's spending quiet time at home with his family. Maybe next week.) All the late-night talk shows want him and upping their perks to land him. (Letterman wins, clinching the deal with a private jet to ferry him to and from New York.) The Country Music Awards want him to present one of their trophies.
The glow of one of the greatest World Series performances by one man has put Ortiz in demand, but ... there's also always something negative, isn't there? Just after winning the series, Ortiz found out that a national radio host suspected that his performance might be explained by the use of steroids. Ortiz had gone 2 for 22 in the ALCS before he went 11 for 16 against the Cardinals. "First you hear, 'This guy needs to step up his game,' " Ortiz says. "Then I must be on something to hit like that in the World Series.
"What world are we living in right now? A week later? Really, what is it that we need to do?"
Cynicism and snark have become accepted American social mores, often carried out to outright vitriol. The eyes and ears of the foreign-born player provide an interesting point of observation for this shift. Uehara, blogging in his native Japanese, expressed puzzlement about Boston articles cataloging "nightmares" in the Red Sox' postseason, including a loss in the Division Series when Tampa Bay's Jose Lobaton hit a walk-off home run off Uehara. "Why do people write such negative articles when I'm trying to be optimistic and trying my best?" he wrote.
Ortiz is such an aficionado of baseball that he helped Molina with a batting tip about his leg kick during the World Series. "I want the game to be good," he says. He is worried, though. He is worried we have become so cynical that nobody will accept greatness from a player without thinking it was chemically enhanced. "That's the world we live in now," he says. "It's like there are no true players. I guarantee there are people doubting about Cabrera and my boy Christopher Davis [of the Orioles] and [the Angels'] Mike Trout. But there are true players in this game. A lot of them."
Ortiz has one year remaining on his two-year contract. He will be paid $15 million next year, the highest salary of his career. He doesn't know how much longer he will play. He doesn't know because it depends on how long that big body holds up.
"When I don't feel good, it's over," he says. "If this body keeps treating me well, I go on. I don't want to be in a wheelchair when I'm done with baseball. Sometimes you keep pushing, and the next thing you know you hurt something that is not fixable. I want to enjoy my kids and come to the field and help some other kids."
Ortiz got up from the cherrywood table and, with that little hitch in his step, walked through the restaurant toward the exit. As he wound his way around the tables, stopping for pictures with a mom and daughter, as well as a group of young ladies, another round of applause went up, this one a little longer and a little louder than his entrance accompaniment. "Stay strong" is what he had advised them all back in April. A prolific baseball career, even a possible Hall of Fame one, was built on those words. The applause recognized that those words, this season and this city had never belonged more to Big Papi than they did at that moment.