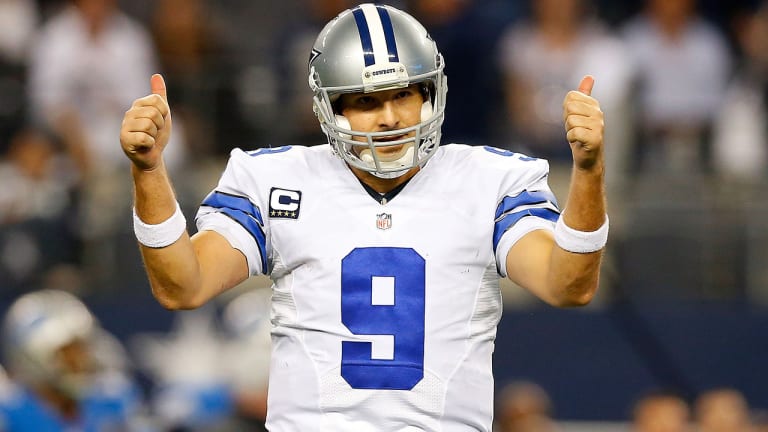 Why Ya Gotta Hate?
Why do you doubt Tony Romo? Is it because he's a choker? (Statistically, he's not.) Because he lacks Peyton's public passion? (Eye roll.) Because he doesn't have rings? (Is that really his fault?) The Cowboys' quarterback has stepped from obscurity to the brightest spotlight—and he can make you think twice about what you expect from the position
A boy on a bike in a blizzard. Imagine that. It's a December Friday in Burlington, Wis., evening closing fast, and the wind is whipping, the sleet flying sideways—a get-home, stay-inside kind of storm. Anyone who's lived there a day knows enough to stay off the road. Cars rumble by the boy, their fat tires peppering him with slush. What kind of idiot... ?
Ramiro Romo has stopped looking for his 15-year-old son by now; he figures Tony rode the Burlington High bus to his basketball game at East Troy. But just a few minutes outside Burlington, Ramiro squints at the figure ahead, back hunched, legs churning. He's sure it's Tony the moment he sees him.
Anyone who knows Tony Romo has heard this story. Anyone who loves the Cowboys' quarterback loves telling it. It's 1995: a boy on a bike in a blizzard. Storm holds up his dad on a jobsite in Racine; kid can't find another ride; figures he'll power his fixed gear, banana-seat special 15 miles through the snow. That night Tony led Burlington to a win in double overtime. That's Tony, they all say.
But there's always been one thing missing from the retellings. For Ramiro, it was disturbing, actually, to see his son so desperate to play. Tony wanted it—whatever it is that sports give—so badly that it could make a lunatic ride seem logical. Ramiro had never seen such want. As he eased his pickup truck to a stop he felt a tightness building up in his chest, like a stone placed there.
"I started crying," Ramiro says. "I couldn't hold it in."
It didn't make sense. Tony would soon be a star, a quick study who excelled at any sport that he put his hand to. He was good-looking, upbeat, a leader, and in years to come none of that would change. But he possessed this other quality, produced an effect that anyone invested in him needed to live with. The effect would come and go, and then, just when you thought it was gone for good, there'd be Romo yanking his chinstrap and walking hunched off the field. Just to see him, sometimes, the guy could break your heart.
There comes a point in any long discussion with Tony Romo when he'll let slip the word greatness. Be ready. It'll catch you flat-footed, at least the first time, because he's supposed to be about many things—sweet and telegenic blondes, maddening interceptions, games horribly lost and stunningly won—but not that. That's bigger game than you'd expect from an undrafted free agent who by all rights should be thrilled just to be here—and who often appears to be exactly that. Greatness seems more the purview of others, madly gesticulating quarterbacks, brain surgeons and actors who decide to take on Hamlet. Tony Romo, king of Cabo, is not the type to take on Hamlet, is he?
Yet here he sits one October evening at home in Irving, Texas, sporting the postpractice slacker ensemble—ball cap, loose T-shirt, baggy shorts—when he drops the word. He's wearing the same grin that opposing fans take as a self-satisfied smirk (and that Dallas fans take as a sign of ease or the lack of a ravenous hunger that can be sated only by football, 24 hours a day), saying, in essence, You must not believe all that you see.
At 33, Romo has, it turns out, a code. It has to do with finding his own weaknesses and attacking them without pride or mercy. It also has to do with keeping such effort out of view.
"I don't enjoy showing that to other people," he says. "I think there's some greatness in doing it on your own. I saw at a young age all that showmanship of showing the grind, and I really appreciate the hidden grind. It makes you feel like you have an advantage. It builds your confidence. I prefer to work on my own, then come back and be better. You show up, and then it's, You've improved; that's great! The guy who is always being seen—to me, sometimes that seems fake."
Cynics, of course, will dismiss that as so much spin. With just one playoff win in seven years, it seems fair for the Dallas faithful to suspect fouled priorities. There was Romo's lost weekend in Mexico with singer Jessica Simpson before a loss to the Giants in January 2008, and that postdefeat blurt in '09, "If this is the worst thing that ever happens to me, then I'll have lived a pretty good life." His golf jones has never sat well, either; the minor back trouble that kept Romo and his scratch game off the links last off-season proved a p.r. blessing. What with the six-year, $108 million contract extension he signed last March and his new, hands-on role in planning the team's offense, it's in the interest of everyone at Valley Ranch to recast the Romo brand.
Still, there are witnesses to this hidden grind. They go way back. Romo studied film, mashing the stop-rewind-play buttons so relentlessly at Eastern Illinois that he wore out at least six VCRs; as an NFL rookie he went to school so deeply on Peyton Manning and Brett Favre that he could perform flawless imitations of their drops and throwing motions. "I've been doing this 30-plus years," says Roy Wittke, Romo's coordinator at EIU (and before that an assistant at Arkansas and Arizona State). "He was, by far, consistently the hardest-working kid in practice I've ever been around."
These people speak of hours on weeknights and on vacations spent fielding Romo's passes under lone streetlights, certain they were risking fingers and noses, knowing he wouldn't let up until whatever feeling he sought was found. "It was dark, I could barely see the ball anymore; I'd asked him a couple of times if we could stop," says Steve Tenhagen, one of Romo's Burlington High receivers, of his trip with the QB to a celebrity golf tournament in 2010. "My hands were stop-sign red."
One Christmas, Tony had his old man out in -10°, shagging balls. Thirteen years later, two of Ramiro's fingers are still bent and swollen.
How could they know? The endlessly repeated square-outs and -ins, deep comebacks, play-action, Tony running through the whole progression, then doing it over again, this time to different spots—all was in service to a subtlety that only he can feel. If you want to see Romo excited, ask him about the most minute adjustment—the index finger shifted a quarter-inch, the pass held just a fraction of a second longer—needed to ensure that the ball is "coming off right." That's his job, of course, but it's also a nagging personal imperative: Imprecision bugs him.
"He's always been down to the second, his whole life," says Romo's mother, Joan. Before a game early in his career at EIU, players were visiting with their parents in a parking lot when, one by one, they began heading into the locker room. Eventually only Tony was left.
"Don't you have to go?" Joan asked.
"We have 30 minutes," Tony said. "It only takes 21 minutes to dress."
On the final day of 2012, Gil Brandt, the Cowboys' player personnel guru during the team's original glory era, a "superscout" who once saw great promise in Dallas's quarterback, wrote a column for NFL.com. The team, he said, needed to "cut ties with Tony Romo." Few disagreed—publicly anyway. The day before, with a playoff spot on the line, Dallas had trailed Washington by three with three minutes remaining when Romo tossed up a lusciously fat, hope-killing screen pass for his third interception of the game.
And it was just the latest in a wretched line. Romo, who threw a pick with the first pass of his 2006 debut, ended that season by bungling the snap on what should have been a late go-ahead field goal against the Seahawks in the playoffs. Two years later, in the postseason against the Giants, he lofted a pick with nine seconds left that ended the Cowboys' year. Eleven months after that he served up a fatal pick-six in a showdown with the Steelers. Or maybe your favorite howler is that last-minute gift to the Jets' Darrelle Revis in '11? "There's just something lacking," Brandt wrote. "As far as I can see, Romo just doesn't have it."
Après Gil, le deluge. Last March, after former Eagles QB Donovan McNabb heard news of the $55 million guarantee in Romo's new deal, he tweeted, "Wow really, with one playoff win. You got to be kidding me." In August former Texans defensive end Travis Johnson called Romo a "loser" and a "thief" and something of a murderer too. "He's killing the franchise," Johnson said. Last month Forbes published a poll: Tony Romo, it seems, is one of the most disliked people in sports, just behind Kobe Bryant.
Hatred for anything Cowboys related accounts for much of that, surely, but such extreme disdain for a man who's never been arrested or tortured a dog is, at the very least, curious. Then again, maybe Romo annoys people so much not because he's so bad, but because he's also so good—and such a mad juxtaposition resists all efforts to pigeonhole.
On paper, Romo ranks among the finest. A supposed choker, he has the best fourth-quarter passer rating in the regular season (102.5) of any QB, ever, and his 11 game-winning drives since 2011—the latest a 14-play march on the road, with Romo connecting on six of nine attempts for 67 yards, in the final 4:45 to set up the winning field goal against the Giants on Sunday—lead the league. This season, the 6'2", 236-pound Romo has thrown just seven interceptions while being lodged, as usual, among the NFL leaders in completion percentage (64.2, eighth), TDs (23, fourth) and passer rating (97.2, seventh). He reached his 100th career start last month, and through the century mark his passing yards (28,668), percentage (64.7) and TD-INT ratio (200-98) stack up just fine alongside those of Dallas legends Roger Staubach (18,758/57.1/126-88) and Troy Aikman (19,948/62.8/99-86).
Still, by their 100th games Staubach and Aikman had each won two Super Bowls. Little in the Cowboys' current 6--5 campaign suggests that they'll be collecting hardware anytime soon, and it's going to take plenty more finishes like Sunday's 24--21 season saver over New York—in January, not November—before anyone believes that Romo in fact has it. Indeed, for many, his performance in a Week 5 thriller against Peyton's Broncos was a career in confounding miniature. Romo passed for a team-record 506 yards and five TDs but, with 1:57 to play, stumbled on a lineman's foot and uncorked—into triple coverage, no less—the interception that set up a 51--48 loss.
"The guy puts 48 points on the board, and half the city is saying he lost the game," says Staubach. "I never, ever would've won a game where the other team scored 51 points.
"That, to me, is proof that [people] are not going to get over Cabo or a mistake here or there. It's always Tony—he's the lightning rod. The offensive line last year was trying to find itself; pressure was up the middle; the guy had to scramble and do everything to make plays. If Peyton Manning was on that team, I don't know what he would've done."
Funny thing: Manning could well have been wearing a star on his helmet last year. For the first time since Romo took over, owner Jerry Jones says that he thought about replacing his QB. But after a quick risk assessment—age, the uncertain state of Manning's neck—Jones went all in ("Las Vegas--style," as he says), lock, stock and contract extension, with Romo.
"With all due respect—and I have it for Peyton—I'm not interested," says Jones. "Our best chance is [with Romo]. There's more time, and we're going to get more shots at it, with Tony. There are no alternatives."
Bill Parcells, the Hall of Fame coach who unleashed Romo on the league in 2006, agrees. He describes Romo—as he does Phil Simms, who piloted his Giants to two titles—as a "better-than-good" talent. "I'd take my chances with Romo anytime, without question," he says. "He makes as many plays out of bad plays as anybody in the league. I know what kind of player it takes to win—and I do think he's that kind of player."
Oddly enough, that sentiment is echoed by Brandt, who says, "[Dallas] can win a Super Bowl with him." He attributes this season's missteps more to injuries, a thin running game and a hinky defense than to Romo. And yet, he'd still unload him. "The guy mystifies me," Brandt says. "He has everything, but everything doesn't translate into winning when you need a completed pass against Denver. For some reason the black widow is following him."
If that sounds like so much mumbo jumbo, so what? The idea of a quarterback having the ineffable "it" still holds heavy sway in the stat-happy NFL. Aikman, who led Dallas to three Super Bowls, thinks Romo is great, "amazingly gifted," and was even quoted once saying that Romo is better than he was. But....
"Well, that's what I've said," Aikman laughs. "He's a more talented guy—he can extend plays, he can create plays, he can do things that I couldn't do. I know what I contributed to our success, and some of that is physical. But probably far more of that is intangible."
In other words, better doesn't mean greater—doesn't mean greatness. Winning a title is the only coin of the realm that matters—and that Aikman's first one came in his fourth year and Staubach's in his third relieved the very pressure that has been building for eight seasons on Romo.
"I would have loved to have had the start that Tom Brady did, won a couple of Super Bowls early," Romo says, "but I wasn't good enough at the time. I have to get better. You start to understand that all the talk and noise really don't matter. Every quarterback goes through the same thing. You have to keep getting better; your team will keep getting better—and you'll have a chance."
Aikman and Staubach have each reached out to Romo over the years, tried to let him know that they're there for him. They're the only ones who truly know the scrutiny the Cowboys' QB lives under. Yet it doesn't matter. He's never once asked for advice.
"Each one has their own gambit, I guess," Romo says. "Everyone runs their own race."
The image has almost been lost in all the struggles since, but at one time Tony Romo was considered a kind of American ideal. This had little to do with the fact that Cowboys quarterback, like Yankees centerfielder, is considered in some precincts to be a job on par with U.S. president, albeit better paid. Not even those who gag at the words America's Team could ignore the historic chords thrummed by his rise.
Romo's paternal grandfather, Ramiro Sr., is a Mexican immigrant who arrived in San Antonio after World War II, toiled as a migrant laborer, emigrated north and worked at a sauerkraut plant in Franksville, Wis.; there he bought a bar, added a grill and earned a pilot's license. Ramiro Jr. woke up at 4:30 a.m., five days a week, for nearly 30 years to work construction. But Burlington's assets—even the Nestlé chocolate factory—were easy to overlook. Tony was ignored by major colleges, passed over in the NFL draft and didn't take a regular-season snap in any of his first 3½ years as a pro.
His breakout in 2006 felt like one of those too-good-to-be-true narratives, equal parts Rocky, Rudy, It's a Wonderful Life and just about every Western ever. Coaches loved describing him as a gunslinger who "has the gift to step up there, take the risk and pull the trigger," says Jones. Romo appeared to have bought in himself: He picked number 9 because that's what Roy Hobbs wore in The Natural, his favorite movie; he still has the entire sound track stored on his phone.
As a kid, anyway, the nickname fit. Romo shot baskets between his dad's rec-league games and on mornings went with his mom to her job working the counter at a golf course, getting in seven or eight holes before the elementary school bus came. Kids choosing sides for pickup games tried to load Romo with the worst players; he still won.
In the fall of his freshman year at Burlington High, Romo told his father he wanted to play football too. Why not?
"What position?" Ramiro asked.
"Quarterback," Tony said. Hoops remained a constant; he became a lights-out point guard, named all-county as a senior alongside Racine Park High's Caron Butler, a future NBA All-Star and world champion. When Romo finally hit the field for his first real game—a broken finger kept him off varsity until his junior year—he ripped up Elkhorn for 308 yards.
He also, in the loss, threw two interceptions that were returned for touchdowns. It didn't matter. Inexperienced as he was, Romo stunned coaches with his ability to run through three- and four-receiver progressions, and back again. Average high school quarterbacks usually don't make it past their first two reads. "I was given a gift: vision, being able to see," Romo says. "That's probably the reason I was able to make it to the NFL being as bad as I was in every other category." In truth, it wasn't his only strength.
"I started getting balls thrown to me in spots that I'd never had them before," says Tenhagen, who caught 13 passes for 169 yards in Romo's debut against Elkhorn. "I might've been covered a bit, but he found ways to get the ball into those tiny little holes."
Burlington's move to a higher classification in 1997 made Romo's senior year more of a struggle. He finished his career with 42 TDs and nearly 4,000 yards passing, but even his football coach, Steve Gerber, expected him to play hoops in college. Instead, Romo assessed his talents and projected. The family didn't have money to spare; football would be his one chance for a scholarship. Those odds were still slim. If not for Roy Wittke's father, Robert—a sports nut from Racine who all season long had mailed his son newspaper clips about the Burlington High phenom—Eastern Illinois wouldn't have even given Romo a look. The only time that the younger Wittke had seen the kid play live was in a basketball game. "When a play needed to be made—a steal, a rebound, a jump shot," Wittke recalls, "Tony was in the middle of it."
Wittke, it so happened, needed a quarterback. He signed Tony to a partial scholarship, redshirted him—and then nearly lost him. Romo drifted through his freshman year, went home for the summer to work at a marina and did nothing to upgrade his quarterbacking skills, which to this point had been limited to three-step drops and naked bootlegs. When he returned to campus for fall practice, reality hit. Even in Division I-AA, players were bigger, stronger, faster than any he'd faced. Romo threw sidearm. His footwork was lousy. He kept missing open receivers. For the first time he was in over his head.
"I stunk," says Romo. "I was so pissed at myself for not becoming a better player than when I'd left my last practice—I had three months! I thought, I never want this feeling again. It ate at me every day. I didn't know what it took to be successful, but that shaped my work ethic for the rest of my career."
So raw was Romo that, at the end of his redshirt freshman year, Panthers coach Bob Spoo proposed moving him to tight end. Wittke, the offensive coordinator, didn't like the idea, mostly, he says, because "I didn't think he could play tight end."
Tony, meanwhile, mulled quitting football and resuming basketball. He begged for a reprieve: Give me until the spring game to get better. Give me three months.
Romo followed through this time. He threw every day—with receivers in practice, with buddies after dinner, on the sideline while waiting for reps in three-on-three. He would disappear for hours, alone with a bag of balls. When he went home, he asked his mom for help; Joan protected her hands with a pillow.
At a Panthers spring scrimmage, Romo connected on 21 of 22 passes. "I was a completely different player," he says.
And with that, Romo's days as a natural were done. His life as a grind, hidden or not, began. To stay on the team, keep his scholarship, simply stay afloat—let alone start—Romo had to change his very idea of himself. "From the middle of college to the NFL, I threw 360 days a year," he says. "If I took one day off, it felt like I lost seven days—it took me seven days to get back. People would say, You've got to rest your arm, but I hadn't picked up a football and thrown it until late in high school. I was 10 years behind every other kid from Texas."
He opened the 2002 season with a four-touchdown performance against Hawaii and ended it by winning the Walter Payton Award, I-AA's version of the Heisman. Through it all, win or lose, Romo's parents never interfered—with one exception. In the second game of '02, at Kansas State, on the biggest stage of his life, Tony forced ball after ball, coughing up three interceptions in a 63--13 rout. Just before Wittke stepped onto the team flight to Charleston, he felt a tug on his arm. "Hey," Ramiro said. "I want to talk to you when we get back, O.K.?"
Here we go, Wittke thought. Classic parent nonsense: It's the coaches' fault.... You're playing too tough a schedule, putting too much pressure on him.... What about my kid's future?
The plane landed. Ramiro pulled Wittke aside. "Roy," he said. "I just want your permission to rip Tony's ass, because I think he's trying to do too much and he's hurting the team. But I don't want to say anything unless you give me permission."
It took a few seconds before Wittke found his tongue. "Sure, Ramiro," he finally said. "Go ahead."
Romo didn't have time to get depressed after seven rounds passed in the 2003 NFL draft without his name being called. The pain of seeing 13 quarterbacks (Carson Palmer, yes, but also the likes of Gibran Hamdan, Brian St. Pierre and Dave Ragone) be judged superior prospects didn't last because his phone kept ringing. More than a dozen NFL teams asked him to come to camp as a free agent. He didn't know whether to feel humiliated or flattered. "Crazy thing," Romo says. "You know you weren't really wanted—yet they want you now."
Had hometown draws like the Bears or the Packers shown any interest, he would have jumped at the chance. Dallas was the next best situation. Not only was Parcells taking over as coach, but also the quarterback situation was in flux, and the man overseeing that lot, Sean Payton, had set all kinds of passing records at Eastern Illinois. He and Tony even knew each other a little. When Jones allowed that he'd pay up to $15,000 for Romo, Payton told him to put away his money clip. "Nah," Payton said. "We can get him for [less]."
Romo signed for $10,000. He sat fourth on the depth chart, set to battle with veteran Clint Stoerner, when he arrived the next week for rookie minicamp. After years of drilling, Romo had a stronger arm, a quicker release and a knack for extending plays that couldn't be taught. At the end of the last day of camp, assistant David Lee, fresh from the college ranks and charged with coaching the reserve QBs, told Parcells how much he liked Romo's pocket instincts—"like he's got eight sets of eyes in his head!"
"Oh, you like him, huh, Lee?" Parcells said. "I need to take you to a real game. He'll get six passes knocked down for every 72 snaps, the way he's releasing the football."
Lee wanted to crawl into a hole. A few minutes later Romo asked what Parcells had said. Lee couldn't look him in the eye. The field emptied. The two men sat. Lee took a deep breath and told the QB what he'd heard, and it was the damnedest thing: Romo barely blinked. He didn't get defensive, try to sell his sidearm delivery or talk about his sky-high completion rate in college—66.4% one year! "Well," Romo asked, "do you know how to get my release higher?"
Lee knew, all right. He was a reformed sidearm slinger himself, at Vanderbilt in the 1970s, and he'd been revamping the motions of option runts forever. The process usually took a season or more—8,000 to 10,000 throws to shake out all the bad and instill new muscle memory. But Romo was not in need of some three-inch tweak. Lee figured he'd need to raise Romo's arm slot somewhere between 18 inches and two feet for him to survive in the NFL. He needed serious time.
"No," Romo said. "I want to do it now."
Lee tried refusing. Training camp was only three months off; start today and Romo risked losing his touch just as he was trying to cement a job. "Make the team first," Lee said. "We'll start right after."
They started the next day. While the other rookies scattered home, Romo stayed in Dallas, throwing in the summer broil. Every day he launched 80 to 85 passes over a contraption called a Gilman net, which Lee initially set low and gradually raised to 10 feet, nudging Romo's arm ever higher while forcing him to pull the ball down so the pass could clear both the charging defensive linemen and the ravening linebackers before descending hard to a receiver on the run. Afterward Romo would go back to his apartment, try to rest. Soon he'd be picking up a ball, spinning it off his fingertips, spiraling it into the couch cushions. Come 9 p.m., Lee would hear his phone buzz.
"Can you meet?" Romo would ask. "I need to get some more throws in."
By the time the Cowboys opened training camp in late July, Lee figured Romo had thrown some 5,500 passes—and the coach was a nervous wreck. He had never cleared his little project with Parcells or Payton. While Quincy Carter and Chad Hutchinson battled for the starting job, Romo was lucky to get two reps during seven-on-seven drills. On each snap, Lee says, "I would be behind the huddle, praying to God that he didn't throw it over the lights."
He did fine. Romo stuck, leapfrogged Stoerner to QB3, kept working. Nights, he'd recruit any receiver he could to run routes for him in the team's indoor training bubble. "That's the biggest misperception of Tony: It looks easy, nonchalant, like he's just playing in the backyard," says 11th-year Dallas tight end Jason Witten. "But I've never seen somebody try to perfect their craft the way he has."
And within that striving, lies something that Witten calls "puzzling": The small-town kid, never a blue-chipper, overlooked at nearly every turn, carried himself as if he belonged. Part of this was physical. Told for years that the NFL would be so much faster, Romo found himself keeping pace. "I could see everything pretty clearly," he says. "I felt it should be a lot faster, from what I'd heard."
But his ego was also wired differently. "We all joked about [being cut]," says Witten, "but that was never a thought with Tony."
A year after Romo's arrival, in 2004, when Parcells traded for quarterback Drew Henson and brought in elder statesman Vinny Testaverde, Romo's parents were certain their son was walking a knife's edge. After Tony's three-completion, two-interception horror in Houston during that preseason, Ramiro asked Joan, "Do we have any room in the car?"
When they met with Tony under the stadium, Ramiro couldn't help himself. "Son, you suck," he joked. "Are they going to let you back on the bus?"
"Ahhh, Dad, don't worry about it," Tony said. "Nothing was run correctly.... We had some miscues.... It'll be fine."
And it was. A year later Henson was gone, then Testaverde. Romo kept throwing. In 2006 it was just him and 34-year-old Drew Bledsoe. Parcells gave Romo the ball for an entire preseason game—show us what you got, kid—and he went 19 for 25 with a touchdown and no picks. "After that," Parcells says, "I had an idea that he might make it."
Two weeks later, before Dallas's final preseason game, at home against Minnesota, Jones and Parcells cornered Romo in a cramped coaches locker room at the old Texas Stadium. Romo had just the upcoming season remaining on his contract, and the Cowboys wanted to lock him up with a minimum-salary extension larded with incentives: $1.8 million over two years, plus a $1 million bonus. Romo's agent wasn't present. His teammates were dressing. The game, perhaps his last chance to showcase himself for a while, was about to begin.
"Figuratively speaking, I had my foot on [Romo's] foot, and Parcells was leaning on him on the side," Jones says. "We were right in his face."
Agree to this, they said, or you're not playing tonight. Romo, 26 at the time, was still nine hours short of his communications degree. Parcells, on the other hand, was a master intimidator with two Super Bowls rings; Jones was one of the nation's most famous billionaires. Both were his bosses. "I would've expected a lot of stammering, stuttering, awkwardness," Jones says, "because we were wanting to create some awkwardness."
Instead, Romo looked at both men square. He knew well enough that money rules; the more he was paid, the more it would be in the team's interest to put him on the field. "Mr. Jones, until you invest a certain amount in me, I may not ever play," Romo said. "I just want the chance to show that I can or can't do this. You've got to show me some commitment."
Romo wanted the bulk of his incentives converted into guaranteed money and—face blank, save for a little grin—he wasn't budging. The three men talked for a few minutes before Jones finally blinked and said, "Deal," and Romo walked out the door with an extension worth a steel-plated $1.9 million over two years plus a $2 million signing bonus.
"I've had easier discussions," says Romo. "To be able to compete and play, I would've given up anything. I just had to trust my gut, my heart."
After their locker room deal, the two old men, alone now, looked at each other and uttered perhaps the NFL's most important words.
"We got a quarterback," Parcells said.
"We got a quarterback," said Jones.
Fame came fast. It wasn't like the game; no one had warned Romo that becoming "somebody" had a pace like nothing he had ever known. One minute he was sitting in a 3½-year-long limbo, the next it was Week 6 at halftime against the Giants, and Bledsoe was out; then Romo beat the Panthers and ripped the Buccaneers on Thanksgiving with five TD passes. Cowboyland tripped into a frenzy. Romomania swamped the NFL. Parcells chided reporters to "put the anointing oil away," but who wanted to hear that? Anointing was fun.
And it had its perks. Fox Sports worked up a get-to-know-Romo piece. "One of the questions he was asked was, 'Who's your dream date?' and Tony says, 'Jessica Simpson,' " Aikman recalls. "Two nights later he's having dinner with Jessica in Los Angeles. Now that's a whirlwind."
So Romo spun for a while. Parcells had drawn up a Ten Commandments for the quarterback during his rookie year, along with this rider: "Don't be a celebrity quarterback." But Romo got his ticket punched anyway. He dated country singer Carrie Underwood, escorted her to the Country Music Awards, served as a Miss Universe judge, dated Simpson. When Simpson showed up in Dallas for Romo's 2007 game against the Eagles wearing a pink number 9 jersey, he threw three interceptions. "It's never easy," quipped Fox broadcaster Joe Buck, "to play in front of your girlfriend." Maybe that was Parcells's point.
"You don't know anything," Romo says, looking back. "When you're young and things are there for you, it's different. You say yes to everybody because you want to be a nice person. Eventually you learn that you don't have to. You can map out how you'd like things to go, make the choices that are best for your family and for the team. It makes it easier."
In the summer of 2007, Candice Crawford, then a sophomore at Missouri's journalism school, was interning with the Cowboys when she interviewed Romo at the team's training complex. A bunch of us are going to the movies, he said. You in? As she was getting ready later, he rang back: "Actually everyone bailed. It's just you and me. I'm on my way...."
Now he calls Candice—pregnant with the couple's second child—in from the family room. "Hey, Bubbles! How did we meet? See if she gets this right...."
What follows is classic he said/she said, spouses tripping over each other's versions. The movie—Mr. Brooks—was a bit dark, the date just fine.
"We didn't really talk for two years," Candice says.
"She was too young," Romo adds. "I wasn't going to date a college girl. We stayed in contact a bit, texted every few months. Scott probably won't like that...."
"Ha-ha," she says.
"... the guy she was dating then."
"And then I got hired by the Cowboys. The video staff was giving [Tony] a hard time: Guess who we hired?"
That was 2009. Romo had just ended a two-year relationship with Simpson. Crawford had just won the Miss Missouri pageant. The two have been together since, marrying two years later. (It wasn't a modest affair; her brother, Chace, is an actor and her father is a prominent Dallas dermatologist who treats Jones.) In April 2012, Tony and Candice had their first child, a boy, Hawkins. Tony picked the name. He liked the sound of it.
Candice grew up a Cowboys fan. She's asked if her sense of what a player's life entails is different from what she had imagined, and Romo chimes in.
"Yeah," he says. "Is it as exciting as you thought?"
"I think what we miss is that [players] are human," Candice says. "Fans in Dallas, they view the players more like politicians, like they own them. You forget that they're a husband, a dad...."
"That's what you thought about when you were young?" Romo asks.
"I just feel like people forget. They [think] the players are a commodity."
"See, I don't think so," Romo weighs in. "I think people just like rooting. If they like you, they're going to want to root for you and you're one of theirs. And if they don't like you? It doesn't matter."
That's the surprising thing about Tony Romo: He can relate to the fans who don't care where he came from or how hard he works and who just point to his mistakes, his dismal playoff record. Of course, he has no hand in the draft or the defense or the injuries or the many moneyed decisions. He knows the game.
"I will tell you straight up: Without winning a championship, it's going to be very hard for me to have fulfilled what I set out for," says Romo. "You just can't be considered one of the best without it. Only some people can—the Dan Marinos and Jim Kellys of the world. Everybody else, it comes down to that. Is it unfair? It doesn't matter. It is what it is. So you'd better go do it. You have no choice. There are no excuses. Did you get the job done or didn't you?"
But is it really that clear-cut? There has always been another subset of athletes that the culture adores: the beautiful losers—Ted Williams and Ernie Banks, Archie Manning and Pete Maravich, players who never won big yet still came to be regarded with respect, romance even. Maybe ours is a less forgiving, zero-sum era, but it was only in this, his eighth season as a starter, with that performance in Denver, that Romo received the first glimmering of such regard. There's something admirable in the way that he keeps coming. He brings up that word again.
"Nothing's ever been handed," Romo says. "You don't just show up and start and then win a Super Bowl. The challenge of trying to get there is the greatness. The greatness is having to compete your butt off and consistently do everything in your power to figure out how.
"It should be hard. If it was too easy, everyone would do it. If it was easy, it wouldn't be as great when you actually accomplished it. I like to think that we might be good enough to actually do that. And that makes me excited going forward the next four or five years."
Each fall Romo has come back to the team with some tweak to his throwing motion, a refinement that even his coaches can't see. This year he spoke to reporters of "discovering something really special," but he refused to expand. What if some rival QB is, like him, studying any and all peers for the slightest edge?
But he's willing now to reveal one subtlety he picked up—O.K., seven years ago, near the end of his breakout season. It had to do with this pressure he felt, even when the pocket wasn't collapsing. He studied film for weeks, trying to understand. "You sit there and you watch and you're like, There's nothing wrong, there's nothing wrong, there's nothing wrong.... So why is there something wrong? Why I am feeling rushed?" Romo says. "And then, after watching enough tape, you're like, Ding! Ding! Ding! That's why."
With that, he bolts to a spot in the front hall, near the sofa. He crouches behind an invisible center, pulls in the invisible snap, drops four steps back, takes the natural thrower's crow hop forward and flings the invisible ball toward the invisible Witten or Dez Bryant. Then he does it again.
See? It was those two forward steps, he says, that brought him closer to the rushers. The pressure was all his own doing.
The baby's asleep. Candice has the TV on in the next room. Now Romo crouches one last time. He takes the invisible snap, fades and plants. No crow hop. He scans the line, twists his torso right and fires, the whole time jabbering: "... the answer is to be able to throw a football from a position that's not normal to throwing a football. Figure out how to do that!"
But it's all a bit hard to absorb because now the arm is snapping forward, Tony Romo is going deep, and you can't help but track that screaming arc—invisible ball or not—through a wall, an upper bedroom, into the Texas night. Where the thing lands, of course, is anyone's guess.