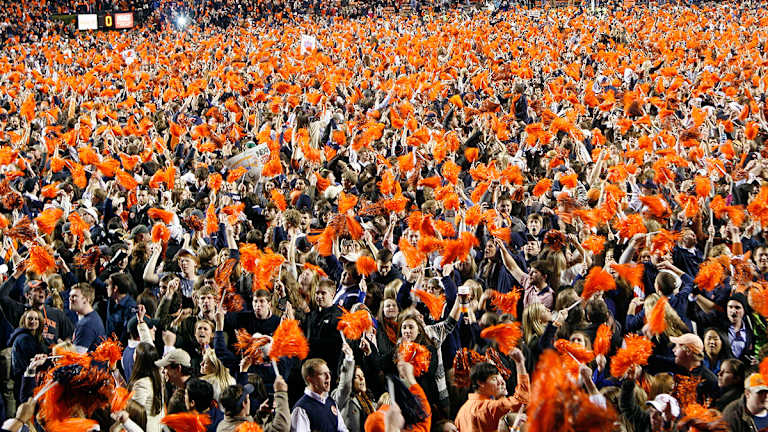 11.30.13 Breathe in the Chaos
Even before Auburn's takedown of Alabama, there was Ohio State's beleaguered perfection, Duke's emergence, Missouri's resurgence and Florida State's QB controversy. College football's season of strangeness plunges toward a finish
REMEMBER JOHNNY Football sitting out a half for signing autographs? Lane Kiffin getting fired by USC at LAX after a loss at Arizona State? Miami as a Top 10 team? That all happened during this college football season. It only feels like five years ago. Back in August, we thought we had all the answers. Texas A&M quarterback Johnny Manziel would challenge to be the second two-time Heisman winner. Oregon would rip through the Pac-12 in spite of a coaching change. And, of course, Alabama would tack on yet another national title. Well, college football has once again reminded us that each year brings new stars, slumbering giant programs that wake and return to glory, and finishes that make us shut our eyes tight, open them again and scream for a replay to prove we hadn't dreamed what had just happened. Did an Auburn cornerback return a missed field goal 109 yards to win the Iron Bowl and turn the sport upside-down? Again?
1 COLLEGE FOOTBALL makes us believe in miracles. But first it makes us pay attention to a man hunched over a sewing machine.
That man was Dana Marquez, and last Saturday 87,451 people at Jordan-Hare Stadium and a television audience of more than nine million watched the 45-year-old Auburn equipment manager use his trusty Viking Emerald 116 to sew a cross-stitch seam from the armpit to the belly of LaDarius Owens's jersey late in the fourth quarter. The garment had been ripped nearly in half during hand-to-hand combat with hated Alabama, better known to everyone not wearing crimson as the Galactic Empire. Defensive ends such as Owens use double-sided tape to hold their jerseys so tight against their shoulder pads that opposing linemen have no fabric to grab, so Marquez knew he would need less time to repair the ripped jersey than to rig up a spare. The fix took about 35 seconds. "You've got to be prepared for pretty much anything," Marquez says. Owens didn't miss a play.
Nick Saban, the coach who seemed prepared for any eventuality while leading the Crimson Tide to three national titles in four seasons, wasn't ready for what happened next. Though Bama quarterback AJ McCarron had bolstered his chances for a career achievement Heisman Trophy with a 99-yard touchdown pass earlier in the quarter, Saban opted against a Hail Mary in a tie game with one second on the clock. He sent out a field goal unit full of jumbo linemen adept at blocking but not athletic enough to cover a kick.
Owens was crouched in the middle of the line when freshman Adam Griffith set up for a 57-yard field goal. In a booth high above the field, Auburn's radio play-by-play announcer, Rod Bramblett, noticed Tigers cornerback Chris Davis in the end zone and uttered something prescient: "Well, I guess if this thing comes up short, he can field it and run it out."
The kick came up short. Davis fielded it. He ran it out.
As Davis approached the Auburn 35-yard line, Owens ran next to him. Linebacker Adrian Hubbard, perhaps the only Crimson Tide player on the field with a shot to tackle Davis, might have saved his team's chances for a third consecutive national title, but he got sandwiched between Owens and another Auburn player and tumbled to the ground. Davis sped to the end zone, completing his generation's version of the Cal-Stanford band play and giving Auburn a 34-28 Iron Bowl win that also clinched the SEC West division title. When they speak of the play in the Loveliest Village on the Plains, they'll call it War Damn Miracle. But it may not have happened without War Damn Viking.
2 COLLEGE FOOTBALL gets people out of their seats. At the stadium, of course. But also on moving buses.
The satellite dishes on the Ohio State team buses didn't pick up the CBS signal for much of the drive back to Columbus following a 42-41 scare at Michigan. Just north of Delaware, Ohio, the scene at Jordan-Hare flickered onto the screens. The Buckeyes saw Alabama tailback T.J. Yeldon step out-of-bounds just as the game ended. They saw the referee add a second back on the clock. They saw Griffith kick. They saw Davis catch and run. Then they went berserk.
Ohio State went 12-0 in 2012 but couldn't play for the national championship because of an NCAA postseason ban. Saturday afternoon, as the buses rolled out of Ann Arbor, the Buckeyes once again stood at 12-0—and once again faced the possibility of being shut out of the BCS title game. Alabama stood atop the rankings, and Florida State had crushed Florida 37-7 to run its record to 12-0. The Seminoles had leapfrogged the Buckeyes to No. 2 after rolling to a 51-14 win at then third-ranked Clemson on Oct. 19, and in the beauty contest that is the college football polling system, Ohio State seemed destined to win Miss Congeniality.
Most preseason discussion of the national championship boiled down to one question: Alabama or the field? Not much had changed since August. Because Florida State's remaining opponents seemed too feeble, the Buckeyes needed someone to take down Bama. Auburn did. As fans poured onto the field 550 miles to the south, the Ohio State players stood in their buses and roared. "It was absolutely nuts for 15 minutes," coach Urban Meyer says.
3 COLLEGE FOOTBALL sometimes intersects with real life. Real life is messy, doesn't adhere to a schedule and is much more important than college football.
As the Buckeyes rolled south toward Columbus, the Seminoles headed north to Tallahassee from Gainesville. They had demolished the hobbled Gators, who would jettison their offensive coordinator and offensive-line coach the following day. Redshirt freshman quarterback Jameis Winston had thrown for 327 yards and three touchdowns. The Seminoles, who moved to No. 1 in the BCS standings on Sunday, are a lock to play for the national title should they beat Duke on Saturday in the ACC championship. Under normal circumstances, Winston would also be a lock for the Heisman Trophy after putting up huge numbers for an undefeated team that has beaten opponents by an average of 42.7 points.
Winston's circumstances are not normal. He has been accused of rape by a woman who also attended Florida State. She reported the incident to Tallahassee police early on the morning of Dec. 7, 2012. On Jan. 10 she identified Winston as the suspect. After March, the case went largely dormant until November, when Tampa Bay Times reporter Matt Baker filed a request under Florida's open-records law seeking the incident file. Once the news broke, the police forwarded the case to the state attorney's office, and now Willie Meggs and his staff must decide whether to charge Winston—whose DNA matched a sample taken from the woman's clothing the night of the incident according to an ESPN.com report. Winston's lawyer, Tim Jansen, says Winston and the woman had consensual sex. The woman's lawyer, Patricia Carroll, says the sex was not consensual. Florida State has not allowed any nonfootball questions in Winston's interviews, and Winston referred police to his lawyer when they contacted him about the case in January. Meggs has said he might not reach a decision for another week. That would mean Winston could be charged or not shortly after Dec. 9, when Heisman votes are due.
4 COLLEGE FOOTBALL has its share of heartwarming stories too.
A little more than two years ago Missouri tailback Henry Josey lay on the turf at Faurot Field holding a left knee that contained a torn ACL, torn MCL, torn patellar tendon and major cartilage damage. "It was a car-wreck type injury," Tigers coach Gary Pinkel says. "It's not typically what you see on the football field."
When Josey learned he would have to miss the 2012 season, he could have hung up his cleats. He chose to claw his way back instead. Last February, as his teammates tried to sweat out the demons from Mizzou's first losing season since '04, they watched Josey rehab and knew they could survive whatever torture their strength coaches had devised. Josey & Co. believed they were far better than they had shown during their first year in the SEC, and entered '13 eager to prove it.
Saturday night, as SEC East rival South Carolina rooted in the other Columbia for a Texas A&M upset, Josey blasted up the middle for a decisive 57-yard touchdown run with 3:34 remaining, clinching the division title with a 28-21 victory. A win over Auburn on Saturday in the conference championship and a loss by either Ohio State to No. 10 Michigan State or Florida State to 20th-ranked Duke could put the Tigers in the BCS title game. "I was running for my life," Josey said, as a celebration raged behind him.
5 COLLEGE FOOTBALL is political. And all politics are local.
Like any politician worth his filibuster, Auburn athletic director Jay Jacobs spent his Sunday morning reciting talking points to various media outlets. Saturday had been a blessed day in Auburn, but it shook the SEC to its core. The league has won the past seven BCS crowns, but now it has two one-loss teams in its title game while two undefeated power-conference teams lead the race for the BCS Championship at the Rose Bowl. For a region full of residents who share an unshakable faith that SEC football represents the way the good Lord intends the sport to be played, the idea of a national championship game on Jan. 6 without a participant from their conference of choice is simply, well ... just ask Jacobs.
"It would be, quite frankly, un-American for us not to get a chance to go to Pasadena if we're able to beat Missouri," Jacobs said on ESPN.
That statement elicited howls from residents in Ohio—and everywhere else where college football fans have tired of living under the SEC's boot. But maybe some naked politicking isn't so bad. After all, the FBS will have a four-team playoff next year. Maybe it's not so bad to have one more raging controversy before taking the old BCS nag behind the barn and putting her out of her misery.
6 COLLEGE FOOTBALL never fails to surprise. So don't pretend to know what will happen on Saturday.
Three months ago, someone who predicted an SEC title game between Auburn and Missouri—teams that combined for two conference wins in 2012—would have been suspected of heavy drug use. Two months ago, the idea that neither Alabama nor Oregon would reach the national title game seemed ludicrous. One month ago, anyone who suggested Duke might play a role in the national title race would have been following the wrong sport.
The chaos is the best part, and more may come this weekend. Unlike Jacobs, Ohio State's Meyer chose not to politick on Sunday. He knows well how swiftly things can change on college football's final Saturday. Meyer's 2006 Florida team played for the national title only because USC went splat against UCLA while the Gators were beating Arkansas for the SEC championship. Now the Buckeyes have to state their own case by beating the Spartans in the Big Ten title game. "Ohio State's not in any conversation," Meyer says, "unless we can figure out how to move the ball against the No. 1 defense in America."
Meanwhile, Florida State coach Jimbo Fisher preaches to his team about a faceless opponent. The faceless ones on Saturday will be coach David Cutcliffe's plucky, star-deprived Blue Devils, who went 10-2 but opened the week as more than four-touchdown underdogs. The Seminoles outshine Duke at practically every position. The Blue Devils probably will need a miracle to win.
Fortunately for them, miracles have been known to happen in college football.