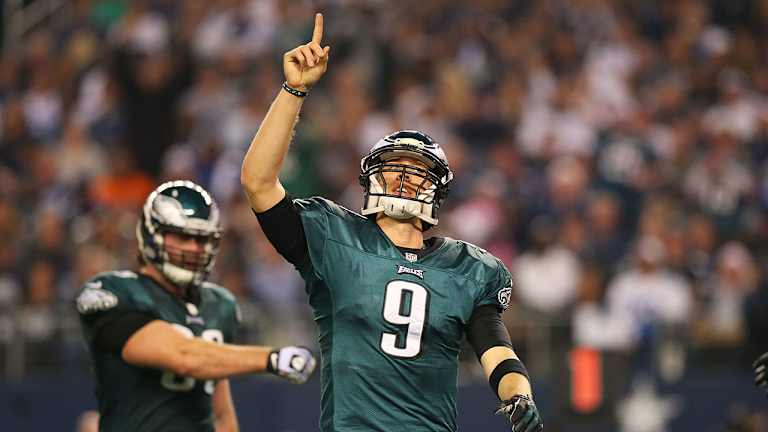 Saint Nick Comes Early
City of brotherly love, sure, but a quarterback who gives shoulder massages to his backup? Nick Foles is the leader Philadelphians have rapidly come to believe in—and he makes perfect sense.
In Philadelphia​ we fall in love with our quarterbacks very quickly," one local philosopher was saying last week, "and we fall out of love just as quickly."
This particular sage was Ed Rendell, the city's former mayor, now a talking head on a cable show called Eagles Postgame Live. But a million other Philadelphians, myself among them, will tell you the same thing.
The tentative first steps of new love got on firmer footing on Sunday, despite the eight inches of wet snow that covered the Bermuda grass of Lincoln Financial Field. Our quarterback, Nick Foles, a child of the Sun Belt who went to high school in Austin and college at Arizona, kicked the snow out of his cleats between downs and led the Eagles to a 34--20 win over the Lions and to the top of the NFC East. It was Philadelphia's fifth straight win with Foles at the helm.
In victory, the 24-year-old quarterback praised Riley Cooper, the wide receiver whose career was nearly buried when his ugly, racist vocabulary was exposed this summer. Foles praised his friend Michael Vick, the polarizing quarterback that he replaced. He praised his coaches, his go-to back (LeSean McCoy, who rushed for a franchise-record 217 yards), his offensive line. His Lord. This Nick Foles has an aversion to the word I. We like that in Philadelphia.
This whole season could easily have gone another way, and the city's mood with it. More than the cracked bell, the Phillies, Rocky and all the rest, the football team is the thing that binds Philadelphia. This latest potential franchise quarterback, with his blond hair and XXL hands and earnest manner, is doing more for the city than he could possibly know.
The 2013 Foles highlight reel includes a handful of successful bombs—nine of them TDs of 25 or more yards—that took away our breath, as well as many, many downs of no-huddle offense that have left opposing defenses sucking for air. It includes the record-tying seven touchdowns he threw against the Raiders in Week 9. It includes the whole of his November, when he had the highest calendar-month passing rating, 152.8, in NFL history. Who knows what other gaudy numbers he'll put up before December is over, when the Eagles' regular season concludes in Dallas?
But no YouTube clip can capture his best moves of the year: The ubermature, no-drama response he had when Chip Kelly, the brainy rookie coach, gave Foles his well-earned promotion on Oct. 13. ("He came in and told me I'm No. 1 and told Mike he's No. 2," Foles said. "It's not like in the movies where everyone sits down and there's tears.") The humility he has shown in the face of his newfound fame. (He concluded a meeting with one team p.r. officer last week by saying, "I don't want to talk about throwing seven touchdowns.") The casual way, literally and repeatedly, that he puts his arm around the broad shoulders of the man he supplanted. (Foles will sometimes even give Vick impromptu little shoulder massages.)
Michael Vick. He's been a central figure in this unlikely 8--5 season too. Over the past 4½ years, we have invested deep reservoirs of emotion in this unbearably exciting and complicated quarterback. We have watched as he's tried to rebuild his career and reclaim his standing after serving 19 months in a federal prison for running a dogfighting ring. For a while there he even looked like the quarterback we've been praying for forever. Just three years ago a 76ers game came to a stop when Vick took his seat, so sustained was the ovation. We thought Vick would be the one to take us to the promised land. We were wrong.
Rendell thinks this city fell out of love with Vick. I disagree. What happened, really, was that he fell down—a series of injuries, old and new, taking their toll—and he couldn't get up. Not to Kelly's satisfaction, anyway. And Foles was right there, ready.
The Nick-Vick competition began in July with the newspapers playing Who's Your Quarterback? It's an old and pure sporting test of character and manhood. But the humanity the combatants have shown in its aftermath has impressed the city and the team. Jason Kelce, the Eagles' center, has been watching this saga unfold. "They're different," he says. "Mike's cool. He's a legend, a quiet leader. Nick's more vocal, more outgoing. But with Mike on the sideline? You've never heard him talk so much. They've been good for each other."
Kelly, new to town but figuring it out quickly, said last week that Saint Nick will be the team's quarterback "for the next thousand years." Maybe he will. Or maybe—and this is Rendell's worry—Foles will be another in a lengthy list of stopgap starters who have grabbed our affection since Donovan McNabb came to town in 1999, extending the franchise's record to 0-for-the-Super-Bowl. A partial roll call: Koy Detmer, A.J. Feeley, Mike McMahon, Jeff Garcia, Kevin Kolb, Vince Young. It's hard to imagine Foles joining that list, but we've been hurt before.
On Sunday, Foles, wearing a black WWJD bracelet on his throwing wrist and a gold crucifix around his neck, found steam pouring from his mouth with every play he called. At times he could barely see beyond his own line through the driving snow, and the game was largely played on the ground, with no field goals attempted. Deep into the third quarter Philly trailed 14--0. Foles didn't get nervous and quiet. He got louder. Eventually the snow slowed before stopping, and the Eagles' passing game, or some measure of it, returned. When the day was done, Foles had thrown 22 passes, completing 11, including one for a touchdown. (He also threw his first interception of the year.) He barreled in from a yard for another score. He threw nine passes to Cooper, completing three, for 74 yards. It was gritty. We like that.
Foles said last week that his father had instilled in him his own working-class values. Larry Foles never finished high school but has made millions as a workaholic restaurant owner. Larry's a tough man, and his son is too. Before picking Nick in the third round of last year's draft, Kelly's predecessor, Andy Reid, watched a mile of tape showing Foles, standing in a sunny Arizona pocket, waiting patiently, making his passes, getting clobbered and standing right back up. Foles played the last 11 games of his senior year at Westlake (Texas) High, where he broke almost all of Drew Brees's passing records, despite a torn labrum in his right shoulder. He couldn't play basketball as a senior. His excuse was surgery.
Foles and Vick share basketball (Vick can dunk from a standing position), but in other ways—in background, height, style, manner—the two are about as different as two NFL quarterbacks can be. None of that has mattered. They've been on the same page all year long. They've huddled during games, compared notes at team meetings, talked at length in the locker room. It's been remarkable.
Had there been even one public misstep, by either man, "it would have been so divisive for the team, and for the city," says Garry Cobb, who played linebacker for the Eagles in the 1980s and now hosts a show on Sportsradio 94WIP. Cobb knows from experience how quickly the city's conversation can turn to race.
It was not even five months ago that video emerged online capturing Cooper's vulgarity, a white man using the most hateful word for blacks, upset after being denied backstage access at a Kenny Chesney concert. There were people ready to run him out of town. That Vick was not among them? The team and the city noticed. The QB spoke in favor of a second chance, a subject he knows intimately. "If Mike didn't [defend him], Riley would not be having the year he's having," Foles acknowledged on Sunday.
Vick has thrown 141 passes this year, 18 of them intended for Cooper. Foles has thrown 218, 44 to Cooper. The receiver's emergence under Foles—seven TDs and three 100-yard outings—has been a major part of the Eagles' success. Nobody has been able to explain it. "Sometimes," says Kelce, the center, "it's just chemistry."
A season that started with such anguish and confusion—not to mention that these Eagles were once 3--5, including 0--4 at home—has turned fun. Winning will do that. Vick likes to harass Foles for his uncanny resemblance to Napoleon Dynamite. Teammates are amused by the Twitter feed of Marcus Vick, proud defender of his big brother, and by the emergence of a mock-twit feed under the name of Marcus Foles. ("I am the starting QB's brother for the next 1,000 years!") Love, Philly-style, is in the air.
"I've been in situations where you're competing for a job, and it's hostile," says Foles. "Mike and I have said from the beginning, 'We're friends now. We'll be friends during this. And we'll be friends after it.'" Who taught this guy?
Credit must go to Vick too. Yes, he'll be looking for a job next season, and saying the wrong thing would not help his cause. But he's also said some profound things. On Oct. 17 he and Foles held an impromptu joint press conference during which they talked about their relationship and their competition. At one point Foles said, "I love Mike." Vick added, "You can't have animosity for a teammate." Actually, you can. But it's not likely to help a team win.
Vick regularly shares the story of his life, bumps and bruises and all, in front of auditoriums full of Philadelphia schoolkids, and they walk out in awe: the star who went to prison and came out a different man. And there, 20 feet from Vick in the Eagles' locker room, is a man-child just starting out, who will surely have his own bumps and bruises in the years to come, as we all do.
Foles tells the story of a Westlake teammate, a close friend, who went into cardiac arrest following an 80-yard drive on a sweltering Texas night. "He was dead," Foles says. "He died right there on the sideline in front of me." Then a defibrillator saved Matt Nader's life. From that day on, Foles says, "I have played every game like it could be my last."
Last week, following an early practice and a series of interviews and team meetings, Foles sat in a small office that smelled like the ham-and-cheese sandwich on his lap. He was still in his morning sweats, baggy gray cotton pants with grass stains on his knees. He was recounting a recent visit he'd made to a nearby church. "Before you go up [to talk], you get nervous, because there are people there who are trying to find their faith," he said. "And then you just start speaking."
This may be sacrilege, but certain Eagles fans will get it. Foles just as easily could have been describing any Sunday afternoon: third-and-long, standing in the pocket, Kelce protecting him, Vick rooting for him, Kelly studying him, 70,000 faithful at the Linc screaming their lungs out for him, hoping for the same thing—that Nick Foles knows the path to the promised land.
Kelly, new to town but figuring it out quickly, said Foles will be the QB "for the next thousand years."