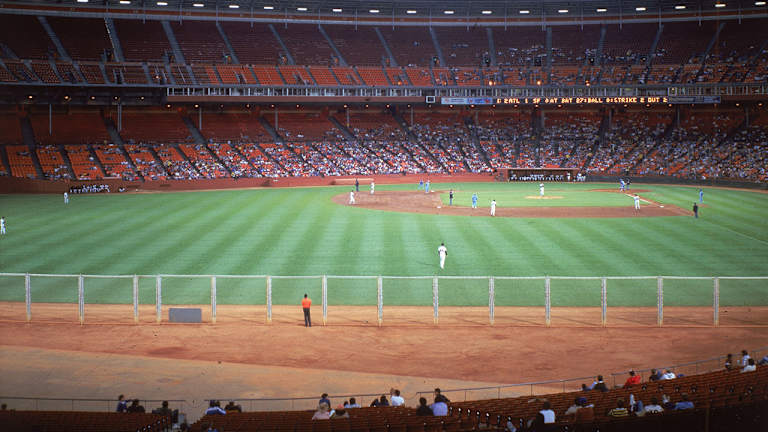 Candlestick Park 1960—2013
The soon-to-be-demolished Candlestick Park wasn't much to look at. It could be bone-chillingly cold, and the bay breezes that blew through were anything but soothing. But for those, like the author, willing to wrap themselves in a blanket and brave the unfriendly aesthetics, the drafty house was a home.
IT'S HARD for those of us who grew up in the Bay Area to untangle all the Candlestick Park memories. First and foremost, of course, we remember the wind. It spun and crashed around the stadium, like some unruly drunk. It created mini-tornados out of hot dog wrappers, blew in braying seagulls from the Bay and, once, picked up a batting cage and carried it 60 feet. It even knocked Giants pitcher Stu Miller off the mound mid-windup during the 1961 All-Star Game, leading to a balk. Or so the legend goes.
With the wind came the cold—a deep, powerful cold the likes of which we never felt anywhere else on the West Coast. No matter how many layers you wore or how many blankets you piled on, it seeped through. By the third inning you were chilled. By the eighth you were shivering. The Giants tried to make it a positive. VENI, VIDI, VIXI read the pins they handed out to fans who endured extra-inning games. I came, I saw, I survived.
That slogan applied to more than just the weather. When I first began attending games, in the late 1970s and early '80s, the Giants were generally terrible. In '85, when I wore an I HATE THE DODGERS T-shirt to my elementary school picture day, the team lost 100 games. Back then, to see and to survive required enduring a cruel combination of events: fight traffic to reach the game, freeze during it, watch Johnnie LeMaster go 0 for 4 while the Giants lose, and then suffer the same traffic on the way home. To emerge from such an experience unscathed took some doing.
Perhaps that explains the fondness many of us feel for the park. Maybe it's a survivor's-bond thing. Or cognitive dissonance. Or perhaps, more simply, it's a matter of what occurred there, inside the Stick. The Catch. Will Clark cracking a single up the middle against Mitch Williams. Roger Craig running wild. The Niners' rise from 2--14, in 1979, to a dynasty. Especially to a boy, this was a place inhabited by heroes, men like Dan Bunz and Joe Montana and Ronnie Lott, Jack Clark and Greg Minton and Darrell Evans.
And that's just my generation. The history goes back to the '50s, and it is rich: the City of San Francisco promising a park to lure the Giants from New York, then building on the site of a former dump; Richard Nixon throwing out the first pitch at the inaugural Opening Day; attorney Melvin Belli filing and winning a claim against the Giants in '62 because his box seats were too damn cold; the Beatles playing their final full concert at the Stick, in '66; the 49ers arriving in the '70s; the Bay Bridge Series earthquake in '89....
Later, when the Giants moved in 2000 to PacBell (since renamed twice; now AT&T Park), we realized that suffering needn't be a prerequisite to fandom. Nor traffic. And you could enjoy a view and seats near the field—the Stick had an enormous foul territory—and be near bars and restaurants.
As great as that all was, and is, it all came with a downside. Make it too easy to attend a game, too enjoyable just to be there, and people would go just to have fun. They'd come straight from their high-rises and talk business and check their cellphones and drink microbrews, wearing North Face fleeces over their button-downs. PacBell was a place for fans, not just diehards. This was no longer a survivor's club. No one handed out pins anymore.
They still played football at the Stick, of course. Sure, it could take more than an hour to escape the vast parking lot, with its bottlenecked exits, after a game, but the cold and the wind were never as big of a problem. (Day games in the fall and winter can be rather pleasant, in fact.) From the expanse of tailgaters to the dudes in FORTY F-----' NINERS T-shirts to Banjo Man, the Stick felt like home. In an age of fancy domes, enormous TV screens and luxury-box mania, it was a throwback, and in a good way.
And every once in a while it all came together. My last Candlestick memory is that of a Niners playoff game against the Saints two years ago. There was no wind coming off the Bay and the sun was glorious. I attended with my older brother, the two of us ensconced in section UR13 amidst a pocket of longtime season-ticket holders, the type who'd tailgate for three hours before game time. Perhaps you remember what happened next: Alex Smith dropping straight back. Vernon Davis making what came to be known as the Catch III (after Steve Young to T.O., in 1999, was dubbed the Catch II). An improbable win. Pandemonium.
And that's how I'll remember that strange concrete bowl in my mind: full of red and gold, full of fervor. A stadium in decline, a team reborn.