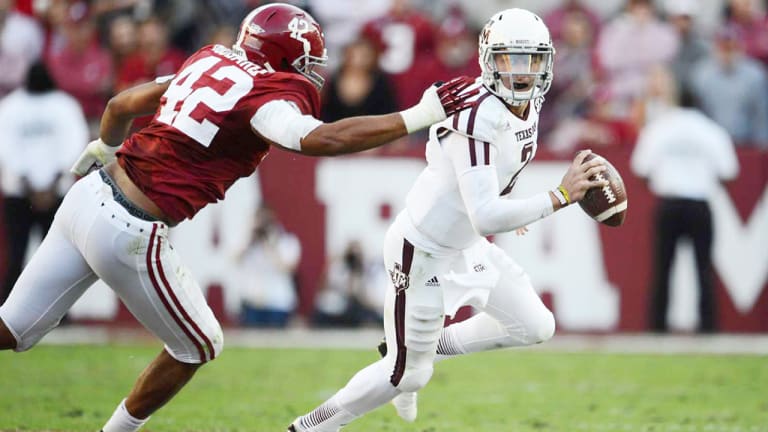 The Case for ... Delaying the Heisman Vote
The Heisman vote is still stuck in 1935 with voters having to pick a winner before bowl games. It's time that changed.
College football is all about innovation these days, from the exotic, up-tempo offenses sweeping the country to the new four-team playoff replacing the BCS. But one tradition—the Heisman Trophy—remains stuck in 1935. Voters are asked to select the most outstanding player in college football before most of the candidates have played the final game of the season.
This year Florida State quarterback Jameis Winston was the runaway winner (75% of first-place votes), but for just the second time in history the Heisman Trust invited six finalists to its December trophy presentation. A more concentrated pool of candidates may have led voters to coalesce around one challenger instead of spreading their votes among a wide field. Don't get me wrong, Alabama quarterback AJ McCarron, Northern Illinois QB Jordan Lynch, Boston College workhorse Andre Williams, Texas A&M quarterback Johnny Manziel and Auburn speedster Tre Mason each had a Heisman case. (Lynch, for example, set a record for quarterbacks with 1,920 rushing yards.) But each also had a flaw. (Lynch did it mostly against porous MAC defenses.)
Imagine if the Heisman held a runoff vote after the completion of bowl season. Winston (who led a last-minute drive to win the BCS national championship game), Mason (195 rushing yards, including a late 37-yard touchdown, against the Seminoles) and Manziel (455 total yards in a 52--48 Chick-fil-A Bowl win over Duke) would be invited to New York City. McCarron (three turnovers in a Sugar Bowl loss to Oklahoma), Lynch (39 rushing yards in a 21--14 Poinsettia Bowl loss to Utah State) and Williams (2.9 yards per carry in an Independence Bowl blowout by Arizona) would not be.
Winston would likely retain the trophy, though he'd have trouble doing it in a landslide. Mason, barely mentioned before his 304-yard explosion against Missouri in the SEC championship game, may have jumped to second from sixth following another huge game. Manziel, one of the most acclaimed players in recent history, may have garnered consideration as a repeat winner.
Is it possible that Heisman voters would place too much emphasis on that last game and not enough on a candidate's entire season? Yes, but that already happens. In recent years Nebraska's Ndamukong Suh (2009), LSU's Tyrann Mathieu ('11) and Mason all went from off-the-radar to finalist based on the strength of a monstrous performance in a conference championship game.
By casting their ballots before the bowls, Heisman voters miss a valuable opportunity to see top players perform one last time against a comparable foe. BC's Williams was lauded for breaking the 2,000-yard barrier during the regular season but racked up the bulk of it against mediocre ACC competition. In games against two Pac-12 teams (USC on Sept. 14 and Arizona on Dec. 31) he had 113 yards on 39 carries. Lynch, facing his toughest defense (Utah State finished 12th nationally) since the Huskies' opener at Iowa, had his second-lowest output of the season (255 total yards) in the Poinsettia. And McCarron's case was always dubious, seen largely as a career achievement honor. That would have been harder to justify after his final college performance ended with a sack and a lost fumble.
Even Winston, who feasted on most of the same ACC defenses as Williams, struggled against Auburn. That he rebounded to lead the 'Noles back from a 21--3 deficit may have sealed his case. Or, perhaps voters would have favored Mason after watching him rack up 237 total yards against FSU's third-ranked defense. Ultimately they'd have had a tougher decision than a month earlier, but only because they'd have more information. Unfortunately, on the Heisman's list of priorities, a more enlightened voting process falls farther down the list than the date of a dinner banquet.
With postbowl voting Winston would likely retain the trophy, though it would hardly be a landslide.
PHOTO
JULIO CORTEZ/AP