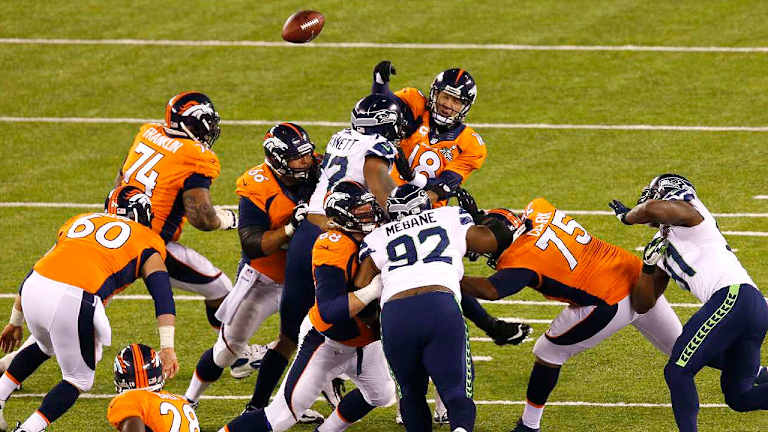 ANGRY BIRDS
After years of being told they weren't talented or touted or tall enough; after weeks of being told they were little more than another chapter in the Peyton Manning saga, the Seahawks walked into MetLife Stadium ... and laid waste to that narrative.
They were coming. You could feel that vibe from the Seahawks in all the days and hours before the game of their lives. You could see it in every arched eyebrow, every carefully couched, oh-so-diplomatic attempt to give the beloved opposing quarterback his due. Yes, they replied to question after question, Peyton Manning is indeed great. But it didn't sound genuine. There was no fear. You sensed the confidence, even if you didn't know that a fortnight ago, the first time he looked at Denver film, Seattle linebacker K.J. Wright thought, Man, we already got this game won.
And even if you didn't know that the Seahawks, quietly miffed by a sudden national obsession with Manning's "Omaha" snap count, barked the buzzword at one another as a goad, "every day, about 10 to 12 times a day," says receiver Percy Harvin. "Our defense was looking at all the awe the last two weeks and just champing at the bit to show him what they have."
What they have? They showed him, all right, and the result was as brilliant as it was brutal. Bearing all the arrogance of youth and all the rage of the underrated, on Sunday the NFL's youngest playoff team laid waste to the 37-year-old Manning and his epic offense 43--8 in Super Bowl XLVIII. The outcome was hardly a shock for the 82,529 folks bellowing in the relative, yes, warmth of MetLife Stadium in East Rutherford, N.J., but the margin and manner surely were. Not 12 seconds in, center Manny Ramirez, addled by the roaring crowd, lofted a snap over Manning's right shoulder into the end zone for a safety.
"There's no explanation for it," Ramirez explained.
None but flat-out defeat. No team ever scored faster in a Super Bowl—not even Devin Hester on his kick-return TD to open XLI—and that was only the beginning. Pressed by Seattle's relentless front line, Manning never lost the harried, confused look of those first moments; the game once expected to be a career topper soon became a potential legacy mangler. By halftime he had thrown two interceptions—the second a 69-yard pick-six to outside linebacker and Most Valuable Player Malcolm Smith (page 32)—and the Broncos were down 22–0. Not since 1990, when Manning's boss, Broncos executive VP John Elway, lost to the 49ers by 45, had a Super Bowl team been beaten so soundly.
"You can what if? all you want," Manning, now 1–2 in Super Bowls, said afterward. "I don't know if you ever get over it. It's a difficult pill to swallow. You have to find a way to deal with it and process it, and if you can, you try and fuel it to make yourself a better team next year. Guys are disappointed. It takes some time. It's certainly not a quick fix."
Just ask the Seahawks. This was their first championship since they joined the league as an expansion franchise in 1976. Before their run to the Super Bowl in 2006 (an XL loss to the Steelers), they had gone a record 21 years without a playoff win, and until this season always seemed a step behind their rivals in San Francisco. But the unique identity created in '10 by owner Paul Allen, GM John Schneider and coach Pete Carroll—brainy, upbeat and tough—proved perfect for transforming unheralded talent into a smart and singularly fierce outfit.
"Everyone on this team has a chip on his shoulder," says nickelback Walter Thurmond (who, one could surmise, holds some grudge over being suspended for four games this season for violating the NFL's substance abuse policy). "Being young ... or a lot of guys were drafted in later rounds and think they should have been drafted higher. You see that in [fellow defensive back] Richard Sherman. I'm the same. I came out of [Oregon in 2010], tore my knee my senior year and fell a couple of spots—this is my first year completely healthy since I was a rookie. My chip is to just prove that I can play. That's what makes this team: Guys are hungry. Guys have aspirations to be great."
And Carroll, it turns out, is the right coach to feed them. His speckled tenure with USC featured an unprecedented return of the 2004 BCS championship trophy for an assortment of violations, including recruiting infractions, but Carroll insists that he has learned much from that, as well as from his short runs with the Jets and the Patriots in the 1990s, even from the fact that Thurmond is just one of five Seahawks to have been suspended since 2011 for using banned substances. It's not easy for a 62-year-old man—the second-oldest coach in the NFL, if you can believe it—to pull off the role of eternal student, but with his boundless energy and tousled mop, Carroll plays the part of the world's oldest teenager.
"We're not sleeping tonight," he told a pack of media in the locker room, postgame. "We're staying up all night. The party's going to get started as soon as you let me go."
Perhaps the key reason to celebrate is the play of second-year quarterback Russell Wilson, who has been the steadiest hand in the franchise's rapid rise. Wilson managed an all-but-perfect game on Sunday (18 of 25, 206 yards, two touchdowns and a passer rating of 123.1), and even with the Seahawks up by 35 with three minutes left was "still in our face, telling us to stay ready," Harvin says. "He just wants to be great that much."
Few 25-year-olds show Wilson's poise off the field too; it's rare to see him thrown by any question or controversy. But the totality of Sunday's win took even him by surprise. Near midnight, after he had finished his press conference and shaken endless hands and peeled off his uniform and tape, Wilson was walking the near-empty floor from the shower to his locker when it all finally hit him. Standing a few stalls down was receiver Doug Baldwin, who finished the night with five grabs for 66 yards, including the last touchdown.
"Doug," he called. "Doug!"
Baldwin glanced over.
"We whipped their ass," Wilson said. "That s--- wasn't even close."
Roger Goodell's own victory lap had actually begun more than 50 hours earlier. By last Friday the face-numbing cold and icy gusts plaguing the region had faded, and game forecasts were hastily being revised; temperatures, moods and scalper prices all began to rise. A true cold-weather championship, replete with ice floes and a visibly seized-up commissioner shivering in the stands, had been a perversely thrilling dream for many, of course. Now weathermen were talking 51° at kickoff. (It turned out to be 49°.) Goodell's bet on New York-New Jersey was about to pay off big, and he knew it.
Not 75 seconds into his annual state of the league address, the official gloating began. "Of course, we cannot control the weather," Goodell said onstage at the tony Rose Theater in midtown Manhattan, cuing a perfectly timed cascade of fake snow to fall behind him. He grinned, cutely. League officials, beaming owners and not a few reporters laughed and applauded. No bundling up! No long johns! Let's play two, Rog!
Not that old-school weather—despite the desperate wish of every broadcaster to utter, just once, the words frozen tundra—had ever been the point of this foray into the region. Taking a two-week hold of the nation's top media market, not to mention rewarding the Giants and Jets for building MetLife and boosting its naming-rights fees, made the NY-NJ Super Bowl play a no-brainer. "Everybody knows why they did it, so just don't make any bones about it: You build a stadium, you get the game," said Mike Ditka. "It's about the money."
Still, when NFL owners voted in 2010 to award this year's championship to the Meadowlands, it was easy to digest as a mere marketing gambit—not some chance for the gods to punish NFL hubris. Football was the unchallenged American pastime. No one could have expected that the subsequent four years would see a constant assault on the NFL's core culture. If it wasn't crude locker room mores, refracted through a hazing scandal involving Dolphins linemen Richie Incognito and Jonathan Martin, it was the Redskins nickname, or the league's longtime indifference to the fate of its most prized assets.
Despite a $765 million settlement last August with retired players over concussion-related injuries—rejected last month by a federal judge concerned that the amount was too low—the sport found itself in an existential crisis, paradoxically, at a time when its popularity has never been higher. Parents are now asking, as never before, whether the sport is worth the risk. President Obama recently reiterated that he wouldn't let a son of his play.
The fact that a member of the game's first family fielded the same question during Super Bowl media day—and took it seriously—would once have been unthinkable. But there it was. "Would I let my kids play football? Yes," Manning said early in Super Bowl week. But then he paused a beat, as if considering the matter for the first time, before repeating himself: "Yes."
God—or Goodell, maybe—forbid that he answer in the negative. That's a p.r. nightmare that football might never recover from. Manning had served as a one-man corrective to the bad news all fall; he threw an absurd seven touchdown passes to open the season and—even after the season-ending loss of Ryan Clady, one of the game's premier blind-side tackles—stayed hot all season. Just two years after undergoing four neck surgeries and being discarded by his beloved Colts, Manning fired a record 55 TD passes and threw for 5,477 yards to lead Denver to a 13--3 record and the AFC's No. 1 seed. On the night before the Super Bowl, he collected his record fifth Most Valuable Player award in a landslide vote.
"With Peyton, not much amazes me anymore," says little brother and Giants quarterback Eli Manning. "He was determined to get back, and then you kind of felt him happen: Anything he puts his mind to, he usually can accomplish it.... He was determined to get back playing at the level he wanted—and probably came back better than ever."
And that was before they named a penguin at the Omaha Zoo in Peyton's honor, before the jarringly easy win over archnemeses Bill Belichick and Tom Brady in the AFC championship game. What with the eerily neat prospect of winning his second title on Eli's home turf, Peyton realized that he wasn't just playing a game; he was traveling an arc, living out an irresistible story. "That's kind of my new word for the year; I just learned what that means: narrative," he said.
By the time Peyton got to Jersey, the narrative was both too good to be true and too true to be bad: One of the greatest quarterbacks ever was also an underdog—if only against time and health—and how do you root against that? Only Seahawks fans and their ravening defense seemed hardy enough to try.
"Peyton Manning, future Hall of Famer," conceded Seattle free safety Earl Thomas last Thursday. "But I want to prove to everybody around that he's just a man. Omaha."
In the end it was like every other Super Bowl played over the last few decades: The stadium was packed, the halftime show was endless, and seemingly all of America was riveted. It didn't matter that the teams hailed from relatively small markets, or that the winner had so few household names; none of that has mattered for a long time. The Super Bowl is always the most watched program of the year now, the one event capable of uniting red and blue states into one bruise-colored whole: e footballus unum. It's our national fireplace.
Even chronically jaded Gothamites proved incapable of resisting the game's charms, gaping and waving with the rest of the rubes at all the former pros arrayed on outdoor TV stages. With the George Washington Bridge scandal raging on, traffic-plagued tri-staters voiced no outrage as on-ramps were blocked and media—not just teams—were given police escorts in and out of Manhattan last week. New Jersey governor Chris Christie's administration closed two lanes of traffic, and his presidential profile went into free fall. The NFL gets the Holland Tunnel shut down daily for a busload of scribes? You didn't hear a honk.
But then, maybe that shouldn't be so shocking. Fact is, football presents a far more relatable cast of characters than politics does these days; if the NFL is the place where the culture indulges its taste for violence, it also provides a tent big enough for all kinds—and we're not even talking about the recent influx of legalized stoners. This Super Bowl was a rainbow coalition of the willing and able, no matter the setback: Seattle fullback Derrick Coleman, who is deaf; Broncos defensive tackle Terrence (Pot Roast) Knighton, who is anti-svelte; and Denver coach John Fox, 58, who missed four games following open-heart surgery in November. Fox came back better than ever too.
"My buddy Jeff was screaming in my ear, 'Breathe!' " Fox recalls of the day his defective heart valve gave and he passed out on a Charlotte golf course. "He thought I was gone; he said I was real gray and my lips were purple. I wasn't getting any oxygen. If I'd been out 60 miles in my boat? I'd have been dead."
And for the undersized, there was the 5'11" Wilson, a third-round draft pick out of Wisconsin so meticulous that he can drive his receivers to distraction. "He wants to cover every detail possible—three or four times," says Harvin (himself a recovery story, having missed all but one regular-season and one previous playoff game with a host of injuries). "I just say, 'Let's be quiet, man. Just let me play.' "
But that's precisely the X factor that Schneider, the GM, saw when he presented his owner with the undersized gamble in 2012. "[John] said he had everything else you would look for in terms of a quarterback," Allen explained from Seattle's locker room on Sunday.
Most NFL players would rather shovel trash than attend a Super Bowl as a spectator. But a year ago Wilson traveled to New Orleans specifically to chart the game's unique rhythm and timing. "I really wanted to get a feel for it, in case we were here—and I believed we would be," Wilson says.
Such confidence is a Wilson hallmark. His great-grandfather was a slave. No one talked about it much, but he knew going into Sunday that he could become only the second black quarterback to win a Super Bowl. If only to him, earning the starting job and a championship this soon all makes perfect sense.
"God put me here for a reason," he says, "and I cherish that for the African-American community. I cherish it for all the kids who've been told, No, they can't do anything—whether you're white, black, Asian, Hispanic.... Personally, I cherish it because I'm 5'11". Everyone told me I couldn't."
Of course, no one on either team came to represent more people, more confusingly, in the last two weeks than Sherman. For tough guys, he's got the Compton roots, the dreadlocks and his now-infamous sideline rant against 49ers receiver Michael Crabtree. For wannabe nerds, he's got the 4.2 high school GPA and the Stanford degree. And for those who want their societal cage rattled, he's got the contrariness and guts (calling someone a "thug," he says, "seems like the accepted way of calling somebody the n-word") to pull that off too.
With just two solo tackles and one pass defended before leaving the game mid--fourth quarter with a sprained right ankle, Sherman hardly seemed Manning's biggest problem on Sunday. (Then again, Eric Decker had just one catch against him after racking up 87 in the regular season.) Even without a star turn, Sherman remains the most compelling corner in football, a mix of old-school toughness and New Jack jawing. And that means more to him, at the moment, than anything else. "It gives me something that nothing else does—that rush, a sense of belonging," Sherman says. "It's where I'm at home. The game is my muse. It's my release, my stage, my family. It's the place I feel like I'm made for."
In the raw, quiet minutes afterward, Peyton Manning didn't speak as he dressed. He knotted his tie, shrugged on a jacket and then packed his clothes into a grey rollaboard. He shoved a Dopp kit on top, but that made shutting the bag difficult, so he struggled a few times before zipping it at last.
By any measure but the lofty one he's created for himself, it had been a great season. But now it had ended like every season but one of his 16, with a loss. Manning was headed to the press conference room, where his ever-evolving legacy was being discussed. The personal numbers were always there; even on this awful night he had set a Super Bowl record with 34 completions, and his 280 passing yards moved him past Brady into first place (6,589 yards) on the alltime postseason passing list. Everyone knows that it's never a one-man game, but you've got to wonder: Why doesn't Peyton win more?
Manning exited the locker room flanked by two security guards and walked toward his press conference. A female reporter from Mexico chased after, calling his name, but the QB didn't slow, and she tripped over a wire; he didn't see it and kept going. After the press gathered around him, 15 deep, he repeated that he didn't plan on retiring anytime soon, and that made sense for now. Then again, it's a long way to September.
By then, workers had delivered the Vince Lombardi Trophy to the Seahawks' locker room, and you could still hear them hugging and kissing and yelling at the site of the hardware when Manning breezed by on his way to Denver's bus. A small clot of autograph seekers stood to the side. Manning looked ready to stride past them, then thought better of it. He scribbled his name a few times, once on a T-shirt, making sure to pen his number 18 alongside. He didn't say a word.
In Seattle's locker room, running back Marshawn Lynch was playing deejay off his iPad, thrashing around to Rick Ross, Jeezy and Philthy Rich. Carroll suddenly appeared and quieted the din, calling his players to gather round. They closed in, filings to a magnet. "Put that frickin' trophy up again!" Carroll yelled, and someone raised the silverware, and all the half-dressed Seahawks roared.
Then Carroll called out all the day's heroes. Strong safety Kam Chancellor and his interception. Smith and his. Defensive coordinator Dan Quinn. Lynch. Harvin's 87-yard kick-return TD to open the second half. The offensive line. The long-suffering city of Seattle. Roar after roar after roar. Then everybody prayed.
Carroll called Wilson into the center, and a player yelled, "We all we got!" and the group shouted back.
We all we need!
The call came again, We all we got!
We all we need!
What's next, on three: one-two-three—
WHAT'S NEXT!
After seven months of football and all that entails, it was the only question left.
"I'm 25, man, and just getting started," Wilson said not long afterward, as workers peeled nameplates off lockers and brought down the banner that read, SUPER BOWL XLVIII CHAMPIONS. "I've got a long way to go, and I've got a great group of guys with me. Go, Hawks."