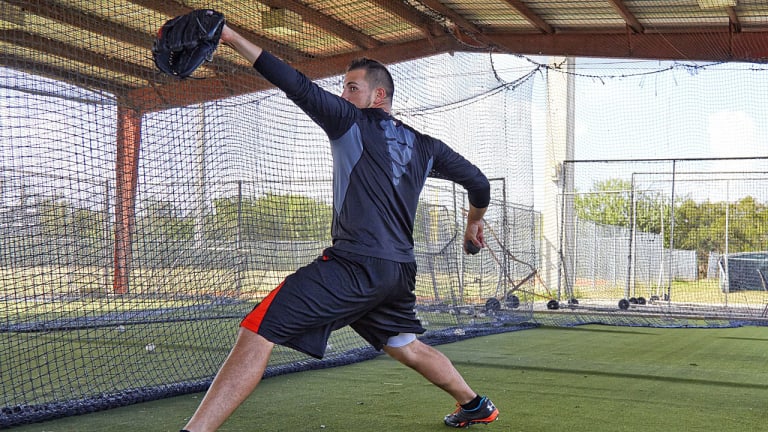 Jose Fernandez Is Ready For His Second Act
With a ball in his hand, the Marlins' 21-year-old ace looks wise beyond his years. It's his behavior off the mound that suggests he has some growing up to do. So, which Jose is he going to be?
They say his story will be a movie someday, and they are probably right. A charismatic hero, a harrowing escape, moments of soul-searching and triumph—yes, the movie could have all of that. The problem, though, is where to begin the story.
Begin with this: a boy swinging an ax in the night. The sun has long set over this field where he has been since dawn, tossing baseballs, running hills, flipping tires, pushing cars in the parking lot. The boy is 15, and he is standing over a tree trunk that's larger than he is, pummeling it with an ax. He will be there until the night has turned chilly and dark and his arms feel as if they're about to fall out of their sockets.
A boy swinging an ax in the night: This is how those who know and love him like to begin the story. It's 2008, and the boy is living in Tampa, fresh off the boat from Cuba. Within five years he will become one of the best pitchers in the major leagues: In 2013 he had the most impressive rookie season on the mound since Dwight Gooden in 1984. He will be hailed as one of the game's great hopes, a 6'2", 220-pound, flamethrowing righthander with the arsenal and the will to dominate for the next decade. But he will become known as this, too: a chest-thumping, trash-talking, bat-flipping, arrogant phenom—capable of greatness, yes, but also self-destruction.
Immature? Cocky? Boorish? Jose Fernandez could always be those things. Before he was the Marlins' ace, he was a star at Alonso High who would get ejected from games for berating umpires; before that, he was a boy in Santa Clara, Cuba, who would spit at the feet of opposing infielders as he galloped around the bases. A hothead with much to learn—that was always Jose, say those who know him. But they also say this: Jose is the teenager who would show up at a field every morning at six and surrender himself completely to his teacher, a man named Orlando Chinea. There were two Joses, the combustible child and the hardest worker they've ever seen. This contradiction is what makes Jose who he is, and it's what makes him so hard to pin down.
An All-Star, the National League Rookie of the Year, the face of the Miami franchise, a hero in Cuba—only 21, Fernandez is all of these things. But he knows that there could be so much more to the movie. And that's why he's back in Tampa, in the darkness, early in 2014. A new season is closing in fast, and Jose Fernandez is standing over a tree trunk. He's the boy again, swinging an ax in the night.
*****
To understand the best young pitcher in baseball not named Clayton Kershaw, to know how far he has come and to know how great he can be, you must find the man who saved him. You must go to the place where the boy found himself.
It's nine in the morning, and the student and the teacher are on the baseball field at Alonso High, where they have been meeting six days a week this winter. It's a chilly Wednesday, and on a table, steam rises from a pot of Cuban coffee, black as midnight—this is the elixir of a work-obsessed ballplayer who has been training nonstop since mid-December. The session begins with an hour and a half of stretching. Fernandez is working alongside his training partner, Robert Garcia, for the winter, a 21-year-old pitcher at a local community college. Fernandez has his right arm raised, in a high-cock position, and is swinging it forward. "I stand in front of the mirror every day, doing this 10,000 times," he tells Garcia.
Spend a day with Fernandez, and it quickly becomes apparent that he is dead serious about his training. When he was due in Miami for a lunch meeting earlier in the week, he asked an Alonso administrator to unlock the gate at 3 a.m. so he and Chinea could work out before he made the five-hour drive to South Florida. On another morning in January a voice boomed over the Alonso intercom: "Attention! There seems to be a car driving around the track outside—someone want to check that out?" Principal Louie Diaz peered through a window and saw a white SUV creeping around the track that circles the football field; a tall, hooded figure was pushing it from behind. Diaz shook his head and laughed. "Jose with that Cuban s---," he muttered.
Cuban s---. You could call it that, the unorthodox training regimen that Fernandez has been on since he met Chinea six years ago. A small, silver-haired man who was the pitching coach for the Cuban national team in the 1990s and then spent four years coaching in Japan with the Yomiuri Giants, Chinea is a pitching guru with a West-meets-East philosophy—part Leo Mazzone, part Mr. Miyagi. In Cuba he tutored the Hernandez brothers, Livan and Orlando, and Jose Contreras before all three became MLB stars. Now based in Tampa, Chinea likes his students to work in a natural environment, away from the gym. Take a typical week for Fernandez this off-season. In addition to long tossing and bullpen work, he has been spending at least 90 minutes a day on stretching alone. To strengthen his lower body, Chinea has him push his mother's 5,000-pound SUV on a track or in a parking lot, covering between 100 and 150 meters, three days a week. And no workout day is complete without at least 400 swings of that ax. The exercise, which alternates sets of horizontal and vertical swings, is designed to maximize the shoulder's structural rotation.
Sometimes Fernandez runs with a snorkel mask over his face to improve his breathing capacity and help him perform where the air is thinner. Even Fernandez was dubious at first. "I'm running around thinking, This is crazy," he says. "But then when I was in Denver, I felt strong and normal"—he shut down the Rockies over seven innings last July, allowing two runs and striking out eight—"and I was like, Yeah, Chinea was right again. If he told me to climb that pole and sit on it for five hours, I don't think about it twice, I sit up there for five hours. I trust him completely."
Chinea, 57, is also from Santa Clara—he defected to the U.S. in 2008 on the same boat as major league first baseman Kendrys Morales. Fernandez's stepfather, Ramón, who had settled in Tampa after sneaking out of Cuba in '05, asked Chinea to meet Jose shortly after the teenager's own dangerous journey from Cuba in April 2008. At first Jose didn't know what to think of the coach—for the first two months that they worked together, Fernandez didn't touch a baseball. Chinea didn't know what to think of the kid, either, a 15-year-old, 6'1", 170-pound string bean who could barely hit 80 mph. I'm not a magician, Chinea thought. But the boy's improvement was quick. Fernandez's fastball started touching the high 80s, and then suddenly, as Fernandez grew, Chinea had himself a pitcher with a 90-mph fastball that had the natural movement of a Scud missile.
Chinea would pick the boy up at six every morning to work out before school, and he dropped him off at 10 each night. "Monday to Monday," Chinea likes to say. He taught the boy a fastball—but also how to speak English, how to order off a menu, how to drive. He showed the boy how far a little structure, discipline and self-belief can take someone.
Whenever he saw fear and doubt creep into the boy's eyes, he put his hands on Jose's shoulders and looked him in the eye. "What are you scared of?" the coach said. "No one has been through what you've been through."
The boy would nod; Chinea was right. The story of how Fernandez made it to Tampa is already worthy of a folk tale. Over two years he and his mother, Maritza, tried to flee Cuba three different times. After one of these failed attempts, Jose was jailed for three months. Then one night in April 2008, he got into a boat in the coastal town of Trinidad with his mom, his stepsister Yadenis and Yadenis's mother. After a gut-wrenching three days on the water—one night when his mother fell into the Gulf of Mexico, Jose jumped in and pulled her back to the boat—they reached Mexico and from there made it to Tampa, where Ramón had lived since '05.
"Jose was lost for a long time," says Yadenis. "Growing up in Cuba, he didn't have direction. He wasn't responsible. He wasn't a bad kid—he just had a lot of growing up to do. In his life only two people could tell him what to do: his father, and Chinea."
It was in Tampa, with Chinea, that the boy began to find himself. He made the Alonso rotation as a sophomore in 2009 after other starters went down with injuries; by season's end he was hitting 94 on the radar gun and leading the Ravens to their first state championship. His confidence, and his fire, grew. Fernandez relished on-field trash-talking—"Good hit, but I'm going to strike you out next time," he'd bark at opposing players after they'd reach base. After jawing at an umpire from the dugout during one game, he was ejected.
One day, after a 14-strikeout performance in his junior year, Fernandez was on the field after an afternoon practice, joking with teammates, feeling good about himself. Chinea walked over. "You were throwing with a short arm," the coach said. "You were throwing like a kid."
In front of teammates, Fernandez cursed at Chinea and stormed off. The coach was his ride; Fernandez made the three-hour walk home. The boy and the coach did not see each other or speak for two weeks. The boy lost 5 mph off his fastball. His arm felt sore, his legs tired.
This was a lesson he had to learn: This is what happens when he becomes the kid who thinks he has it all figured out. He picked up the phone. "You want to come back?" Chinea asked. "You have to decide. Are you going to listen to me and work? Or are you going to be the spoiled kid?
"Which Jose are you going to be?"
*****
It is 10 in the morning, and Fernandez is on the mound at Alonso. He draws up his left leg, windmills his right arm over his head, shoots his body forward and fires the ball into the mitt. Pop! The delivery is as fluid as water in a stream; after he follows through, his right hand is almost touching the back of his left leg. A fastball. Pop! Chinea yells, "Outside corner!" and the next pitch is lasered right where it needs to be. Pop!
This is his first bullpen session since September, and Fernandez is in midseason form, hitting his spots in the 45-pitch, fastballs-only session. He's already throwing 95, 96 mph, by Chinea's estimation. Last year Fernandez's fastball averaged 94.8; he topped out at 99. Chinea believes Fernandez will begin to hit 100 on the radar gun with regularity ("He was holding back last year—he can throw 102, 103 easy"), though fastball velocity is not all that makes facing Fernandez such a chore. His most devastating weapon is a curveball that hitters already speak about with the same reverence they have for Kershaw's curve and Yu Darvish's slider. The pitch, which travels faster and breaks later than the typical curveball, is difficult to categorize; online pitch trackers have called it a slider, a curveball and a slurve. Marlins first baseman Logan Morrison calls it the Defector.
Fernandez's delivery has been refined over the years by a man whose obsession with the art of pitching is heavily influenced by the time he spent in the Far East. "I don't agree with how much they pitch in Japan," says Chinea, "but I'm 100% sure that they have the best mechanics. The power comes not from the body, but the mechanics."
Fernandez's motion has been designed to maximize his length of stride—many of Chinea's exercises are aimed at increasing Fernandez's ability to push off his back foot with staggering strength. This is where he separates himself from other pitchers. On this day, after Fernandez has thrown his last pitch, Chinea measures the distance between the rubber and the print Fernandez's left, or landing, foot has worn into the dirt. "Eight and a half," he says. "Very good." The typical stride length for a pitcher is 80% of his height. Fernandez can reach 8½ feet—137% of his height, which is practically unheard of.
*****
The flawless mechanics, the efficient arm swing, the body and the strength to pull off the delivery with metronomic consistency: Major league teams fell in love with all of that when they scouted Fernandez in high school. If not for his weight—he was 245 pounds as a senior—he most likely would have been a top five pick in 2011. "High school pitchers are already risky," says one scout. "You see a kid that big, and it does scare you a just little more." Miami took Fernandez at No. 14, giving him a $2 million signing bonus. In 2012 he went 14--1 with a 1.75 ERA, 158 strikeouts and 35 walks over 134 innings at Class A and High A. Then he made the leap to the majors.
For a pitcher, going from A ball to the Show is like going from the local dinner theater to the Royal Shakespeare Company. Over the last 43 years, only three other hurlers have made that jump and thrown at least 100 innings as a rookie: Gooden for the Mets, and the Tigers' Jeremy Bonderman (in 2003) and Rick Porcello (in '09). Fernandez made 28 starts for Miami and went 12--6 with a 2.19 ERA, fanning 187 and walking just 58 in 1722/3 innings. He held opposing hitters to a .182 batting average, lowest in the majors. Among pitchers 20 or younger in the post-Deadball era, only Gooden's 1.53 ERA in '85 was lower than Fernandez's, and Fernandez's 176 ERA+ (which measures run prevention against league average and adjusts for home ballpark) was the second best since 1911.
After their teams faced Fernandez for the first time, Rays manager Joe Maddon and the Dodgers' Don Mattingly both invoked Mariners ace Felix Hernandez as a comp for Fernandez. Chinea says his pupil is more like Tom Seaver: "Same body, same intelligence—both aggressive, but with quiet and balance on the mound." Later, when he hears this comparison, Fernandez shrugs. He's never heard of this Seaver guy. "Is he Cuban?" he asks with a laugh.
Fernandez is still just a boy—he turns 22 in July—and he looks the part in a black T-shirt and baggy workout pants, his spiky hair like a boy band singer's. Spend time with him and you realize much of what you see on the field is a kid being a kid. Last July, after that win over the Rockies, he took a victory swim in the pond beyond center at Coors Field. Asked later if he was worried about catching a cold, he said it didn't matter as long as he could pitch in five days. Fernandez still loves to engage opposing players: After he snagged a laser off the bat of Troy Tulowitzki, the Colorado shortstop glared back and yelled, "You caught that?" Fernandez grinned, nodded his head and snapped back, "Yeah. Abracadabra."
Fernandez's bravado is refreshing in a sport in which an obsession with adherence to tradition and an unwritten code of behavior—playing the game "the right way"—threatens to dull the edge that 21st-century fans expect. Fernandez could be that flashy star who ruffles baseball's Brylcreem-stiffened hair. But, as fellow phenoms Bryce Harper of the Nationals and Yasiel Puig of the Dodgers have learned, the exhilarating young talent who plays with personality and panache can quickly be cast as an arrogant ass who's bad for the game.
Fernandez was taken to school in September in an outing against the Braves. He had been yapping on the mound after retiring Atlanta hitters, as he often does (though it's seldom clear whether he's directing his commentary at himself or at others). Then in the sixth inning, he stepped to the plate and mashed a home run—the first of his career. The rookie lingered in the batter's box for a moment to admire the shot as it sailed over the leftfield wall, and as he trotted home, he spit in the direction of third baseman Chris Johnson, who had been trash-talking with the pitcher earlier in the game. When Fernandez reached the plate, Johnson sprinted down the line to get in his face, and catcher Brian McCann also dressed him down. The benches cleared.
Miami manager Mike Redmond pulled the rookie into his office after the game. Fernandez got the message. "I'm embarrassed," he told reporters. "Hopefully it won't happen again. This isn't high school no more. I made a mistake." But four months later he says, "I compete, and I'm not going to back down from anybody. Maybe I overdid it a little bit. But I am who I am. I come from a different place. Baseball in Cuba's a lot more different, a lot more emotion, a lot more passion. At the end of the day it's a game, and you're supposed to have fun, right?"
*****
Which Jose will he be? The coach still asks the boy that question.
During the season Chinea calls Fernandez the day before each of his starts to offer his notes—Chinea charts all of Fernandez's appearances in a tattered spiral notebook—and his scouting report on the opposing lineup. Sometimes Chinea sees the kid who really does have it all figured out; sometimes he sees a supreme talent who is as raw as his age suggests he should be. Against the Rays in Tampa Bay last May, with 40 friends and family members in attendance, Fernandez hit 99 mph four times in the first inning—a sign of overthrowing, Chinea would tell him. In the third inning, after not getting a strike call, Fernandez glared at the umpire and shouted something. His focus lost, he was hit hard and was out of the game by the fourth. "The kid in me came out," Fernandez told Chinea.
There are stretches when Fernandez can make the game look so easy: He heads into 2014 with a streak of 11 starts in which he hasn't allowed more than two runs or five hits. After the Marlins announced he would be in the rotation last year, Fernandez told anyone who'd listen that he'd finish with an ERA under 2.50. "Everyone said, This is the big leagues, you're crazy," he says—but his 2.19 was second in the majors only to that of Kershaw, the NL Cy Young Award winner. This season Fernandez's goal "is to have an ERA below two and win the Cy Young." Predicts Chinea, "Jose will be the best pitcher in the major leagues this year. He will be ... unhittable."
Of course, nothing will come easy, and not just because he is a young pitcher, the most fragile of the game's commodities. Soon there will be more money, more attention, more expectations, more people and forces pulling him in different directions. "Do I worry about Jose? Yes, I do," says Diaz. "It pains me to see people question his behavior. He can be an idiot. He can be stupid. But at heart he's a good kid, capable of great humility."
It's now past noon in Tampa. After his sharp bullpen session, Fernandez is happy. The sun is shining, the freshly cut grass is sparkling, spring training is just weeks away—he can smell baseball in the air again. He begins to sing something in Spanish and to dance. He closes his eyes and sings louder.
He's still just a boy, but he gets it; he understands what it took for him to get here, and he knows what it will take for him to get where he wants to be. And this is why Fernandez comes back to this place where he found himself.
This is why he still swings the ax in the dark.
"What are you scared of?" Chinea would ask when he saw doubt creep into the boy's eyes. "No one has been through what you've been through."
Fernandez's average fastball was 94.8 mph, third-fastest in the majors. "He was holding back last year," Chinea says. "He can throw 102, 103 easy."
"I am who I am," Fernandez says. "I come from a different place.... At the end of the day it's a game, and you're supposed to have fun, right?"