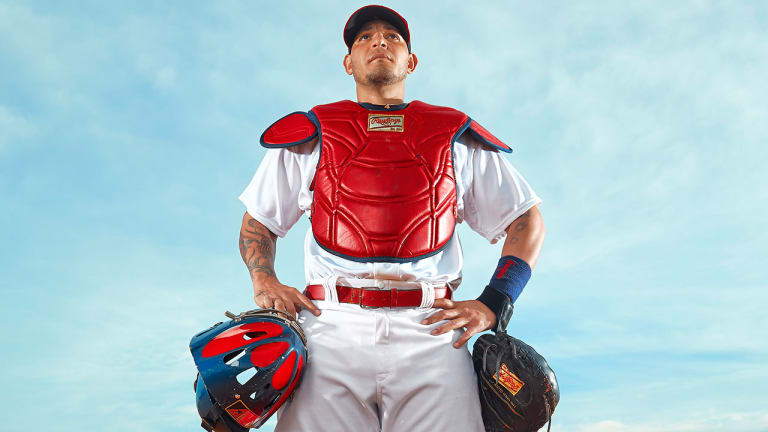 The Molina Way
Why is Yadier Molina the game's best catcher, a lethal force with his glove and his bat? Because when you come up in the first family of squatting, you have to stand out somehow.
Very few people believe that an enjoyable and productive morning involves having objects fired toward the general area of their groins. Of course, very few people are like Yadier Molina.
"Harder!" Molina commanded as Steve Turco fed baseballs into a pitching machine one morning last spring at Cardinals camp. Turco, a minor league manager, was entering his 32nd season with St. Louis, and he had been asked to work one-on-one with the man everyone in the organization knows as Yadi. The machine was already propelling balls at the catcher at speeds above 80 mph. They were not fastballs but breaking balls that would dive to the dirt a foot or two in front of the plate and then kick up into Molina's glove or off his chest protector, at which point he would spring up from his squat and prepare to throw to second base.
Turco dialed the machine up to 88, which is close to as hard as any human pitcher can throw a slider. It was not fast enough for Yadi. He began creeping closer to the machine, shaving milliseconds off the already scant time he had to react to each pitch. He implored Turco to feed the thing as fast as he could: "Quick. Now." Soon Molina was crouching just 35 feet away, and sweat was trickling down his tattooed neck. "I'm thinking, Yadi, you're not trying to make the club here," Turco recalls. "Why are you doing this?"
Turco knew the answer. Yadi was doing it because he is the Platonic ideal of a man who plays the most demanding and hard-to-fill position in sports. To be a great catcher, you must relentlessly want to be a great catcher. Most players do not. Catchers must spend hours at a time squatting while encased in bulky equipment on hot summer days, taking foul tips to all parts of the body. Home plate is where coaches often put chunky, immobile kids; the best all-around athletes become shortstops, pitchers, maybe centerfielders. "They weren't going to put the gear on me," says Torii Hunter, the Tigers' nine-time Gold Glove outfielder. "It's not fun."
Being a good catcher also requires developing all sorts of nuanced skills. While teammates focus on more enjoyable and more lucrative activities such as hitting, catchers spend hours building expertise in a series of thankless tasks. "They have to work on so many different facets of the game—blocking, receiving, throwing, their relationship with pitchers, their ability to call a game—and there's only a finite number of hours in a day," says Rays general manager Andrew Friedman. "A second baseman is working on his offense and working on his defense, and it's just much more contained."
People often compare catchers to quarterbacks, but everyone wants to be a quarterback. The comparison is apt, though, when you consider the varied and significant ways a catcher can affect his team's fortunes—even if that impact is often subtle. A catcher's defense remains one of the most difficult things to measure, even as modern metrics have revealed that the ability to frame pitches, for instance, can add one or two wins a season to a club's bottom line.
Great catchers, then, are as valuable as they are hard to find. Turco suspected that St. Louis had found one back in 2000, when he was dispatched to Orlando by John Mozeliak, then the Cardinals' scouting director and now their general manager, to assess an 18-year-old from Puerto Rico whom the club had drafted in the fourth round. Mozeliak was surprised that Yadier Molina had fallen so far in the draft—his older brothers, Bengie and Jose, had already spent time behind the plate in the majors—and wanted Turco's opinion as to whether the Cardinals should sign him. Turco watched Yadi catch a few games and issued his report to Mozeliak: "Just give him what he wants." (To be exact, $325,000.)
Yadi, in turn, gave the Cardinals everything they wanted. He has become one of the most important players in the game. "On my list, he's at the top," says Miguel Cabrera, winner of the last two American League MVP awards. Above Cabrera himself? "The very top," the Tigers slugger confirms. "He can control everything—his pitchers, the games. I play first. I don't have any control, most of the time."
Molina is not only among the game's elite at every aspect of catching, but he has also made himself one of baseball's best hitters, a rare combination indeed. Only the Giants' Buster Posey can rival Molina as a two-way catcher. There are few other candidates: perhaps the Yankees' Brian McCann, when he is healthy; maybe the Brewers' Jonathan Lucroy; possibly the Royals' Salvador Perez in another year or two. Every team pines for a Yadi, but, says Mozeliak, "it's like saying, I want to go get the next Jeter. It's a needle in a haystack."
Still, you can try to figure out what made Yadi. It helps that his older brothers had long careers as catchers. Bengie played 13 years in the majors and in his retirement has come into demand as a coach; this season he's in the first base box for the Rangers. Jose is in his 14th season, and even though he isn't nearly the hitter that Yadi is (his .594 OPS last season ranked him 265th out of 276 players with at least 300 plate appearances), the Rays outbid the Cubs to bring Jose back this year, promising him $4.5 million over the next two seasons.
"S---, he passed us since the first day," Jose says of Yadi, but still, the three brothers must share more than blood to have all reached the pinnacle of their profession, winning five World Series among them. "Three brothers being among the best in the world at doing any one thing?" says Friedman. "That's crazy odds. That's lottery odds."
The Molina brothers grew up in Vega Alta, P.R., a community long known as El Pueblo de los Ñangotaos—the Village of the Squatters. The nickname refers to the pose local sugarcane cutters used to assume while waiting for the train, but it bolsters the notion that the Molinas were destined to play the position that made them famous.
Genetics surely have much to do with what the Molina brothers became. Benjamin and Gladys Molina produced three sons with thick and durable bodies, strong hands and arms, and feet that were agile, if not fleet. The Molinas are so notably bereft of foot speed that the adjective Molinan has become baseballese for slow. The brothers, though, view their slowness as a gift, for it left them with little choice as to what position to play. (Jose was always a catcher; Bengie and Yadier played rightfield and third base, respectively, until they were teenagers.) "If we'd insisted on playing somewhere else," says Jose, "we probably never would have gone anywhere."
Benjamin Molina was a successful amateur player (he was inducted into Puerto Rico's Hall of Fame in 2002), but he played second base and outfield, not catcher. Still, he gave his sons something more important than his DNA and his love for the game: an example of what it means to be disciplined.
The Molinas' house in Vega Alta was tiny: two bedrooms, one for the parents and one for the boys. The boys' room had two beds in it; Bengie and Yadier shared one, and Jose had the other. Each morning Benjamin would rise early to go to work at the Westinghouse factory, where he made elevator parts. He would return each afternoon around four and, soon after, herd his sons across the street to Jes√∫s (Mambe) Rivera Park, where they would exhaust the daylight playing baseball. "When other dads were eating and sleeping, taking naps, he was taking us to the ballpark to teach us the right way to play the game," Jose says.
The diamond was not much to look at. People let their quick-stepping Paso Fino horses stomp around in leftfield, pocking it with hoof prints. The first base line was made of deep, loose beach sand. The backstop was positioned just eight feet behind home plate, and the sharp ends of its chain links curled in threateningly at the bottom. That is where Benjamin taught his sons and the rest of the neighborhood boys what it takes to play baseball at a high level. They played games on the weekends, usually doubleheaders, but the weekdays were spent practicing, talking about strategy and technique and dedication and then practicing some more.
The Molina brothers are often thought of as a unit, and they are very close, but there is a significant age gap between Yadi and his siblings. While Bengie was born in 1974 and Jose in '75, Yadi did not come along until '82. That meant that when the Cubs drafted Jose and the Angels signed Bengie as an amateur free agent in the late spring of '93, Yadi was suddenly alone. He had to make do with brief pay-phone calls from his brothers—six quarters would buy four minutes—and winter visits. He covered the room that was now his with newspaper clippings about Bengie and Jose. Over the next seven years Yadi's drive to do whatever it took to rejoin them only increased.
"I wanted to be like them, you know?" he says. "At that age, the way I looked at them, it was like, Wow, they're in the big leagues, even when they were in the minors. When Jose would come back home during the off-season, he'd bring all this stuff from the Cubs: pants, jerseys, shoes. He'd be like, 'Hey, Yadi, don't touch this.' When he'd look away, I'd grab it."
When Yadier was 16 and a high school junior, his father signed him up to catch for one of Puerto Rico's top adult amateur teams, Los Tigres de Hatillo. Unlike in the U.S., where amateur coaches usually insist on directing their pitchers' sequences, in Puerto Rico young catchers are responsible for calling their own games. Yadi had to do it for pitchers who were grown men. "I was playing with guys who were 32, 35 years old," he says. "They had jobs, families, they're going out at night, living that life. Much of the time I was more listening than talking. But I learned."
Yadi, who was drafted at 17, arrived in the U.S. with catching skills that were far more advanced than those of his contemporaries, and he shot up the Cardinals' ladder, reaching the majors at 21 in 2004. He was behind the plate for 51 games as a rookie. Since 1980, only Pudge Rodriguez (who grew up four miles from Vega Alta) has caught 50 at a younger age.
Yadi knew how to call a game and memorized the tendencies of every batter he faced, a skill his brothers had encouraged. Since 2004, Cardinals pitchers have had an ERA of 3.71 when Yadi is behind the dish and a 4.22 ERA when someone else is. He also gunned down 47% of would-be base stealers as a rookie, a rate that has held up through the years; he was an elite 44% in 2013. Over the last 10 seasons opponents have swiped just 511 bags against St. Louis, two thirds as many as any other team has yielded.
One thing Yadi did not have when he arrived in the majors, and for several seasons thereafter, was much of a bat, in part because he spent so much time on his defense. "I didn't know myself as a hitter," he says. "I found myself when I realized I'm not a home run hitter. I can't hit the ball 500 feet, so why am I trying to?"
"He understood that he could be just as deadly with the bat as he could with the glove," says Mark McGwire, the Cardinals' hitting coach from 2010 through '12. "Just a beautiful hitter. Textbook, up the middle, right side." Over the last three seasons Molina has batted .313 (seventh best in the majors) and hit 104 doubles (12th best) while striking out only 154 times, third fewest among the 104 players with at least 1,500 at bats.
"You can have an elite, game-changing catcher from a defensive standpoint, or it could be from an offensive standpoint," says Mozeliak. "If he combines both? Rarefied air."
One morning this spring Yadi Molina crouched in the bullpen near the Cardinals' clubhouse in Jupiter, Fla. Some of the organization's young catchers, including minor leaguers Carson Kelly and Audry Perez, were huddled around him. For nearly 15 minutes Yadi tutored them in the art of pitch framing, first demonstrating his technique—he never stabs at a borderline pitch but allows it to meet his glove and smoothly brings it into his chest—and then tossing balls to them underhand so they could try it. "Soft," he kept saying. "Relaxed. Never fast."
Yadi did not have to do this. But it is the type of thing he always has done, and what Molinas always have done. They grew up on that field in the Village of the Squatters learning that baseball is, above all else, a communal activity. "He's absolutely selfless," says Mozeliak. "You hear that saying, The great ones make people around them better."
This, perhaps, is the most difficult aspect of being a catcher: Through years of physical battery during which you've struggled to refine your own technique and knowledge, you must remain focused outward, on your teammates and, most of all, your pitchers. You must work harder than anyone else in order for others to receive the lion's share of the reward. "I just think it's in our nature to help people, to help a pitcher become better," says Bengie Molina. "I want you to pitch well so at the end of the year you get $6 million for your kids. I think the sacrifice of my dad and mom has a lot to do with it. When you give yourself up for others, you become one of us."
Even after his own boys were long gone, Benjamin Molina worked with the children of Vega Alta on their baseball nearly every day, until one Saturday in October 2008. He had gone back to his house to retrieve fresh baseballs for the second game of a doubleheader. When he returned he handed them off and immediately fell to his knees, his fingers clutching the curved chain links of the backstop. It was a heart attack; he was 58. "To die in the baseball stadium, where he spent every day—you don't want to think about it, but that's the best way," Yadi says.
A thousand people showed up for his funeral, many of them boys and men he had coached. The brothers helped carry his casket around the bases of Rivera Park. Bengie was given first base; Jose got second; Yadi got third, and Gladys was presented with home.
That experience only confirmed for the Molinas the value of their father's life's work. "I play for him," says Yadi, "by being the way he taught me to be."
Yadi's physical and mental acuity, combined with his selflessness, helps explain the success of almost every team he's played on. Consider last year. In March, with Jose as his backup, Yadi guided a Puerto Rico team that was thin on big league pitchers to the final of the World Baseball Classic. Then, in October, he shepherded a Cardinals staff with seven first- or second-year players, all of them 25 or younger, to the World Series. "Having that veteran behind the plate who knows all the hitters' tendencies, it played a big part in it," says 22-year-old righthander Michael Wacha, last October's breakout star. "It makes us not worry too much, because we know he has complete control."
"They've got great arms, don't get me wrong," says McGwire, whose Dodgers lost to the Cardinals in six games in the NLCS. "But when you're facing them, you're really facing Yadi."
Yadi's magnanimity extended to his contractual negotiations with the Cardinals. He had been due to reach free agency after the 2012 regular season, but in March of that year he agreed to a five-year extension totaling $75 million, a modest figure for a player of his stature. Mozeliak admits that his budget-conscious club might have given Molina more if pushed. But Yadi didn't want more, in part because he wanted Mozeliak to have the financial wherewithal to surround him with talent. "I feel good with the money I have, to be able to be here in St. Louis, where I know I can spend my career," Yadi says. "To be around good people, to be on a good team, to have a chance to play in the playoffs—that was the main thing for me."
Molina will be a Cardinal through at least 2017, when he is 35, and there might be only one thing that can stop him: his body. Just two players over 35 have ever caught at least 135 games in a season—a total Yadi has surpassed in five straight years. He insists that the more he plays, the better he feels, but last year a sprained right knee put him on the 15-day disabled list for the first time in six years. He has, of course, had injuries before. "I think it was in Cincinnati, and he was hitting with two badly sprained ankles and a bad rib cage, too, and when he hit he would sort of fall out of the box," recalls McGwire. "That's how bad this guy wants to play." Now that he is past 30, though, toughness might not be enough.
Still, the Cardinals have no plans to decrease his workload. "You start trying to take away opportunities when he could be playing and should be playing, with the idea of conserving him for October, that's a bad game plan," says Mike Matheny, the Cards' manager.
You don't, in other words, remove a club's heart and brain unless you have no choice. You also don't take away its face, and that is what Molina has become for the Cardinals. It is his name that fans chant more than any other in Busch Stadium, and it is his jersey they buy. But Yadi does not define himself in those terms.
"The face?" he says. "No. We got 25 guys who come to work, come ready to represent the St. Louis Cardinals. It's not only one guy. I don't like to think that way." That is not the way of a catcher, and that is not the way of a Molina.