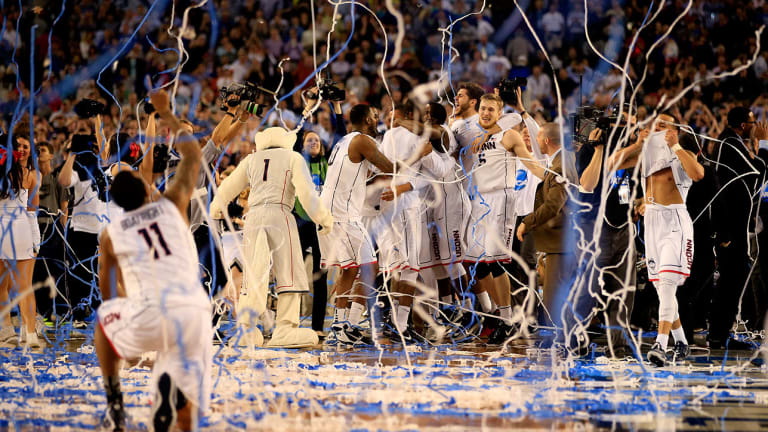 The Believers
After they were banned from the NCAA tournament a season ago, coach Kevin Ollie held the Huskies together by giving them a higher sense of purpose. Then he guided the No. 7 seed to upset after upset—and, with a steely win over Kentucky, to the school's second title in four years
Ryan Boatright clung to opposing players all month, and after Monday's national championship game, he finally found somebody to hug him back. Connecticut's junior guard ran to his mother, Tanesha, and hoisted her off the floor. Boatright's backcourt mate, Shabazz Napier, fell to one knee on the AT&T Stadium court in Arlington, Texas, stuck his head in his jersey and bawled.
The Huskies looked stunned that they had won the title, and that is when freshman center Amida Brimah ran to Napier and reminded him, You did believe. Three months earlier, in the locker room after a game against Louisville, the senior had told his teammates, Guys, don't worry. We're gonna be the last team standing. UConn had just lost by 12 points.
One of the wildest tournaments in NCAA history ended appropriately, with a No. 7 seed beating a No. 8 seed. Connecticut beat favored Kentucky 60--54 behind 22 points from Napier, and losing coach John Calipari admitted afterward, This was not about talent. The Wildcats had an endless supply of that. It was about will.
The two tallest players in the Huskies' starting lineup, Phillip Nolan and DeAndre Daniels, played only 19 and 29 minutes, respectively, because of foul trouble, yet the Huskies still outrebounded the top rebounding team in the country, 34--33. Boatright rolled his left ankle late in the second half and treated it by tying his shoe tighter and returning to the game.
Was this the same Connecticut team that was pushed to overtime against St. Joseph's in its first tournament game? Yes, absolutely it was. The Huskies were not college basketball's best team this year, but they were the best at surviving. In their last four tournament games UConn sank 61 of 67 free throws, including all 10 against Kentucky. (The young Wildcats, meanwhile, made only 13 of 24.)
The day before the title game, several Huskies gathered in a hotel room and watched UConn alum Ray Allen hit a big fourth-quarter shot to help the Heat beat the Knicks. Now that they were champions, here was Allen, telling them how proud he was and sharing a story from the Miami locker room. A few feet away stood Rip Hamilton, who led Connecticut to its first title, in 1999. That was supposed to be a once-in-a-lifetime event for UConn, but then came a championship in 2004 and another in '11, and now this year's. With former stars embracing the current ones, the Connecticut program seemed as if it had never left the stage. But, of course, it had.
A few hours before UConn faced Florida in the first national semifinal, Stephanie Ollie sorted through tickets in her room at the Hyatt Regency Dallas while her husband, Kevin, pored over plays in his notebook. The Huskies were considered the fourth-best team in the Final Four. The top-seeded Gators were supposed to send them and their lovely little story back home to Storrs that night.
Only a true believer would have guaranteed a victory, so it says a lot about Stephanie that she guaranteed two. She promised Kevin that UConn would beat Florida, and then Kentucky or Wisconsin for the national championship. "It's all going to come full circle," Stephanie told him.
In September 2012, when Kevin was named coach, it was unclear if Connecticut should hold a press conference or a moment of silence. UConn had lost its Hall of Fame coach, Jim Calhoun, who retired; its conference, the Big East; and a large slice of its reputation. The NCAA had hit the Huskies with both fists. In February 2011, Connecticut was placed on probation for three years and lost three scholarships, and Calhoun was suspended for three games, in the wake of a recruiting scandal. In June 2012 the Huskies were banned from the 2013 NCAA tournament for having a low Academic Progress Rate (APR). Players were free to transfer and play right away.
Ollie, who played point guard for the Huskies from 1991--92 through '94--95, admits now that the program was "on the brink" when he took over. His first task was persuading the players to stick around, which was a challenge because nobody knew if he would stick around. Despite a push from Calhoun, Ollie was given only a one-year contract, with no guarantee of a second year.
He told his charges that they were playing for something bigger and more lasting than a single NCAA tournament. They could be the group that kept UConn basketball from falling into an abyss. Eventually they would be proud they stayed.
He likes to say, "We don't take the escalator—we take the stairs." That is a tough sell to a generation of basketball players that believes the shortest distance between two points is still too long. It worked because Ollie didn't seem to be selling. He was convincing without begging. Forward Alex Oriakhi left for Missouri, but most of the team stayed.
In Ollie's first game at the helm, on Nov. 9, 2012, the Huskies upset Michigan State at Ramstein Air Base in Germany. The team gathered behind Ollie as he did his postgame interview on the court (a tradition he started), and athletic director Warde Manuel walked over to Calhoun—who has remained in the program as a special assistant—smiled and said, "Coach, you're right about this guy."
Connecticut reveres its Huskies, both male and female, and as the team started 6--1, fans wondered why Manuel wouldn't give Ollie a long-term contract. But Manuel wanted to wait until the end of the semester to see the Huskies' APR. It was exemplary. Manuel rewarded Ollie with a five-year extension that December.
As part of his recruiting pitch, Ollie told his players that by working hard now, they would be "planting seeds" for the program's future. The Huskies did, even though it would be another year before the country could watch them grow. Napier avoided last year's tournament. He watched the Discovery Channel instead. He turned this year's postseason into his own Self-Discovery Channel.
Early in his career Napier was a gunner and a loner. When coaches criticized him, he says, "I would just give a cold shoulder or let it go in one ear and out the other. I was never too uncoachable. I just felt like I knew a lot. I was so naive. I didn't know much. I definitely was hardheaded."
Now he is levelheaded, and he and Boatright led a defensive effort that won the championship. In the Elite Eight, Connecticut turned Big Ten tournament champ Michigan State into a jump-shooting team, and Napier grabbed hold of the game in the final minutes to seal the upset.
Last Saturday, UConn fell behind Florida 16--4. (In the first row at AT&T Stadium, Spartans coach Tom Izzo turned to a nervous Calhoun and said, "Why didn't they do that last week?") Freshman guard Terrence Samuel says the Huskies were "depending too much on Shabazz to make a play"—almost begging him to force shots as he would have earlier in the season. Napier refused. He stayed patient, and the Huskies scored 11 straight points to cut the lead to 16--15. Connecticut still hadn't gone ahead, but Boatright was ready to declare a TKO. "I felt like we broke them," Boatright said after the game. "We knew we had taken their best punch."
After the rough start, UConn outscored Florida 59--37. Napier only took six shots, for a simple reason: That was all he needed to take.
"He is giving away his gift," Ollie says of his star. "He used to always keep his gift inside. He has a wonderful spirit—everybody wants to be around him. When things got tough, he [used to] seclude himself. Now he is engaging, even when he makes a mistake."
The Huskies won the most stunning national championship in a quarter century, at least since sixth-seeded Kansas won it in 1988. Of all the teams in Dallas—veteran Florida, disciplined Wisconsin, ultratalented Kentucky—Connecticut was the toughest and best prepared. The Huskies did not just listen to their coach. They became him.
When Stephanie Ollie talked about coming "full circle," she was not referring to the program. She meant her husband, who began his NBA career in Dallas. The Mavericks cut him right before Christmas in 1997, after just 16 games as a rookie. That might have been it for a lot of players. Ollie lasted 12 more seasons. Years before he persuaded these Huskies to value every moment of the season, Ollie decided, if he had two minutes of playing time, it would be the best two minutes he could possibly give.
"I better know my scouting report, so maybe those two minutes can lead to 10 minutes the next game—or another contract," he says. "Any day, the coach can say, I don't want you, Kevin. You're cut. And there I go to another city, another team."
On road trips he would stick scouting reports in a folder or book bag and take them home. He even kept one of his practice schedules from when he played for the Timberwolves. Stephanie, who met Kevin when they were students at UConn and married him in 1998, would wonder if she could throw this stuff away, but she never did.
Ollie played for 12 teams in 13 years and became a favorite of almost every coach. While other players got caught up in NBA life, Ollie was always focused. When he got traded to Seattle, he lived in a low-frills hotel that was closest to the practice facility, which he describes with a typical Ollie compliment: "It did its job. A hotel is a hotel. You're there to play basketball."
Ollie was a tenacious defender, an expert at offensive spacing and a relentless worker. This year's national champs were full of Kevin Ollies. His playing career is forgotten by fans but remembered by the two best players in the league. The Cavaliers signed Ollie in 2003 at least partly because they hoped his professionalism and approach to the game would rub off on rookie LeBron James. The Thunder signed him in 2009 to be a role model for Kevin Durant.
Ollie was 36 when he joined Oklahoma City before the 2009--10 season—his last in the NBA—but at volunteer preseason workouts, he was in the best shape of anybody on the team. When Ollie injured his right knee that year, he rehabbed as hard as a rookie trying to stay in the league. He played only 25 games, but general manager Sam Presti says Ollie's "contributions to the organization far outlast his time here as a player."
Presti was so appreciative that in the spring of 2010 he took Ollie to lunch at Shiki, a Japanese restaurant in Oklahoma City, and asked him, How can I help you? Presti was interested in hiring Ollie as an assistant or for a front-office job. But Presti says now, "It became clear to me that coaching at UConn was a dream."
Ollie wanted to go back to the home he and Stephanie have maintained in Glastonbury, Conn., so their son, Jalen, 17, and daughter, Cheyanne, 13, could stay in the same schools. He worked just two years as an assistant before Calhoun retired, but experience is what you make of it. He looks back on his point guard career and says, "I've always been a coach."
Ollie relates to players partly because he was one so recently. Forward Tyler Olander says, "The first time he ever yelled as a coach was when he became head coach. And even that took a while for him." After big wins Ollie play-slaps players in the locker room. Junior forward DeAndre Daniels calls him a "friend-slash-coach."
Ollie says players are "the center of my universe" but also cautions, "I don't call myself a motivator." He doesn't want credit for what his players have earned. Among the things he won't sell is himself. Calhoun basked in the media glow more than Ollie did—in the locker room at the Final Four, Calhoun held court, calling Ollie "a son." Ollie has to be cajoled into doing interviews.
He still picks up an old scouting report sometimes, mostly to get his mind spinning. "Most of the time I don't take anything from it," he says, "but if I can get a gold nugget from one of them, and it can apply to my team at a certain moment, I'll take it."
At 41, Ollie is too young to receive full recognition for his mastery of strategy, but in his last three games he beat Izzo, Florida's Billy Donovan and Kentucky's John Calipari—all national-title winners, all potential Hall of Famers. Presti says, "What can be seen as a transient playing career has definitely contributed to what could be a very sustainable coaching career."
Ollie might not face a bigger challenge for the rest of his career than the ones he has already overcome. And even as he restored the championship tradition in Storrs, he has been home when his family needed him most. Last September, Stephanie's father, Edgardo Ochoa ("Kevin's biggest fan," she says), died suddenly from a severe reaction to medication. In November, Kevin's mother, Dorothy, was diagnosed with breast cancer. She underwent chemotherapy during the season and had surgery on March 24.
They cope by relying on another Ollieism: "You can't control an event, but you can control the meaning of an event." It's not the catchiest phrase, but it explains why he and his team got here.
Connecticut officials still think the tournament ban was unfair—not because the APR requirement is wrong but because it was applied retroactively. Connecticut violated a standard it didn't know existed. But that was an event; Ollie and the Huskies controlled the meaning. The coach says that if his team had played in last year's tournament, it would not have won this one.
"That's what got us to this point," he says. "We didn't get caught up in the pain of last year. We really looked at it as a success story. No doubt in my mind."
Ollie took the stairs to the podium for the trophy presentation with the calm assurance of a man who is at the center of his sport. After Napier was named Most Outstanding Player, Kevin embraced Stephanie on the court. "I told you this was going to happen," she said, promising his favorite desserts—banana pudding and German chocolate cake—when they returned to Connecticut.
A gracious Calipari, who once coached Ollie with the 76ers, said, "I hate losing, but I'm happy he won."
Nineteen months earlier Ollie inherited a program in peril. Seventeen years ago he was told he wasn't good enough to play in the Mavericks' arena. Now here he was, in one of the country's largest football stadiums, cutting down the last piece of net. Kevin Ollie was right about his Huskies, and about himself: They had been playing for something bigger all along.
Only a true believer would have guaranteed a Huskies victory. It says a lot about Stephanie Ollie that she guaranteed two.
Early in his career Napier was a gunner and a loner. Now "he is giving away his gift," his coach says. "He has a wonderful spirit."
Ollie was a tenacious defender and a relentless worker. This year's champs were full of Kevin Ollies.