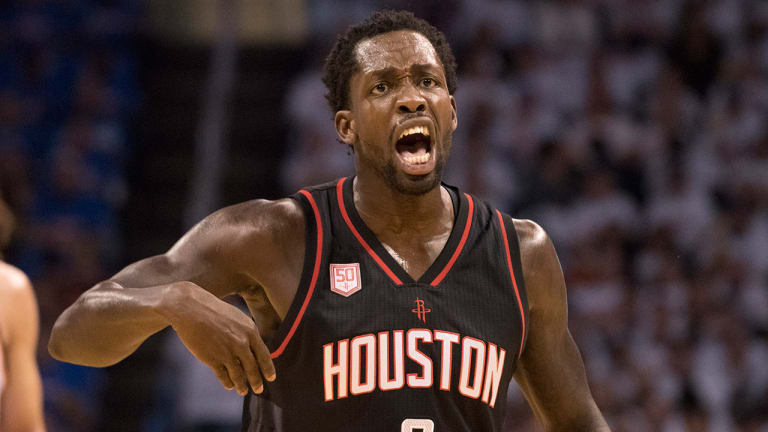 Patrick Beverley: The X-Factor
The Patrick Beverley Experience is pure hell for every opponent, from weekend warriors to NBA stars. Relentlessly disruptive and unapologetically combative, the well-traveled point guard gives the Rockets their edge.
WEDGED BETWEEN the Toyota Center and the Salvation Army in downtown Houston is a sunken basketball court shielded by a canopy of live oaks. The court was built in 2005 as part of a renovation to Root Memorial Square Park, and the Rockets led the fund-raising. They recognized an opportunity to connect the millionaires on one side of La Branch Street with the grinders on the other. The bridge was symbolic, of course, because pros are ensconced in practice facilities with hardwood floors. They can't very well take elbows to the teeth from Joe Playground. But on the second week of January the boys at Root noticed a familiar figure crossing La Branch. He wasn't much taller than 6 feet or heavier than 180 pounds. His hair was unkempt and his face unshaven. "Who got next?" Rockets point guard Patrick Beverley hollered, peeling off his T-shirt. "I'm skins."
Beverley was technically still recovering from a broken right hand, but trainers had just cleared him to practice, and the team was in New Orleans. It had been three weeks since he stuck his face in someone's jersey. He missed the taste. The boys were giddy, already imagining what they'd tell their buddies. Then the ball was inbounded and full-court fury unleashed. "I gave them what I give everybody," Beverley says. "The whole 94." Hand checks and arm slaps, overplays and undercuts, a violation of space and erosion of will set to a sound track more grating than any arena organ: Let's go, Pat! Come on, Pat! Good foul, Pat! Be aggressive, Pat! The boys enjoyed the Patrick Beverley Experience—"a mental and physical wear-down," as Houston assistant coach J.B. Bickerstaff describes it, "a complete and total package of disruption"—no more than Russell Westbrook and Chris Paul do.
"Basketball players want to be comfortable, they want to be lackadaisical, they want to make the right passes and take the right shots," Beverley says. "No. When you play me, I'm going to get right up in your grill and let you know it's going to be a long day. It's going to be physical. It's going to be something you don't like. It's going to be hell." Beverley is compared to a gnat and a mosquito, a pit bull and a Doberman pinscher, and that's just by family and friends. "He's obnoxious," says Rockets forward Chandler Parsons, "which is why we love him so much." He is a one-man rebuttal to every preening floor general, pounding the ball and ordering up screens. He stands out from the NBA's cotillion club like one of his Adidas warmups amid the tailored suits. "This is a position where a lot of Western Conference teams have All-Stars," says Houston general manager Daryl Morey. The Rockets found the next best option, somebody who drives the All-Stars apoplectic.
Beverley has scrapped with Westbrook and Paul. He was punched by Kings center DeMarcus Cousins, pushed by Grizzlies 7-footer Marc Gasol and trashed by Trail Blazers point guard Damian Lillard. "I'm just not going to let somebody be all in my chest," Lillard moaned, "doing all this extra stuff." Beverley empathizes with Lillard. He'd be irritated, too, getting picked up full court, spun around three times and jostled for 12 seconds before he can run a play. "I hate being pressured," Beverley says. "I hate when someone gets in my personal area. That's why I do it to everybody else. If I had to play myself, I'd probably want to fight me too."
His tactics are as effective as they are annoying and the same for every occasion. He stripped the Pelicans' Jrue Holiday four times in three minutes of a preseason game. He hounded the 76ers' Michael Carter-Williams into nine turnovers in a summer league game. "Like a piranha on a pork chop," crows Kelvin Sampson, who left the Rockets' staff last Thursday to become the University of Houston coach. Paul is shooting 46.3% this season but only 38.5% against Beverley. Lillard is shooting 42.5% and 25.0% against Beverley. "He's not well liked around the league," says Timberwolves forward Kevin Love. "A lot of guys think, Damn, I've got to go against him tonight."
Love is pals with Westbrook, who has undergone three operations on his right knee since last April, when he pulled up to call timeout in a first-round playoff game between the Rockets and the Thunder. Beverley slid in front of him, trying for the steal, and Westbrook fell awkwardly. He tore his lateral meniscus, and Beverley waded through death threats on his Facebook account. When they met again this season, and Westbrook pulled up to call another timeout, Beverley attempted the exact same move. "The perception, I know, is that he's dirty," Love says. "I don't think he's dirty. I just think he plays really, really hard." Beverley also tore the meniscus in his right knee, on March 27, prompting cries of "karma" from Oklahoma City. But Beverley avoided surgery, and he plans to return for the playoffs. Even if his mobility is slightly limited, the Rockets need him. Without Beverley and center Dwight Howard, who is grappling with a sore left ankle, Houston had gone 2--3 at week's end but kept its grip on the fourth seed in the West. Chances are the Rockets will draw Portland in the first round, which means a grudge match with Lillard.
Beverley is not trying to make enemies any more than he's trying to make friends. "I don't talk to NBA players," he says. "I don't hang around a certain NBA group. I don't want to seem like an a-hole, but if you're not on my team, I'm not going to talk to you." Take, for instance, Warriors guard Stephen Curry. "We were roommates at LeBron James's camp and Paul Pierce's camp when we were kids," continues Beverley, 25. "We played on Team USA together. We have the same trainer. I love him to death. Where he works out in the off-season is where I work out. But when I heard he was coming to town this summer, I had to leave, and I couldn't come back until he was gone. I couldn't hang out with him. I don't want anyone to get comfortable around me." He pauses. "I don't want to get comfortable, either."
IN 2005, Arthur Agee returned to Marshall High in Chicago and filmed a sequel to Hoop Dreams, starring another wiry point guard who reminded Agee of himself. Beverley grew up in a West Chicago neighborhood called K-Town, playing one-on-one at Kedvale Park, where gang members bet his games and flipped him pocket money when he won. Defense is often an afterthought on the playground, but not in K-Town, where Beverley once went one-on-one at a basket with no rim. He was content to spar for the ball. "You could tell by the release if it was going in," he explains.
One of Beverley's childhood playmates was Shatoya Currie, who at nine years old became nationally known as Girl X after she was kidnapped, raped and poisoned at the notorious Cabrini-Green Homes. "People don't believe this," Beverley says, "but until sixth grade I'd never seen a white person who wasn't with the police or on TV." He was raised by a devoted single mother, Lisa Beverley, who gave manicures at Bottom Nail Salon. He called her boyfriend Dad. "He raised me too, but he was one of the well-known, big-time gang members in Chicago," says Beverley, who once saw Dad's gun fall out of his pants while playing hoops. "When I was in junior high, he got shot 15 times and died."
Worried that gangs would also ensnare her son, Lisa moved Patrick to the suburb of Aurora, enrolling him at Waubonsie Valley High. "Kids drove cars," Beverley says. "They left campus for lunch. They had football teams and baseball teams. I couldn't adjust." After a year and a half at Waubonsie he transferred to Marshall High and joined Mean Streets Express, the AAU program featuring Derrick Rose. But Beverley quit AAU, complaining that tournaments felt like meat markets, and found exposure elsewhere. Agee's 2007 movie, Hoop Reality, follows him through his senior season, when he led the state in scoring with 37.3 points per game, to go with 8.0 steals, 6.0 assists and 6.0 rebounds. He was the prep version of the NBA's do-everything point guard. In one halftime scene coach Lamont Bryant tells Beverley, "I don't care if you do a dance move, a spin move or you make up a move. You start putting that ball in the mother------- basket."
The film has some poignant moments, including a shot of Beverley sitting on a couch in a Bears jersey, committed to Arkansas but looking lost. "This all I got," he tells the camera. "What else can I do? I'm not really good at nothing else." Agee, now a motivational speaker who runs an antibullying foundation and recently cowrote a children's book, can still recite the quote from memory. "It was so sad," he says, "and so powerful." Beverley does not watch the film anymore because his words make him wince. "I just see an immature little boy," he groans, "who didn't care about anything but basketball."
His desperation came across as vividly on the floor as on the screen. At Arkansas he was once decked in practice by a 6'10" center. "The gym froze," recalls former Razorbacks coach John Pelphrey, now an assistant at Florida. "He jumped up and said, 'That's what I want to see all the time!' " When Beverley dislocated his jaw against Alabama, he initially refused to leave the game, even though he could barely speak.
In summer 2008, Arkansas suspended him for a year because he turned in a paper written by another person. The deadline for the NBA draft had passed and most overseas rosters were filled. At 20, Beverley wound up on a lightly regarded second-division Ukrainian club, Dnipro, taking 21-hour train rides, going months between paychecks and using his oven as his heating system. "You'd hear people in the stands yelling 'Monkey,' 'N-----,' " Beverley recalls. The Lakers drafted him in the second round in '09 and shipped him to the Heat, who had no room for him but retained his rights as he set out for Greece.
Though Beverley rarely played for Olympiakos, he practiced four times a day, hiring a personal trainer and a weightlifting coach. At the 2010 Euroleague championship in Paris, with Barcelona point guard Ricky Rubio probing Olympiakos, Beverley was summoned to slow him. He picked up Rubio full court and planted his head in Rubio's midsection, as if he might bite the number off his jersey. He stripped Rubio on one possession and then another. On the third Rubio was called to the bench, where he stayed.
"It's hard to play against him," says Rubio, now with the Timberwolves. "He bothers you all the time." Olympiakos lost the title, but Beverley gained an identity. He wouldn't be the movie star point guard anymore. He would be the antagonist. Kevin Bradbury, Beverley's agent with BDA, took him to dinner in Paris after the Euroleague final. "That's the way it's going to happen for you," Bradbury said. "That's how you're going to make it."
Three months later Beverley was chilling at LeBron's manse in Coconut Grove, armed with a two-year contract to play alongside the newly installed Big Three. But Heat president Pat Riley prized veteran snipers more than Beverley's tenacity. He was the last cut. "I was distraught," Beverley says. "I worked out for the Bulls. They said no. I worked out for the Cavs. They said no. I worked out for the Lakers. They said no. I told my mom, 'I don't even want to go to the NBA anymore. I'm done with it.' "
WHEN THE phenomenon known as Linsanity swept through New York in early 2012, scouts across the NBA vowed to review all rejects again. "Any time someone takes a different path to the league," Morey says, "every team wonders, Are there others like that?" Morey, the last general manager to release Jeremy Lin, made amends by re-signing him the summer after his breakthrough. But Lin is limited defensively and proved an awkward backcourt mate for James Harden, another guard who commands the ball. The Rockets had followed Beverley since his Ukraine days, and in January 2013, they helped buy out his three-year contract with Spartak St. Petersburg. Morey hoped he could be "best case, an off-the-bench guy."
Expectations changed shortly after his first practice. "We were doing one-on-one defensive drills, and he was at the head of the line," recalls Sampson. "If this were the Old West, he'd have been the guy who walked into the saloon, looked around and said, 'Who's the baddest dude in here? I want a piece of you.' " The Rockets were a fringe playoff team, loaded with perimeter scorers but not stoppers. Morey dispatched Beverley to the club's Development League affiliate in Rio Grande Valley, only to call him up after three games at the behest of Rockets coaches. "He gave us a defensive identity," Sampson says. "The kid's got a Bunsen burner inside his body. We don't have anybody like him."
No one does. In the modern NBA the point guard fulfills virtually every offensive obligation, sneaking breathers on the other end. Beverley is the opposite. He has swiped Lin's starting job mainly by handing off to Harden, standing in the corner and watching him score. At week's end he was averaging a modest 9.9 points and 2.7 assists. Once the ball slips through the net, however, Beverley transforms "into character." He finds his mark—usually the unfortunate soul tasked with dribbling upcourt—and attaches himself to the man's waistband. Then he starts counting down in his head. "I want to make sure the other point guard can't start his offense until 12 or 13 seconds," Beverley says. "Then I've put my team in position to defend just one pick-and-roll and one pass." That, plus the free-agent signing of Howard, is the reason Houston has gone from 17th in opposing field goal percentage to fifth while still scoring plenty.
The Rockets obviously don't want Beverley to start a brawl, but privately coaches believe his skirmishes have toughened and galvanized an otherwise easygoing group. "He stirs it up," one says. "But our guys rally around him. That's why we're closer and why we're better." At timeouts Beverley asks how many points the Rockets are allowing in the quarter. He seethes if they are on pace to surrender more than 20.
"I knew he wasn't going to be a banker," Agee says. "That wasn't for him. He poured everything into this. He decided, Here is what I'm going to do. I'm going to be Dennis Rodman as a guard." In Houston, Beverley evokes memories of Vernon Maxwell and Mario Elie, itinerant and edgy ambassadors despised in other cities but adored in their own. "He has the same mentality," says Rockets broadcaster Matt Bullard, who played with Mad Max and Elie. "He goes at playoff speed in the regular season." Put another way, he goes at playground speed, as if the slightest pause will earn him a ticket back to Europe.
Beverley's emergence, though nowhere near as dizzying as Lin's, still discombobulates him. He went to the annual Houston Livestock and Rodeo Show last month with his mom and played Pop-A-Shot at the carnival. "Don't worry," he told her. "No one will recognize me." Then he turned to face a bank of cellphone cameras. A year ago, Beverley says, he did not even know that NBA players were paid to wear brand-specific shoes. Now he signs autographs at the team store, and a line snakes around the arena. When a woman hands him her purse to sign, he can't help but peek inside. "Typical Pat," says Lisa, looking on. No respect for personal space.
Lisa lives in Houston with her three-year-old daughter, Mya, who is a fixture at Rockets games. "Jeremy Leremy," Mya calls Lin, one of her favorites. Lisa owns a nail salon in a brick building on the east side, Just Tipz and Toez, which she opened with money her son sent home from overseas. Patrick heads to the salon on off-days for a mani-pedi—clear, no polish—proof that even the scruffiest point guard needs a little pampering. He asks for the newest technician and tips 200%. Then he commandeers Leyla Puente's station, next to his mom's, and drums on her granite countertop. "Who's next?" he asks the customers, and they giggle. He does not actually paint nails, but he draws designs and operates the stereo. He is partial to slow songs, like Whitney Houston's "Count On Me," a duet about friendship that he recently played five straight times.
He is comfortable at the east-side salon, just as he is at the downtown park. He embodies a ferociously contested hoop dream, and yet he still relates best to those with dirt under their cuticles. Beverley is the bridge across La Branch.
"Players want to be comfortable, they want to be lackadaisical, they want to make the right passes and take the right shots," Beverley says. "No. When you play me, I'm going to get right up in your grill and let you know it's going to be a long day."
The Rockets obviously don't want Beverley to start a brawl, but privately coaches believe his skirmishes have toughened and galvanized an otherwise easygoing group. "He stirs it up," one says.