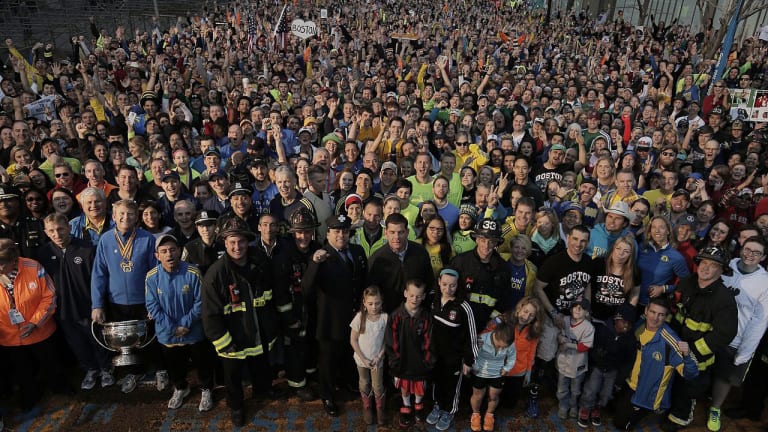 Boston
Last year's devastating blasts had a profound effect on the marathon: They made it stronger.
Start at the finish.
Isn't that what any marathon is about?
The relief in the faces, that exhausted joy? I'm running Boston (or New York or London or Marine Corps or, if the bug really bites, Athens), casual runners say, but a fast time is almost never the core reason for all those bloody toes and chafed nipples, the stinking shorts, the thrillingly dull rhythm that seeps even into sleep, mile after cursed mile. I just want to finish, they say. I'll crawl. They laugh, too, but just a little. It's a kind of religion: The line is heaven.
This year, of course, there is only one marathon. You have seen the footage, the still photos, from Boylston Street: 2:49 p.m., April 15, 2013. Its finish is now the most famous, most investigated, most hallowed stage of any road race, ever. The first bomb exploded less than 50 feet from the finish line of the 117th Boston Marathon, scattering packed nails, ball bearings and metal shards. The second blew 12 seconds later, 600 feet up the course. Three innocents died. Sixteen would lose limbs; hundreds fell bloody and screaming. It was carnage.
What were the alleged bombers, two brothers, hoping for? Does it matter? Whatever the motivation, that stretch of downtown pavement where Boston long cracked its winter shell, where Bill Rodgers won four times and Johnny Kelley completed a biblical 58 starts and Kenya's Geoffrey Mutai unofficially ran the fastest—2:03.02—marathon, where Rosie Ruiz conned the world and where the women's movement found early footing has now seen any light, triumphant moments obscured by that smoky horror, by fear and all the new rules born of fear.
Indeed, this year the Boston Marathon, like many once freewheeling spectacles in public spaces, will find itself transformed by measures that have become routine at contained sporting events. Such is inevitable: The Boston Athletic Association expanded the field by 9,000—to 36,000 total—to accommodate runners who didn't finish last April and charity groups looking to honor victims, and record crowds are expected. Security and police presence promise to be thick, fans should expect security lines and random searches, and the ban on "bandits"—rogue, unofficial racers long tolerated in a nod to the sport's rebel roots—will now be strictly enforced.
Efforts, too, have been made to thin the cluster of onlookers who jam the sidewalks around the finish area. Not least among the marathon's mass appeal is the chance to see a world-class event, free; the Red Sox start play that morning at 11:05 a.m., and the postgame rush from Fenway to a spot along the route is a Marathon Monday tradition. Among sports-mad Bostonians, even those with no interest in running, the race also evokes emotions far more complex than the usual chest-beating, Our Mercenaries Vs. Yours fandom.
"Being a marathon spectator in Boston—for most people, anyway—has absolutely nothing to do with any of that," says Leo Fonseca, who for the last dozen years watched the finishers cross near the corner of Boylston and Exeter streets. "I couldn't tell you the name of anybody who's won outside of Bill Rodgers, but I stand up there every year and cheer for them. And more than the elite runners, it's about the sense of the day and community and cheering on the people who aren't out there to win; they're just out there to do it.
"It's much different than going to root for a bunch of guys who are getting paid to do what they do. And until what happened last year—for most people who are from here and live here—it's everybody's favorite day of the year. Hopefully we get that back."
Last year Fonseca stood facing the course, about six feet from where the first backpack bomb was dropped. In a photo snapped seconds before the pressure-cooker device ripped through the crowd, he can be seen standing next to his then girlfriend, Kaitlynn Cates, and a few body lengths from Krystle Campbell, who would die, and Jeff Bauman, who would lose both legs above the knee. Kaitlynn had been on Fonseca's right, her view of the runners blocked by a little girl's pink sign. They had just switched places.
"We talk about how lucky we are," says the 42-year-old Fonseca. "I was luckier than she was, unfortunately."
What happened next was a gargantuan crime—at once breathtakingly cruel and mindless—that touched off a four-day manhunt, a 12-hour lockdown of a major metropolitan area, the death of one bombing suspect, Tamerlan Tsarnaev, the arrest of 19-year-old Dzhokhar Tsarnaev, the coining of the civic cry Boston Strong and a supposedly purgative run by the Red Sox to the 2013 World Series title. But it's what happened before that speaks more to what the Boston Marathon is at its core—and what will prove the most catalytic force in getting it anything close to "back" again.
Because seconds before the blast, Kaitlynn Cates had found herself crying. It wasn't typical. At 25, the former tennis player at nearby Suffolk University, former year-round athlete in high school, had figured that her intense athletic days were long past. But she had also never been to a finish before, and as runner after runner pushed through their pain, as they clopped in at 3:40, 3:42, 3:58, 4:03 with their faces crumpling in relief and joy, Cates knuckled away tears and made a vow.
"It was bizarre," Cates says, "but I'd never seen someone complete that amount of mileage ever in my life—and it's huge. I'm an athlete, I relate to that physical struggle, but I've never run that far. To see people do that? I was like: I'm going to do this. I have to do this. I have to say I did this at least once."
That has always been part of a marathon's magic, in Boston most of all. Because of its long history, its equivalency to Wimbledon or the Masters—and especially the famously close proximity it allows to runners—Boston beckons spectators to do more than just watch. The charity-run option makes the marathon accessible like no other high-profile sporting event; imagine walking the course at Augusta one year and, on the same day as the world's best, competing there the next. So it is that, from finish line all the way back up the course, through eight towns and cities and over 26.218 miles, year after year, new marathoners are minted. Even the very young.
Eight-year-old Martin Richard and his family had been a block away, scrambling over barriers after the first bomb sounded, when the second ignited a couple of feet behind them. Martin's seven-year old sister, Jane, lost half her left leg; his mother, Denise, went blind in one eye; his father, Bill, received shrapnel wounds and burns and lost partial hearing. Martin, who had raced two days before in the BAA Children's Relay, was killed.
His second-grade teacher at the Neighborhood House Charter School in Dorchester, Rachel Moo, had been standing past the finish line. The former Syracuse swimmer was a regular at the marathon since 1998, when she came to Tufts for grad school, and her devotion to nonviolence was the impetus for the soon-emblematic photograph of Martin holding a hand-scrawled sign, no more hurting people. peace. Moo had snapped the picture on her camera. Now through the crush of chaos, sirens, jammed traffic, rumors of more bombs, she began a three-hour walk home to Dorchester, alone.
By then Fonseca had already seen that much of Cates's right calf was destroyed. Both their ears were ringing; he would go deaf in his left ear. But he picked her up and carried her—his left hand, covered by a blanket, wedged inside the wound—off Boylston, around the corner to Exeter Street, then into Public Alley 440, where his car was parked. Fonseca set Cates down on the pavement. He took off his T-shirt and jammed it against the endless bleeding. He wrapped his sweatshirt around that. He asked a passing woman to watch Kaitlynn while he ran out to Boylston to clear a path.
He was gone maybe a minute. To Cates, lying on the pavement and staring up at a row of trash cans, a dingy FIRE EXIT sign, the blue sky, it seemed like forever. A ripple of fear swept through her. Cates poked at her phone, dialing the number of the one person—her little sister Lindsey, at home in Burlington, Vt.—who she knew would pick up.
"I was just in a bomb," Kaitlynn said when Lindsey, 21, answered. "I can't feel my leg, I can't stand up. I'm bleeding a lot, and I really don't think I'm going to make it. Please call everyone that we know and tell them I love them."
Inexplicably, the power had gone out in Lindsey's home just before the phone rang. She had heard no news report; she began to panic: "Where are you? Can you get to safety?"
"No, I'm waiting for Leo," Kaitlynn said. "I'm waiting for Leo...."
The line went dead. More than an hour passed before Lindsey, crying with her twin sister, Lisa, reached Fonseca at Massachusetts General Hospital. The couple had driven there in less than 10 minutes, racing in his BMW the wrong way down both Exeter and Beacon streets; Kaitlynn, leg propped up on the dashboard, pounded the horn with her left hand. Fonseca realized that she was going to live. At the hospital, someone told him that her leg would be saved.
That night, after a former colleague at Neighborhood House told Moo that Martin Richard was one of the day's three fatalities, she remembered.
"Miss Moo, how old do you have to be to be in the marathon?" Martin had asked her the year before.
The two of them looked it up together: 18. You could hear the Boston accent in his voice even then.
"When I get old enough," Martin said, "we can run a marathon together, Miss Moo."
*****
Here's a tip: Ignore the first thing that new marathoners say. I just want to finish, you'll hear, but pressed, they'll tell you that the finish is not even close to what Boston is about. It's all that comes before. The first seven towns along the route gear up all year for their button-busting moment in the national sun, and, well, big-city Boston is just happy to feel any warmth at all. The result, before the starter's pistol ever fires, is a populace transformed—thousands of chilly, reserved New Englanders gone giddy with the idea of cheering for strangers like family.
It's not just that the third Monday in April is Patriots' Day, the annual celebration of Paul Revere's ride, Lexington and Concord, and the 239-year-old insistence that "Massachusetts," as Governor Deval Patrick said during last year's aftermath, "invented America." It's also the first day of spring break for area public schools, the first day storm windows come down and barbecues are cleaned, the rare day of the year that it's O.K. to drink before noon. Runners rarely—if ever—see a gap in the crowd, anywhere along the route. Spring is here.
Electric is the best way to describe it," Cates says. "And it's from person to person, like a disease. You're smiling, I'm smiling, they're smiling. What's not to smile about? Everything's happy."
Last year, of course, changed that. The day's pain traveled back up the marathon route the way news of a burned finger, slightly delayed, registers in distant nerves and then the brain. There's not a spot on the course that can't claim, through the myriad adventures of obscure and renowned runners alike, equal ownership of race and day; after 118 years nearly every corner, every rise big and small along the 26.2 miles, is charged with meaning. Every step tells a tale.
Travel the three blocks back up the course on Boylston, look at the race's final turn at Hereford Street, and you pass the spot where Dick Beardsley—in his two-second loss to Alberto Salazar in 1982's epic Duel in the Sun—lost half a stride while avoiding a motorcycle cop. Head down Commonwealth Avenue, not far from where race raconteur Tommy Leonard oversaw the long-gone runner's gin mill, the Eliot Lounge, and someone will point out where Beardsley stepped in a pothole.
Last year, after the bombs, police stopped an ever-swelling horde of puzzled runners right near there, just before the Mass. Ave. bridge, less than a mile short of the finish. Thousands milled about, sweating and going cold. And 35-year-old Gina Chupka was becoming frantic.
The Westfield, Mass., native, now living in Colorado, entered last year's race with the end of her quest—50 marathons in 50 states by age 40—in sight. With 49 completed, heading home to run Boston had seemed the perfect way to end it. She was too slow to qualify, but her dad was an old pal of Leonard's and cadged one of his invitational entries. Her parents, Kathy and Norman Fioroni, were sitting upstairs at Forum restaurant on Boylston with her husband, Kris, and her girlhood friend Erin, a perfect perch for watching the runners pass.
All morning, all race, Chupka had felt off-kilter, thinking for the first time that she might not even finish. But once she had passed the Citgo sign near Fenway, THE ONE MILE TO GO marker in Kenmore Square and the place where old Johnny Kelley vomited before winning his first Boston in '35, once she saw the Mass Ave. bridge looming, she thought, No, this is the moment. It's going to happen....
"Then all these people are just in the road," Chupka says, voice cracking nearly a year later. "It was terrible. And they're saying, 'There's been an explosion at the finish line.' And I'm thinking to myself, My God. The finish line? My whole family's there waiting to see me finish.... I'm picturing, like, 9/11, everyone's dead: My entire family just died. I totally lost it."
Finally, Kevin Cummings, the BAA's head of finish-line security, rolled up in a golf cart with colleague Ed Jacobs and announced an official stop to the race. Cummings, born in nearby Somerville, an organizer of sports festivals who had worked the race for 25 years, couldn't quite believe what he was saying. For the first time in its history, the marathon that had soldiered on through snow and heat waves and two world wars was called off.
Cummings noticed something. "People helping other people," he says. "Runners were thirsty, needed bathrooms." There were no water stations or Port-A-Johns nearby. "But people were coming out of houses and businesses; if you look at the picture printed in SPORTS ILLUSTRATED, you'll see someone from a restaurant coming with a crate full of water. You'll see somebody else coming with a couple bottles, pouring water into cups. The help we were getting from outsiders was pretty inspiring."
Still, Chupka says, she experienced "the worst 30 to 40 minutes of my life." Someone lent her a phone; she texted her husband a half-dozen times. No response. Someone else told her that the bombs had been on the north side of Boylston—exactly where Forum sits. Chupka didn't even know that the second bomb had exploded right in front of the restaurant, or that a plate-glass window had shattered—no, dissolved—all over her parents as they sat overlooking the sidewalk. Her mom tumbled to the floor. Erin helped put a tourniquet on a woman with a ravaged leg. Her dad thought he was having flashbacks to Vietnam.
Finally someone texted Gina back to say that all had survived unscathed; the family met hours later near their downtown hotel. None of them had ever been to a Boston Marathon before.
Three weeks later Chupka traveled to a small marathon in Holyoke, Mass., to complete her 50th state. Even more relatives came out to watch. But somewhere around mile 16, it hit her: What am I doing? I don't want to finish this way.
When she saw Gina coming, Kathy Fioroni ran down from the finish line to encourage her daughter for the final few dozen yards.
"Don't be mad," Gina said.
"What do you mean? Come on!" her mom said.
Chupka chugged past, touched the front edge of the finish line with her toe, but then, after 49 states and another 26.217 hard miles, she veered off to the side. She didn't cross. An official tried to direct her over, and Kathy said, "I don't understand!" Gina's cousins tried to snap moment-capturing photos of her. She wouldn't have it.
"No," Gina said. "I'm going to go back and finish it in Boston next year."
Her mom tried arguing: You don't know if you'll get in.... You can't qualify.... How will you get another invitational entry?
It'll happen, Gina told her. You'll see.
"Then on my birthday—May 16—the BAA sent out the email," Chupka says. "We were all invited back."
THREAT, TERROR, the specter of violence large and small was not introduced to Boston's marathon last year. As Kathrine Switzer, who in 1967 became the first woman to officially run the race, says, "America's a very peculiar place," and the marathon's crowds have reflected the culture's moods—antiwar, pro-war, grievance, celebration—as much as any public gathering. Switzer ran eight Bostons, and early on the antifeminist crowd came out in force.
"I harbored this really bad fantasy, especially when I got tired, that there are many nutcases in our country, and some guy's going to be up there with a gun, a sniper, and he's going to pick me out of the race and shoot me," says Switzer, now a race commentator for WBZ-TV. "Especially coming down to the finish line."
But, really, a madman's strike could happen anywhere. Only the final 1.4 miles take place in Boston, and near the Brookline border, past the spot on Beacon Street where tobacco-chomping Chuck Mellor broke printer Clarence DeMar in 1925, stands Coolidge Corner. A few days before the '80 race, the phone rang in Bill Rodgers's running store there. Rodgers, the caller said, would never make it past the Corner alive.
It was just weeks after the USOC had voted to back President Jimmy Carter's boycott of the Moscow Olympics. Rodgers had publicly protested, threatened to run Boston with a black armband. He didn't, but now protection was called in; a wedge of police motorcycles flanked him throughout the race. He ran in a rage and crushed the field. "Oh, boy, was I angry," Rodgers says. "I ran with a passion, a different intensity. I wanted it bad. But I don't know if it was really from that call. I was a bit spooked, but it was more because of the boycott.
"The Olympics, marathons—those are what bring people together. Race, religion, all the dividing factors that create conflict in this world, they all fall apart on the marathon route."
Indeed, past Coolidge Corner and heading up toward Chestnut Hill lies the stage where runners recovering from suburban Newton's fabled slopes—and the runner's "wall"—get a downward respite. Here, too, between mile 21 and 22, is where the raucous Boston College crowd unleashes a jolt of fresh enthusiasm. A few guys there asked Chupka for a kiss, and she thought they were "pretty cute," so she leaned in for a peck. One thing led to another, and someone offered up a beer. What the hell? she thought, it's my 50th, right?
So Chupka stood for 10 minutes chatting and drinking a can of PBR. Her mom had been tracking her progress on the Web. If Gina hadn't stopped then, they figure, Kathy would have been downstairs on the sidewalk outside Forum, holding up Gina's 50-state shirt, at the time the second bomb blew.
Luck? Providence? Who can say? Because it's there, at that point on the course above Coolidge Corner, that onlookers become more than mere spectators.
"You get closer to Boston, and the crowd grows ... it grows ... it grows," says JJ Larner, 57, a bartender and local race director who has run Boston 15 times. "And it's an amazing thing. By then you're just too, too tired to run, but you do because the energy that you get from the crowd is palpable. It's a strange vibe: The runners are energizing the people watching because they're inspired by it, and the runners get energized by the people because they're cheering 'em on."
It's those previous five miles of hills, of course, starting at the 16-mile mark in upscale Newton Lower Falls, up past Newton-Wellesley Hospital and the Firehouse turn onto Route 30, that grind so many vaunted legs into powder. Heartbreak Hill, the last of four, is the running world's most famous incline, so dubbed in '36 after old Kelley caught Ellison (Tarzan) Brown at its crest, condescendingly tapping him on the back as he went past. But Brown had the last laugh, blowing past Kelley down the stretch. It's also where local boy Alberto Salazar took hold of his last great marathon.
"I knew that's where Dickie was going to put it to me, in the hills," says Salazar of his '82 win over Beardsley, "where he was going to try and break me. So all along—and even before—I just kept saying to myself, If I can get to the top of the hill with him, the race turns to my favor. And he came so close to breaking me several times, but I just kept saying, No, just hold on ... hold on.... Just get to the top of the hill ... to the top of the hill....
"Finally, when we got to the top, I said, All right. That was your best shot. Now it's my turn."
It was inevitable that the hills would inspire something of a cult. (Johnny Kelley's statue is planted not at the race's start or finish but amid them.) Around 1990, Larner, after spending countless hours listening to Leonard and legendary coach Bill Squires at the Eliot, hatched the idea of riding the T out to the Woodland stop at the 16.9-mile mark every Thursday and running the teeth of the course back into the city. "I had to work anyway," Larner says. "I might as well run into the bar." It caught on among a group who ran for the same charity as Larner, the Dana Farber Cancer Institute, and then spread. Soon enough, year-round, come rain, snow or high heat, "doing the Thursday" became a happening.
Sometimes the group was as small as five. But once marathon fever kicked in after New Year's, six dozen heaving, sweaty men and women clamored through the door at the Eliot—and after the place closed in '96, the Crossroads Irish Pub until it, too, closed last spring. All of them thirsty, all primed for their postrun protein load. They even printed up a T-shirt in case someone forgot the proper sequence: WATER. BEER. WINGS. BEER. PIZZA. BEER. BEER. FINAL FINAL. The end, Larner explains, "is a saying we used to have when you're having your last: 'O.K., this is the last one, my final, final drink.' "
Larner ran the last of his marathons in 2009, and DNF'd only once, in 1994, when he injured his hamstring and jumped, aptly enough, onto the train at the Woodland T stop. He's been working livery for the last couple of years, town-car runs mostly. Last year, after cheering on his nephew and dozens of old friends from the Dana Farber crew, he set off on an airport trip from a Newton hotel. He was on the Mass. Pike when he heard the news. Larner met his wife, a four-hour gal, through the marathon. He had been to Marathon Sports, near the first bomb site, hundreds of times. He had been there 24 hours earlier.
"A little too close to home," he says. "For 30,000 runners, all the people along the way, people who ran it years ago sitting in their cabin in Maine, it's just a thing that you feel. It's part of you. It doesn't rise to the level of faith, but if you've run it, there's something about that in you. You have to do it to understand."
FOURTEEN MILES out from the finish comes the end of Boston. Not the city. The idea. Because beyond the gold-domed statehouse and the Green Monster, beyond the T and the traffic on Comm Avenue, there will always be a sense of the place as the nation's premier college town, more than 50 schools stuffed in and around, most of them rich and liberal and textbook bucolic. Wellesley College is the epitome. Except on race day.
The marathon wields such transformative power that it makes even Wellesley women forget themselves. It's not evident at first: Coming out from the city, a mile from the Newton-Wellesley line, lies the place where, in '70, Kathrine Switzer, fifth in a field of five women (16,080 have registered for the 2014 race), came upon a convert who dropped to her knees, pantomiming prayer, and said, "Go for it, honey! Do it for all of us!"
Then, after passing Marathon Sports on Washington Street and the great bakery across the way, through quaint, tony, civilized Wellesley Town Center—where in '96 a pair of runners stopped at a church, got married, then rejoined the race; where in '75 the 16-year-old Salazar, a sophomore at nearby Wayland High and "rookie" member of Rodgers's running club, saw Boston Billy running away with his first marathon title and began yelling, "Hey, I know that guy!"—you begin to hear the Scream Tunnel's roar.
Runners hit it just short of the halfway point, on Route 16, a quarter-mile-long wall of sound spawned by 2,000 female throats and sustained for three feral hours. Nothing on campus compares. "It's the best day of the year here," says Molly Tyler, the president of the dorm, Munger Hall, that has organized sign-painting sessions—and the early morning tape-up on roadside barriers—for decades. This year, sign requests from runners' families and friends figure to spike well above 500.
"This is for a friend who is doing his 13th Boston in a row, and he always takes a good 20 minutes to enjoy mile 12 to mile 13, i.e. Wellesley," read one Facebook message posted in March. "A couple years ago, he ran that mile twice, enjoying it." The sign request: DR. RICK, KISSING CLUB MEMBER HOPEFULS.
Translation: The boys at BC still have a ways to go to catch up, because along with the posters of encouragement, the Wellesley women scribble up placards with all manner of enticement, be it brainy or bawdy: KISS ME, they read, I'M A FEMINIST, or ... I'M FERTILE ... or I'M A BIOCHEMIST. This being the intellectual home of Hillary Clinton and Madeline Albright, it's disconcerting to hear that many slather on lipstick for the only time all year, scarlet or Wellesley blue, and compete to leave their mark on as many runners as possible. "But that's the coolest thing," Tyler says. "It's something you'd expect from a big sorority-fraternity school—a bunch of people drunk in the morning and having an amazing time making out with old strangers. So it's kind of bizarre when you first see it."
Most elite runners won't indulge, but for charity runners, especially, the Scream Tunnel provides a needed shot of adrenaline. This is insane, thought Chupka, high-fiving her way through; it was the only point last year where she felt like she was flying. Then there's the other glandular boost. Dates have been made, phone numbers given out. "I've seen tongue," Tyler says. "It's intense. You're standing there, and the girl next to you, her face gets grabbed and you see some random runner just make out with her...."
Last year, freshman Antoinette Garcia racked up 10 chaste pecks, even one from an elite, but her mother was still aghast. Antoinette had posted her sign on Facebook—FAST TIMES, FASTER GIRLS ("So inappropriate!" rang the judgment from home), but Garcia was unfazed. This year she plans more lipstick, maybe a sign about setting personal records: YOU'RE TRYING TO PR: ME TOO! KISS ME!
Garcia's older brothers are marathoners, and Joshua, the one who lives in California, called within an hour after the bombs blew. The family is from Philadelphia; he had never run Boston. But it was an attack, he said, on the spirit of running, the marathon's gracious essence. He couldn't help himself. He watched the news on a TV some 3,000 miles away from a city he didn't know and found himself in tears.
By then, an uncharacteristic silence had settled over the Scream Tunnel, and over Munger meadow, where the all-day party usually churns. The women of the dorm ignored their looming finals, and across the following days they gathered to paint more signs. Then they took them into Boston by the dozens and hung them with all the sneakers and flowers and medals on the makeshift memorials off Boylston.
Such somberness figures to carry over to this year's race. Some also figures to burn off by the time the lead runners hear Wellesley's first howl. "If anything, it will bigger, better, more," Tyler says. "People are so excited. This is a take-back-our-marathon kind of marathon. It's just going to be huge. So loud."
WEST OF WELLESLEY, on a slow grade up Route 135, the urban hold loosens for good. This was once farm country, then a hub of shoe manufacturers, now unslick suburban. The surrounding towns are wealthy, but Natick is slightly less than prime. Its most famous claim is Henry Wilson, the Natick Cobbler and our forgotten 18th vice president, which fits: The town's flatness, figurative and literal, lends the marathon four-plus miles of relative calm.
Still, Salazar took in the race for the first time there as a middle schooler, and it was there, last year, where Larner popped up to cheer his nephew and old pals. During the 94° slog of '76, when homeowners showered hose water on the passing hordes, a racer stumbled into Central Pharmacy begging help for his tender feet. The druggist fashioned a few quick moleskin patches, laced him up and sent him off. Didn't charge a dime. That's Natick too.
This is the stage where the obscure, still fresh, can dream. In 1983, Rich Chesmore, later a distance coach at Framingham State, attached himself to future Olympic gold medalist Joan Benoit at mile 4—and held on for dear life. For the next 13 miles the '81 champ set a torrid pace, but Chesmore wasn't cowed. He had grown up a few blocks off the course in Framingham and had been going to the race since he could walk. The corner of Route 135 and Speen Street, where young Jeff Stone, Kaitlynn Cates's future trainer at Suffolk U, chatted up '72 mock presidential candidate Pat Paulsen? The Framingham train tracks? That turn where, year after year until they moved the start from noon to 10 a.m., Larner would see a kid holding up a sign showing the score at Fenway? Chesmore knew it all, like the boards of his boyhood hallway.
Seven Bostons he ran, but never one better than 1983. Benoit barely noticed him, of course; she had her hands full with Allison Roe and Jacqueline Gareau. As they passed Newton-Wellesley Hospital she dropped him and everyone else, attacked the hills and ended by smashing the world record by nearly three minutes, in 2:22:43. Chesmore came in at 2:35:32, finishing 505th. "She looked at me," Chesmore says, "and she took off."
Still, he played his tiny part in marathon history, not bad for a local ex--football player. These days, Rich, 67, wrestles second by second with a body that won't cooperate—Parkinson's disease. He and his wife, Christine, still work and run the Wednesday track meets for kids in Framingham, still volunteer for the BAA as they have for the past 28 years. Chris is a Framingham native, too, and at 65 has never lived more than half a mile from the course. In 1975 she took their newborn daughter, Richelle, in her baby carriage for her first trip to the marathon. A good one too: Boston Billy's first win.
"Being a townie—in any town along the course—you are steeped in that tradition from the time you are born," says Richelle, now a Spanish teacher at the high school in Hopkinton. "It goes right by your house. It's in your blood. It's where you live."
Since 1993, Rich and Chris have run the water station at the 3.1-mile mark in Ashland. By now the drill is all but routine: 70 volunteers, including Richelle, her son and husband, and various ex-runners, set up 11 10-foot tables on either side of E. Union. Gatorade is mixed, and then three levels of cups are poured and stacked on poster-board pallets.
Last year at 8:55 a.m., with setup finished, Chris stood by the old stone wall on Metropolitan Avenue in Ashland and read a BAA-scripted statement calling for a 26-second moment of silence for the dead at Sandy Hook Elementary. The big wave dropped around 10:30: helicopters thwomping overhead, police sirens wailing, ham radios crackling in alarm.
After all these years, it's still quite the sight. Surging down the bend beyond the CVS sign, 9,000 runners appeared, moving fast.
"Get ready!" yelled Chris and everyone else. "Here they come!"
No matter how well prepared, there's always a bit of panic when the rush hits a water station, and it was no different for the Chesmores at about 11 a.m. By then two waves of runners, 9,000 in each, were upon them, and another was on its way.
"Like an avalanche coming down," Richelle says.
"It's going to be even more this year," Chris says.
In 1973 the marathon had just begun its turn toward gigantism. American runner Frank Shorter had won the '72 Olympic gold medal, and what once seemed the purview of freaky-deaky outriders now smacked of health, longevity, even glory. The running boom was on. Boston's field was growing so thick—1,400 men and women—that it was becoming hard to focus. Once, the local paper would print the entry list, and you could pick a random number and greet him by name or recognize a local face and exchange a few words. No more.
"That was the first year I remember you couldn't see people," says Jeff Stone. "There was just a wave coming over the little hill above my house, and it was amazing to see all the heads bobbing."
Stone, a sophomore at Northeastern then, had been living with the runners on Patriots' Day his whole life, his parents' home on W. Union in Ashland squatting smack between the three-mile and 5K marks—too early in the race, usually, for a crisis. But now history came calling.
"Can you help me?"
Stone had been sitting on the fence out front when the old man stumbled through the gate and into his front yard. Stone caught the man as he fell. It took a few seconds to realize it was 65-year-old Johnny Kelley, two-time winner, seven-time bridesmaid and long the crag-faced symbol of Boston's annual rite, struggling already in his 42nd start. A calf-muscle pull had forced Kelley to stop four times in the first mile out of Hopkinton; when he'd asked a bystander to help massage out the burn, the guy told him, "Beat it."
Johnny later called it "the old Kelley luck." Rubbing a stranger's leg was Stone's dream. He had been working as a trainer since his days at Ashland High and would go on to work at local events and colleges, including Suffolk, for the rest of his life. He laid Kelley facedown in the grass, sent his dad inside for a tube of Ben-Gay and went to work. People pointed. His niece brought a glass of water. Two Dobermans popped out of the house and started licking the sweat off Kelley's face.
Within six minutes the old runner was on his feet and gone. He didn't stop once the rest of the race—finished 10 seconds faster, in fact, than the year before. "I wish to thank you very much!!" Kelley wrote Stone two weeks later.
Stone, 60, has been working the marathon ever since. For years he'd watch from the house and then head to the finish to grab a few locals and write them up for the Middlesex News, and from 1988 to '97 he manned the medical tents at the finish. He never moved out of the house on W. Union. A decade ago he planted a 15-foot-tall white flagpole on a spot abutting the course, where he hangs American and Olympic flags on race day.
Last year Stone again monitored the race as an official for USA Track & Field and volunteered at the elite water station in Ashland, below the Chesmores'. After hearing the news, he wandered outside alone, as dusk settled, and lowered the flags to half-staff. He left them dangling for more than a week. It seemed the least he could do.
"I felt guilty I wasn't there," Stone says. "I worked medical a long time, I knew people there. And I wanted to show that people along the course are feeling it too. You're as much a part of it at mile 3 as you are at mile 25. They took something from me. It was like a punch in the face. Because you're thinking, What if it had happened here? If they had come on the course? Or someone was on the course with a body bomb?
"Hopkinton's got one ambulance and is walled off from 1 a.m. until, like, 11 in the morning on race day. What if it happened there? Try to get ambulances in and to the hospitals and land helicopters with 55,000 people in a town of 15,000? What the hell if it happened there?"
TO REACH Hopkinton, where the marathon begins, you continue west on 135 past Stone's flagpole, up past T.J.'s bar as it cranks out its renowned race-day rock—runners still feed off "Free Bird," apparently—and the spot at mile 2 where, in '67, race director Jock Semple lunged onto the road to rip off Kathrine Switzer's number only to find himself body-slammed by her boyfriend. There are a couple of race-oriented statues near the START line on East Main Street. It wasn't always thus.
Jack LeDuc, 63, grew up a block off the course in town and remembers watching the runners through an alley when 200 was a big field. He has handled P.A. duties in Hopkinton since 1997, sending off the waves with a quip and a grin, and has run the marathon 15 times. There were few sights more Norman Rockwell than when LeDuc would drop the mike and his pants; kiss wife, mom and kids goodbye; and disappear with a kick into the departing throng.
That blue-and-gold stripe on Main? That's LeDuc, too. For 32 years he's been coming out the Wednesday before the marathon to spend five hours painting the start line. The last few years have seen the call for a more uniform, corporate design, but for a while the line was LeDuc's personal canvas, the place where a handyman could play with font and color, lay down whimsical touches like an alarm clock or 112 xiis, or—on the 100th anniversary—a 100-inch wide stripe, and give heartfelt nods to departed friends and Johnny Kelley and stalwarts the public barely knew.