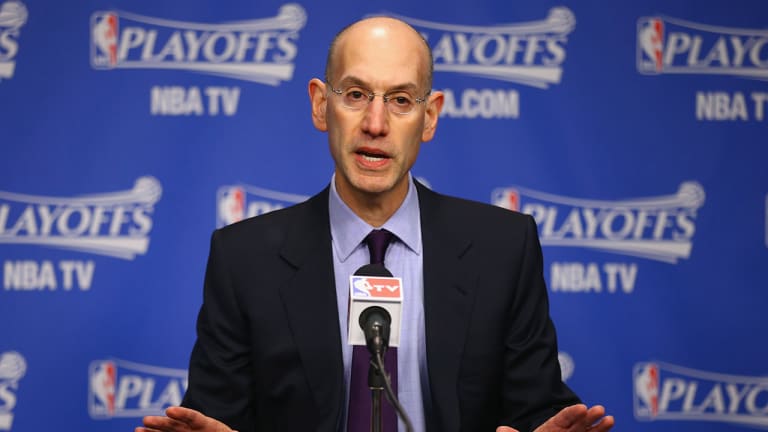 Adam Silver Is His Own Man
The first 100 days of the NBA czar's administration has been like no other in sports history. But a life both privileged and unconventional prepared him for this moment.
Masawani Jere, a chief of the Ngoni tribe, presides over a village of 120 in Malawi, a small, landlocked nation in southeastern Africa. The village, called Emchakachakeni, sits on a hill at the edge of a forest. Most Malawians live in rural areas and work in agriculture. Many of the 6,000 Ngoni, descended from the Zulus of South Africa, are timber merchants. Those in Emchakachakeni own no televisions or computers. But their chief must maintain some connection with the modern world, so he has a BlackBerry, on which he created a Facebook account. When Jere logged in on the last day of April he was struck by a story that all his cyberfriends were discussing about the bold new NBA commissioner, who had permanently banished the league's longest-tenured owner for making racist remarks on a leaked audiotape. "Oh, yes," the chief thought as he scrolled through the commissioner's forceful words. "This sounds just like Adam."
In 1977, Jere went to a house party in Rye, N.Y. He was a sophomore at Rye High, having moved to Westchester County three years earlier, when his father became a counselor to Malawi's United Nations ambassador. Jere was desperate to fit in at the new school, even though he couldn't help but stand out. He was one of the few black students in his class. At the party, kids downed beers before heading off to The Rocky Horror Picture Show in New Rochelle. As Jere tried to blend in, a long-limbed, clear-eyed freshman introduced himself. "That was Adam Silver," Jere recalls. "All we had in common is we were the two who weren't drinking."
Rye is a posh suburb of New York City, just shy of the Connecticut line, and among its 15,000 residents were wealthy corporate executives and investment bankers. Silver's father, Ed, was one of the most prominent labor lawyers in New York City. His mother, Melba, was a teacher and community activist. Adam grew up in a large Georgian house with a formal garden about a block from Long Island Sound. At Rye High he was an A student, a class president, a member of the cross-country team and editor-in-chief of The Garnet & Black newspaper. He played the stock market with the help of a broker on Main Street who indulged his modest trades. Mas, as Jere is known, was a soccer star who struggled with schoolwork. But he and Silver had more in common than their backgrounds indicated.
When Silver was 10 his parents separated and his dad moved to an apartment in Manhattan. By the time he turned 14, his three older siblings were off to college, and his mom was spending winters in Boca Raton, Fla. He was alone in that big colonial, along with Mas, whose parents regularly traveled back to Malawi. "He took me in," Mas says. "He became my brother, and I became his." Adam tutored Mas in history and algebra. He invited him to concerts and sporting events in the city. He took him to fancy restaurants. He even sold Mas his car, a Volkswagen Scirocco, for $2,000 on a layaway plan. "Adam was really Mas's guide through the American experience," says Roy Bostock, a Rye resident and the former Yahoo chairman, who has been a mentor to Silver since he was a teenager.
Mas's other guide was Regan Orillac, a class president one year younger. The trio would drive to the Rye Nature Center after school, grab Tiger's Milk bars and frozen yogurt and head to Adam's. They pored over New Yorker cartoons, deconstructed the Abscam scandal and listened to Earth Wind & Fire. They stayed up late picking at pistachios and watching Johnny Carson. "I'm Irish Catholic," Orillac says. "Mas is African. Adam is Jewish. We were an odd group, but we made a little family."
Melba Silver employed a housekeeper, Eudel Baker, during the day and rented a back unit to adults with the understanding that they'd keep an eye on her youngest son. She also opened a charge account for Adam at Playland Market, a mile away, but getting there presented logistical challenges: Adam, at 15, occasionally had to drive there without a license. "I think that whole experience gave Adam skills that other people may attain later," Orillac says. "You don't hem and haw. You don't ask a thousand people for advice. You just get it done, because no one else is around to get it done."
Adam was a cosmopolitan kid, as comfortable at Blind Brook Country Club for Easter brunch as at Carnegie Hall for the Spinners' show. He once mimicked their act, pink tuxedo and all, for a school talent show. At Duke he introduced his freshman-year roommate to Al Green as well as to New York City mayor Ed Koch, who called their dorm looking for Ed Silver the day Adam moved in. "When we were all reading The Wall Street Journal for the market, Adam was reading the Journal and The New York Times for the market and the editorial page," says Jim Zelter, the roommate, now a top executive at the private equity firm Apollo Global Management. Adam also had The Village Voice delivered to his campus mailbox.
In December 1983, Silver was a junior political science major visiting his mom in Boca Raton for winter break. Jere was a junior at Concordia College in suburban Bronxville, N.Y., eager to reconnect with old friends home for the holidays. Three nights before Christmas, Jere drove to a bar in New Rochelle with a high school buddy named Chris Pinto, who was premed at Johns Hopkins. According to Jere, they drank a few beers before returning to their neighborhood pub in Rye, The Maple Tree. They left after midnight: Jere, Pinto and a young woman Pinto had met inside. Jere and the woman reached the car first. "I was about to open the door," Jere remembers, "and [she] said, 'I'm not getting in the car with a n-----.' " Jere demanded an apology and looked around for Pinto, who was talking animatedly with two men on the other side of the street. A fight broke out, and Jere sprinted across the street to help, but the brawl left him bloodied and Pinto unconscious. The hoodlums ran away. An ambulance rushed Pinto to the hospital. He died several days later.
Jere was inconsolable, and, again, Silver was there. He flew up from Boca Raton, coaxed Jere to Pinto's funeral and handed him a black blazer to wear. Jere blamed himself for Pinto's death, and Silver explained that Jere too was an innocent victim. Jere never even learned what Pinto and the two men were fighting about. Detectives investigated the case and interviewed Jere and the alleged assailants, but a grand jury declined to hand down indictments. Jere underwent counseling. He nearly dropped out of college. In 1986 he moved back to Malawi, and Silver shipped him the Scirocco. Six years after that, Jere and his wife, Annie, had a son, whom they named Christopher. Silver sent the boy a Spalding basketball hoop, and he shot jumpers in the village. Now that boy is 22, and his father's pal is recognized around the globe.
"Christopher," Mas says, "has become a big fan of Adam Silver."
Fifteen floors above Fifth Avenue the commissioner sits in a modest conference room at the NBA's Midtown headquarters, sipping a cup of coffee. His navy suit jacket is draped over a chair. His red-and-blue-striped tie hangs loose around his neck. The window behind him looks out eight blocks north to Central Park, where Silver walks every night with his Labrador retriever, Eydie. He is used to being recognized by NBA junkies, who for more than seven years watched him announce second-round draft picks as the deputy commissioner, but now he is approached by observers who wouldn't know a post-up from a pin-down.
Silver does not seem tired, though he just returned the night before from Los Angeles, where he watched the Clippers play the Thunder at Staples Center in Game 4 of the Western Conference semifinals. It was his first trip to L.A. since April 29, when he announced he was banning Clippers owner Donald Sterling for life and vowed to force a sale of the franchise. Club employees swung by his seat in the lower bowl to thank him for ridding them of a wretched boss, who built a reputation as the worst owner in pro sports by bungling hires, skimping on contracts and heckling his own players. Disney chairman and CEO Bob Iger, who sat with Silver, flashed back to the All-Star Game, which they attended together in New Orleans three months earlier. "The attention he got [in L.A.], the appreciation that was shown, the connection fans wanted to have with him, was completely different," Iger says. Silver struggled to accept the adulation.
"This book is far from written," he says in his first sit-down interview since he expelled Sterling. "I still feel I'm very much in the middle of it. I know what is appropriate here. I have no doubt. But it is one thing to have said what I said and another to execute it—to move the NBA through this chapter to a better place. I feel that obligation. I feel the weight of it on my shoulders." Roughly three hours later Sterling will appear on CNN and issue perhaps the clumsiest public apology in history. The reality show continues.
The NBA is girding for a legal battle with Sterling and his wife, co-owner Rochelle, when they conclude their interview circuit. Proceedings will last months. What matters most to those Clippers staffers, after 33 years under Sterling's thumb, is that someone has finally taken up the fight. Silver also sat with Magic Johnson during Game 4, and to get a sense of the commissioner's standing in L.A., one fan strode past Magic and asked for a picture with Silver.
Johnson holds a prominent place in Silver's biography. In February 1992, Silver was a third-year associate at Cravath, Swaine & Moore in New York City, working 110 hours a week on cases he knew would never go to trial. He had to record the NBA All-Star Game on his VCR, and when he finally returned to his Upper West Side apartment after midnight, he popped in the tape. "Magic made that shot at the end," Silver remembers, "and I was sitting there alone with tears in my eyes." Five months later he quit his career as a litigator and took a job with the NBA as a special assistant to commissioner David Stern.
So began 22 years in the league office, at the lapel of the commissioner, as both adviser and apprentice. Silver is the reason the NBA was the first league to launch its own cable network, in 1999, and the first to incorporate team websites, in '95. He helped negotiate the current eight-year, $7.4 billion TV deal and end the 2011 lockout. He did more than anyone but Stern to make basketball an international sport, and he was such an obvious successor to the commissioner that the owners never bothered conducting a search. Silver "always had a global view," says David Schreff, a former NBA executive who now runs Bedare Sports and Entertainment. "He was David's liaison, but they didn't think identically. They thought collaboratively." On April 18, Silver oversaw his first NBA Board of Governors meeting as commissioner. He started with a written speech.
"It was all about respect and transparency," recalls an owner who was there. "Respect for each other, respect for different personalities, respect for different viewpoints." Sterling was in the room. He heard every word. One week later TMZ released the tape in which Sterling scolds his mistress for bringing African-Americans to games, namely Johnson.
As deputy, Silver played a major role in resolving the Pacers-Pistons melee in Detroit and the point-shaving scandal involving referee Tim Donaghy, but nothing could have prepared the freshly minted commissioner for the sound of Sterling. The story, which broke late on April 25, would cross over the next day from sports to entertainment to politics to business—all in the time it took a charter jet to fly from New York City to Memphis, where Silver was headed for a first-round playoff game. Before he departed early in the afternoon of April 26, Silver spoke with Clippers coach Doc Rivers and point guard Chris Paul, assuring them he would investigate the offensive audio. Over the next few hours a Clippers crisis morphed into a national uproar, but Silver was in the air without Internet access. He could not see the storm clouds forming in front of him. He was greeted at the Memphis airport by televisions tuned to ESPN, the ticker teasing a Silver press conference on Sterling. Silver did have a press conference scheduled at FedEx Forum, but it was supposed to be about the Grizzlies.
He ducked into an airport meeting room for 15 minutes to ponder his reply with his girlfriend, interior designer Maggie Grise, and NBA senior vice president of production Jarad Franzreb. The public craved outrage, but Silver needed evidence. He could not condemn Sterling without verifying his voice. Silver's town car got stuck in traffic outside downtown Memphis, so he power-walked the last four blocks to the arena, arriving 30 minutes late. True to his Cravath roots, he handled questions delicately, promising Sterling due process.
No one will remember that press conference. During the next 30 hours Silver attended playoff games in Memphis, Portland and then Golden State, where he watched the dispirited Clippers lose by 21. Along the way he chatted with players, coaches, team employees and many fans. What initially drew him to Masawani Jere as a boy was a desire to see the world through a different prism. Once again Silver was searching for other perspectives. "You looked at people, and there was a pain in their eyes," he says. "It wasn't even anger as much as hurt."
Players were suggesting boycotts. Fans were planning protests. Sponsors were fleeing the Clippers. "Obviously there were pragmatic factors at play," says one owner. "If people thought the NBA was not sensitive to civil rights even for a moment, it would have been permanently damaging. But there were personal factors also." For decades Silver and his colleagues had defended the NBA from coded racist attacks: complaints about Afros, then cornrows, then tattoos. "This wasn't an outsider taking shots," Silver says. "To have these references come from within an institution that is—while far from perfect—as egalitarian as there is in society made a particular impact."
Silver returned home on April 28 and stayed up until 1 a.m. writing a speech in his apartment. He read sections aloud to Grise. Since the audio was authenticated, he wanted to exile Sterling for good, but he still had not met with NBA lawyers. He tried to focus on the message rather than the punishment. "I got a lot of advice from owners, CEOs and business partners," Silver says, "but they all seemed to come back to this: Reflect on your life experiences. Then go with your gut."
In 1965 famed New York City developer Robert Moses announced plans to build a bridge connecting Long Island and Westchester. The bridge would run from Oyster Bay to Rye. Melba Silver would not have been directly affected. Her house was nowhere near the proposed entrance. But Melba was an environmentalist who hosted fund-raisers for progressive political candidates. She was concerned about the effects of pollution on her children and her hometown. She started a campaign called Ban the Bridge. Her youngest son, Adam, wore BAN THE BRIDGE buttons to elementary school. He saw his mom on TV, and he rejoiced with his family when plans for the bridge were scuttled.
Melba served as president of the Rye library and chairwoman of the town planning commission. She cofounded an alternative high school in White Plains called EduCage, which emphasized the arts and allowed students to smoke in class. Melba taught English and history while puffing on her king-sized nonfiltered Chesterfields. Adam was a regular at EduCage as well as at Proskauer Rose, the Manhattan law firm where his father was chairman. Adam would take the Metro-North Railroad to Grand Central Station and hang out in his dad's office, admiring plaques awarded to him by New York mayors John Lindsay and Abe Beame for helping to settle transit, garbage and other major strikes as the city's special counsel in labor disputes. "He was the kind of lawyer who was discussed with almost as much praise on the other side of the table," says Brad Ruskin, co-chair of the litigation department at Proskauer. The halls bustled with young associates, including hotshots named Gary Bettman and David Stern.
Those city jaunts hooked Silver on law and sports. His father was soft-spoken and reserved, except at Madison Square Garden. There Ed cheered the Knicks and the Rangers—or heckled them—while Adam chuckled. When Ed and Melba split, the games kept father and son together, as did the bouts. The family's favorite athlete was Muhammad Ali, whose poster adorned Adam's bedroom wall and whose fights were broadcast at a theater in New Rochelle. The Silvers appreciated Ali because he embodied the civil rights movement they felt a part of. "I thought Adam could be a great sportswriter," says former SI managing editor Mark Mulvoy, a family friend who lives in Rye. "But he was so intelligent."
Silver yearned to explore the country outside the tristate area, one reason why he went south to Duke, spent a year assisting a U.S. congressman from Oregon in Washington, D.C., and attended law school at Chicago. He and President Barack Obama are both 52, and while Obama worked on the South Side as a community organizer, Silver was the most active law student at Mandel Legal Aid Clinic in the same area. The cases he handled at the clinic, all pro bono, were mainly for victims of housing or employment discrimination who could not afford private counsel. "He tended away from the corporate side of things," says Michael Alter, a law school classmate who now owns the WNBA's Chicago Sky. "He believed in larger ideals of justice and equality, and this was a way he could make an impact."
Silver arrived at Duke the same year as Mike Krzyzewski, and in Chicago a year after Michael Jordan. He could saunter into Cameron Indoor Stadium five minutes before tip-off, and later buy Bulls tickets at the box office on game days. He was no face-painter, and he never considered a career in basketball, but he could not deny that the sport kept finding him.
His first post out of law school was a clerkship under newly appointed federal judge Kimba Wood in the Southern District of New York. Within a month he informed Wood that she did not need to prepare for an upcoming case because he had talked the lawyers into a settlement. "I was astounded," Wood recalls. Silver settled dozens of cases for her, demonstrating an unusual ability to locate middle ground and nudge both parties toward it.
"Could he have become managing partner of a big fancy New York law firm?" asks Jan Uhrbach, his co-clerk under Wood. "Of course he could have." Instead, three years later, Silver wrote a letter to his father's old associate. He was asking for career advice, not a job, but Stern eventually gave him one anyway. (Four years after that, Uhrbach also left her law firm, to become a rabbi.)
Silver did, in some ways, marry the NBA. His mother died in March 2004 of lung cancer, and his father passed away that October from pancreatic cancer, yet Silver still flew to preseason games in China that fall. "This is my other family," he told himself. His oldest brother, Erik, is the tennis pro at Boca Raton Resort & Club; his older sister, Ann, runs an environmental nonprofit in Carson City, Nev.; Owen is an entrepreneur in Boulder, Colo. Late in '04, as the siblings mourned the loss of both parents, they received a gracious letter from a family counselor in Cleveland named Emily Geier. Emily, four years younger than Adam, explained that their father had had a relationship with her mother while they worked in the same office in New York City. She was their sister.
Adam was not surprised. He had fielded a few calls from Geier's mother, starting in high school, but was afraid to confront his dad or tell his mom. "Life is complicated," Silver says. "We embraced her, and we have become good friends. I'm an uncle to her two children. She has become an important part of our family."
New York lawyers sometimes compare Silver with his father, but Adam is far more open, more engaging. His bookish appearance, bald and bespectacled, belies his social dexterity. As the former president of NBA Entertainment, he works the greenroom at All-Star weekend, mingling with Ice Cube, Faith Hill and Ashton Kutcher. He bro-hugs LeBron James. He forwards reviews of Philip Roth books to Rebecca Lobo, the former Connecticut and WNBA star he met in 1996. When Silver received the first shipment of regulation basketballs with his signature, he sent one to Lobo. Attached was a two-word note: DON'T LAUGH.
Last fall Silver decided to build his relationship with Paul, the Clippers star and players' association president. Silver called Howie Nuchow, whom he befriended 20 years ago when Nuchow worked in the ticket office of the Nets. "Adam is great to people before they have any influence," Nuchow says. Today Nuchow coheads vaunted CAA Sports, which represents Paul. Nuchow arranged a meeting in Philadelphia before a game against the 76ers. Silver and Paul chatted amiably, getting to know each other. Five months later they reconvened at Golden State, under vastly different circumstances. Whether or not the summit in Philly helped prevent a boycott in Oakland, an underpinning of trust had been established. "We have an opportunity," Paul says, "to be partners in everything we do."
Because Silver spent so long at Stern's side, many predicted he would keep the NBA's status quo. But in that initial Board of Governors session he told the owners he wanted to take a fresh look at everything from the lottery system, with its incentive for teams to tank, to the playoff format, with its imbalance between East and West. His first priorities, one owner said, were raising the minimum age for draft eligibility from 19 to 20 and establishing a command center in Secaucus, N.J., for replay reviews. All those enticing ideas were overshadowed by Sterling.
Silver left the law yet still wound up a judge. "There are similarities," he acknowledges, "but these [NBA] cases are unfolding in real time. You can't ask for a delay."
He woke up with a cold on April 29. He took a draft of his speech to the office, and in a 10 a.m. meeting with NBA lawyers learned he could carry out his plan. He kept in contact with a handful of advisers, including Stern, but the final call was his. "I had to take responsibility and own whatever I did," Silver says. "I took in all points of view, but ultimately this was something that had to be mine." His childhood, so often spent unattended in that sprawling house by the water, may have wired him for a solo act. "I've always been very independent because of that," Silver says. A little before 2 p.m. he read over his final draft for the first time at the Hilton Hotel, though he was far more concerned with the substance than with the performance.
His cadence was more deliberate than usual, his tone more forceful, his expression more fierce. Insiders say Silver can be tough in a tactful way—"The kind of guy you appreciate even when he says 'screw you,' " as one puts it—and here was the evidence. "He's like Bjorn Borg," says former tennis pro Justin Gimelstob, an ATP board member who once ran the New York City Marathon with Silver and came in more than nine minutes behind him. "His pulse doesn't have a huge range, but his intensity level does. That speech was the most overtly intense I've ever seen him."
Gimelstob was reminded of a time last fall when Silver called him, incensed at something he had done, which Gimelstob prefers not to share. Silver said, "Realize in this business your friends are very few. Make sure to treat them specially. You have to be willing to be tough with everyone else, and you need to be O.K. with that." Gimelstob remembers the words because he wrote them on a Post-It note and stuck it to the top of his computer monitor.
Of all the passages in the speech, this is the one that will be played and replayed, cited whenever Silver retires: "I am personally distraught that the views expressed by Mr. Sterling came from within an institution that has historically taken such a leadership role in matters of race relations and caused current and former players, coaches, fans and partners of the NBA to question their very association with the league. To them, and pioneers of the game like Earl Lloyd, Chuck Cooper, Sweetwater Clifton, the great Bill Russell, and particularly Magic Johnson, I apologize. Accordingly, effective immediately, I am banning Mr. Sterling for life."
Silver earned raves from players, political leaders and the most casual fans. Saturday Night Live parodied him. ("I've gotten more high fives from random black people this week than any week in my life—and I've learned many wonderful new handshakes," said Silver impersonator Taran Killam.) Charitybuzz auctioned a lunch with him, and online bids reached $12,500 in the first six days. At the Conservative Synagogue of the Hamptons in Sag Harbor, N.Y., Rabbi Uhrbach mentioned Silver before blessing the wine at the end of Shabbat services. "I always ask the community if anybody is celebrating anything," Uhrbach says. "I wanted to celebrate Adam because I believe in a sense of calling. I believe there are moments we have an opportunity to rise to the occasion and make a difference. I felt he was blessed with that opportunity and rose to the occasion."
This year's playoffs have showcased the best and worst of the NBA. The first round featured eight overtimes and five Game 7s. In the second round the Clippers came back from 16 points down to the Thunder with nine minutes left to win Game 4, and the Thunder came back from 13 points down with four minutes left to win Game 5. But the specter of the Sterlings hovers over each NBA arena, and whenever they open their mouths, they breathe fire through the league.
The Board of Governors will vote them out, but no one knows exactly how they will leave, quietly or combatively. The NBA hopes for the former but braces for the latter: Sterling has refused to pay his $2.5 million fine and has hired an antitrust lawyer. In the league's 15th-floor conference room, Silver slips on his suit jacket and tightens his tie. He is headed into the New York twilight, across the bridge to Brooklyn, for Game 4 of the Eastern Conference semifinals between the Nets and the Heat. LeBron James will score 49 points at the same time Sterling badmouths Magic on Anderson Cooper 360. Silver will issue another statement, reiterating his intention to remove Sterling as soon as possible, which for many won't be soon enough.
From Malawi to the Hamptons, on BlackBerrys and in synagogues, the world follows basketball's righteous chief.