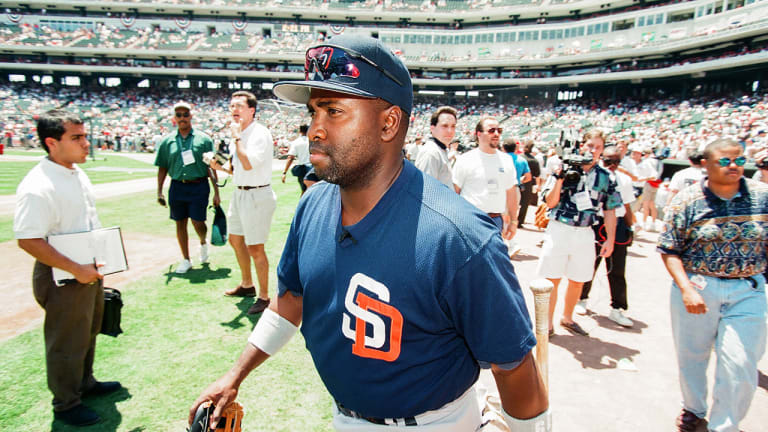 Tony Gwynn, Through The Shortstop Hole ...
Remembering Tony Gwynn, the San Diego Padres great, whose generosity affected a generation of baseball fans.
Tony Gwynn had a country accent, which I always thought strange, considering he was from Long Beach. The high-pitched twang streamed through my headphones on school nights, as I pretended to sleep but instead lay listening to the postgame show on San Diego's KFMB. I often wondered why Gwynn was the only player the local broadcasters ever seemed to interview. Now, I look back at those Padres rosters and understand. My hometown team was rarely any good, and yet, sometimes one player is plenty. Gwynn would lace three singles, then hop on air and add a richly detailed hitting tutorial that doubled as a lullaby.
I was around 12, in the batting cage one night at San Diego School of Baseball, the first time I heard the drawl in person. I was trying to catch up with a 70-mile-per-hour heater and, as usual, was hopelessly late. "Son," the voice rang out over the tinny foul balls. "You need a lighter bat." Tony Gwynn, who famously used a lighter stick to accommodate his smaller hands, didn't say anything else. He just handed me his.
I'm hardly the only one with that story. Gwynn played 20 years for the Padres, constantly accepting discounted contracts, never flirting with free agency. He made brown fashionable. He made opposite field exciting. No one accused him of juicing anything more than his batting average. He didn't hang out at San Diego School of Baseball because he needed the coaching. He just liked being around the cage. The Padres used to hold spring training in Yuma, in the southwest corner of Arizona, which is like spending seven weeks in Death Valley. Gwynn would post up at a picnic table and sign autographs until sundown. He signed so many, they're probably not worth a nickel.
I texted my friend Tyler on Monday to see if he ever met Gwynn. Let me play tennis with him in fifth grade ... gave me a signed bat without asking ... saw him at a steak house and shook my hand. Didn't wash it for a week. There exists a blood bond between small markets and their favorite athletes, especially when those markets are traditional losers. San Diego has not won a championship in a major sport in five decades. Gwynn was the reason to show up at the ballpark.
My buddies and I bought tickets at Jack Murphy Stadium for $5 and sat over the rightfield fence so we could be near Tony, who dutifully tipped his cap after liners to left. When the stadium was renovated in 1997, I swiped a discarded seat so I could always feel like I was watching him take that inside-out cut. On my first assignment as a baseball writer I was to profile then-Padres-centerfielder Steve Finley, but I stood next to Gwynn's locker. After all those years watching him from the stands, he was a safe harbor.
Nothing makes you feel older than the death of a ballplayer you vividly remember from your childhood. Gwynn died on Monday of salivary gland cancer, at 54, and I cannot bear to tune into the postgame show that's now on 1090. The Padres ought to bury him in his beloved 5.5 hole, that sacred strip of dirt between shortstop and third base, where he probably slapped a thousand grounders.
Gwynn will live forever in the many professional players who come from San Diego and for some reason swing inside-out, as if refusing to pull the ball for religious reasons. I once asked Dodgers first baseman and Chula Vista product Adrian Gonzalez why he sent so many lasers to left when he could turn on them with more power. "Oh," he replied, "that's from Tony."
The last time I interviewed Gwynn he was coaching San Diego State's baseball team—what Hall of Famer signs up to review report cards and conduct room checks?—telling a story about how the sprinklers went off in the dorm one night and most of his starting lineup needed new bedding. He punctuated his sentences with streams of tobacco juice. He was an incorrigible dipper, a habit many would connect to his cancer. He was overweight, too, but the voice was the same, the unfiltered sound of down-home hardball. "I've watched him my whole life," an Aztecs pitcher told me that day, "and I've realized he's just an average guy who does extraordinary things."
I didn't tell Gwynn about the bat. But when my son started Little League, I bought him the lightest one I could find.