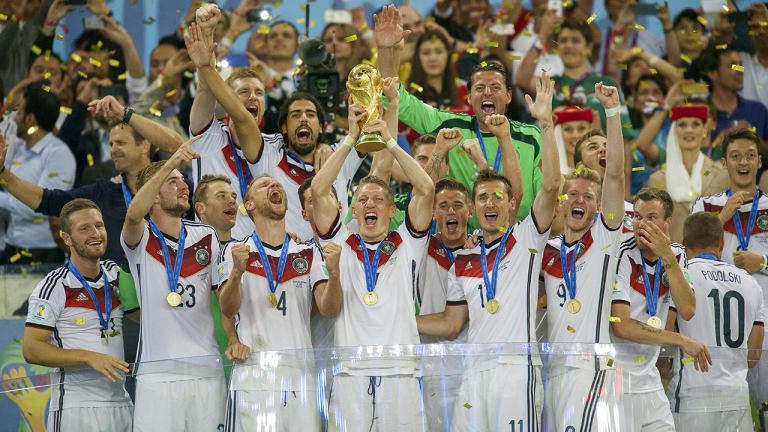 And Then There Was Ein
A decade of German engineering paid off in Rio as a deep, youthful squad edged out Lionel Messi and Argentina for the World Cup
IN SOCCER, the brief rest period between the first and second stages of extra time is one of the few chances the sport offers for a timeout. Players are exhausted. Coaches hope to summon one last surge, the inspiration to define a deadlocked game in the run of play, before the madness of a penalty-kick shootout. And so, in that moment of truth against Argentina in Sunday's World Cup final, Germany coach Joachim Löw sidled over to forward Mario Götze on the floor of the Maracanã Stadium in Rio de Janeiro. "Show the world you're better than Messi," the coach told the 22-year-old. "You can decide this World Cup."
Götze nodded. Lionel Messi, the world's best player, stood between Germany and its fourth World Cup title, but Messi had looked a shadow of himself since missing the type of shot, with an open back post just after halftime, that he normally converts in his sleep. Götze was fresh, having come on as a late substitute, and when his chance came in the 113th minute, he made no such mistake. Capping off a seven-pass, 27-second buildup and a glorious run down the left side by winger André Schürrle, Götze deftly trapped Schürrle's cross on his chest and in one swift motion pinged a shot past goalkeeper Sergio Romero, right into soccer immortality.
After nearly two hours of scoreless play that had seen Argentina squander three golden chances (and Germany at least one of its own), Götze's goal in the 1--0 victory was worthy of a world champion—and of the first European team ever to win a World Cup held in the Americas. "It wasn't a simple tournament for me," said Götze, who'd been benched after starting Germany's first game in Brazil. But, he added, "I think we deserved this trophy."
And he was right. On a night when Messi failed to make his case as the GOAT (Greatest of All Time), his fellow nonfinishers—particularly Gonzalo Higuaín, who botched a breakaway—were goats, and the hero was Götze. "Götze is a miracle boy," said Löw. "He can play everything. Boy wonder!"
Germany's triumph was a testament to a 10-year project that revolutionized the way its federation develops talent, a process in which U.S. coach Jurgen Klinsmann played a starring role. In direct contrast to the host team, which crumbled in disgrace the moment an injury knocked out star forward Neymar in the quarterfinals, the Germans had game-changers to spare. They lost several important players before the tournament due to injury, including Marco Reus and Ilkay Gündogan, and on Sunday midfielder Sami Khedira pulled up lame right before kickoff with a calf strain. Yet in a game where Argentina's substitutes made almost no impact, it was two German subs, Schürrle and Götze, who connected on the winning goal.
"From the beginning we knew we were not only the 11 players on the field. We would need 14, and [all 23] must be in top shape during the entire tournament," said Löw, 54, who took over from Klinsmann after World Cup 2006. "With these temperatures, it's not always obvious that people will be able to play for 90 or 120 minutes at their maximum level, and this is what we have seen today. Argentina was becoming more and more tired."
This German team had a raft of young stars, including Götze (22), Schürrle (23), Toni Kroos (24), Thomas Müller (24), Jérôme Boateng (25), Mats Hummels (25) and Mesut Özil (25). And their ascendance is no accident. After Euro 2000, in which Germany finished last in its group and didn't win a game, the national federation teamed up with German clubs to overhaul the country's youth development system: They started a talent development program in '02 for children aged eight to 14, and academies were set up across Germany's top two club divisions, with hundreds of trained coaches instructed to scout and produce technically skilled players.
These days German Bundesliga clubs are sinking more than $130 million a year into their youth academies, which receive regular quality-control inspections from the German federation. And unlike in England, where wealthy Premier League teams buy superstars and leave little room for homegrown youth, German clubs can more easily introduce young players into topflight games.
While Sunday's final was the coup de grâce in Die Mannschaft's first World Cup title since 1990, history will likely recall another game from this team's championship run more than any other. Germany's 7--1 semifinal win over Brazil was arguably the most shocking World Cup result ever. For the host Brazilians there was only one acceptable outcome at this tournament. But it became clear midway through the games that this squad simply wasn't very good, that it relied too much on physical play and the individual talent of Neymar, the wispy 22-year-old forward who was transformed into something close to a national messiah.
When Neymar suffered a broken vertebra on a harsh tackle late in the quarterfinal win over Colombia, Brazil's emotional state—already teetering—entered a new realm of hysteria. It was as though Brazil, the nation and the team, felt the only chance to beat Germany was to rely on history (Brazil hadn't lost an official game on home soil since 1975) and crank up the Feels Machine to even higher levels. When Brazil stood for its pregame national anthem, goalie Julio Cesar and defender David Luiz held up Neymar's jersey to the sold-out stadium, giving the impression less that the forward had been injured than that he had died.
Germany's own scoring machine, Reus, missed the World Cup with an injury, but you didn't see his teammates mourning his absence as a motivational ploy. Instead they unleashed a clinical and overpowering team performance, scoring 11 minutes in on a corner kick—Luiz lost his man, Müller—and then adding four more goals in a surreal six-minute period that had to be witnessed to be believed. It was a German master class, and Brazilian fans went through all the stages of grief in mere minutes—from surprise to shock to open crying and, finally, public contempt for their own team.
There's just no equivalent in U.S. sports. In 1950, the only other time Brazil hosted the World Cup, the home team was within 12 minutes of winning the trophy at the Maracanã when Alcides Ghiggia scored to snatch triumph for Uruguay. Brazil waited 64 years to erase that humiliation—known forever as the Maracanazo—only to experience an even deeper one.
Alex Bellos, author of the book Futebol: The Brazilian Way of Life, thinks Brazil's emotional and sporting implosion last week will be remembered as the end of an era, from 1950 to 2014, in which Brazil viewed itself as the king of world soccer. "What does it mean to be the five-time champions if you let in four goals in six minutes?" he asks. "If you thought you couldn't have scripted something like the Maracanazo in 1950, you [now] have something that was almost worse: The world's biggest footballing country hosting a World Cup, in front of their own fans, and they were made to look like they couldn't play football. And against a team that was playing with artistry and sophistication and happiness, all the things that Brazil is supposed to play with. You couldn't have devised a more devastating epitaph for the Beautiful Game."
Brazil's week from hell revealed a nation satisfied with resting on its past soccer achievements and unwilling to seek new ideas abroad, Bellos says, noting that Brazil's coach, Luiz Felipe Scolari (who resigned on Monday), is one of the few Brazilians who have managed a professional team overseas—and he was a failure at Chelsea. But Brazil's World Cup reckoning—7--1 to Germany and a 3--0 defeat to the Netherlands in the third-place game—will transcend sports, Bellos believes.
"I don't think you can really separate football from the rest of Brazil, because it's so tied up with national identity," he says. "What Brazil is suffering from in both their sports and their national politics is an inability to actually make proper changes. The protests a year ago were all about 'We need change!' Yet nothing has changed. The football here, there will be lots of outcry: 'We need change!' But is anything going to change? It's not something where you can be like Germany and just say, 'O.K., let's invest in an amazing network of youth training. You just can't do that in Brazil because of the poverty and corruption and lack of infrastructure."
Yet it would be churlish to heap scorn upon Brazil for the way it hosted this World Cup. After concerns about the readiness of the stadiums and the transportation inside the largest country to host a World Cup since the U.S. in 1994, Brazil's tournament infrastructure worked fine, and the home fans were open and welcoming. Say this, too, about Brazilians: They respect the game being played at a historically high level, even if it's happening against their own team. A great moment in any sport is the rare occasion when home fans are so moved that they give a standing ovation to an opposing team or player. That's exactly what happened when Germany scored its seventh goal against Brazil.
On the way to the airport in Belo Horizonte after the most stunning game anyone could remember, the German team stared out the windows of its bus and marveled at the scene. "There were suddenly thousands of Brazilians on the sidewalks applauding," said Löw. "This was something absolutely fascinating."
It's also called good taste.
Germany's own scoring machine, Reus, had missed the World Cup with an injury, but you didn't see his teammates mourning his absence.
Extra Mustard
20
TechKnow
New Pads
22
SI Edge
Luck's Fridge
24
Pro-files
Junior Bridgeman
26
Faces in the Crowd
31
Dan Patrick
Vin Scully
32
The Case for
David Price
34
THEY SAID IT
"I don't hold a grudge."
Bill Hillman
The author of a book chapter about how to safely run with the bulls, talking about the 1,300-pound bull that gored him in Pamplona on July 9.
GO FIGURE
6 BILLION
BROADCAST AND LICENSING REVENUE FOR THE 32 NFL TEAMS IN 2014, THE HIGHEST EVER FOR THE LEAGUE. EACH TEAM TOOK HOME $187.7 MILLION.
35.6 million
Tweets sent during the Brazil-Germany World Cup semifinal, a record for a sporting event, smashing the old mark of 24.9 million during Super Bowl XLVIII.
1
Battery tandem to hit a grand slam in the same game in major league history: Giants catcher BUSTER POSEY and pitcher MADISON BUMGARNER each hit one on Sunday.
$1,010,000
Purse for the Asics World Series of Beach Volleyball, the largest in the sport's history.
PHOTO
JULIAN FINNEY/GETTY
IMAGESPHOTOQI HENG/XINHUA/ZUMAPRESS.COM (LUIZ)Löw Point Brazil's ousting pointed to a problem in player development and perhaps signaled an end to the Beautiful Game.PHOTOJIM HOLLANDER/EPA (HILLMAN)PHOTOSTOCKBYTE/GETTY IMAGES (ADDING MACHINE)PHOTOBRUNO DOMINGOS/REUTERS (TROPHY)PHOTOJASON O. WATSON/GETTY IMAGES (POSEY)PHOTONHAT V. MEYER/SAN JOSE MERCURY NEWS/MCT/LANDOV (BUMGARNER)PHOTOJOE SCARNICI/GETTY IMAGES (VOLLEYBALL)ILLUSTRATION