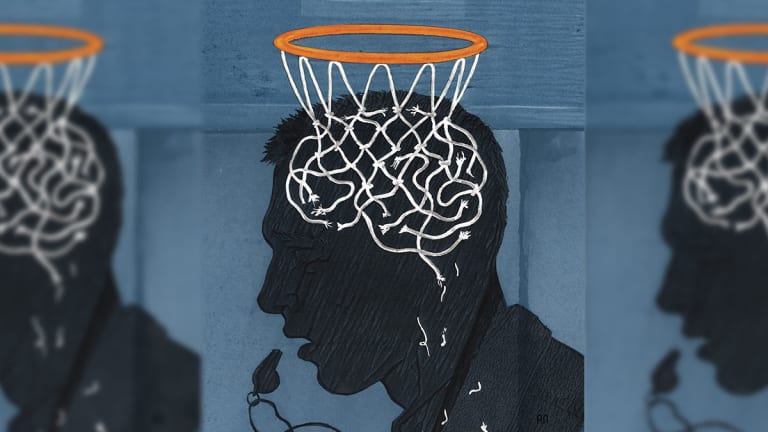 A Coach Unbalanced
Once the youngest college basketball coach in the country, 33-year-old Chris Craig suffers from a mental illness that has distances him from the family and robbed him of the game he loved.
THIS WAS BEFORE HE CALLED PRESIDENT OBAMA THE ANTICHRIST.
And before he was detained in the Middle East and searched by the FBI in New York City. Before he painted a Bible verse on his car and drove around the Southwest wearing a turban, and before he burst into a college classroom in Arizona brandishing a Bible. Before he declared that he was an "Islamic Jihadist" and threatened the destruction of Mormons and Catholics.
Before all that, Chris Craig was a small-town hero, a handsome and ambitious basketball coach, quickly ascending the career ladder. He was even honored in a parade.
It was March 24, 2010, and residents of Price, Utah, a coal-mining town of 8,500, 60 miles southeast of Provo, gathered along Main Street, in front of Lee's Music and the Carbon County courthouse. Craig was the men's basketball coach at a local school, the College of Eastern Utah (CEU). His team had just finished third at the National Junior College Athletic Association Championship, having had CEU's best season in 45 years. As the coach and players rode past, the citizenry hooted and applauded.
Craig was just 28, and he looked as young as some of his players. When he landed the CEU job at 25, he was thought to be the youngest college head coach in the country. His strengths were his preparation and his intensity. He was also an exceptional procurer of talent, especially impressive on a $6,000 annual recruiting budget.
The parade ended at Peace Garden, next to CEU's Prehistoric Museum. Craig and the players joined Price's mayor on a concrete stage. Craig wasn't comfortable speaking before large groups, and his comments that day were unremarkable. He thanked his team and the fans. But those who knew him well understood that this was also his goodbye. In a few weeks he would announce that he was taking a job as an assistant at Division I Northern Colorado, the logical next step for a coach of his skill and ambition. His fiancée, Tara Powell, would go with him. She had been born in Price, grown up in nearby Emery County and played basketball at CEU, and she was now eager to live the life of a coach's wife, toting their nearly three-year-old daughter, Maiya, along with them.
"He was a hardworking guy everyone liked being around, and no matter what he was doing, he was going to be successful," says Billy Gillispie, Craig's coach when he played at UTEP. "How many coaches can say that in their third season as a head coach they took a team to the [NJCAA semifinals]? His future was as good as he wanted it to be."
Says Bill Barnes, captain of the Price police department, "We all thought he was going to be the head coach at a big Division I school in a few years. That is why what has happened is so hard for people around here to understand. You saw how good a coach he was, and hardworking, and you saw the beautiful family, and you said, He's got the tiger by the tail."
CHRIS CRAIG was at a precarious moment in his life when he met Charlie Wilde. Chris was 12, and his parents had been divorced just a few years earlier. The split had been rough on Chris and his two younger siblings, Julia and Sam. Their father, A.D. (Bud) Craig, a renowned neurobiologist at Barrow Neurological Institute in Phoenix, worked long hours, and he says a custody arrangement limited the amount of time each month he could spend with his children. Meanwhile the kids' mother, Debbie, "became like a dog finally off its leash," says Julia, the middle child, whose married name is Underwood. "Now she could smoke pot whenever she wanted. She was also always playing the woe-is-me card. There was always an excuse for why she couldn't help with us."
Says Julia, "We were those kids that other parents would ask all the time, 'Are you O.K.?' And they'd ask really caringly, because they knew. I mean, I was an 11-year-old girl, taking city buses. We had a roof over our heads, yes, but there wasn't much encouragement and love."
Chris had been a star shortstop before he met Wilde, a phys-ed teacher and basketball coach at Desert Shadows Middle School in Scottsdale, Ariz. Wilde saw Chris as the perfect point guard, a natural leader, and Chris took to that role with zeal. He eventually dropped baseball to focus on basketball, and Wilde says he's never seen another player so willing to work hard. Looking back, there was an underlying mania to it—what kid spends eight hours shooting free throws?—but when the alternative was to go home to an emotionally absent mom, what boy wouldn't want to stay at the gym?
Wilde quickly became more than a coach to Chris. "After practices one of us would have to wait for every kid to get picked up," Wilde says. "You'd end up waiting so long with Chris, it just became easier to take him home." Soon Wilde was shuttling Chris to and from school and practices, and offering counsel. When Wilde got a job as coach at Horizon High in Scottsdale, Chris followed him there. Years later, when Chris began to cut people off, to label some as impediments to his cause, his feelings toward his former coach remained unchanged. To him Charlie Wilde would be forever a good man.
As a teenager, Chris occasionally attended church youth retreats and camps. He wasn't encouraged to go by his parents; he went initially because his friends did. Bud Craig describes himself as spiritual, not religious, and Debbie found religion only after her children were out of her home. Says Wilde, "Chris would get on himself for cursing in practice, saying, 'I shouldn't. That is a sin,' but other than that there was nothing [religious about him]."
Chris was a star at Horizon High but garnered no scholarship offers from Division I schools. He ended up at Arizona Western, a junior college in Yuma. "That first year he was great," says Kelly Green, his coach at Arizona Western. "He just spent hours and hours working on his game. If someone told me he was in our gym from 2 a.m. to 6 a.m., I believed it."
The summer after his freshman season, Craig went to a camp for junior college players and received a scholarship offer from Creighton. Says Green, "Chris was a paralysis-by-analysis kid. He was smart, and he thought things to death. He couldn't decide if he wanted to go to Creighton or come back." He eventually enrolled at Creighton, but after a month he called Green and said he had made a mistake. He returned to Yuma but arrived too late to be eligible that season, so he redshirted.
During his third year at Arizona Western, Craig and his then girlfriend attended meetings organized by a local church. When he returned home on weekends or holidays, his father and sister would hear what Julia describes as "loud prayers, more like chanting" coming from his room, behind a closed door. He was also tithing money that his father had given him for expenses. Craig's girlfriend later told Julia there was nothing extreme about the church group—except for him. "People wanted him out," Julia was told. "He was just too intense."
In the middle of that season, Arizona Western lost a midweek home game. The next day Craig failed to appear at practice, and he remained missing until Friday evening, when he showed up in Oregon. Bud had been tracking Chris's credit card charges. "He just went on walkabout," Green says. "He got in the car and drove." Says Bud, "He said he was just trying to figure life out, which for someone his age you didn't think was that unusual."
Days later Craig explained to Green that he was racked by guilt over his dedication to basketball. He could not reconcile his athletic life with his religious one. "I'm not sharing my faith with others and bringing others to my faith," he told Green.
That conflict had been on Craig's mind for years. In 2006, Julia was helping her father get their family home in Scottsdale ready to sell. In Chris's room hung the famous Michael Jordan "Wings" poster, with his arms stretched wide. When she removed the poster, she says, "On the wall, in pen, was this strange sort of Rain Man writing. I couldn't really read it. There was also this date written over and over." She called Chris and asked about the writing. He said they were prayers. She then mentioned the date, and Chris told her that was the day he was supposed to begin his NBA career.
After his walkabout, Craig missed a few games, and he was a role player for the rest of the season. Says Green, "He was less vocal, and he never really got back in with his teammates."
The fact that Craig missed those games was mentioned in a news report about his transferring to UTEP after that season. In a story on a local website, he called it "personal problems," and that is likely how he saw things. Later he said that when he left for El Paso that summer he was focused solely on making the NBA. To accomplish that, he said, he had to "turn his back on God."
ACCORDING TO the National Institute of Mental Health, 4.1% of the U.S. adult population has a serious mental illness, a category that includes schizophrenia and other disorders that severely interfere with a person's daily life. The symptoms of schizophrenia, such as hallucinations and delusions, typically emerge in patients between the ages of 16 and 30. Craig was 21 when he left for UTEP. Those close to him say they saw no sign of mental illness. They thought he was "intense" and "extreme," perhaps even obsessive. But in a Division I college basketball program, those traits can be seen as virtues.
"Whatever he did, he was all in," says Omar Duran, Craig's teammate at UTEP. That included weightlifting. "He would lift at 3 a.m. in the hotel gym on a game day," says Duran. And fitness: "He would run in the middle of the night. Get up and run for hours." And nutrition: "He was taking vitamins, supplements, whatever he thought would help. Once, I saw him snort supplements. He said he wanted to see if it gave him a bigger kick."
Gillispie, Craig's coach at UTEP, was similarly all in; he watched film until 4 a.m. and controlled his locker room through fear. The 2002--03 season was Gillispie's first as a head coach, and Craig was perhaps his earliest whipping boy. "Once, Chris had a bad game, and we got booed a lot," says Duran. "In the locker room [Gillispie] just laid into him for like 20 minutes. Chris was crying, and Gillispie still just pressed him and pressed." Craig confessed to Julia that after some practices he would stop at every fast-food place he saw, gorge himself, then throw it all up when he got home.
The next year Gillispie moved Craig from point guard to shooting guard and upgraded the team's overall talent. The Miners completed one of the great turnarounds in college basketball, going from 6--24 in 2002--03 to 24--8 and an NCAA tournament berth in '03--04. Craig was a role player—he averaged nine points a game—but even as the team succeeded, he was despondent. "He had always thought he was going to be in the NBA, and he was coming to the realization that he was mediocre," says Julia. According to Tara, Craig received his degree in kinesiology, with a minor in psychology.
Julia worried about what her brother would do once his playing career ended, but that point was delayed when Craig received an offer to play abroad. For 18 months he bounced around leagues in Ireland, Germany, Switzerland and Mexico, returning to El Paso in between. His time in Ireland was most significant: His team, Tralee, was without a coach, so Craig became a player-coach and guided Tralee to the National Cup. In the summer of 2005, he took a job as an assistant coach at CEU, a $20,000-a-year position that came with a dorm room and a meal plan.
Not long before he left for Price, Julia visited him in El Paso. They were in his room talking when he casually pulled up the sleeves on his shirt. There were cuts and scars up both his forearms. "Chris, what the hell have you done?" she said.
He quickly pulled down his sleeves. "Nothing," he said. "Nothing. That was a long time ago."
That was a lie. He had cut himself earlier that summer.
AFTER TWO YEARS as an assistant, Craig was chosen over 56 other applicants for the position of head coach at CEU (which changed its name to Utah State University Eastern in 2010). Dave Paur, the athletic director and women's basketball coach, led the push to hire him. "He had linebacker eyes, if that makes sense," Paur says. "You could see basketball was everything to him."
As an assistant and then as head coach, Craig would drive through the night to Chicago or New York to meet with a recruit, then turn around and drive back without sleep. He also got a diverse group of players, many of them castaways from other programs, to cohere, though he often resorted to intimidation and manipulation. Wilde may have been the coach Craig adored, but he emulated Gillispie. Says Green, "He might decide before a practice that he was going to mess with some player, even if the kid was playing well. He'd say, 'I'm going to see what he's got under the hood.'"
By the 2009-10 season, Craig's third as head coach, he had improved CEU's talent and added two assistants: Adjalma Vanderlei Becheli Jr., a Brazilian everyone called Vando, and Brad Barton, who was from Farmington, Utah, near Salt Lake City, and had played at Weber State. Vando was nearly a decade older than Craig, but Barton and Craig were only a year apart, and, Paur says, "they were a lot alike. Brad was just as intense."
Barton was a type 1 diabetic, but he ate poorly, drank alcohol and regularly smoked marijuana. He frequently forgot to take insulin and suffered diabetic seizures. Says Paur, "When Brad was in the gym coaching, he wanted to live. When he wasn't, he didn't care." It was Craig who often rushed to Barton's aid, holding him and feeding him juice during a seizure.
During that 2009-10 season, in which CEU would finish third in the NJCAA Championships, Barton moved in with Craig. Says Vando, "Brad was Chris's best friend." When Craig and Powell left for Northern Colorado after that season, Barton took over as head coach at what was now Utah State Eastern. He and Craig kept in frequent contact. Barton was an important sounding board for Craig as he struggled to adjust to the role of Division I assistant. He hated being a grunt, having no say in important matters. Powell also didn't enjoy living in Greeley, so before the 2010-11 season even ended, Craig was looking for a new job.
He found one at Midland (Texas) College, a juco powerhouse that was expected to end every season with a trip to "Hutch," the NJCAA Championships in Hutchinson, Kans. Given Craig's work ethic and ambitions, Midland seemed like an ideal fit. Craig and Powell were married in Texas in the summer of 2011. By December, she was pregnant. Bud Craig had long counseled his son to find balance in his life, and marriage and the arrival of another daughter, Kayla, helped Chris understand what he meant. Chris opened up to Tara about his childhood, and even talked of seeking therapy. In fact, Tara says Chris tried some counseling but stopped shortly after starting.
As practice began Craig also started to question the kind of coach he had become. Says Green, "We had a series of talks, and he felt like the coaches who were successful used and abused players mentally. He didn't want to be that kind of coach anymore."
Introspection. Doubt. They were a pair of pickaxes chipping away at the layers Craig had built up over those years when his mind was fixated on basketball.
IN EARLY OCTOBER 2011, Craig was at practice when one of his players arrived late. He told the player to leave the gym: If he couldn't show up on time, he couldn't practice. Craig turned away, but the player ran up behind him and delivered a powerful punch to the side of Craig's face. He fell to the ground, unconscious.
When Craig woke up moments later, his assistants were standing over him. The assailant was gone, but the rest of the team was there, staring down at him. When he left the gym, he called Julia, who is a nurse. "He was driving home, shouting, telling me what happened," says Julia. "Then he would stop and I could hear him throwing up."
By the time Craig got home, both his eyes were swollen nearly shut and half of his face was bruised black. That night Craig spoke with Barton. Craig was angry that his assistants hadn't done anything to the player who struck him. (No charges were filed, and the assailant was dismissed from school.) According to Tara, Barton told Chris, "If I had been there, I would have beat the f--- out of every one of them." It was what Craig needed to hear, that a real friend, his best friend, would have had his back.
A few days later, while Craig was still recovering, he received a call from Paur, USU Eastern's athletic director. "I had to be the one to tell him," Paur says. On Oct. 4, 2011, Barton had been found dead in his apartment, apparently from complications of diabetes. "I've been there when moms are told that their kids have died in accidents, and at that point it's not a cry, it's just a moan," Julia says. "That's what I heard from my brother in the background when Tara called me after Brad died. Just a moan."
Craig coached Midland for the rest of the 2011-12 season and the following season as well, but he was detached. It is hard to be the tough-guy coach, the Billy Gillispie, when one of your players knocked you out and when you are questioning what kind of coach you are. What does it matter if your team makes it to Hutch when your best friend is dead and you weren't there for him?
At home, Craig began staying up all night, studying the Bible, particularly the Book of Revelation. Eventually he branched into well-worn subjects for conspiracy theorists, such as 9/11 and the pharmaceutical industry. That is where his mind wandered when his focus on basketball waned, and as always, Craig was all in.
In mid-March 2013, Craig posted 31 handwritten pages on his blog in which he referred to Mitt Romney as a false prophet and to Obama as the Antichrist. He also called himself the Archangel Michael. He took to Twitter as well, advising people to "get off coasts by Thurs. at sundown" and asserting that "WW3 started when Israel bombed Iran." He did that while still technically the coach at Midland, though on March 21 he sent a resignation letter to school officials. (His blog has since been deleted; his Twitter account has been suspended.)
Also in March, Craig journeyed to Israel at the same time Obama was visiting there, and his posted comments about the President being assassinated caught the attention of federal authorities. He was detained and sent back to the U.S. The FBI questioned him at New York City's Kennedy airport. Tara was also interviewed, in Price, where she and their daughters had moved in with her parents.
Once back in the States, Craig drifted. He was spotted in Price, Midland and El Paso. He had become hard to miss: He had spray-painted yhvh (for Yehovah) and rev 14-7 on his white Honda Civic. Revelation 14:7 begins, "He said in a loud voice, 'Fear God and give him glory, because the hour of his judgment has come.'" Craig settled in El Paso, moving in with Duran, who offered him shelter and no judgment. "I just wanted him to be safe," Duran says.
In El Paso, Craig continued to read and reread the Bible, keeping his place with a photograph of Barton. He fasted and didn't shave, and he sometimes wore a homemade turban. "He thought he was a prophet, and he started looking like one," Duran says. Some days he wouldn't leave the house, some days he would go on what he called a "mission." Once he announced that he had found a reference to Texas governor Rick Perry in the Bible, and he quickly left for Austin. He returned within a day, telling Duran that he had been kicked out of Perry's office.
Duran would often ask Craig about Tara, though he knew they rarely spoke. "I just have to do this for my girls and my wife," he would respond.
In the spring Craig drove to South Carolina to visit his mother, who had moved there a few months earlier. It was the first time Debbie would see what had become of her son. Later Julia would talk to a pastor and a neighbor with whom her mother confided, and he said that Debbie had been deeply disturbed by her son's visit.
Debbie took a variety of medications, Julia says, and had what Bud describes as "a genetic history of bipolar disorder but nothing pathological." According to The National Alliance on Mental Health Illness, 10% of people with schizophrenia have an immediate relative with the disorder. On June 16, 2013, Debbie wrote a card to Tara and her granddaughters: "Happy Father's Day. Don't let the girls ever forget me." She told a neighbor to make sure her daughter received the two boxes of childhood mementos labeled FOR JULIA that were in her apartment. She walked the Father's Day card to a mailbox. A few hours later she was found dead in her bathroom. A toxicology report revealed she had taken a lethal dose of morphine, says Julia.
Craig was the first in his family to learn his mother had died. He was at a gas station with Duran when he called his mother, and a friend of Debbie's told him. He fell to his knees and raised his hands to the air. "I love you," he shouted. "I love you with all my heart." Duran ran to him, and Craig told him what had happened. Tears were streaming down Craig's face, Duran says, but his expression was one of joy. "I can't believe God just made me go to South Carolina and mend things with her," Craig said. "God is so good, it is amazing!"
ONLY ABOUT 45% of diagnosed schizophrenics will recover and be able to maintain what might be called a normal existence, according to the World Health Organization. Tara pondered that on a recent weekday as she sat in a café in Eagle Mountain, Utah. She left Price in October, fleeing from the stigma of being Chris Craig's wife—it's also closer to Chris, who's at a state mental hospital in nearby Provo. Tara and the girls live with her sister and her family now, and she works at a recreational center.
It is a fresh start that she hopes will one day include Craig. She and the girls visit him frequently. "There are moments when he is the old Chris, and he can be so great with the girls," she says.
After leaving Duran's home in July 2013, Craig was arrested or detained numerous times. In Thatcher, Ariz., he was arrested after barging into a classroom at Eastern Arizona College (a warrant was issued); in Price he was caught rummaging through a vehicle at the town's armory and cited for possession of marijuana (he wasn't charged); in Steamboat Springs, Colo., he was being questioned by police when he referred to himself as an "Islamic Jihadist" and threatened the imminent death of Mormons and Catholics (no charges were filed). That led some people to believe that Craig is a Muslim, but Tara says he is not. He told Duran he wears Middle Eastern garb because he "wants to look like a servant" and talks about Islam "because then people just leave me alone."
On Aug, 24, 2013, Craig was stopped by a law enforcement official near Grand Junction, Colo. He was charged with driving without a license and attempting to influence a police officer, and he was later admitted to a state hospital in Pueblo. While there, he was diagnosed as bipolar with psychotic episodes and was given the antipsychotic drug Risperdal, according to Bud Craig, who says he spoke with his son's social worker. Bud then consulted with experts he works with and says, "It was clear to them, without even having to interview Chris, that he's schizophrenic." Chris was released in December and returned to Price.
Craig was living with Tara and their children early in 2014, doing reasonably well, according to Tara. But in April, after he and Tara got into an argument over comments he made in front of the children, he drove his car onto the grounds of Maiya's school. He was wearing a turban and a robe, and police rushed to the scene. "That call comes in, and you fear the worst," says Barnes, the Price police captain. Craig was charged with disorderly conduct, driving with a suspended license and failure to disclose ID. All charges are pending.
While in jail, Craig sent Paur a letter that referred to the death of a prophet's wife. Barnes, who reviewed the letter, says it included "more than veiled threats" toward Tara. She believes he didn't mean to threaten her and says he has never been violent toward her. Barnes adds, "Not once has he been violent when we've taken him into custody."
At the state hospital Craig is on medication and in therapy, Tara says, and doctors tell her the goal is to create "a longer fuse" before his erratic behavior resurfaces. He has a commitment hearing scheduled for next week, and she hopes he will be released soon. In a series of phone interviews with SI, Craig was at times lucid, but he also said that he once worked for Rick Perry, pundit Glenn Beck and Israeli Prime Minister Benjamin Netanyahu and that SI would only get the "real story" if it contacted those men.
Julia had her first child a few weeks ago, and she believes Tara needs to distance herself from Chris for the good of their children. "That is hard for me to say," Julia says. "He is my brother. But if you tell your young daughter that you have to leave to do something for God, she is going to believe that. Chris has messed Maiya up."
Tara wipes her eyes with a handkerchief when asked about Maiya, who is seven. "Since the thing at [Maiya's] school happened, she's just terrified of something happening to her, like someone taking her away, and she's gotten really scared of men. I took her to a gym where I was working, and she freaked out because she saw men coming in. At night, she is just so scared. She tells me, 'Mom, what if a man tries to get in? You're not strong enough to stop him.' So you see that is, that's where I'm at."
Tara stops talking and lowers her head and holds the handkerchief to her eyes. A few minutes later she says, "Chris is still, throughout all this, all the crazy things he's done, he's still a great person inside."
When asked about basketball today, Craig says only, "I am not a basketball coach anymore." But he was a coach once. Jesus Flores, who was a student trainer during Craig's time at UTEP, is now a coach at Barry Goldwater High in Phoenix. "I still use a drill with my players that Chris taught me," says Flores. "I call it the C2 drill." C2 is Chris Craig.
A few weeks ago, Tara went to visit Craig with her teenage nephew. There is a basketball court on the grounds of the hospital, and the three of them shot baskets under a blue sky, and then Craig and the nephew played a spirited game of one-on-one. "He hasn't shut off basketball completely. He still loves it," Tara says. "I have mentioned to him the possibility of him going back to it, but he doesn't like to talk about that. But he knows that one day he might be the man of the house again and he has to do something."
On a recent afternoon Paur was in his office at USU Eastern, reminiscing about 2010, remembering the bright young coach Craig was then, the guy who had "the tiger by the tail." When asked if he would hire Craig as an assistant coach on his women's team, Paur said, "If he was back to being the Chris we knew, I would. He has a disease now, and it is a bad one, but I am not going to judge him. And I believe in forgiveness."