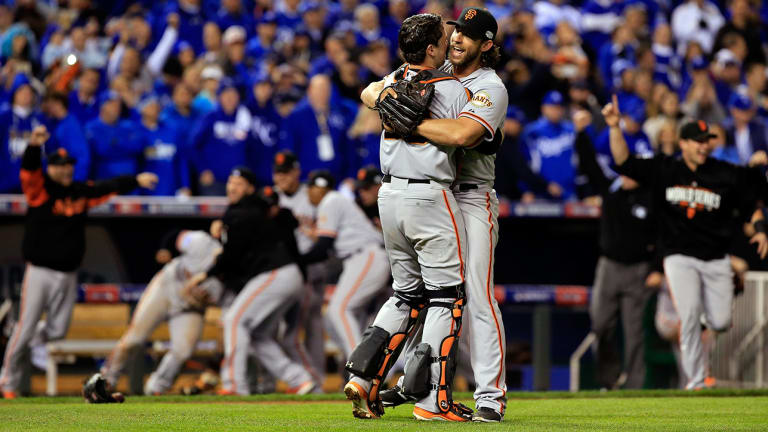 Madison Bumgarner
How does a man who'd rather be roping cattle than standing in the spotlight build the most brilliant World Series pitching résumé in history? A lethal fastball helps, and the Giants' ace finds inner strength by never straying too far from home
WIND WHISPERS through the foothills of the Blue Ridge Mountains of western North Carolina, a land so remote that no one of European descent set eyes on it until 1752, and even today the howls of coyotes can be more reliable than cellphone reception. In one of Earth's great hardwood forests, that wind swoops and soars through white pines, maples, oaks, chestnuts and poplars. It's the kind of place where American legend still survives against the advancement of Google soldiers, the fact-finding troops armed with the science of satellite imagery, big data and server farms, one of which is buried in these very hills.
"I've never told anyone this story before."
One of the most famous men to come out of Caldwell County is ready to make a confession. Madison Bumgarner is at home, standing inside a steel building that is mostly a huge barn with almost an afterthought of living space attached to it for him and his wife, Ali, his high school sweetheart. If you know Bumgarner only from his implacable clutch pitching for the Giants, especially in the 2014 World Series, this Bumgarner is unfamiliar: anxious and vulnerable.
"So this will be the first time," he says, "outside of family and friends."
To stand on the knob of land in Lenoir, where Bumgarner's barn sits amid his 116 acres, is to stand in the footsteps of the Catawba and the Cherokee. It is about 12 miles from Brown Mountain, where strange lights glow like balls of fire in the night sky, still nearly as much a mystery as they were when the Cherokee thought they were torch-carrying maidens searching the mountain for their loved ones lost in battle. It is 17 miles south of Blowing Rock, where the snow is said to fall upside down, ever since a benevolent wind raised a fallen Cherokee brave from the valley below to his love on the rock high above.
It is 23 miles south of Boone, a town named for legendary pioneer Daniel Boone, who established camp there, and 66 miles southwest of Mount Airy, the inspiration for television's Mayberry. It has been, is and will be home to the latest legend from the foot of the Blue Ridge: the greatest pitcher in World Series history and the 2014 SI Sportsman of the Year. He is the third-youngest baseball player to be so honored in the award's 60-year history, behind only Johnny Podres in 1955 and Tom Seaver in '69.
Bumgarner, 25, was four years old when he noticed the mountain wind.
"Look, Paw-Paw," he said to his maternal grandfather, Lewis Abernathy, "those leaves are afraid."
"Why do you say that, Maddy?"
"Because they're trying to run away from the wind."
Abernathy showed Bumgarner how to hunt and fish. "He taught me everything I know about that," he says. Life in No'th Ca'lina was all Bumgarner knew and wanted. That is, until he became a professional baseball player. To be one required something Bumgarner was not ready for: leaving Lenoir (pronounced la-NORE). The Giants, after selecting him 10th overall in the 2007 draft, assigned him to their Instructional League team in Scottsdale, Ariz. The secret he can tell now is this: After hardly a week there, he called San Francisco assistant general manager Bobby Evans, then the director of player personnel, and told him he wanted to quit baseball. He missed Lenoir so much that he would stand on the field during practice and look at the airplanes overhead, and if he noticed one from Southwest Airlines—the carrier he knew serviced the direct route from Phoenix to Raleigh—he imagined himself sitting in one of its seats, happy to be going home for good.
"I was out of high school and had just turned 18 years old," Bumgarner says. "I had been away from home a couple of times, but never more than a couple of days at a time, and I always had someone with me—family or friends, someone. I was out there by myself. I had no idea what to expect. Honestly, I contemplated just going home and choosing not to have this lifestyle because it was so different from what I was used to."
"It was awful," says his mom, Debbie. "He called all the time. He didn't like baseball. He didn't like nothing. I told him he had to stick it out and be tough. He just missed home. But he got over it pretty quick."
Bumgarner would pass the downtime by walking from his room at a Days Inn to the Scottsdale Fashion Square mall. But he didn't go inside. In a courtyard there was a statue of a bull. Bumgarner would bring a lasso and practice his roping against the inanimate animal, pretending he was home.
Instructional League lasted only about a month. Bumgarner made it through. He even got engaged while there. His career, as spectacularly as it shines today, began as does most everything else with Bumgarner: humbly, and with home in his heart.
Bumgarner has won three world championships through age 25, joining Vida Blue as the only pitchers to accomplish that at such a young age. What sets Bumgarner apart from all others, regardless of age or era, is his pitching in the World Series. In 36 career World Series innings, Bumgarner is 4--0 and holds alltime records for lowest ERA (0.25), fewest hits per nine innings (3.5) and fewest walks plus hits per inning (0.53).
His Series performance this year was the stuff of instant legend. On two days of rest after winning Games 1 and 5 as a starter, he came out of the bullpen to throw five shutout innings in Game 7, capping the longest save in World Series history by getting the last out with the potential tying run at third base. Such a bulwark of strength was the 6'5", 235-pound Bumgarner that his manager, Bruce Bochy, voiced an odd concern when asked if he would have been O.K. with the big lefty riding a horse in the championship parade in San Francisco. "I would have," Bochy said then, "although it might've been more humane for him to carry the horse."
Bumgarner pitched 40 times and threw 270 innings in 2014, including a record 522/3 innings just in the postseason. On the memory of October alone he forever will be linked with 2014, the way Christy Mathewson is with 1905, Carl Hubbell with 1933 and as Sandy Koufax (1965), Orel Hershiser (1988), and Randy Johnson and Curt Schilling (2001) are with the years they were named SI Sportsmen. In the heat of the postseason, Bumgarner struck out 45 batters, threw two shutouts and saved a game while posting a 1.03 ERA. Nobody ever did all that before in October. Baseball records only two pitchers who have ever had a month like that even in the regular season: Jim Shaw in September 1914 and Billy Pierce in August 1953.
When it was over, Bumgarner went back to his 116 rolling acres in Lenoir. He rose each morning at daybreak and ventured out in the cold to feed the 20 horses and 60 cattle, to run through the woods, to mend and replace fences, to clear brush for pasture, to ride his horses and to practice his roping, to hunt deer and coyote, to live the same quiet mountain life he has always known.
There would be, however, one obvious change in his life as a consequence of being named Sportsman of the Year: Bumgarner would have to acquire the first suit and tie he ever owned.
The legend of Madison Bumgarner fits neatly in the space where we keep our idea of the archetypal outdoorsy, countrified man, where also reside the embellished, fictionalized Boone and Mayberry's Sheriff Andy Taylor. It's just that in Bumgarner's case, the stories are true.
It's true that one day in April 2012, upon making his usual call to his mom, he didn't tell her that he had just signed a contract extension worth as much as $59 million over seven years through 2019 (a flat bargain for the Giants). Debbie, who had heard about the deal from media reports, had to coax it out of him by saying, "Uh, do you have something to tell me?"
It's all true. That he was so good so young that he started playing coach-pitch baseball at age four against seven-year-olds, and is so adept with either hand that he shoots a bow, bats, writes and ropes righthanded, but throws from the left side. That his father, Kevin, wouldn't let him throw a curveball until he had a driver's license. That before he dated Ali, he dated a girl named Madison Bumgarner ("No relation, I'm sure of it"). That he was married in a white, open-collar shirt and blue jeans while carrying a pocketknife. That he bought Ali a cow just before their wedding (though not specifically as a wedding present), and she loved it. That he still calls Paw-Paw just about every day during the season, as he did the day of Game 7. ("I knew he was ready; he told me he wanted to start the game," Abernathy says.) That the main living area on the side of the big steel barn in Lenoir, just inside the front door, includes a Ping-Pong table, two stationary bikes, a dining area, a large television and a kitchen, including a fridge stocked with Sun Drop, a highly caffeinated citrus soda that is a local favorite.
This may be the best Boone-like tale about the man they call Mad Bum. One day during spring training this year in Scottsdale, Bumgarner and his wife were roping cattle when Madison was startled by a large snake he figured was a rattler. He quickly grabbed an ax and hacked it to pieces. When Ali, an expert field dresser, examined what was left of the snake, she found two baby jackrabbits inside pieces of it and extracted them. A short while later the Bumgarners noticed that one of the rabbits had moved slightly. It was alive. Ali brought the rabbit back to their apartment and for the next few days kept it warm and bottle-nursed it. The rabbit soon was healthy enough for them to release into the wild.
"Think about how tough that rabbit was," Bumgarner says. "First it gets eaten by a snake, then the snake gets chopped to pieces, then it gets picked up by people and it lives. It's all true."
True, too, is that he embodies another archetype, one that is rare in an era when self-promotion defines too many athletes: He wants success without spoils, achievement without attention and the ball without excuses. He pays little to no mind to video analysis, advanced analytics, scouting reports, pitch counts or innings limits, yet nobody his age in his lifetime ever threw as many innings in one year as Bumgarner did this year.
Several towns wanted to throw a parade for Bumgarner when he returned home from the World Series, but he didn't see the need for everyone to make a fuss. What makes the people in Caldwell County swell with pride is not just that Bumgarner is from here, but also that he chooses to stay here. "They let me know they appreciate it, which is weird to me," he says, "but they appreciate me just staying here. This is just a slow, easy life. Me and my wife, we've never considered moving away. This will always be home. It's a special place for both of us."
Bumgarner drives onto the rolling property of his father-in-law, about a five-minute drive from his own land. His truck is greeted by a one-eyed dog and a herd of steer in a pen next to the riding arena. Bumgarner was here just the previous day, riding on horseback "from daylight to midnight," he says, searching for one of the cows that slipped past a fence and wandered off. He never did find it, but it showed up the next morning. "Cows, they don't like to be alone," he says.
Bumgarner wants to rope some of the steer, which he does virtually every day, but the arena is too wet from an overnight rain.
"Let me show you my new horse," he says, the pride unmistakable in his voice. He talks about the horse exactly the way other people talk about him.
"That's a bad sumbitch right there," he says to Tom Little, a friend who works for the agency that represents him. "He's so much faster and stronger than the other horses."
"That horse carries some power," Little says.
"Whatever you think he has," Bumgarner says, "he has more than that, though. They don't make 'em like that every day. I tell people I bought a Clayton Kershaw horse."
"You mean," Little says, "a Madison Bumgarner horse."
One day in the late 19th century a train carrying furniture manufactured in Grand Rapids, Mich., overturned near High Point, N.C. Local craftsmen of all kinds were summoned to repair the pieces. It was a classic case of reverse engineering: In reassembling the pieces, the men learned how the furniture was made. An idea took root. With plentiful access to hardwood and a rail line that had opened only five years earlier, the men started their own furniture company in 1889 in Lenoir. Within a little more than a decade seven furniture mills in the area were cranking out chests, tables and chairs. Production exploded with the post--World War II housing boom, and by the late 1980s half of all the furniture bought in America was made in North Carolina.
"They paid good during that time," says Jeff Parham, an all-county three-sport athlete at South Caldwell High in the early '80s who became the school's—and Bumgarner's—baseball coach. "A lot of kids dropped out of school to go work in the factories. Things were booming in Caldwell County."
"Highway 321 from Hickory almost to Boone was billed as '28 miles of the furniture capital of the world,'" says Kevin Bumgarner, the son of a furniture factory worker. "Now it's just 28 miles. They closed up the factories, and now there's grass growing up through the parking lots. It looks like a hydrogen bomb went off."
It wasn't a bomb that did it. It was international trade and competition. More and more of America's furniture began to come from overseas, and furniture jobs in the state shrunk from 90,000 in 1988 to 61,000 in 2003, to say nothing of the sawmills, cotton mills and other ancillary businesses that fed off the furniture.
Today in Lenoir (pop. 18,042), 23.7% of the people live below the poverty level (a figure 59% greater than the national average), the median household income is $38,207 (28% below the national median), and only 14.3% of the people hold a bachelor's degree (half the national average).
After the World Series, South Caldwell High printed T-shirts to celebrate Bumgarner's success, noting his state championship, three World Series titles and 2014 National League Championship Series and World Series MVP Awards. The back of the T-shirts includes a quote lifted from a Bumgarner postgame interview: THANKFUL AND BLESSED. The school sold more than 800 of them and began taking orders for a second printing.
"He has given Caldwell County a lift," Parham says of Bumgarner. "We needed a lift in this county, you know what I'm saying? It's been hard times here. What he brought us was a good shot in the arm."
Madison Kyle Bumgarner was born Aug. 1, 1989, at the height of the furniture boom along that 28-mile stretch of Highway 321. He grew up expecting to work in a furniture factory. "Yeah, probably," he says. "That was the big thing. It wasn't baseball. It wasn't like I said, 'Baseball is what I want to do' and did it. I just enjoyed playing and competing.
"When I got good enough, when I saw where I could do something, then I knew that's what I wanted to do, I guess. I mean, who wouldn't want to?"
The idea of pursuing baseball professionally occurred to him as a sophomore in high school. Throwing his first pitch at 90 miles an hour is what convinced him. At 16, he joined an elite travel team in North Carolina called the Dirtbags, which required that all applicants fill out a questionnaire that included these two questions: What are your short-term and long-term goals as a person, and what are your short-term and long-term goals as a player? This is what the 16-year-old Bumgarner wrote:
"My short-term goal as a person is to witness an activity of Jesus in my life, and my long-term goal is for people when they look at me to see something in me about Jesus. My short-term goal as a player is to win the state championship. My long-term goal is to be a Hall of Famer."
Mount Herman Variety Store is a squat, red-brick building best defined by its location: at the corner of Freezer Locker Road and Drag Strip Road in Hudson. Bumgarner stops by in his pickup truck almost every morning. On a shelf in a corner by the cash register, near the dip Bumgarner buys, is a small makeshift shrine to him, filled with newspaper clippings and kids' drawings of the hometown hero.
"People are real proud of him," says Peter Haas, the proprietor. "He's just a real down-to-earth, good ol' country boy. My dad, he was dying with cancer, and he'd be dreaming about talking to Madison, because Madison always took the time to say hello to him, ask him how he was doing. I'll never forget that.
"But tell me this: Why do people say he's from Hickory? Hickory tries to claim him, but he's not out of Hickory, no way. He's from Hudson--Granite Falls. I wish people would get that right. Listen, this place used to be the furniture capital of the world. Now, it's nothing. Nobody knows Hudson--Granite Falls. But Madison put this little old spot on the map. And he's still just Madison to us."
Bumgarner was born in Hickory because that was the site of the nearest hospital. At the time, his family lived in a log house about 10 miles away from the hospital in a community called Baton, which has a Granite Falls mailing address, after which he moved to Hudson, after which he moved to Lenoir, after which he and Ali bought their property in a community called Dudley Shoals, which essentially is in Lenoir. It sounds more complicated than it really is: The four houses in which he's lived, and the one where Ali's family lives, are separated by no more than about seven miles and no streetlights.
Kevin Bumgarner lives across the street from the Center Grove Baptist Church on Deal Mill Road in Hudson. In the cemetery adjacent to the church is buried an Adam Bumgarner. And a Barbara Bumgarner. And a Calvin Bumgarner, and a Delia Bumgarner, and on and on and on. Of the 305 interments in Center Grove Baptist Cemetery, 55 are Bumgarners, beginning chronologically with Michael Lee Davidson Bumgarner, who was born in 1832. His father, Thomas, was born in 1810 and is buried in nearby Granite Falls, one of 192 Bumgarners buried in Caldwell County. So many Bumgarners took root here that this stretch of Deal Mill Road came to be known about a hundred years ago as Bumtown. In addition to the Madison Bumgarner he dated at South Caldwell High, there is another girl named Madison Bumgarner enrolled now in the school.
The name Bumgartner is listed in chronicles of German surnames as far back as 1286, derived from a marriage of families named Baum and Gardt. Bumgartners began emigrating from Germany and Switzerland to America in the early 1700s, with many of them settling in Pennsylvania; some of them traveled south on the wagon trail into North Carolina. Caldwell County Bumgarners fought in the Civil War (W.P. Bumgarner of Company H of the 58th North Carolina Infantry of the Confederate States Army was selected as one of the most gallant servicemen in the Battle of Chickamauga), became the first tax collector in Hudson (W.T. Bumgarner in 1905), pitched on the worst team in pro baseball history (19-year-old Dick Bumgarner threw for the 1951 Granite Falls Graniteers of the Class D Western Carolina League, a team that won 14 games and lost 96), and established businesses that still operate today in and around the county (Bumgarner Camping Center, Bumgarner Electric and Lighting, Bumgarner Septic Tank and Grading, Bumgarner Photography, Bumgarner Appraisals & Home Inspections, Bumgarner Oil).
His father likes to tell the story of how he came to fancy the name Madison for his son: by noticing a headline in the Charlotte Observer about Madison County, located about 60 miles west of Lenoir. His mother remembers noticing the name listed under boys' names in a book of baby names. "It said Madison meant 'the son of a great warrior,'" Debbie says. "To me that meant son of Christ. We liked the name. And right after that everybody started naming their girls Madison."
He is the only man with the first name Madison to play major league baseball.
Madison grew up with the three older children from Debbie's first marriage, Lou, Will and Dena. "We were really close growing up," he says about Dena. "I always thought of her as my sister—not half sister." When Madison was nine years old, the family moved from the Granite Falls home to a house on Deal Mill Road in the old Bumtown section of Hudson. Kevin and Debbie divorced a year later, with Debbie moving to Lenoir. They began with joint custody in which Madison spent one week with Debbie and one week with Kevin. Then he began spending every other weekend with Kevin.
"Then," Debbie says, "he just chose to stay with me."
Madison was 11 when Debbie gained full custody of him. Debbie is a petite, soft-spoken, God-fearing woman who has worked in the accounting offices of Broyhill and Pepsi-Cola. Kevin is a burly, gregarious cutup of a man who maintains generators for a wholesale food distributor. He used to hand out business cards that said MADISON BUMGARNER'S DAD, but his relationship with Madison includes an obvious, sometimes uncomfortable distance between them. Kevin's loquaciousness, for instance, can irk Madison, who reminds him, "If you said it, I said it. That's the way people will see it."
When asked to describe his relationship with Madison, Kevin said, "It's good. But it's not as good as I want it to be. It's as good as I can hope for."
On June 3, 2006, an area scout for the Giants named Pat Portugal attended the North Carolina High School 4A championship series to get a last look at Nick Liles, a senior for Scotland High whom San Francisco would draft in the 29th round just three days later. But it was the opposing pitcher that day for South Caldwell, a lanky junior lefthander, who caught Portugal's eye. Bumgarner hit a home run over the scoreboard in leftfield, hit another home run over the wall in rightfield and threw as hard as 94 miles an hour in a four-hit shutout, winning 12--0.
Three weeks later, after the dust settled from the 2006 draft, Portugal called Dick Tidrow, the Giants' director of player personnel. "Dick, I've got some good news and bad news for you," Portugal said. "The good news is I just saw our first-round pick for next year. The bad news is we're going to have to lose about 100 games to get this kid."
The Giants lost 85 that year, leaving them to pick after nine teams in the 2007 draft. Would Bumgarner still be on the board with the 10th pick? By then the would-be furniture factory worker had grown so dedicated to baseball that he had called Parham at the coach's home on Christmas morning.
"Coach," Bumgarner said, "can you open up the weight room for me?"
"What was I going to say, no?" Parham says, laughing.
The more Portugal saw Bumgarner, the more he liked him. One time Portugal even went to South Caldwell's practice the day after Bumgarner lost an extra-inning game 1--0 on a home run, a game Portugal called "the best-pitched game I've ever seen." He wanted to see Bumgarner's face and body language the day after losing such a heartbreaker.
"It was amazing to see how stoic he was," Portugal says. "I think he was still [ticked] about giving up the home run. The makeup was off the charts. I've been doing this 15 years. You don't ever think you're looking at a Hall of Famer, but I was thinking that with Madison. I've never done that. But he was that special."
Other scouts weren't so sure. Some were bothered by the unconventional way Bumgarner threw—the way he turned his right shoulder away from the hitter and pulled the baseball far behind his back before uncoiling toward home. Some were bothered by his lack of a breaking ball. Kevin had told his son to wait until he had a driver's license to throw a curve—and by the time Madison was a licensed 16-year-old, his fastball was so good he had virtually no need for another pitch.
The real test would come from Tidrow, "the Pitching Whisperer," as Portugal calls him, who prefers to dress all in black, works stealthily and has been uncanny in his accurate assessments of unconventional pitching prospects such as Tim Lincecum, Jonathan Sanchez and Sergio Romo. One day the Pitching Whisperer dropped in on a South Caldwell game to watch Bumgarner. He left after three innings. A week later an area scout from another team told Portugal, "I knew it! I knew he wouldn't like his arm action."
Here's what the scout didn't know: As soon as Tidrow reached his car that day, he told Portugal, "I love him." He didn't need to see any more.
The Giants needed one more piece of information: How difficult would it be to get Bumgarner to give up his scholarship offer from North Carolina and sign with them? Bumgarner had committed to attend UNC with two other highly rated high school pitchers, Matt Harvey from Connecticut and Rick Porcello from New Jersey.
"The only way he sees UNC," Portugal told Tidrow, "is if he passes by Chapel Hill on his way to the Raleigh airport to start his career."
Says Bumgarner, "I don't know if it's good to say, but I would have signed for a dollar."
Nine teams passed on Bumgarner, including five teams who drafted pitchers: the Rays (David Price), Pirates (Daniel Moskos), Nationals (Ross Detwiler), Rockies (Casey Weathers) and Diamondbacks (Jarrod Parker). He eventually signed for $2 million. On draft day Portugal called Bumgarner, who was at graduation practice, still only 17 years old.
"Madison, you're the 10th pick in the country," Portugal said. "How does that make you feel?"
"Thank you, sir."
"Well, you can take a breath now. It's over. You can be excited now."
"I am, sir."
Says Portugal, "And that was it. He's as country as they come."
Bumgarner had just married and reported to spring training in 2010 in Scottsdale when his phone rang with terrible news from Lenoir. Dena had died in her sleep from an overdose of oxycodone. She was 36 years old.
It wasn't a complete shock. Dena had grappled with an addiction to prescription drugs after struggling emotionally with her own divorce. Before Dena's downward cycle began, Debbie had joined a ministry group that helps people with addictions. "I think God worked it out because he put me in that ministry before I lost my daughter," says Debbie, who two years later adopted a girl, now a high school sophomore, out of a home riddled by addiction. "I started having an understanding of it. It helped me get close to her and understand what she was going through. Oxycodone is very dangerous because it will stop your breathing. She died peacefully in her sleep. She just went to sleep and didn't wake up."
Says Bumgarner, "We were close. It was a terrible time in her life. You never expect a brother or sister to pass away so young. But that's the way life is. You're not guaranteed anything."
The thinnest margin with which to seal a World Series title is to get the last out of the seventh game with the potential tying run at third base. Only three pitchers have ever done it. The Cardinals' Harry Brecheen did it in 1946 by getting Tom McBride of the Red Sox to ground out. The Yankees' Ralph Terry did it in '62 by retiring Willie McCovey of the Giants on a line drive to second base. Fifty-two years later, in the 110th World Series, it was Bumgarner's turn, his walk on the ultimate baseball tightrope made necessary when San Francisco centerfielder Gregor Blanco misplayed a two-out single by Alex Gordon of Kansas City. Parham, the high school coach watching in Caldwell County, saw something on television at that moment that told him Bumgarner was just fine.
"I saw him throw his glove up right after that," the coach says. "He wanted the ball [back]. I knew then he was O.K. The situation didn't rattle him. He was like that in high school. When he throws his glove up, calling for the ball right away, that's always a sign he's in control."
Catcher Buster Posey walked to the mound to talk to Bumgarner. The batter was Salvador Perez, whose home run in Game 1 accounted for the only run Bumgarner ever allowed in his World Series career.
"I felt great," says Bumgarner, who was facing his 74th batter of the series. "We both thought he was going to try to be aggressive. That's a tough spot not to be aggressive. You want to be the guy to drive in the run. We tried to use that to our advantage and throw fastballs up, just above the strike zone. It's a fine line: just high enough to where you bait him into swinging, and not so high that he just gives up on it."
Bumgarner, perfectly baiting the hook, started Perez with a 92-mph fastball: too high to hit but not too high to ignore. Perez swung and missed.
In the visiting coaches' room at Kauffman Stadium next to the Giants' clubhouse, Evans watched on television with Tidrow, general manager Brian Sabean, special assistant Felipe Alou and other San Francisco scouts and executives. Evans grew up in Jackson, N.C., and attended UNC, where his roommate was from Lenoir. He remembered that phone call from an 18-year-old Bumgarner in 2007. "It was so familiar to me, knowing the culture shock, how different anything outside that area can be," Evans says.
It was the last time Evans worried about Bumgarner, including the bottom of the ninth inning of Game 7. A little more than a year after Bumgarner wanted to quit, Evans took a phone call from Andy Skeels, the manager at Class A San Jose, where a 19-year-old Bumgarner made five starts. Gushed Skeels, "I've never seen anyone who wants to win more than Madison Bumgarner."
Bumgarner reached back with that long, slingshot arm motion and fired another high fastball at 92 mph. This time Perez took it for a ball.
Parham began to grow emotional. With all the fuss about Bumgarner's pitching on two days of rest, Parham remembered the best-of-three state playoffs of Bumgarner's junior year, when Madison asked to start the day after hitting two home runs and throwing a shutout. Parham gave him the ball for a second straight day. Bumgarner lost, only to win the state title the next year.
"He wants the ball," Parham says. "He's going to fight you for it. I knew the Giants' closer was fresh, but the way [Bumgarner] came into that game, he was going to finish this thing. It was his to win or lose. And if it's his to win or lose, he's pretty much going to come through."
Bumgarner's third pitch to Perez was the same as the first two: a high 92-mph fastball. Perez swung and missed again. One strike away.
Ross Grimsley watched with a smile on his face. Grimsley was Bumgarner's first pitching coach as a pro, back in 2008 with Class A Augusta. Giants instructors had tamed Bumgarner's delivery in spring training, reducing the turn of his shoulder and the swing of his arm. Bumgarner hated it. He allowed 10 runs in 112/3 innings in his first three starts for Augusta, after which he approached Grimsley and said, "I can't pitch like this." Grimsley replied, "Just do what you did before." Bumgarner immediately threw 221/3 scoreless innings over his next four starts.
"It didn't surprise me watching him in Game 7," Grimsley says. "You'd have to get a pickup truck to drag him off the mound. He's like Cal Ripken. You think Cal playing all those games in a row is amazing. But it's not amazing because he loves to play and to compete. It's the same with Bum."
Pitch four: another high 92-mph fastball. This time Perez didn't bite. The count was 2 and 2.
Portugal wrestled with his emotions watching Bumgarner try to get the last strike. He had worked for the Red Sox for five years. Boston encourages its scouts to use the polar opposite approach from Tidrow's stealth; it wants its scouts to develop close ties with prospects and their families. Portugal found himself wishing he had become closer to Bumgarner, but at the same time he felt privileged to be there for the dawn of greatness.
"The guy competes," Portugal says. "The countryness ... well, some guys like that you don't know how they will react playing with players from different cultures. You wonder how a kid who never had a lot of money in his pocket reacts. And yet he's still Madison. He's the most mature high school kid I ever saw."
Pitch five: still another high 92-mph fastball. Perez fouled it back.
Debbie wasn't worried. She was sure of one thing after her son entered the game in the fifth inning, when most people thought he might throw two innings, three at the most.
"I thought right then, He's not coming out," she says. "If he sets his mind to do something, no matter what it is, he can do it. He made that comment to me one time: that he can do anything he sets his mind to. The main thing is, he's stayed who he is. He's kept his faith. Seeing how humble he is and praying on his knees after the World Series, that brought tears to my eyes."
It is the simple beauty of Bumgarner. Everybody wants to know how he could keep pushing his body and mind, more than 50 innings into October, 270 innings into a season—and still pitch his best in the cauldron of the World Series.
"Honestly," Bumgarner says, leaning against bales of hay in his barn, "this might sound crazy, but I feel like when I'm out there pitching, I'm the same as I am standing here right now talking to you. I try to keep it that way. I try to be just like I am all the time."
Pitch six, number 4,074 of the year for Bumgarner: yet another high fastball, this one at 93 mph. Perez took the bait again. He swung. He popped up.
Time seemed to stand still. Bumgarner looked up. The foul pop-up hung in the air over the head of third baseman Pablo Sandoval without a hint of danger, neither close to landing untouched nor in the harbor of the stands. The last bit of suspense to the World Series was snuffed out like a candle. Only the formality of gravity remained.
This was Bumgarner's moment. Upon the ball's descent, this broad-backed man who secured the most outs ever to save a World Series game and who obtained the most outs by any pitcher in any postseason would not need to throw another pitch. And after such quiet determination, when the baseball did fall, Madison Bumgarner would be that much closer to what brought him to that moment in the first place: home, to Carolina.