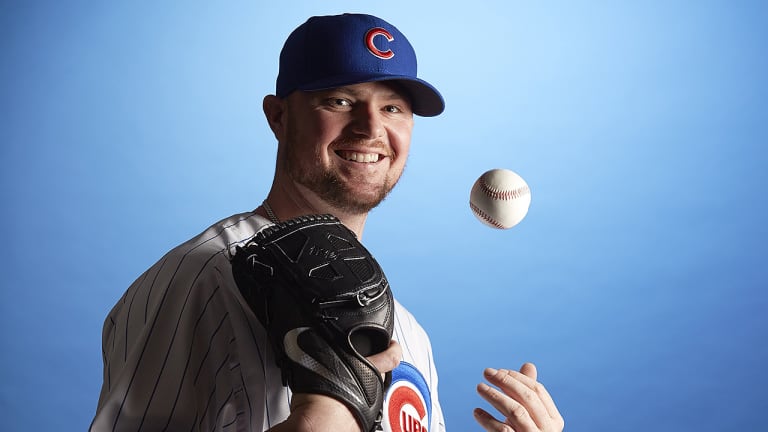 Jon Lester Fears No Curse
The Cubs? Champions? Believe it when you see it, Chicago fans say. Well, the big lefthander has seen it (sort of), and he is sold on the idea that the team can win it all.
JON LESTER popped in the DVD, the one that had been overnighted from Chicago to his suburban Atlanta home on the first day of free agency, and sat back to watch his future in high definition. He saw the World Series logo on the massive hand-operated scoreboard at century-old Wrigley Field and then a shot of the ballpark's famous Art Deco marquee as the electronic portion of the iconic sign flashed: CUBS VS. YANKEES. GAME 7. LESTER VS. PINEDA. Then, with cinematic music playing and imagery taken in part from a 2012 Sony Playstation ad, he saw what would happen if the Cubs won the World Series: The dog pile in the middle of the field, the live news reports of the jubilation on Waveland Avenue.
So began the Cubs' courting of Lester. Five weeks later, the scenes from that DVD still played in his mind in perfect 1080p, which happens to be the biggest reason why Lester turned down a chance to pitch for two teams that have won four of the past five World Series—including one that would have paid him more money—to join one that hasn't won the Fall Classic since 1908 and has been the worst team in the National League over the past five years.
"The lure of bringing the World Series to this town and this team really interested me and my family," Lester said last Saturday while in Chicago to sign his six-year, $155 million contract. Ten years ago he was a 20-year-old lefthanded pitcher in Boston's minor league system when the Red Sox won their first championship since 1918. "You go back to the '04 Sox and think about the free agents they brought in and the players they traded for. Those guys are legends for the rest of their lives. You bring that here, and that's an exciting time to be part of. I'm really interested in breaking that curse. I know what breaking a curse can do for a city and an organization. Hopefully I can be part of that."
Cubs president Theo Epstein and general manager Jed Hoyer have little on-field success to show for their three years running the team: three fifth-place finishes. But on Dec. 9 they secured their biggest win yet when Lester picked Chicago over the Giants, who indicated a willingness to guarantee a seventh year, and the Red Sox, the only organization he had known from when they drafted him in 2002 to when they traded him to Oakland in July.
What the Cubs are buying in Lester is an extremely durable pitcher who has become more efficient in recent years. Lester is one of only five pitchers to make 31 or more starts over the past seven straight seasons. In 32 combined starts last year with Oakland and Boston, Lester went 16--11 with a 2.46 ERA while posting career bests in walk rate and strike percentage. Lester told Epstein over the phone, "I want to come play for you."
The next day Las Vegas, which in October opened with the Cubs as a 50-to-1 shot to win the 2015 World Series and lowered the odds to 20 to 1 last month when the team signed free-agent manager Joe Maddon, dropped the odds to 12 to 1, leaving only the Dodgers, Red Sox and Nationals with better odds. Last year the Cubs won 73 games. Three teams in the past 10 years have won a pennant the year following a season with fewer wins than 73: the 2006 Tigers, '08 Rays and '13 Red Sox.
THE TRUE victory for Epstein and Hoyer was in convincing Lester (who won rings with Boston in 2007 and '13) that a Cubs title was a real possibility, not just a marketing gimmick. The visual of Lester winning World Series Game 7 to end the longest championship drought in sports capped a 15-minute video presentation of the organization's finer points.
The Cubs took the next step in selling themselves on Nov. 18, when Lester and his wife, Farrah, flew to Chicago to meet with Epstein, Hoyer and owner Tom Ricketts. The Chicago executives pitched everything, from the renovation of Wrigley Field (which begins this winter with a reconstruction of the famous bleachers and will continue in 2016 with the opening of the second-largest home clubhouse in baseball), to the team's state-of-the-art spring training facility, to the fewest air miles flown of any team in baseball, to the ability for players to tuck in their kids (the Lesters have two children) at night because of the many home day games, to a community-relations staff to support his charitable initiative for pediatric cancer, NVRQT, which stands for never quit. (Lester survived a 2006 fight with non-Hodgkin's lymphoma.)
Epstein and Hoyer detailed how close the Cubs are to winning, primarily because of three years of stockpiling elite prospects through the draft (third baseman Kris Bryant, catcher Kyle Schwarber) and trades (shortstop Addison Russell) to supplement young major leaguers such as outfielder Jorge Soler, second baseman Javier Baez, shortstop Starlin Castro and first baseman Anthony Rizzo. They told Lester that the team should contend in 2016, but—who knows?—with luck and more rapid development than expected from the young players, the '15 Cubs could resemble the '14 Royals, who grabbed a wild-card spot with 89 wins, then reeled off eight straight postseason wins to reach the World Series.
Epstein told Lester that the pitcher's joining the Cubs could be analogous to Curt Schilling's arrival with the Red Sox before the 2004 season. (Lester was already nodding in agreement before Epstein finished the sentence.) But it wouldn't stop there, Epstein and Hoyer said. The executives told him they could add another impact pitcher, either through a July trade or a free-agent signing after next season. Potential free agents then include David Price, Jordan Zimmermann, Johnny Cueto and Jeff Samardzija.
"You never know when prospects will work out, and I know sometimes the free agents you want to go after sign extensions," Lester said. "So those plans don't always work. But I believed in the core and the plans they have for more additions.
"I don't really want to say it was a sales job, because I really believe what they believe, that this could be the next dynasty over the next six, seven, eight, nine years. Having that comfort with Theo and Jed was important. I think I'm pretty good at knowing when it's somebody you can believe or when you can see through the b.s. I felt like there was no b.s."
THE CUBS tried to close the deal quickly. They made a six-year offer for $150 million the day Lester returned home from the recruiting trip. But Lester and his agents, Sam and Seth Levinson, had put together their own "game plan," the pitcher said, to slow-track negotiations for any interested team "until the winter meetings, and see [then] who really was in for sure."
On Dec. 5, Boston owner John Henry visited Lester at his home. Four days earlier a contingent from the Giants had shown up at the pitcher's door: president Larry Baer, GM Brian Sabean, manager Bruce Bochy and catcher Buster Posey, who had driven almost three hours from his home in Leesburg, Ga., to tell Lester when he answered the doorbell, "Hi, I'm Buster Posey, and I want to be your catcher for the next six years."
"I thought that was awesome," Lester said. "I had only met him in passing maybe one or two times. That was amazing."
The Cubs continued to woo Lester, who will turn 31 next month. They sent flowers to Farrah, and fine wines and camouflage Cubs shirts and hats to Jon, who is a wine aficionado and an avid hunter. All three clubs proceeded despite the known risks of guaranteeing money to a pitcher from age 31 through 36. Last season 25 qualified pitchers had an adjusted ERA, which controls for league and park effects, of 120 or better. None of those pitchers were older than 32.
"Contracts of this size for pitchers are risks regardless of age," Epstein said, "[but] especially starting in their 30s. There's no way around it. But I don't believe you never do them. You go in with eyes wide open. Sooner or later you have to put your trust in someone, and when you're a last-place team, a free agent has to put his trust in you. We felt a lot better knowing the player." Epstein and Hoyer knew that Lester had grown up in a cold-weather state (Washington) and had not endured a strenuous workload as an amateur; that he'd adhered to a state-of-the-art shoulder strengthening program since he was 18; that MRIs done in 2009 when the Red Sox gave him a five-year extension came back impressively clean; and that his mechanics were considered "perfect" based on results from a biomechanical lab analysis during their Boston years. "All that stuff helps," Epstein said, "as small factors that mitigate risk."
On the night of Dec. 8, the first full day of the winter meetings in San Diego, the Levinsons indicated teams should bring their best offers. The Red Sox, who had made a lowball extension offer to Lester of four years and $70 million last March, were at $135 million for six years. The Giants were in the neighborhood of $150 million for six years but indicated they could guarantee a seventh year if it meant closing the deal. Epstein and Hoyer visited the Levinsons in their suite late that night for a marathon negotiating session. By the time they left, it was four in the morning, and the Cubs had bumped their bid to $155 million, including a seventh-year vesting option, full no-trade protection and the use of a private jet for 25 hours annually. Such detailed negotiating left them confident, but it wasn't until the next night that Lester officially notified Epstein and Hoyer of his acceptance.
"That moment was as cool and awesome as anything, and something I'll never forget," Lester said. "The biggest thing was hearing the real excitement in Theo's voice. Talking to Theo, Jed and Joe and just hearing their excitement, that made me feel good.
"Then I had to make a bunch of phone calls, before the word got out. I'm not going to lie; I shed a few tears, calling a few of my ex-teammates and coaches and front-office people." Now it was the Lesters' turn to be up until 4 a.m. "It was a combination of a lot of excitement and a lot of emotion. And when the dust settled, I was sitting there with a smile on my face."
2.46
Lester's 2014 ERA, fourth best among qualified AL starters.
7
Consecutive years Lester has made 31 or more starts.
$25.8 million
Lester's new annual salary, second highest among pitchers, after Clayton Kershaw's.
PHOTO
Photograph
by Todd Rosenberg For Sports
Illustrated
IVY SOLUTION They've been the worst team in the NL over the last five years, but with the Lester signing the rebuilding Cubs signaled that they're finally ready to compete.
PHOTO
MORRY GASH/AP (RIZZO)
BRIGHT FUTURE Epstein and the Cubs lured Lester by convincing him that young players like Rizzo (left), Baez and Castro (13) form a strong foundation.
PHOTO
DAVID BANKS/GETTY IMAGES (WITH EPSTEIN)
[See caption above]
PHOTO
JIM
MCISAAC/GETTY IMAGES
[See caption above]