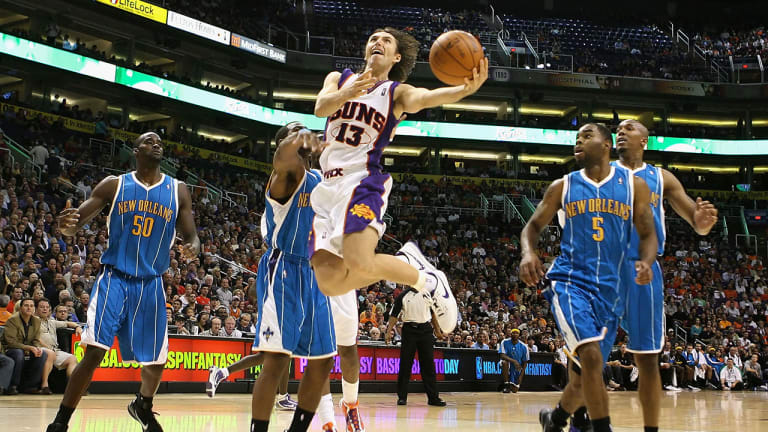 The Legacy of Steve Nash
Look at the best point guards in the NBA today and you'll see the influence of the underestimated Canadian who transformed his position and reimagined pro basketball offense
On March 12 at the Langley Events Center in Langley, B.C., St. Michaels University School played G.W. Graham Secondary School in the quarterfinals of the provincial championship tournament. The G.W. Graham point guard was a 5'10", 145-pound sophomore named Gabe Mannes. When he took the court, he wiped the soles of his sneakers. Before he caught an inbounds pass, he licked the tips of his fingers. After he hoisted a shot, he held his follow-through, wrist bent at 90°. "Every mannerism," says St. Michaels coach Ian Hyde-Lay, "exactly the same."
Legacy is a word that gets thrown around a lot in sports, often incorrectly. The dictionary definition—something received from a predecessor—is far different from the popular meaning. Legacy increasingly refers to an athlete's compilation of awards, records and championships. But those are lines on a résumé. The athlete's imprint on the future is his legacy.
When Gabe Mannes touches his sneakers, that's Steve Nash. When the Heat's Goran Dragic deploys the up-and-under, that's Steve Nash. When the Spurs' Tony Parker runs three pick-and-rolls on the same possession, when the Trail Blazers' Damian Lillard lets fly because a foolish defender sneaks under a screen, when the Mavericks' Rajon Rondo drives inside, circles back and patiently finds a cutter, that's Steve Nash. When the Warriors go small, the Hawks go fast and somebody somewhere torches a trap with a meticulously placed bounce pass to a careening giant, that too can be traced at least in part to Steve Nash. His legacy lives on in NBA stars such as Chris Paul and Kyrie Irving, Russell Westbrook and Ricky Rubio, even if they aren't fully aware. It lives on in Canadian teens such as Gabe Mannes, who does not attend Nash's alma mater but clearly hails from his school. All these young point guards enjoy freedoms Nash made possible. "He created a new way to play," the Warriors' Steph Curry says. "He inspired me to play the way I was comfortable."
After 18 trend-setting, pocket-passing, finger-licking seasons Nash, 41, is retiring from the NBA. The end was interminable: three wretched years in Los Angeles sabotaged by nerve damage in his back that deepened with every change of speed and direction. Fast breaks were brutal and road trips unbearable. The frayed nerve caused his right hamstring to feel perpetually pulled, and while he could ignore the rising pain, he could not overcome the diminished dexterity. He lost the agility to maneuver around screens and exploit angles. He lost the attributes that made him Steve Nash.
He spent practices in the weight room at the Lakers' training facility and games in the weight room at Staples Center, performing choreographed exercises that looked like tribal dances. "Keep chipping away," he'd tell team strength and conditioning coach Tim DiFrancesco, a mantra that eventually nauseated them both. "Every day was like another hit in the nose with a hammer," DiFrancesco says. The only thing Nash chipped away was his own psyche.
He played 15 games last season and felt as if he needed three weeks to recover from each one. "Oh s---, am I done?" he'd ask himself on the mornings after. "Is it gone? Is it over?" The anxiety fed the agony. The Lakers' announcement in October ruling him out for 2014--15 was a reprieve. His body made the call that his heart couldn't. Nash would retire, and everyone around him knew it, but he didn't make the announcement until last Saturday on The Players' Tribune website. He didn't discuss the decision with a reporter until the afternoon of March 18 on the patio of a Greek restaurant two blocks from his home in Manhattan Beach.
I subscribe to the idea that an athlete dies twice," says Nash. "It's hard. You're going to miss it forever. You have to take some time and grieve your former self." He does not know exactly where he stands in the mourning process. He views himself neither as the legend who earned two MVPs in Phoenix nor as the convalescent who struggled to carry his luggage in L.A. "I'm still just the kid from Canada with one scholarship offer," Nash says. He is the Santa Clara freshman who kept getting stripped at center court by teammate John Woolery and considered leaving until an R.A. in his dorm helped persuade him to stay. He is the junior who spent his summer around Gary Payton and Jason Kidd at Cal, where a loose ball once rolled out of the gym, to which Payton cracked, "Let the little man go get it." He is the senior who was nitpicked by NBA evaluators convinced he didn't have the right specs and didn't come from the right place and didn't even walk the right way.
He's not pigeon-toed enough, lamented Suns scouts, who wanted to take Syracuse's John Wallace with the 15th pick of the 1996 draft. But Phoenix had just hired 33-year-old assistant coach Donnie Nelson, formerly of Golden State's front office, who met Nash when he starred at St. Michaels and drove down to Seattle for a Warriors-Sonics game. O.K., whatever, church boy Steve, Nelson thought at the time. But he tracked Nash through NCAA tournament games at Santa Clara and pickup runs in Oakland. The day of the draft Suns owner Jerry Colangelo asked Nelson, "You feel good about this kid?"
Colangelo liked Nash, as did assistant coach Danny Ainge. Nelson confirmed their instincts. "If Stevie is not a success," he replied, "you can have my job."
Nash entered the league as a third-stringer, behind Kidd and Kevin Johnson, putting himself through two-a-days to learn a floater and a crossover. Entering the NBA as a 6'3", 195-pound Canadian was daunting. Piling up more than 17,000 points and 10,000 assists despite a congenital back condition was unfathomably difficult. "I didn't feel right if I didn't train," Nash says. "I didn't sleep well if I didn't train. So I just trained all the time. I was preoccupied with the thought that I should be in the gym. That made me the player I was, but at the same time I became a prisoner of it." Even when he qualified for eight All-Star teams, he could barely enjoy the experience, fearing it might jinx him. "I felt like if I ever sat back, happy about something, reality would be right around the corner," he says. "So you get back in there early tomorrow and try to push it all away."
Sitting on the restaurant patio a half-dozen blocks from the beach, he looks relieved. He wears a T-shirt and shorts, sneakers with no socks. His expression has always been serene, masking the furnace inside, but he seems to smile more. He hasn't unleashed a shot in five months, which he mentions with pride, like an alcoholic who wants you to know how long it's been since he last touched a drink. "Shooting, for me, was an addiction," he says. "It was an obsession. I put so much pressure on myself for so long. In some ways it is a relief to finally back away from the edge of that cliff."
He has no clue how he will replace the rush, or if he even wants to, so for now he plays weekly seven-on-seven soccer games at a park in Venice, helps his three kids with their homework, walks the dog. He believes he will find the right outlet organically. He is not the type to pop in old Suns tapes or compare himself with Curry. He recoils at the mention of legacy and chuckles at the suggestion that he changed his sport in any fundamental way. But if there has been a death, there has also been an inheritance, one eternal dime passed down from the ultimate floor general to his many heirs.
It's impossible to pinpoint when and where the NBA's point guard revolution began, but the spring of 1999 in Dallas is as good a guess as any. Donnie Nelson had moved to the Mavericks as an assistant coach and helped persuade the head man—his father, Don—to acquire Nash. Donnie would come out looking like a genius yet again, but this time it would take a while. Nash's first season in Dallas was the worst of his professional career. During a particularly grueling stretch Nash's agent, Bill Duffy, called him every day for three weeks to offer encouragement. Nellie wasn't as empathetic. He didn't understand why Nash kept turning down shots. "I'm the point guard," Nash explained. "I want to pass. It's my nature."
In 1999 that was still a reasonable stance for a ballhandler to take. "It's bulls---," Nellie responded. "You're a dominant f------ player." Nellie believed, as most contemporary coaches do, that the best point guards should shoot as well as pass, one skill complementing the other.
On March 24, 1999, Dallas lost to the Rockets and Nash went 1 for 10. Mavericks forward Dirk Nowitzki remembers the 1. "I was on the bench, and the fans were booing Steve over and over again," Nowitzki recalls. "Right when the booing got really bad, Steve ran down the court as fast as he could, put up a three and hit it. I thought, Wow, this guy has big stones in his pants."
Nowitzki and Nash relaunched pro basketball in Dallas. They arrived together, as the headliners in a transformational three-team trade, but Nowitzki was a 20-year-old draft choice from Germany and wanted to spend two more seasons in Europe. The Mavericks urged him to fly over for the press conference, meet Nash, then decide. He and Nash wound up living in the same apartment complex, playing H-O-R-S-E every off-night and experimenting with the pick-and-roll. "Here's a guy who is 5'10", slow and unathletic," says Nowitzki, prone to hyperbole. "He's driving into trees, getting trapped in midair and somehow throwing the ball through his legs to a shooter in the corner."
The Mavs adored Nash, but they fretted about his degenerative back condition, and when he became a free agent in 2004, Phoenix signed him to a six-year, $65 million deal. "We didn't even know how we were going to play," says former coach Mike D'Antoni, who had taken over the Suns midway through the previous season. During his seven years in Europe, D'Antoni's teams had treated games as rapid-fire recitals, spacing the floor and uncorking the three. "I was afraid to do that here," he says. "Everyone told me, 'You'll kill your players. You'll get fired.'"
That summer D'Antoni met with Jerry Colangelo and his son, Bryan, the club's GM, and they uttered the words he had been waiting to hear: "Use your best five." D'Antoni shifted Amar'e Stoudemire to center and Shawn Marion to power forward, radical moves that downsized the lineup, spread the floor and enabled Nash to reimagine the offense. "He showed what can happen when a great point guard has an open court and the freedom to make choices," D'Antoni says. "The game explodes."
The Suns failed to win a championship, so they were easy to dismiss as a seven-seconds-or-less novelty act, but they've flourished in more recent incarnations. Watch the Spurs and the Warriors, the Hawks and the Rockets, running their incessant pick-and-rolls; you'll notice hints of Phoenix in all of them. "It looked like chaos," remembers former Suns forward Grant Hill, now an NBA analyst for Turner Sports. "But eventually teams adopted their style, and Steve was largely responsible for that. It used to be the point guard came down, threw the ball inside or gave it to a wing. Steve provided a new blueprint. If you've got a guy like Curry or Lillard, Westbrook or Paul, you hand him the keys. Maybe you have some sets, some structure, but you basically trust his instincts and let him go."
Hill signed with Phoenix in 2007 and was greeted with bullet passes he didn't always see coming. "If you missed one," Hill recalls, "Steve would say, 'My fault,' and then he'd go right back to you." Sprinting alongside Nash, Hill resuscitated his career, the same as Channing Frye, Marcin Gortat and scores of others. Take Tim Thomas, a 36.9% three-point shooter who rose to 42.9% in his lone season with the Suns. He parlayed that spike into a $24 million contract with the Clippers and was barely heard from again.
Nash's legacy transcends positions and crosses borders. When he was growing up in Victoria, B.C., he could count on one hand the number of significant NBA players from Canada. Over the past four years the country has produced five lottery picks, including the last two No. 1s. HE MAKES EVERYONE BETTER is the phrase most often used to describe Nash, and it rings true throughout North America, except perhaps in the city where he happens to live.
In the summer of 2012, Nash had a chance to depart the sinking Suns for the Lakers, Knicks or Raptors. "I want to be in the fire," he told his friend Steve Kerr, now the Warriors' coach. "I want the biggest risk and the biggest reward." The sign-and-trade that sent Nash to Los Angeles and four draft choices to Phoenix crippled both an iconic player and a signature franchise. Nash completed only one game before he broke his left leg. Soon he was rehabbing and the Lakers were rebuilding, an onerous task given all the picks they had surrendered.
Even after Dwight Howard bailed for Houston and Pau Gasol for Chicago, Nash was hanging around the periphery of the Lakers, his back an issue and his $9.7 million salary an albatross. In Canada, Arizona and Texas, his name was synonymous with golden eras. In Southern California it evoked unusually dark days. "What I saw was a guy in a fishbowl, swimming in circles, swimming upside down, trying to jump out and constantly hitting his head on the glass," says DiFrancesco. "Meanwhile everybody is banging on the glass like, Come on, Steve, get going, get your act together, stop b.s.'ing around. They're seeing him float through the end of his contract. But I was inside that fishbowl, and my view was, No one is swimming harder and trying more ways to get the hell out of this bowl."
When Nash realized in October that he would never escape the water, he immediately leaped into meetings with his film production company, Meathawk, and the Steve Nash Foundation, eager for a second act. "It was madness," he says. He gave himself no time to grieve. He finally met with another young retiree, from the business world, who shared a popular Buddhist philosophy: Empty your cup. The saying is traditionally attributed to a Chinese Zen master who was encouraging a scholar to clear his mind so it could be filled anew. Nash's absence from the Lakers' facility perturbed fans, but he was draining his cup, remaining on the roster only in case the club wanted to trade his expiring contract.
Still, the Lakers kept paying Nash, so it was appropriate for him to return to their headquarters two months ago and begin tutoring rookies Julius Randle and Jordan Clarkson. Randle, a power forward who broke his right leg on opening night, was limited to form shooting. Nash taught him to extend his wrist on the follow-through. "I know things didn't go well here," Nash says. "It blew up. But I wanted the pressure. I wanted the challenge. I don't regret it."
He isn't going anywhere. He has settled in Manhattan Beach with his 10-year-old twin daughters, Lola and Bella, and his four-year-old son, Matteo. Nash splits custody with his former wife, and for once he can read to the kids without thinking about the gym. Both his girls play volleyball, the unofficial pastime of L.A.'s South Bay, and he observes youth sports with curiosity. "Parents try to buy the 10,000 hours," he says. "It's drills and strength coaches and skill development. But you lose a lot. At the park there's no instruction, so you create constantly."
His childhood home backed up to Victoria's Hillcrest Elementary School, which felt like a private playground. His mom, Jean, established a netball team for young mothers, and he tagged along to practices. His father, John, was a professional soccer player who praised Steve's passes more than his goals. "That's what made him happy," Nash says. "So when my dad told me he liked a pass, I wanted to re-create it and get that positive reinforcement—that love from my father." He tries to follow his parents' example. "I want to foster in my kids a passion for sports, but I have to be careful," he says. "I can't do it completely. I can only open an environment and encourage them in whatever they do."
Jean and John worry that their oldest son's nerve trouble will be chronic, despite his protests to the contrary. "His body has to work another 50 years," Jean says. Steve is already the general manager of Canada's men's national basketball team. His foundation has raised and distributed $4.8 million for child welfare in the last decade. The production company he started with his cousin Ezra Holland has created two documentaries. Nash could go in any of those directions—basketball, philanthropy, film—or in all, or in none.
For now he is finishing his horiatiki salad and then picking up Matteo at school. "I'm trying to be as unencumbered and uninfluenced as possible," he says, "so I can say goodbye to this part of my life and find out what the next part is going to hold."
His cup is empty. The one he leaves behind overflows.