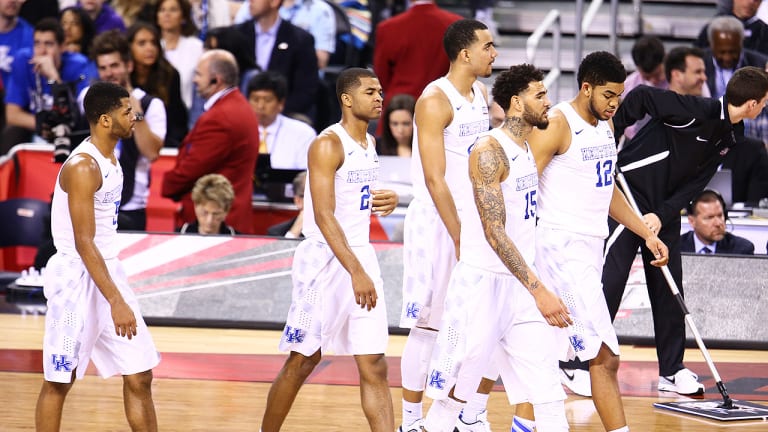 AN IMPERFECT ENDING
Kentucky's magical run this season seemed made for Hollywood—until Wisconsin flipped the script
ON THE NIGHT before their 39th game of the season, the unbeaten Kentucky Wildcats gathered in coach John Calipari's suite at the Marriott Indianapolis Downtown, and he showed them footage of an old race. All season he had been molding them mentally as much or more than he had been coaching their basketball skills, getting them to accept diminished playing time and smaller scoring roles in a nine-or 10-man rotation that could chase perfection while doing no damage to their draft stock. They were always less concerned about their opponents than they were about being the best versions of themselves, because they believed they had more talent, more size and more depth than anyone else. And on the final weekend of the season, Calipari wanted them to face history head-on.
What he showed them was the final Triple Crown race for the biggest and greatest horse of all time: Secretariat at the 1973 Belmont Stakes. Kentucky, Calipari said, was in its own third leg: Louisville, Cleveland and now Indy. The gun sounded, and they watched Secretariat come out of the gate alongside a horse named Sham. Calipari paused it and said, "They stayed with him for a while." He compared it to the first five minutes of a basketball game. When Secretariat headed into the backstretch, he paused it again and said, "It's coming into halftime. Still a ball game."
Cincinnati (in the round of 32) and Notre Dame (in the Elite Eight) had stayed even with the Wildcats for a time—39 minutes for the Irish. But they lost, just like everyone else. Deeper into the race, Secretariat began to pull away, first by a length, then three, then 20, and finally 31. CBS announcer Chic Anderson famously proclaimed, "He is moving like a tremendous machine!" Calipari told his players they were like Secretariat, and he did not want them to slow down. They were prepared, they were the best, and now they had to go out and take it. "They're playing for trophies," he said of the other three teams left in the bracket. "You're playing for history."
In truth, there were two tremendous machines in the second national semifinal last Saturday. One was Kentucky's defense, statistically the stingiest D of college basketball's modern era: It entered the game allowing an adjusted 85.6 points per 100 possessions. The other was Wisconsin's offense, which, at an adjusted 127.5 points per 100 possessions, was the greatest scoring attack in the entire era (2002–present) during which kenpom.com has tracked efficiency. Although Calipari did not say this to his team, he confided to his wife, Ellen, before the game, "We could lose. They're good enough to beat us. I'll live with it."
Even though Kentucky shot 60.0% from the field in the first 20 minutes, the score was 36–36 at halftime, and Wisconsin opened the second half on a ruthlessly efficient run—scoring 16 points on their first eight possessions—to take a 52–44 lead. But you knew it was coming: There would be a time when Kentucky switched into a higher gear and made its move. It happened at just under the 10-minute mark: In a four-minute stretch the score went from 56–52 Wisconsin to 60–56 Kentucky.
But UK's offense slowed down in the final six minutes. The Badgers crept back into the game, then went up 63–60 on a Sam Dekker three with 1:41 left. With 56.2 seconds to go, Aaron Harrison hit a driving layup—and got fouled by Frank Kaminsky, making the free throw—to cut Wisconsin's lead to 64–63. But with less than 10 seconds remaining, trailing by four, Harrison hoisted his final three-pointer of the season—and air-balled it, wide left. "I had my chance," he said. "We just let the game go."
Wisconsin players leaped into each others' arms at midcourt as if they'd won the national title. The Wildcats' locker room, when it opened, was silent. Assistant coach John Robic lamented that the kids were too young to realize the magnitude of what they'd done, even while coming up short. "We had a heck of a run," Robic said.
Willie Cauley-Stein, the freakishly athletic 7-footer who was the face of Kentucky's defense and also its chief locker-room philosopher, tried to come to grips with this team's legacy. As a junior who's almost certainly headed to the NBA, he will not have another stab at perfection. He acknowledged the reality that they'd be remembered foremost for coming up short. Back in December, Cauley-Stein confided in a close friend that he felt as if he were living in a movie. Everything was going so right. He wanted it to end with him getting off a bus or a plane, in Lexington, holding a trophy in front of 10,000 fans. "Everything," Cauley-Stein said, "felt like it was building to a peak."
It saddened him—deeply—that Wisconsin hijacked the script. Thirty-eight and one was a devastating edit.
Now, Cauley-Stein said, "it's like a movie when the main character dies. And you're like, What? Why did the main character die? And you're just super hurt.... No cliff-hangers, no nothing. It's just boom—you're done."
PHOTO
GREG NELSON FOR SPORTS ILLUSTRATED
RED STORM A dejected Cauley-Stein (15) had to wade through a sea of jubilant Badgers following Kentucky's semifinal loss.
PHOTO