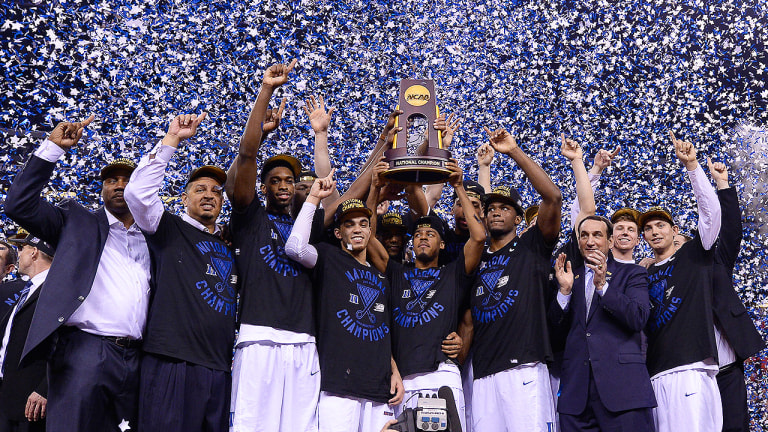 Deal With the Devils
No, Mike Krzyzewski didn't sell his soul to get title No. 5. But the conservative paragon did embrace some once-unfathomable ideas to nurture a collection of callow talent into yet another championship team
Go ahead. Snicker when Duke freshman point guard Tyus Jones, the Most Outstanding Player of the Final Four, talks about his program's "family atmosphere." But close your eyes when you do it, O.K.?
That way you won't see senior guard Quinn Cook rush into the stands, bawling, just to hug former Duke playmaker Nolan Smith and say, "Thank you! Thank you!" You won't see Jones and 6'11" center Jahlil Okafor, a player will likely jump to the NBA after a single season, rolling around the Lucas Oil Stadium floor in a teary embrace, looking like they never want to leave at all.
And please look away when a golf cart rolls toward a postgame press conference and one of the passengers, Mike Krzyzewski, tells the driver, Stop. Otherwise you'll see Coach K get off, walk back to his five-year-old grandson, John David Spatola, and say, "I didn't give you a hug yet."
And you'll hear John David reply, "Congratulations, Poppy."
Ignore it. Tell yourself that none of this matters and Duke beat Wisconsin, 68–63, for the national championship simply because of talent. It's easier that way. Applaud when Wisconsin coach Bo Ryan tells CBS, "We don't do 'rent-a-player,'" and be done with it.
But if renting a player were so easy, Duke would have rented more. The Blue Devils had eight scholarship players this season. They couldn't even scrimmage. Practices were an hour, tops.
And down 48–39 to the Badgers in the second half on Monday, Krzyzewski left his two most talented post players, Okafor and freshman Justise Winslow, on the bench. They were in foul trouble, and the coach didn't want them scared to play defense. He trusted junior forward Amile Jefferson and sophomore guard Matt Jones to frustrate Wisconsin stars Sam Dekker and Frank Kaminsky, and they did. If Jefferson and Jones are rentals, they are on a four-year lease.
Meanwhile, one-and-probably-three-more freshman guard Grayson Allen scored eight straight Duke points midway through the second half and finished with 16, second most among the Blue Devils after Tyus Jones's 23. You can snicker at Allen too. As a talented white kid at Duke, he is destined to be one of the most hated players in the country; that was practically on his letter of intent. ("We think he looks just like our second grandson, Michael Savarino," says Krzyzewski's wife, Mickie.)
But did you know Allen won the dunk contest at the McDonald's All-American game last year? Or that even though Allen spent most of the season on the bench, he was still the last guy to leave practice? Allen is not easy to label, and neither is his team. The Blue Devils were loaded but young, selfless but sometimes sloppy, occasionally overpowering but laughably thin. In the end they played like a classic Duke team. But in the beginning and the middle, they weren't supposed to win the championship.
This was Kentucky's year. Everybody could see it. Then Wisconsin beat Kentucky, and Duke beat Wisconsin. Instead of a team making history and going 40–0, the coach with the most wins ever led the most successful program of the modern era to another national title. It was a testament to the value of losing.
If you handle losses the right way, then losses can be very beneficial," Krzyzewski said last week. "What you do with a win or loss determines how much better you are going to be. We've always tried to use the losses as learning experiences and not just punish somebody."
Duke's first loss of the season, to North Carolina State on Jan. 11, was almost welcome. The Blue Devils had been 14–0 and the consensus No. 2 team in the country in every poll taken outside of their basketball offices. Coaches worried that their team was coasting. Associate head coach Jeff Capel says, "We knew as a staff, something's missing. We had been telling our team, 'We're not playing as well.' The urgency was not there."
But it is hard to convince young players that something is missing when they have won every game by at least eight points. The Wolfpack whipped Duke 87–75, and Okafor remembers "going into the locker room, just feeling like the world ended." Duke was headed home to play Miami, and the coaches hoped the players had learned their lesson. They hadn't. Okafor admits, "We kind of took for granted that it was a home game and we were going to win." The Hurricanes drilled the Blue Devils 90–74.
Duke had given up 177 points in two games, which is hard to do in this offensively challenged era unless you shoot on your opponent's basket. Opposing guards were getting to the rim at will because the young Blue Devils lacked defensive discipline.
Krzyzewski had boxed himself into a corner. It was full of McDonald's All-Americans, but it was still a corner. For most of his career, Krzyzewski was the epitome of the seniors-first coach. He refused to hang a banner to celebrate his team's 1990 Final Four run until the last of that team's seniors graduated nine years later. In the late 1990s, when players started going directly from high school to the NBA, Krzyzewski didn't bother recruiting any potential preps-to-pros guys.
Now he had built a team around one senior, Cook, and three extremely talented freshmen: Okafor, Winslow and Jones. Okafor and Winslow are expected to be NBA lottery picks this summer, and Jones could leave as well. Duke had talent on its side but not time.
"I can't get to the level of playing defense like my 2001 [championship] team unless I have a number of older guys," Krzyzewski said before the Final Four. "It takes that long to be that good. So I have to accept a certain amount of slippage both offensively and defensively, and that means maybe trying out some other things."
Krzyzewski and his assistants stayed up until 5 a.m. after the Miami game, trying to plan their next move. The head coach finally suggested something that for him was once borderline heresy: Let's play some zone. Proposing a switch to Carolina blue uniforms might have been more stunning—but only a little bit. Two generations of Blue Devils had played stifling man-to-man defense, harassing point guards and denying passing lanes. Duke installed a 2–3 zone for the team's trip to No. 6-ranked Louisville on Jan. 17. The Blue Devils held the Cardinals to 29.5% shooting and an anemic 0.87 points per possession, and they won 63–52. A new blueprint was being drawn. This Duke team would never be as refined as a veteran group like Wisconsin. But its coaches would find ways to hide the rough edges and allow the players' athleticism and skill to take over.
Eleven days later Duke suffered loss number three, at Notre Dame, 77–73. Nobody thought it was the end of the world—the Fighting Irish were an elite team that hit some extremely tough shots, and the Blue Devils missed some they would normally make. But Krzyzewski identified another problem: "We were thinking about offense when we went to defense."
He urged his players to clamp down defensively, and he had an assist from a player who would have fit in well on his 1991, '92, 2001 or '10 champions: Cook, who had never won an ACC regular-season or tournament championship, and had never played in a Final Four.
On Jan. 29, two days before the team's next game, at No. 2 Virginia, junior guard Rasheed Sulaimon was dismissed from the team for reasons that have never been fully specified, leaving Duke with just eight scholarship players. While Cook harped on his young teammates to defend regardless of whether they made shots, the coaches blew more strategic smoke to hide their team's flaws. At a morning walkthrough a few hours before the game against the Cavs, they introduced a 1-2-2 zone, with the athletic Winslow at the top. During a timeout that night, Krzyzewski asked his players if they were ready to use it. They were, and they won 69–63.
On Feb. 18, Duke beat North Carolina in overtime but also suffered a loss: Okafor rolled his left ankle in the first half and missed the next game, against Clemson. Duke could have replaced him with the only other center on the roster, 7-foot junior Marshall Plumlee. Instead, 6'5" Matt Jones joined the starting lineup, and Winslow slid from small forward to power forward. The seemingly temporary move soon became permanent and transformed the team.
Winslow is only 6'6" and 225 pounds, but he uses his 6'10" wingspan and his relentless energy to bother opposing power forwards. On offense Winslow is too quick for bigger players to guard, and if they sag off him, he goes from an average shooter to a good one. In the 12 games after he moved to power forward, Winslow shot 57.5% from the field and 53.6% from three.
Duke was rolling but still tinkering. On the morning of their first ACC tournament game, against N.C. State, the Blue Devils installed yet another zone: a 1-3-1. They held the Wolfpack to 35.7% shooting in a 24-point win.
They had won 12 straight games and were cruising toward a No. 1 seed in the NCAA tournament; that weekend Winslow's dad, Rickie, booked his trip from his home in Houston to Indianapolis for the Final Four. But there would be one more loss, and one more lesson that came with it.
On March 13, the day after whipping N.C. State, Duke fell behind Notre Dame by 13 points early and couldn't come all the way back, losing 74–64 in the ACC tournament semifinals. Krzyzewski says this was partly because the Fighting Irish were so good, but he also admits his players "assumed we were going to be in the championship game, I think." As he often tells his players: "Sometimes your biggest opponent is human nature." The loss in the ACC tournament showed them that one dominant game does not carry over into a tournament setting. As Kentucky found out in the Final Four, neither does a dominant season.
Krzyzewski has now won five national championships, breaking a tie with Adolph Rupp for second all time behind John Wooden's 10. He said last week that nobody will ever catch Wooden, but Coach K has his own hard-to-break record. The 24-year gap between his first title in 1991 and the one he clinched on Monday night is the longest for any coach by 11 years. At 68, he has yet to succumb to human nature.
Cynics get nauseated when Krzyzewski talks about leadership and relationships. (His official title is Michael W. Krzyzewski Leadership Head Coach.) But he means what he says, and he starts before players arrive on campus.
Many coaches take a first-come, first-serve approach to recruiting. They offer one scholarship to several players at the same position, and the first one to commit can have it. With rare exceptions Krzyzewski does not do that. For his 2014 recruiting class, he waited on Okafor, Winslow and Jones until they committed in November 2013.
"The guilt trip that sometimes people put these kids through, I don't want that to be the basis of our relationship," Coach K says. "We didn't recruit some other kids because we wanted to show them: You're the guy we want. I want them to trust me from the very beginning."
He admits, "It is a dangerous situation at times." Okafor and Jones, who met at a USA Basketball camp in ninth grade and quickly became best friends, had been clear they would choose the same school, and assistant coach Jon Scheyer says if they had gone somewhere else, "there was no Plan B." Okafor's father, Chucky, said he was not sure his son would choose Duke until three or four days before the announcement. But Krzyzewski has decided some players are worth waiting for, even if they may only be on campus for a year.
After winning with upperclassmen for so long, Krzyzewski could have railed against the one-and-done era or simply failed to adapt. So many great coaches who stay in one place fall victim to insularity, and for various reasons Krzyzewski was especially at risk. He coaches at a private school, on Coach K Court, with three assistants (Capel, Scheyer and Nate James) who played for him. He has a senior associate athletic director who handles his personal media obligations, in addition to the team's media-relations director, and he carefully chooses his interviews. Other than postgame sessions, he only meets with local media twice during the regular season.
Yet Duke's program is now a cauldron of fresh ideas, and Krzyzewski points to his experience coaching the U.S. Olympic team as the reason. That job gives Krzyzewski access to the finest American talent—LeBron James considers him a mentor—and a recruiting pitch nobody else can match: I coach the best players in the world. It's an advantage that virtually every program in the country wishes it had. But the Olympics are also a chance for college's best coach to go back to school.
"I didn't go into it thinking, I'm going to learn," Krzyzewski says. "You're learning new techniques, new ways of defending, new things on offense, new terminology, new training methods.... I'm telling you, it makes you young. You get to your late 50s and 60s, and you find out there are so many things [you didn't know]. I'm a much different coach than I was 10 years ago, and I think I'm a better coach."
Some older coaches chafe at the analytics favored by the younger generation. But before the 2013–14 season, Duke became one of the first college teams to install high-tech SportVU cameras, which track players by image recognition, in its arena and practice facility. Duke's director of information technology, Kevin Cullen, says, "Every data point that would be available from an NBA game is available for one of our practices."
SportVU spits out detailed stats for every player and situation, and while the numbers only reflect games in arenas with SportVU cameras, they are still telling. Duke knows it allowed 0.99 points per possession on ball-screen defense in January and February, but in March that number dropped to 0.81. And entering the Final Four, Cook was making just 18.9% of his three-pointers off the dribble, but 44.6% of his catch-and-shoot threes. The stats persuaded Cook to shoot more off the catch than off the dribble.
And SportVU shows exactly how Winslow's position switch improved the team beyond his individual numbers. In January and February, Duke averaged 1.0 points per Winslow drive. In March that jumped to 1.2 points.
All these little efficiencies combined to form a broader one: In just a few months, with three freshman starters, the coaching staff figured out its team.
In the first four minutes of last Saturday's semifinal, Michigan State drilled four straight three-pointers, which is what good players do when nobody is guarding them. Duke coaches had told players all week, "Don't cheat on the screens!" But the young players kept doing it.
Krzyzewski switched to the 2–3 zone, which jarred the Spartans and settled the Blue Devils. Duke took the lead on a Winslow drive—sure, he missed a layup, but he collapsed the defense and left Okafor a dunk on the rebound with less than 10 minutes remaining in the first half. With 5:11 left the Blue Devils extended the lead to six on a Cook catch-and-shoot three-pointer and went on to blow out Michigan State, 81–61.
That same evening, Wisconsin forced Kentucky into three late shot-clock violations and ended the Wildcats' season. Faced with a situation his team had so rarely encountered, Kentucky coach John Calipari admitted that "the guys got a little bit tentative." Kentucky freshman guard Devin Booker said he would remember the season for "the ups and downs," then realized that didn't quite fit a team that had won its first 38 games. "Mostly ups," Booker said. He added, "We didn't plan on losing anytime." Perhaps they would have been better off if they had.
Sixty-seven NCAA tournament coaches finished their season with a loss. The only one who did not sat in a room off the Duke locker room afterward, marveling at what had just happened. The Blue Devils had trailed by nine with 13:25 left, but they outscored Wisconsin 29–15 the rest of the way, thanks to a suddenly stout defense that held the Badgers to 6-of-20 shooting down the stretch, and to some long-range heroics by Tyus Jones, who put the Blue Devils ahead for good with a three-pointer with 4:08 left and then put the game out of reach with another that raised Duke's lead to eight with 1:24 to go. In all the Blue Devils held Wisconsin, the most efficient team in the country with 1.22 points per possession going into the final to 1.03.
Scheyer, James and Capel were there, along with assorted members of the Duke family: some blood relatives, some not. The conversation turned to Duke's wild second-half lineups.
"I can't even tell you who we had," Krzyzewski said. "All I know is I had confidence in all our guys, so what the heck? I would like to say there was some great strategy or something."
At one point Duke had four freshmen plus Cook on the floor. Nobody could remember that happening all season. But after all the tweaks and lessons of losing, Krzyzewski knew his team could handle the tinkering. So many of the substitutions were made by feel, and often an assistant suggested something and the Hall of Fame coach said, "O.K." Jefferson for Winslow. Plumlee for Okafor.
Quinn Cook for Bobby Hurley. Justise Winslow for Shane Battier. It all blends together, success bleeding into success, unless you're in the middle of it and you know just how hard it was.
"It was a magical win," Krzyzewski said. "It was an unbelievable win. The thing is: These kids really never get the credit that a team [not] coached by me or [a team not] at Duke would get. There are eight guys. Four of them are freshmen! Are you kidding me? But because I've coached national championships.... We understood it as a staff the whole year. This is like: Holy mackerel! How are they doing all this? But they have."
In the end this looked like a classic Duke team. But in the beginning and the middle the Blue Devils—loaded but young, selfless but sloppy—weren't supposed to win the championship.
This Duke team would never be as refined as Wisconsin. But its coaches would find ways to hide the rough edges and allow the players' athleticism and skill to take over.
You find out there are so many things [you didn't know]," says Krzyzewski. "I'm a much different coach than I was 10 years ago, and I think I'm a better coach."