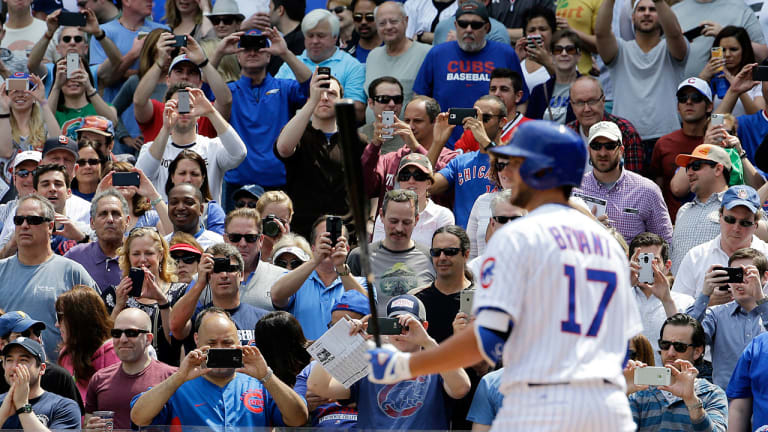 Merry Kris-mas
After months of buildup and debate, the Kris Bryant era has finally begun—and Cubs Nation already has much to love about the hitting instructor's son (and former aspiring dentist) with teeth-rattling power
He has not seen the billboard in person, at least not in full. Sometimes while standing in the on-deck circle at Wrigley Field, he'll glimpse a sliver of it, high above Addison Street, through the gap between the lower and upper decks along the first base side. On the billboard he's posing in his Cubs uniform, adjusting his cap, in front of a backdrop of exploding bright colors, like an Avenger. "It's cool," he says, "but I'm not rushing out there to take a selfie of myself in front of ... myself."
He is the most ballyhooed prospect since Bryce Harper, a power-hitting prodigy, the rarest of commodities in this era of fire-breathing pitchers. And yet it's almost jarring how grounded Kris Bryant seems. In five quick years he's gone from being a straight-A student (save for a single B+ in precalculus) at Bonanza High in Las Vegas, to an aspiring dentist on the premed track at the University of San Diego, to the starting rookie third baseman and cleanup hitter for the Cubs. At his locker before a game at Wrigley during the last week of April, the 23-year-old looks younger than he does on the field. He is towering and wiry-strong (6'5", 215 pounds), but rather than having gym-built muscles ("I don't like to lift," he says, "I'm more focused on the skill aspect of the game than, well, looking good"), Bryant is made of fast-twitch fiber. He is quick with a smile and a big laugh, and his face—long, dimpled, blue-eyed—is a lot friendlier than it is when he stands in the batter's box, waiting to unleash what many expect will soon be the most intimidating home run swing in baseball.
He was the No. 2 overall pick in the 2013 draft, was granted the largest signing bonus in Cubs history ($6.7 million), and he was Baseball America's minor league player of the year in 2014 after mashing 43 homers across two levels. But it wasn't until this spring that Bryant's legend really spread. Spring training numbers are meaningless, but Bryant's stat line (.425 average, nine home runs in 40 at bats) was arresting. "It's crazy," Detroit ace David Price told reporters. "It's all I ever hear about, him hitting another homer, and another." After the Cubs' controversial decision to send Bryant to the minors to start the season, he was called up from Triple A Iowa on April 17, an event—Kris-Mas Day, as it was hailed online—that ignited three times the average volume of tickets traded the day before a Cubs home game.
"All the attention, it's ridiculous, and to be honest, kind of not fair for him," says Cubs first baseman Anthony Rizzo. "But he's the right person to handle it. He has the right mind-set. And so far, he's showing everyone that he's worth every bit of that hype."
In the spring of 1980, Mike Bryant was a wide-eyed 21-year-old Red Sox prospect. Massachusetts-born and a product of UMass-Lowell, the outfielder was in minor league camp with the franchise he grew up rooting for, assigned to work with a cantankerous former player turned instructor with a bit of a reputation. His name was Ted Williams.
"You're late," Williams said when Bryant showed up on his first day. Bryant was confused: He was 10 minutes early. "If you're not a half hour early," Williams barked, "then you're late."
This was the first of many lessons Mike Bryant learned from Williams over the two years he spent in the Red Sox' organization, before he was cut and his professional career ended without a taste of the Show. "I was crushed," says Bryant, who would devote the rest of his life to figuring out why he was never the best player on the field. Now a private hitting instructor in Las Vegas, where he and wife Susie moved a few years after his playing days were over, Bryant has embraced the analytics of baseball's information age, but Williams's philosophies remain at the core of his teaching. In the indoor batting cage attached to the modest house where Bryant gives his lessons, Williams's tome The Science of Hitting sits on a table. The book emphasized Williams's belief in the rotational power of the hips and shoulders and the importance of making contact with a slightly upward-traveling bat. "Hit the ball in the air—it shouldn't be radical, but kids are taught to hit the ball on the ground," says Bryant. "They just talk about swinging down on the ball, hitting the top of the ball. It's stupid and wrong. And it's something I hammered into Kris from the very beginning."
"I still think about it all the time, really," Kris says. "When I've had a few 0-for-3 days in a row, I'll get a text from him, and without looking at it, I know what it says: Hit it in the air."
The beauty of Bryant's game is in his swing: From a low, wide stance, he unfurls with a quiet whip, without a leg kick or a long follow-through. The impact of bat on ball sounds like a gunshot. It is his baseball intelligence, however, that sets Bryant apart—his ability to, as Cubs manager Joe Maddon puts it, "organize the strike zone." Last season at Double A Tennessee, Bryant had a .281 average with five home runs in April, a good month by most players' standards, but not the Bryants'. "Kris was not satisfied," says Mike, "so I put him in the pitcher's shoes: He gets ahead and expands the strike zone, and gets the hitter to chase. I said, 'Wait for a pitch you can hit hard. It might be the first pitch. But if you're down 0--2, 1--2, you can still wait, because the next two pitches are going to be out of the strike zone." Kris began seeing more pitches, "waiting for one he could drive. And when that happened," Mike says, "he just went off." Kris hit 12 home runs in May and another 11 in June. He finished the season with the most home runs in the minors. He entered 2015 ranked either No. 1 or No. 2 (behind Minnesota's Byron Buxton) on most prospect lists, and was compared to everyone from Cal Ripken Jr. to Miguel Cabrera.
No prospect is without flaws, of course, and if there is one thing standing between Bryant and a career as one of the best hitters of his generation, it is his propensity to swing and miss. Bryant hit .325 with a .438 on-base percentage at Double and Triple A last year—but he also whiffed 162 times in 594 plate appearances. Active on Twitter (last year, when a fan asked him if an $850 bat advertised on eBay as one of the slugger's was legit before he bought it, Bryant told him to save the money, and he sent the fan a free one), Bryant hears most everything that's said about him, good or bad, and he's well aware of analysts' concerns. "I was thinking about that the other day," he says, "and I kind of came to this conclusion: Let's say there's a four-game series, and three games I [have at least one] strikeout, but that fourth game I go 2 for 4, I hit a home run and drive in five runs and help the team win 6--5? I'll take that. The Cubs say all the time that it's about how you get to your strikeouts. [Last year] I led the team in strikeouts, but I was also working the count, getting the pitch count up. My strikeouts are usually 2 and 2, 3 and 2; if they were 0 and 2, 1 and 2, that would be a problem.
"Look, I strike out. They say you have to give something to get something, and I give the strikeouts for the power numbers." He shrugs. "That's who I am."
Las Vegas is many things, but it has never been a baseball town. And yet, given its lack of size—a population just over 600,000—the town has produced impressive talent, from Greg Maddux (Valley High, 1984) to Harper (Las Vegas High, class of 2011, though he left school early). Bryant is 10 months older than Harper. They played on rival high schools and could not be more different in their personas: Harper has been the brash, kiss-blowing phenom since he was a kid, while Bryant was "straight out of an after-school special," says Derek Stafford, his coach at Bonanza High. "I never had anything close to a problem with him. Maybe once he threw his helmet. Maybe."
Mike Bryant raised his son to play the game the proverbial "right way"—a blustery, unapologetic baseball traditionalist, the elder Bryant gets riled up talking about the yapping, bat-flipping young stars in today's game like Jose Fernandez, Yasiel Puig and, yes, even Harper, though he's the local boy and Bryant respects the Harper family. "If my son were blowing kisses out there," Mike says, referring to one of Harper's minor league antics, "I'd pick up the phone and call the manager and tell him to get my son's ass off the field."
Kris, as he is wont to do, rolls his eyes at his dad's old-school mentality. "I like Bryce—he's only been supportive of me," Kris says. He adds, "I personally think all that stuff is good for the game. We may hate Puig," he says, referring to ballplayers in general, "but it's what brings people to the game. You want to watch the guys like Bryce because you don't know what's going to happen next. I'm just not going to be one of those guys."
Bryant did find himself in the middle of a steaming-hot controversy this spring, when the Cubs sent him to Triple A to start the season. Prevailing opinion was that the Cubs were delaying his service time in order to retain Bryant's rights for an additional year before he becomes a free agent, and fans ripped the front office for not fielding its best team on Opening Day. Bryant's agent, Scott Boras, complained loudly, and the players' association called it "a bad day for baseball." Bryant himself, other than saying that he was "extremely disappointed," stayed above the fray. "I'm glad I went through it," Bryant now says. "I learned a lot, about getting through distractions and stuff from the media, and learning to deal with it while going about your job."
Now he can focus on the game, though he often feels giddy just being in the majors. Many times he's stepped into the batter's box to face a pitcher he grew up watching: "The other day in Pittsburgh, it was A.J. Burnett, and I'm thinking, Man, I had this guy on my fantasy team in college." The day after Kris-Mas, Bryant—following a game in which he walked three times, delivered a game-tying RBI single and helped fuel a game-winning rally in the 11th when he legged out an infield chopper—walked into a darkened clubhouse, with smoke filling the room. The rookie was flustered. "I was like, What's going on in here?" he says. Then he heard the music and saw the disco ball hanging in the middle of the room, flashing as if it were Studio 54. "It caught me off guard," says Bryant. "I'm like, Oh, this is how they celebrate a win up here in the majors? Well, that's pretty cool."
Kris Bryant still has much to learn. For the rest of the baseball world, that is a frightening thought.